Boho Crochet Heart Coaster
Disclosure: This post may contain affiliate links. As an Amazon Associate, I earn from qualifying purchases. Please visit my Privacy Policy for disclosures and more information.
Hearts are usually associated with Valentine's day but you can make these cute crochet heart coasters to match your decor and use them year-round. Or if you love decorating for Valentine's, bust out the red and pink and make a stack of themed coasters. Either way, these heart coasters are beautiful and functional.
Keep reading to get all the detail and the free crochet heart coaster pattern or you can purchase the ad-free PDF here.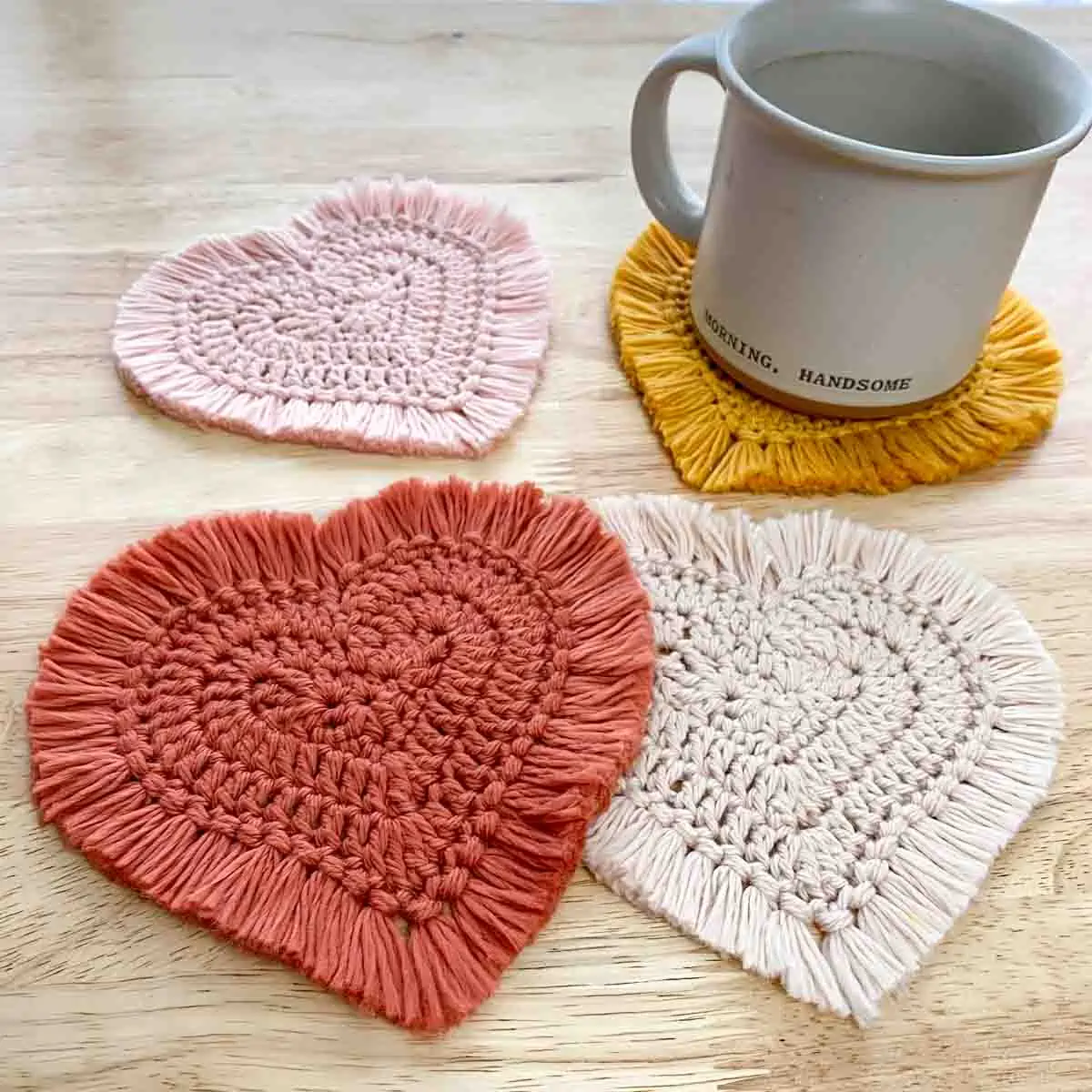 As I was working on the Heart Crochet Tea Towel Topper pattern, I had prototype hearts strewn across my desk. It seems that whenever there are small crochet motifs sitting around, they end up getting used as coasters, which is exactly what happened with these hearts.
I knew that I didn't want to make coasters in traditional Valentine's colors because I really wanted you to be able to see them as something that would fit into your everyday decor. It's easy to just imagine red hearts, isn't it?
So I went with a more neutral and popular color pattern and I love how they turned out. It is now easier to imagine them as part of any decor and as gifts for any time of the year.
Yarn for Heart Coaster Crochet Pattern
In the past, I have used other types of yarn besides cotton for coasters, but cotton is still my favorite to use. While I am not worried that I will be setting a cup down that is hot enough to melt acrylic yarn, I prefer to use cotton around anything hot.
Cotton is also super absorbent, so it works not only to protect your surfaces from hot drinks but also to absorb condensation dripping from cold drinks. The coasters on my desk are also frequently used to wipe up my small, inevitable drips and spills.
For this heart-shaped coaster pattern, I used I Love This Cotton yarn which is a worsted weight yarn that is 100% cotton and is machine washable and dryable. Any other worsted-weight cotton yarn, like Lily Sugar 'n Cream, should work just fine for this pattern
Crochet Hearts for Coasters
Let's talk a little bit about the hearts themselves. The first two rounds of the hearts are the same as the small crochet heart pattern which has a step-by-step picture tutorial to walk you through those first two rounds. (The Quick Crochet Hearts Pattern post has 3 different sizes of hearts so make sure you are looking for the small crochet heart pattern.)
After the first two rounds, you'll do two more rounds of double crochets making the heart a total of just four rounds. They work up SUPER quickly to this point especially since there aren't any special stitches.
BUT let's talk about that fringe. It takes… time. It really does and there's no way around it. I have no doubts that some of you are way faster and adding and shaping fringe than I am, but I still think it'll take you longer to add the fringe than it did to crochet the hearts.
BUT BUT I think it's totally worth it. The fringe takes this from just another Valentine heart coaster crochet pattern to a heart coaster you'd use whenever and wherever in your home. Plus, it's soft. So so soft.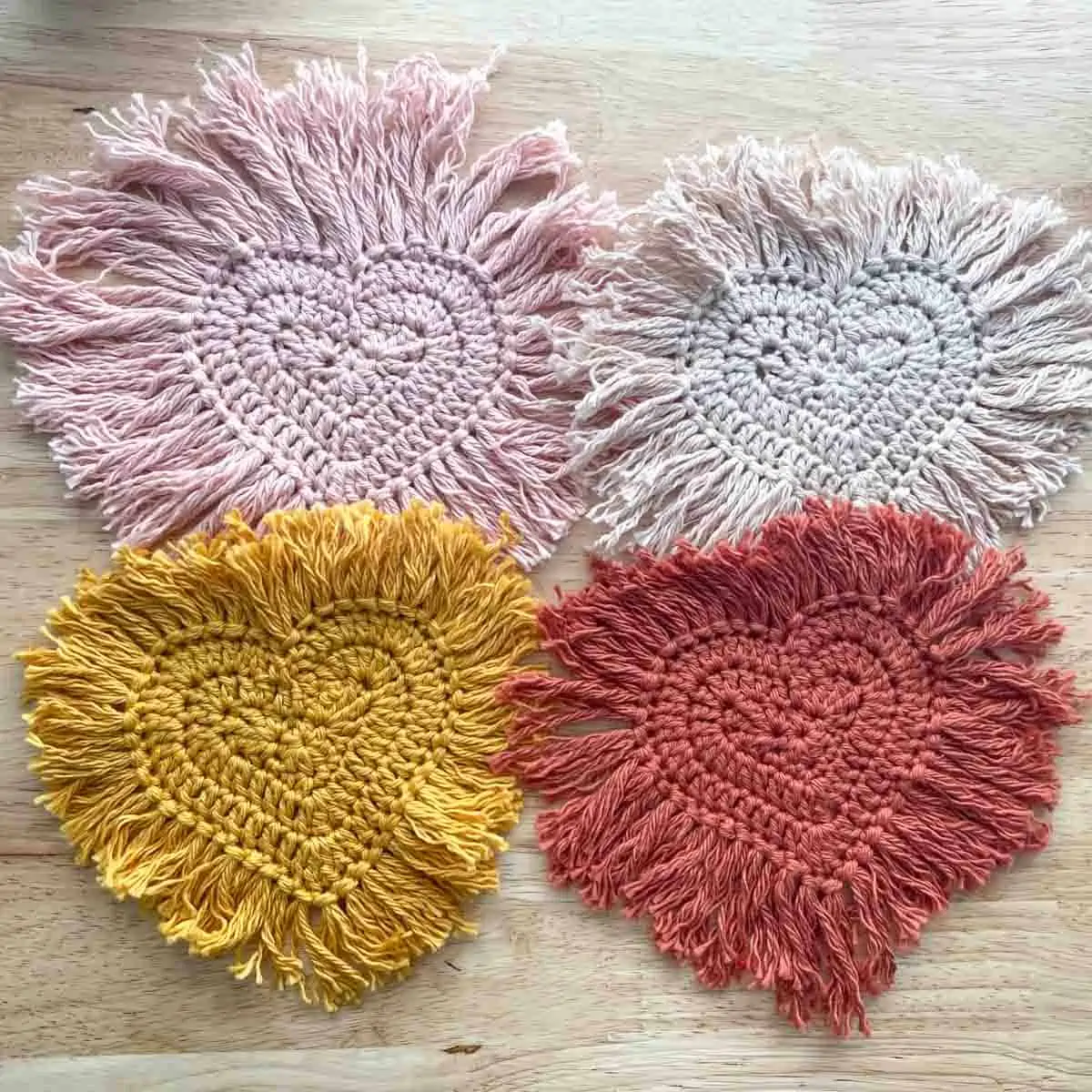 Crochet Heart Coaster Size
These crochet coasters are generously sized, especially with the fringe added. The process of adding the fringe pull and stretches the heart anyway, so they end up even larger than if you never added fringe in the first place.
If you want smaller coasters, you can always try a smaller hook and tighten your tension or you can stop at round 3. Your coaster will likely be about an inch smaller all around, but maybe that's the perfect size for you. Plus if you stop at round 3, there's less fringe to add. (I'm just looking out for you, here.)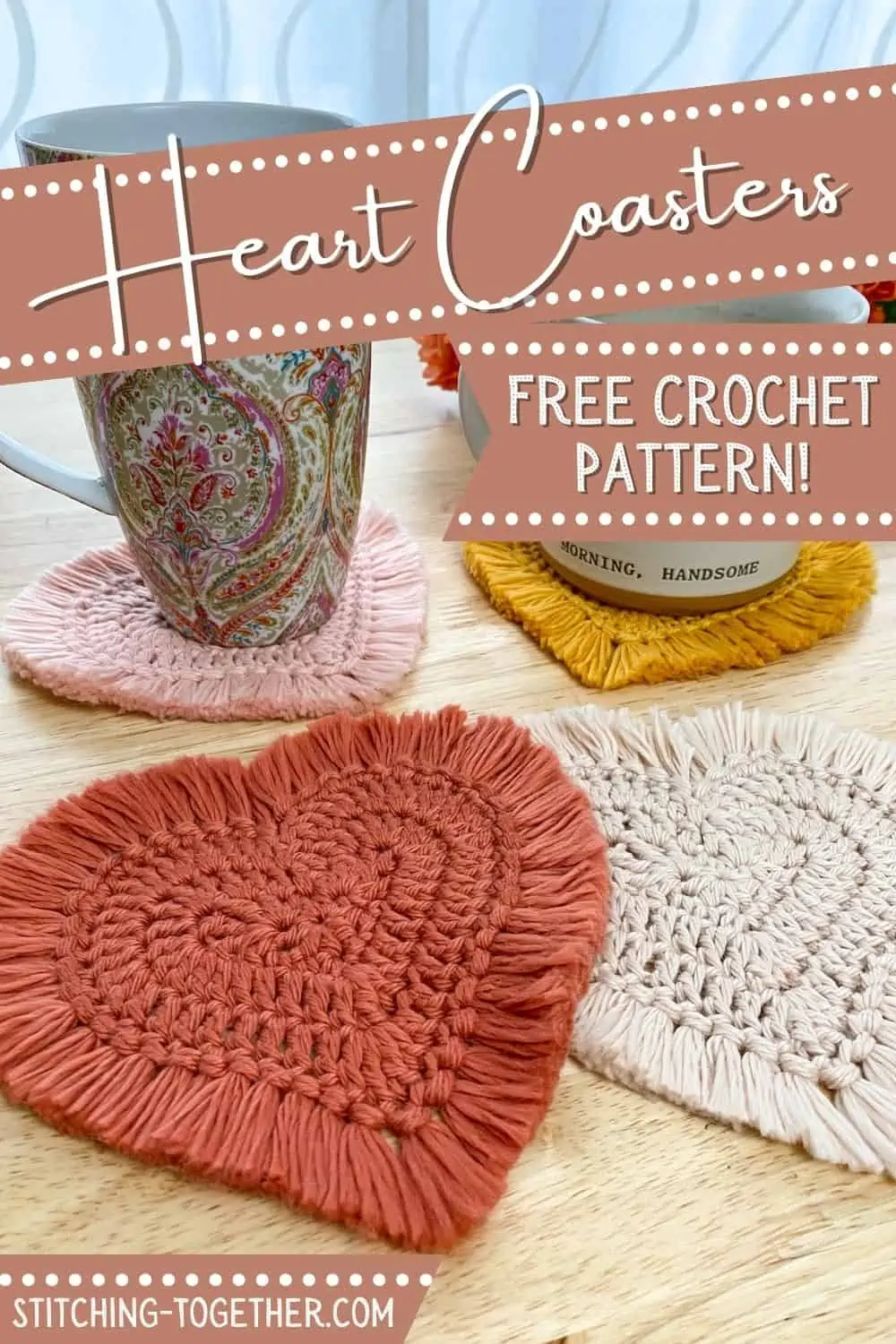 Crochet Heart Coaster Pattern
Skill Level: Easy
Materials:
US size 7, 4.5 mm crochet hook
I Love This Cotton (#4 Medium Weight cotton yarn 180yds/165m, 3.5 oz/100g)- Samples used approximately 0.4 oz in Antique Cream, Gold, Warm Blush, and Bruschetta
Large eye yarn needle
.
Everything you need for this project can be ordered right online
Save time and shop from home!
.
Abbreviations:
ch(s): chain(s)
hdc(s): half double crochet
sl st: slip stitch
dc(s): double crochet(s)
tr(s): treble crochet(s)
st(s): stitch(es)
sc(s): single crochet(s)
sp: space
Gauge: Gauge is not critical
Finished Size: approximately 4" wide and 3" tall without fringe and 6″ wide and 5″ tall with the fringe
Notes:
You will not chain to start rows 2-4.
Crochet Heart Coaster Pattern Instructions
Start with a magic ring
Round 1: ch 1, hdc 8 in ring, tighten to close, join with a sl st to first hdc (8)
Round 2: skip 1st hdc, (dc, 3 tr, dc) in the next st, sc in next 2 sts, (sc, ch 2, sc) in the next st, sc in the next 2 sts, (dc, 3 tr, dc) in the next st, join with sl st to the first skipped hdc. (18)
Round 3: dc in 1st st, 2 dc in next st, 4 dc in next 2 sts, 2 dc in next st, dc in next 3 sts, (dc, tr, dc) in ch-2 sp, dc in next 3 sts, 2 dc in next st, 4 dc in next 2 sts, 2 dc in next st, dc in last st, join with a sl st to 1st dc (35)
Round 4: skip 1st dc, dc in next 2 sts, 2 dc in the next 2 sts, 3 dc in next st, 2 dc in next 3 stitches, dc in next 8 sts, (dc, 2 tr, dc) in tr, dc in next 8 sts, 2 dc in next 3 stitches, 3 dc in next st, 2 dc in the next 2 sts, dc in next 2 sts, sk last dc, join with a sl st (50)
Adding the fringe:
Cut 100 pieces of fringe around 3-4" long. Add 2 pieces of fringe in each stitch around the outside of the heart. I brushed out the fringe, steam straightened it, and trimmed it to about ¾".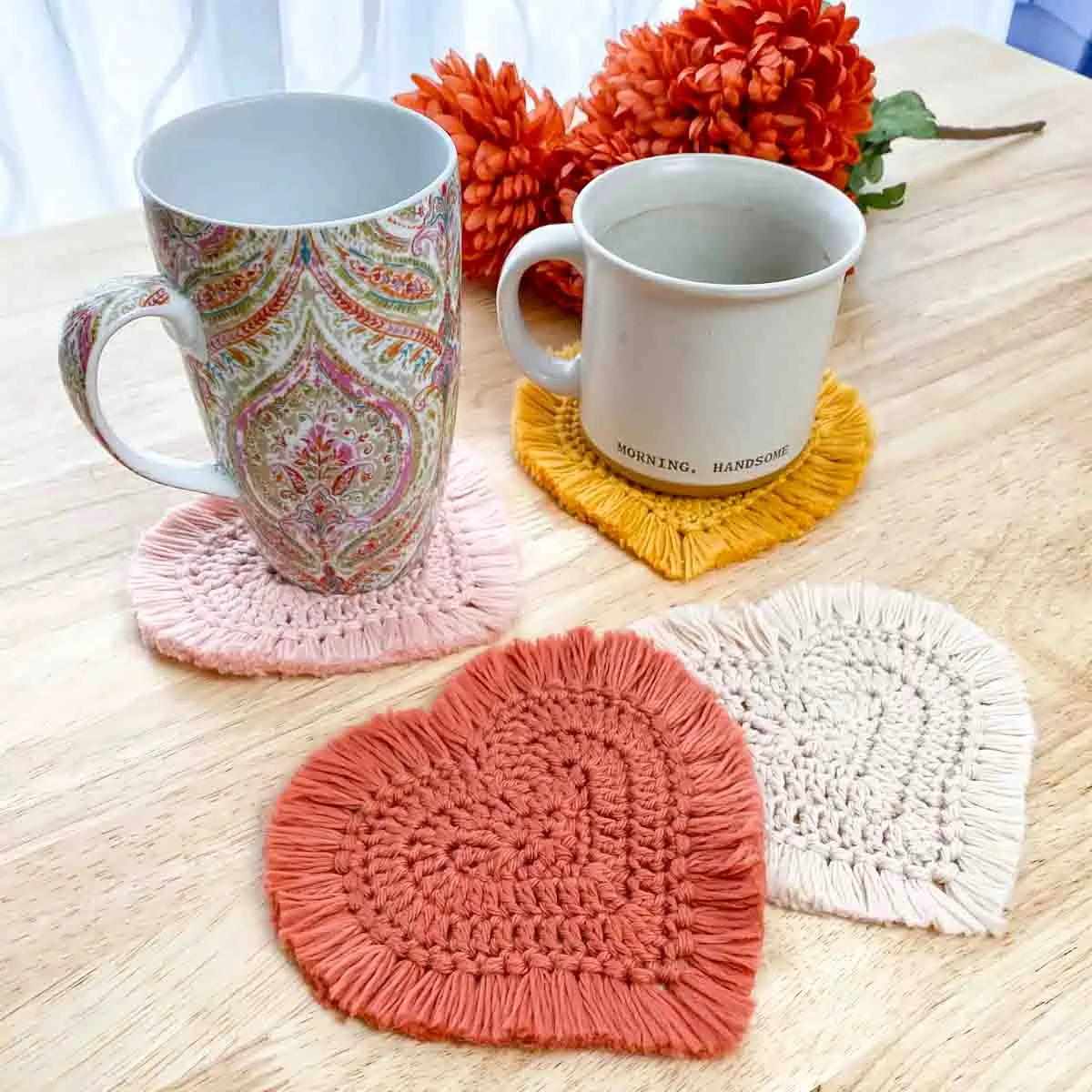 What will you use this crochet heart coaster pattern for? Will you share pictures of your finished projects?
Check out these other free crochet patterns featuring hearts