Are you wondering about how to switch to MailerLite? Your list is established, you have your current platform all set up on your site but….
You've heard the buzz: MailerLite has some of the most competitive pricing coupled with advanced technology previously only available to subscribers able to pay a second mortgage for their email list.
But doesn't switching email platforms sound terribly overwhelming? After all, your list is one of your most prized possessions in this online word!
Switching email marketing platforms does not have to be overwhelming, but most people go about it in the wrong order. Don't make the same mistake!
While it seems like the first thing you would want to do is import your beloved list from your current platform into MailerLite, this is actually one of your LAST steps.
Why not start with the list?  There are a couple of reasons, but all of them hinge on the first reason.
MailerLite gives you 1000 subscribers for FREE. You can set up everything before you have to pay a penny!
Setting up your forms and automations first allows you to break the project down in simple action steps, which we will cover.
By importing your list first, you may end up paying for both platforms if the switch takes longer than expected.
When you set up MailerLite first, you can test drive for as long as you'd like until hitting that 1000 mark. You can collect new subscribers and duplicate your mailings from your current provider to really understand the platform.
If MailerLite turns out not to be your thing (highly doubtful), your current platform will be active still and any subscribers collected in MailerLite can easily be added to your current list.
Let's get on with how to switch to MailerLite – where should you start? Well, start with signing up for a free account!
After you've signed up, you are going to start your big switch as if you were starting a brand new list from the very beginning. Before you are ready for subscribers, you have to build the framework to invite those future subscribers in and communicate out to them. Your current list can continue to grow and be nurtured with your current platform while you set up your forms and automation in MailerLite.
When you've taken a little look around MailerLite, come back and let's talk next steps!
Setting up Groups
Groups are the easiest way to organize your email list. Groups function like tags where the same subscriber can belong to multiple groups. (When you send a campaign to multiple groups, subscribers belonging to multiple groups will not receive the email more than once.) You can group subscribers by sign up source, by actions, activity, interest or any other clever way you'd like to organize your list.
If you are just starting out, You can start with one group and create more as your list grows.
From the Subscribers page, select Groups. One group has already been created for you based on your company name. If you only need one group, you don't have to do anything else!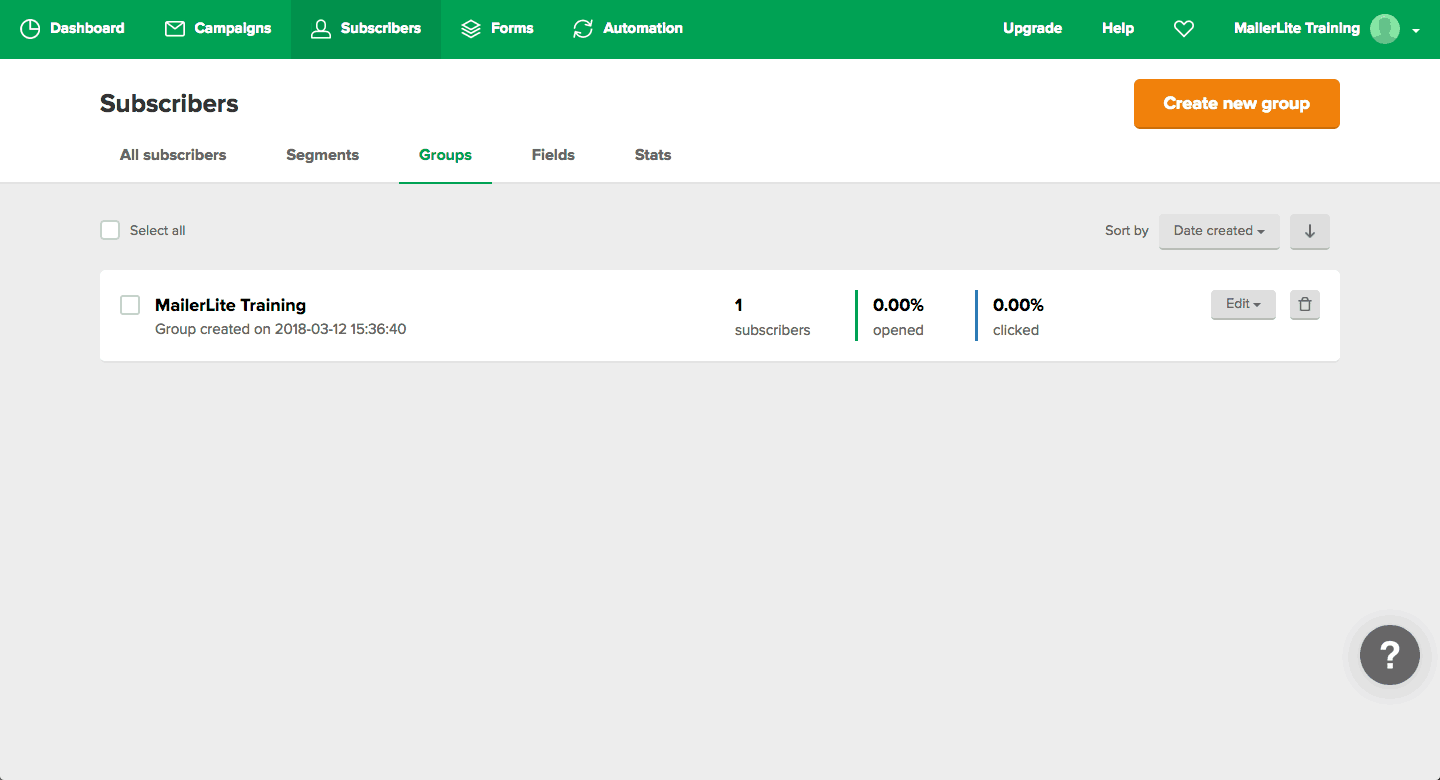 To create new groups, select the Create new group button. When creating your new group, it is helpful to choose a name that is descriptive of the group. Naming it something vague will almost guarantee that you will not remember the purpose of the group somewhere down the line as your lists and groups grow.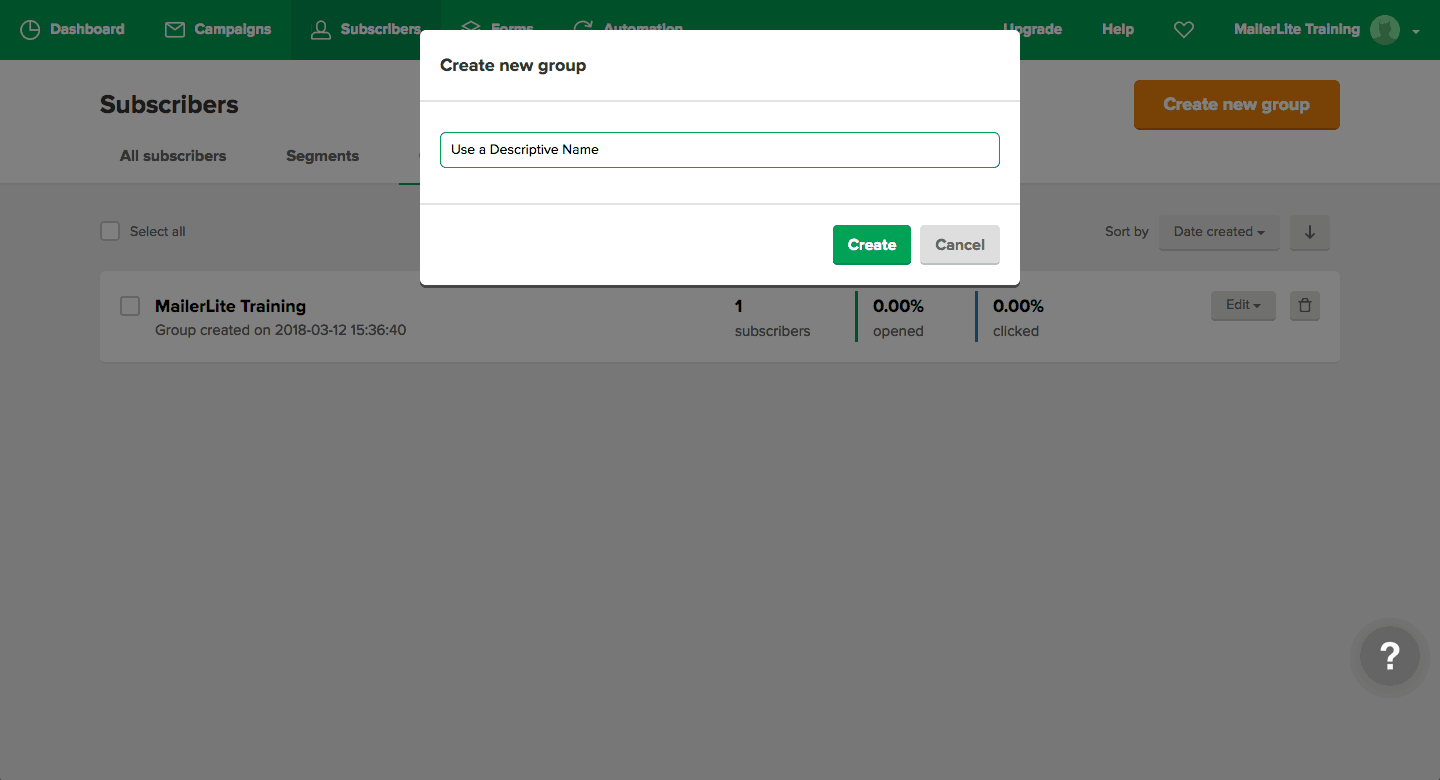 Continue to create as many groups as you need to properly organize your list. Once you have added your groups and have begun to populate your list, you will be able to sort your groups by various criteria.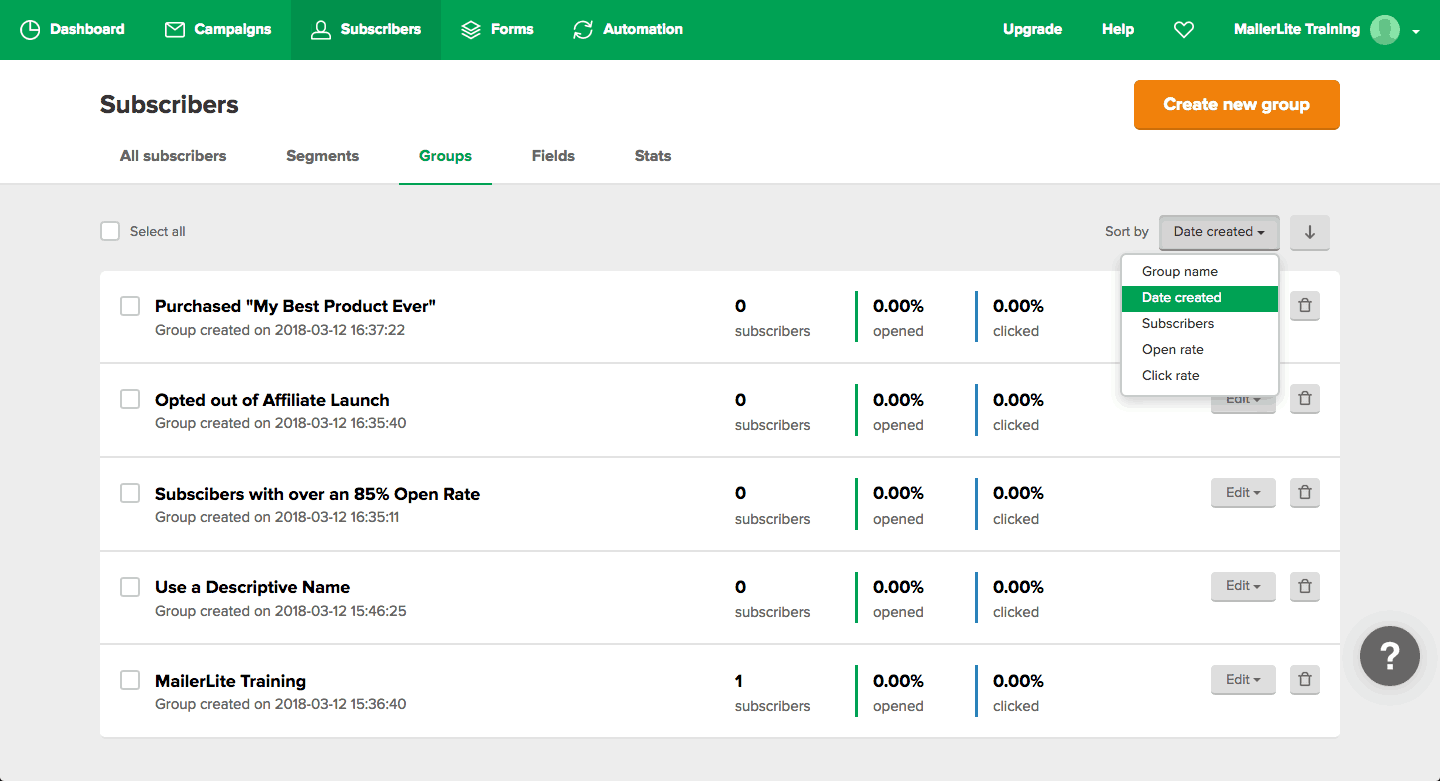 Under Subscribers, there is also a tab for viewing the stats of your subscriber list or of each individual group.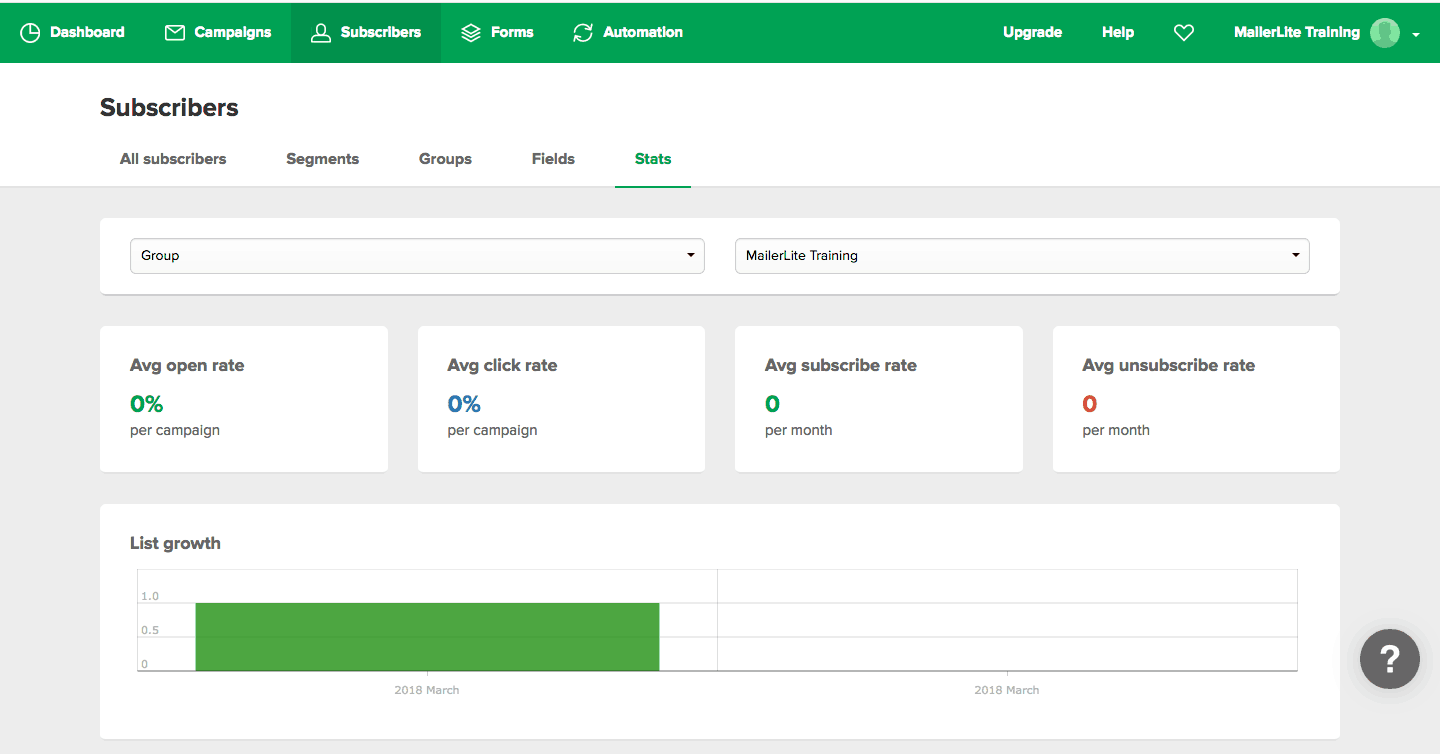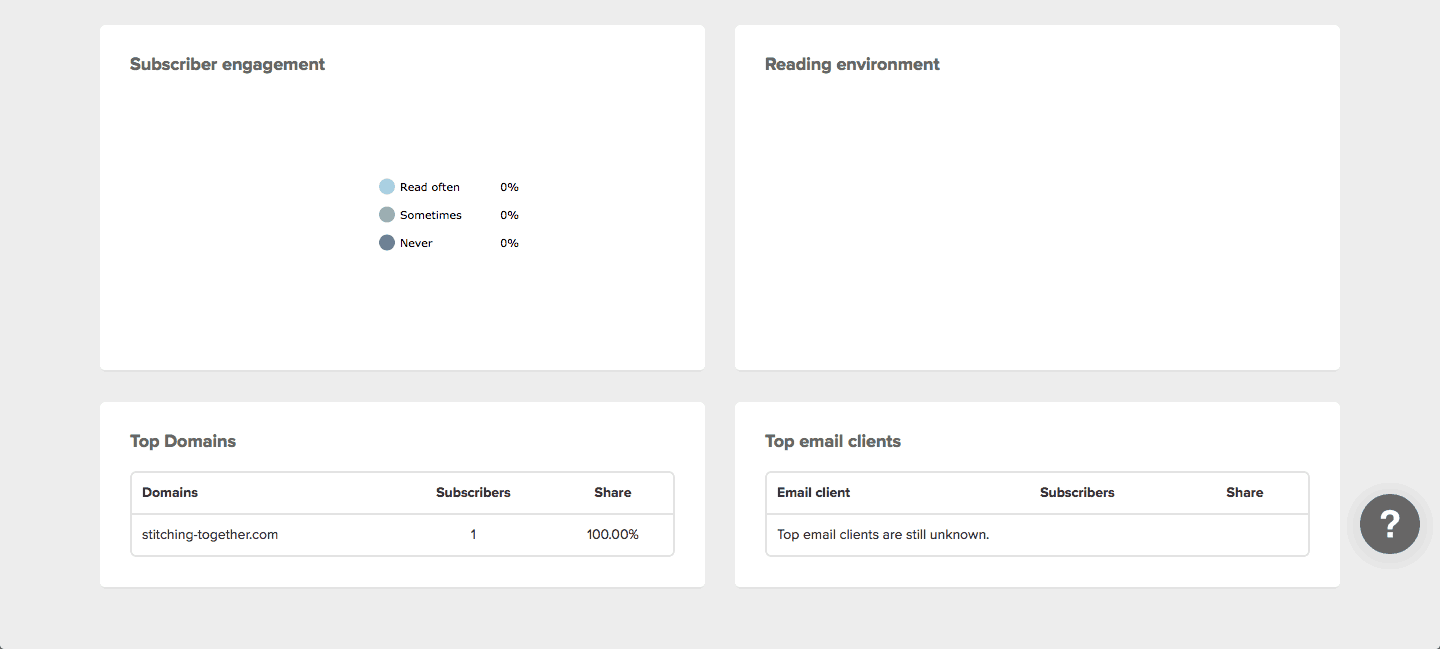 Wonderful! You have your groups set up and ready for subscribers, but don't jump to importing your list just yet!
Creating Forms
MailerLite has three main options for forms:
Popups
Landing Pages
Embedded Forms
We will cover Embedded forms with some quick notes on popups.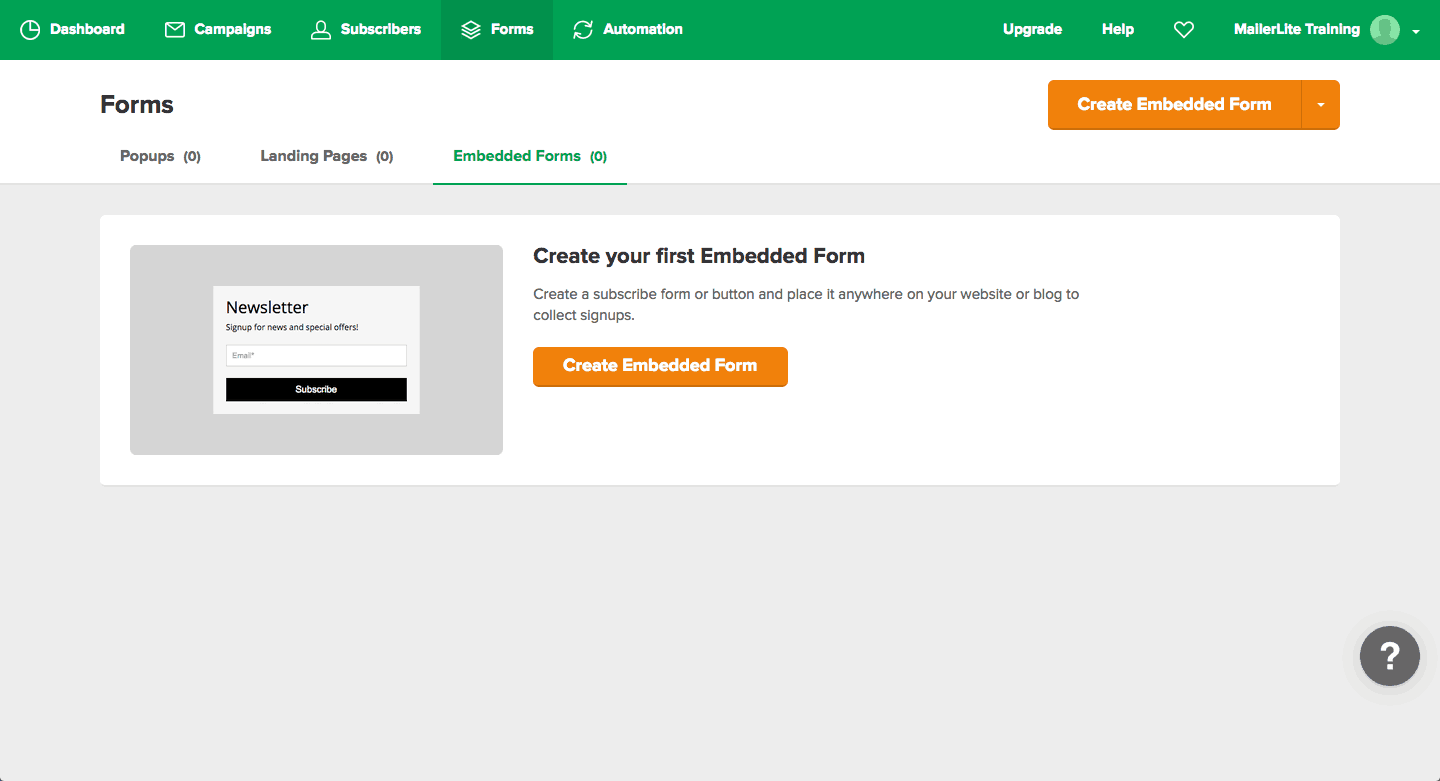 After clicking Create Embedded Form, name your form. Again, use a descriptive name especially if you will have multiple forms funneling to different groups, products, or automations.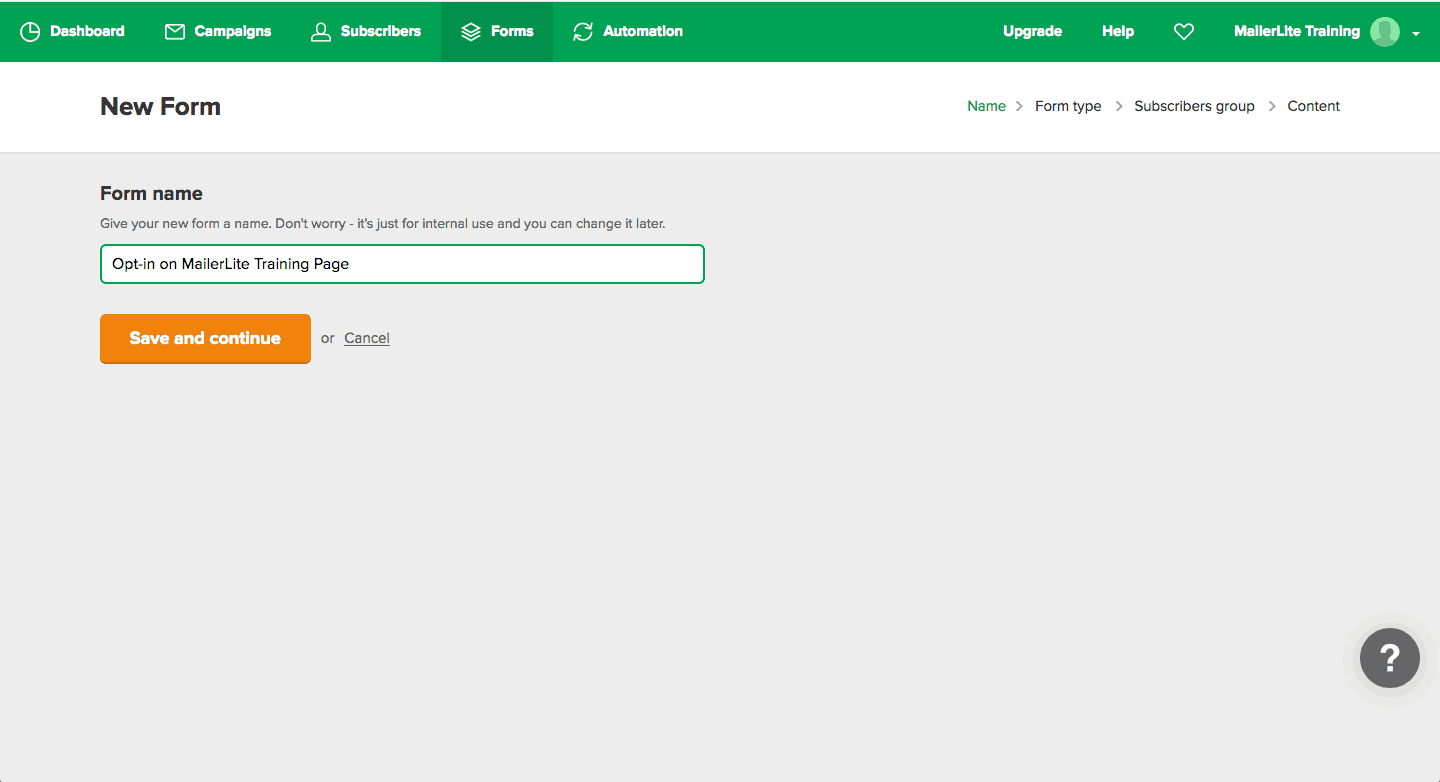 On the next page you will either choose to create an embedded form where the subscriber does not leave the page to enter their information or a create subscribe button which will prompt a popup where the subscriber can enter their information.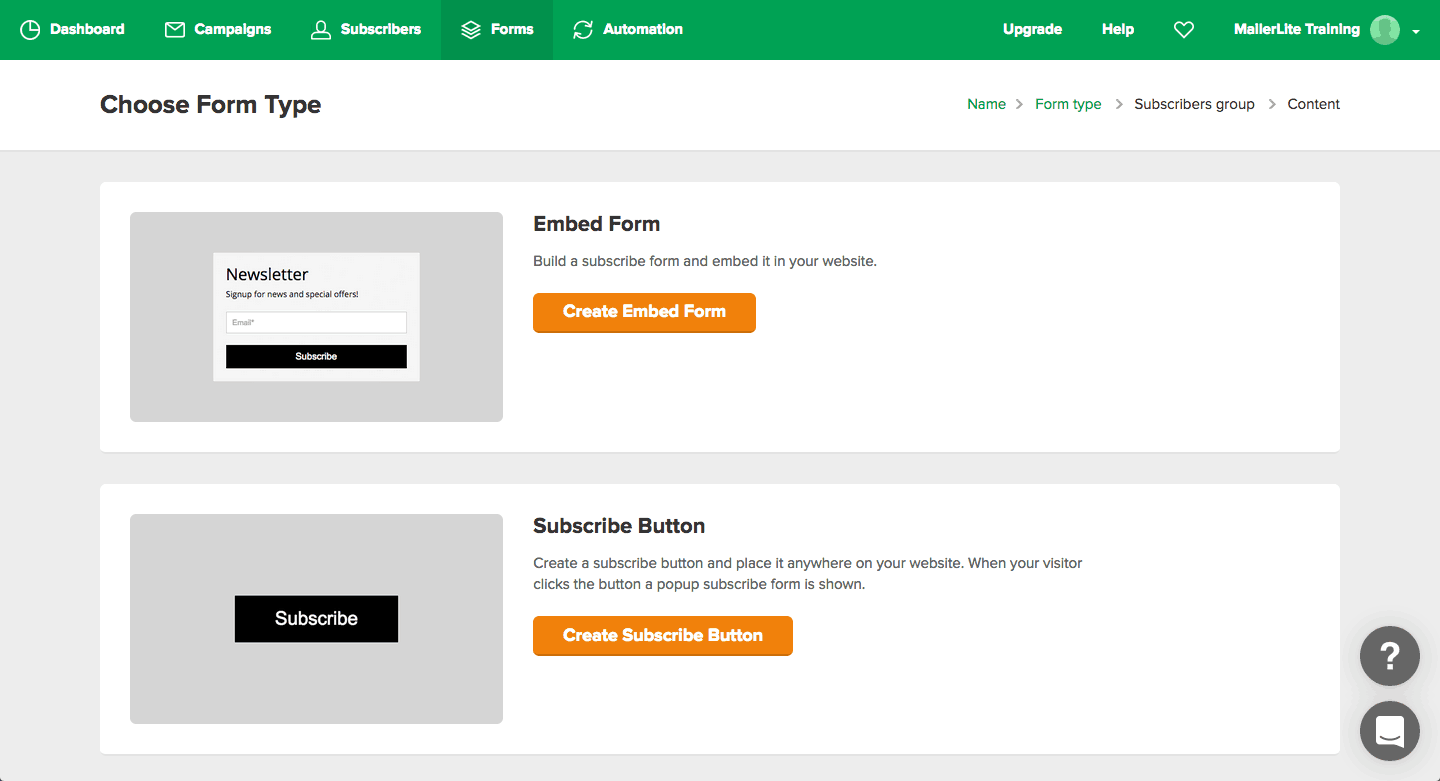 Continue with creating the embedded form. Now you can see the reason to set up groups first! Each form will be connected to a group or multiple groups. (If you get to this stage and realize you have forgotten a group, you can add a new group from this page.)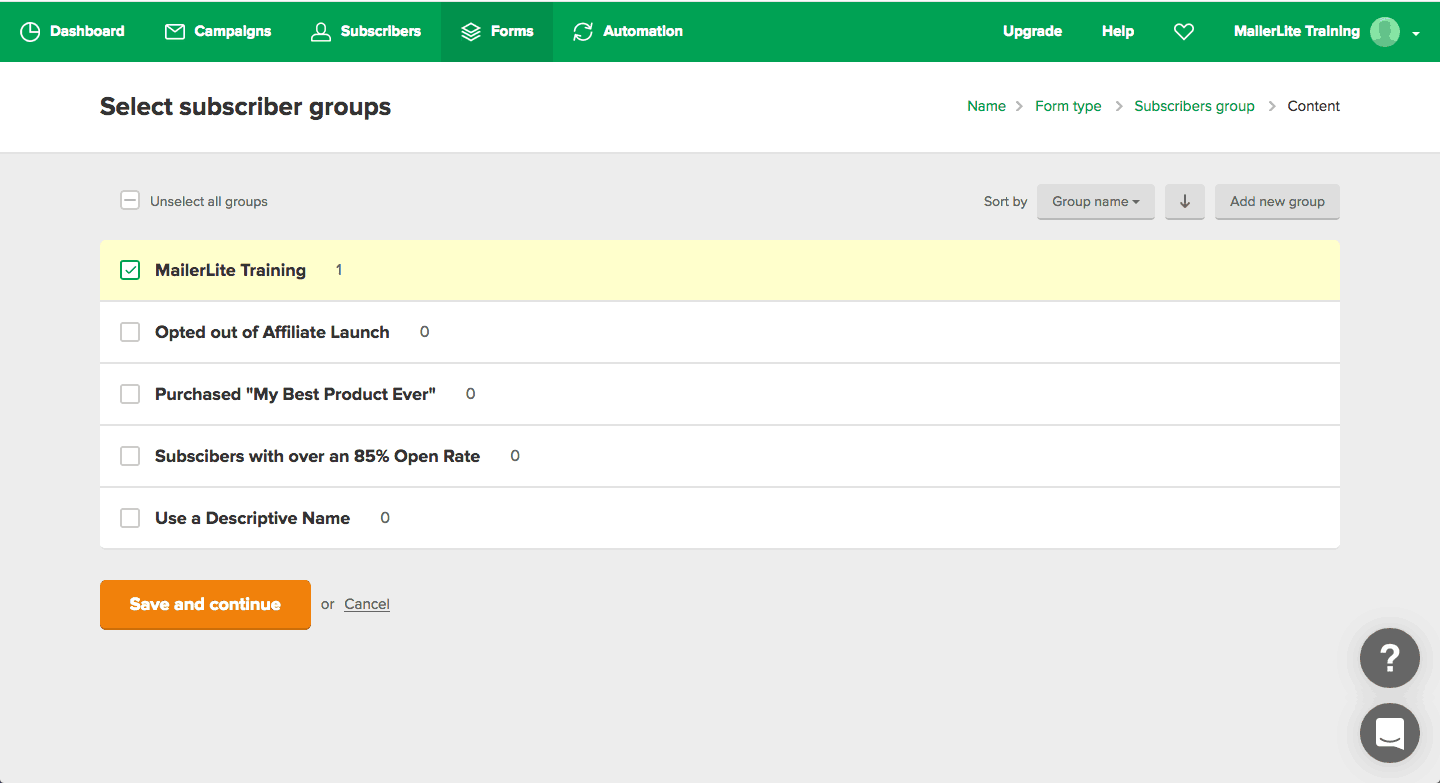 Now for the fun part of designing your form!  The forms are highly customizable and can be made to integrate seamlessly with your website. Aside from specifying the wording and look of your forms, you can also add required fields (don't forget to collect those first names) and change the associated groups.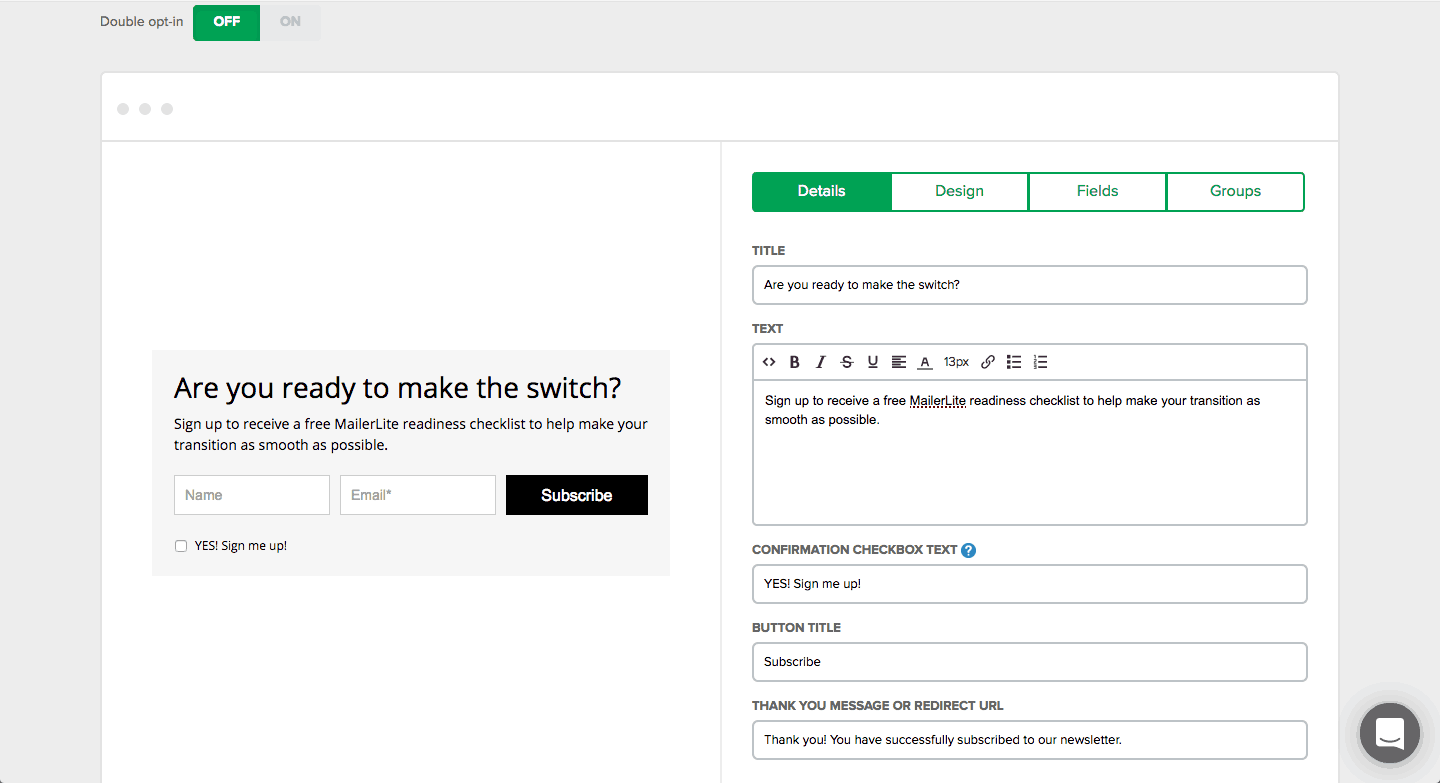 The last page of your form setup gives you the codes to embed the form on your website. You can come back to this page at any time.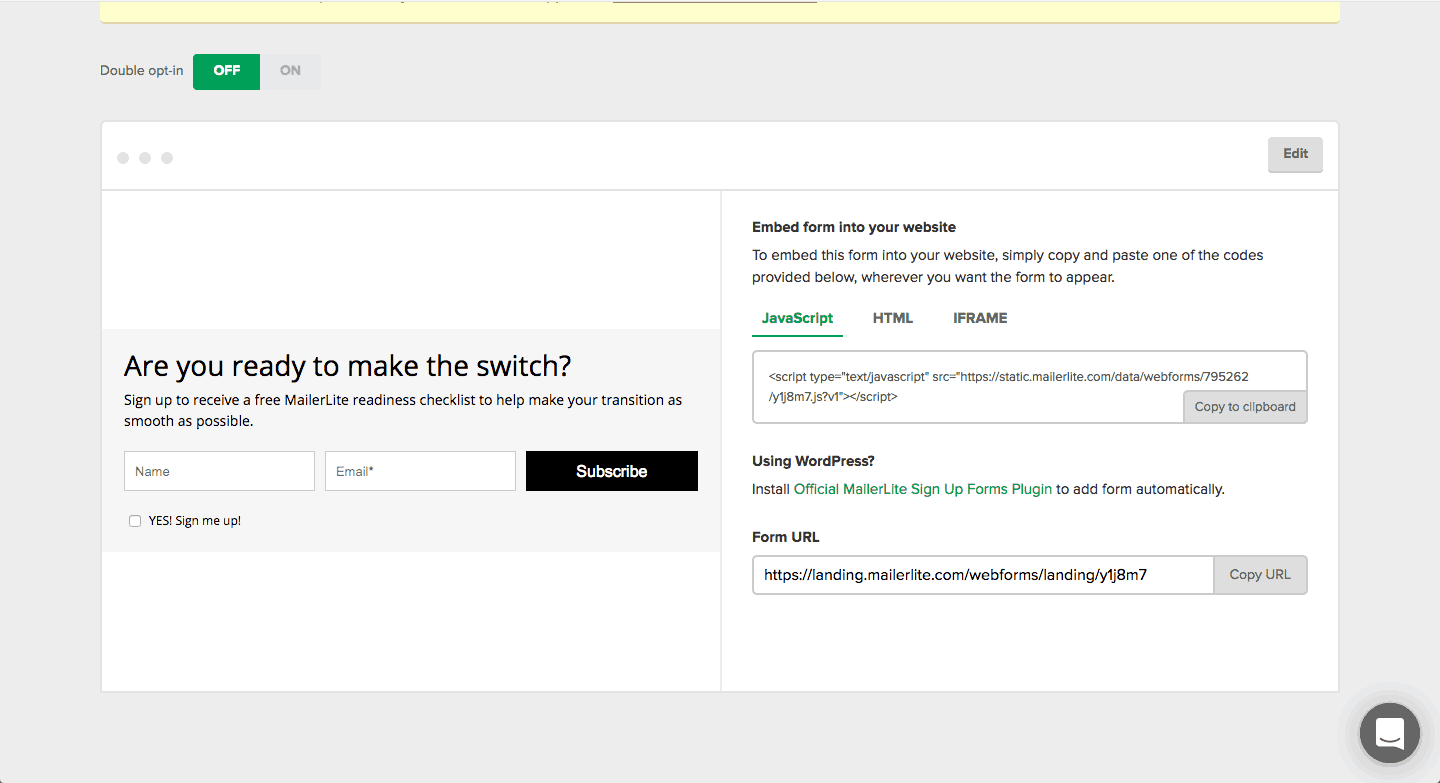 Quick notes on popups – MailerLite offers four general popup templates. I selected the E-commerce template for the following examples.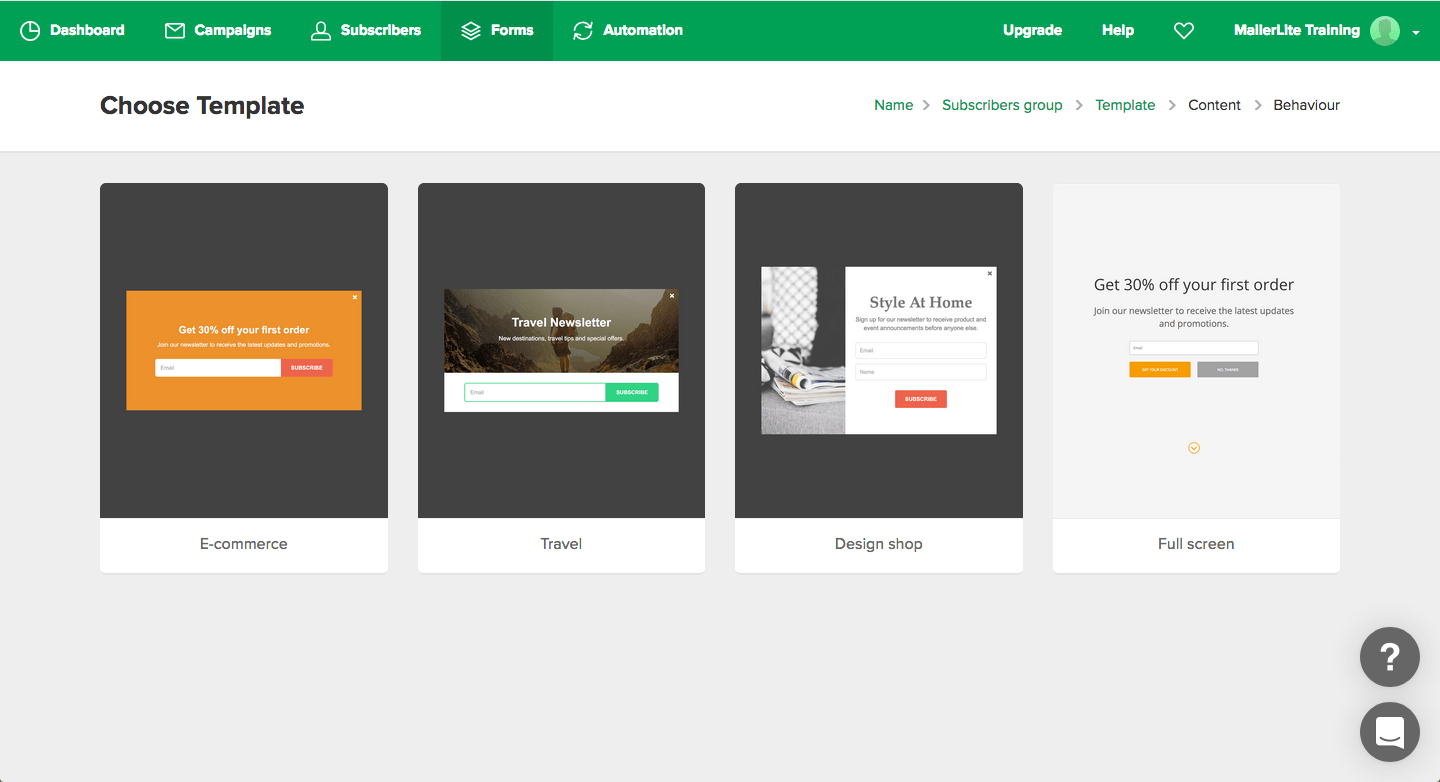 Popups include the normal jump in your face, take over your screen intrusions,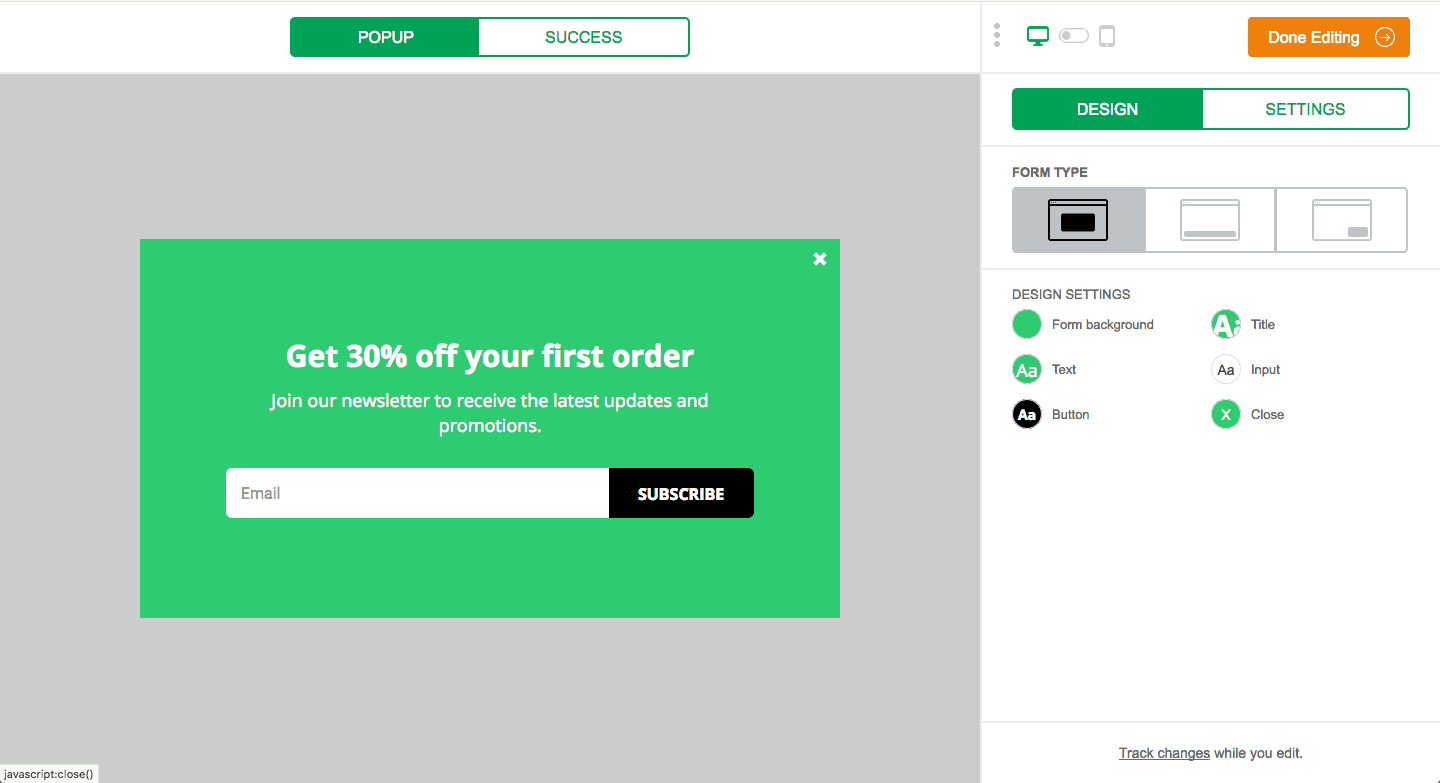 a bar across the top or bottom,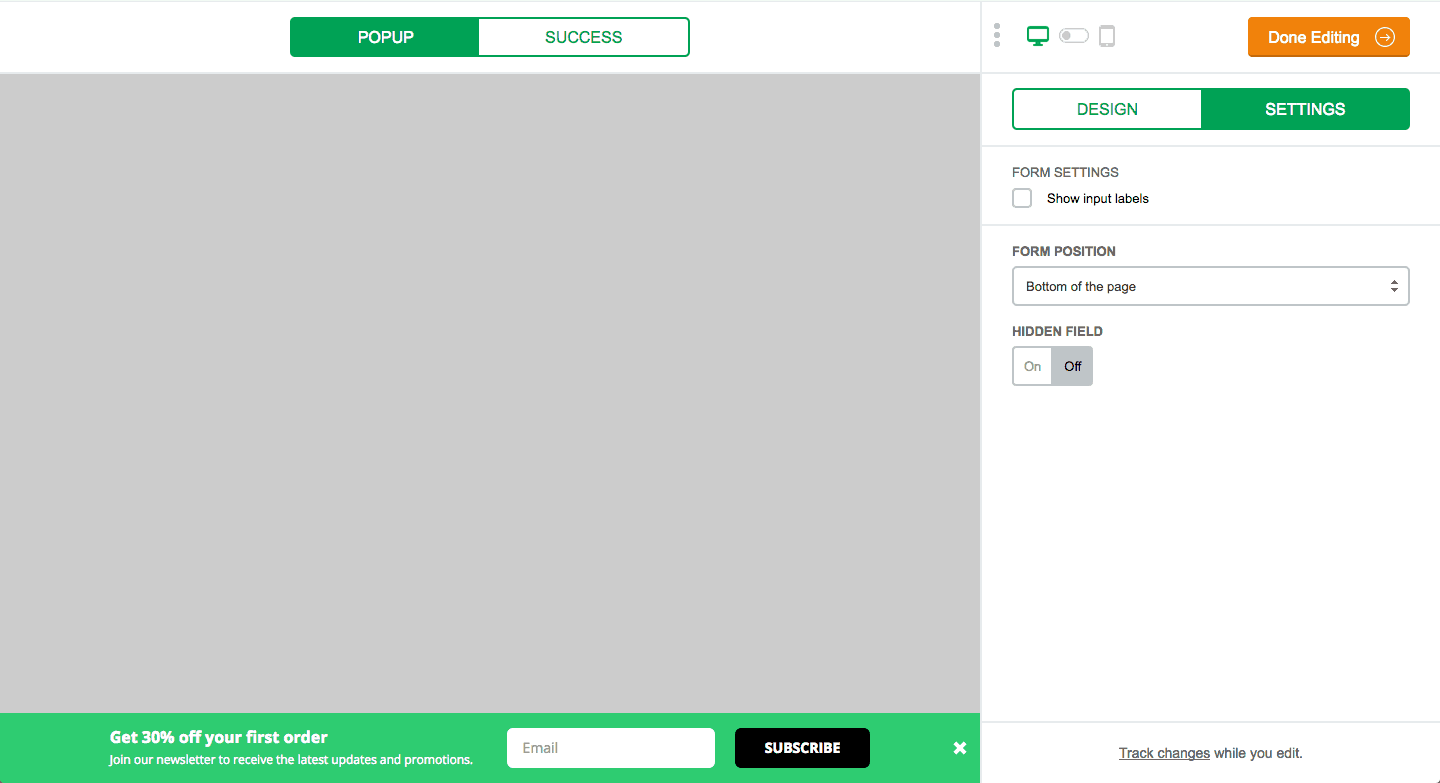 or a small box in one of the bottom corners.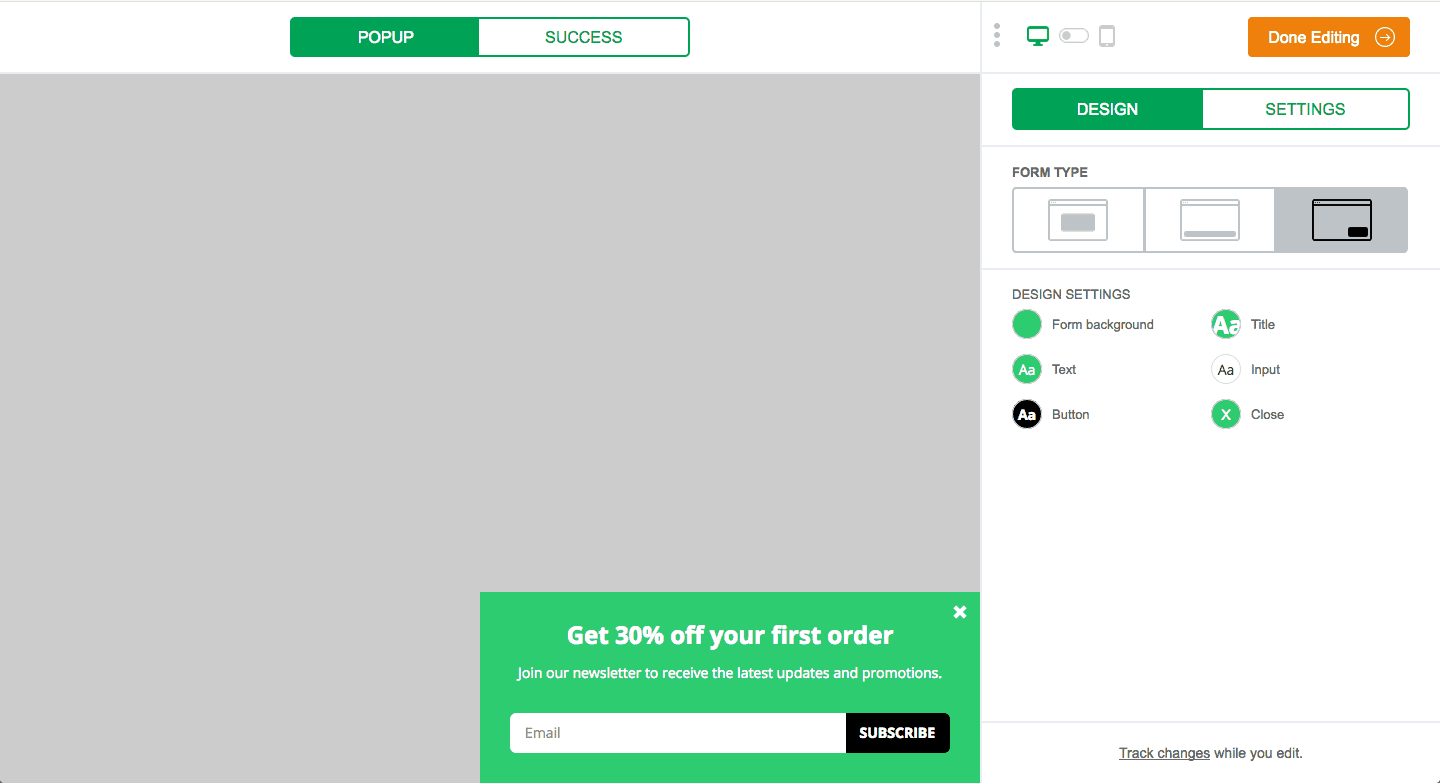 The behavior of each popup is also highly customizable allowing you to choose which specific webpage where you would like to show the popup.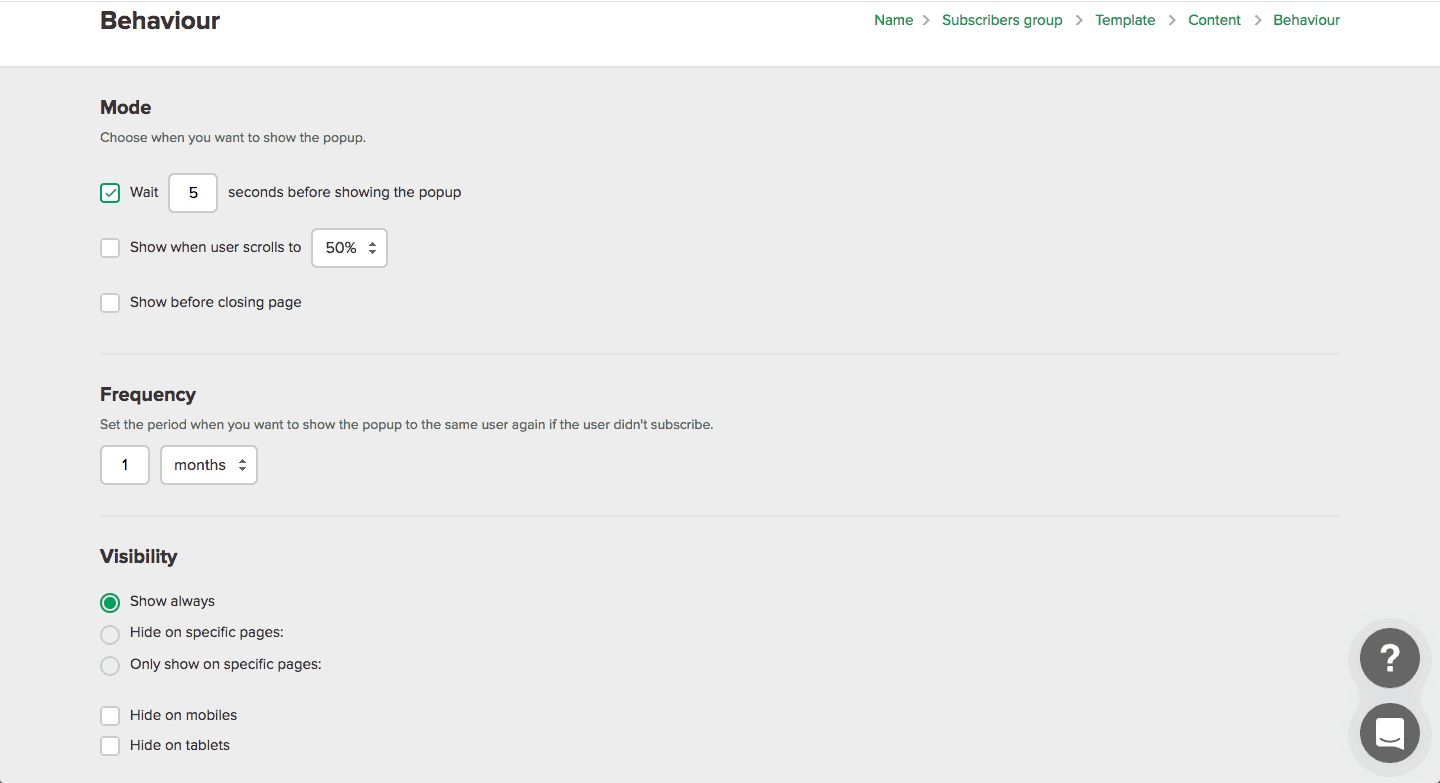 The final page is a summary of the popup and the tracking code. (There is a MailerLite WordPress plugin which allows you to enable popup scripts and the popups will automatically be on your site.)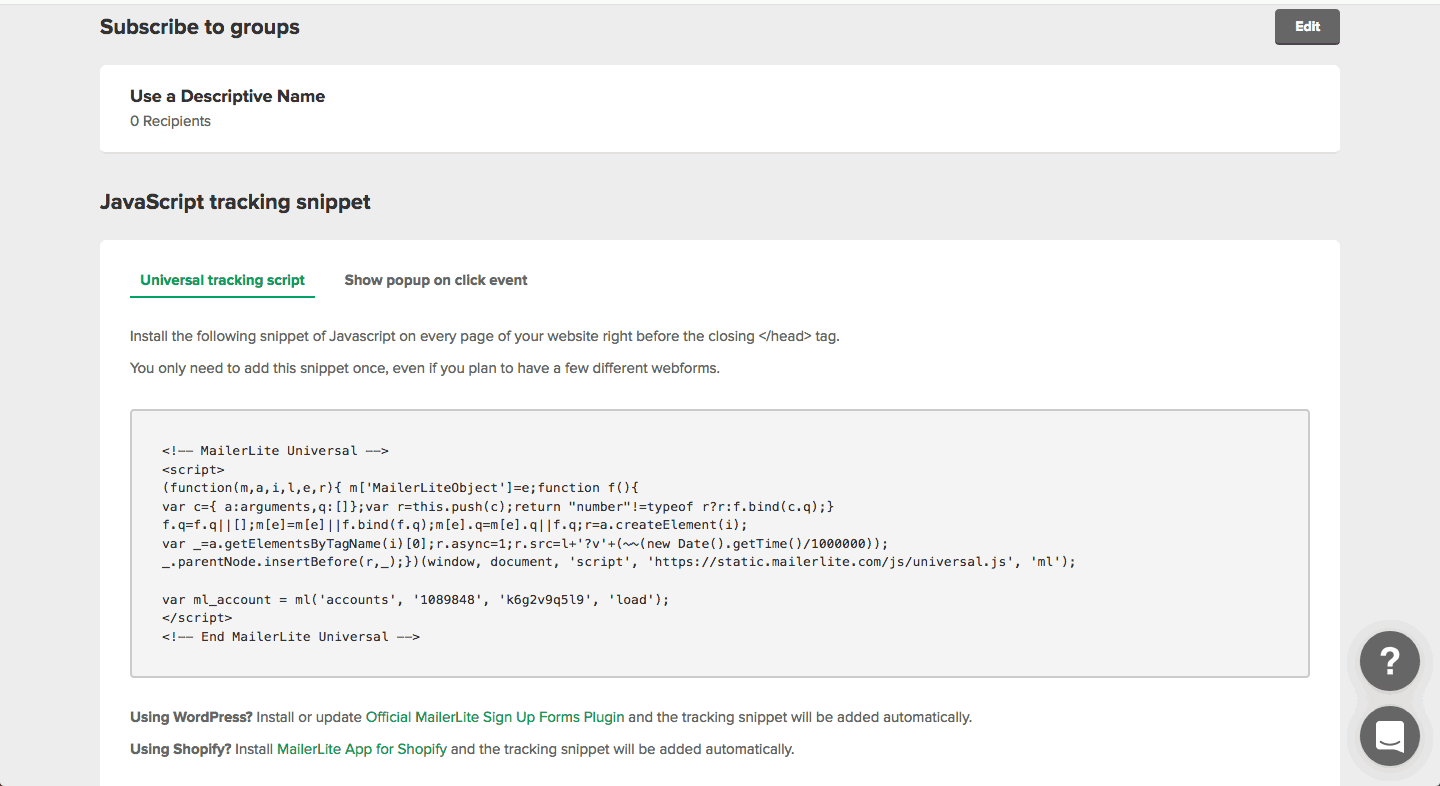 Each form has its own stats page which will show metrics from that form and a list of subscribers who signed up using that form.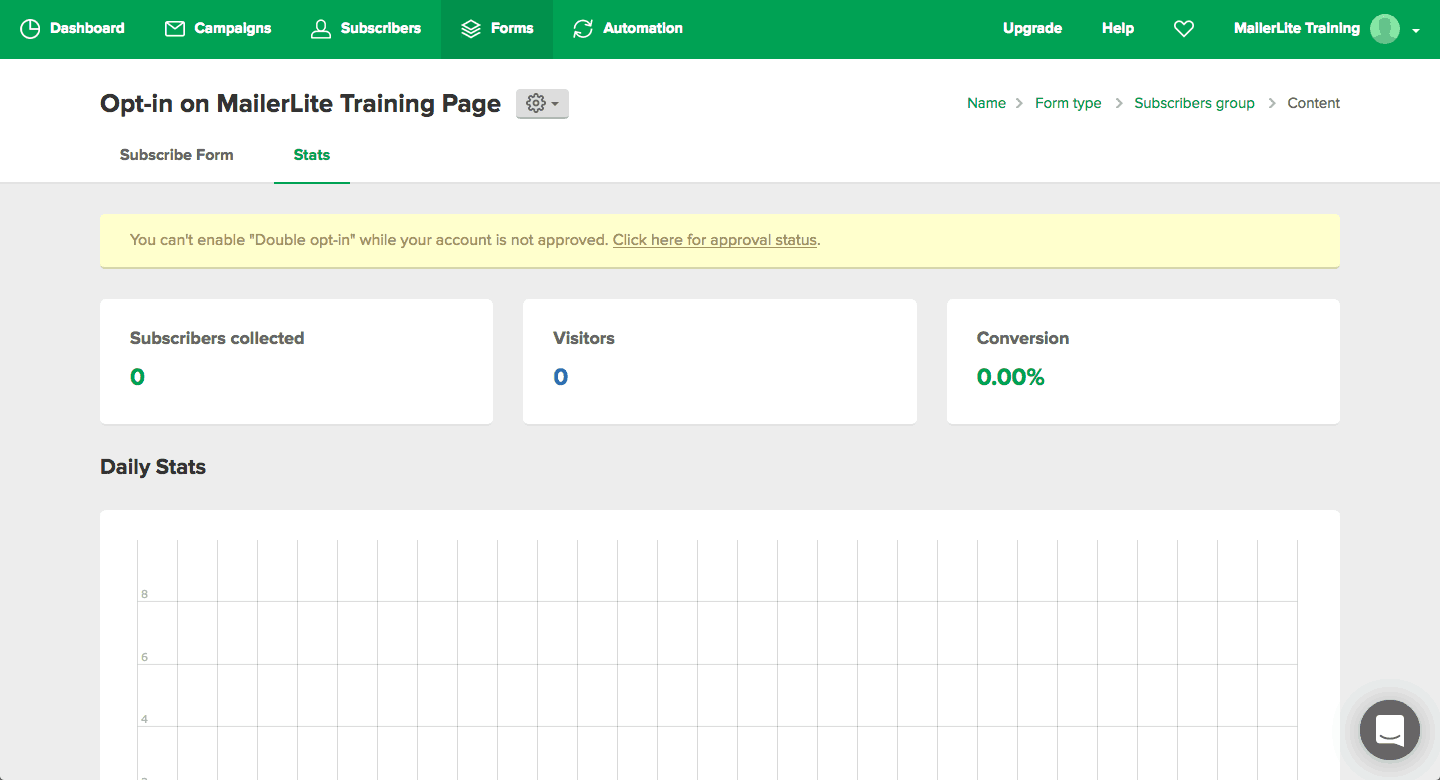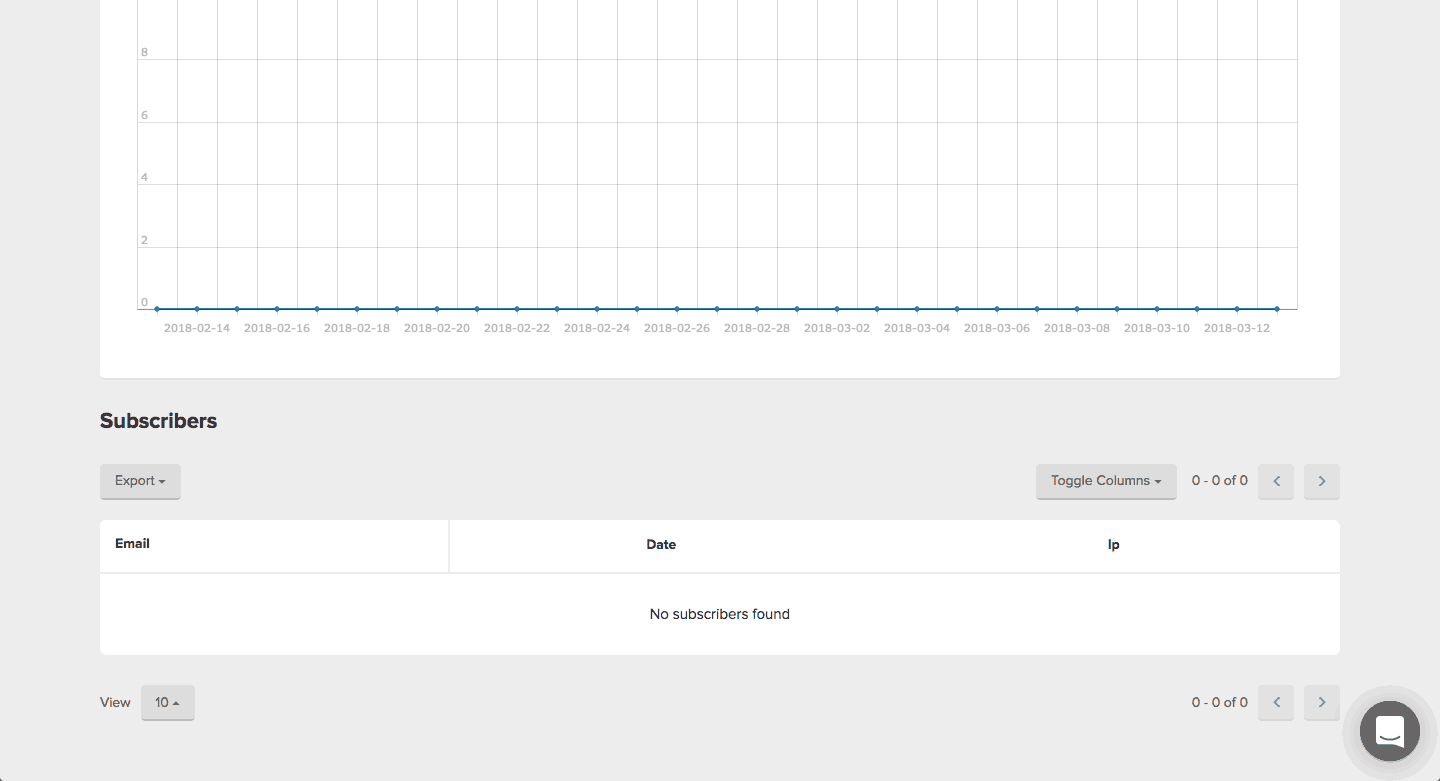 Setting up Automations
Like many other areas of MailerLite, the setup for automations is extremely visual and intuitive. To set up a basic welcome sequence for new subscribers select Create New Workflow from the Automations tab.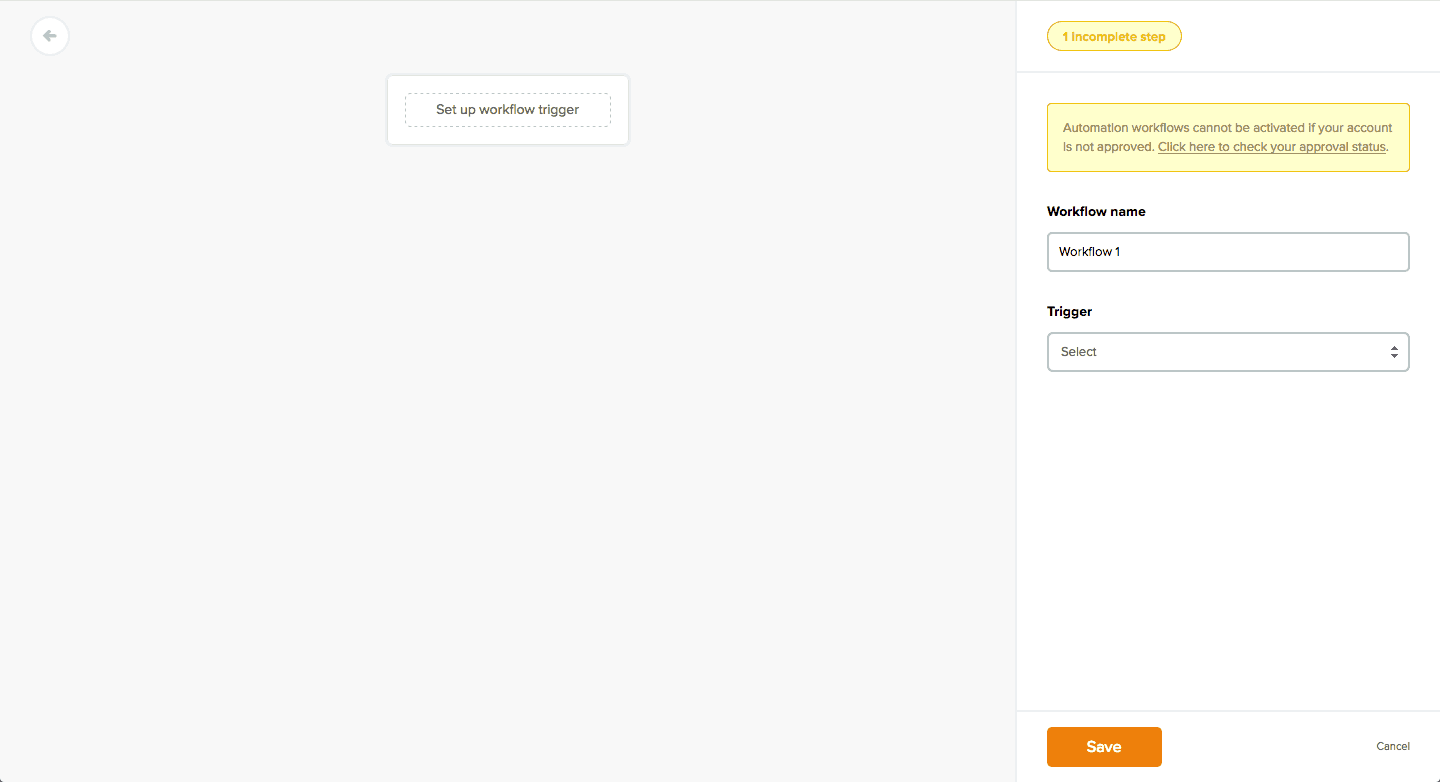 Name your Workflow (again, be descriptive!) and select a trigger which starts your workflow.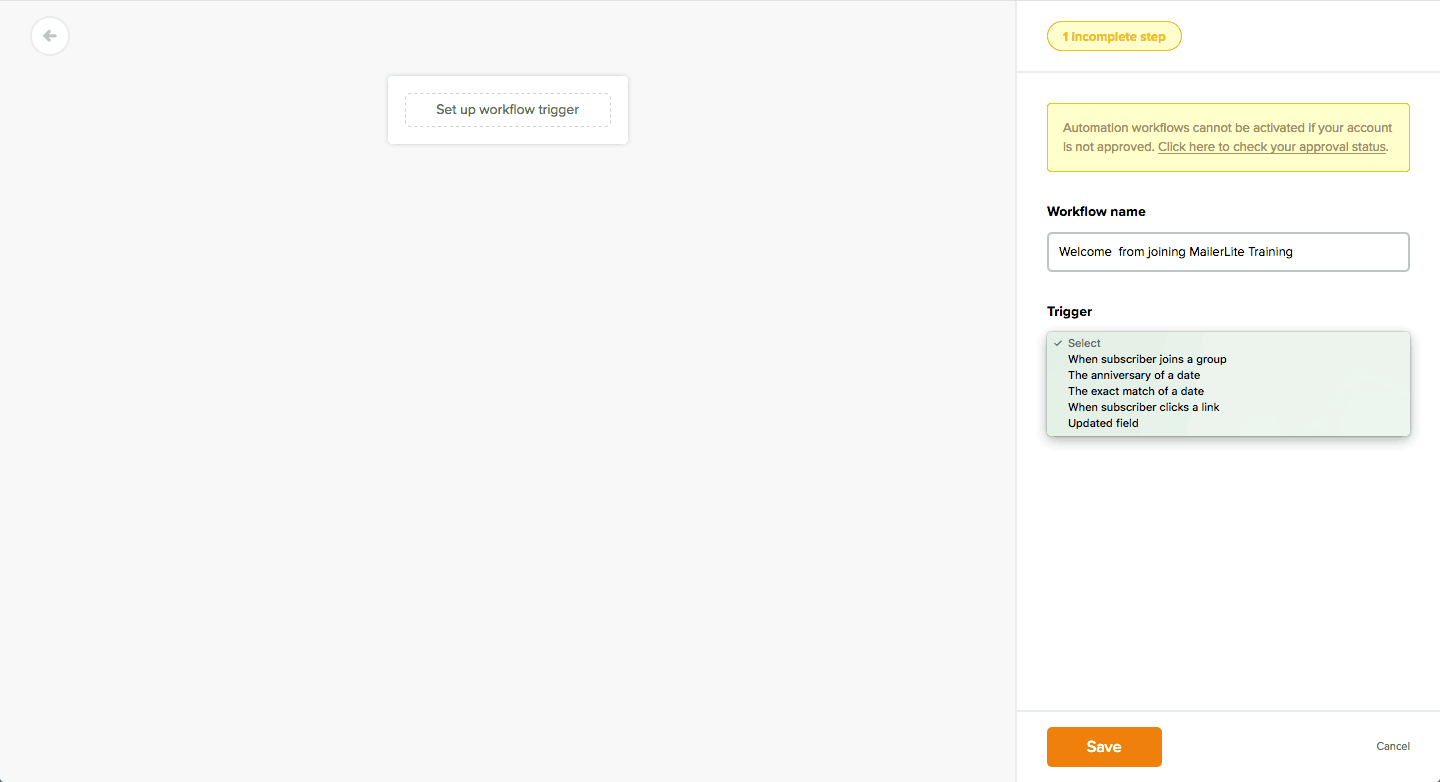 Select "When a subscriber joins a group".  You have the option to resend this automation each time the same subscriber joins the same group (no thanks!). Once you click save, a little plus sign appears under in the workflow allowing you to add the next step.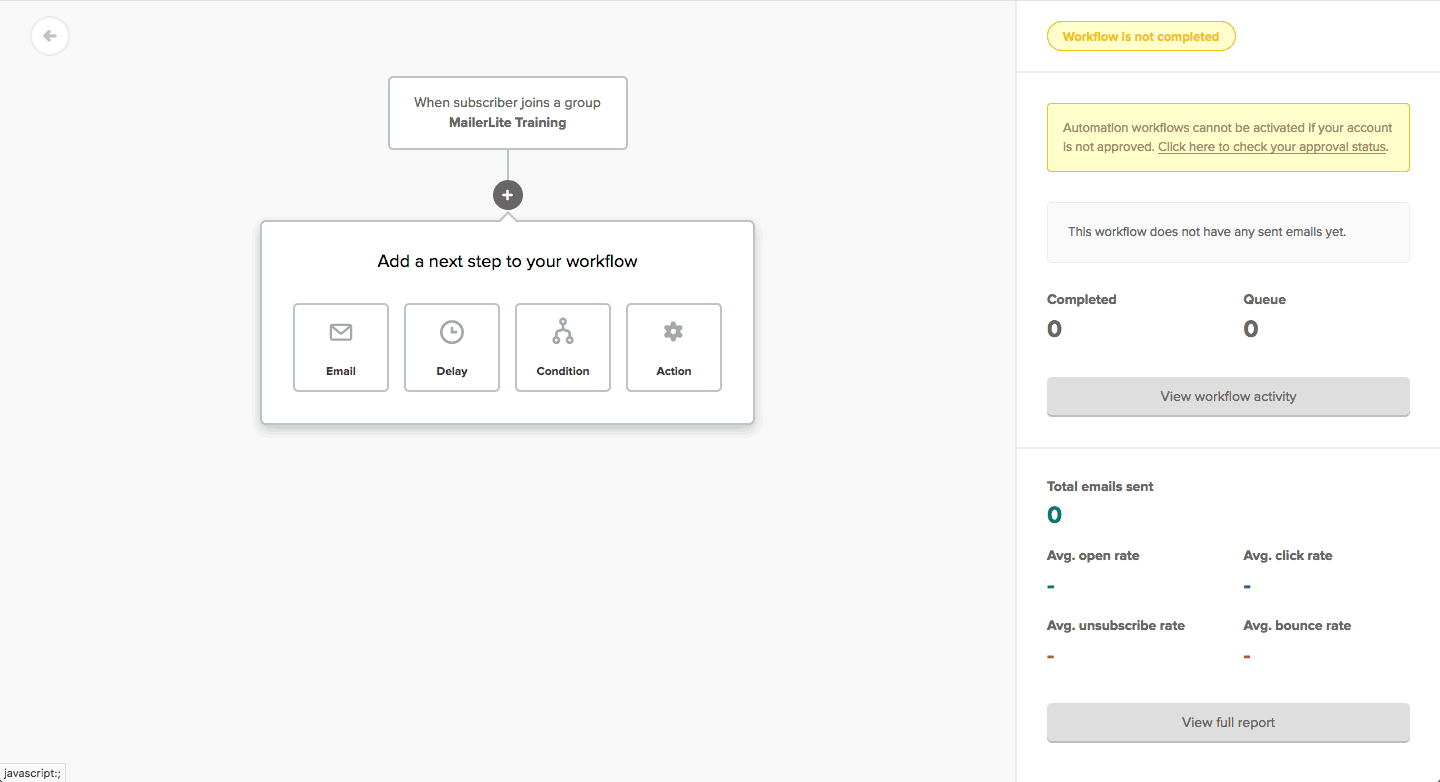 For the example, choose to send an email as soon as someone is added to the group. Once the email is selected, you can add the subject line, sender/email, and build the email itself. (I used one of the email templates provided for this example.)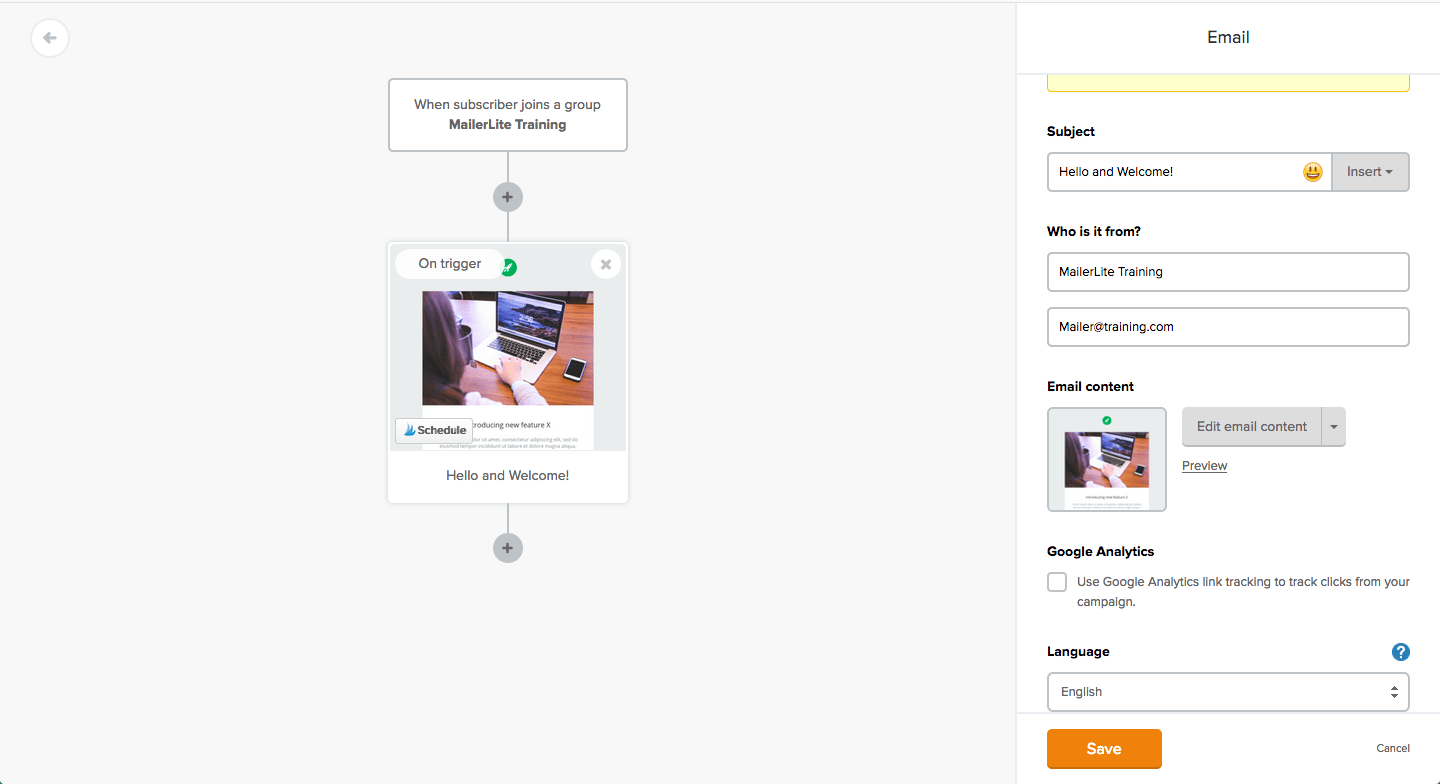 When you click save you will see the first plus sign is available again after the first trigger with another plus sign after the email. This time choose delay, waiting two days before sending the next email.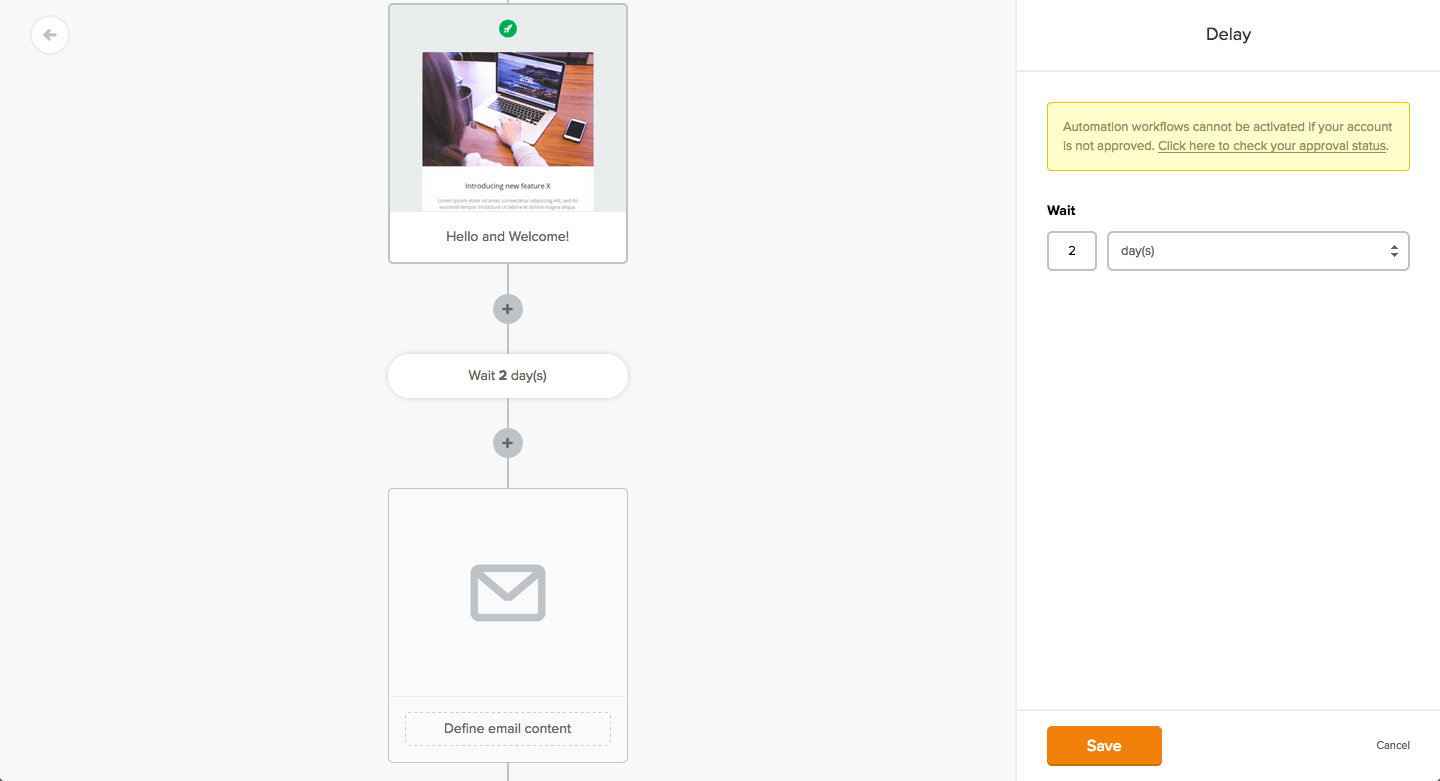 Continue adding workflow actions in the same way until all your automations are ready to go.
Now that your Groups, Forms, and Automations are set up, you are ready to start collecting subscribers from your website into MailerLite. It is time to start changing all of your forms on your site from your current platform to MailerLite forms.
If the process of changing over your forms on your site is taking longer than expected, you do not have to worry about missing subscribers. Your current platform is still active and your new platform, MailerLite is all set to collect new subscribers at no cost to you!
Once the forms on your site are switched, you are ready for the step you're waiting for…. SUBSCRIBERS!
If you are paranoid (like I am), you can give it a couple of days to make sure that your list is not growing with your current platform. If it is growing, you may have a forgotten form which needs to be deactivated.
Moving your List
Now that you have the framework set up, importing your list has become the easiest step. If you are switching from Mailchimp, there is already a built in interface for importing your list.
When switching from other email marketing platforms, you will need to import your subscribers from a downloaded list.
From the subscriber tab, select Add New Subscribers.  From here you can select a file, copy and paste from excel, add individual subscribers or connect with MailChimp.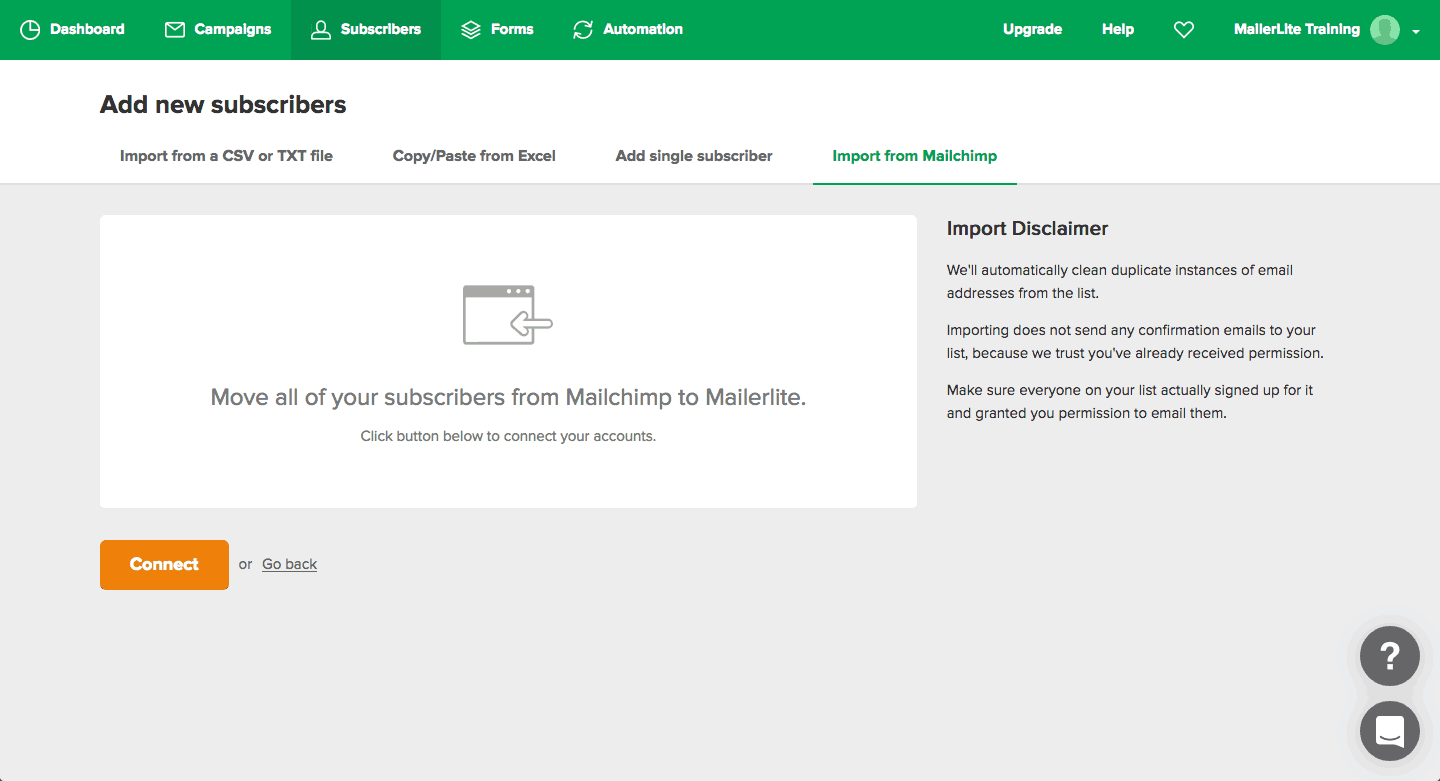 Copying and pasting each group at a time from excel is the simplest way to maintain your current groups/tags.  To do this you may need to download your list from your current platform by tags or groups and then copy and paste.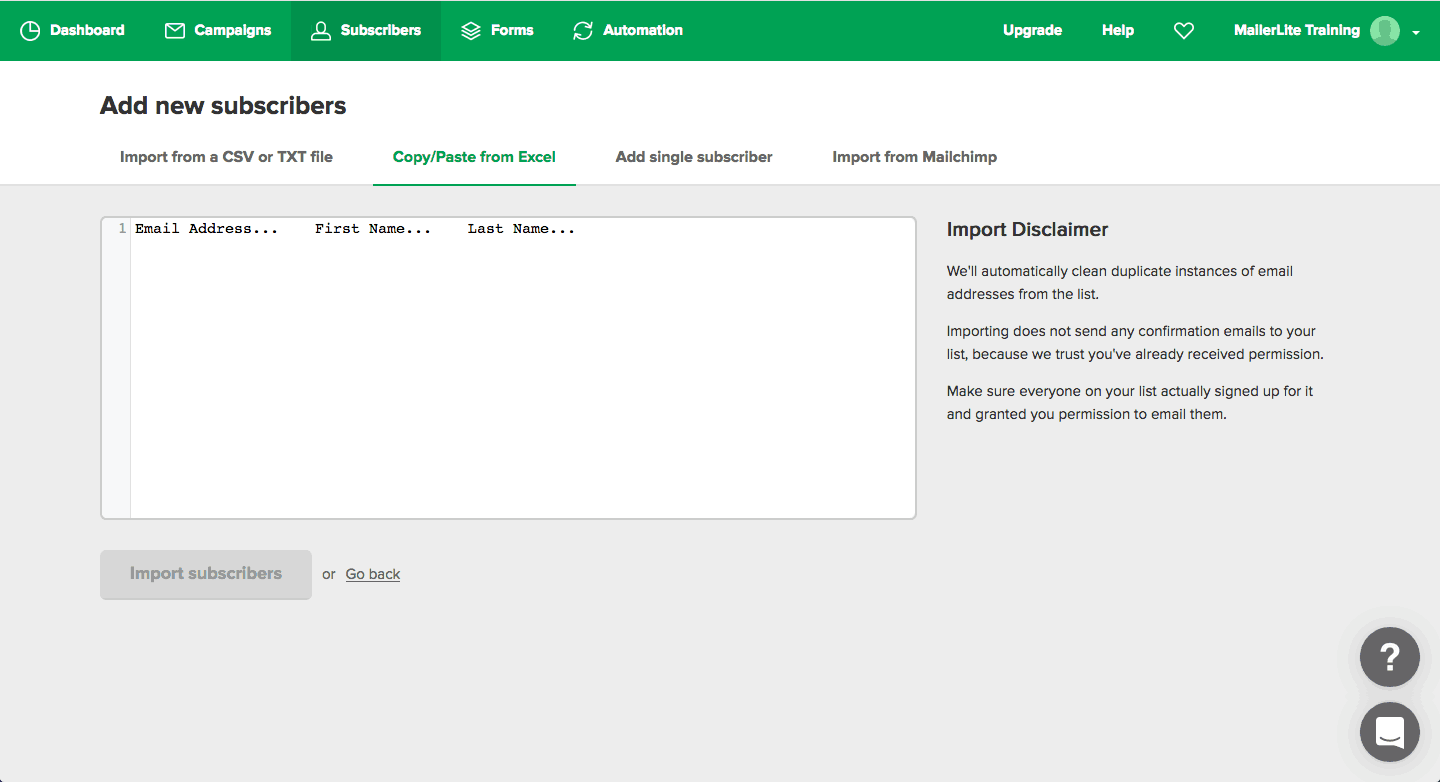 Once you have imported your subscribers, you will want to upgrade your account to a plan which matches your number of subscribers if you have more than 1000.  You are ready to send campaigns from MailerLite to your whole list.  (Don't forget to shut down your previous platform and save tons of $$$$.)
Whew! That was long, but now do feel like you now know how to switch to MailerLite?