Textured Crochet Pillow Pattern
Disclosure: This post may contain affiliate links. As an Amazon Associate, I earn from qualifying purchases. Please visit my Privacy Policy for disclosures and more information.
Changing your throw pillows is a quick and simple way to update your space, but have you seen the price of cute pillows lately? Phew! Instead of buying new pillows, use this textured crochet pillow pattern to make new cushion covers for your throw pillows or pillow inserts.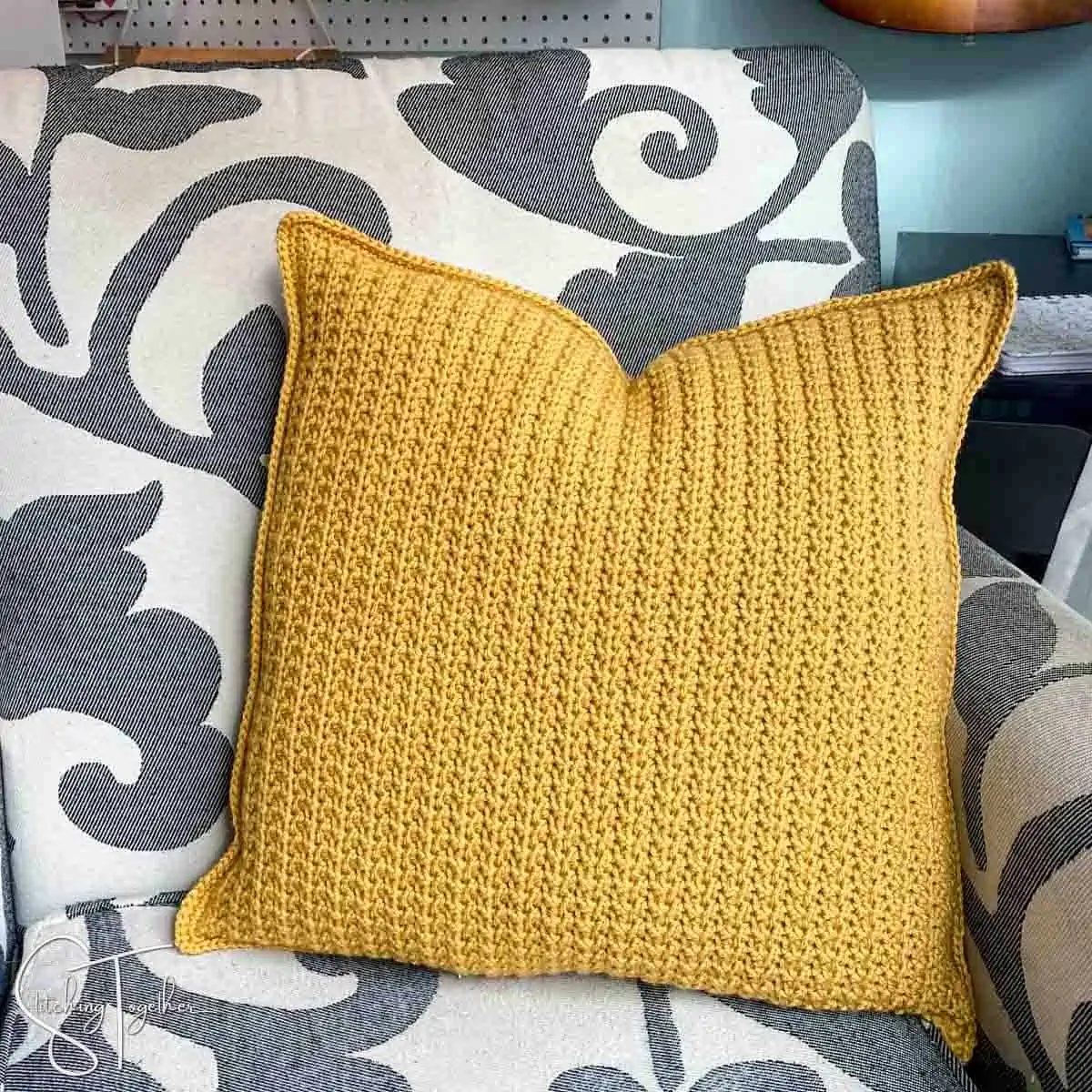 Keep reading for the free crochet pattern and all the details for making your own textured crochet pillow cover, or you can purchase the ad-free PDF version of this pattern here.
Related: Spring Blooms Crochet Throw Pillow Pattern
How to Crochet a Textured Pillow
This is actually a super easy crochet pillow despite how it may look. When I think of textured crochet fabric, usually post stitches are the first thing that come to mind, but this texture is created by alternating working in the front loop and back loop with your half double crochets.
It is set at an easy level, and probably best suited to a crocheter who has moved beyond beginner skills. There is no sewing needed to make this easy crochet pillow.
You can cover an existing throw pillow, use a pillow insert, or even use stuffing as the filler for this pillow cover.
Related: Modern Crochet Pillow Cover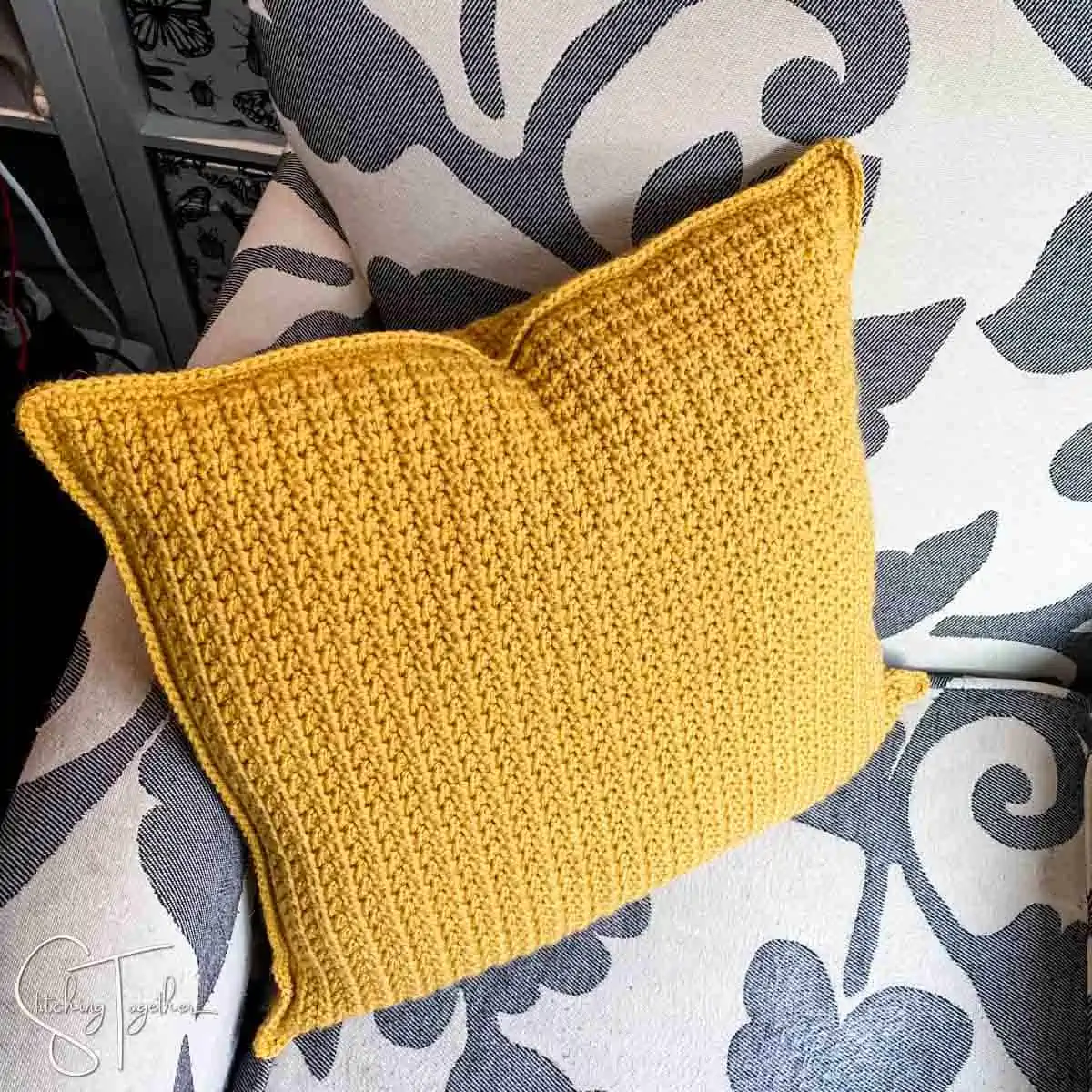 Stitches
Simple stitches, with a big payoff: those are my favorite! You really only need to know how to do 4 different types of basic stitches to make this pillow: chain, half double crochets, single crochets, and slip stitches. That's it! They are easy stitches.
The main part of the crochet cushions is made with half double crochets worked in an alternating pattern in the front loop and the back loop. Once you get past row 1, each row is the same.
Before joining the panels to make a pillow cover, you'll add a round of single crochets around each panel. Having a round of single crochets makes it much easier to join the panels together.
You'll join them with another round of single crochets and then finish off with one more round of single crochets which gives the pillow a nice and clean edge.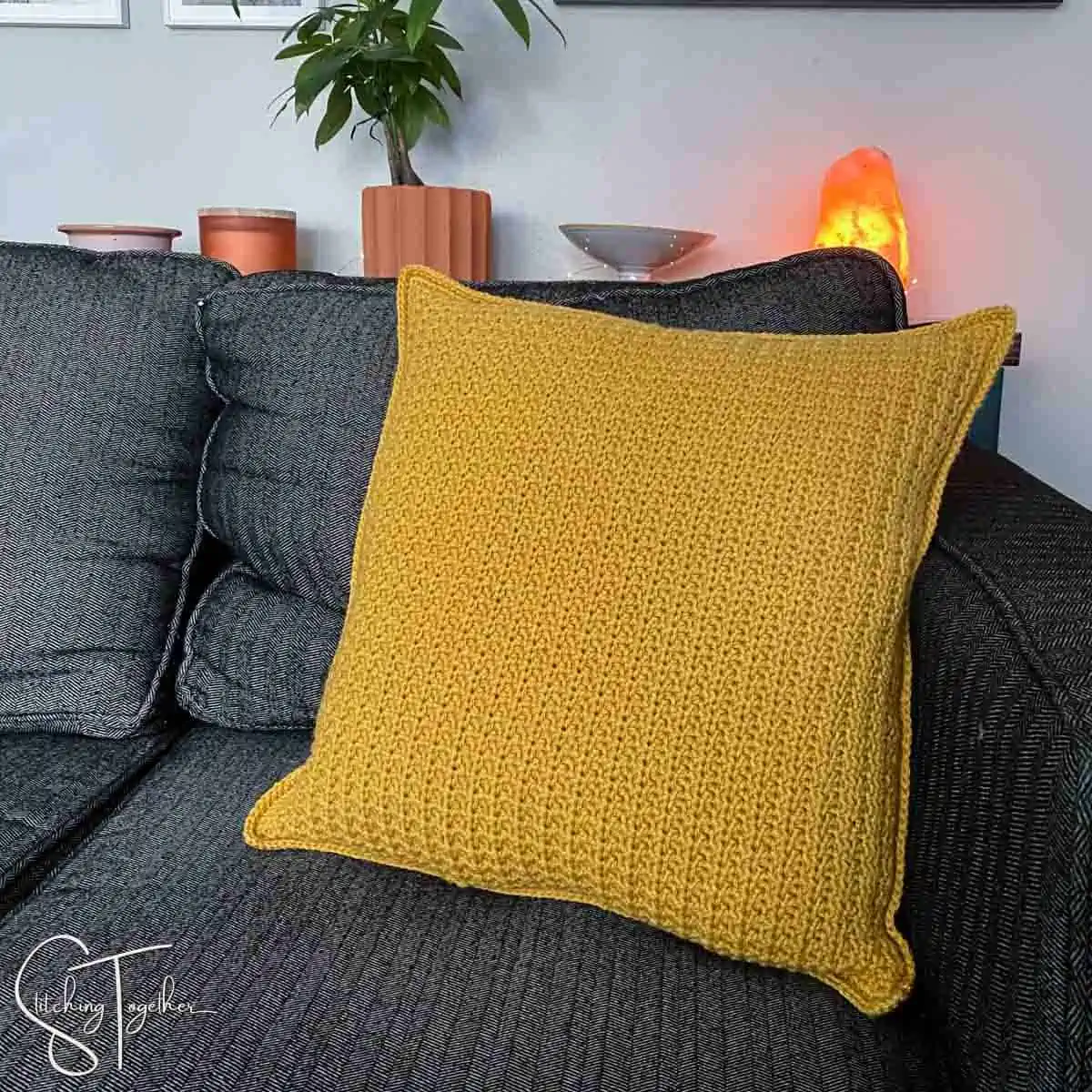 Yarn
For this textured cushion cover, I used I Love This Yarn from Hobby Lobby which is a 100% Acrylic, Category 4, worsted weight yarn. It is a value yarn that is affordable, comes in a wide range of colors, and is easy to work with.
Besides having many solid color options, it also comes in prints, tweeds, ombres, stonewash, and metallic versions. You are sure to find colors that will compliment your home décor.
Yarn Substitution Options
If you need some yarn substitution options, I have some suggestions for you. Any of the big-name value yarns will work well as substitutes, like Bernat Super Value, Red Heart Super Saver, and Caron One Pound yarn. Paintbox Simply Aran and Lion Brand Basic Stitch would also work well.
For an extra soft pillow cover, Premier anti-pilling would work well. Whatever you decide, make sure it is a durable yarn that can handle some wear and tear, if your throw pillows actually get some use. (Maybe only I need to worry about this with my kids and animals.)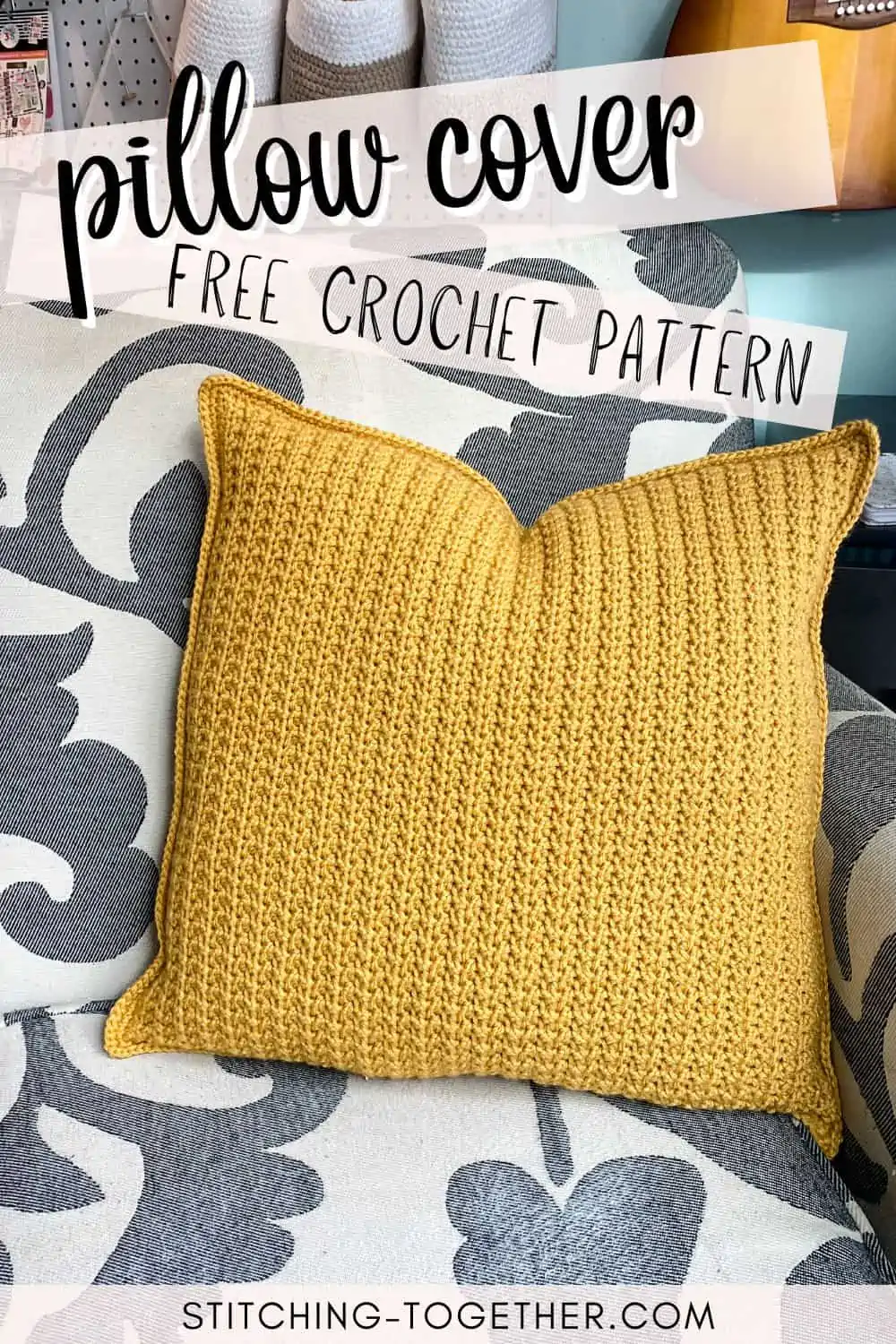 Textured Crochet Pillow Cover Pattern
Skill Level: Easy
Materials:
US size H/8, 5.0 mm crochet hook
I Love This Yarn (100% Acrylic, category 4, medium weight yarn – 7oz/355yds – 199g/325m)
Sample Used approx 601 yds (11.85 oz) in Sungold
Large Eye Yarn Needle
18" x 18" pillow form
Scissors
Abbreviations:
ch(s): chain(s)
hdc(s): half double crochet(s)
FLO: front loop only
BLO: back loop only
sc(s): single crochet(s)
sl st: slip stitch
Gauge: 4" x 4" = 18 hdcs x 12 rows
Finished Size: each pillow cover side was approximately 17" x 17" before joining the sides
Notes:
The gorgeous texture on these pillows is created by alternating half double crochets in the front loop and in the back loop for the next st. Each row starts with a half double crochet in the front loop only then alternates BLO and FLO.
When working Row 1, alternate working into the top loop and bottom loop of the chain. This allows the stitches to sit closer together like the rest of the project. You can also try going down a hook size for the chain and row 1 if you don't want to alternate the stitches as you work into the chain.
You'll make two identical panels for the pillow cover, front and back, and then join them with a round of single crochets and finish it off with another round of single crochets.
Pattern Instructions:
Ch 77 (or any odd number)
Row 1: hdc in the 2nd ch from the hook and in each ch across (see notes), turn (76)
Row 2: ch 1, *FLO hdc, BLO hdc, repeat from * across (76)
Rows 3-51: repeat Row 2.
Border: sc evenly around the top, sides, and bottom of the panel placing 3 single crochets in each corner. For the sides, work 3 single crochets for every 2 rows. Join with a sl st.
Repeat to make a second panel.
Join Panels:
Line up the two sides and make sure the side you want to see is facing out for both panels.
Join the yarn at the corner or continue to use the yarn from the border if you didn't fasten it off. Single crochet around 3 sides of the border joining both panels and placing 3 scs in each corner.
Insert pillow form between the panels and sc to close the 4th side, join with a sl st.
Final Round: ch 1, sc evenly around the top, sides, and bottom of the panel placing 3 single crochets in each corner, join with a sl st. Fasten off and weave in ends.
.
If you like easy-to-print patterns, this pattern can be purchased in the following places:
Thanks for your support!
.
What will you use this crochet heart pattern for? Will you share pictures of your finished projects?
Isn't this a great way to add a little DIY coziness to your couch and home decor? Don't miss these other beautiful pillow crochet patterns: