Are you like me and you love seeing what other crocheters are using beyond yarn?  Or maybe you haven't started crocheting yet, and don't know where to start looking for crochet resources and accessories.
(Be sure to check out my last recommendation if you are just beginning to crochet.)
Since I have been crocheting for over 15 years, I narrowed down some of my favorite crochet tools that I would like to share with you. Most of them are inexpensive which is great, because let's face it, you need that money to buy all the yarn! (All links below lead to Amazon.)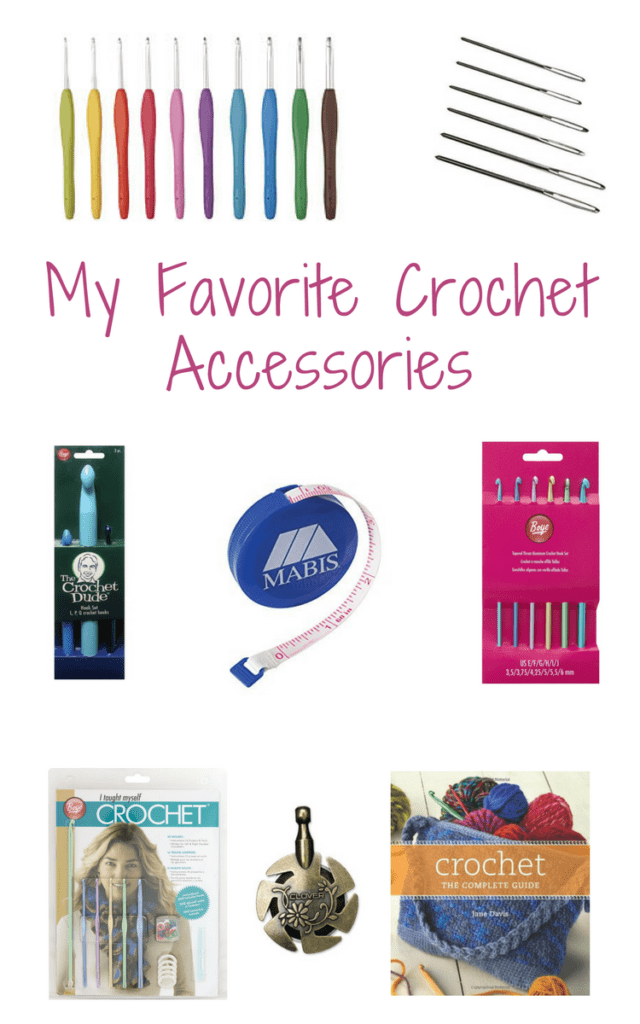 Please note: this page contains affiliate links. I may make a commission if you make a purchase through one of these links. There is no cost to you and all of the products I recommend on this page are products that I have used, that I like, or that I plan to purchase in the near future. 
Hooks:
The Clover Amour Crochet 10 Hook Set is my absolute favorite. These hooks are lightweight, colorful and so smooth. I can crochet for longer and faster when I use these hooks. They are like the PF flyers of crochet hooks.  (Sandlot anyone?) They have a rubber handle which makes holding them extremely comfortable.  Now I just need to expand my set with the bigger hooks for thick yarns. (They do have a smaller hook set as well, but I don't do much delicate crocheting.)
The only drawback to these hooks is that they can collect dirt and dust on the handles.
My back up hooks, which I've had since I started crocheting are made by Boye. I am pretty sure these hooks will last forever. Boye hooks are tapered like the Clover hooks which is my preferred  style.  I recommend this set if you are just starting out on your crocheting adventure.
A great and affordable large hook set is this Crochet Dude set by Boye. Again, they are tapered hooks and the largest hook, size Q, is really long. Other large hooks I have used have a shorter shaft, which was harder for me to work with. The plastic can make a really annoying squeaking sound with some yarns, but the noise is easy enough to ignore.
Accessories:
Yarn Needles – There isn't much to the humble yarn needle, but they sure do make a difference. Trying to weave in ends with just a hook is not my preferred way to spend precious crafting time.  This set by Lion Brand comes in three different sizes, which means you can choose the size that fits your yarn best!
A soft measuring tape is useful for measuring gauge and the size of your final product. If you are like me, and take your WIPs all around the house or town, then this retractable measuring tape is great to keep in your bag.
Scissors/Cutters:
I've seen many crocheters use those adorable little crane embroidery scissors, but I don't have any fancy scissors. I do have the Clover Yarn Cutting Pendant which I think is great and seems so fancy to me.  It is small, kid safe, and you can take it on an airplane! Plus it is actually really adorable and you could wear it on a chain.
Books:
Right now, my go-to crochet book is Crochet, The Complete Guide, by Jane Davis.  The book itself has a hardcover but it is spiral bound inside.  The pictures are beautiful and the instructions are clear. There are instructions for 162 different stitching which also includes graphs.  Until I got this book, I had no idea that I would be able to read crochet/stitch graphs! They always seemed like a confusing mystery to me, but graphs are now demystified!
If you are just getting started on crochet, I Taught Myself to Crochet Beginners Kit by Boye is a wonderful and inexpensive resource.  This is the kit I purchased when I learned to crochet.  The items in the kits have changed a bit in the last 15 or so years but you get the basics that you need to get started!
What about you? Do you have favorite crochet tools?  Did I miss anything you find essential?