Clover Amour Crochet Hook Review
Disclosure: This post may contain affiliate links. As an Amazon Associate, I earn from qualifying purchases. Please visit my Privacy Policy for disclosures and more information.
So you want to crochet faster and for a longer period of time without aching arms? Then I highly suggest getting your hands on Clover Amour Crochet Hooks.
Crocheting faster and longer means MORE projects and more patterns and, maybe best of all, more yarn! YAAAASSSSSSS!
I know there are technique or posture changes you could make to help you improve your crocheting, but I would like to share with you the single (simple) change I made that has had the biggest difference in my crocheting.
I changed crochet hooks!
See the hooks that have made a HUGE difference in how I crochet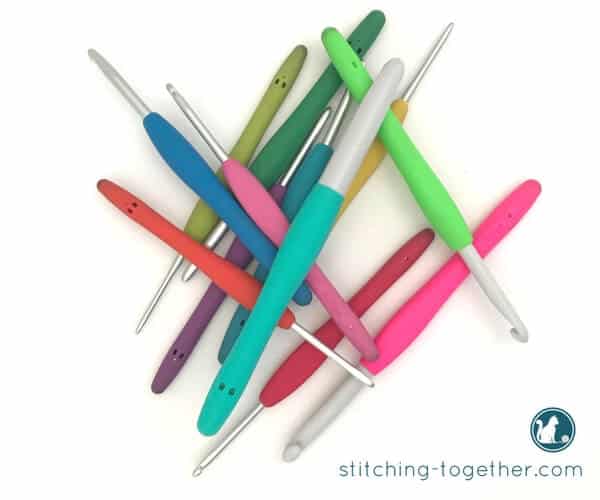 When I received my Clover Amour crochet hooks, it was literally love at first stitch.  I couldn't believe how the crochet hook felt in my hand, how it slid through the yarn, and how it made my stitches so even.
Are you on the fence about upgrading your hooks? I was too! In fact, it was my husband who gave me the final push to get new hooks.  (I am a serious over-analyzer when it comes to purchases.)
His logic was that I will probably be crocheting the rest of my life so they weren't something I would spend money on and only use once or twice if they were any good. Into the cart, they went!
About Clover Amour Hooks
Clover Amour Hooks are tapered ergonomic crochet hooks that come in a range of sizes that span 0.6 mm all the way up to 15.0 mm. Each ergonomic crochet hook features a colorful elastomer rubber handle that is designed for comfort.
The smaller clover hooks are made with a steel hook shaft, while the standard-sized hooks have a smooth aluminum metal shaft. The larger hook shafts are made of ABS resin, which is an extremely durable plastic that is surprisingly smooth and lightweight.
Clover Amour Crochet Hook Review
Below I have put together my top 5 reasons you should purchase Clover Amour crochet hooks. They aren't in order of importance, because I really couldn't decide which would be my number one reason!
Lightweight
In the standard 10 hook set, which includes sizes ranging from B through J, the shaft is made from a smooth, lightweight aluminum.  The easy grip handle is a bright elastomer rubber. I assumed that the thicker handle would make for a heavy hook but they are surprisingly lightweight.
The larger hooks (size K and up) have a plastic shaft so they are also lightweight despite the larger size. The weight of these hooks will not cause fatigue!
Colorful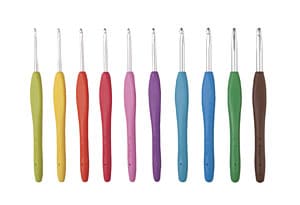 The bright and colorful handles make it so simple to identify the different sizes. The sizes are printed/stamped on the handle, but after using the hooks regularly, you won't even need to check the sizes. The sizes are also stamped into the handle for easy identification.
Oh, and remember that time you dropped your hook (insert obscure location here – between couch cushions, under the table, behind the chair)? Brighter hooks means they are easier to spot when they inevitably escape!
Smooth and tapered
I am a tapered hook kind of gal and these fit the criteria. Are you a fan of inline hooks?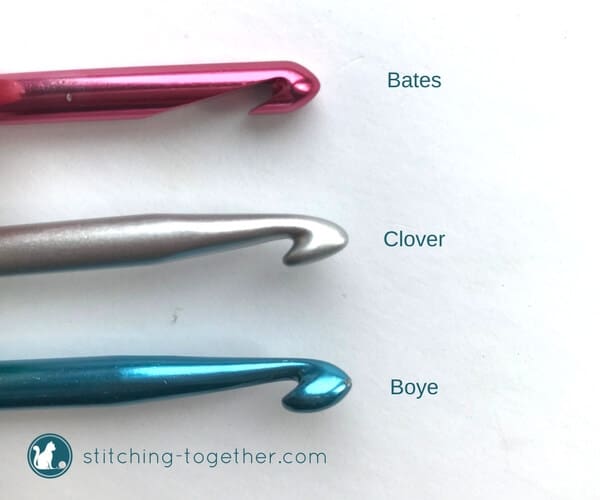 The shaft of these hooks is unbelievably smooth. They don't look like they are as smooth as the all-metal hooks, maybe because they aren't as shiny, but they glide right through the yarn.  Even the larger sizes that have the plastic shaft are incredibly smooth hooks!
You will be able to crochet faster and more evenly with the smooth shaft of these hooks.
Ergonomic
Honestly, I don't take many things that are labeled ergonomic seriously. It's become a clever marketing buzzword used to sell a variety of products. I was hoping the handle of the Clover Amour Hooks would be more comfortable, but I didn't purchase them with hopes of ergonomic benefits.
It wasn't until I grabbed a good 'ole aluminum hook to finish off a project that I realized the difference my Amour hooks have made.  My arm started hurting in a relatively short period of time using the metal hook. The ergonomic handle, as well as the smooth shaft, means less resistance and longer crocheting!
Affordable
Considering all of the benefits of these hooks, they are incredibly affordable.  The price for the set of 10 hooks usually ranges from $30-$75, with Amazon almost always having the best price. (I wouldn't spend more than $50 on the set so watch the price or make use of some coupons.)
Where to Buy Clover Amour Crochet Hooks
I have now bought a few sets of Clover hooks and each time, I have found the best deal on Amazon by purchasing the standard 10-piece set.
Amazon also sells a Steel Hook Set and a set of the larger hooks.
I have found that purchasing the larger hooks individually is generally the best deal on Amazon especially if you are an Amazon Prime Member. (You can get started as a Prime member with a 30-day free trial
Some of the bigger craft stores also sell Amour hooks and you can use their coupons to build your hook inventory slowly.
Clover Crochet Hook Cons
In looking through the 2 and 3-star customer reviews on Amazon it seems that the biggest complaint is the shortness of the hooks depending on different crocheting styles.
For crocheters who use a knife hold, the hook length can be awkward. (I have heard that the Clover Soft Touch Hooks are better for the knife grip, but I think they are even shorter than the Amour hooks so I am not sure about that!)Since I use a pencil grip, I've never had an issue with the hook length.
So how long are Clover Amour Crochet Hooks? They are 5.5 mm long.
I did do some comparison measuring which might help you decide if the length is right for you. I measured the I-hook from Boye, Susan Bates, and Clover Amour.
[line]
Boye hook = just under 6" long
Susan Bates hook = just under 5.5" long
Clover Amour hook = 5.5" long[line]
So, they are longer than the Susan Bates hooks but almost half an inch shorter than the Boye hooks.  Good to know!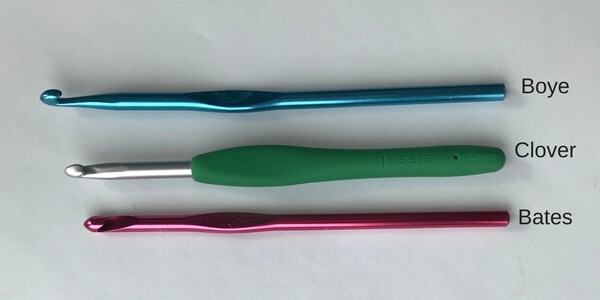 For me personally, my only complaint is that dirt can show on the handles. Silly I know, but it does bug me a bit.  Thankfully any dirt or lint is easy enough to wipe off!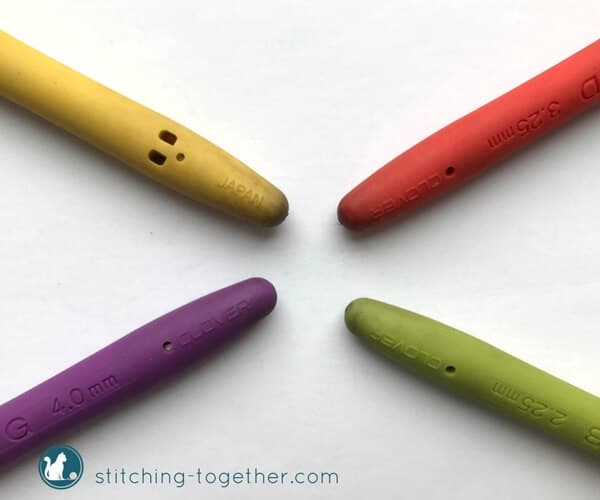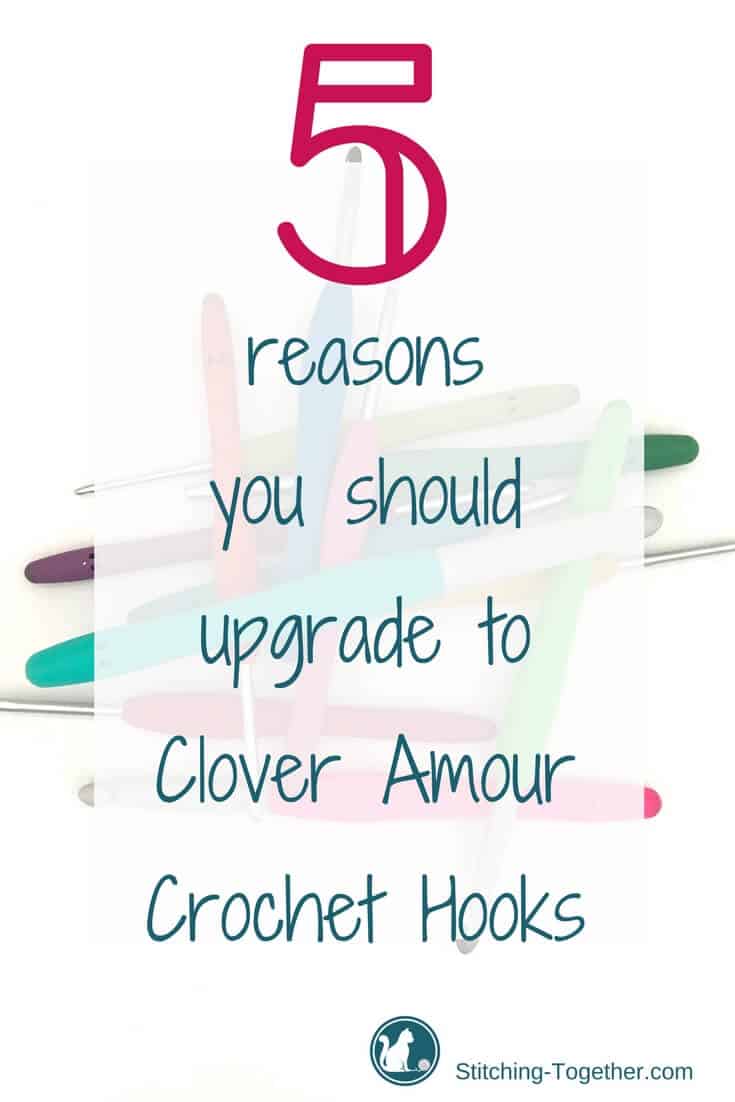 Did you find this Clover Amour crochet hook review helpful? Let me know if you have tried these hooks or plan on trying them! If you want to crochet faster and for a longer period of time, you should absolutely upgrade your hooks!