This post may contain affiliate links. Please visit my About page for disclosures, Privacy Policy and more information.
Free pattern for a modern crochet country dish towel. Pair it with the crochet country dishcloth for a perfect house warming gift.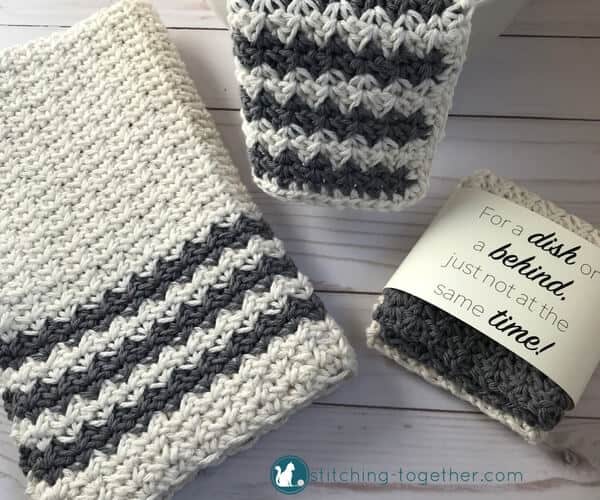 Before we had kids, my husband and I spent a lot of time with close friends who had four young kids. We loved babysitting the kids, eating meals with the whole family, and just doing life together.
Secretly we were watching them, all of them, closely. Doesn't that sound diabolical? – it wasn't – they are good parents with amazing kids. Knowing we wanted to start our own family soon, we wanted to learn as much as we could from them. (Fun fact: Their youngest was the newest baby my husband had ever held and holding her was the turning point for him being ready to have kids. She is exactly one year older than our oldest.)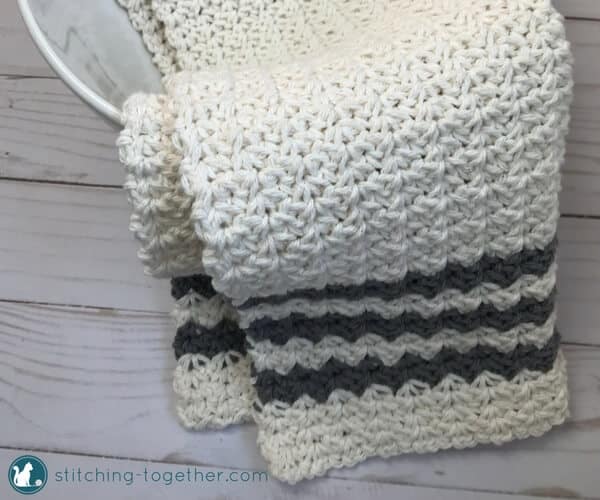 In all the time spent at their house, one memory continues to crack me up mainly because I just didn't understand until I had my own kids.  They seemed to have a towel, or towels, designated just for spills.  Someone would spill and there would be a chorus of "get the towel."  I couldn't frame how spilling was so commonplace that it required a regular spill towel – or set of towels.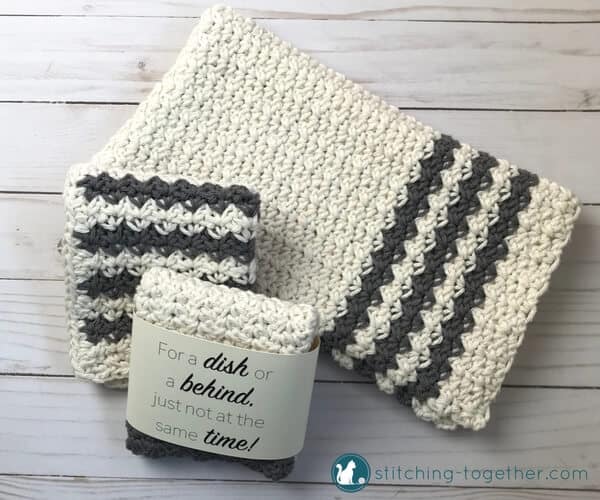 Now, with 3 littles of my own, I TOTALLY get it.  I cannot keep enough towels in my kitchen. When they are all clean, I don't have enough drawer space for them, but they are never all clean. I had no idea how often little people can manage to spill.  (I shouldn't be surprised though as I have always been a bit of a mess – to put it mildly.)
All of that to say, when you have kids, I don't think there is an enough when it comes to towel inventory!
---
Related

Ribbed Crochet Dishcloths and Dish Scrubbers
---
*Want access to that wrapper? Head to this post:  Crochet Country Dishcloth to find out how to get it!

Crochet Country Dish Towel
Skill Level: Beginner
Materials:
---
I wrote an entire post about my favorite hooks.  Check out the Clover Amour Crochet Hook Review and learn why you should upgrade your hooks.
---
Abbreviations:
ch(s): chain(s)
sc(s): single crochet(s)
st(s): stitch(es)
sp: space
yo: yarn over
Finished Size:
12.5″ X 21.5″
Gauge: 
4″ x 4″ = 6 spider stitches by 14 rows
Note:
The dish towel is worked in the spider stitch which is a sc, ch 1, sc in the same space. See How to Crochet the Spider Stitch tutorial for full instructions.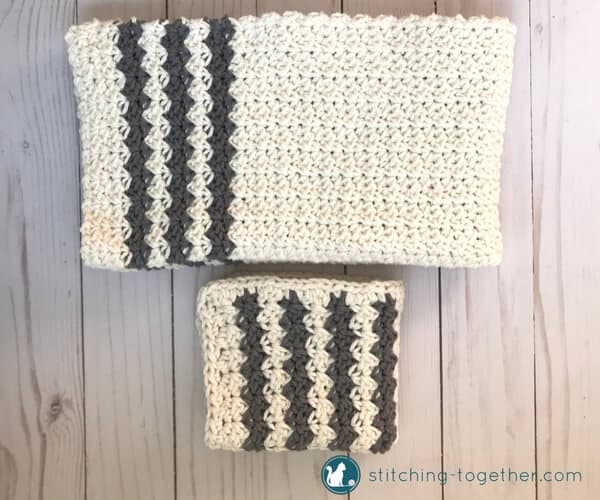 Pattern Instructions
Ch 38 with main color (Ecru)
Row 1: (sc, ch 1, sc) in 2nd ch from hook,* sk ch, (sc, ch 1, sc) in next ch, repeat from * to end of row. turn
Row 2: do not ch 1 to start the row, (sc, ch 1, sc) in each ch-1 sp to the end of the row, turn.
Repeat Row 2 for a total of 78 rows
Color Changes:
R1-4: Ecru
R5-6: Overcast
R7-8: Ecru
R9-10: Overcast
R11-12: Ecru
R13-14: Overcast
R15-64: Ecru
R65-66: Overcast
R67-68: Ecru
R69-70: Overcast
R71-72: Ecru
R73-74: Overcast
R75-78: Ecru
Bind off and weave in ends.  Don't forget to check out the matching crochet country dishcloth set.
Purchase the ad-free PDF of this pattern
Save and purchase the entire Crochet Country Set