Easy Rapid Ripple Baby Blanket Crochet Pattern Free
Disclosure: This post may contain affiliate links. As an Amazon Associate, I earn from qualifying purchases. Please visit my Privacy Policy for disclosures and more information.
Do you need a quick baby blanket pattern that's adorable? The Rapid Ripple Baby Blanket Crochet Pattern fits the bill. It's quick, easy, cute and you'll love gifting it to a sweet baby. Keep reading for the free crochet pattern or you can purchase a PDF pattern version here.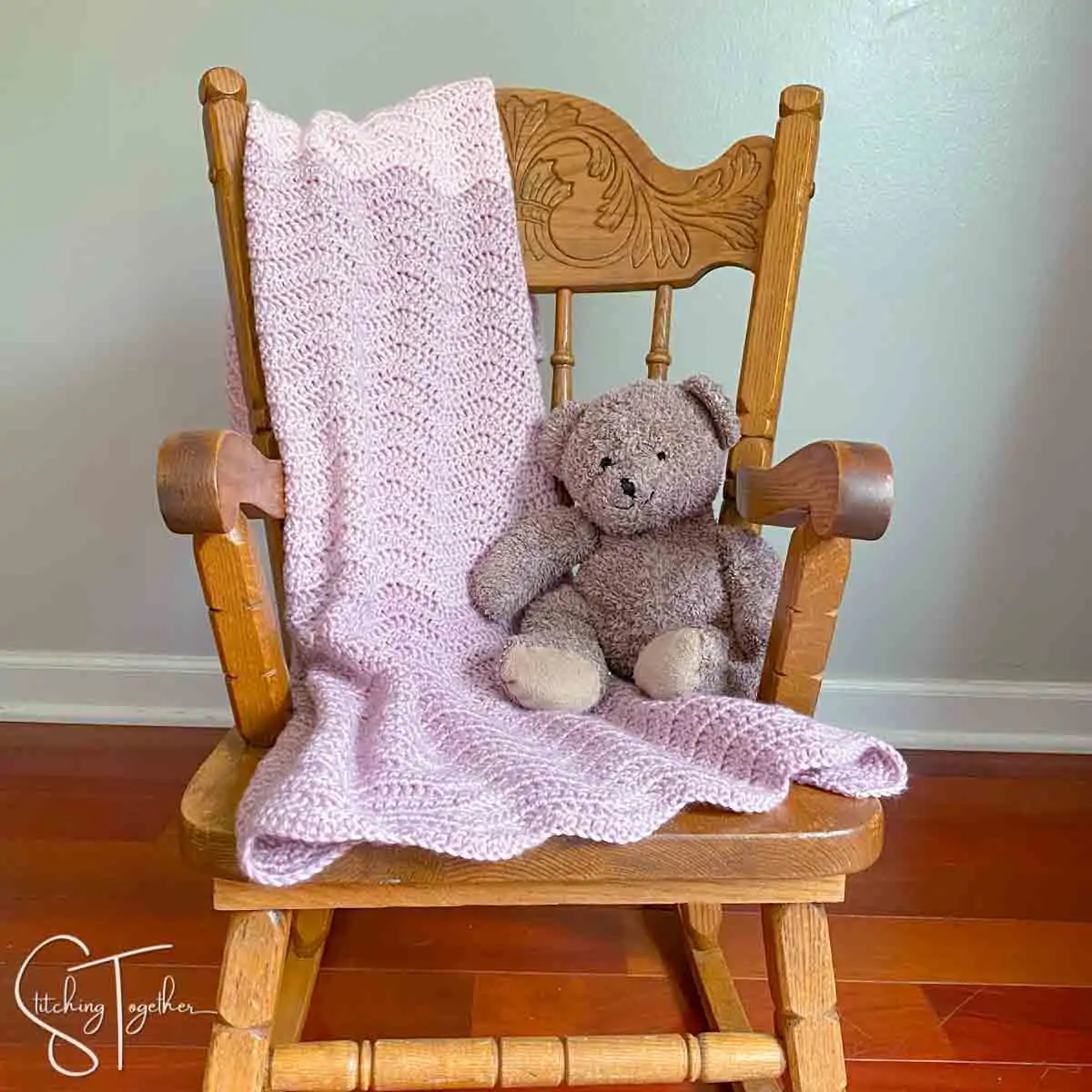 Stitches Used in the Crochet Ripple Baby Blanket Pattern
This easy ripple stitch blanket is made using the double crochet ripple stitch. The ripple stitch gives a smooth wavy pattern by using different double crochet stitches.
You only need to be familiar with basic crochet stitches in order to get the hang of the ripple pattern. You may want to work through the tutorial, How to Crochet the Ripple Stitch, before getting started on this beautiful blanket.
I didn't add a border to this ripple blanket in order to keep it accessible to most levels of crocheters. While it's marked as an easy project, I do think confident beginners could tackle this, especially after practicing with the Ripple Stitch Tutorial. Just be sure you fully understand how to count your stitches, crochet 2 stitches in the same stitch, and double crochet 2 together.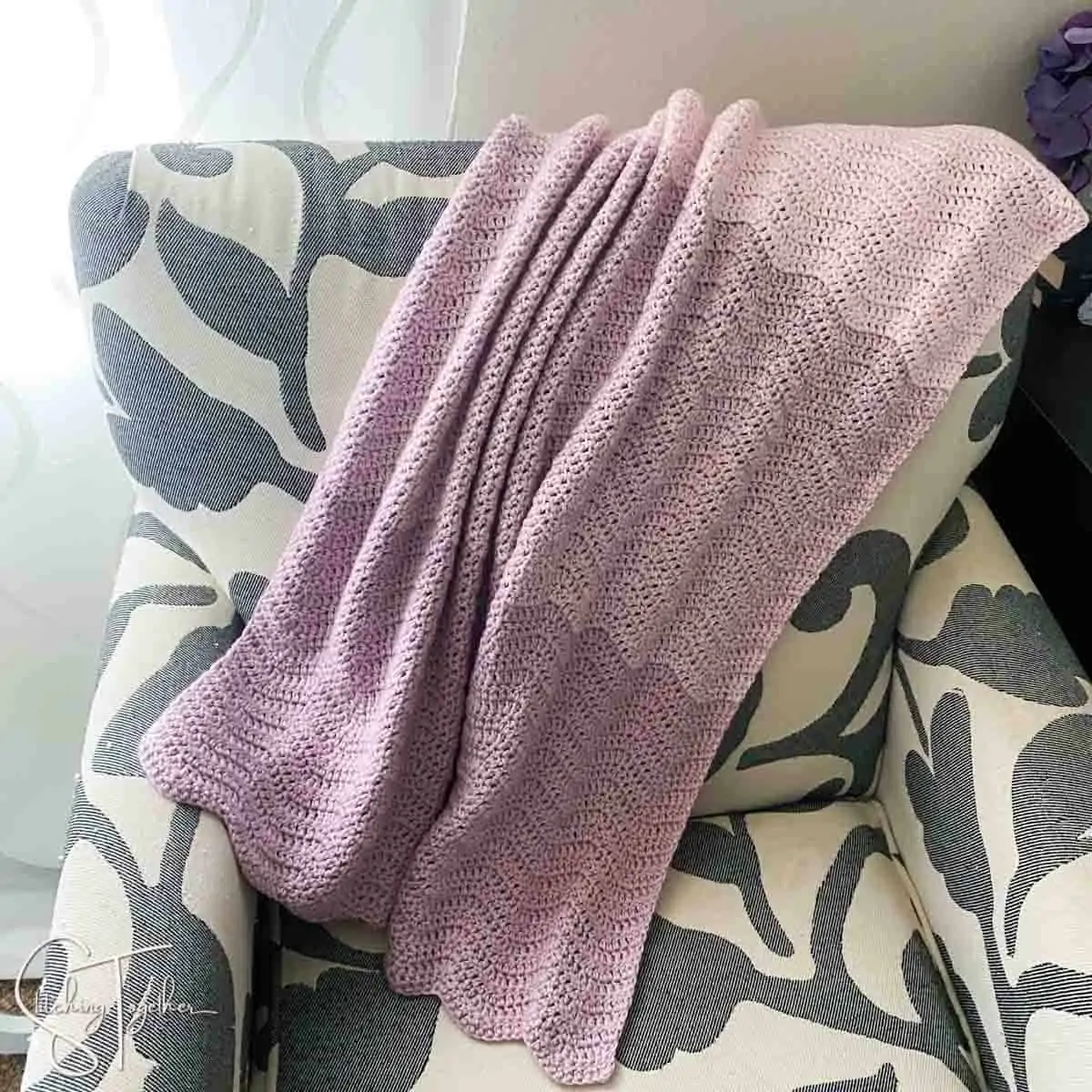 .
If you like easy to print patterns, this pattern can be purchased in the following places:
Thanks for your support!
.
Yarn Used in the Crochet Baby Blanket Ripple Pattern
I loved using the Premier Everyday Bobbins. Not only is it great yarn to work with, just like their regular Everyday Anti-Pilling Yarn, but also the color combos are already planned out for you and it makes the color changes nice and smooth.
The yarn itself is lightly plied which makes it extra soft and flowy. I was wishing I had made a full-size crochet afghan instead of a baby ripple afghan.
This ripple crochet baby blanket took less than 2 bobbins to make. It was nice to just be able to carry a bobbin in my crochet project bag instead of trying to tote around multiple skeins of yarn.
If you order your yarn from Premier's website make sure you sign up for their referral program where you can earn points that can be used to receive discounts on yarn! If you sign up through my referral link, you'll earn a discount and I'll earn points. Tell your friends, and you get more points!
Don't forget to save the Rapid Ripple Baby Blanket Crochet Pattern on Pinterest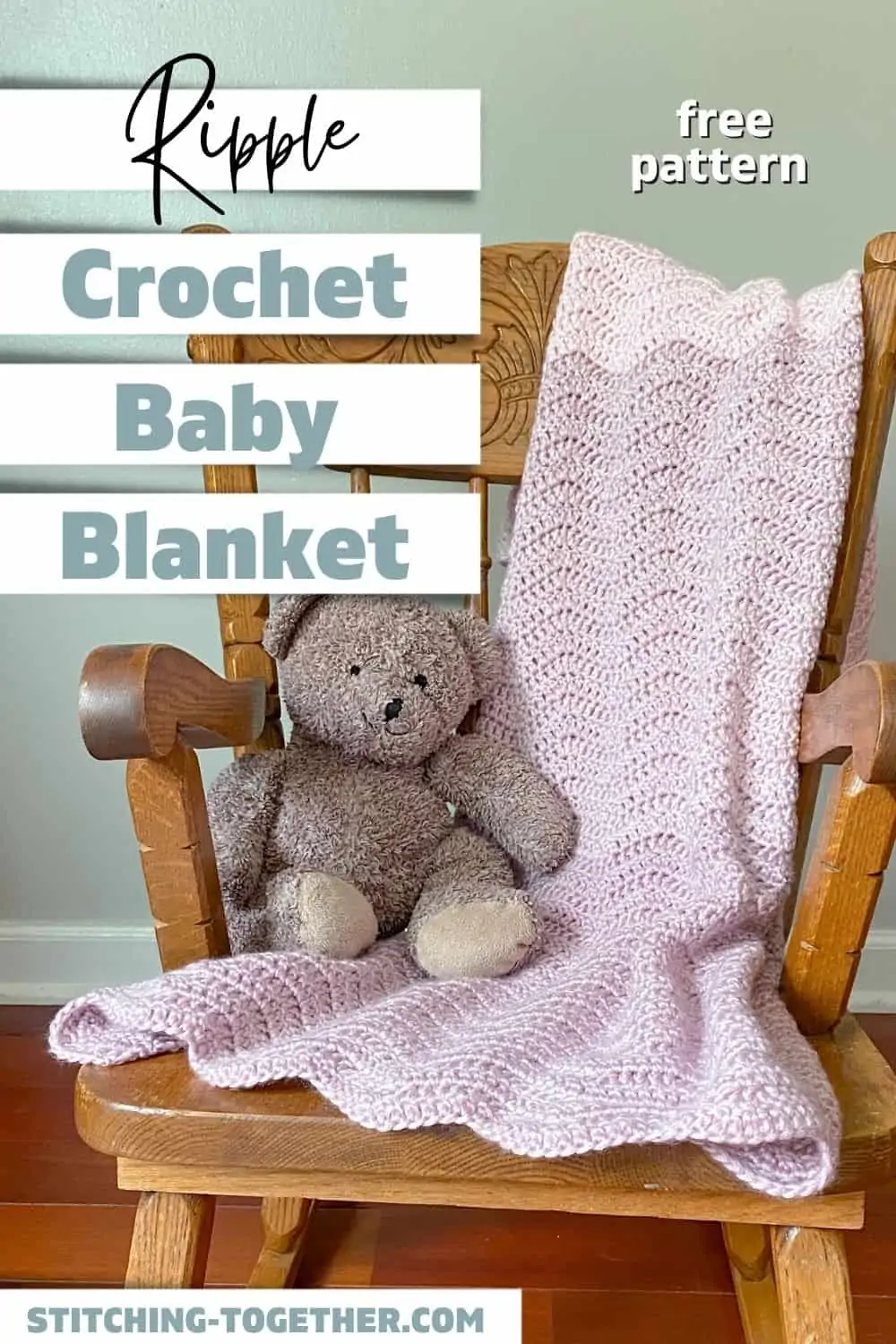 Free Baby Blanket Ripple Crochet Pattern
Skill Level: Easy
Materials:
US size I/9, 5.5 mm crochet hook
Premier Yarn Anti-Pilling Everyday Bobbin (category #4 worsted weight yarn, 100% acrylic yarn)
The sample used a total of 828 yds (13.72 oz) in Rosy Outlook (each section used approximately 276 yds)
Large Eye Yarn Needle
.
Everything you need for this free pattern can be ordered right online
Save time and shop from home!
.
Abbreviations:
ch(s): chain(s)
dc(s): double crochet(s)
dc2tog: double crochet 2 together
st(s): stitch(es)
[ ]: repeat the instruction in the brackets the specified number of times
Gauge: 4"x 4" = 18 dc by 8 rows (take in ripple stitch pattern)
Finished Size: approximately 29" x 36"
Notes:
This pattern is written using chain 2 at the beginning of each row.
The chain 2, your turning chain, at the beginning of each row, counts as a double crochet.
To make the blanket a different size, keep your starting chain a multiple of 12 + 2. If you prefer chaining 3 for rows of double crochets, you'll want to start with a foundation chain of any multiple of 12 + 3.
I started with the darkest shade (Color A) on the bobbin then used the marled shade (Color B) and finally the lightest shade (Color C). You, of course, can use the colors in whatever order you'd like!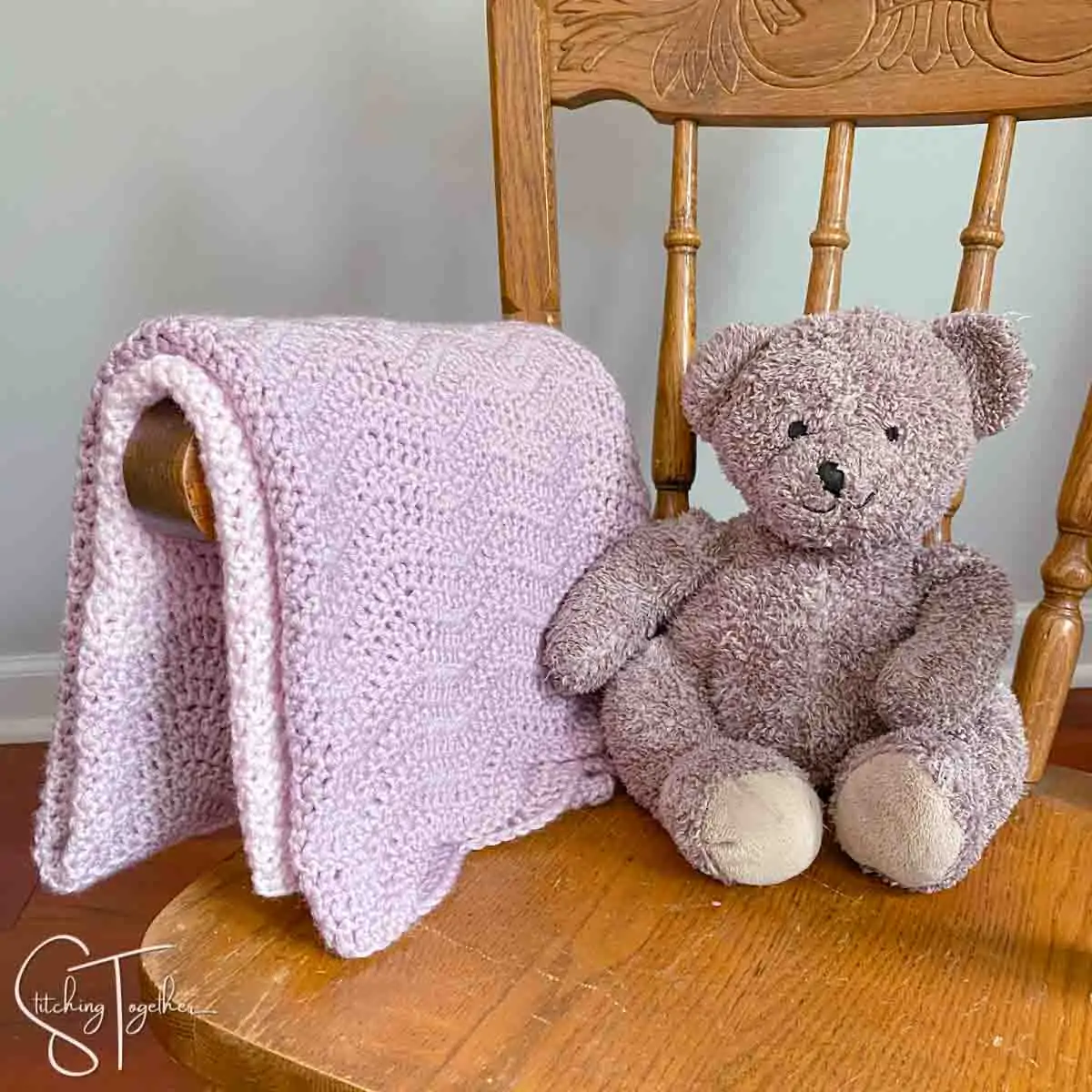 Ripple Baby Blanket Crochet Pattern Instructions:
With Color A, ch 110, or any multiple of 12 + 2 (please read the notes section)
Row 1: dc in 3rd ch from hook, *dc in the next 3 chs, [dc2tog] twice, dc in the next 3 chs, [2 dc in the next ch] twice, repeat from * to the last ch, 2 dc in last ch, turn.
Row 2: ch 2, sc in next st, *dc in the next 3 sts, [dc2tog] twice, dc in the next 3 sts, [2 dc in the next st] twice, repeat from * to the last st, 2 dc in top of ch 2, turn.
Rows 3-24: repeat row 2
Change to color B
Rows 25-48: repeat row 2
Change to color C
Rows 29-72: repeat row 2 Fasten off and weave in ends.
Don't miss these other great crochet baby blanket patterns:

Will you share pictures of your finished crochet projects?
I love to see what you use my patterns to make. Will this be a gift for baby showers, will you use different colors? No matter what you decide, a handmade baby blanket makes a lovely gift for new babies.
Yarn Substitution Ideas
If you want to pick your own colors or use a different type of yarn altogether, I thought it might be helpful to give you some substitution ideas.
Most worsted-weight acrylic yarns will work well for this pattern, but my first choice would be the regular Premier Anti-Pilling Everyday Worsted yarn. As of writing this, there are 68 different solid yarn colors available as well as 10 medley colors.
Free Crochet Baby Blanket Patterns