Squishy and Chunky Crochet Baby Blanket
Disclosure: This post may contain affiliate links. As an Amazon Associate, I earn from qualifying purchases. Please visit my Privacy Policy for disclosures and more information.
Are you drooling? Because I am drooling. Those stitches, that texture, the soft buttery delightful color. This blanket is DREAMY.
Just imagine how precious a new little baby will look wrapped up in this squishy and chunky crochet baby blanket! *Sigh*
The only thing better is if you could actually squish it in person. Well, you can… you just have to make it first!
Scroll down for the free pattern or purchase the ad-free PDF right here in my shop.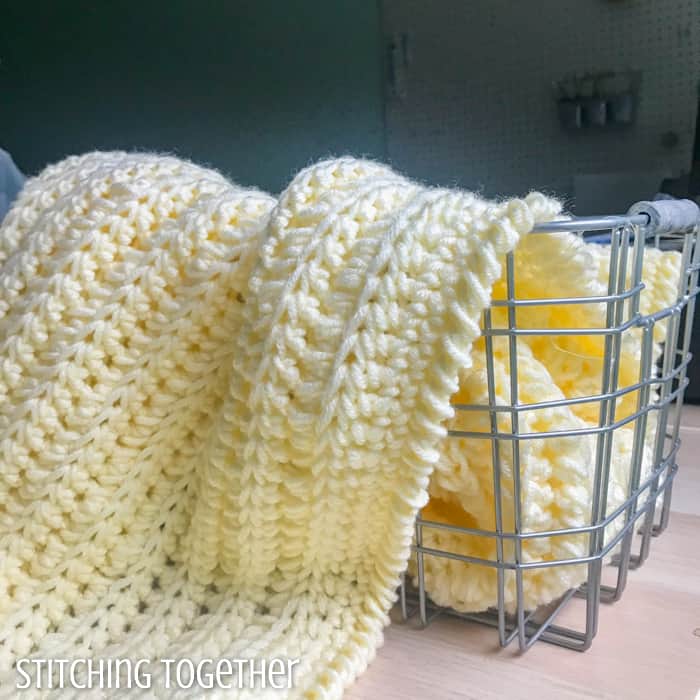 Please please please do not be intimidated by the gorgeous braided look of these stitches. I promise, they are SIMPLE.
Related: Sprinkles Easy Baby Blanket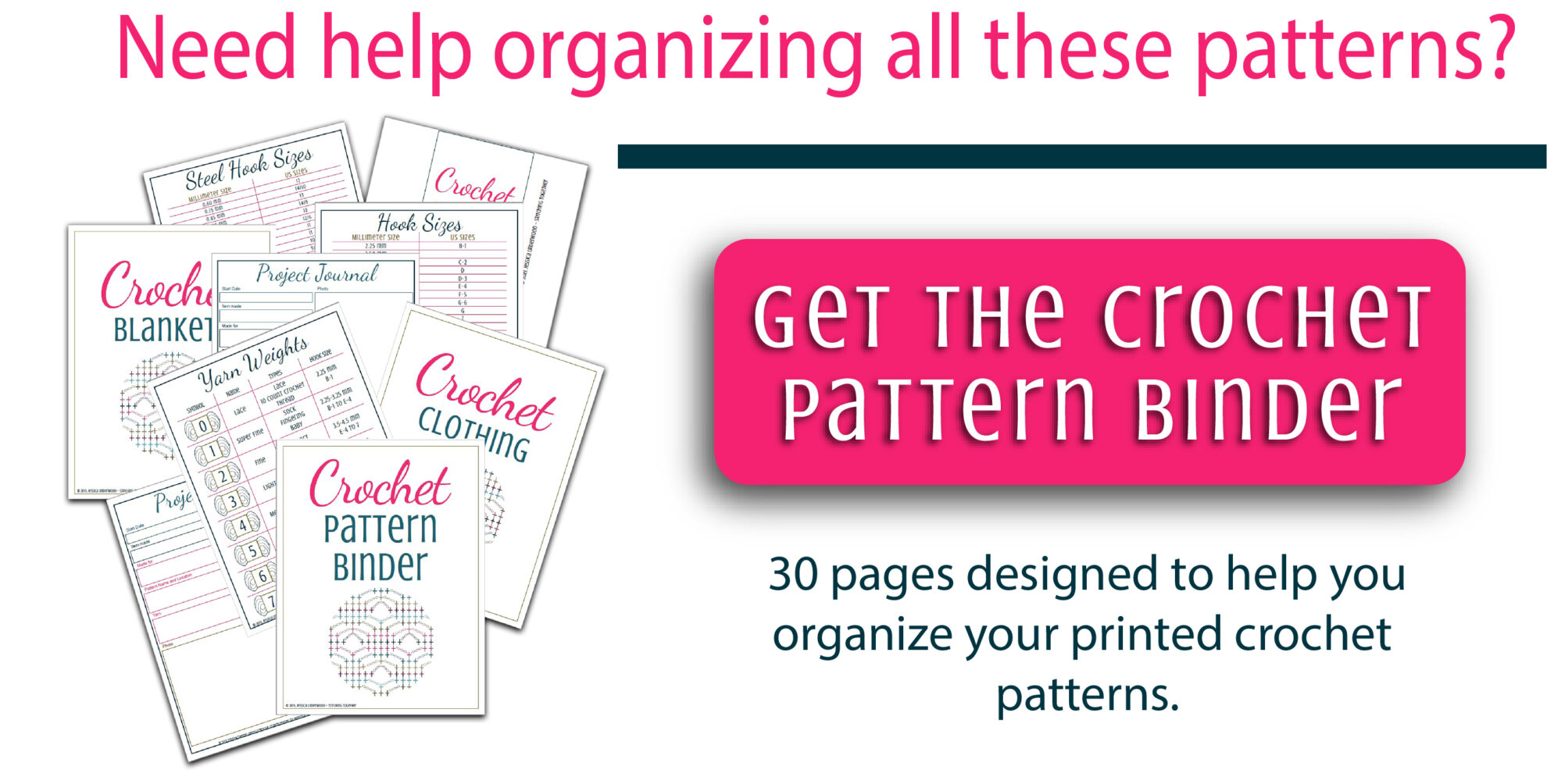 It is only a 2 row repeat for the body of the blanket- one row of the trusty half double crochet worked in the back loop and one row a modified half double crochet also worked in the back loop.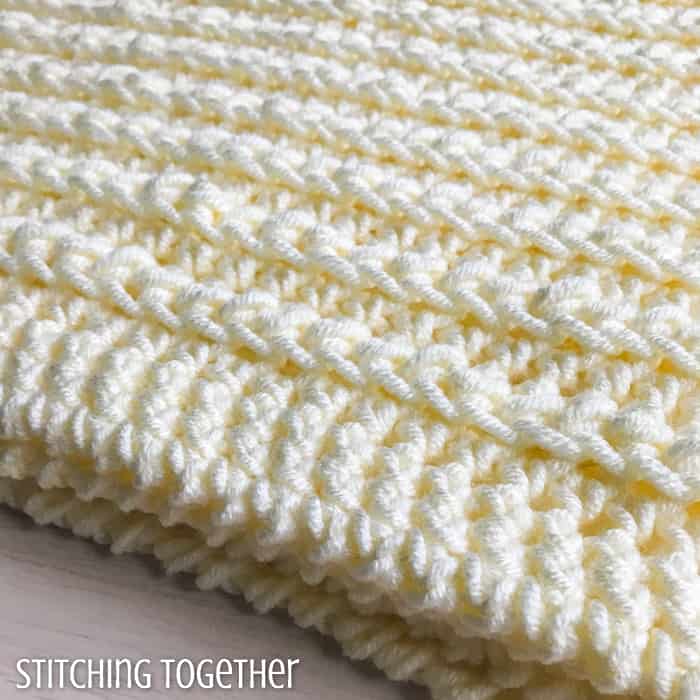 As you work the modified half double crochet there are just 2 things to keep in mind:
keep your tension loose
the first part of the mhdc is worked in the same stitch as the stitch you just finished
It is ALMOST a hdc2tog BUT you aren't decreasing. Your stitch count will remain the same throughout.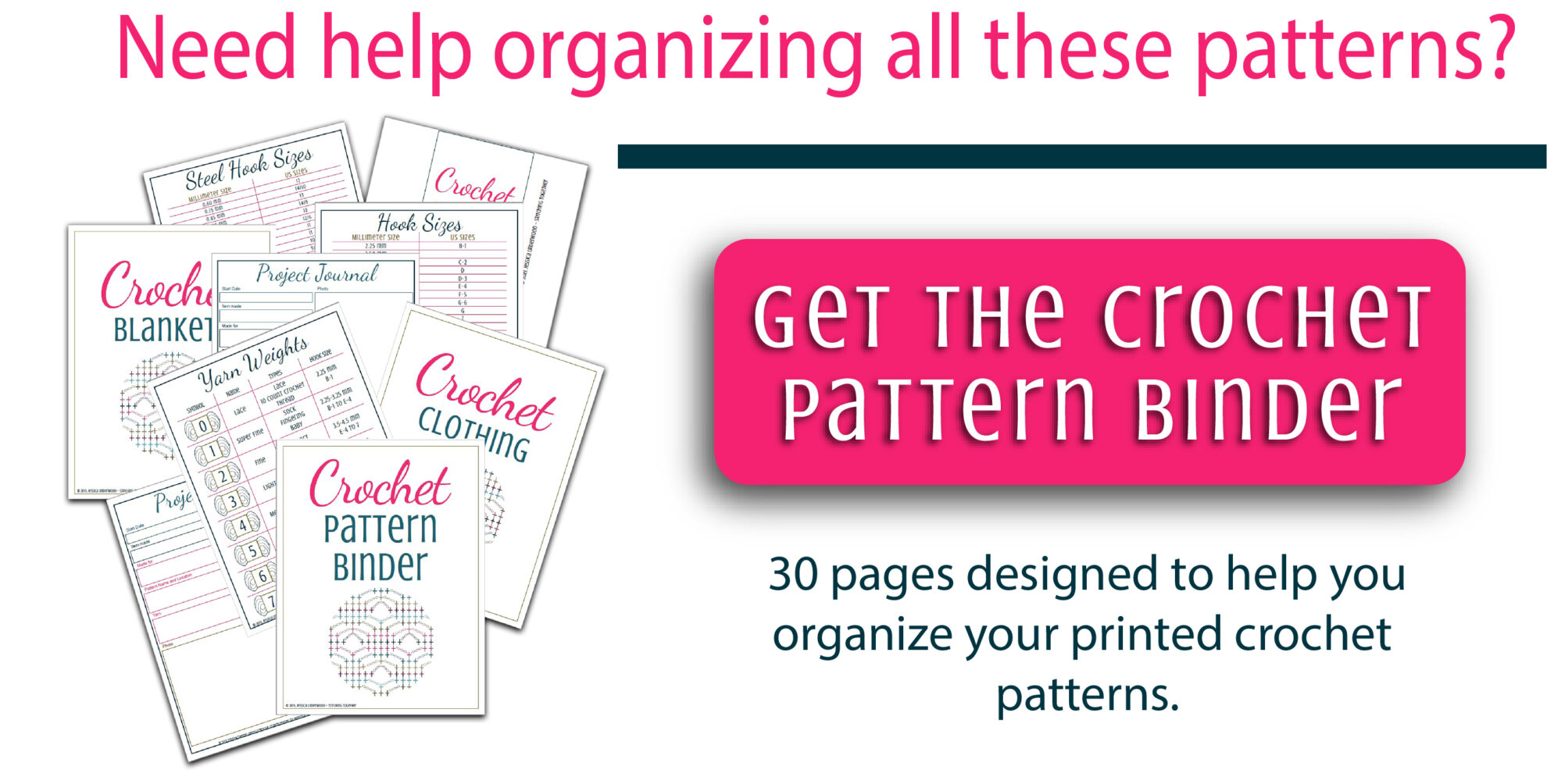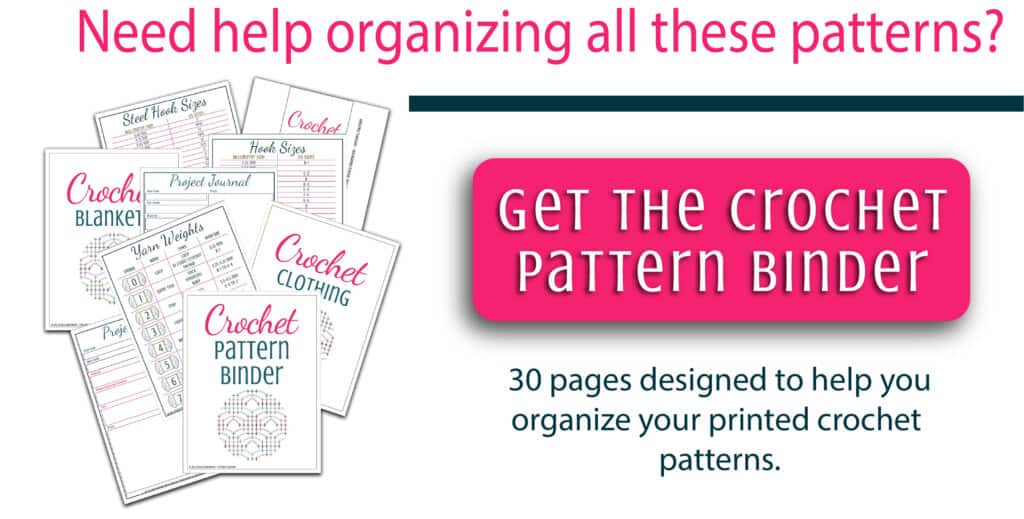 If it sounds intimidating, don't worry, there are plenty of pictures included in the stitch description and you can check out this chunky hat pattern for even more detailed, step by step photos of this mhdc.
Related: Buffalo Plaid Baby Blanket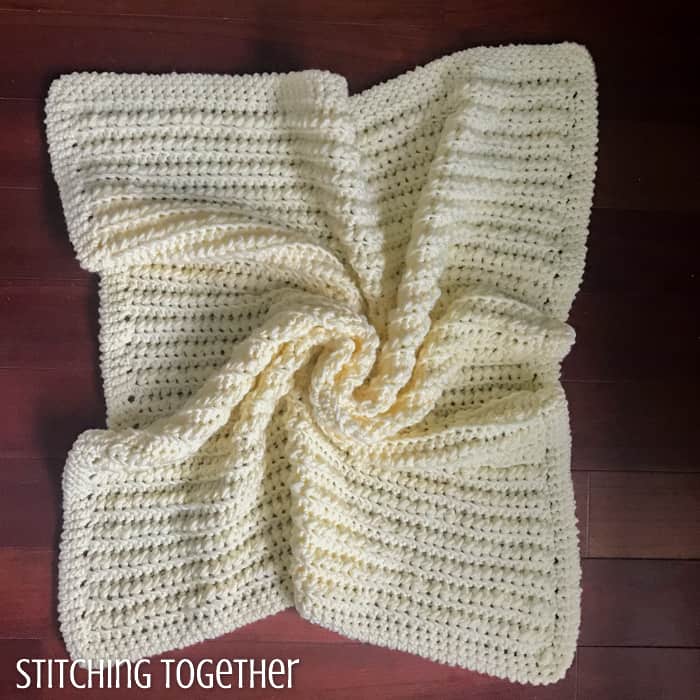 Lion Brand's Color Made Easy Yarn
I've used Color Made Easy in at least one other pattern, the Easy Men's scarf, and I love how quick and easy it is to work with. It is just a good, smooth chunky yarn.
(How bad is it that I can't remember if I've used it in another pattern too?)
Each skein is 7 oz which means it only took SLIGHTLY less than 3 full skeins to whip up this beauty. Of course, you can make this adorable baby blanket in your favorite chunky yarn if you have a different favorite.
The color I chose is a soft buttery-yellow which is a perfect gender neutral color for a baby blanket. If you need a unisex baby shower gift, this blanket in this color would be great!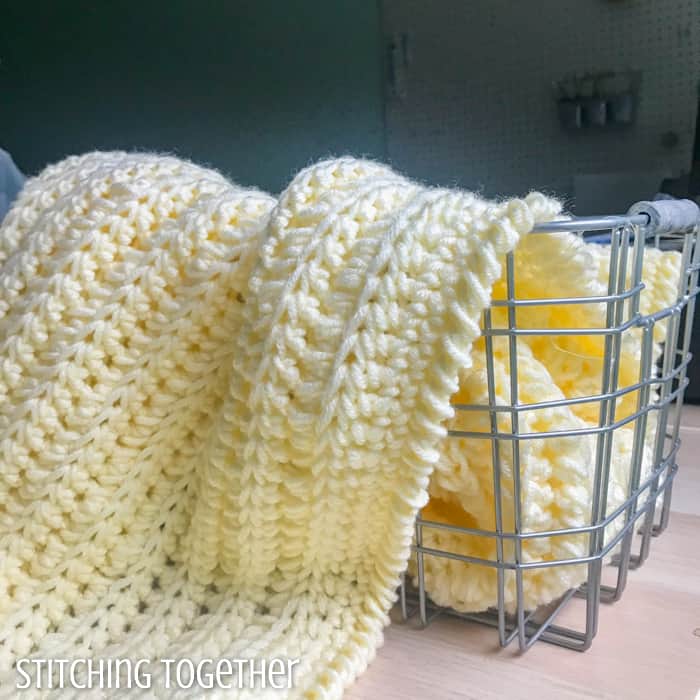 The Color Made Easy line also has three different blue options and 2 pink options if you want to go with more traditional colors.
One last note before we get to the pattern… there isn't a special stitch count to start this blanket, so after you've made it in baby size and decide that you absolutely need one in your size, you can just increase the starting chain or foundation row to the size you need.
Be sure to save the pattern on Pinterest!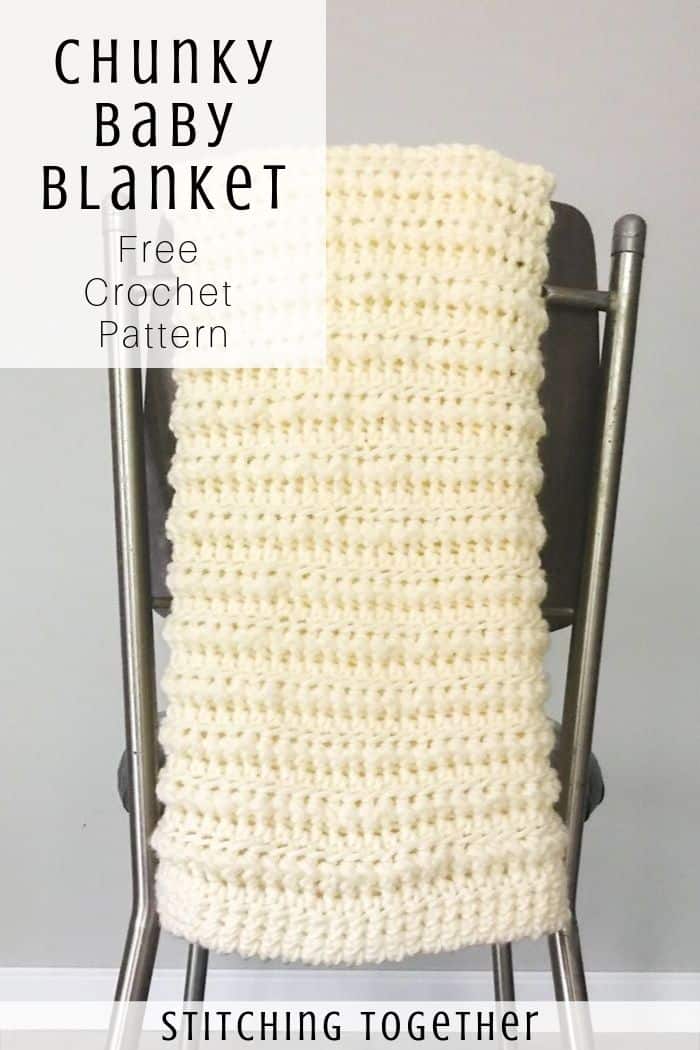 Squishy and Chunky Baby Blanket Crochet Pattern
For those of you who like the convenience of printing crochet patterns, like pattern can be purchased in my shop or on Etsy.
Skill Level: Easy
Materials:
US size M/N, 9 mm crochet hook (Don't have this size crochet hook? No worries, you can get this ergonomic one delivered from Amazon to your front door!)
Lion Brand Color Made Easy (Available on LionBrand.com and on Amazon)

Category 5 Bulky 100% Acrylic 7oz/200g, 247yds/226m
3 skeins in Alabaster

Large Eye Yarn Needle (These needles are GREAT to use with bulky yarn and they are also available on Amazon)
Abbreviations:
ch(s): chain(s)
hdc(s): half double crochet(s)
st(s): stitch(es)
blo: back loop only
mhdc: modified half double crochet
fhdc: foundation half double crochet
sc: single crochet
sl st: slip stitch
Gauge: 4" x 4" done in stitch pattern=9 sts by 7 rows
Finished Size: 30" by 36"
Notes: Keep your starting chain and row 1 or foundation row loose. It would be helpful to do a small swatch of 5 or so rows in the stitch pattern to get a feel for how loose you'll need to keep your starting chain/row. You may want to chain in a larger hook size.
Special Stitch Instructions: Modified half double crochet (mhdc): insert hook into the same stitch of the last completed stitch, pull up a loop, yo and insert hook into the next stitch pull up a loop, yo and pull through all four loops on the hook.
Row 1 starts with a foundation half double crochet or with a chain and hdc row.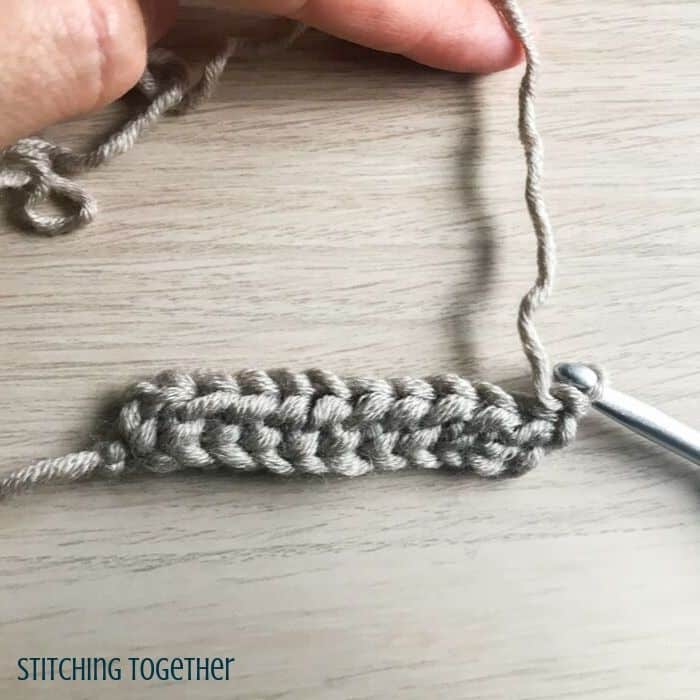 All stitches will be worked in the back loop of the stitches in the previous row.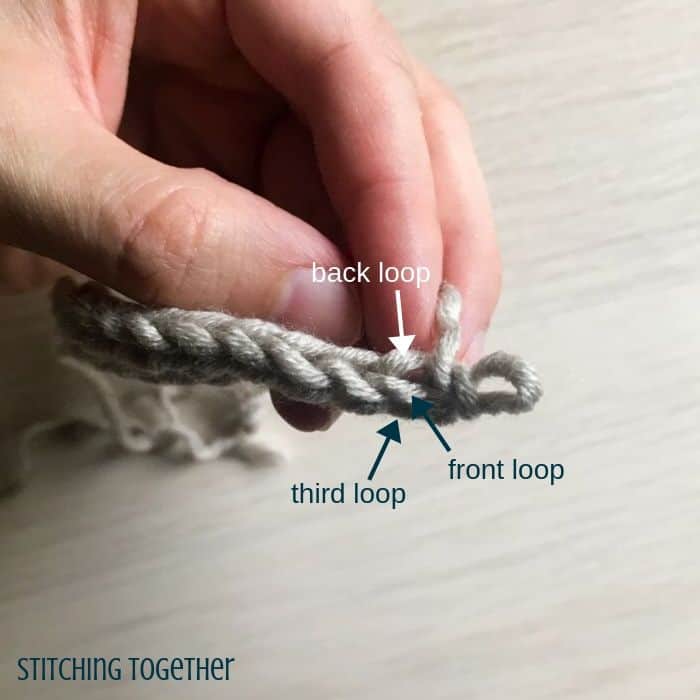 The first stitch of the second row is a hdc in the back loop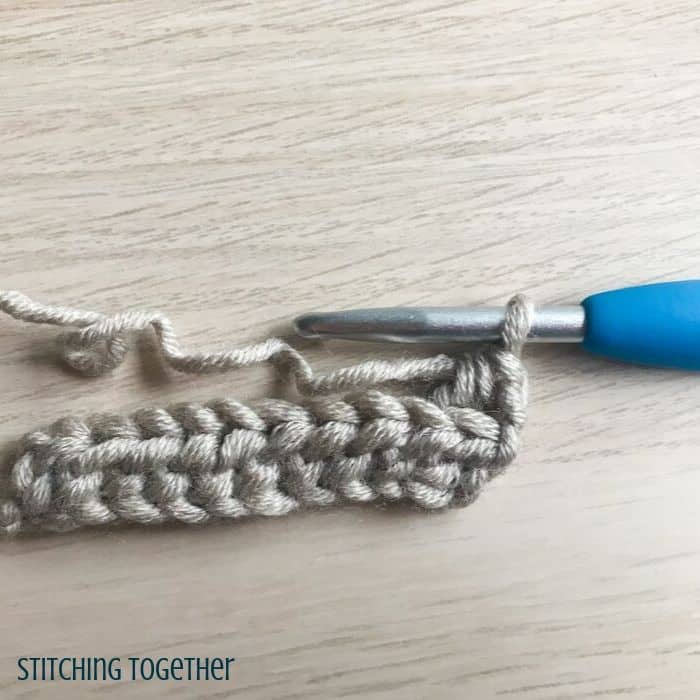 To start the next stitch (mhdc), insert the hook into the same st as the previous hdc and pull up a loop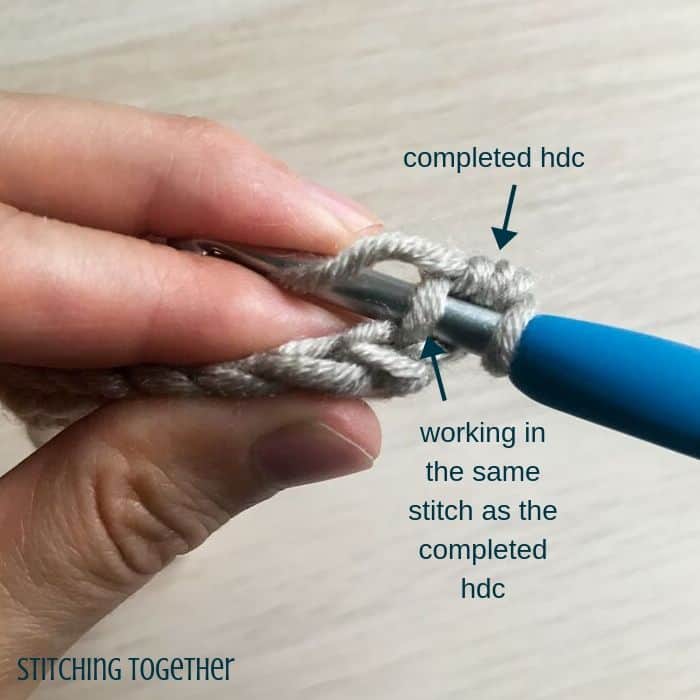 Yarn over, insert hook into the next st and pull up a loop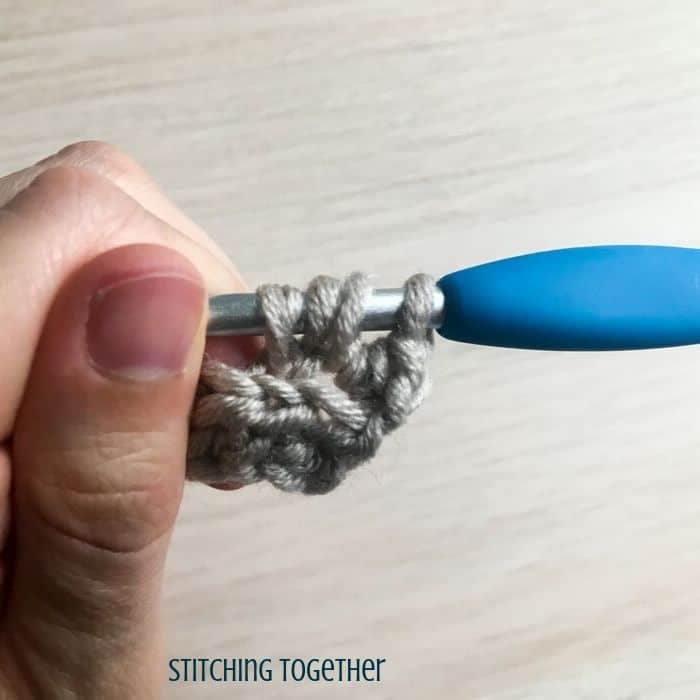 Pull through all 4 loops on the hook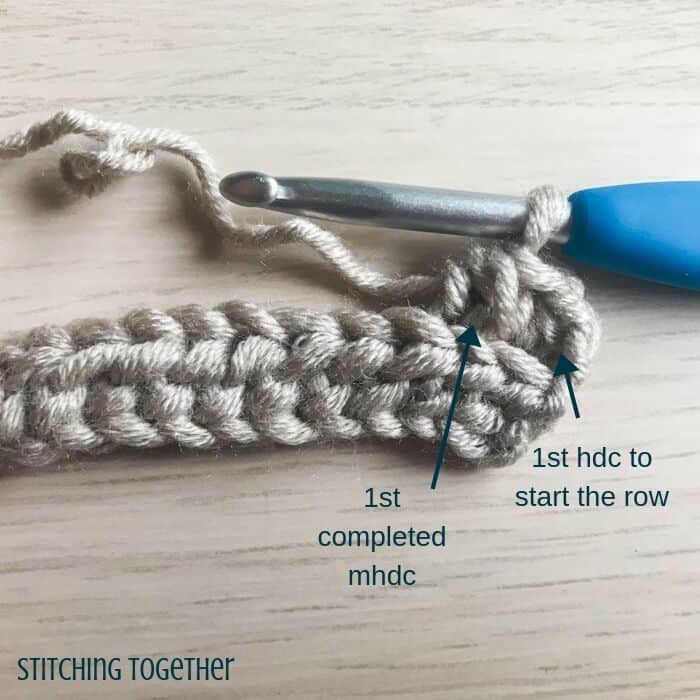 2nd row completed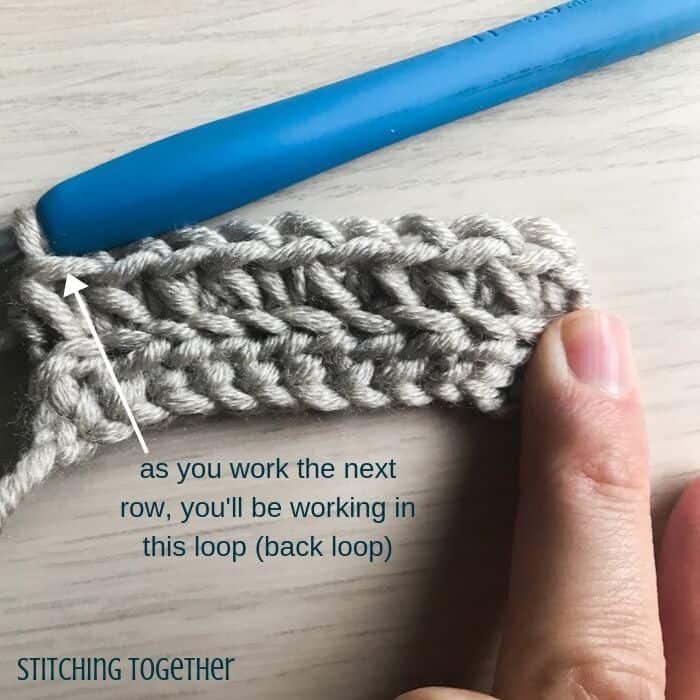 Completed 2nd row from the backside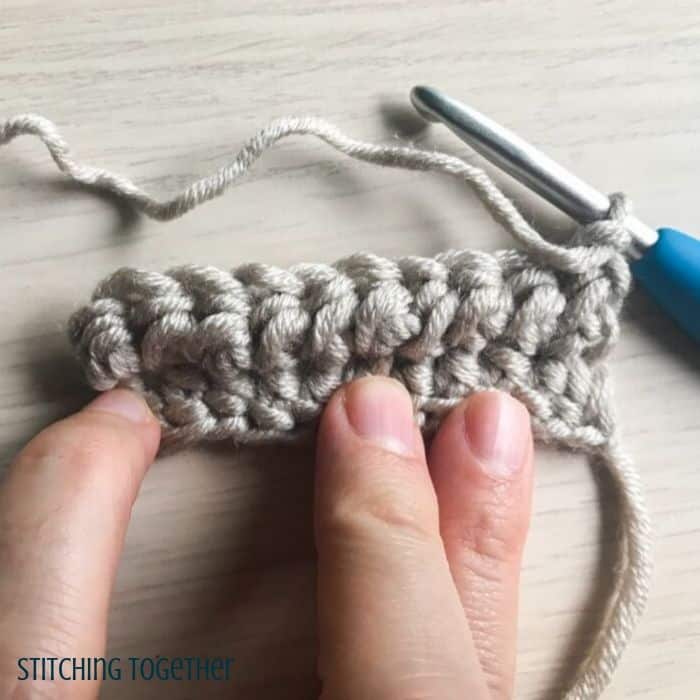 Rows 1, 2 and 3 completed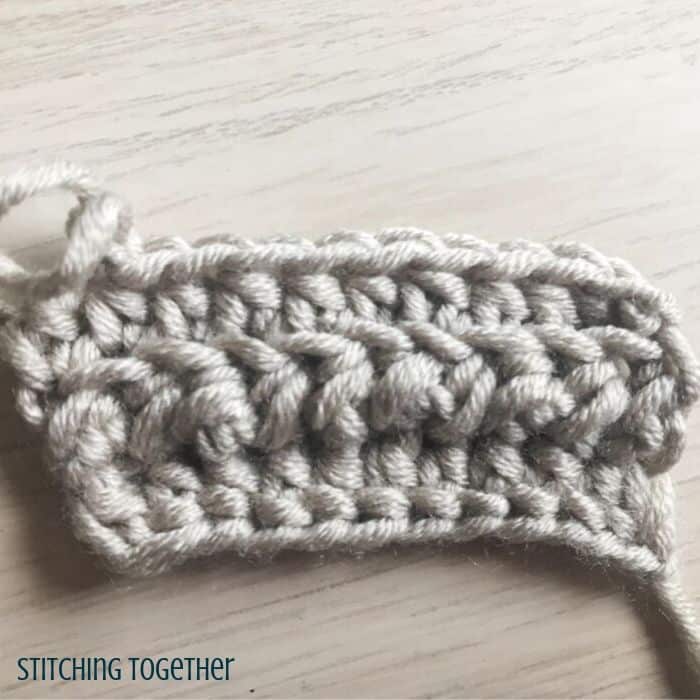 Pattern Instructions:
Ch 63 (see R1 for alternate start)
Row 1: hdc in the 2nd ch from the hook, hdc in each ch across (62), turn. (Alternately: fhdc 62, turn.)
Row 2: ch 1, hdc blo in the first st, mhdc blo in ea st across (62), turn.
Row 3: ch 1,hdc blo in each st across (62), turn.
Repeat rows 2 and 3 until you've reached 55 rows.
Round 1: ch 1, sc around the top, bottom and sides of the blanket. Place 3 sc for every 2 rows along the sides and 1 sc per st along the top and bottom, join with a sl st to the first sc.
Round 2: ch 1, sc in each sc around, join with a sl st to the first sc.
Round 3: ch 1, reverse single crochet (crab stitch) in each sc, join with a sl st. Fasten off and weave in ends.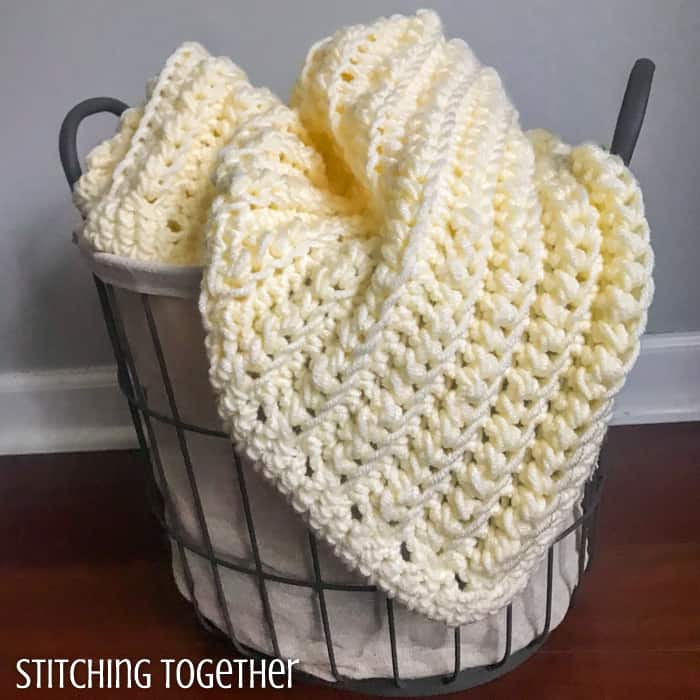 Will you share pictures of your finished projects?