Entirely Easy Men's Scarf Crochet Pattern
Disclosure: This post may contain affiliate links. As an Amazon Associate, I earn from qualifying purchases. Please visit my Privacy Policy for disclosures and more information.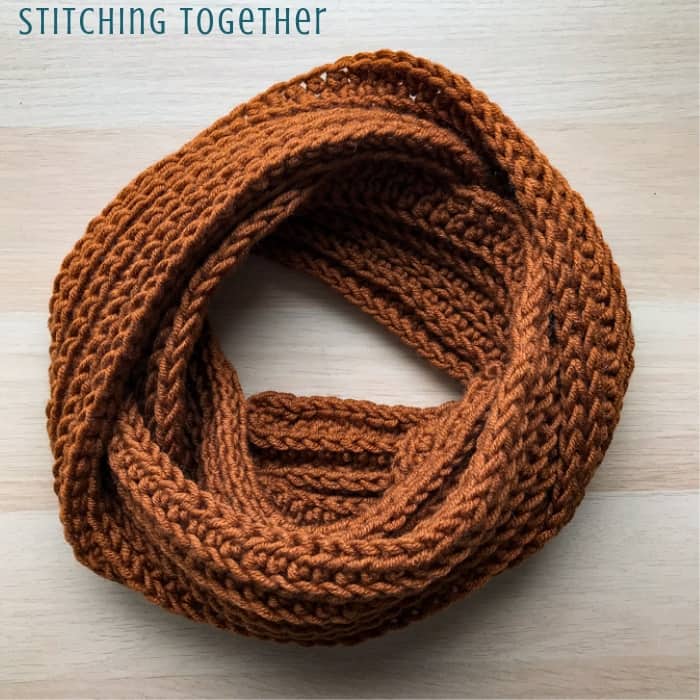 You'll not only fall in love with this free pattern for an easy men's crochet scarf but also the Lion Brand Color Made Easy yarn. 
Crochet Mens Scarf
I don't know about you, but I like big scarves. Like giant, over-sized, super scarves. If it's a huge infinity scarf, even better!
But I can't just make all the scarves or scarf patterns for me and I know there are people out there who prefer thinner, smaller scarves.
I assume those people are men but I really have ZERO data to back this up.
So I set out to make a thinner scarf that'll work up quickly and can be used primiarily for guys but really, for anyone.
At the very least, I think this makes a great, easy unisex scarf which will look great on a guy or gal. (Some scarves just are not guy-friendly, ya know?) You could also pair it with the Penny Crochet Scarf and give it as a great his and her gift.
How wide should a men's crochet scarf be?
In general a men's crochet scarf should be 4-15″ wide with 4″ giving you a fairly slender scarf for those guys who don't like a lot of bulk around their necks.
This easy crochet mens scarf measures in at about 4.5″ so it is on the thinner side which is nice when paired with chunky yarn.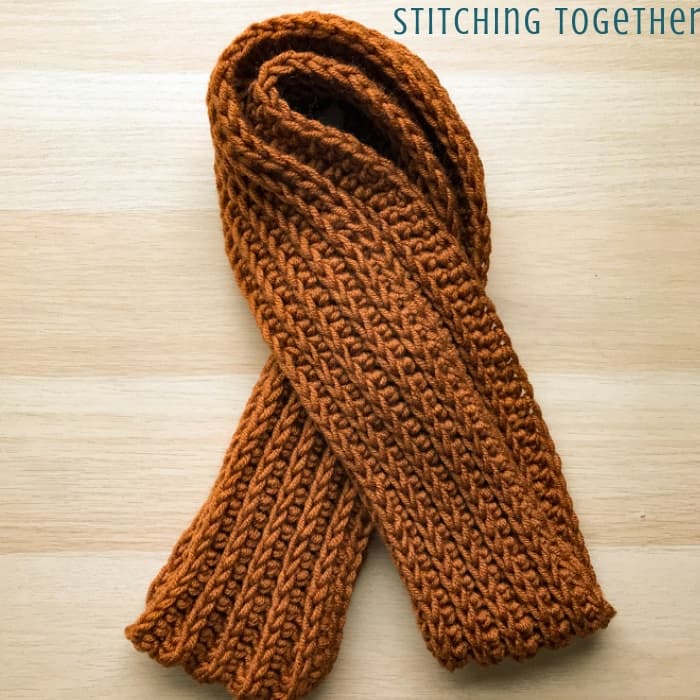 Have you tried Color Made Easy Yarn yet?
Color Made Easy Yarn by Lion Brand is an amazing 100% acrylic #5 bulky yarn with a perfect amount of squish. Ever since I found out that Joann's Big Twist Chunky Yarn, which I used in the Easy HDC Blanket was discontinued, I've been on the hunt for a similar bulky yarn.
I was thrilled when I found Color Made Easy online at Joann's for a ridiculously inexpensive price for 3 packs, so I placed a huge order, enough for both me and my friend to make blankets and more.
When the box came, it was so much smaller than I expected! Whomp Whomp.
I should have known the deal was too good to be true.
Joann's had mislabeled the listings on their website so we received individual skeins instead of 3 packs.
They were super quick to fix it both for me and on their website but I had less yarn than expected. (Waiting for yarn to arrive is not my specialty!)
I've found Color Made Easy in a few local stores which is so nice to be able to feel a new yarn before you try it. You can also order online directly from Lion Brand where you can get all the colors!
Mens Scarf Crochet Pattern (not knit!)
I have two favorite things about this pattern. Nope, 3. Three favorite things:
It's easy, and I mean EASY! The entire scarf is half double crochets. While the instructions call for starting the scarf with a foundation half double crochet stitch, I've included the starting chain count if you aren't comfortable with the foundation stitches. (If you haven't learned foundation stitches yet, what's holding you back? Would you like to see a tutorial for them? Let me know in the comments! Update: the tutorial is done! See the fhdc tutorial
The entire scarf is half double crochets but it looks knit! By working up through the third loop, the top two loops get pushed almost horizontally against the fabric. You get knit looking stitches with more texture and squishiness.
It only takes one skein! You'll want to use the same yarn and check your gauge to make sure you only need one skein as I didn't have much left over. Or you could easily add one more skein and get a double wide scarf!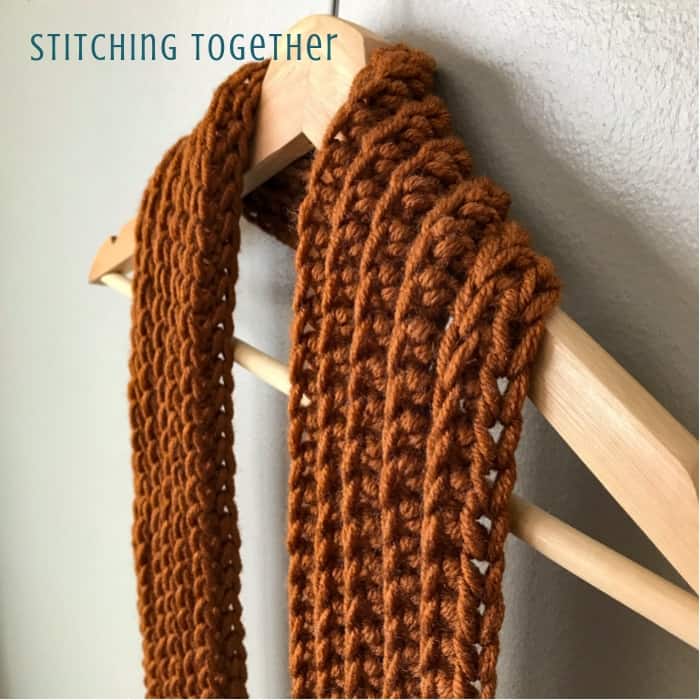 Don't forget to save the Entirely Easy Men's Scarf Crochet Pattern on Pinterest

Entirely Easy Men's Scarf Crochet Pattern
Skill Level: Beginner
Gauge: 4″ x 4″ = 10 rows by 10 hdcs
Finished Size: 4.5″ x 65.5″
Materials
M/N 9.0 mm crochet hook
#5 Bulky Yarn (7oz/200gr, 247yd/226m)
Sample used 1 skein Color Made Easy Yarn in Kombucha
Large Eye Needle (These wool needles available on Amazon work great with bulky yarn!)
Save time and shop the materials online!
Notes and Stitch Instructions
The scarf is made working lengthwise which means many starting stitches but few rows!
Using a foundation half double crochet will give a stretchier and more flexible base to your scarf than starting with a chain. It helps to have that extra flexibility especially when working across a long length like this scarf.
The amazing knit looking texture is made by working up through the third loop of the half double crochet. It is the same concept used in the round for the North Shore Crochet Scarf Pattern, but instead of the third loop being at the backside of the stitches, it is on the front side when working in rows.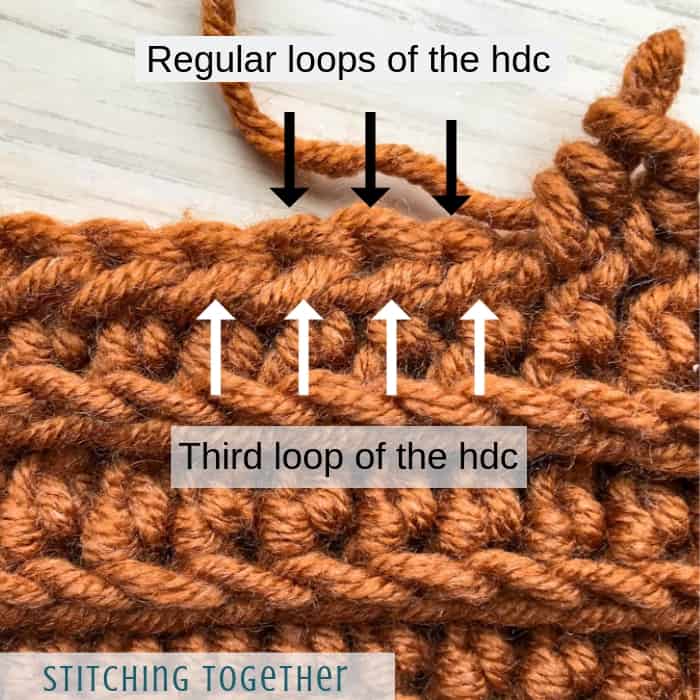 As you work, the top loops of the stitches will start to bend back and you'll find it easier and quicker to work up through that third loop.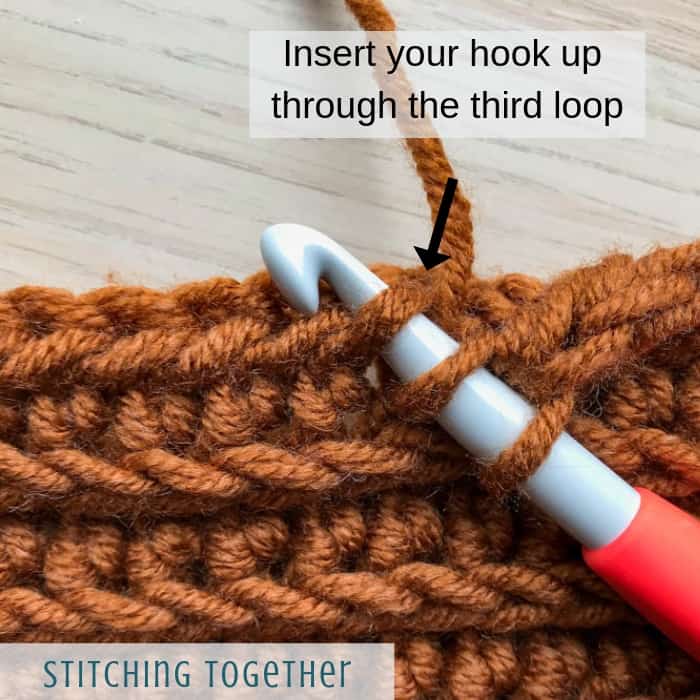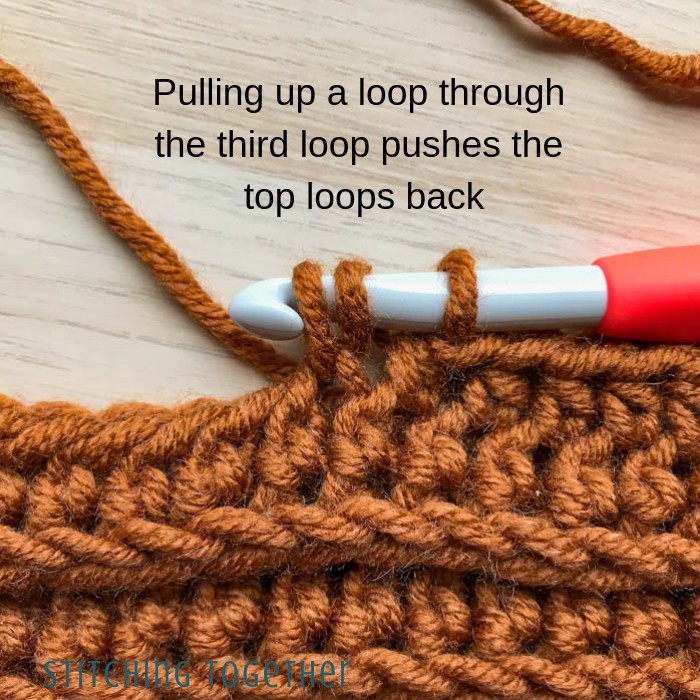 Abbreviations
ch: chain
fhdc: foundation half double crochet
hdc: half double crochet
Entirely Easy Mens Scarf Crochet Pattern Instructions
R1: fhdc 158 (or ch 159 and hdc in the 2nd ch from hook and each ch across), turn.
R2: ch 1, Working up through the third loop (see stitch instruction), hdc in each st, turn.
Repeat row 2 for a total of 10 rows. Fasten off and weave in ends.
I hope you enjoyed this Mens Scarf Free Crochet Pattern. Would you share pics of your finished projects? You can do that several ways:
Would you like to see more free men's crochet scarf patterns? Leave a comment and let me know!
Related: Easy Half Double Crochet Scarf