Simple Half Double Crochet Blanket
Disclosure: This post may contain affiliate links. As an Amazon Associate, I earn from qualifying purchases. Please visit my Privacy Policy for disclosures and more information.
Who knew a simple half double crochet blanket could be so lovely and modern? This quick blanket will be a new favorite pattern and a joy to work on! Scroll down for the free pattern or you can purchase the printable PDF of the pattern right here in my shop.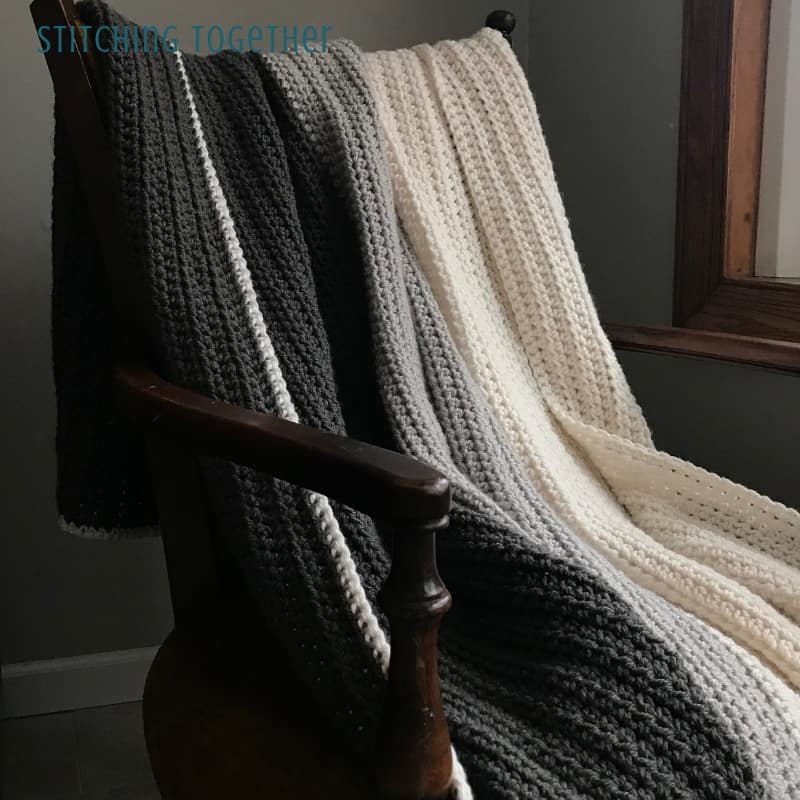 About the Simple HDC Blanket
When my in-laws were visiting over the summer, my MIL saw the Coco Throw which I made for my husband, and she asked if I like gray.
OF COURSE!
She commented that she likes gray too and I filed that info away. I knew I wanted to make them a blanket, I knew it needed to have gray, and I knew it needed to be somewhat of a simple pattern because…
crocheting blankets can be boring!
Are you with me?
The finished product is worth all the effort, but sometimes, in the middle of it, when it seems like a blanket will never come to an end, it is really hard to remember that.
Enter the perfect stitch: the half double crochet stitch. It is so simple and rhythmic and the fabric it creates is perfect for a soft and squishy throw.
This is the kind of crochet project you can pick up at any time and work a row or two. It can be your between WIPs project. Or you can plow through it and finish it quicker than you'll believe. It is also a great beginner blanket pattern.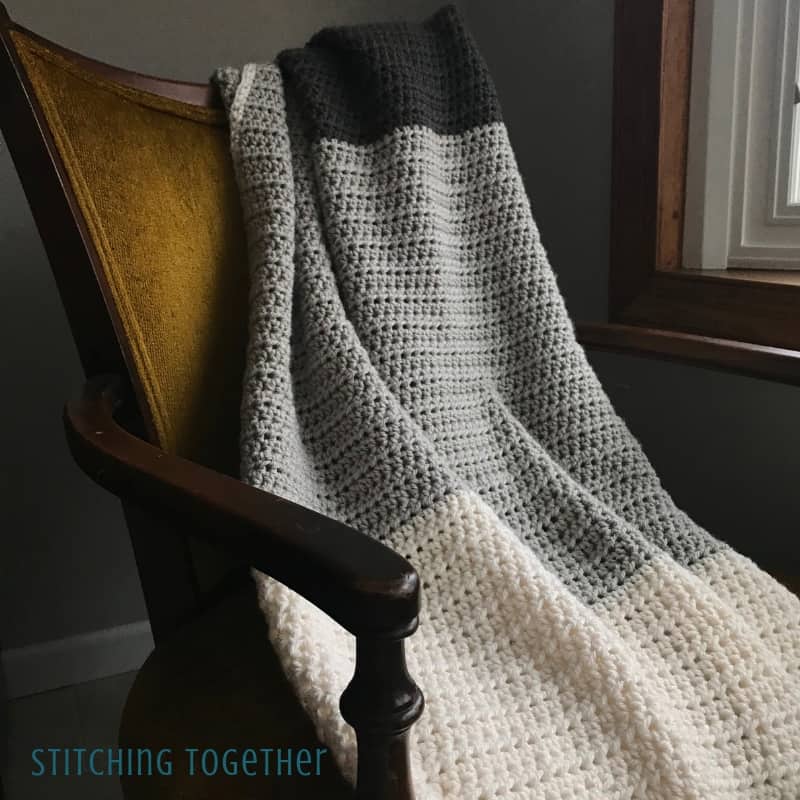 Knowing that this blanket was headed to my sweet in-laws also help propel me to the finish line! We made sure to fill it with grandkiddo cuddles before boxing it up and shipping it out to them!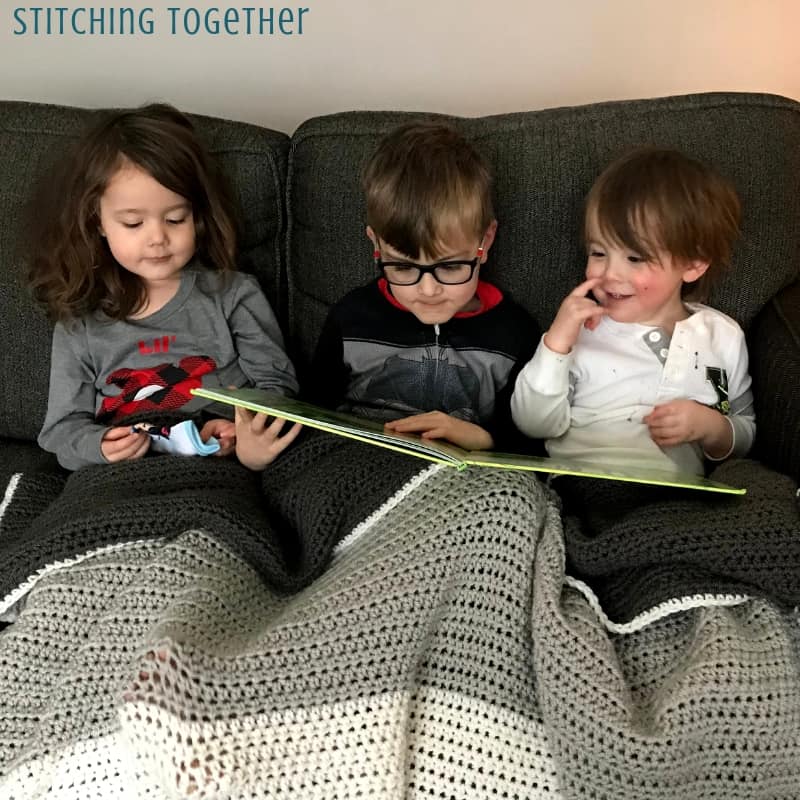 What yarn should be used for the Simple Half Double Crochet Blanket?
Using a bulky category 5 yarn makes this simple throw fast, soft and squishy! Unfortunately, the Big Twist Chunky Yarn that I used has been discontinued.
Some other good options would be Premier Serenity Chunky or Lion Brand Yarn Hue and Me.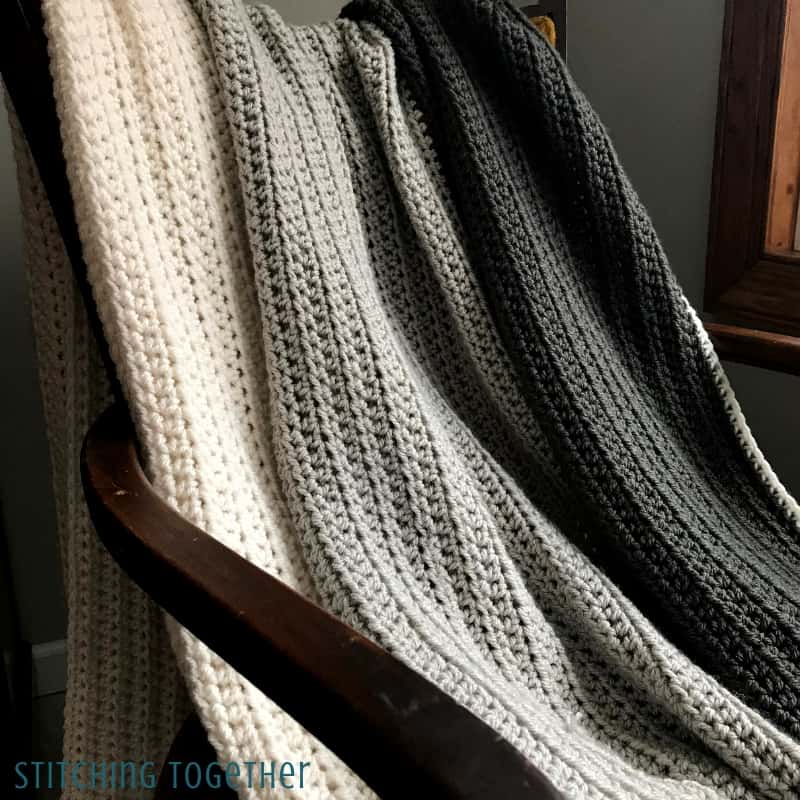 Even a thinner super bulky yarn would work nicely. If you decide to use a thicker super bulky yarn, going up in hook size would be a good idea to keep that great drape of the blanket.
Please make sure to make your own gauge swatch to determine how much yarn you'll need for your blanket.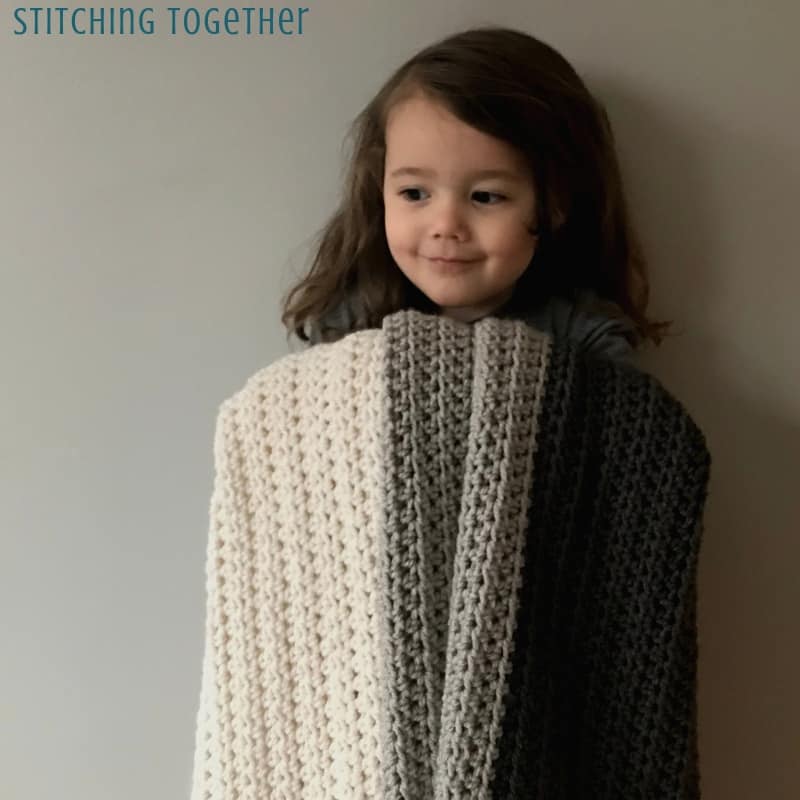 What if I want a ribbed half double crochet blanket?
Go find a different pattern. I am totally kidding!
If you'd like a more textured ribbed look, it is super easy to make that variation happen with this pattern! Simply work into the back loop only of each half double crochet.
You can see the difference in texture created in the Easy Crochet Baby Blanket which is done with back loop only half double crochets.
Since it is super easy to adjust the width and length of this blanket, you create ribbing that runs either vertical (add more stitches and fewer rows) or horizontal (add more rows and fewer stitches).
Don't forget to save the Simple Half Double Crochet Blanket on Pinterest!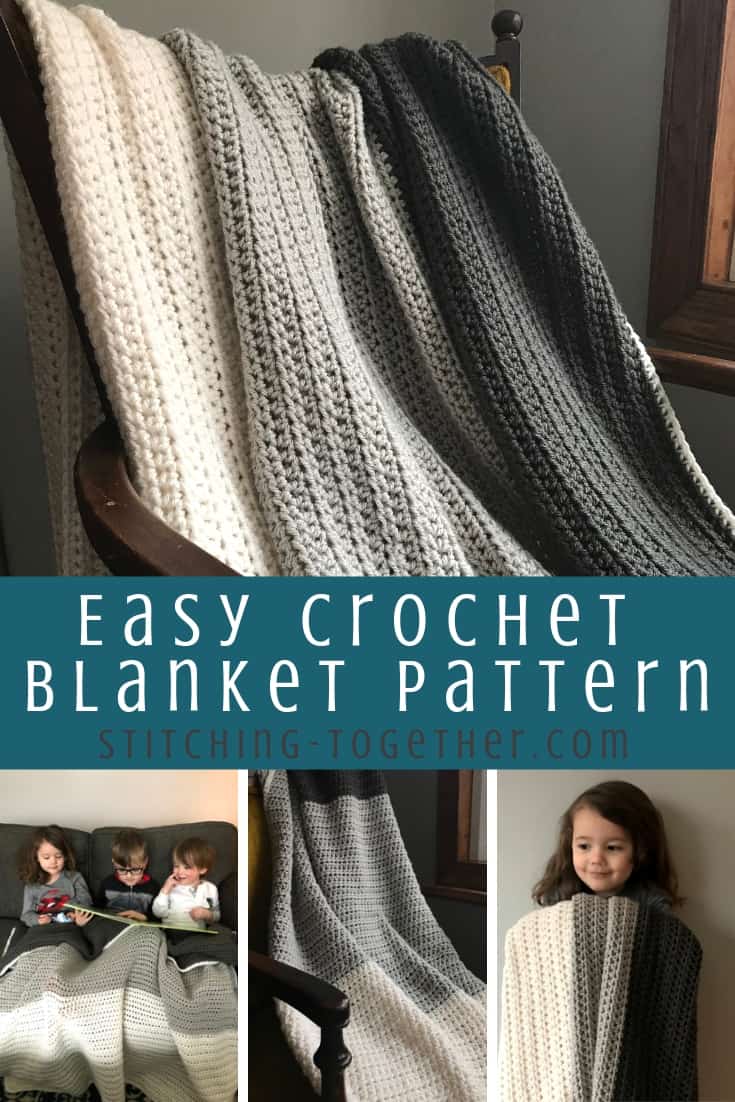 If you prefer to print your patterns, a printable ad-free PDF is available for purchase in my shop.
Simple Half Double Crochet Blanket Pattern
Skill Level: Beginner
Gauge: 4″ x 4″ = 8 rows by 9 hdcs
Finished Size: 55″ wide by 59″ long
Materials:
Category 5, Bulky Yarn – Sample Used Big Twist Yarns Chunky (5oz/142gm, 195 yds/178 m)
3 skeins in Slate (Color A – darkest color – approx 585 yds)
3 skeins in Dove (Color B – medium color – approx 585 yds)
4 skeins in Cloud White (Color C – lightest color- approx 780 yds)
Size L/8.0 mm crochet hook
Large Eye Tapestry Needle
.
Everything you need for this project can be ordered right online
Save time and shop from home!
Large eye yarn needle (these work great with chunky yarn)
.
Abbreviations:
ch(s): chain(s)
hdc(s): half double crochet(s)
sc(s): single crochet(s)
sl st: slip stitch
Notes:
The ch 1 at the start of each row does not count as a stitch. Chaining 1 instead of 2 at the beginning of a half double crochet row is a matter of preference.
If you need a little help on where to place the sc for the border, check out the images in the Easy Baby Blanket post for guidance.
You can also start this blanket with a foundation half double crochet (fhdc) instead of a foundation chain. You'll want to fhdc 127 then start the instructions below at Row 2.
If you'd like to adjust the width or length of the pattern simply add more stitches to the starting chain and then add more rows in multiples of 3s (so add a row for each block of color.)
Simple Half Double Crochet Blanket Pattern Instructions
Ch 128 with the Color A
R1: hdc in the 2nd ch from hook, hdc in each ch across, turn.
R2: ch 1, hdc in each stitch, turn.
R3-37: repeat row 2.
R38: Change to Color B, repeat row 2.
R39-74: repeat row 2.
R75: Change to Color C, repeat row 2.
R76-111: repeat row 2.
Border: with Color C, ch 1, sc around the entire outside placing a sc, ch 1, sc in each corner. Join with a sl st to the first sc. Fasten off and weave in ends.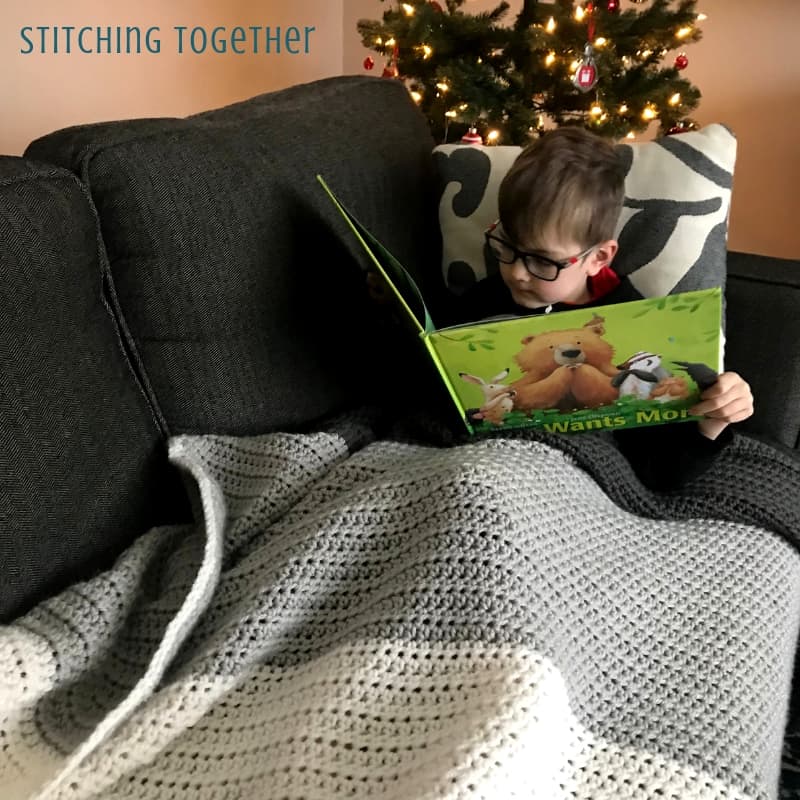 What will you use this easy hdc blanket pattern for? Will you share pictures of your finished projects?
.
If you like easy to print patterns, this pattern can be purchased in the following places:
Thanks for your support!
.
Save the Simple Half Double Crochet Blanket on Pinterest