Coco Crochet Throw – HDC and V Stitch Crochet Blanket
Disclosure: This post may contain affiliate links. As an Amazon Associate, I earn from qualifying purchases. Please visit my Privacy Policy for disclosures and more information.
Don't you just love a quick win? Something you can start and complete before you lose steam. Maybe you are the kind of person who adds a task you've already completed to your to-do list just so you can have the satisfaction of crossing it off. A crochet throw is generally not a quick win.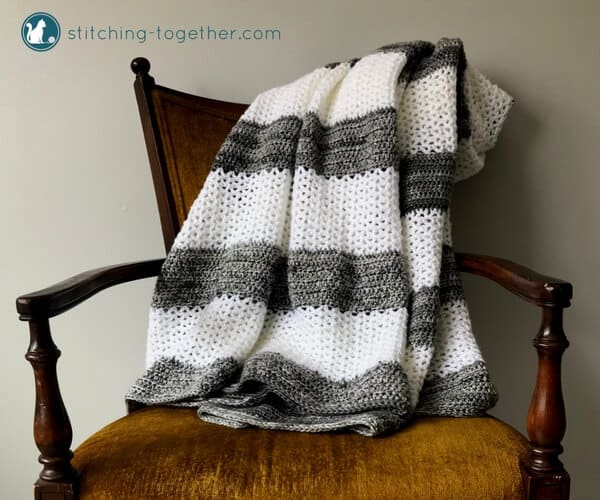 Crocheting a blanket takes time and perseverance. But the satisfaction when you've completed such a large project is worth the endurance. (Maybe endurance is a funny word to use with crocheting, but I bet you can think of a pattern or two you endured through.)
Related: Simple Half Double Crochet Blanket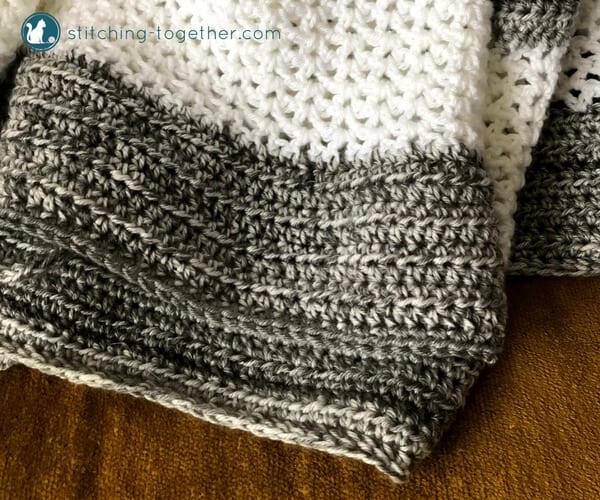 I am a fan of quick wins and I get bored easily, even when it comes to crocheting. For me there is a balance between letting the repetitiveness of the motions sooth my mind while staying engaged enough to enjoy what I am doing.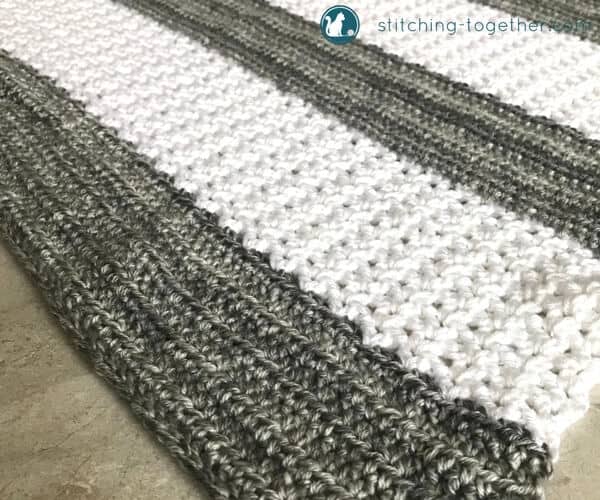 This crochet throw has the balance of being easy and engaging even though it is so simple. There are only two stitches used, but they alternate every ten rows – long enough to enjoy the motions, short enough that you don't get bored and you get a quick win satisfaction as you complete each section.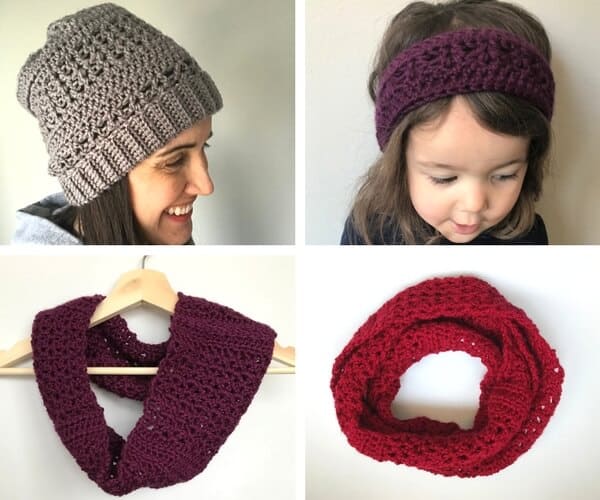 The throw (maybe) rounds up the Coco Series. I really enjoy the hdc and open v-stitch combo so who knows if another Coco pattern will be developed. (Click the photo above to see the other Coco patterns.)
Save the HDC and V Stitch Crochet Blanket on Pinterest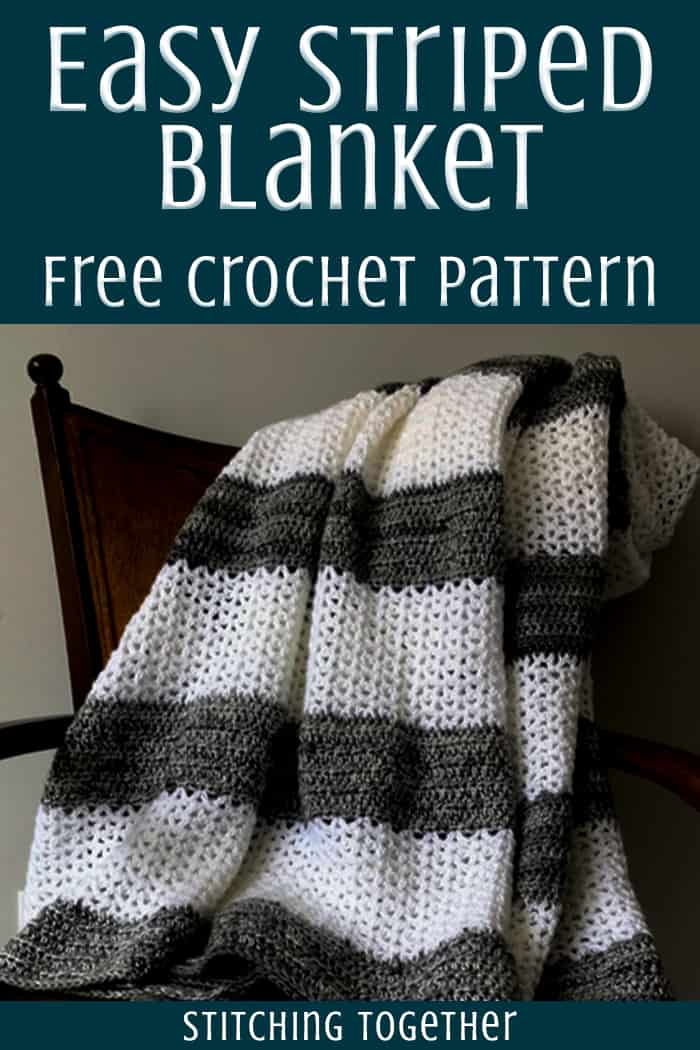 Coco Crochet Throw – HDC and V-Stitch Crochet Blanket
Purchase an ad-free PDF version of the pattern on Etsy or purchase on Ravelry
Skill Level: Easy
Materials:
Be sure to check out the Clover Amour Crochet Hook Review to see why I love these hooks!
Abbreviations:
ch(s) – chain(s)
FHDC – Foundation half double crochet
hdc(s) – half double crochet
dc(s) – double crochet(s)
st(s) – stitch(es)
sk – skip
sp – space 
Finished Size:
54″ W by 74″ L
Gauge: 
4″ x 4″ 14 hdcs x 12 rows
Note:
To start with a chain: ch 194, turn, hdc in second ch from hook and in every chain across.
To adjust the size:
Starting with FHDC use a multiple of 3+1
Starting with a chain: use a multiple of 3+1
The first gray stripe of hdcs should use an entire skein and you may need to join another skein to finish the stripe. The other gray stripes should just use one skein with plenty left to weave in.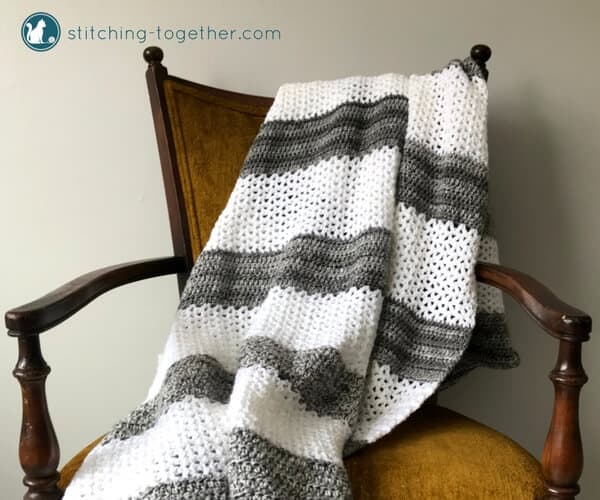 Coco Throw – V Stitch Crochet Blanket Pattern Instructions
R1: With gray, FHDC 193, turn
R2: ch 1, hdc in each st, turn (193)

R3-10: Repeat Row 2
R11: Join white, ch 3 (counts as first dc and ch1), dc in st at the base of the ch 3, *sk 2 sts, (dc, ch 1, dc) in the next st; repeat from * to end of row, turn (check out the tutorial how to crochet the v-stitch)
R12-20: ch 3 (counts as first dc and ch 1), dc in first ch-1 sp, *(dc, ch 1, dc) in next ch 1 sp; repeat from * to end of row, turn
R21: Join gray, ch 1, hdc in each st and ch 1 sp, turn (193)
R22- 30: Repeat Row 2.
Repeat rows 11-30 seven times. (There will be a total of 9 gray/hdc stripes, and 8 white/v-stitch stripes.)
Bind off, weave in ends, grab a good book, and cuddle up!
Please tag me on social using #stitchingtog – I love to see your finished projects!
Purchase an ad-free PDF version of the pattern on Etsy or purchase on Ravelry
Save to your Ravelry favorites