Disclosure: This post may contain affiliate links. As an Amazon Associate, I earn from qualifying purchases. Please visit my Privacy Policy for disclosures and more information.
Crochet country coasters or crochet dish scrubbies? Either way they are cute, easy and will add great farmhouse style to your home. The free pattern is below!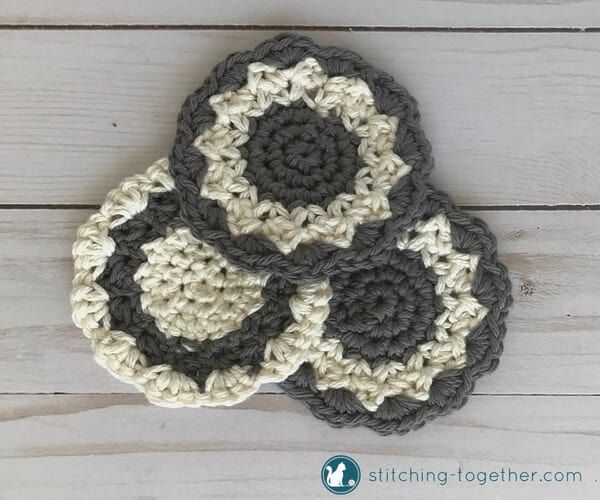 Did you ever imagine that a crocheted object could have an identity crisis? No? Me neither. I did not see that one coming.  As I was finishing up these… discs…. circular things… round crochet cuteness, I could not figure out what they are. Since I designed them, really, I can call them whatever I want, but what do I want?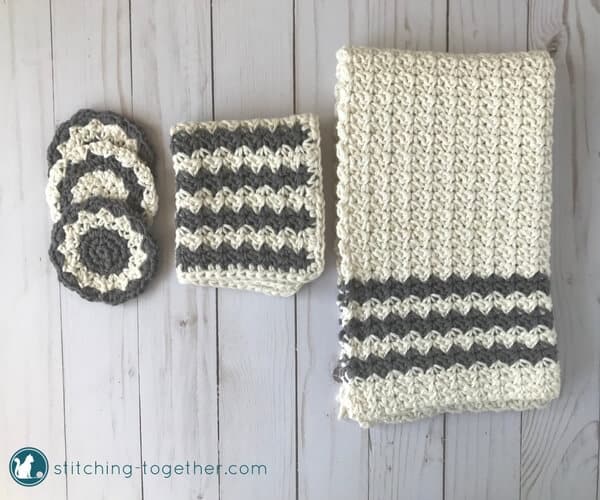 I set out to design dish scrubbies to go with the Crochet Country Dishcloth and the Crochet Country Dish Towel, which was fine and dandy until… I set my coffee down next to one of the finished scrubbies.  "Oooo! That would make an adorable coaster!"
It all went downhill from there.  I polled on Instagram (give me a follow if you haven't already) and do you know what they voted?  COASTERS.  So problem solved, right?  The people have spoken.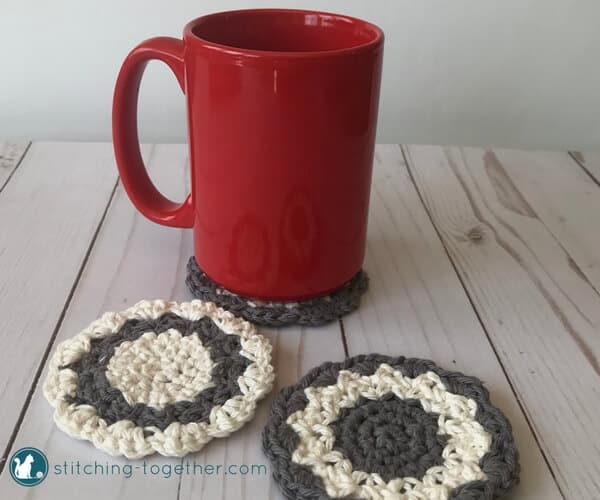 But I am arguing with those results even now… are you sure they are coasters? Do coasters make sense with the set? Will people be searching for farmhouse style coasters or farmhouse scrubbies? Crochet Country Coasters sounds better, right? I mean who doesn't love an alliteration? Does it really matter…?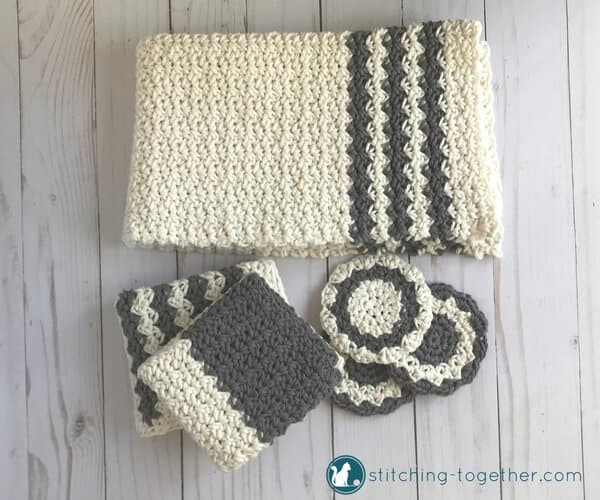 Of course the answer to the last question is no but also yes. In the grand scheme of life, this decision doesn't make much difference.  In my crochet world, it does and that is ok.  Sometimes a struggle with a less important decision is just a reflection of struggles through the big decisions…the ones that really do matter and can't be deferred to other people.
But this decision…. well, I'll choose something, after all, they need a name, but you can feel free to use them however you like. (You would have anyways, right? You really didn't need my permission.)

Crochet Country Coasters
Skill Level: Easy
Materials:
[line] I wrote an entire post about my favorite hooks.  Check out the Clover Amour Crochet Hook Review if you have ever been curious whether crochet hooks really make much of a difference.[line]
Abbreviations:
ch(s): chain(s)
sc(s): single crochet(s)
st(s): stitch(es)
sp: space
yo: yarn over
sl st: slip stitch
sk: skip
MC: Main Color
CC: Contrasting Color
Finished Size:
approx 3.5″ in diameter
Gauge: 
Gauge is not critical
Note:
The post, How to Crochet the Spider Stitch, may be helpful for rows 4 an 5.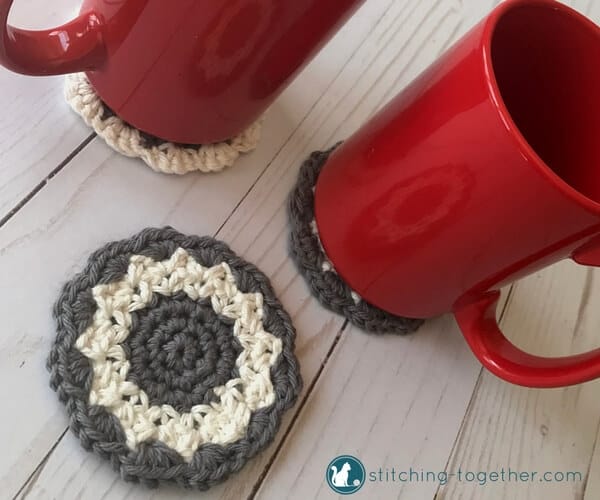 Crochet Coasters Pattern Instructions:
Start with a magic ring with MC
R1: 6 sc in circle, join with sl st to first sc, pull ring closed. (6)
R2: ch 1, 2 scs in ea sc, join with sl st to first sc. (12)
R3: ch 1, 2 scs in ea sc, join with sl st to first sc. (24)
R4: With CC, ch 1, *(sc, ch 1, sc) in sc, sk next st, repeat from * around, join with sl st to first sc.
R5: ch 1, (sc, ch 1, sc) in each ch-1 sp, join with sl st to first sc.
R6: With MC, ch 1, 4 sc in each ch-1 sp, join with sl st to first sc.
Bind off and weave in ends.  Don't forget to check out the matching Crochet Country Dishcloth, Crochet Mason Jar Cozy,  and Crochet Country Dish Towel.
Tag me on social, #stitchingtog so I can see your finished projects!
Purchase the ad-free printable PDF
Save and purchase the entire Crochet Country Set