Lady of Luxury Crochet Infinity Scarf
Disclosure: This post may contain affiliate links. As an Amazon Associate, I earn from qualifying purchases. Please visit my Privacy Policy for disclosures and more information.
So many things are given the title of luxury: luxury sedan, luxury cruise, luxury airliner. In my world, luxury usually means unaffordable and unattainable. But the Lady of Luxury crochet infinity scarf is delightfully luxurious and it's made with a Red Heart Yarn so you know it's affordable!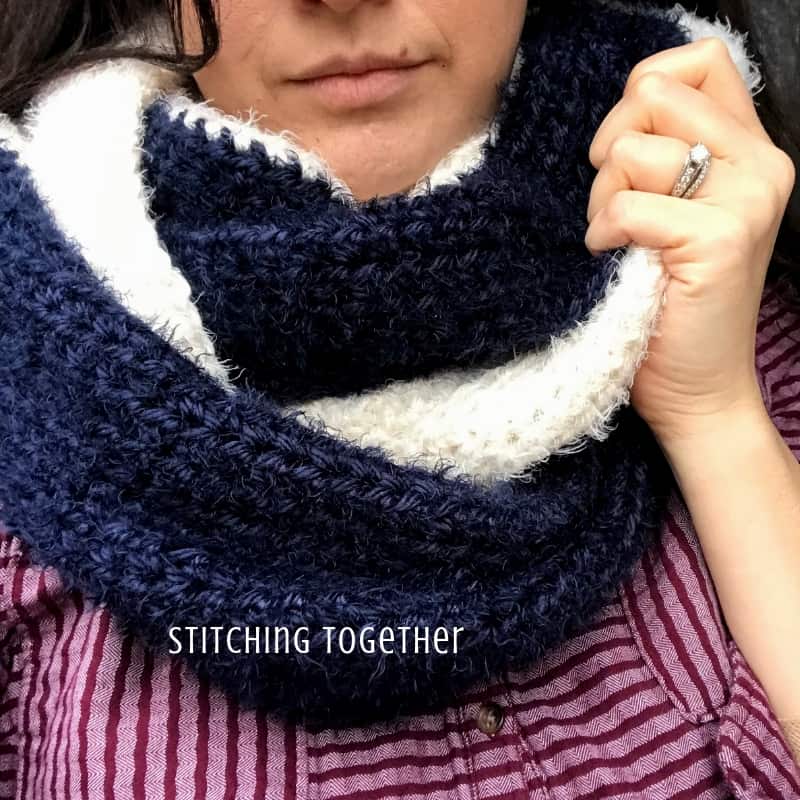 In this case, luxury doesn't mean complicated either! The entire scarf is worked using half double crochets, so it is great even for beginners. You'll need to know how to chain, join with a slip stitch, and half double crochet.
Related: Perfect Beginner's Scarf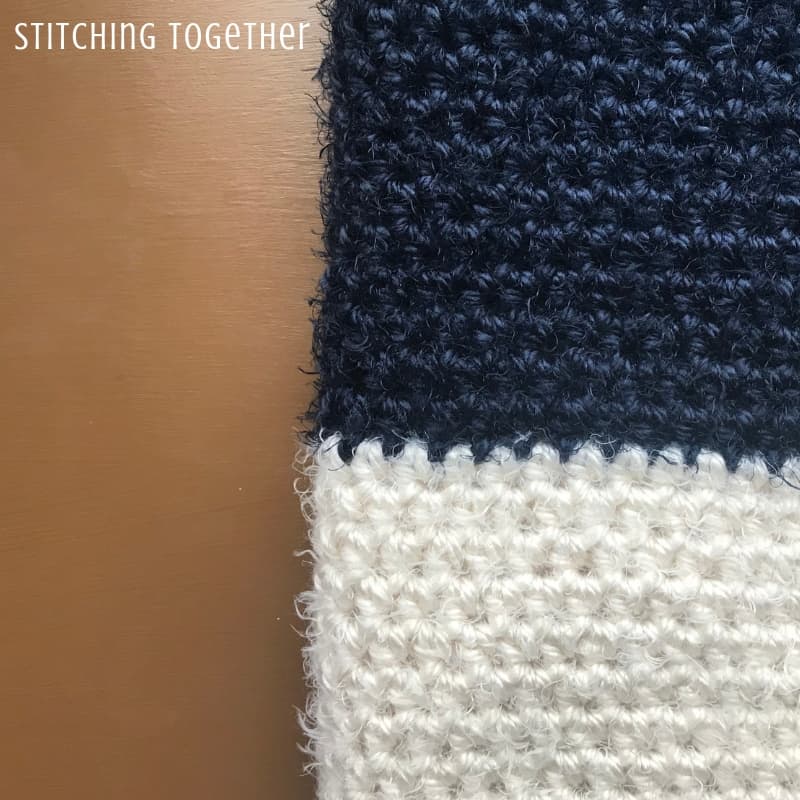 This crochet infinity scarf is wonderfully oversized and designed to wrap around your neck two times. It is WARM; not the kind of scarf you'll keep on indoors, but the kind that will keep the chill away as the cold winter wind whips around you.
Related: Luxurious Half Double Crochet Beanie Pattern
About Red Heart Hygge Yarn
Perhaps you see those little fuzzy bits on the Hygge yarn and just know that this yarn is going to be a pain to work with. You are ready to skip on to the next pattern because there is no way you are going to get stuck making a scarf with terrible yarn.
But wait until you feel it.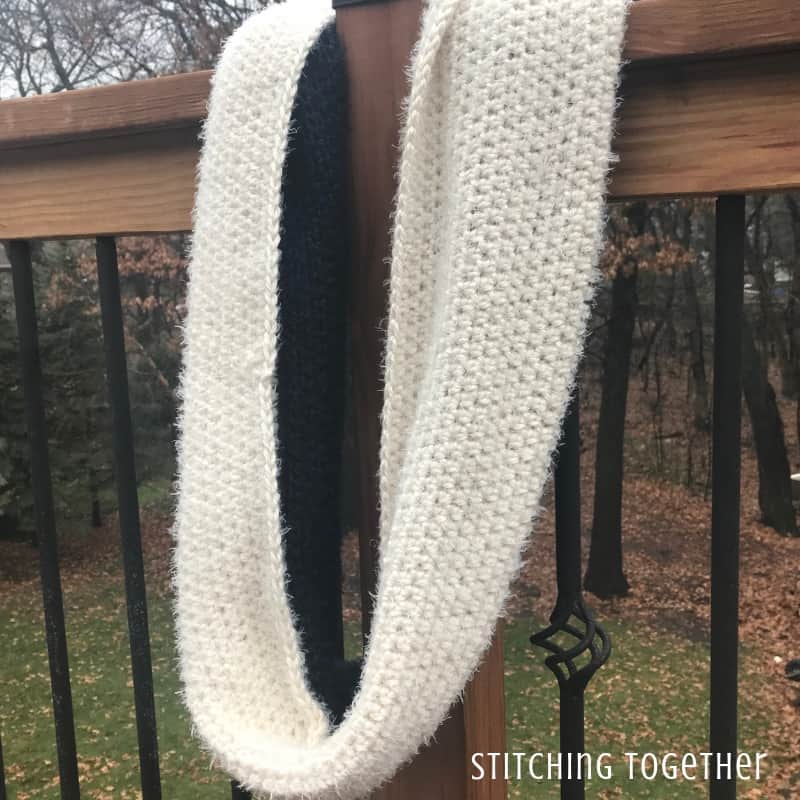 Getting your hands on this yarn will change your mind! This Hygge yarn embodies the concepts of coziness and comfort. It is soft, not scratchy, smooth not rough. The fuzzy parts are short and work with the yarn instead of against it! Surprisingly enough, it is incredibly easy to crochet with.
While it feels light and bouncy, The yarn, once worked up is actually a bit heavy. You'll feel like you are getting gently hugged with this luxurious scarf sitting on your shoulders.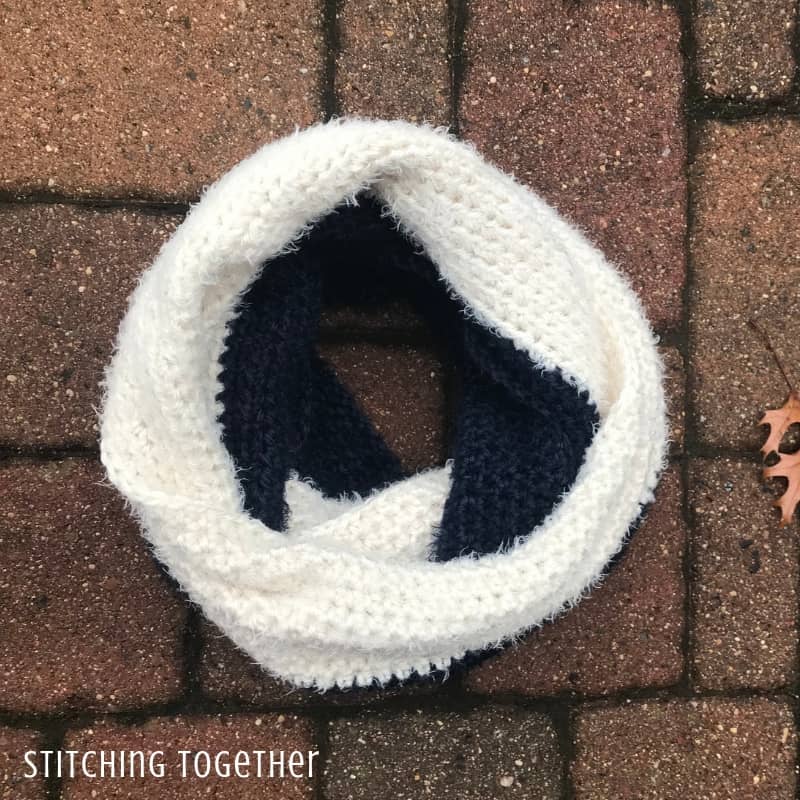 The colors of Red Heart Hygge yarn are lovely and there would be a number of alternative combinations which would look amazing like Powder with Snow or Plum Candy with Cloud. You could pair Aloe and Forest for a more monochromatic look. (Just look at those names!)
Related: Rival Crochet Infinity Scarf
If you want to only purchase two of the 8 oz skeins, you will just have a narrower scarf. Each color block will be around 13 rows instead of 17 rows and a total of 26 rows for the scarf instead of 34.  You'll have an approximately 12″ wide scarf which is still oversized!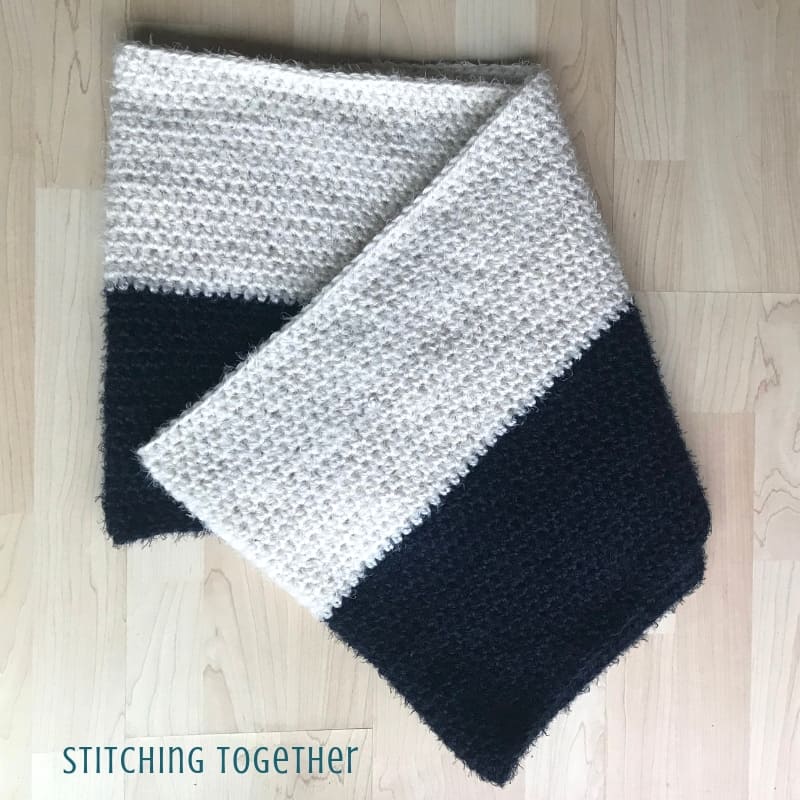 Lady of Luxury Crochet Infinity Scarf
[question]
Would you like an ad-free printable version of this pattern? You can purchase one here:
[button url="https://www.ravelry.com/patterns/library/lady-of-luxury-scarf"]Ravelry[/button]
[/question]
Skill Level: Beginner
Gauge: 4″x4″ = 10 hdcs by 9 rows
Finished Size: 15″ wide by 58″ around
Materials:
Size K, 6.5 mm Crochet Hook (Amazon carries my favorite inexpensive, ergonomic hooks!)
4 skeins of #5 Bulky Yarn (5oz/132 yds)
Large eye needle (these worked great with this yarn)
Abbreviations:
ch: chain
sl st: slip stitch
hdc: half double crochet
st: stitch
Notes:
Gauge is not critical for this project, but your finished size, especially the number of rows you can make, may be different. Work with your first color until the last round you can complete with it. You will have plenty to do the same number of rows in the contrasting color since the first color also used yarn for the chain.
Don't forget to save the Lady of Luxury Crochet Infinity Scarf on Pinterest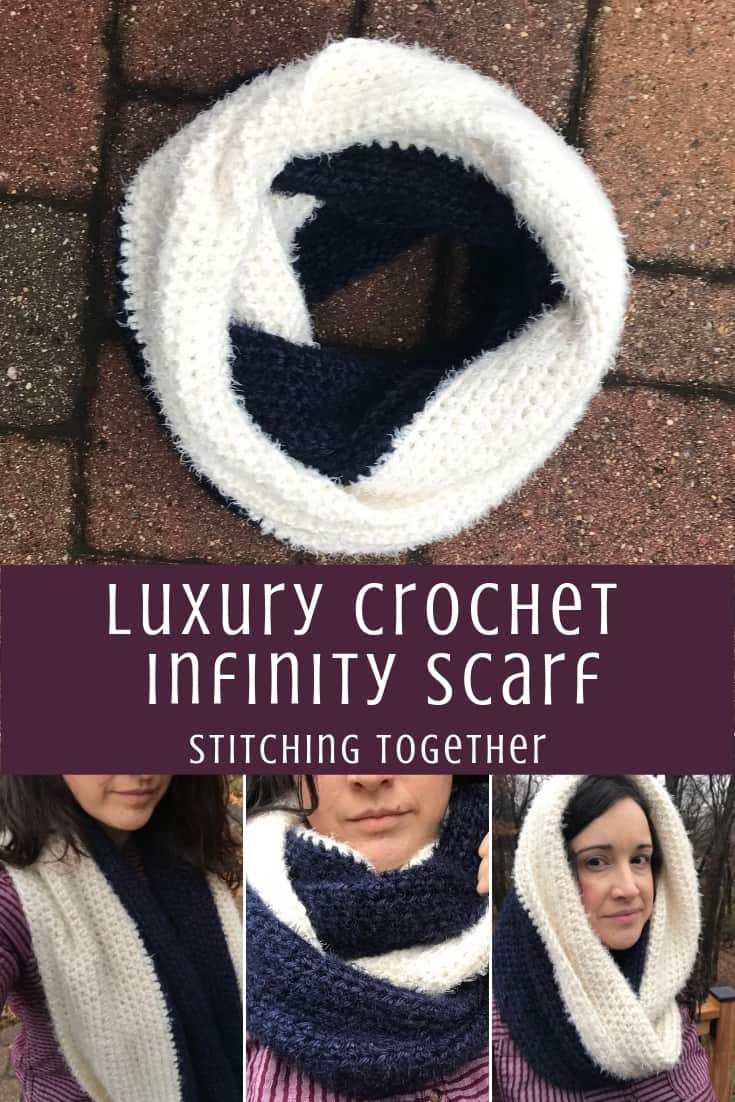 Lady of Luxury Crochet Infinity Scarf Pattern Instructions
Ch 147 with indigo, join with a sl st to form a circle being sure not to twist the chain.
R1: ch 1, hdc in each ch, join with a sl st to the first hdc of the round.
R2: ch 1, hdc in each st, join with sl st to the first hdc of the round.
R3-17: Repeat row 2.
R18: change color to ivory, repeat row 2
R19- 34: Repeat row 2
Fasten off and weave in ends.
Ready to Get Started? Grab you Supplies Now!
Clover Amour K/6.5 mm Hooks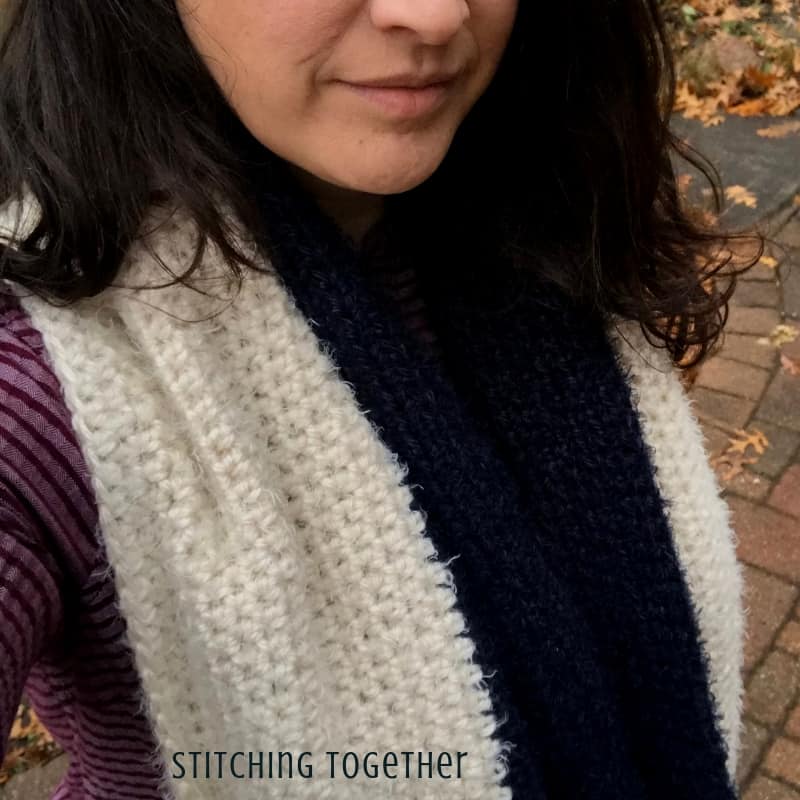 [question]
Who will you make the Lady of Luxury Crochet Infinity Scarf for? It would be great if you share your finished work! You can do that several ways:
[/question]