Disclosure: This post may contain affiliate links. Please visit my About page for disclosures, Privacy Policy and more information.
Who could resist a Luxurious Half Double Crochet Beanie Pattern to go with the Lady of Luxury Crochet Infinity Scarf? This HDC beanie is soft, comfy and best of all easy just like the scarf. You'll find basic stitches and construction making this a perfect project for beginners.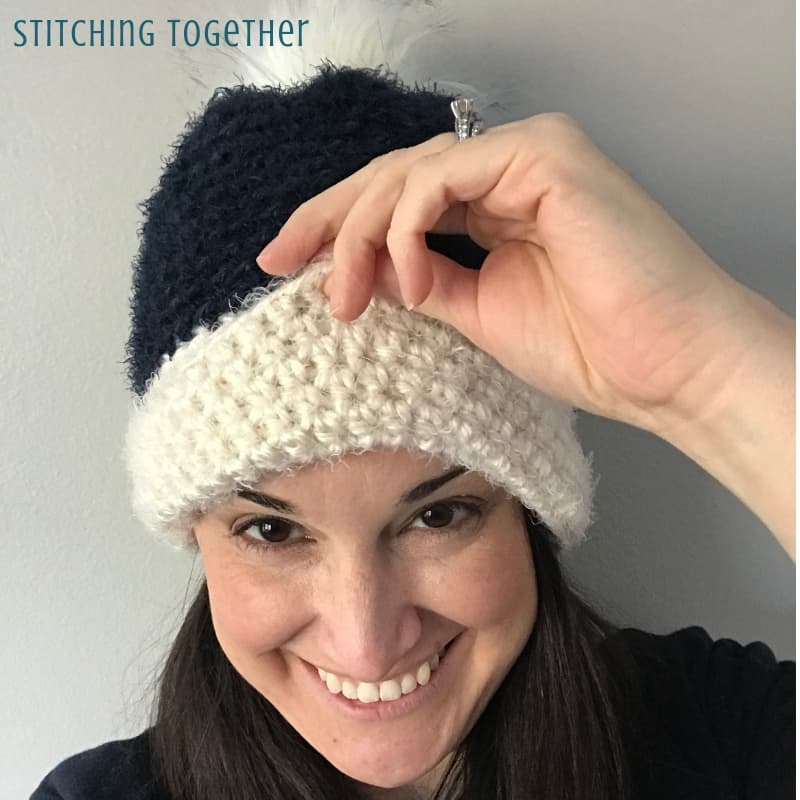 Are you a top down or a bottom up hat person? I've come to realize that I am a bottom up person. Working from the bottom in the round or sewing together a rectangle just seems so much simpler than working a top down hat. This hdc hat is made by working in the round and adding a couple of rounds of simple decreases in. It is nice and easy!
As I was planning the pattern, I couldn't decide if I wanted the majority of the hat to be indigo or pearl, but I did know that I wanted the top to be indigo.  I had enough yarn that I didn't have to decide so I just made both of them and wrote down both patterns!
Related: Peekaboo Puff Stitch Crochet Hat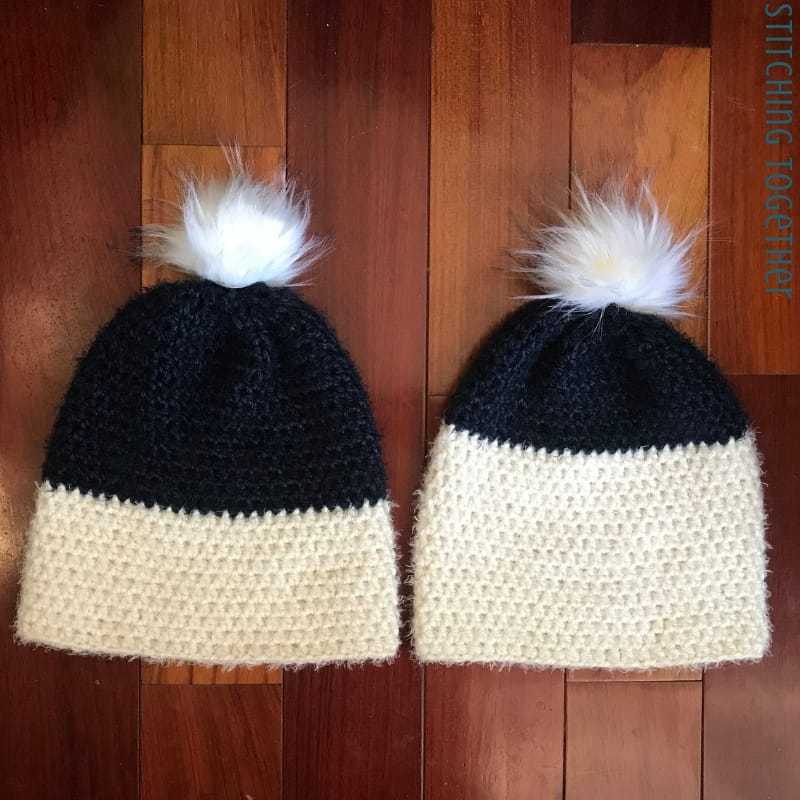 If you only buy one skein in each color, you'll have enough to make one of each version, but you will not have enough yarn to make the same version twice. You may even have enough left over to make a fun blue pom pom if you don't want to buy them. I've been really impressed with the faux fur pom poms I purchased on Amazon. A navy blue faux fur pom would look great as well.
Related: Coco Crochet Slouchy Hat
More Indigo – HDC beanie pattern (Version 1)
The beanie which has more indigo still has a wide pearl brim area which allows you to fold the brim up and make a wide or narrow brim.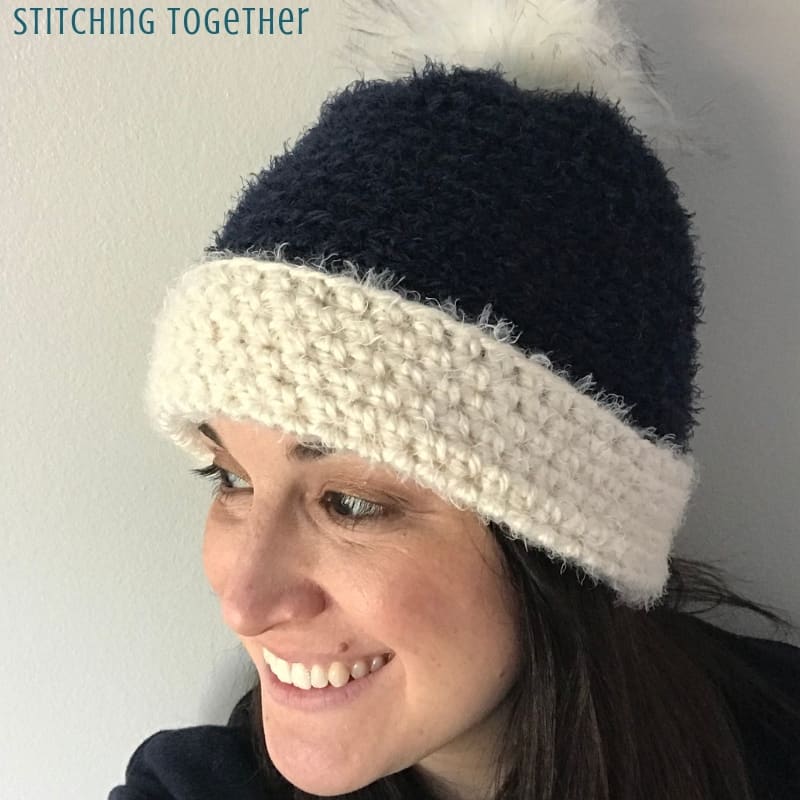 If you'd like to wear this as a half double crochet slouchy beanie, then the more indigo version works the best and looks super cute.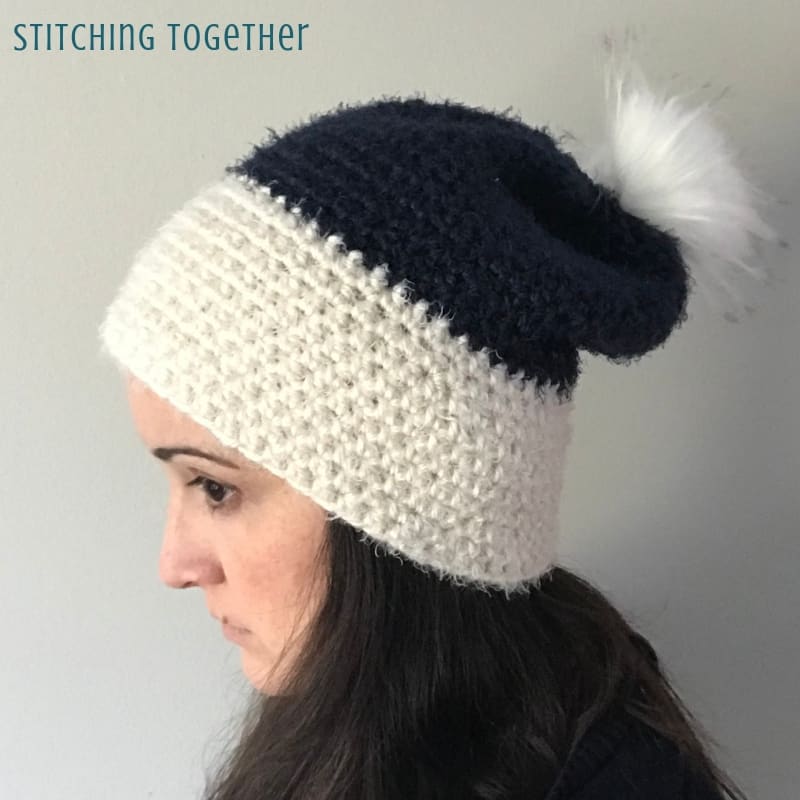 More Pearl – HDC beanie (Version 2)
The crochet beanie with more pearl actually turned out to be my favorite. (I think – I can't decide – I keep going back and forth!) Folding the brim under to create a thick double brim while still maintaining a smooth hat looked even better than I expected. I don't mind the bulky brim when it is folded up, but being able to fold it under and still get a great color block effect is wonderful!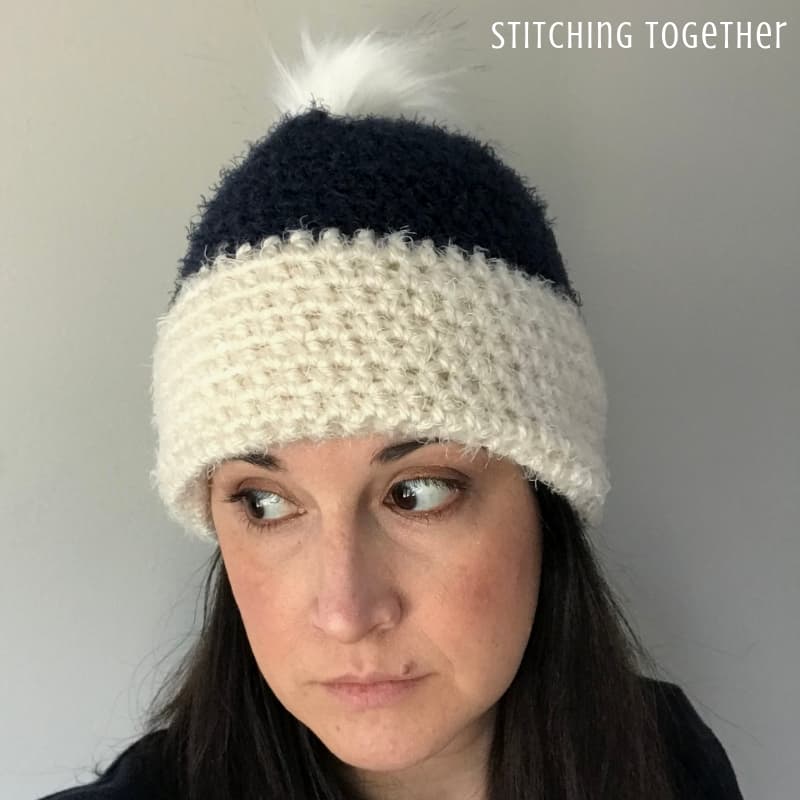 Ok, to summarize all of that: Both hats look great with the brim folded up, but the more indigo hat looks great as a slouchy beanie and the more pearl hat looks great with the brim folded under.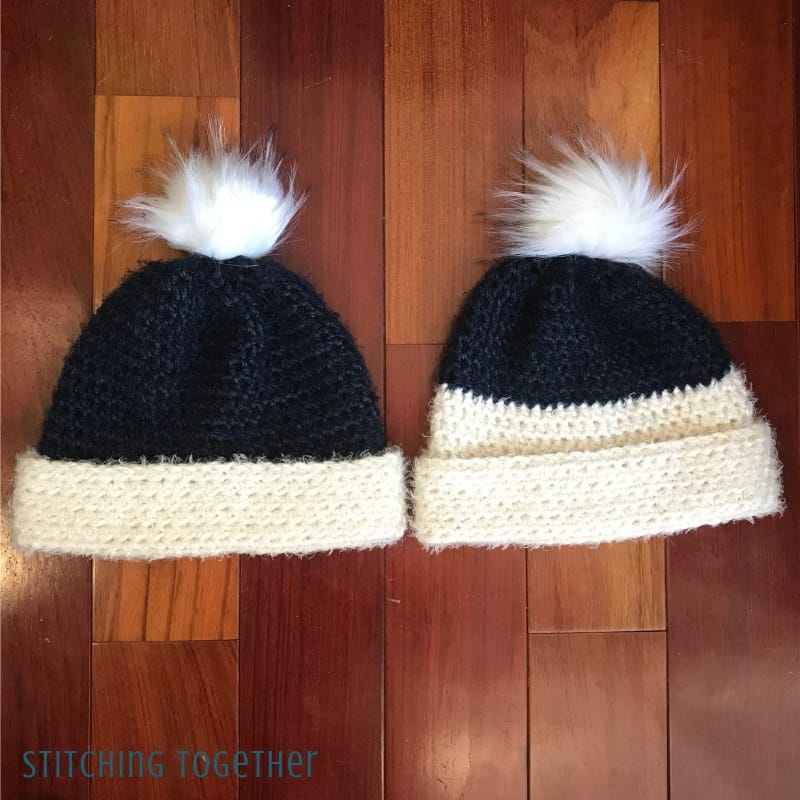 Luxurious Half Double Crochet Beanie Pattern
Would you like an ad-free printable version of this pattern? You can purchase one here:
Ravelry