Disclosure: This post may contain affiliate links. Please visit my About page for disclosures, Privacy Policy and more information.
Ear Warmers: the perfect messy-bun, haven't-washed-my-hair-in-a-week-but-a-hat-is-a-bit-too-much accessory. We could all use a few ear warmers in our closet for those wild hair days! You can use this easy crochet ear warmer pattern to stock up your own headband stash and make some to give away.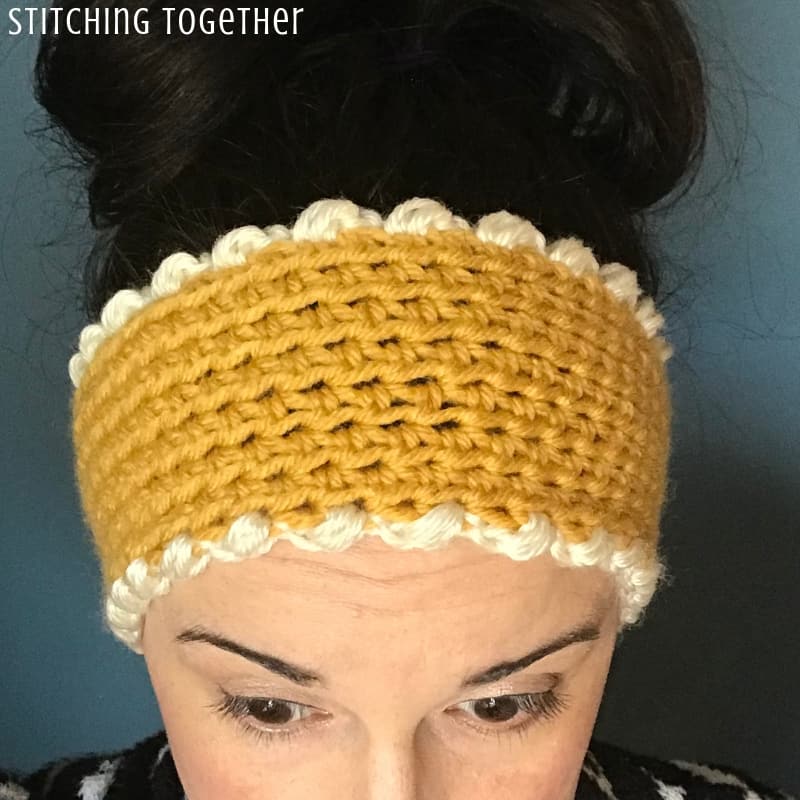 Chances are, once you make one crochet headband, you are going to want to make more and not just for yourself. In order to make this crochet headband or any headband/ear warmer in any size, you'll also find a crochet headband size chart below. 
As you scroll down to the free pattern you'll see that I give a few recommendations for alternative yarn choices in the Materials section since the I Love this Wool Blend from Hobby Lobby has been discontinued as far as I can tell.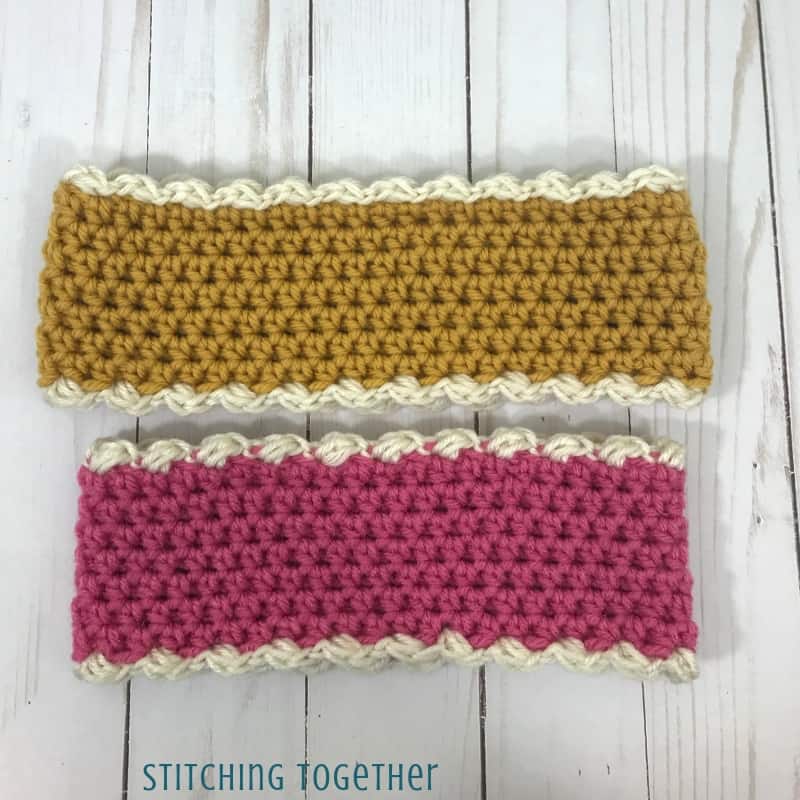 If you'd like even more recommendations for the mustard color, see the Peekaboo Puff Stitch Cowl post. And, like the cowl, both sides of the ear warmer are different and uniquely beautiful. There isn't a wrong side!
You'll also see the pattern in two different sizes: one for a smaller adult sized head and one for a kiddo in the younger range of 4-12 years old.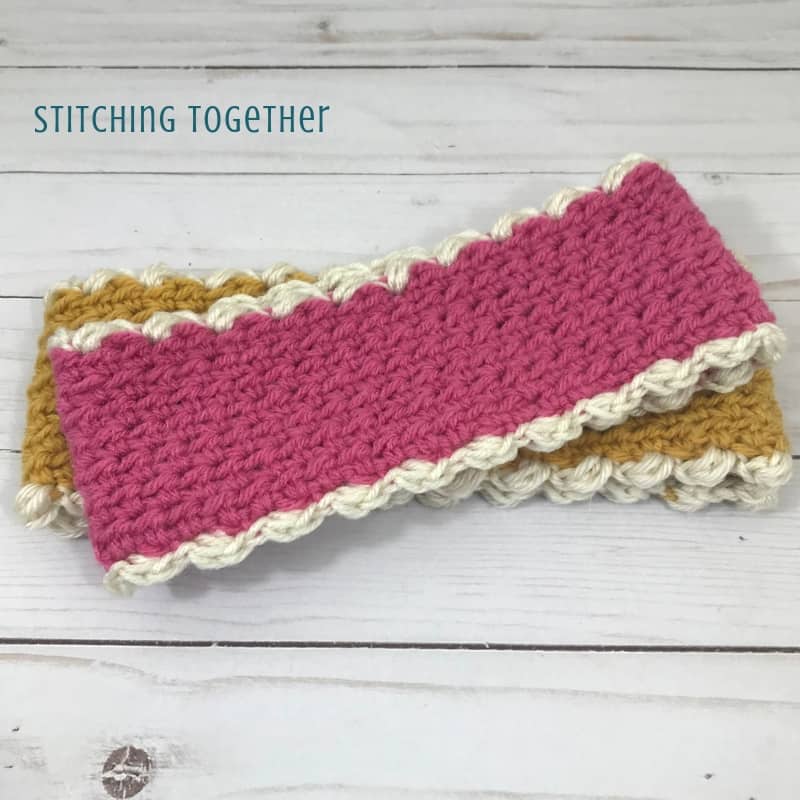 I had fun ideas in my head of taking mom and me pictures with my baby girl and our matching headbands, but her post-nap, yogurt-covered cuteness was just a bit too hyper to stay still long enough to capture many real smiles that didn't involve her tongue sticking out. 
I still think some of the photos turned out pretty cute.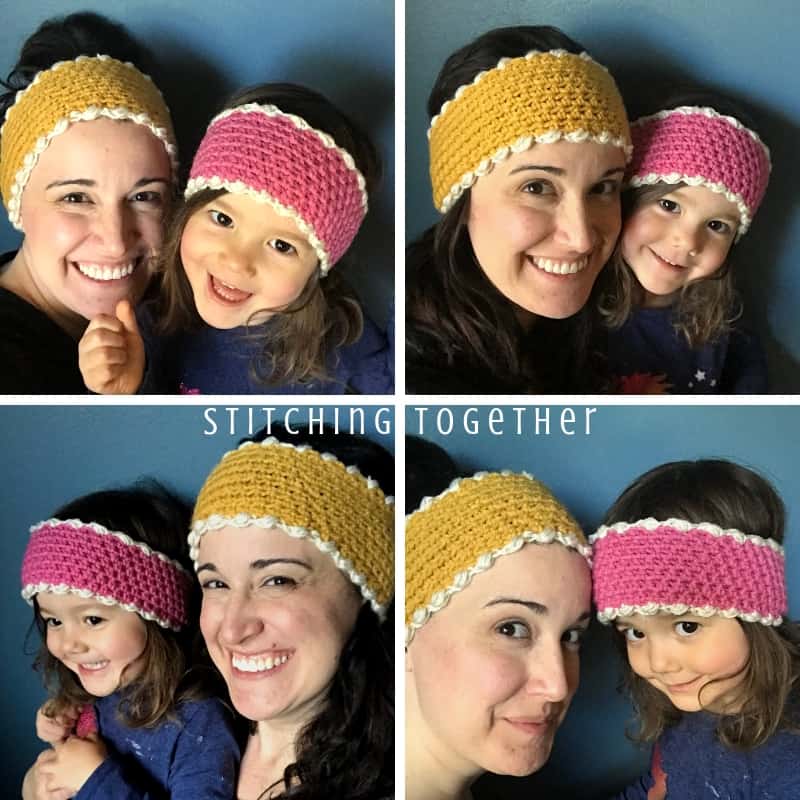 If you'd like to make the ear warmer in a different size than the two provided, you'll want to make sure your starting chain is an even number.
It is more important that you crochet to the correct length than the correct number of chains.
Even worsted weight yarns vary so much (see the Peekaboo Puff Stitch Cowl for the info on the yarn used in the sample crochet ear warmer) that one type or even color of yarn could take 50 chains to reach the correct length and the next yarn could take 60!
Crochet Ear Warmer
Crochet ear warmers are typically worked back and forth in rows or in rounds. Either way you work an ear warmer, you want to make sure it will fit! Use the sizing guidelines below to get a great fit with each ear warmer you make.
Would you love a printable crochet headband size chart you can keep handy? You can get this adorable printable one right here in the Stitching Together Shop.
Crochet Ear Warmer Size Chart
As I said earlier, you'll want to crochet to the correct length instead of just the provided number of chains. This crochet ear warmer size chart is provided to give you a general guideline for crocheting ear warmers or headbands.
Most of the sizes assume that the finished headband will stretch around two inches. However, if you are using a yarn without much stretch you may want to go a little bit bigger in the recommended size range.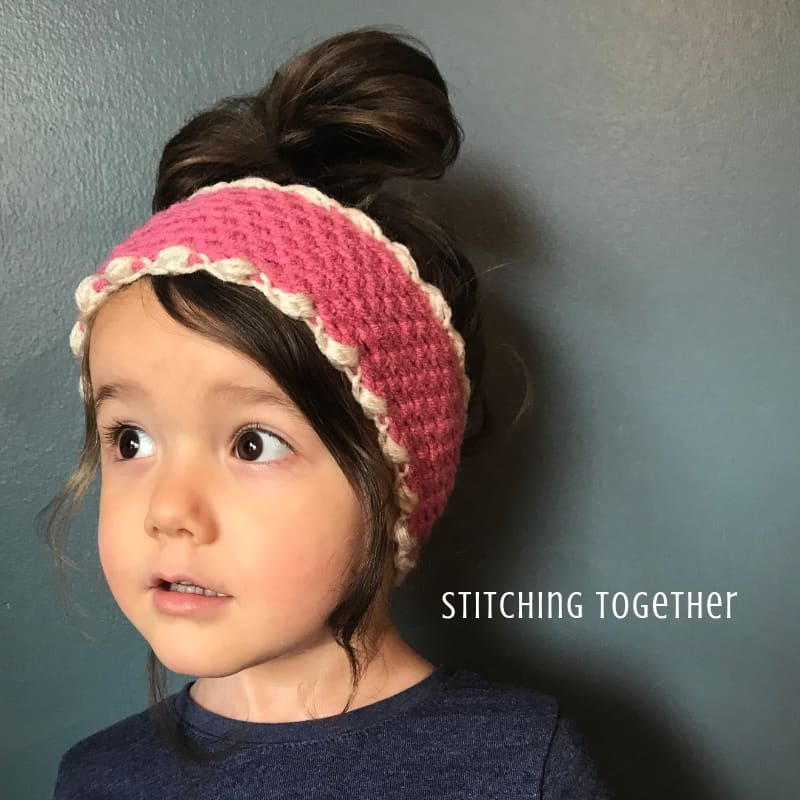 Age Range
Newborn
0-3 mo
3-6 mo
6-12 mo
1-3 yrs
4-12 yrs
Teen
Sm Adult
M Adult
Lg Adult
Head Circumference
12″-14″
13″-15″
15″-17″
17″-18″
17″-19″
19″-20.5″
20.5″-22″
21″-22″
22″-23″
23″-24″
Ear Warmer Size
11″-12″
12″-13″
13″-15″
15″-16″
15″-17″
17″-18.5″
18.5″-20″
19″-20″
20″-21″
21″-22″
Save this Crochet Ear Warmer Size Chart on Pinterest!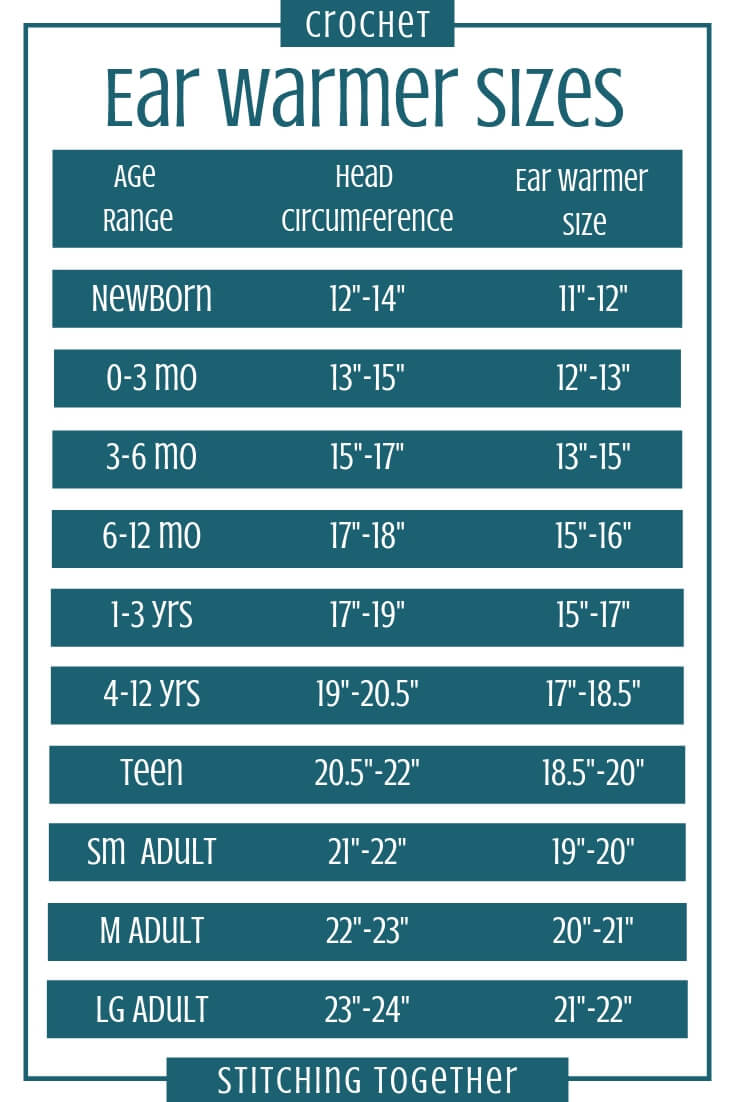 Doing a small project like ear warmers also helps you to get familiar with how you chain and how to adjust your chain.
Are your chains loose or tight?
If your measured chain is significantly shorter than your measure rows, then you chain tight! You may want to relax your tension a bit when you chain.
Although I have improved in finding a good tension for my chain stitches, I don't measure my chains, but wait to measure until I have completed a row or two. It isn't a big deal to take out a couple of short rows or rounds to adjust the size and get it just right.
How Wide Should a Crochet Ear Warmer be?
A great standard width for crochet ear warmers is 3.5″ wide.
I have found this width to work well from toddler size to adult size. Of course you can go narrower or thicker, but 3.5″ wide generally gives total ear coverage which is important when you are trying to keep those ears nice and warm!
Don't forget to save this free crochet headband pattern on Pinterest!

Free Crochet Ear Warmer Pattern
Skill Level: Easy
Materials:
#4 medium worsted weight yarn (3.5 oz, 145 yds)

Adult Sample used

approx. 1.2 oz of Hobby Lobby, I Love this Wool Blend in Mustard

approx. 0.3 oz of Hobby Lobby, I Love this Wool Blend in Natural

Child Sample used

approx. 0.7 oz of Red Heart Super Saver in Light Raspberry

approx. 0.1 oz of Red Heart Super Saver in Aran

Large Eye Tapestry Needle
Save time and shop the materials online!