Disclosure: This post may contain affiliate links. Please visit my About page for disclosures, Privacy Policy and more information.
Isn't this Peekaboo Puff Stitch Cowl just dreamy?  I think most accessories in mustard, especially during the fall are dreamy, but I usually avoid mustard because it can make me look pale and washed out. BUT I LOVE IT SO MUCH. I couldn't resist this beautiful mustard when it was on huge clearance at Hobby Lobby. Just because I look washed out with this tone, doesn't mean you won't look FABULOUS.
Related: Peekaboo Puff Stitch Crochet Hat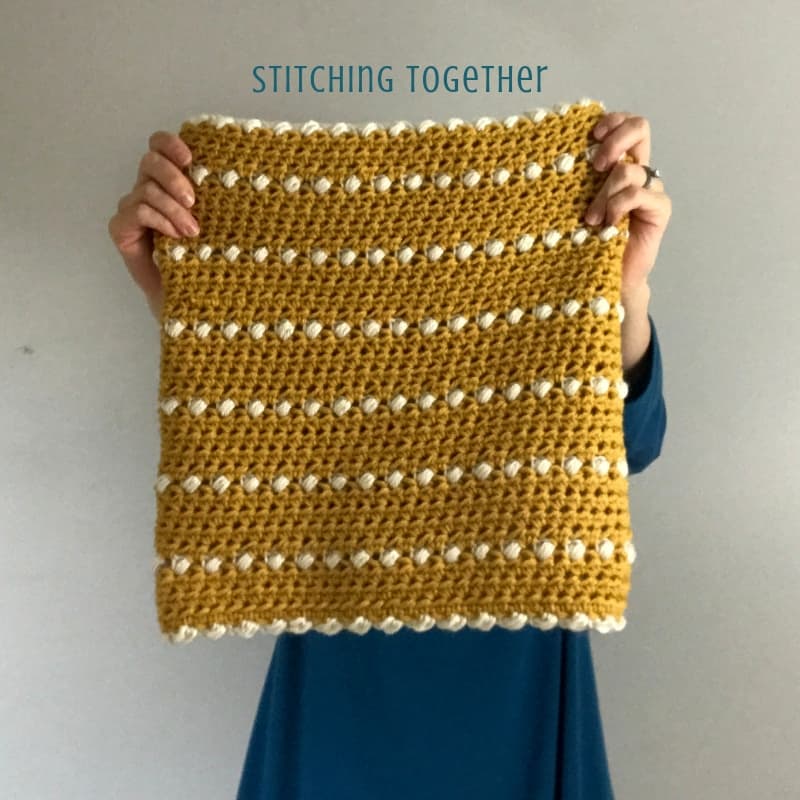 What About the Wool for the Peekaboo Puff Stitch Cowl?
The yarn, I love this Wool Blend, has since been discontinued (hence the huge sale) but have no fear, there are other options/suggestions in the yellow box below! Even if the yarn wasn't discontinued, I don't know that I would suggest using it. The colors are GORGEOUS, don't get me wrong, but for a wool blend, it wasn't as soft, cozy or drapey as I expected. Well, at least the mustard color wasn't.
Related: Coco Crochet Cowl (A super quick and beautiful one skien cowl pattern.)
There was a HUGE difference between the mustard and the natural yarn. I kept checking the labels over and over again to make sure that they were the same yarn with the same specifications. They were, but I am not sure how! The mustard was SO much thicker than the natural.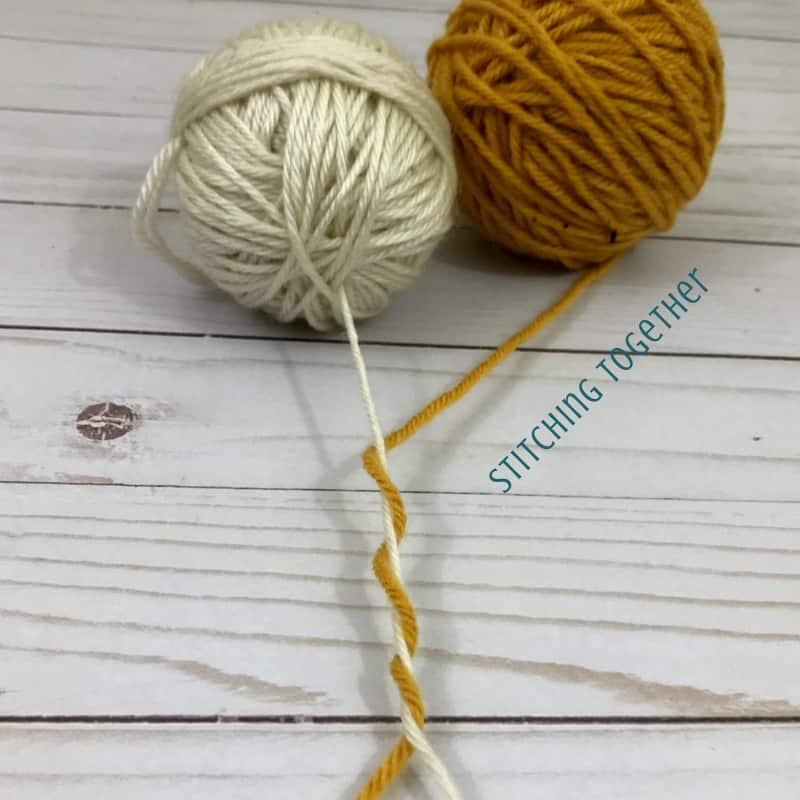 I would compare it to the differences in Lion Brand Vanna's choice yarn and Heartland or Red Heart Super Saver and Red Heart Soft. (I could not find a dreamy mustard or gold color in Red Heart Soft which is why it isn't in the yellow section below.)  It was really strange there was such a difference in size and softness of the yarn. That being said, the cowl will look great if your yarn choices are the same size like they should be! You may want to pay extra attention to the gauge if you are going to use a thinner worsted weight yarn though.
I cannot count how many variations I went through to get the color changes and that last puff stitch of the round to be smooth. I even frogged an entire finished cowl because I just wasn't happy with the drape or the color changes. It was worth all the effort because it turned out great and you can barely see the seam.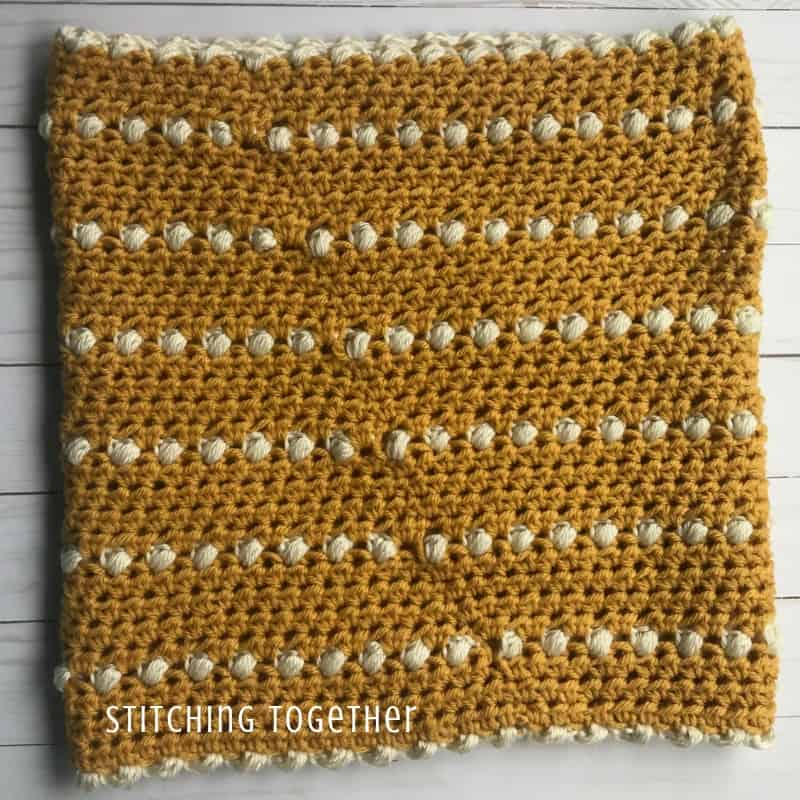 Once you've finished, you may want to turn the cowl inside out and look at the inside. I actually like the inside better than the outside! That extra loop from the hdc adds such good texture between the rows of puff stitches.  Whichever side you prefer, you can't go wrong!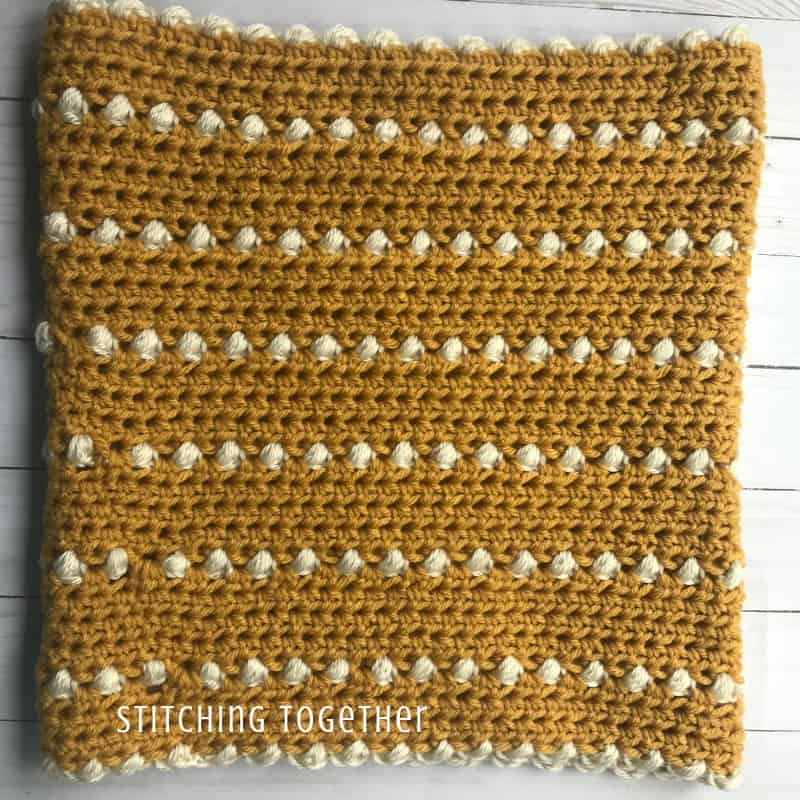 You'll want to save this pattern to your Pinterest boards before you forget!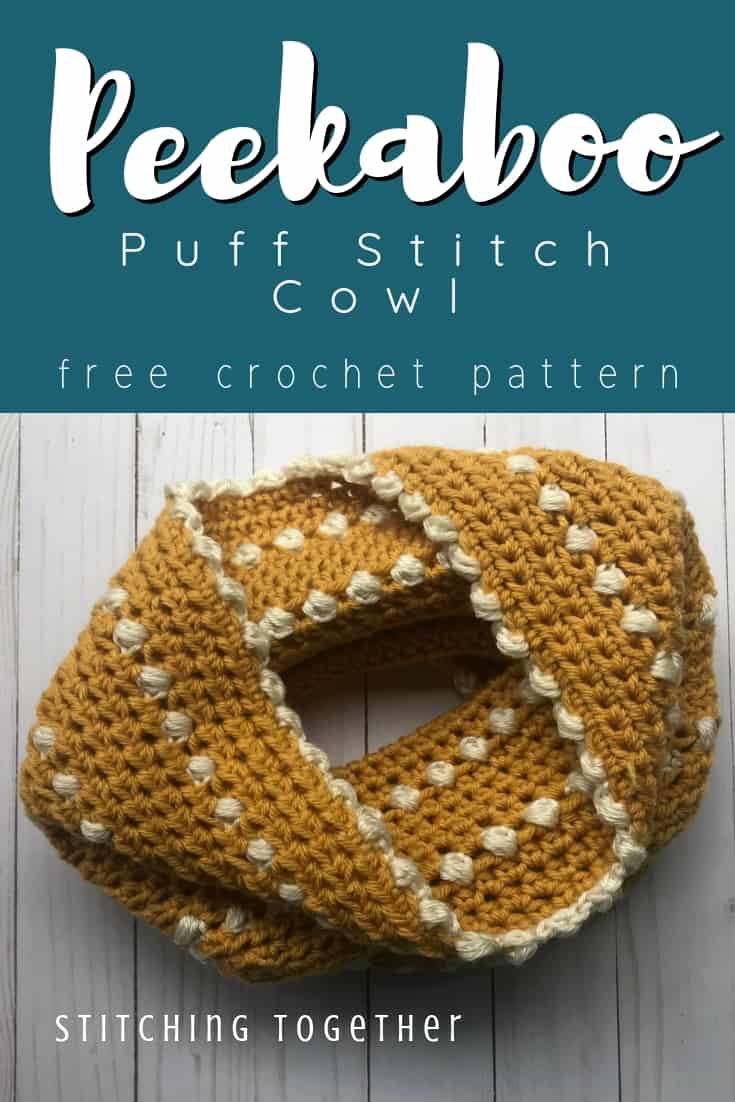 Peekaboo Puff Stitch Cowl
Skill Level: Easy
Materials:
3 skeins of #4 medium worsted weight yarn (3.5 oz, 145 yds)

Sample used 2 skeins Hobby Lobby, I Love this Wool Blend in Mustard and 1 skein in Natural

Size L, 8.0mm crochet hook

Large Eye Tapestry Needle
Save time and shop the materials online!