Coco Cowl – Lightweight Crochet Cowl
Disclosure: This post may contain affiliate links. As an Amazon Associate, I earn from qualifying purchases. Please visit my Privacy Policy for disclosures and more information.
Soft, works up quickly, fun stitches – those are just a few of the highlights of this lightweight crochet cowl. It's the kind of project you'll be happy to make more than one of. Keep scrolling for all the details and the free pattern!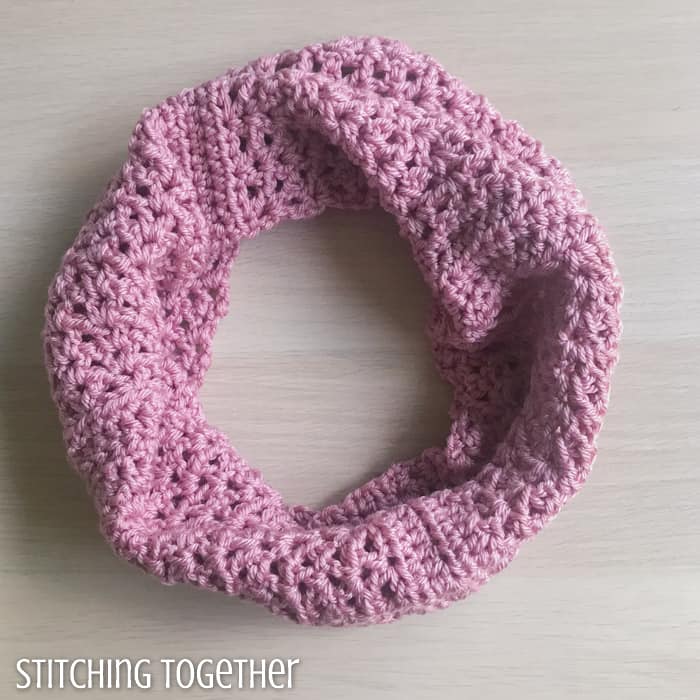 This year I decided not to make gifts for anyone for Christmas. I thought life was too busy and too full to really have the time to get them done.
That didn't last long!
As I came to some special people on my Christmas list, buying gifts just didn't cut it this year.  I had to make!  (Makers gonna make, right?)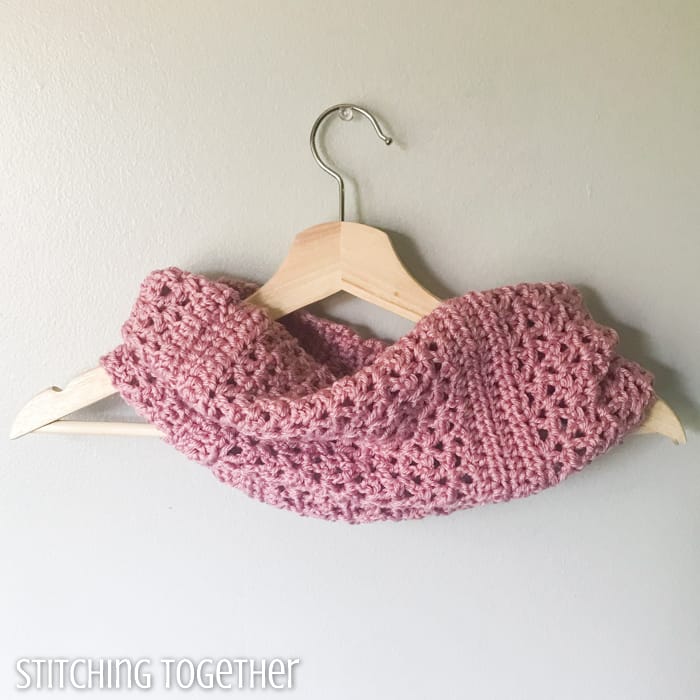 (If you struggle like I do in planning ahead for gifts, download my free Project and Gift Planner and start getting organized!)
I designed this crochet cowl for a family member and loved the combo of v-stitches and hdc stitches so much that I went on to design a scarf, headband, hat, and blanket using the same stitch combo.
The great thing about all of them except the blanket is that they take less than one full skein of Red Heart Soft yarn.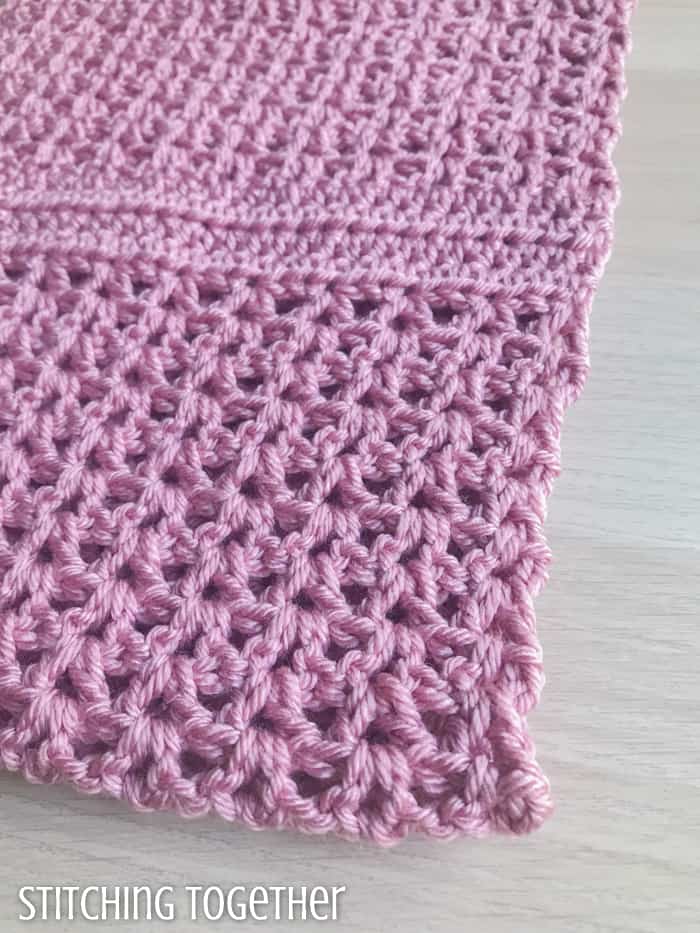 Easy Crochet Cowl Neck Scarf
Are you more of a full scarf person or a cowl person?
Personally I choose scarves more than cowls, but cowls are so nice because you can get the warmth without the bulk.
The first version I made of this cowl, (the one I gifted) I added one more section of repeats than I did for the next version. It made a nice flowy cowl, but it was almost long enough to comfortably wrap twice at which point it should be called an infinity scarf.
Version 2 is not as long around and sits closer to the neck. I think it works a bit better for warmth while at the same time, not choking you.
One Skein Crochet Cowl
This cowl takes just one skein of Red Heart Soft yarn and it easily works up in a lazy afternoon. One skein projects are FABULOUS!
Red Heart Soft yarn (see on Yarnspirations) has so many different colors in their line that you can easily whip up a cowl for every lady on your Christmas list. Keep in mind that the print and heather colors only have 4 oz in a ball as opposed to 5 oz in the solid colors. The cowl took around 4.5 oz so you would need another ball if you aren't choosing a solid color.
Have you worked with Red Heart Soft before? I found it easy to work with, and while, despite its name, it's not the softest acrylic I've worked with, it is soft with a nice sheen.
Save the Coco Crochet Cowl on Pinterest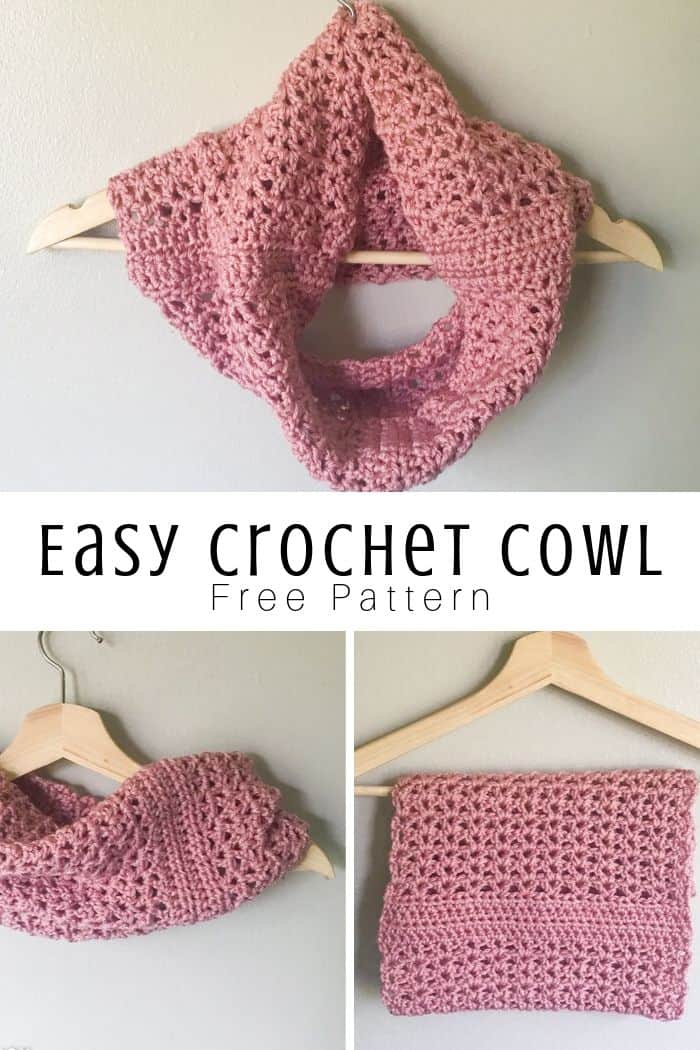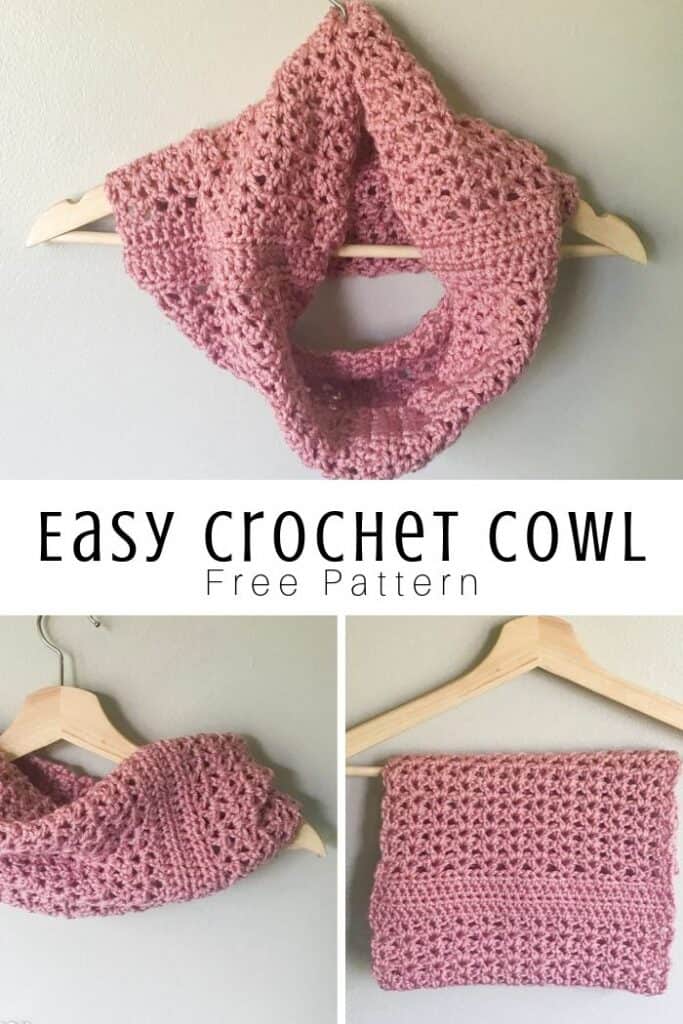 Purchase an ad-free printable version of the Coco Crochet Cowl pattern here!
Lightweight Crochet Cowl Pattern – Coco Cowl
Skill Level: Easy
Materials:
US-Size J/10 6.0 mm crochet hooks (Did you know you can purchase my go-to hooks on Amazon?)
Red Heart Soft
4 Medium 100% Acrylic  5oz/141g, 256yds/234m
1 skein in Rose Blush
See on Amazon or on Yarnspirations
Large Eye Tapestry Needle (these are my FAVORITE and they are available on Amazon)
Abbreviations:
ch(s): chain(s)
FHDC: Foundation half double crochet
hdc(s): half double crochet
dc(s): double crochet(s)
st(s): stitch(es)
sk: skip
sp: space 
Finished Size:
9.5" x 28″ (34″ for the longer version)
Gauge: 
4" x 4" = 16 sts (open v-stitch) by 8 rows
Note:
The first version of this cowl is very loose-fitting. There is enough stretch to wrap it twice, but it sits right on the neck and does not hang when wrapped twice.
Within the pattern there are instructions of where to do one less section of repeats in order to get a cowl that isn't as loose but still has nice drape.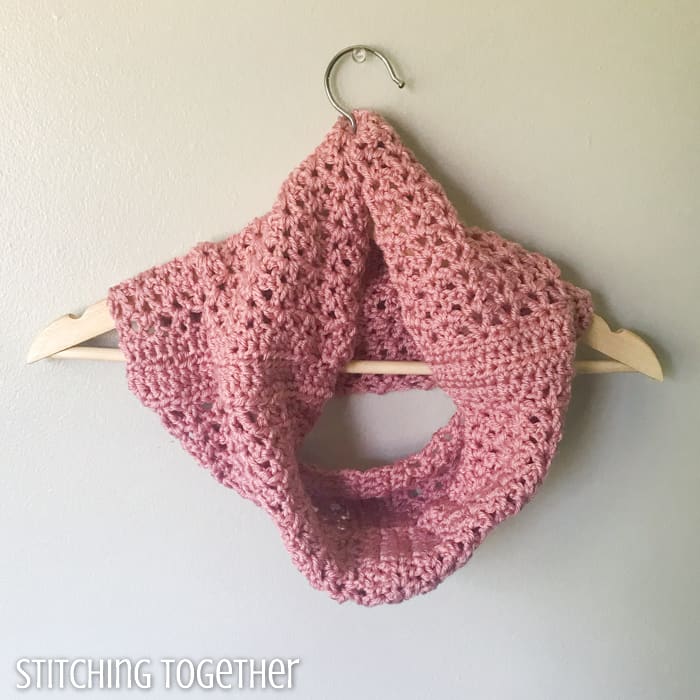 Instructions:
Row 1: FDHC 34, turn (alternately, ch 35, hdc in the 2nd ch from hook and in each ch across)
Row 2: ch 1, hdc in each st, turn (34)
Row 3: ch 3 (counts as first dc and ch1), dc in st at the base of the ch 3, *sk 2 sts, (dc, ch 1, dc) in the next st; repeat from * to end of row, turn
Rows 4-12: ch 3 (counts as first dc and ch 1), dc in ch 1 sp, *(dc, ch 1, dc) in next ch 1 sp; repeat from * to end of row, turn
Rows 13-16: ch 1, hdc in each st and ch 1 sp (34), turn
Repeat rows 3-16 three times (For a cowl that sits closer to the neck, only repeat rows 3-16 two times)
Repeat rows 3-14 one time
Sew the short ends together to form a circle. Fasten off and weave in ends.
Will you share pictures of your finished projects?
Purchase an ad-free printable version of this pattern in the following places:
Check out the other patterns in the Coco Series
Coco Crochet Infinity Scarf
Coco Crochet Toddler Headband
Coco Crochet Throw
Coco Crochet Hat
Want more Scarf and Cowl Patterns?
Wrap me in Diamonds
Chevron Infinity Scarf
Rival Crochet Infinity Scarf
All the Squish Cowl