Gray Skies Chevron Infinity Scarf Crochet Pattern
Disclosure: This post may contain affiliate links. As an Amazon Associate, I earn from qualifying purchases. Please visit my Privacy Policy for disclosures and more information.
It's neutral, it's unique, and it's one giant chevron – welcome to the Gray Skies Crochet Chevron Infinity Scarf Crochet Pattern Free!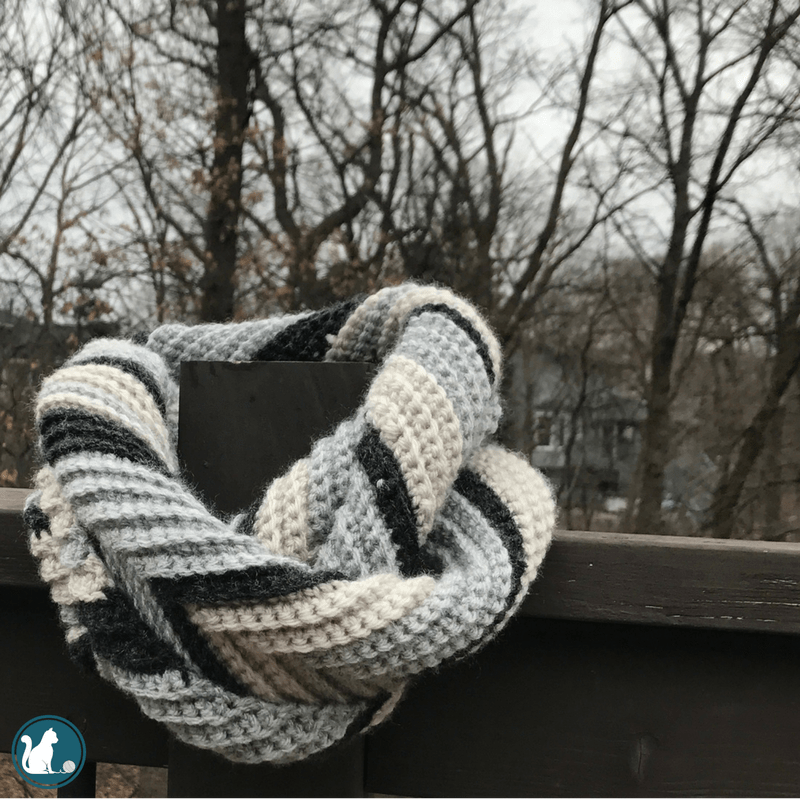 Have you ever avoided a project because you knew there would be just shy of a million ends to sew in before it was finished?
Yeah, I've done that, but I have vowed to do it NO MORE!
Those ends may seem terrible and may be standing in the way of you and the perfect finished project but instead of looking at them as a necessary negative, maybe we can choose to look at them as a fun part of the process.
There was one night where I actually wanted to stop crocheting and work on weaving in the ends. So strange, but it wasn't bad! (Also, I may have been watching Arrow and wanted to pay more attention to the hooded hero than color changes.)
Fine. I am making peace with you, ends.
I actually purchased new needles on Amazon that make weaving in ends so much faster and easier!
After using them in the Multicolored Crochet Scarf, I came back to this post to update it! I wish I had the needles when I made this scarf, then I really would not have minded all those ends.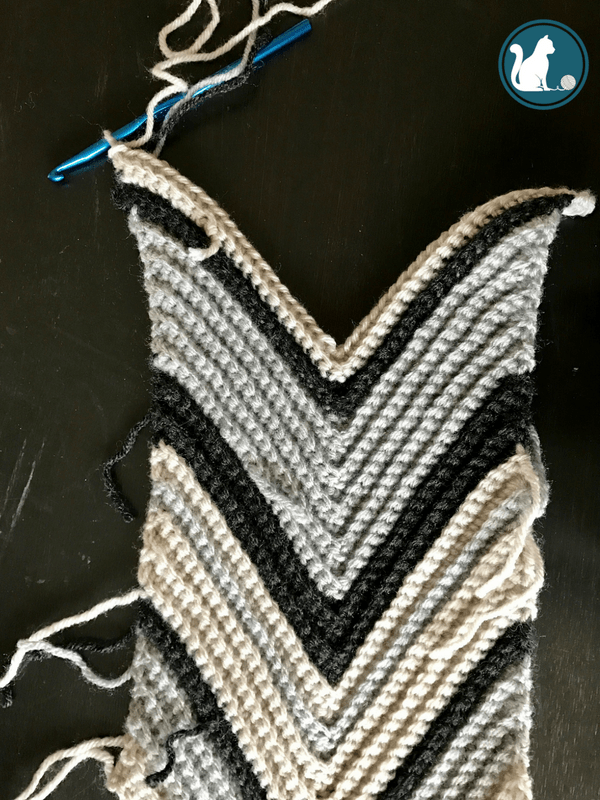 The scarf is meant to be an infinity scarf, but I honestly was torn about joining it. It looks really good as a regular crochet chevron scarf too. CHOICES! If you are loving this pattern, you should check out the matching Gray Skies Chevron Headband.
Since the scarf is done in single crochets in the back loop, it is extra thick, squishy, and warm! Of course, I love neutral colors, but it would look great in a variety of colors.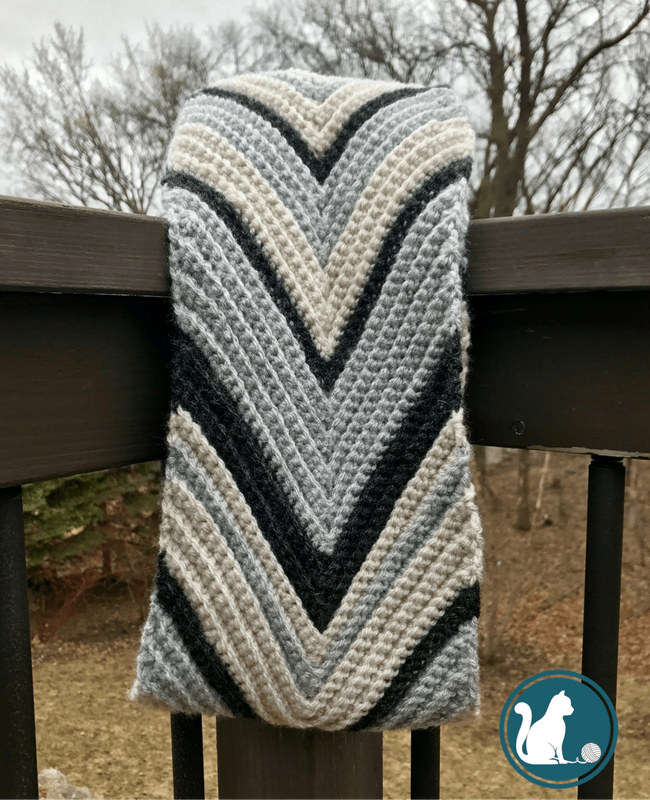 Gray Skies Crochet Chevron Infinity Scarf Pattern
Materials:
Please visit my Resources page to see why I recommend these tools and to see other recommendations. (Links below lead to Amazon.)
US-Size J/10 Crochet Hook (Clover Amour Crochet Hook, Size J)
2 skeins Vanna's Choice in Silver Heather
1 skein Vanna's Choice in Linen
1 skein Vanna's Choice in Dark Heather Gray
Abbreviations:
yo: yarn over
ch(s): chain(s)
sc(s): single crochet(s)
st(s): stitch(es)
Special Notes:
For the 2 single crochets in the last stitch of the row, work the 1st single crochet in the back loop and the 2nd single crochet through both loops.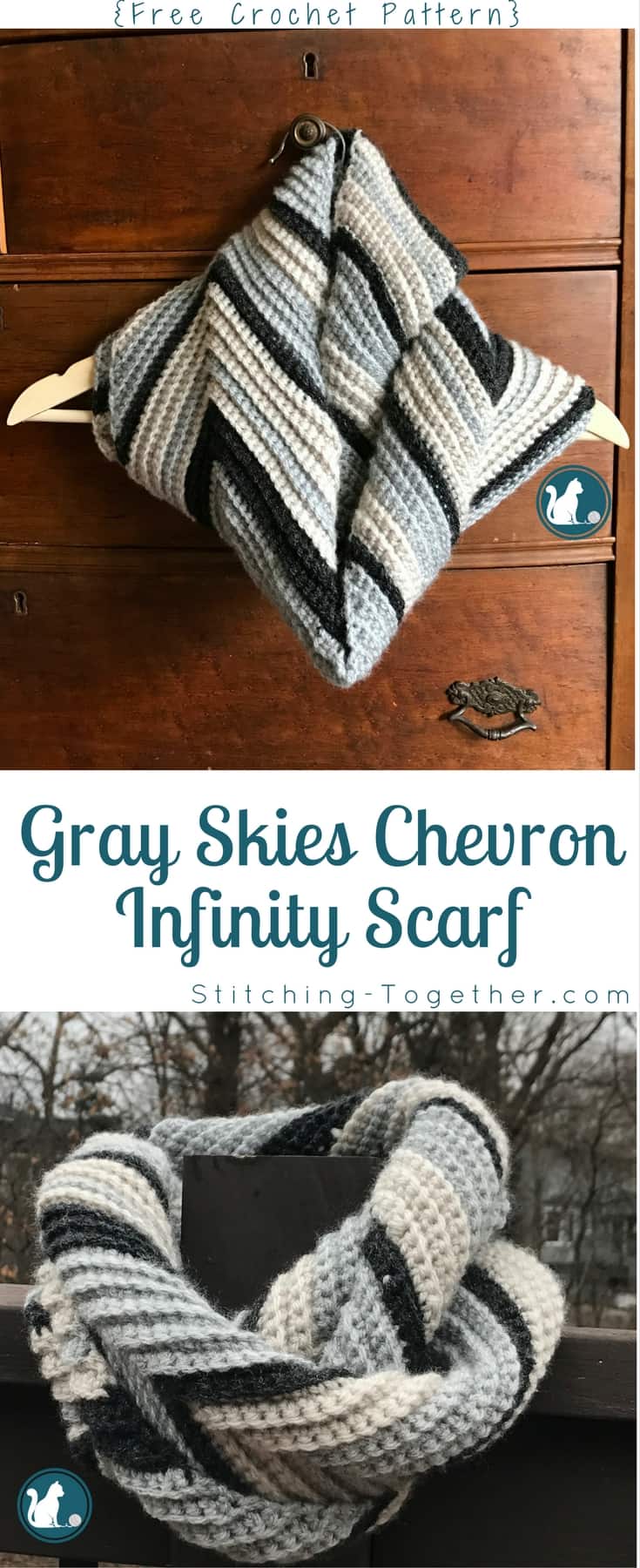 Chevron Infinity Scarf Crochet Pattern Instructions:
Ch 47
Row 1: sc in 2nd ch from hook, sc in each of the next 21 chs, skip next 2 chs, sc in each of next 22 chs, turn.
Row 2 -156: ch 1, working in back loops; 2 sc in first st, sc in each of the next 20 sts, skip next 2 sts, sc in each of the next 20 sts, 2 scs in last st (see Special Notes) turn. (Maintain 22 stitches on each side of the v.)
Pattern Color Changes:
3 rows of linen
6 rows of silver
2 rows of dark
5 rows of linen
2 rows of silver
2 rows of linen
5 rows of dark
10 rows of silver
2 rows of dark
2 rows of linen
Repeat 3 more times for a total of 4.
Join ends together, ensuring that the point of the chevron is lined up with the indent. (I started joining from the middle and worked out on each side.)
Looking for more easy Infinity Scarf Patterns? You'll want to check these out:
Easy Crochet Infinity Scarf
Coco Crochet Infinity Scarf
Rival Crochet Infinity Scarf