Multicolored Crochet Scarf Pattern
Disclosure: This post may contain affiliate links. As an Amazon Associate, I earn from qualifying purchases. Please visit my Privacy Policy for disclosures and more information.
This multicolored crochet scarf is a super easy pattern using the moss stitch and is incredibly enjoyable to work up. Once completed, you'll love the fun colors, large size, and cozy warmth!
Pin it and favorite on Ravelry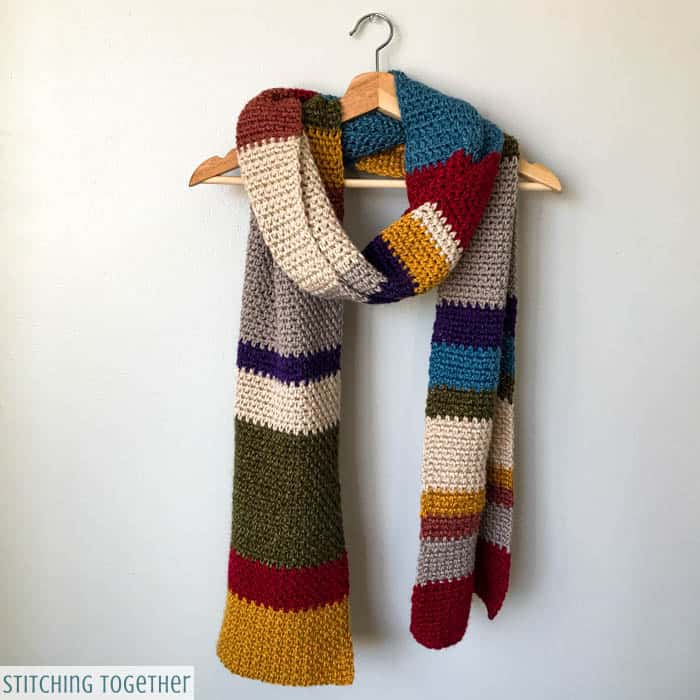 This colorful scarf was a special request from my husband last fall. Somehow I managed to surprise him with it for Christmas, even though I actually worked on it right in front of him on a couple of occasions. Too funny.
Related: Moss Stitch Scarf
Have you noticed that some of the more retro color combos are coming back in style. The combos are so far outside my normal comfort zone but I love them. The only thing separating this scarf from pure 70s bliss is a dark brown color! (If you add a dark brown PLEASE be sure to share a pic with me.)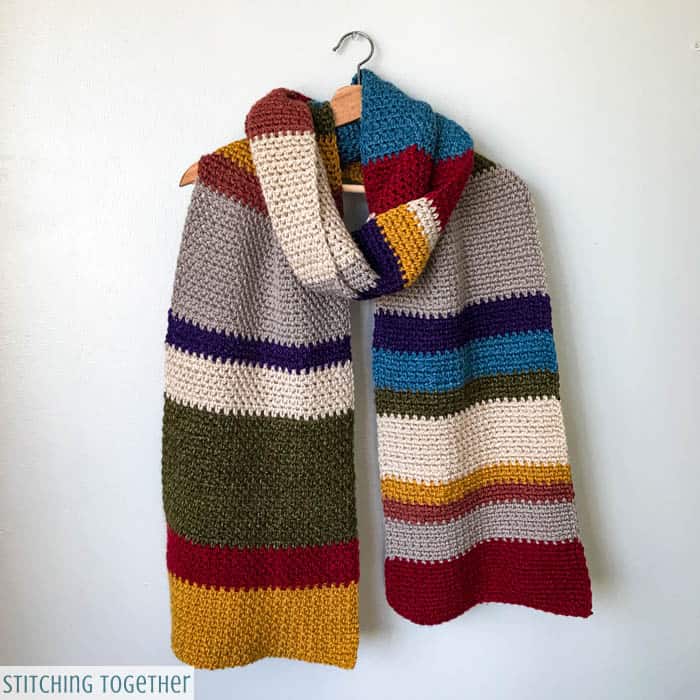 Related: Mandala yarn Scarf
The idea for this multicolored scarf is based on the old Doctor Who Scarf. If you are looking for a more authentic pattern for a Doctor Who Scarf, you have to check out the website Doctor Who Scarf. (Yes, there is an entire website dedicated to the many variations on the scarf!)
Yarn Used for the Multicolored Crochet Scarf
Almost all the yarn used for the scarf is heathered, which still gives bold colors, but the heathered varieties just have more depth. I had to use two of my favorite yarn lines, Lion Brand Heartland and Premier Yarn Everyday to get just the right heathered colors which worked perfectly. The two types of yarn are very similar and work well together.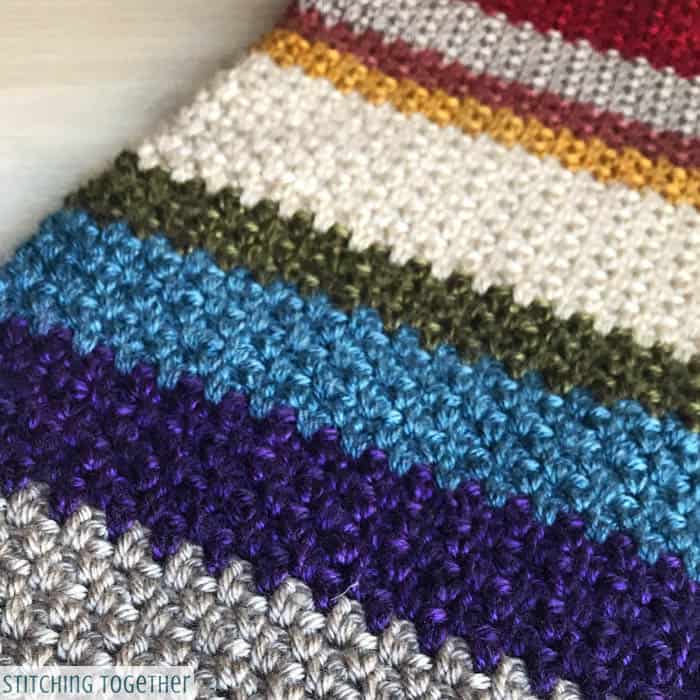 They are both on the lighter side of #4 Medium Weight yarn so if you use something like Vanna's choice, which is thicker you may end up with a larger scarf. (I don't think anyone will complain!)
Don't forget to save the Multicolored Crochet Scarf on Pinterest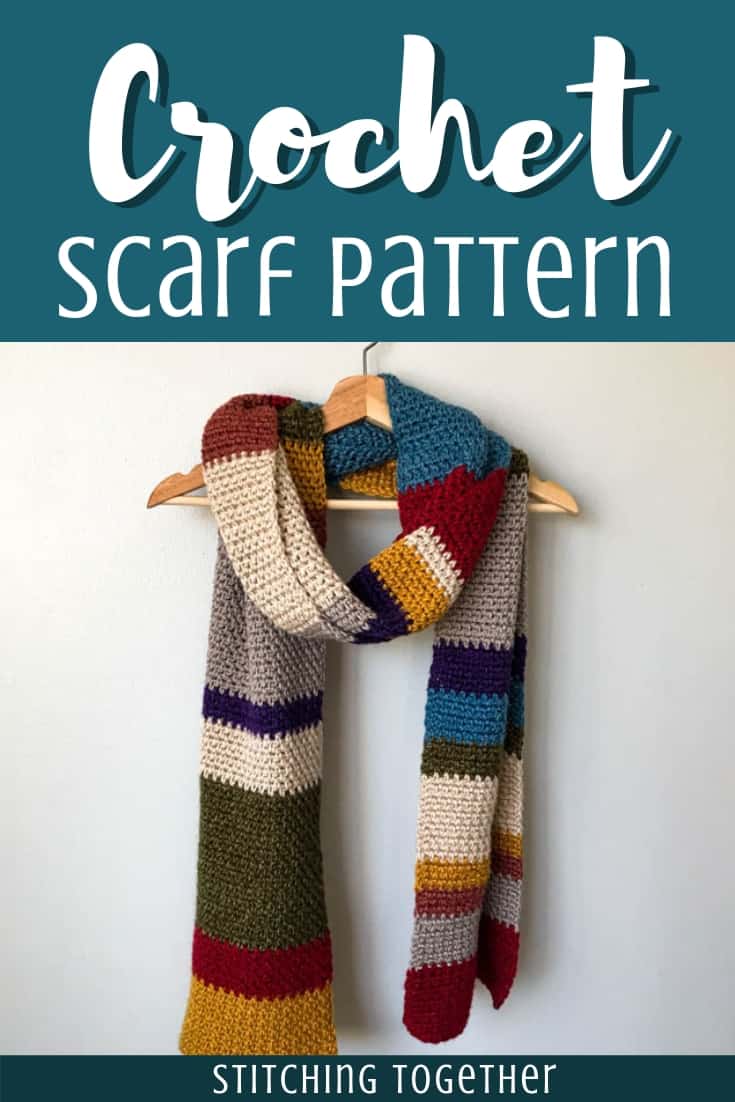 Multicolored Crochet Scarf
Materials
#4 Medium Weight Yarn
2.7 oz Premier Yarn Everyday Chinchilla (4 oz/113 g, 203 yds/186 m)
1 oz Premier Yarn Everyday Terracotta Heather (3.5 oz/100 g, 180 yds/165 m)
2.5 oz Premier Yarn Everyday Oat Heather (3.5 oz/100 g, 180 yds/165 m)
1.74 oz Premier Yarn Everyday Red Heather (3.5 oz/100 g, 180 yds/165 m)
2.2 oz Premier Yarn Everyday Blue Heather (3.5 oz/100 g, 180 yds/165 m)
2.6 oz Lion Brand Heartland Joshua Tree (5 oz /142 g, 251 yds/ 230 m)
2.01 oz Lion Brand Heartland Hot Springs (5 oz /142 g, 251 yds/ 230 m)
2.4 oz Lion Brand Heartland Yellowstone (5 oz /142 g, 251 yds/ 230 m)
Size I/ 5.5 mm Crochet Hook (You can buy my favorite hooks in this great set on Amazon or you can even purchase the I hook separately.)
Large Eye Needle (These are AMAZING and have free shipping with Amazon Prime)
Abbreviations:
ch(s): chain(s)
sc(s): single crochet(s)
sk: skip
st(s): stitch(es)
Gauge
Done in Moss Stitch 4″ x 4″ = 20 sts by 14 rows
Finished Size
11″ wide by 87″ long
Notes:
The stitches of the colorful scarf are basic crochet moss stitches, however, you'll want to pay attention to the instructions even if you are familiar with the moss stitch. The instructions for this moss stitch are a bit different but they give a super smooth edge. Check out the moss stitch crochet tutorial for step-by-step photos and instructions.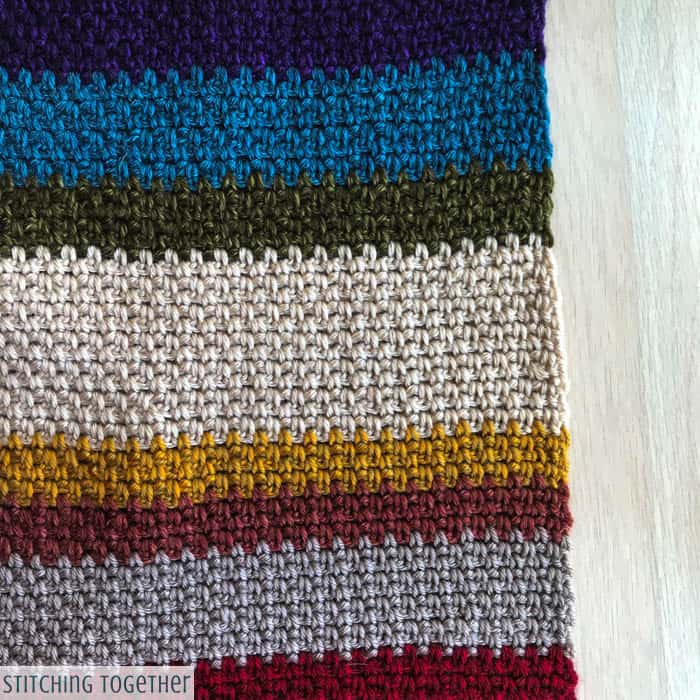 Multicolored Scarf Pattern Instructions
Ch 50
Row 1: sc in 2nd ch from hook, *ch 1, sk 1 ch, sc, repeat from * to the end of the row,  (The last st should be a sc into the last ch), turn
Row 2: *ch 1, sc in ch-1 sp, repeat from * to the end of the row, putting the last sc in the tc, turn.
Repeat row 2 following the color changes in the chart below. Fasten off and weave in ends.
16 rows Yellowstone
8 rows Red Heather
24 rows in Joshua Tree
8 rows in Oat Heather
4 rows Hot Springs
20 rows in Chinchilla
5 rows in Terracotta
8 rows in Yellowstone
6 rows in Joshua Tree
33 rows in Blue Heather
12 rows in Red Heather
3 rows in Oat Heather
6 rows in Yellowstone
5 rows in Hot Springs
5 rows in Chinchilla
23 rows in Oat Heather
13 rows in Terracotta
4 rows in Red Heather
9 rows in Blue Heather
13 rows in Yellowstone
16 rows in Joshua Tree
25 rows in Chinchilla
7 rows in Hot Springs
7 rows in Blue Heather
5 rows in Joshua Tree
13 rows in Oat Heather
4 rows in Yellowstone
4 rows in Terracotta
9 rows in Chinchilla
14 rows in Red Heather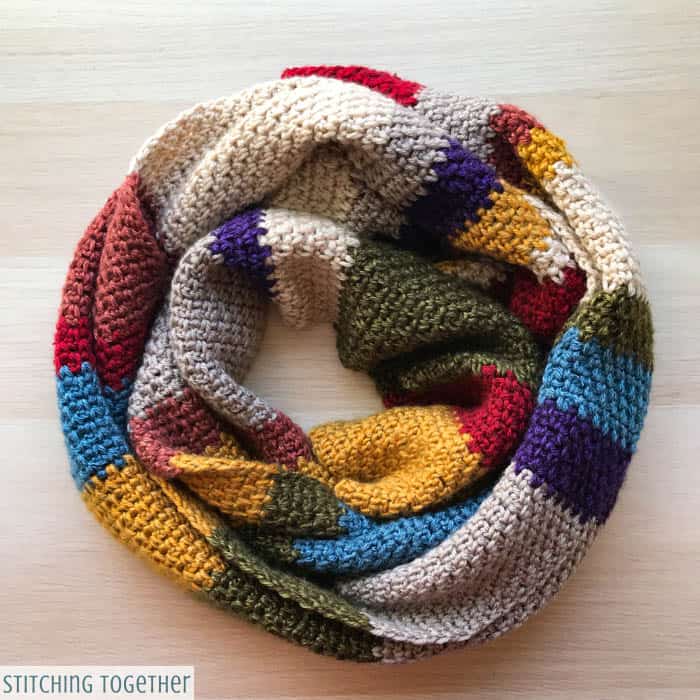 Would you share pics of your finished projects? You can do that in several ways:
Related: Quick Half Double Crochet Scarf