This post may contain affiliate links. Please visit my About page for disclosures, Privacy Policy and more information.
This free crochet pattern for the gorgeous, Wrap Me in Diamonds crochet scarf, is suitable even for an advanced beginner. If you can chain, single, and double crochet, you can make this! Don't forget to pin this pattern.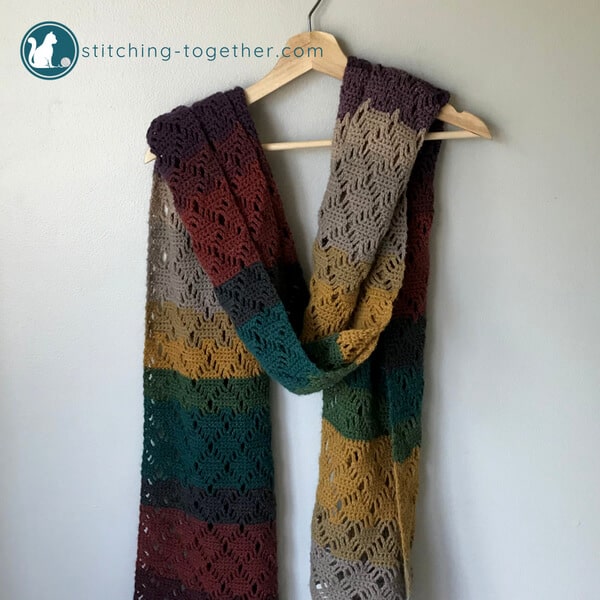 Have you ever fallen in love with a stitch? I have and I've fallen hard!
I first used the Diamond Lace Stitch in the Diamond Lace Crochet Baby Blanket after finding a graph for it on Pinterest made by Tejiendo Peru.
(If you'd like to see the graph, the easiest way is to search "diamond lace stitch" on Pinterest.)
When I finished that Diamond Lace Crochet Baby Blanket, I knew I wanted to use the stitch again (and maybe again and again) in more designs.  It is fun and simple and it makes such a gorgeous pattern that looks amazing blocked or unblocked, plus it is made up almost entirely of chains and single crochets, with a double crochet thrown in there every so often!
While I absolutely love the Lion Brand Mandala Warlock colorway, I did not love the lightest color of the group so………….
I cut it out! I almost feel wrong saying that. It felt wrong doing it, but it was so right! The color, while beautiful, just didn't flow.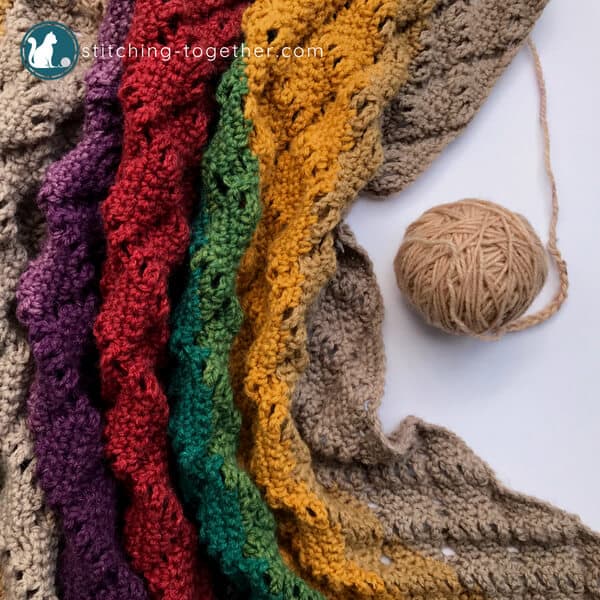 I used three cakes of Mandala in Warlock, but it wasn't 3 full cakes since I cut out an entire color from each cake. Also, the third cake was wound quite differently than the other two so I ended up rolling half of it into a ball, cutting, and working through that ball first to maintain the same striping pattern.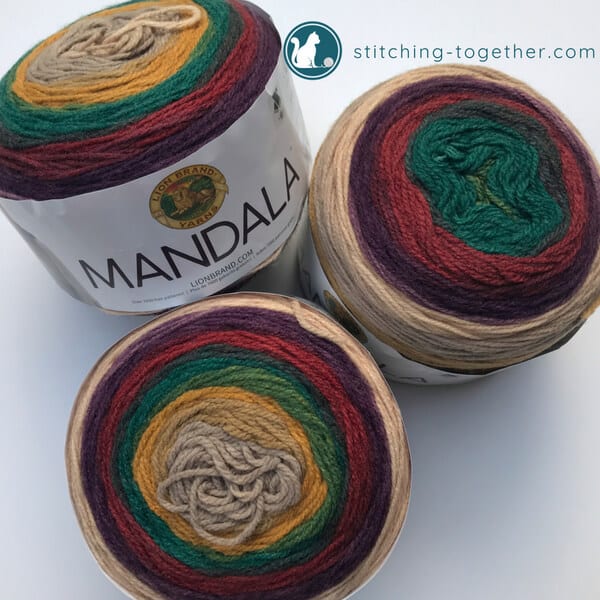 The wrap turned out even fancier and even more beautiful than I imagined! My plan was to make something I could wrap myself in as the evenings get cooler, but it is so lovely I think I will end up wearing it out.
It also works as a great, large scarf.  No matter how I end up using it, I am excited that it will look nice draped on the side of my couch when not in use!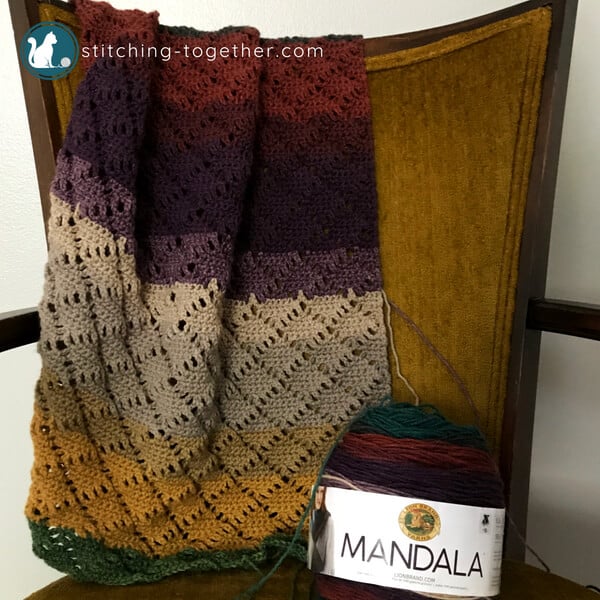 Wrap me in Diamonds Crochet Scarf
Do you like printable PDFs of your patterns? You can purchase the ad- free PDF!
UPDATE:  Olena from Olena Huffmire Designs created a video tutorial for this pattern.  (You can see all her YouTube tutorials HERE)
Materials for the Crochet Scarf Pattern:
US-Size I/9 Crochet Hook -Check out the Clover Amour crochet hook review to see why you need these hooks!

3 cakes of Lion Brand Mandala in Warlock

Large Eye Tapestry Needle
Save time and shop the materials online!