Easy Crochet Infinity Scarf – Snowfall Scarf
Disclosure: This post may contain affiliate links. As an Amazon Associate, I earn from qualifying purchases. Please visit my Privacy Policy for disclosures and more information.
This easy crochet infinity scarf is perfect for beginners who know how to chain and double crochet and want to update their wardrobe with a warm and cozy scarf. All levels of crocheters will find that they love having this bulky scarf on hand. The free pattern is below or you can purchase the inexpensive Easy Crochet Infinity Scarf Pattern here!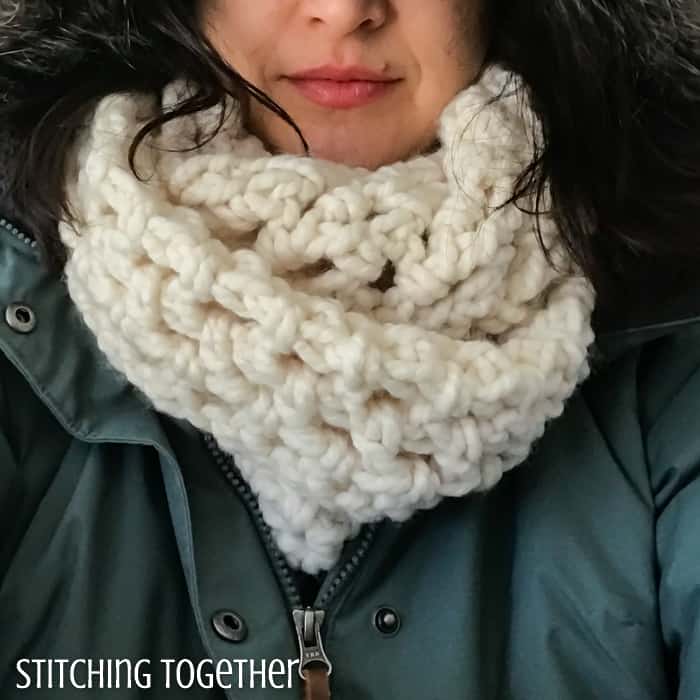 How do you crochet an easy infinity scarf?
Are you ready to move beyond your basic rows of double crochets to something a little fancier? Or perhaps you are looking for a quick scarf that takes less than an hour to complete?
This easy Crochet Infinity Scarf has you covered!
This scarf is luxuriously soft and squishy. I love that is it warm without being too bulky.
This is a perfect pattern for beginners. You only need to know double crochets and chain stitches.
Related: Selma Chunky Infinity Scarf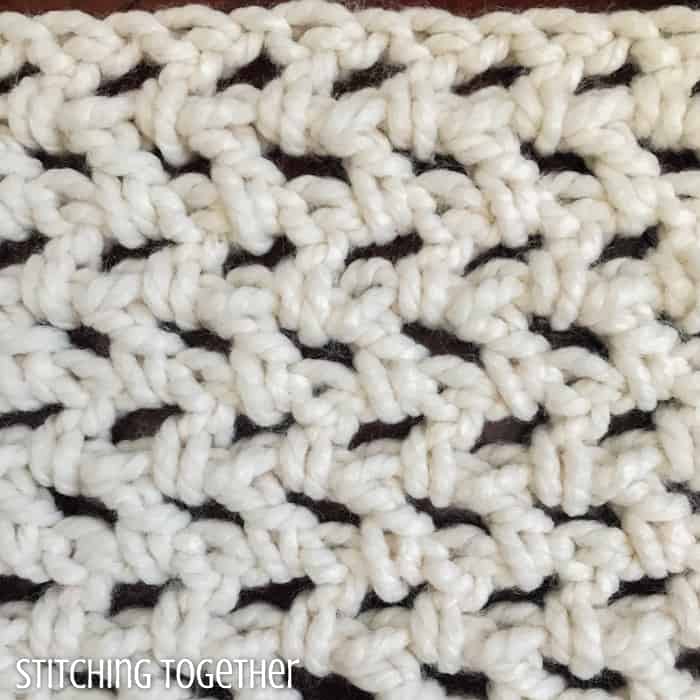 The scarf is worked in long rows and then joined in a circle when you are finished. So, yes, it is that easy – you are just making a long rectangle!
The Stitches
To make the scarf, you'll start with a long chain. You'll them work a double crochet, chain one, skip a chain stitch, work another double crochet. The double crochet, chain one, skip one pattern will be continued until you reach the end of the row.
To start the next row, you'll chain 4 which counts as your first double crochet and chain one.
When working the next row, you'll notice that there are holes created by the chain one spaces. The stitch pattern is the same: double crochet, chain one, skip one, but the double crochets of row two will be worked right into those spaces while the chain one will skip over the double crochet in the row below.
That's it! The rest of the rows are exactly like row 2. Easy.
The Yarn and Hook
Historically I haven't been a huge fan of working with bulky yarn, but it wasn't until I tried this Clover Amour 12 mm hook that I realized my issue hasn't been with the yarn, but with the hooks!
Related: Lady of Luxury Infinity Scarf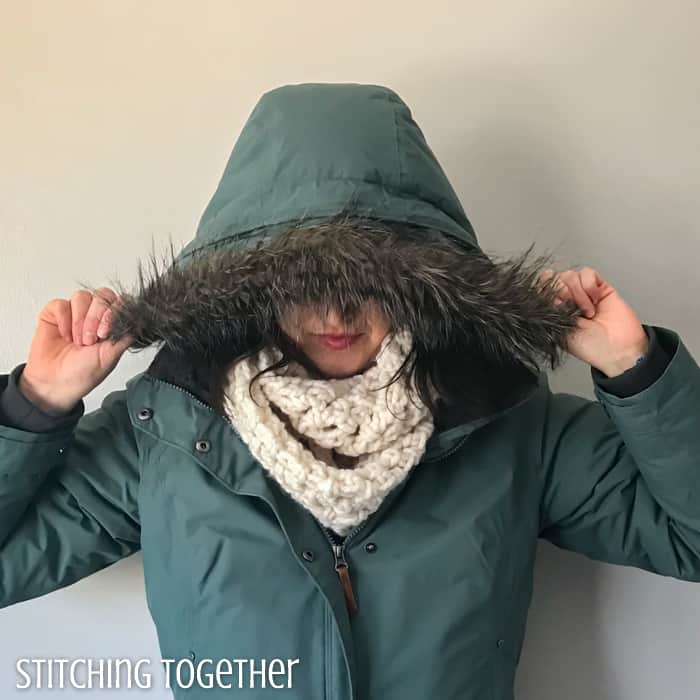 Most jumbo hooks are fat, bulky and hard to hold. The largest hook from this Crochet Dude set was my favorite large hook, before it was smashed by a rocking chair. (RIP shattered plastic hook.) Even though it was fat, it was long enough to hold comfortably.
Related: Love this Chunky Yarn Infinity Scarf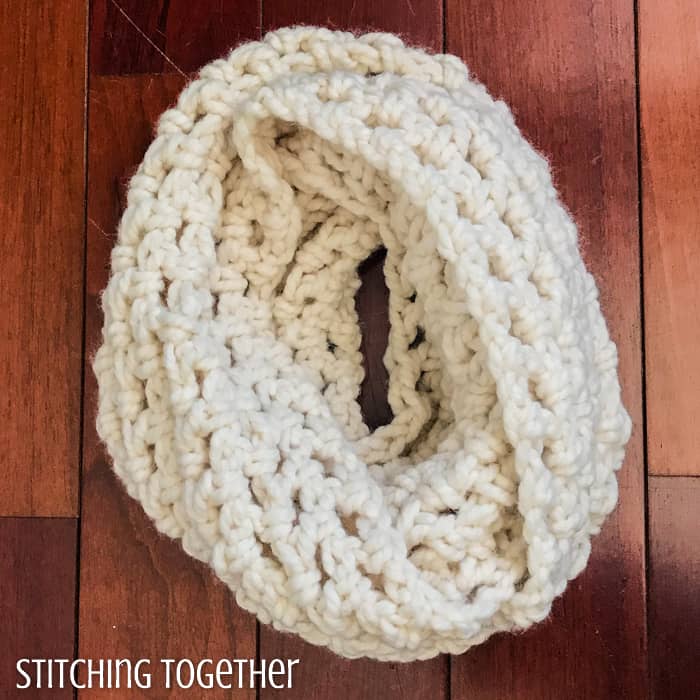 I've slowing been adding all the larger Clover Amour hooks to my collection, which now means… ALL THE BULKY YARN! Seriously the contoured and tapered handles on these hooks make all the difference.
The scarf only took one skein of Wool-Ease Thick and Quick Bonus Bundle, which is another reason it is perfect for beginners – there is no joining new yarn!!!!
Wool-Ease Thick and Quick comes in many different color options, which is great if you are thinking of giving this scarf as a gift. Everyone on your list can get one in a different color. WIN.
Save to Pinterest now so you can make it later!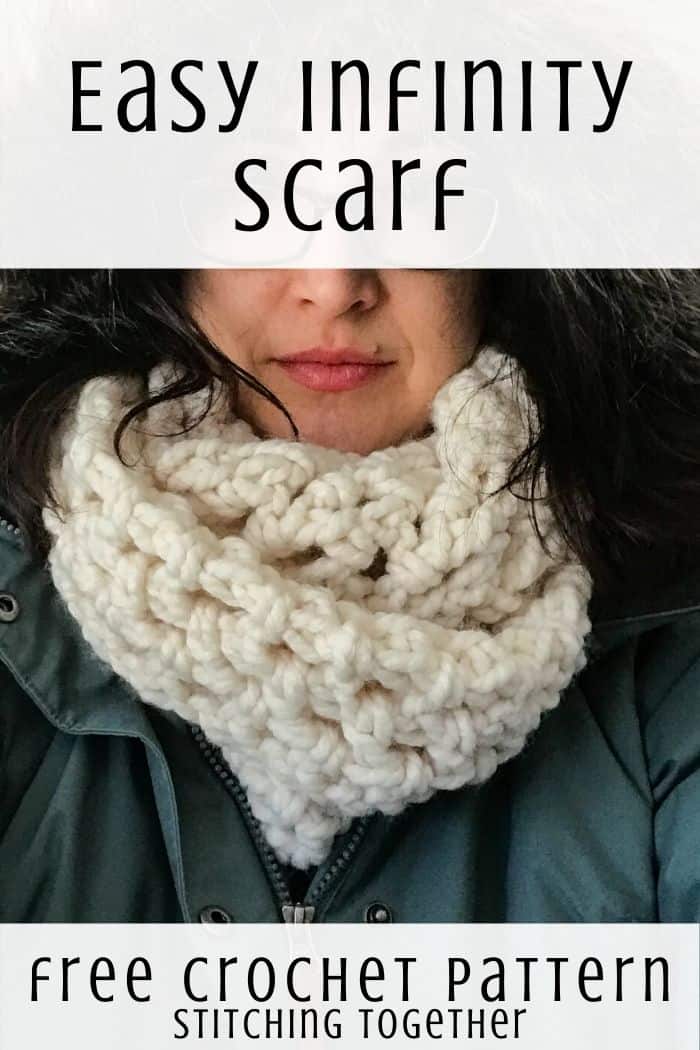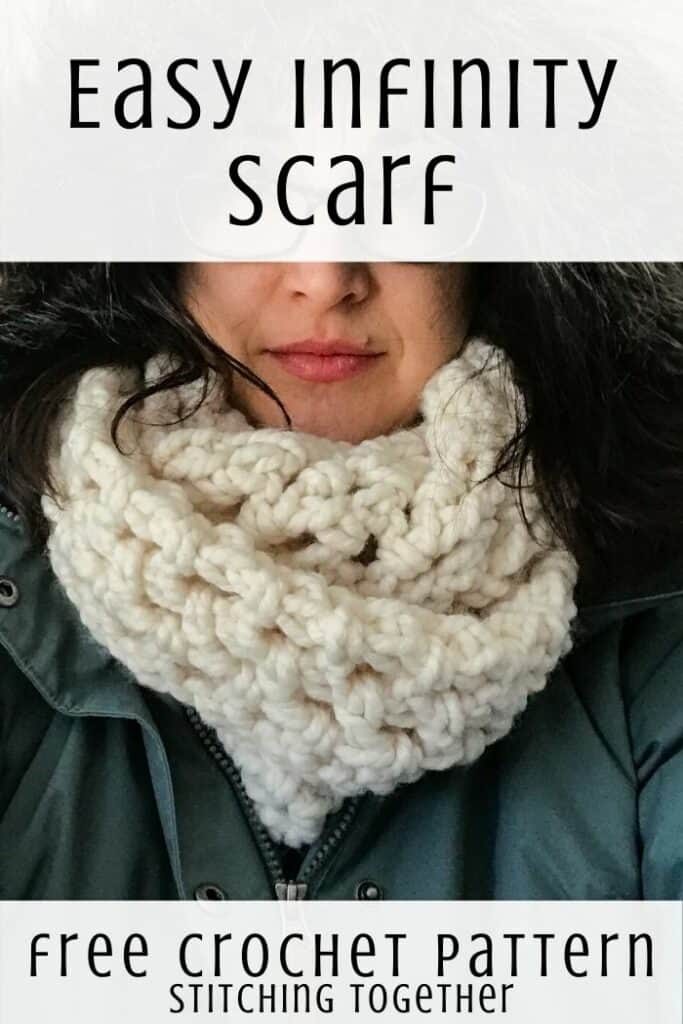 Easy Crochet Infinity Scarf – Free Pattern
Favorite this pattern on Ravelry
Skill Level
Beginner
Materials
1 Skein Lion Brand Wool-Ease Thick and Quick Bonus Bundle in Fisherman (12 oz/340 g; 212 yd / 194 m)
You'll need 2 regular size skeins of Thick and Quick if you can't get the Bonus Bundle
12 mm crochet hook – These clover amour hooks make working with super bulky yarn a BREEZE! and you can get them on Amazon
Tapestry Needle
Abbreviations
dc: double crochet
ch: chain
sk: skip
Gauge
4″ x 4″ = 7 sts by 5 rows taken in stitch pattern
Finished Size
8″ wide by 50″ long
Notes
The chain 4 to start each row counts as your first double crochet and chain one. You'll work into the space created by the chain 4 when you end the next row.
Easy Crochet Infinity Scarf Pattern Instructions
Ch 90
Row 1: Dc in 4th ch from hook, *ch 1, sk 1, dc in next ch; repeat from * to end of row, turn
Row 2: Ch 4, dc in ch 1 space, *ch 1, dc in next ch 1 space; repeat from * to end of row, turn
Continue repeating row 2 for a total of 9 rows.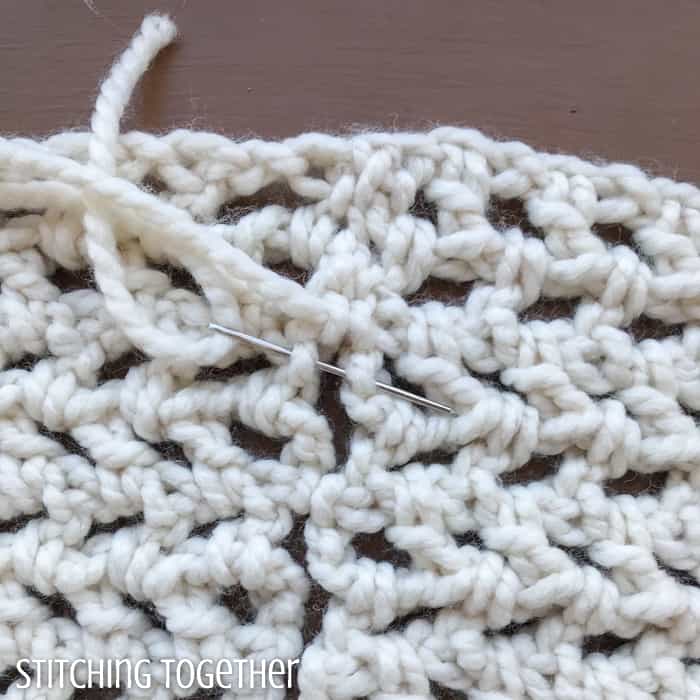 Join short ends to form a circle and sew together. Fasten off and weave in ends.
Check out these other free scarf patterns:
Wrap Me in Diamonds Crochet Scarf – always a top favorite
Rival Crochet Infinity Scarf – elegantly beautiful
Coco Crochet Infinity Scarf – another one skein project
North Shore Scarf – for the kiddos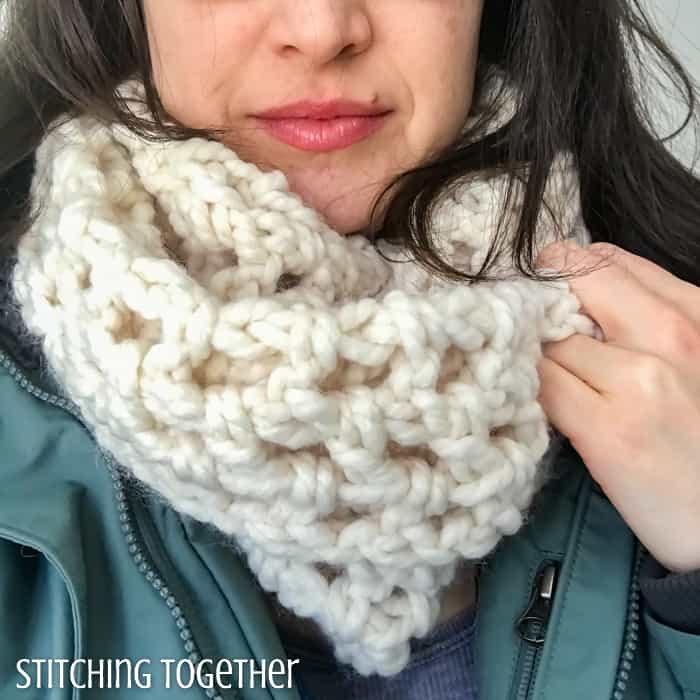 Will you share pictures of your finished crochet projects?