This post may contain affiliate links. Please visit my About page for disclosures, Privacy Policy and more information.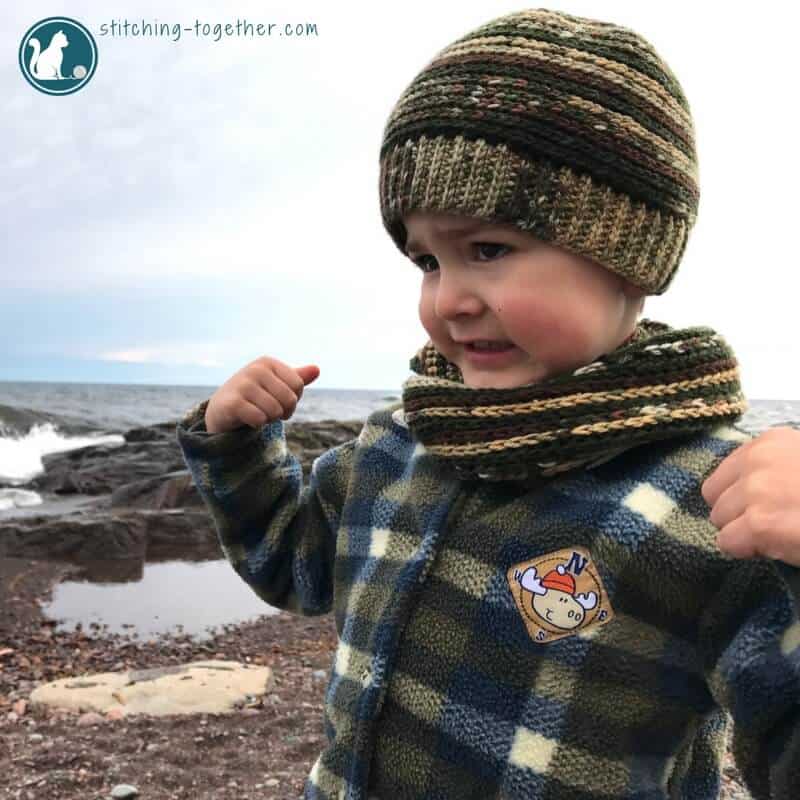 After finishing the North Shore hats, I had to make matching scarves!  Since kids, especially toddlers are notorious for dropping and losing things, I decided to make infinity scarves which will stay put… until they take them off… (note to self: consider ways to attach scarf to clothing to make it toddler-proof)
To work this scarf you switch from the H hook used for the hat all the way to a J hook. Using a larger hook gives the scarf more flexibility and better drape, plus, J is my favorite size hook. (Is that strange? Do you have a favorite hook size?)
Speaking of hooks, my son call hangers, hookers. (He uses the hook part to hook things so it makes sense in his little head that they be called hookers.) Makes for some interesting looks when he loudly tells the young cashier at Old Navy that we need more hookers or when he excitedly announces that his dad bought more hookers. Ah, life with kids.  I don't dare mention the crocheter/hooker connection.  Who knows where that would lead…
North Shore Scarf
Materials:


US-Size J Crochet Hook
1 skein Premier Yarn Deborah Norville Collection Everyday Print Yarn  in Oak Moss
Large Eye Tapestry Needle
Abbreviations:
Fhdc – Foundation half double crochet
sc(s) – single crochet(s)
Hdc –half double crochet
Sl st – slip stitch
Stitch Instructions:
Camel Stitch – work through the ridge loop of the hdc in the row below. (How to video by Moogly here)
Instructions:

Fhdc until the foundation measures about 32 inches. (I used the same length for my 2 year old's and 4 year old's scarves.)
Form a circle and join to the top of the first hdc with a sl st being sure not to twist the foundation. Without chaining up, work camel stitch in each hdc around.  Continue the camel stitch around until desired thickness is reached. (I just used up the entire skein of yarn.)
Finish with 2 sc and 2 sl st.  Bind off.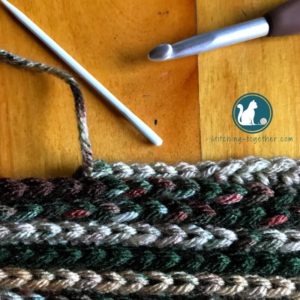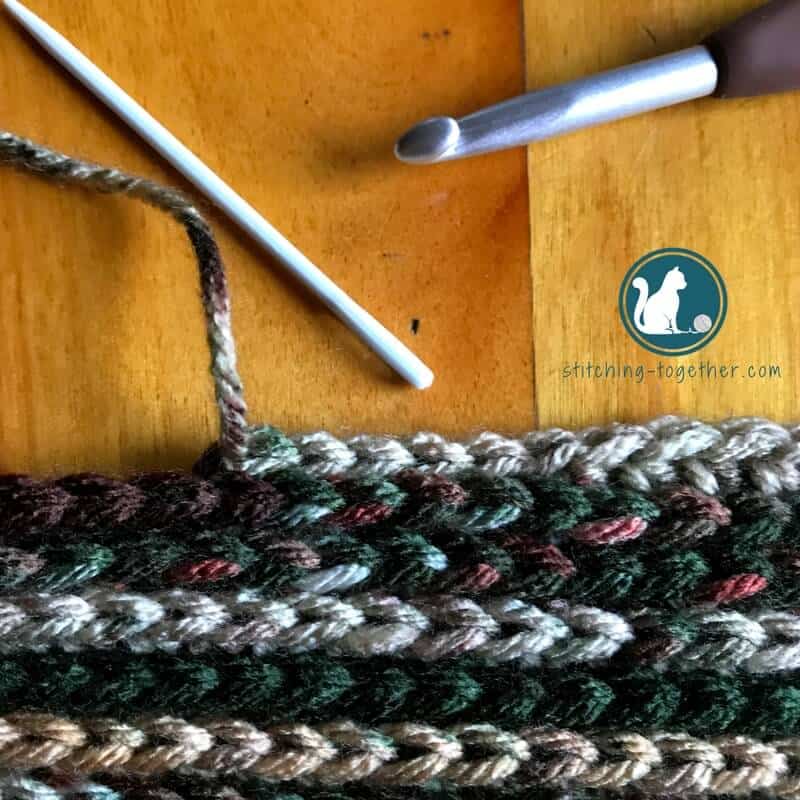 To smooth out the beginning of the scarf use the tail to join the bottom of the fhdc to the row above. Sew in ends.