Over the Ridge Crochet Boy Scarf
Disclosure: This post may contain affiliate links. As an Amazon Associate, I earn from qualifying purchases. Please visit my Privacy Policy for disclosures and more information.
You've come to the right place to find a crochet boy scarf pattern which will please even the pickiest of little dudes.
With amazing texture, chunky yarn, and an effortless striping pattern, the Over the Ridge crochet boy scarf will be your go to pattern to keep your little guy warm. (Of course you can make this crochet scarf for boys and girls!)
Related: Over the Ridge Crochet Boy Hat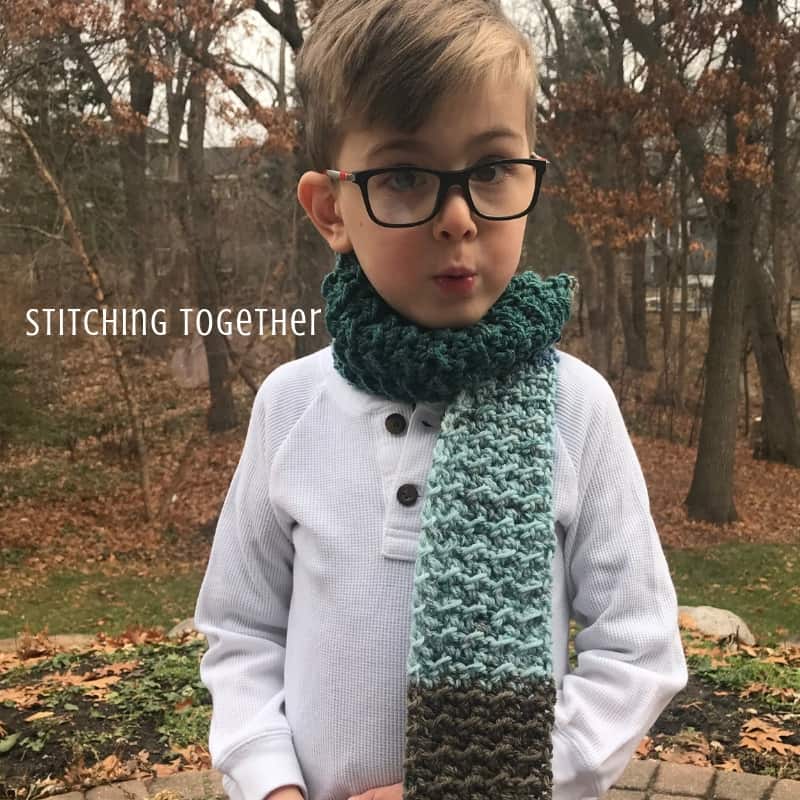 Crochet Scarf using the Crunch Stitch
If you are concerned that the stitch pattern looks complicated, I have a pleasant surprise for you: It is only made up of chains, slip stitches, and half double crochets! Apparently this stitch pattern is called the crunch stitch. (Don't some of these stitch names make you wonder?)
Related: North Shore Crochet Kid Scarf
In each row you alternate a slip stitch with a half double crochet, which is easy enough. The fun part comes in the next rows where you half double crochet into the slip stitches in the row before and slip stitch into the hdcs of the row before. Alternating stitches this way accentuates that strange 3rd loop of the hdc and gives you a beautifully textured and dense fabric.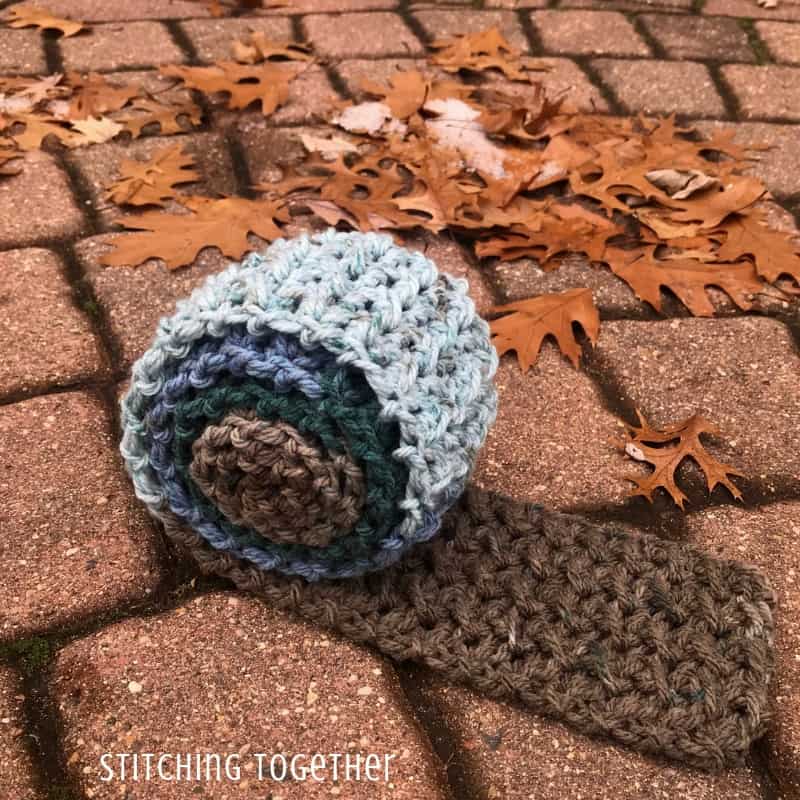 Wait until you see the crunch stitch worked diagonally in the round, like In the matching Over the Ridge Boy Hat! It is beautiful!
Caron Chunky Cupcake Scarf Pattern:
Have you tried the Caron Chunky Cupcakes yet? The colors and color changes are so fun! Within each block of color, there are speckles of the other colors in the cake, which ties the colors together so nicely. The speckles of color seem like little sprinkles on top of a cupcake. (Possibly what they were going for?)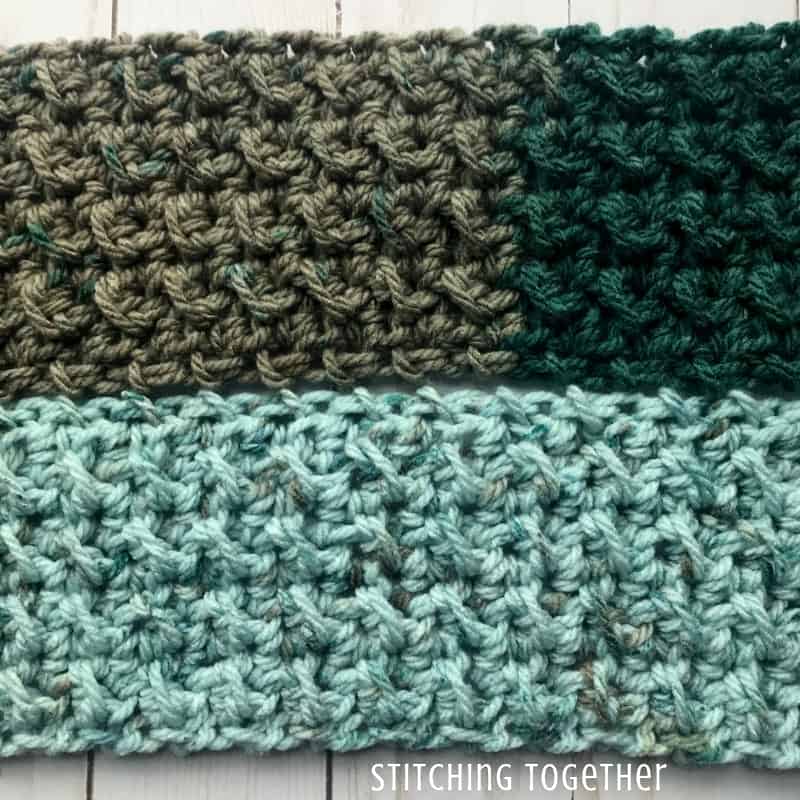 The yarn is a bit stiff, which is great for a hat (stay tuned for that pattern) but a little suffocating around the neck. Using a larger than normal hook size allows for the scarf to have better drape while maintaining that gorgeous texture.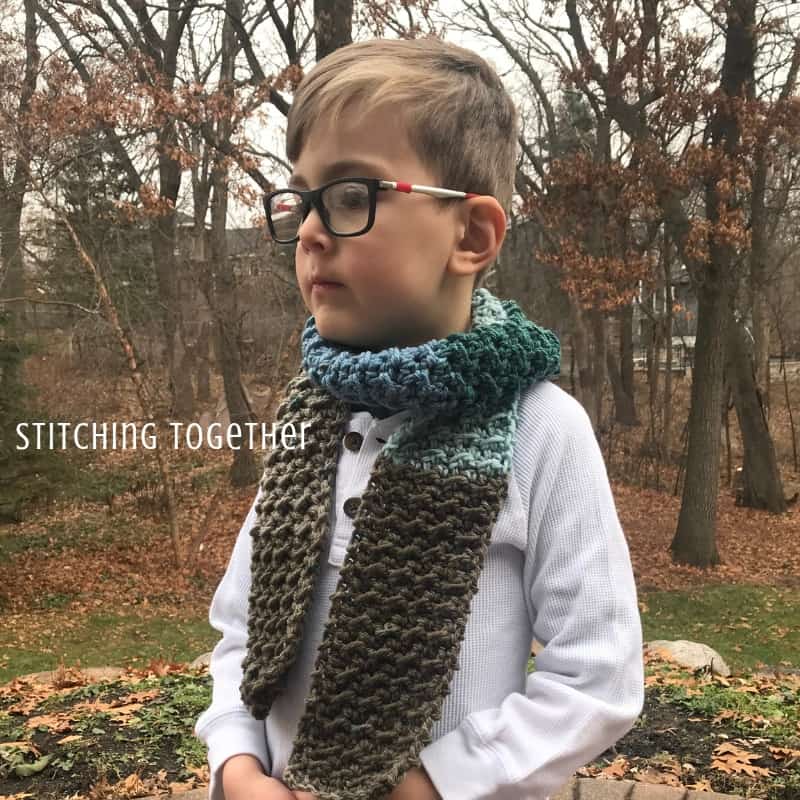 The biggest downside to this yarn: It is a Michael's exclusive. If you don't live near a Michael's hopefully you live somewhere they can ship!
[disclaim]
Save time and shop online!
Caron Chunky Cupcakes – Michaels
Clover Amour Crochet Hook N/P 10.0 mm – Amazon
Wool Needles – Amazon
[/disclaim]
Other bulky yarns will work for this pattern, but it is lovely to only need one Chunky Cupcake and to not have to worry about weaving in ends if you want a multicolored scarf.
Before we get the the pattern, save it on Pinterest!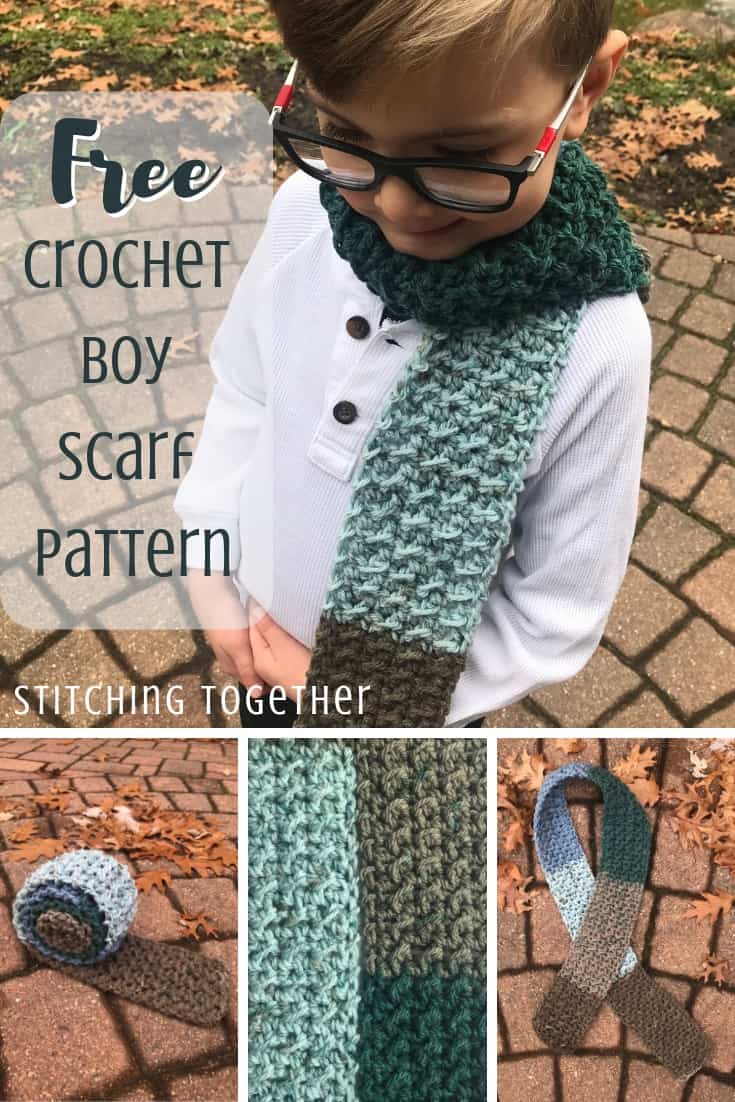 [question]
Would you prefer to print this pattern ad- free? You can purchase an inexpensive PDF of this pattern here:
[button url="https://www.etsy.com/listing/659746171/crochet-scarf-pattern-for-kids-boys-and"]   Etsy   [/button]  [button url="https://www.ravelry.com/patterns/library/over-the-ridge-scarf"] Ravelry [/button]
[/question]
Over the Ridge Crochet Boy Scarf
Skill Level: Easy
Materials for the Crochet Boys Scarf
Size N/P, 10.0mm crochet hook (You can get these great crochet hooks on Amazon!)
1 ball of #5 Bulky Weight yarn – 3.5 oz/ 138 yds
Sample used  Caron Chunky Cupcakes in Berry Muffin
Needle (I just ordered these wool needles from Amazon and they are my new favorites!)
Finished Size: 4″ wide by 59″ long
Gauge: 4″ by 4″ = width of scarf by 9 rows
Abbreviations:
ch(s): chain(s)
sl st: slip stitch
hdc(s): half double crochet
sk: skip
st(s): stitch(es)
tc: turning chain
Notes:
Even though you are using a large hook, you'll still want to crochet loosely especially for slip stitches.
See the crochet Crunch Stitch Tutorial for step by step instructions and pictures on how to do the stitch used in this scarf.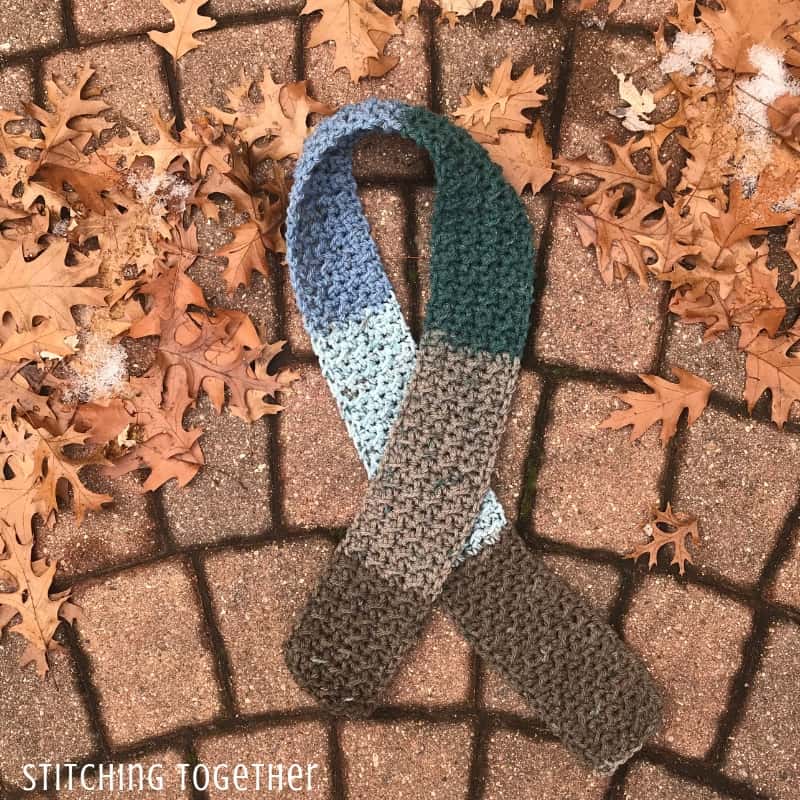 Instructions for the Over the Ridge Crochet Boy Scarf
Ch 11 (Work in a multiple of 2+1 sts)
R1: sl st into the 3rd ch from hook, *hdc in next ch, sl st in next ch, repeat from * to the end of the row, turn.
R2: ch 2 (counts as your first hdc), sk 1 st, *sl st into next hdc in the row below, hdc into next sl st in the row below, repeat from * ending with a sl st in the top of the turning tc.
Repeat row 2 until you've finished the cake – around 140 rows. Fasten off and weave in ends.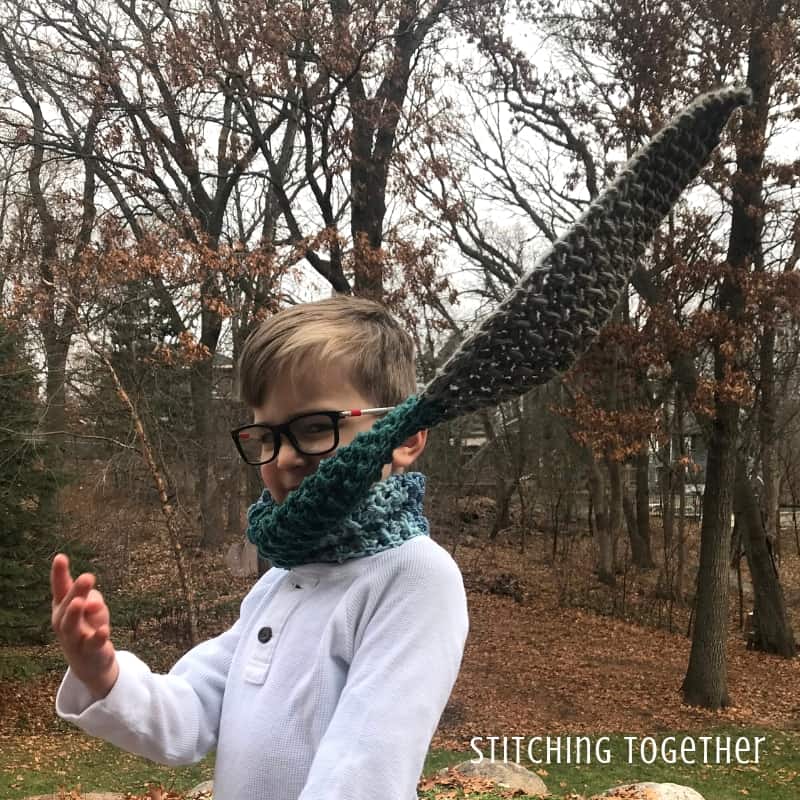 [question]
Will you make this Crochet Scarf for a boy or for a girl? Either way, it would be great if you share your finished work! You can do that several ways:
[/question]