Penny's Scarf | One Skein Crochet Scarf
Disclosure: This post may contain affiliate links. As an Amazon Associate, I earn from qualifying purchases. Please visit my Privacy Policy for disclosures and more information.
I don't know about you, but it drives me nuts to have just ONE SKEIN of a certain type of yarn lying around. Especially if I bought it some time ago and there is no way I am going to be able to find more of it in the same dye lot. This quick one skein crochet scarf pattern is perfect for using up those single skeins just hanging out in your yarn stash.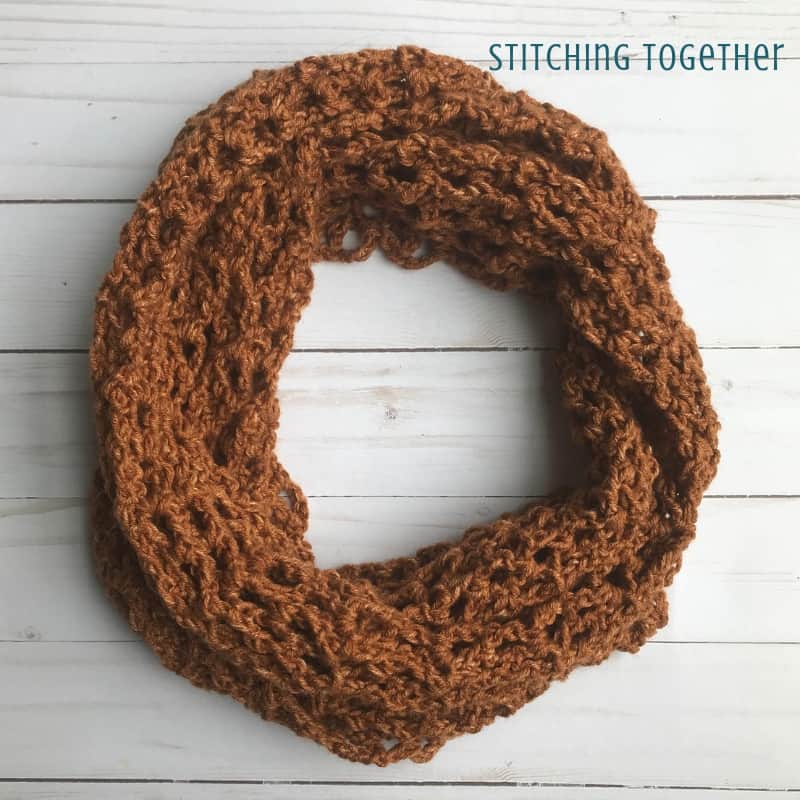 There are plenty of patterns which use less than one skein of yarn, like this crochet ear warmer pattern  or the crochet coffee cup cozy, but isn't it great to have a pattern that uses pretty much the entire skein of yarn?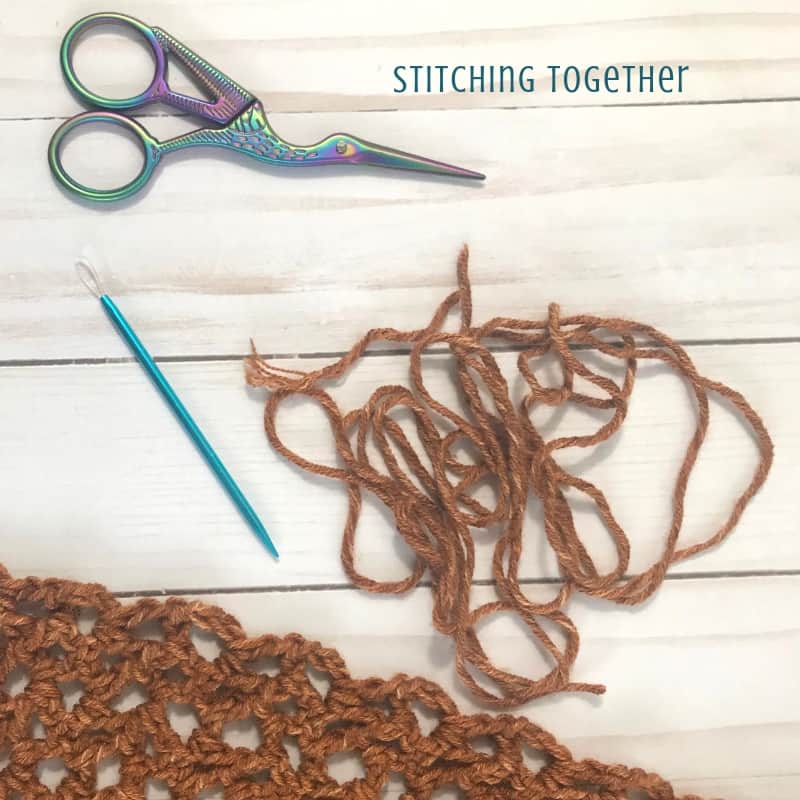 I am talking about a typical size skein of yarn, not bigger skeins or bonus bundles like used in the beginner friendly Snowfall Scarf, the Triangles Scarf or the Crochet Moss Stitch Scarf.  I mean the typical, category 4, medium weight, 3.5 ounces type of skein, which seems to be the type of skeins I have leftover and I am guessing you do too!
I had one skein remaining from designing the Softer than Suede Crochet Toddler Dress which I really wanted to use. That gorgeous copper color has been staring at me from my yarn shelf for far too long, just begging to be made into something lovely.
Related: Coco Crochet Infinity Scarf (another one skein crochet scarf pattern!)
Have you tried Jeans yarn from Lion Brand yet? Each color within the Jeans line has gorgeous tonal variations and the yarn is SO soft and easy to work with. I've even been pleasantly surprised with the drape of my finished products when using it.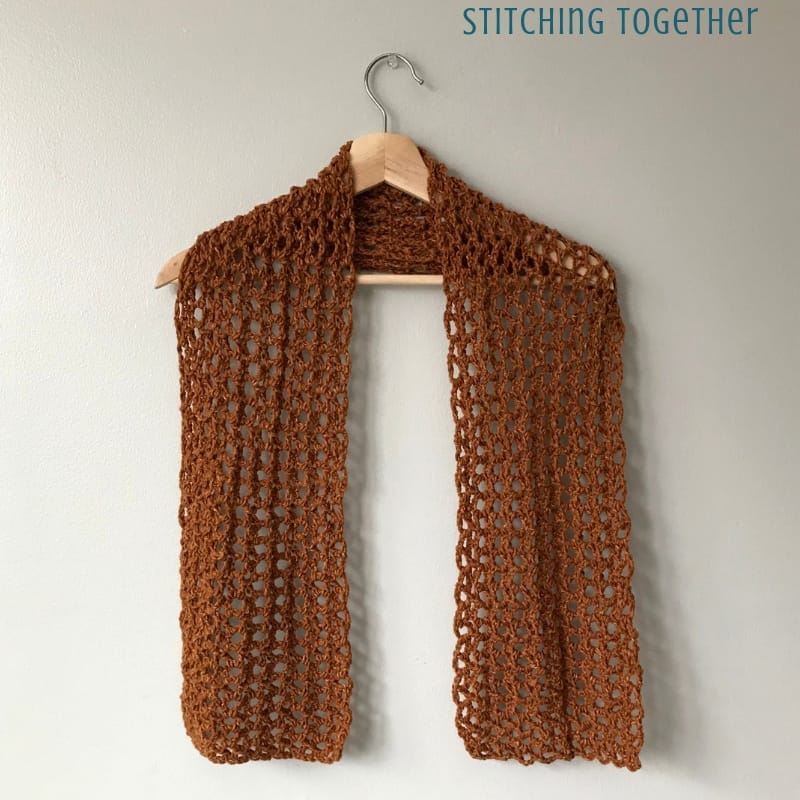 What if the one skein you have isn't Jeans yarn?
No problem at all! You may need to adjust the pattern so your scarf is long enough if you are using a medium weight yarn that is a bit thicker.
Example: Vanna's Choice yarn is a category 4 medium weight yarn just like Jeans yarn. BUT Vanna's choice only has 170 yds per 3.5 oz where Jeans Yarn has 246 yds per 3.5 oz. Vanna's is clearly quite a bit thicker than the Jeans yarn.
Related: Coco Crochet Cowl (quick crochet cowl pattern only using one skein)
Take a look at the skein you want to use. If it is a medium weight yarn, it probably won't be much thinner than Jeans yarn so most likely you'll be adjusting the pattern for thicker yarn. Going up a hook size and chaining less (subtract by 3 chains at a time to make the scarf narrower) will ensure your finished scarf is actually long enough to wrap around your neck.
Do you have a kitchen scale? I use this inexpensive little scale I got on Amazon to weigh my yarn especially when I am swatching to see how much yarn I'll need for a project.
When I quickly swatched with Vanna's Choice yarn (did I mention that this is also a FAST one skein crochet project?) with a K hook, I only needed to ch 25 to reach 9″ in width. I worked up 3 rows which was about 2″ in length.
When I weighed that swatch it weighed 0.17oz. Taking the 3.5 oz of the skein divided by 0.17 oz of the swatch gave 20.6. So we could get 20.6 two inch swatches from the entire skein. Or an easier way to look at it would be to take that 20.6 times the 2″ to get a total of 41.2″.
Related: Coco Crochet Slouchy Hat (a fun and quick one skein crochet hat pattern)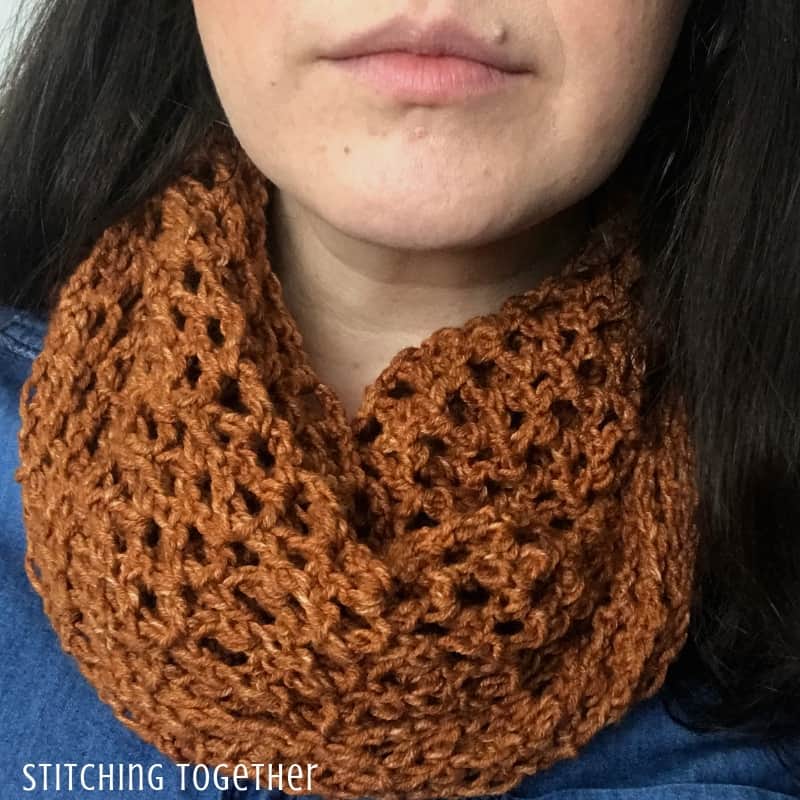 Hopefully I didn't lose you in all of that math, but it is an easy way to determine that my finished scarf, using Vanna's Choice with a K hook and chaining 25 to start, would be about 41.2″ long. Not quite as long as the one in Jeans yarn.
To break down that math take the weight of your skein, divided by the weight of your swatch times the length of your swatch. (This assume your swatch was made to the desired width.)
Final length = Weight of skein / Weight of swatch x length of swatch 
I would probably go up another hook size and chain even less to get a longer scarf using Vanna's Choice. A little scale and a little math took MOST, but not all, of the guess work out of adjusting the pattern.
It is so frustrating to get to the end of a pattern only to realize it is the wrong size. Some quick work up front (and this work didn't even require using those gauge measurements!) saves the heartache of having to frog the entire project.
Before we get to the details of the one skein crochet scarf, save Penny's Scarf on Pinterest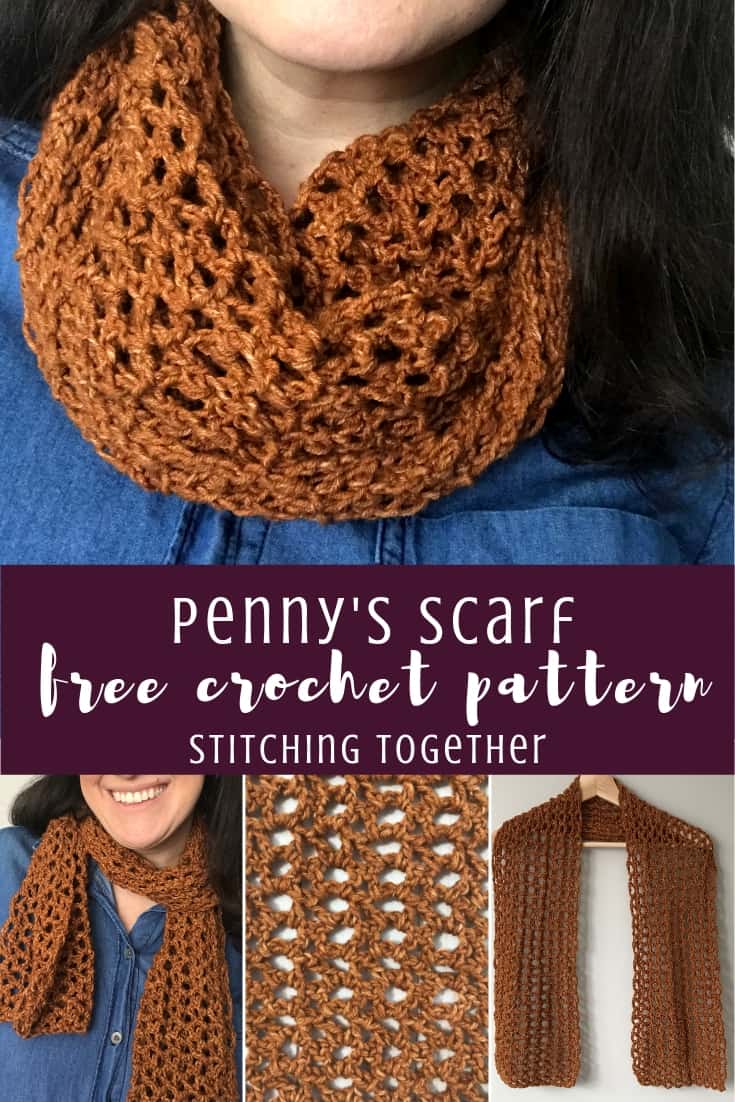 What you need to know before making Penny's One Skein Crochet Scarf
[question]
Would you like an ad-free printable version of this pattern? You can purchase one here:
[button url="https://www.ravelry.com/patterns/library/pennys-scarf"] Ravelry [/button]      [button url="https://www.etsy.com/listing/653968222/crochet-scarf-pattern-one-skein-scarff"]   Etsy   [/button]
[/question]
Skill Level
Advanced Beginner
Materials
1 skein #4 medium weight yarn
Size J/6.0 mm crochet hook – Amazon carries my favorite hooks for a great price (usually)
Wool Needle (I just ordered these from Amazon and I love them)
Abbreviations
ch(s): chain(s)
dc(d): double crochet(s)
sk: skip
sp: space
Gauge
4″ x 4″ = Approx 4 v-stitches by 7 rows
Finished Size
approx 9″ wide by 47″ long
Pattern Notes for Penny's Scarf
The stitches used for the scarf are basically a double crochet v-stitch with three chains between the double crochets instead of one chain. If you aren't familiar with the v-stitch, take a look at this double crochet v-stitch tutorial which will give you the basic idea of how you are making this scarf.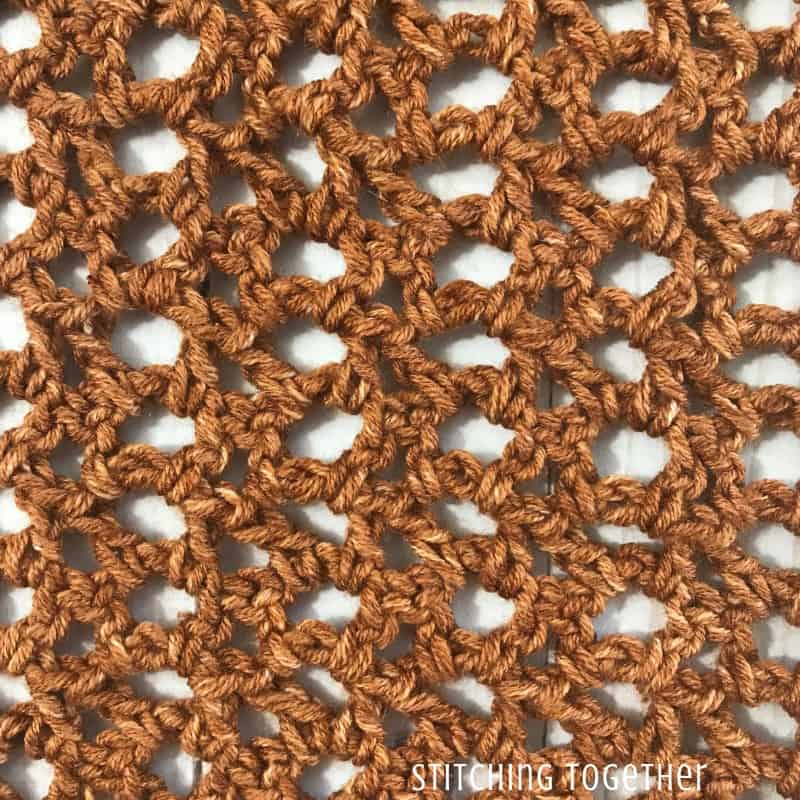 The ch 5 and double crochet which start each row after row 1, count as the first v-stitch.
If you'd prefer a looped scarf, just seam the short ends of the scarf together and you'll have a great one skein infinity scarf.
[question]
Ready to get Started? Order your Supplies!
[/question]
Instructions to make the One Skein Crochet Scarf – Penny's Scarf

ch 34 (multiple of 3+1)
R1: dc in the 7th ch from hook (counts as your first v-stitch), *sk 2 chs, (dc, ch 3, dc) in next ch; *Repeat across, turn.
R2: ch 5, dc in ch-3 sp, *(dc, ch 3, dc) in each ch-3 sp; * Repeat across, turn.
Repeat Row 2 until you've used the entire skein. Fasten off and weave in ends.
Who will you make this quick one skein crochet scarf for? Don't you think it will make a great last minute Christmas present? If you are making it for yourself, I think it will become one of your favorite quick scarves.
After you make Penny's Scarf, I'd love it if you'd share a picture with me. There are multiple ways to share:
[disclaim]
Save time and Shop Online!
[/disclaim]