Softer Than Suede Crochet Toddler Dress
Disclosure: This post may contain affiliate links. As an Amazon Associate, I earn from qualifying purchases. Please visit my Privacy Policy for disclosures and more information.
If you haven't been brave enough to crochet garments, toddler clothes are a great place to start, and this crochet toddler dress couldn't be easier.
You make two large chevrons in half double crochets and sew them together. That's it- no shaping and no fitting arm pieces in arm holes! Do you have a toddler in your life that would look ridiculously adorable in this dress?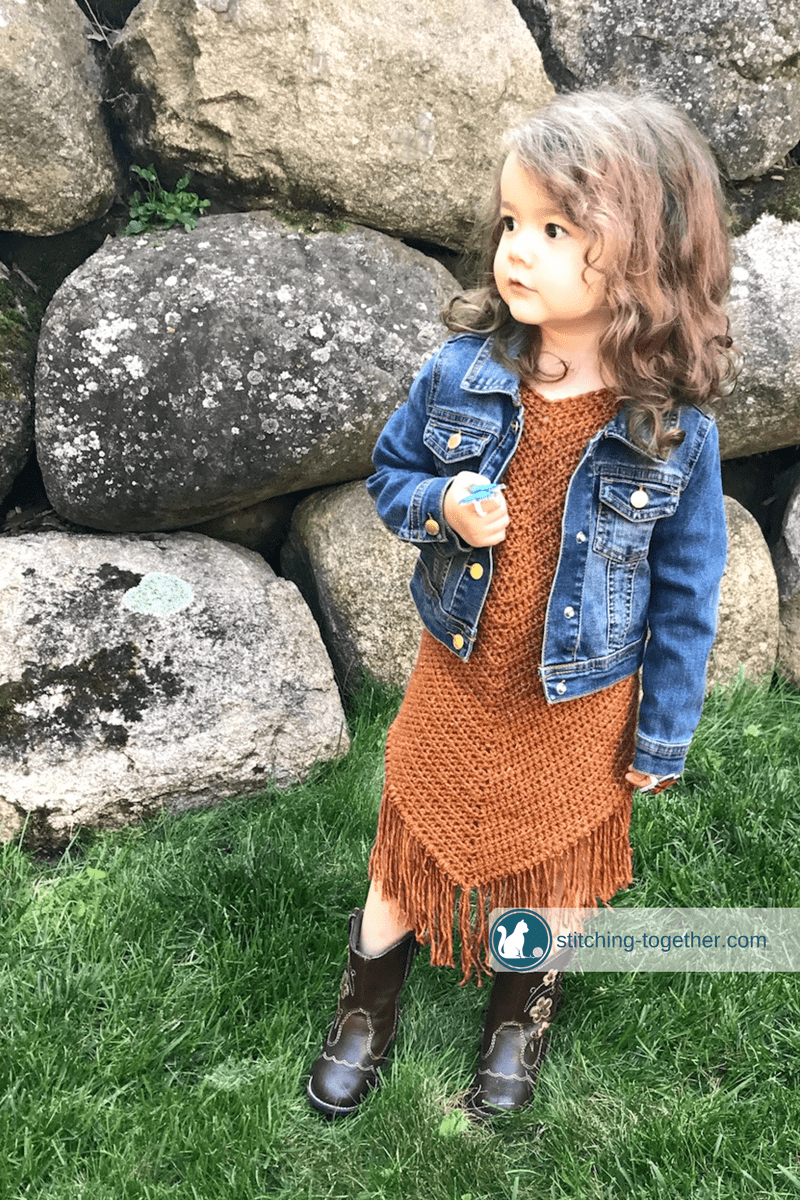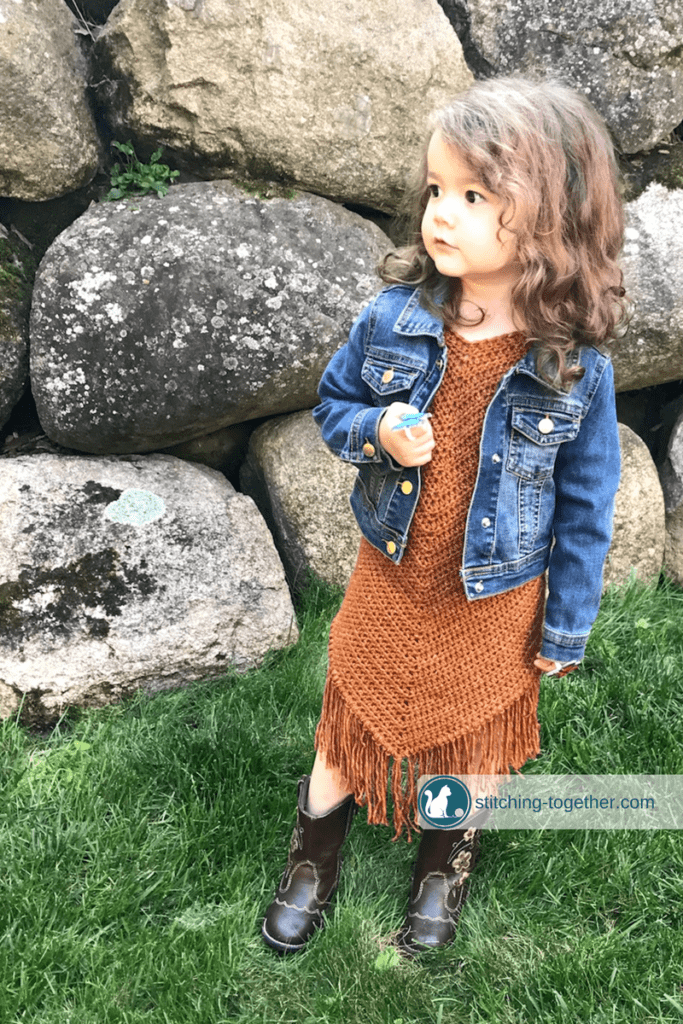 Yarn Used for the Crochet Toddler Dress
While this dress would look great in any color, I really love the look Lion Brand Jeans yarn in Top Stitch gives it.
The yarn is soft and easy to work with and the color is just slightly variegated which gives it so much depth. It gives the exact faux-suede, cowgirl, ranchy kind of look I was going for. Yeehaw!
The jean jacket and cowgirl boots absolutely sealed the deal for me!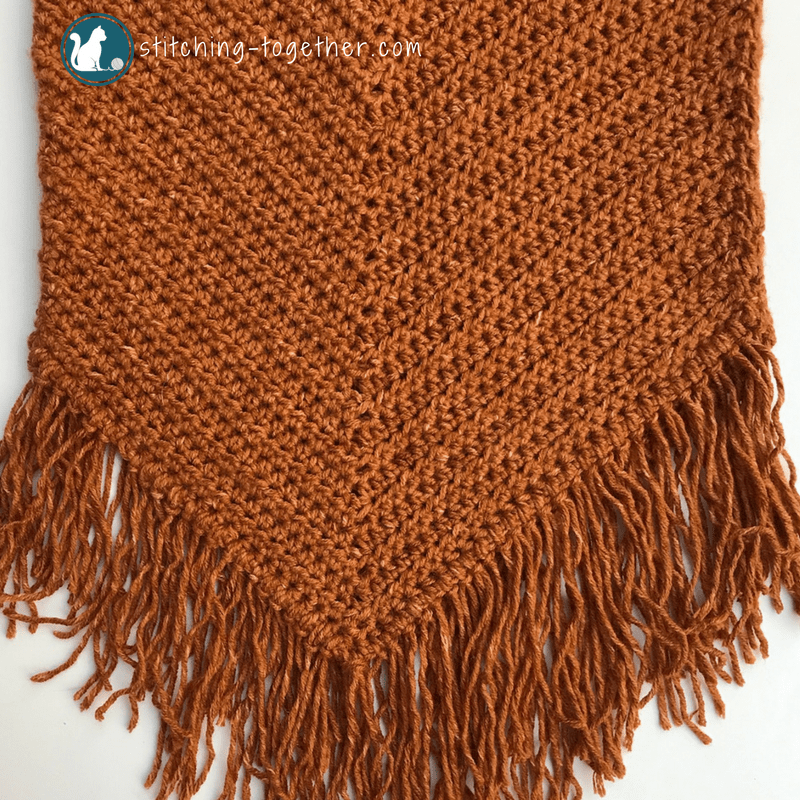 What About Those Sleeves?
When I had this dress pictured in my mind, there were straps not sleeves but I am so glad these effortless little cap sleeves worked out.
The sleeves don't require any extra work and simply "appear" once you sew up the sides.
While the sleeves won't do much to keep the wearer warm, the dress is thicker/warmer than I expected which means my best gal pal will be able to wear it all fall and can rock it in the winter with some cute tights.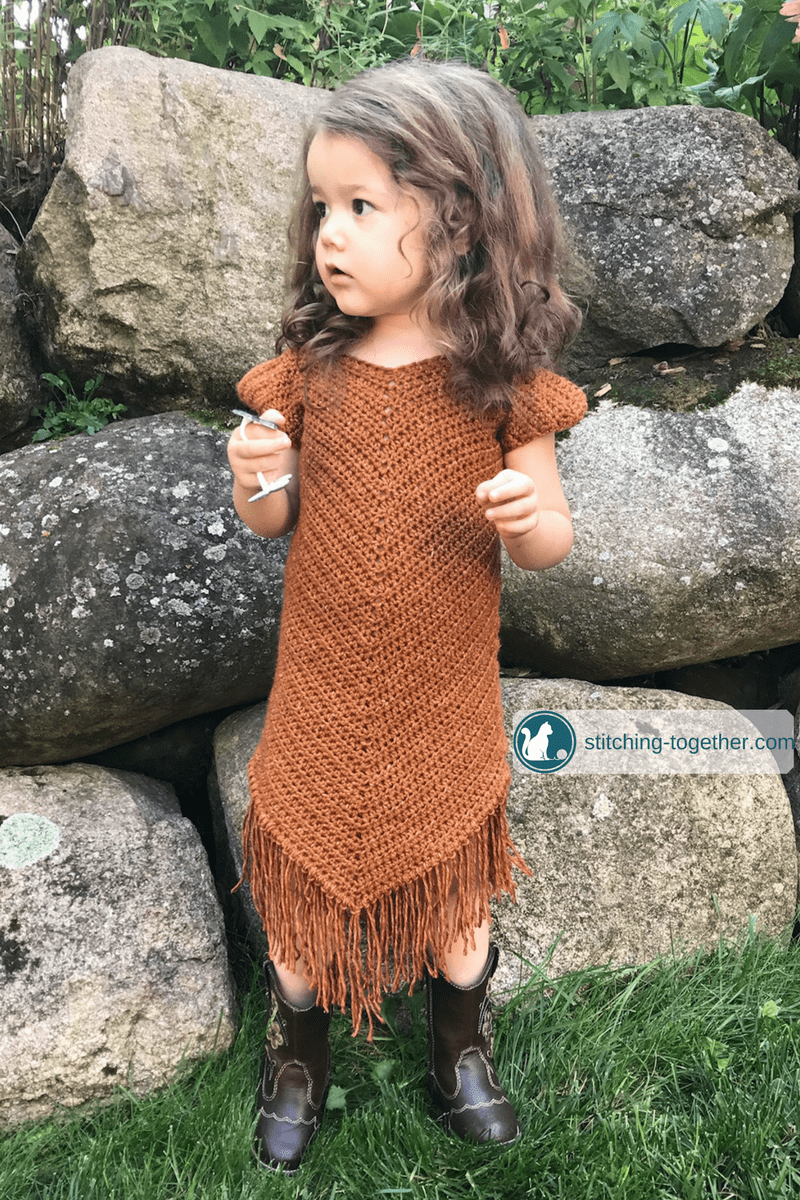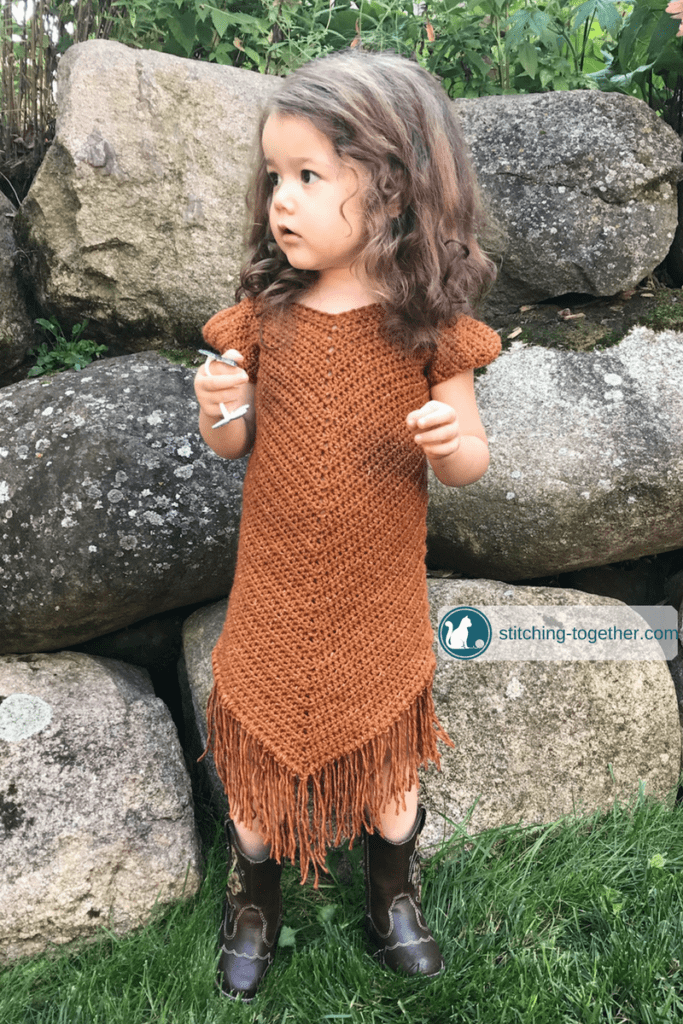 If you are looking for more great toddler crochet check out this toddler poncho or this toddler shrug.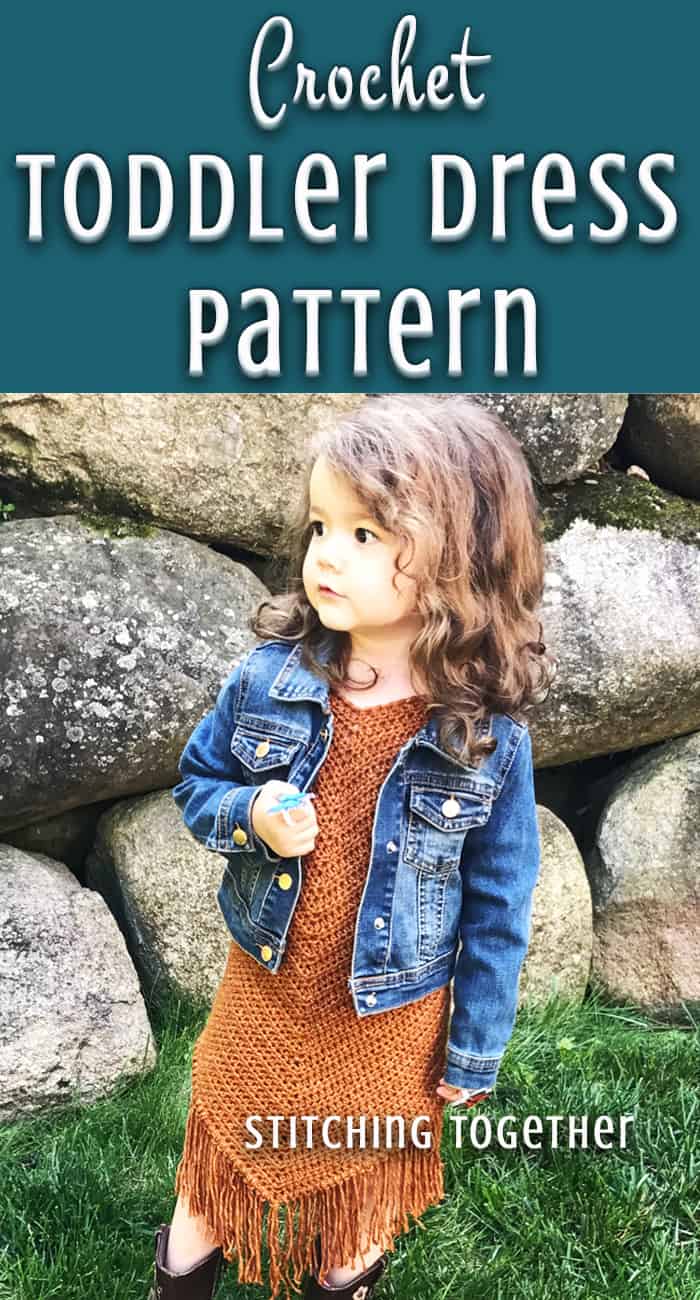 Softer Than Suede Crochet Toddler Dress
Materials
• 2 skeins Lion Brand Jeans Yarn in Top Stitch (found here on Amazon)
• Size I/9 crochet hook (My favorite hooks are clover amour – Amazon)
• Large Eye Needles (Amazon)
Abbreviations
ch(s) – chain(s)
hdc(s) – half double crochet(s)
Sizing/Gauge
Since toddlers are basically box shaped, changing the size is super easy. You can add or subtract stitches (just do it in multiples of 2) to change the width and add or subtract rows to change the length. I roughly measured my 3 year old around the ribs which equaled about 20" and around the hips which equaled about 22". I made each side, the width of the chevron about 11.5" wide giving her room to grow but not to drown.
I tried to find a good toddler sizing chart but everything I found indicated she would be wearing 18 mo or 24 mo clothing which is definitely not accurate. So, I made this for my just turned 3 yo who can still mostly fit in 2T but is getting comfy in 3T.
4"x4" = 14 stitches by 12 rows hdcs
Pattern
Ch 55 (multiple of 2 +1)
Row 1: hdc in 2nd ch from hook, hdc in the next 25 chs, skip 2 ch, hdc to end, turn.
Row 2: ch 1, 2 hdcs in first hdc, hdc in the next 24 hdcs, skip 2 hdcs, hdc to end placing 2 hdcs in last stitch. (Maintain 26 stitches on each side of the "v")
Repeat Row 2 for a total of 45 rows. Make second side.
Place the top edges next to each other and sew the top edges together leaving a 6" opening. I joined 16 stitches on each side stopping about 3" from the center of the "v"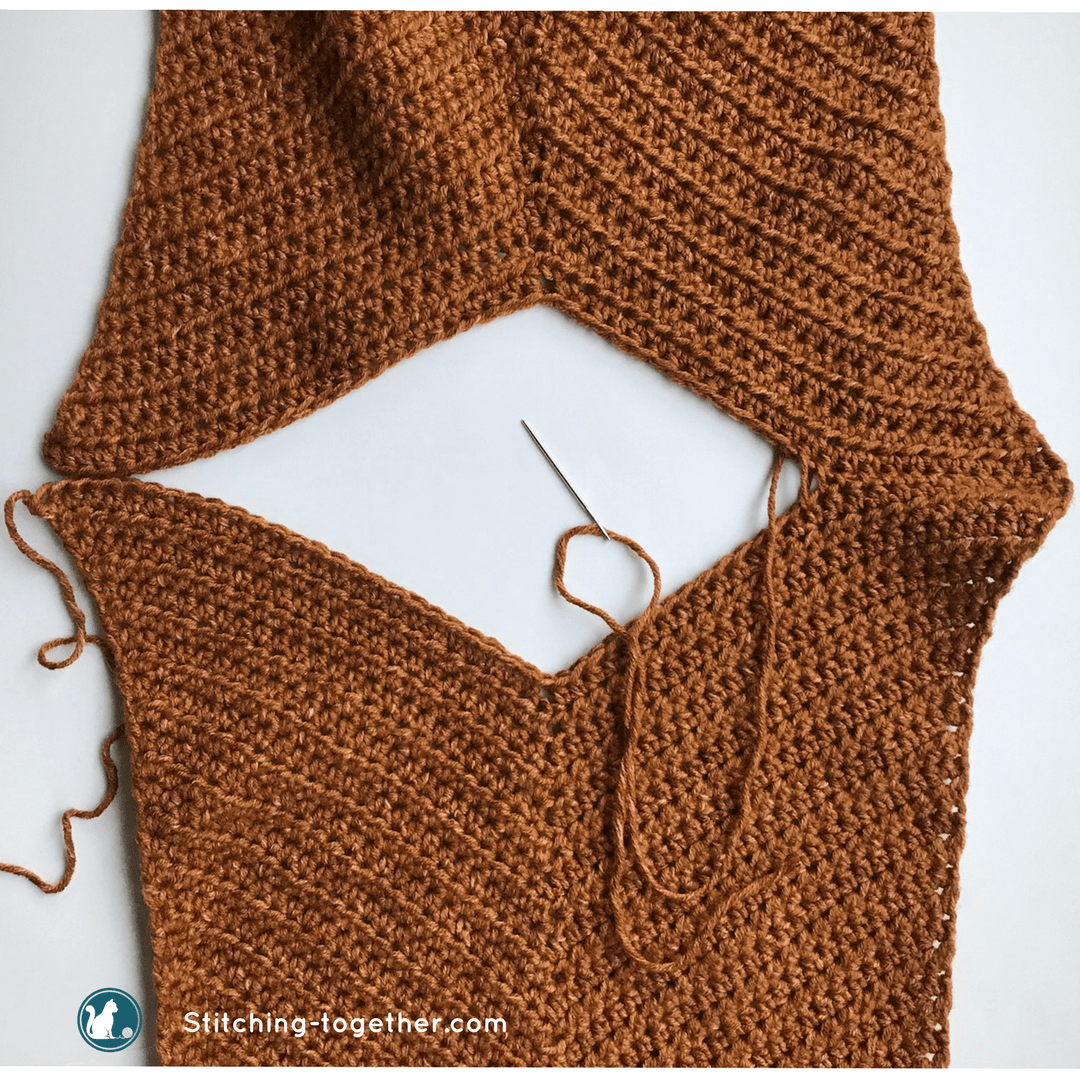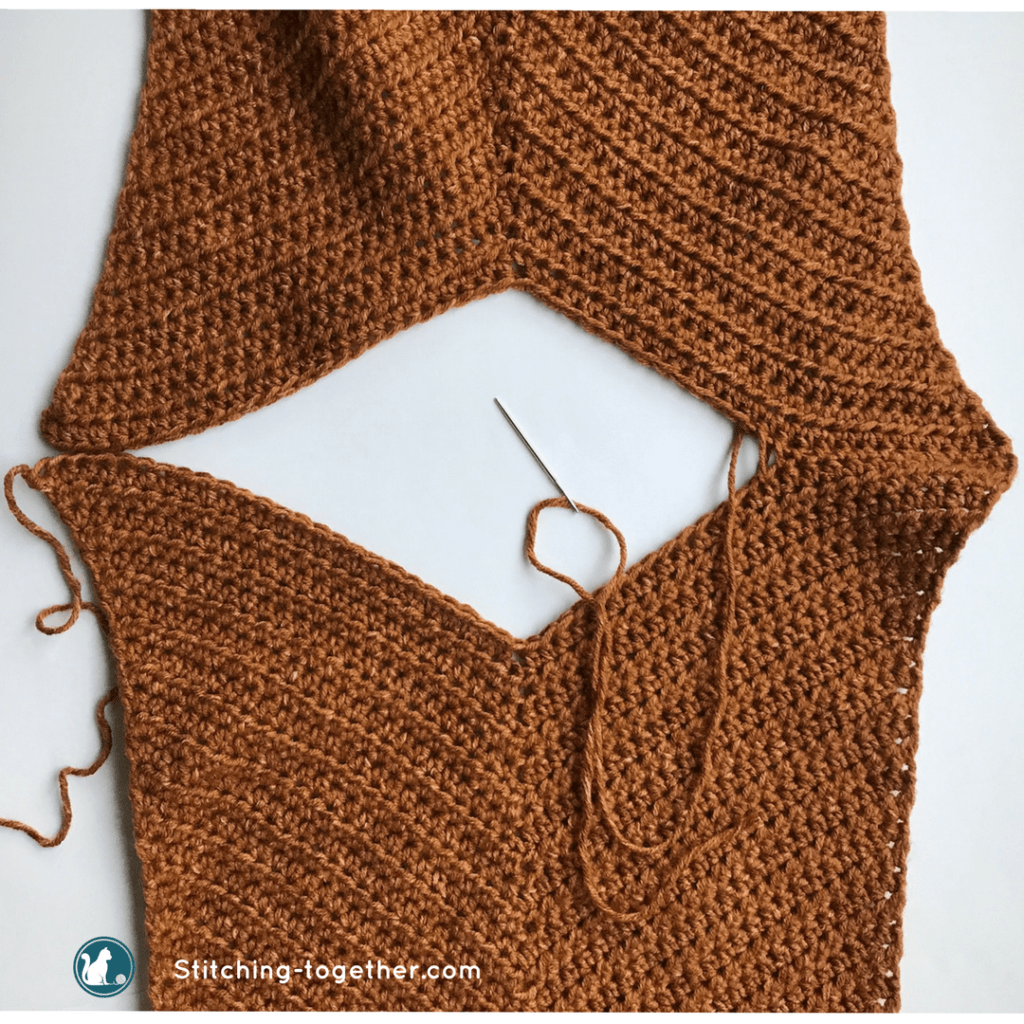 Sew the sides starting from the bottom leaving a 4" opening for armholes.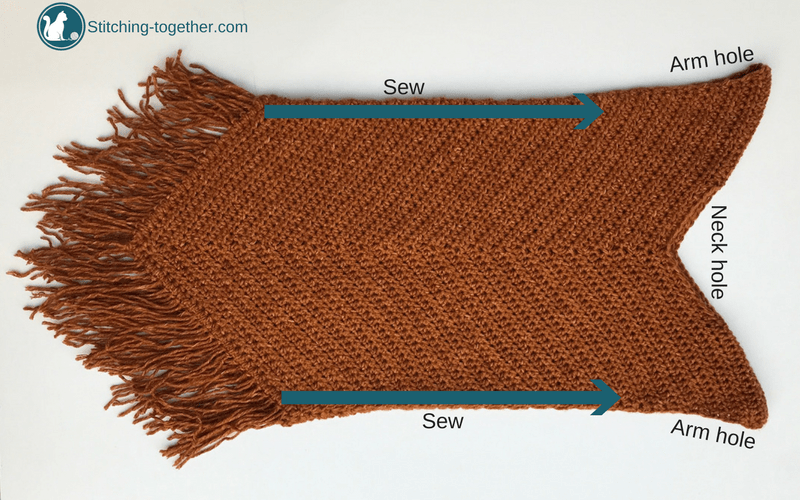 Add fringe: cut each piece about 10". Use 2 pieces for the bottom of the v and 1 piece in each of the other stitches.
Now that you've read the pattern, do you agree it is easy? I think any beginner could tackle this dress. I hope you have so much fun making it and if you make it, I'd love it if you would tag me on social using #stitchingtog
Have fun and don't forget to pin!