Toddler Crochet Cocoon Shrug
Disclosure: This post may contain affiliate links. As an Amazon Associate, I earn from qualifying purchases. Please visit my Privacy Policy for disclosures and more information.
Free pattern for an adorable Toddler Crochet Cocoon Shrug. It's as easy as making a large rectangle and cleverly sewing it together. Add some ribbing and you have a beautiful garment!
Keep reading for the full pattern instructions or you can purchase an inexpensive PDF version here.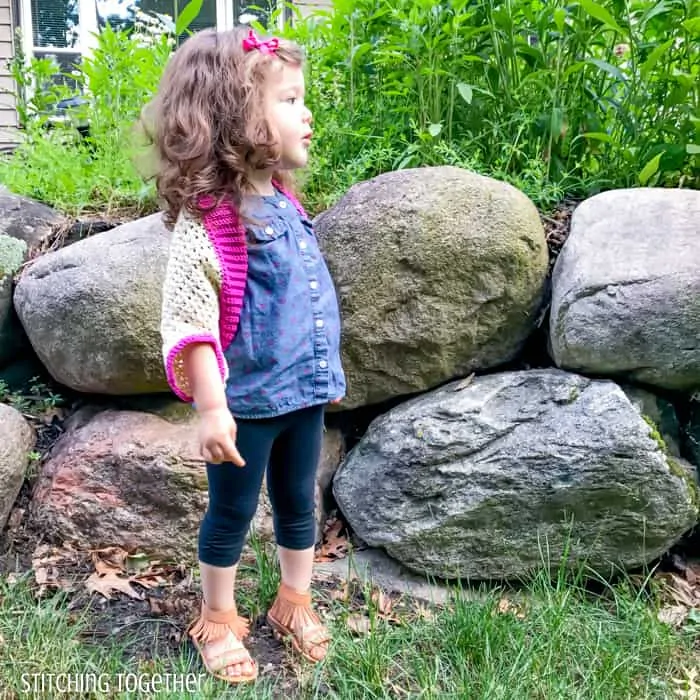 Have you ever tried to photograph a toddler? I think people who are professional photographers, especially those working with kids, are some sort of magical!
My almost 3-year-old is generally very willing and eager to help, but put her in the crochet cocoon shrug and ask her to pose and all sorts of shenanigans break lose.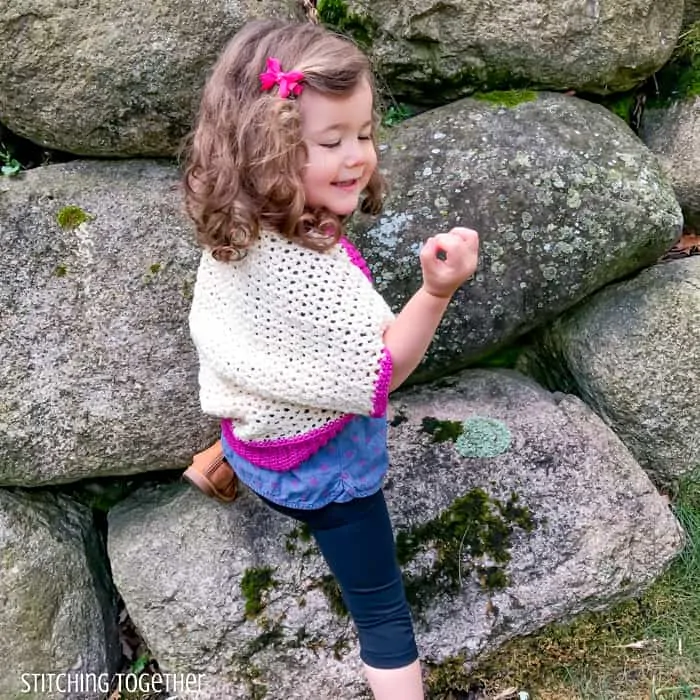 It doesn't help that I think she is magical too. I kept having to remind myself that I was shooting the shrug and not the adorable little creature wearing it.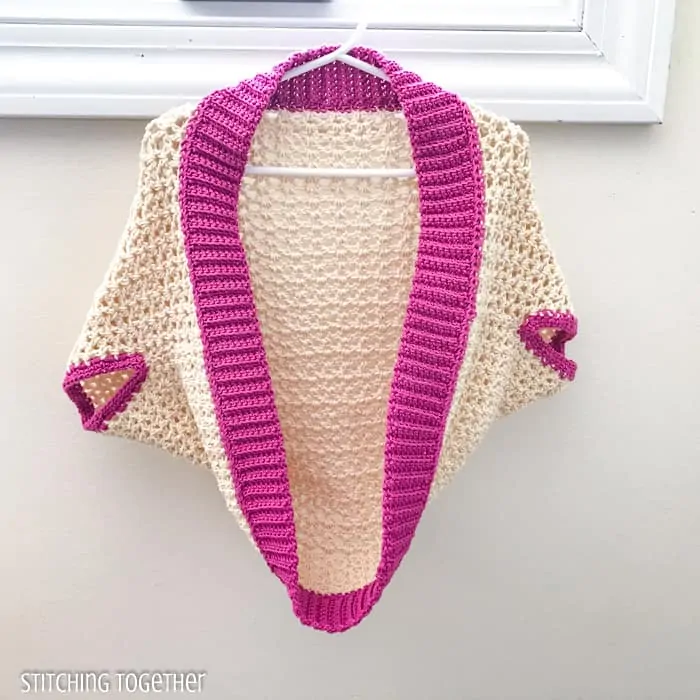 How to Crochet a Cocoon Shrug
Cocoon shrugs are so easy to make! You just crochet a rectangle, fold it in half and sew up the sides, leaving armholes. Add ribbing or another type of detailed edging and you have a beautiful and versatile shrug.
Yarn for the Crochet Shrug
One thing you cannot tell from the photos, is how amazing the finished shrug feels. Lion Brand 24/7 Cotton is perfect for this project. The yarn is so smooth and shiny and it drapes beautifully!
24/7 Cotton comes in a variety of 24 different colors so you have plenty of options to choose from to make this shrug really unique.
Did you also notice that Lion Brand 24/7 Cotton yarn can be machine washed and dried? This makes it an even more ideal yarn for kid clothing!
Stitches to make a Crochet Shrug
The main body of the shrug is made with an open double crochet v-stitch. This stitch pattern works up super quickly and I think you'll be surprised at how quickly you are finished with the main part of the shrug.
(Be sure to check out the v-stitch tutorial for step-by-step instructions and photos.)
To finish off the armholes, you will add two rounds of single crochets in a contrasting color.
The ribbing around the main body is worked last and is made by working short rows of single crochets worked in the back loop.
Save the Toddler Crochet Shrug on Pinterest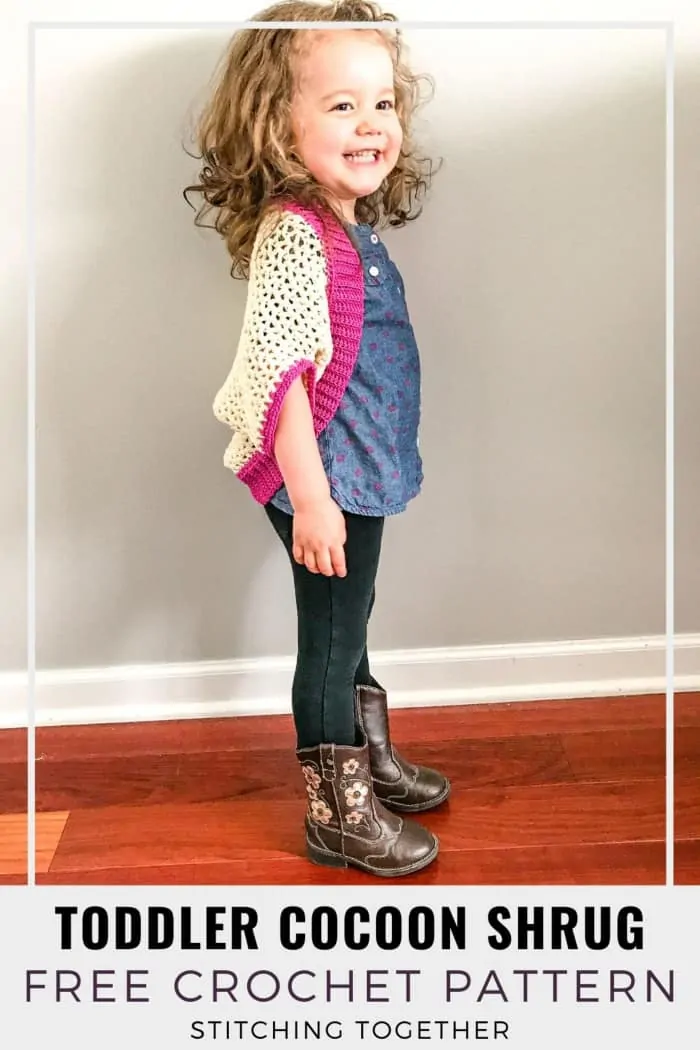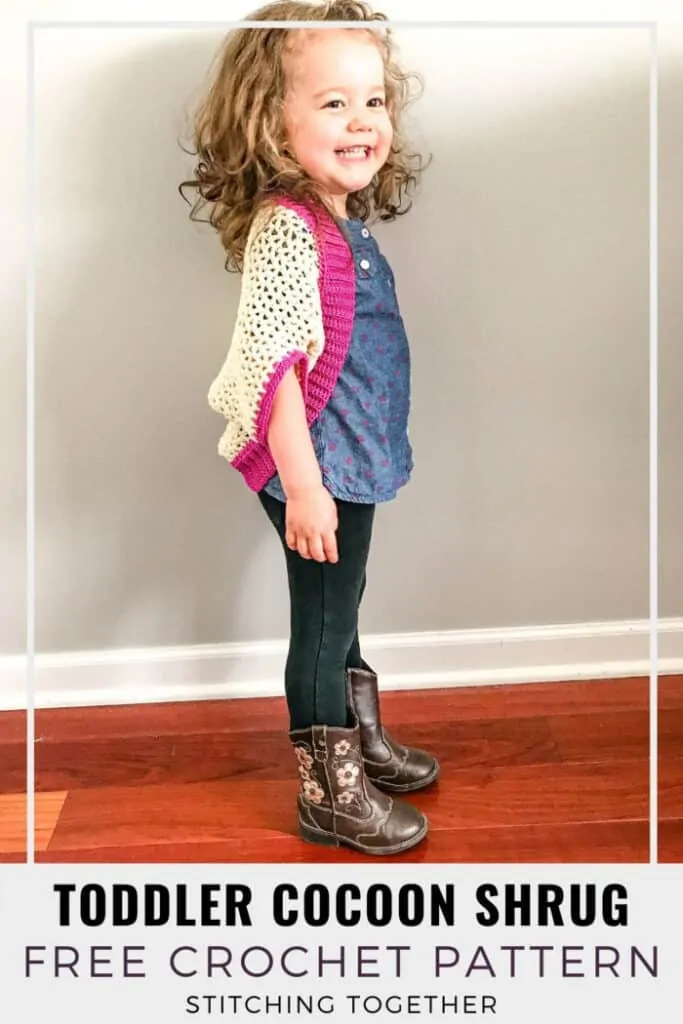 Sizing for the Toddler Shrug
The original shrug was made for my petite 2 year old. I measured from elbow to elbow to get the desired width and then from the base of her neck down past her rear to get the length.
The ad-free PDF includes a sizing suggestions chart that has recommended sizes for toddlers all the way up to 12-year-olds. The chart includes starting chain count, row counts, and estimated finished sizes.
Buy the PDF which includes the sizing chart.
Crochet Toddler Cocoon Shrug
Skill Level:
Easy
Materials:
Please visit my Resources page to see why I recommend these tools and to see other recommendations.
Size 7 (4.5 mm) Crochet Hook
Lion Brand 24/7 Cotton (Category 4 worsted weight – 3.5 oz / 186 yds)
2 balls in Ecru (Main color)
1 ball Rose (Contrasting color)
Large Eye Tapestry Needle
.
Everything you need for this project can be ordered right online.
Save time and shop from home!
Favorite Hooks -this set includes a 4.5mm hook!
Large eye yarn needles -these are the best!
Th These.
Abbreviations:
ch(s): chain(s)
sc(s): single crochet(s)
dc(s): double crochet(s)
sl st: slip stitch
BLO: Back loop only
Gauge:
4" x 4" = 9.5 rows by 5 v-stitches
Finished Size:
Completed rectangle, before folding and sewing, measures approximately 22″x 16"
Pattern Notes:
The main body of the shrug is made with an open v-stitch. The armholes are lined with two rows of scs in a contrasting color.
Instead of crocheting the ribbing as a separate piece and then sewing on in the end, you join it to the body as you go.
The chain 3 and following double crochet at the beginning of each row count as the first v-stitch of the row. When working the end of the next row you will working into the space created by the ch 3 and double crochet.
Toddler Cocoon Shrug Crochet Pattern Instructions
Chain 88 (multiples of 3+1) turn.
Row 1: dc in 4 ch from hook (ch counts as dc), *skip 2 chs, (dc, ch 1, dc) in next ch; *Repeat across, turn.
Row 2: ch 3, dc in ch 1 sp, *(dc, ch 1, dc) in each ch 1 sp; * Repeat across, turn.
Row 3-38: repeat Row 2.
Fold rectangle lengthwise. Sew sides together leaving about a 4-inch opening from the fold.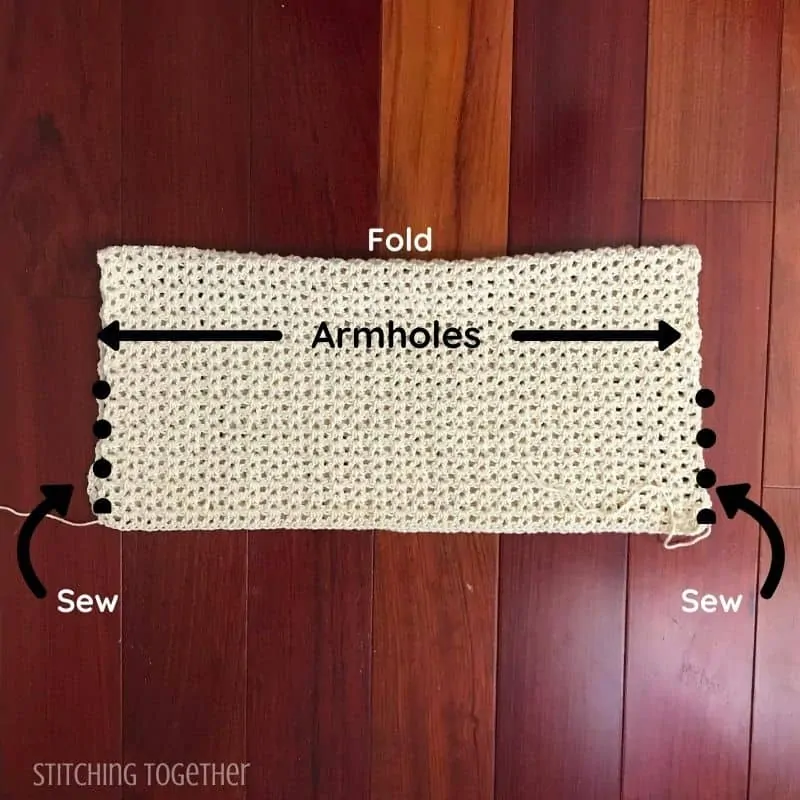 Armholes:
Round 1: Join rose color with a slip stitch anywhere along the armhole, sc around the armhole putting 2 scs in each space. Join to first sl st with sl st.
Round 2: ch 1, sc in each sc. Join with sl st. Bind off and sew in ends. Repeat with 2nd arm hole.
Ribbing:
Join rose color with a slip stitch anywhere along the outer edging of the body and ch 11.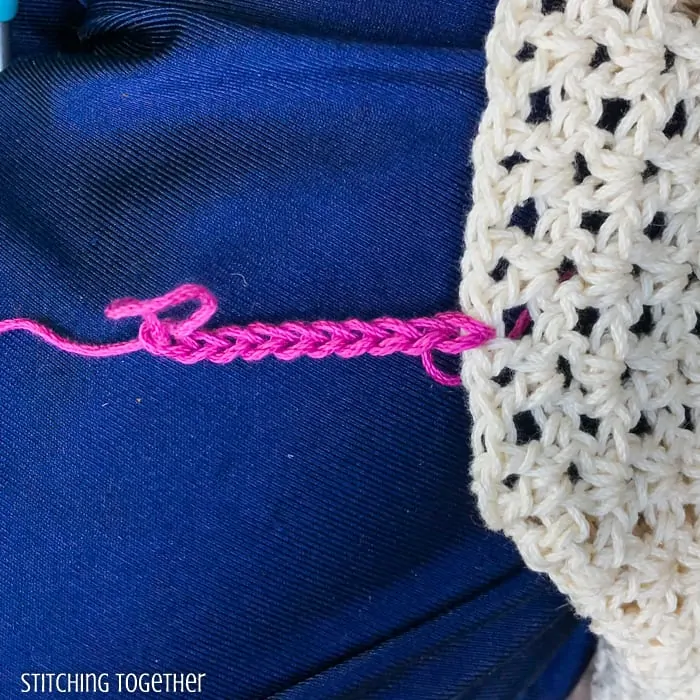 Row 1: ch 1, sc in 2nd ch from hook, sc in each ch. join with sl st to main body, turn
Row 2: ch 1, sc BLO of each st, turn.
Row 3: ch 1, sc BLO each of st, sl st in the next st of the body, sl st in the next st in the main body (functions as a ch 1), turn Repeat rows 2 and 3 working in the back loops around the entire outer edge of the main body.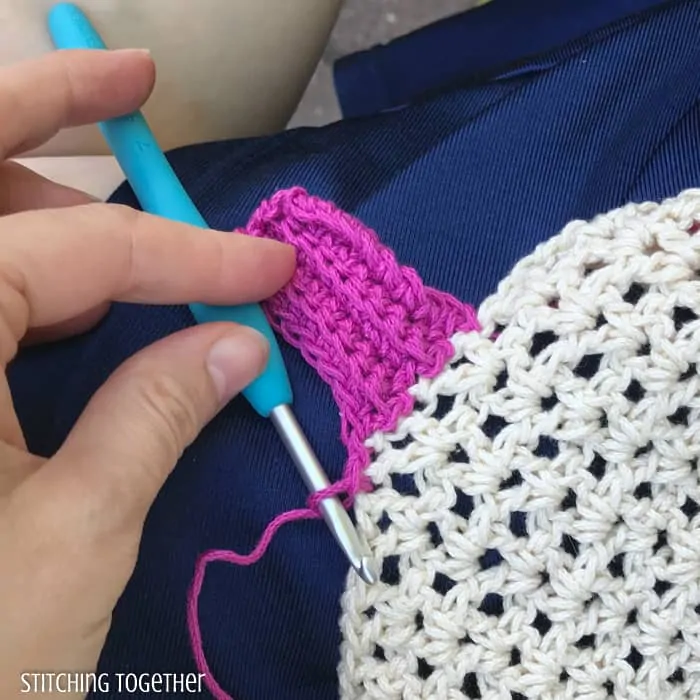 Sew the ribbing together to close, fasten off and weave in ends.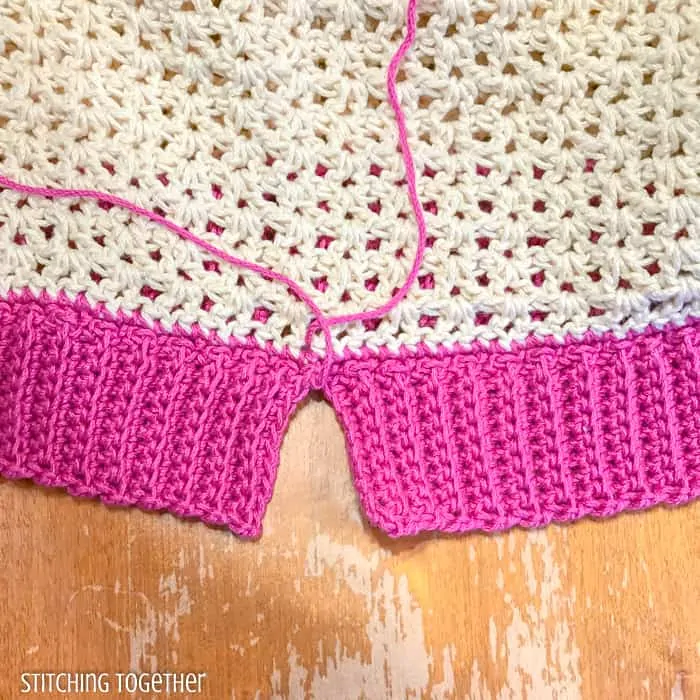 Do you love this toddler pattern? Check out these other great patterns for kids:

Will you share pictures of your finished projects?