Navy Stripes Simple Crochet Tote Bag Pattern
Disclosure: This post may contain affiliate links. As an Amazon Associate, I earn from qualifying purchases. Please visit my Privacy Policy for disclosures and more information.
Need a simple crochet tote bag pattern that you can use to make your next favorite bag? Made with super bulky yarn this crochet tote whips up in no time and leaves you will a tote that is cute and functional.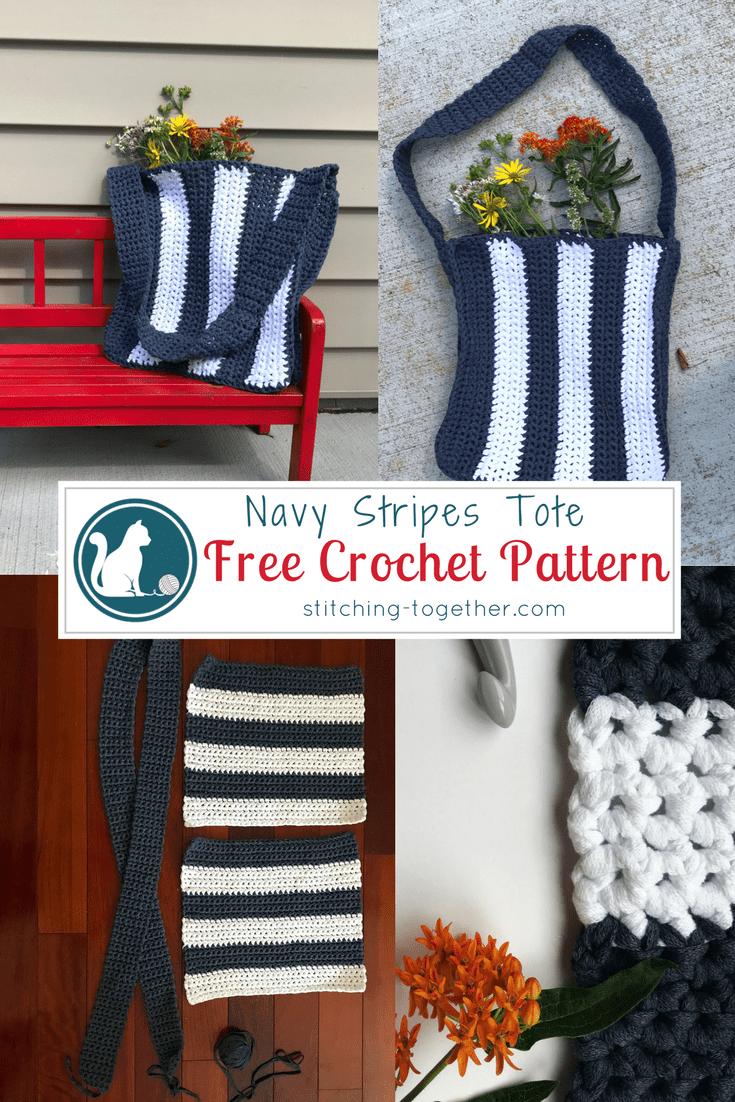 My husband gets slightly annoyed by the number of bags I seem to accumulate. I just totes love a good bag! (See what I did there?) I used to hoard bags, but I have been learning to give them away freely.
Related: Caldwell Crochet Market Bag
Do you have a casserole dish to return to a friend? Stick it in a cute tote or bag. What about that odd shaped birthday gift? Make a bag! Do you have some books to pass on? A tote is perfect for those!
(True Confession: I intended for the Take me to the Beach Tote to be a gift, but once I finished, I couldn't part with it! I haven't even used it because it is just so pretty. Have you ever done that?)
The Navy Stripes Simple Crochet Tote Bag is made using Lion Brand's Fast Track yarn. All stitches are either chains or single crochets.
The construction is simply made by crocheting one long rectangle which makes up the bottom, sides, and strap of the bag and then crocheting two side panel rectangles. Even the joining is done with single crochets!
If you have never tackled crocheting a bag before, this is a good place to start.
Related: Belmont Crochet Shoulder Bag Pattern Free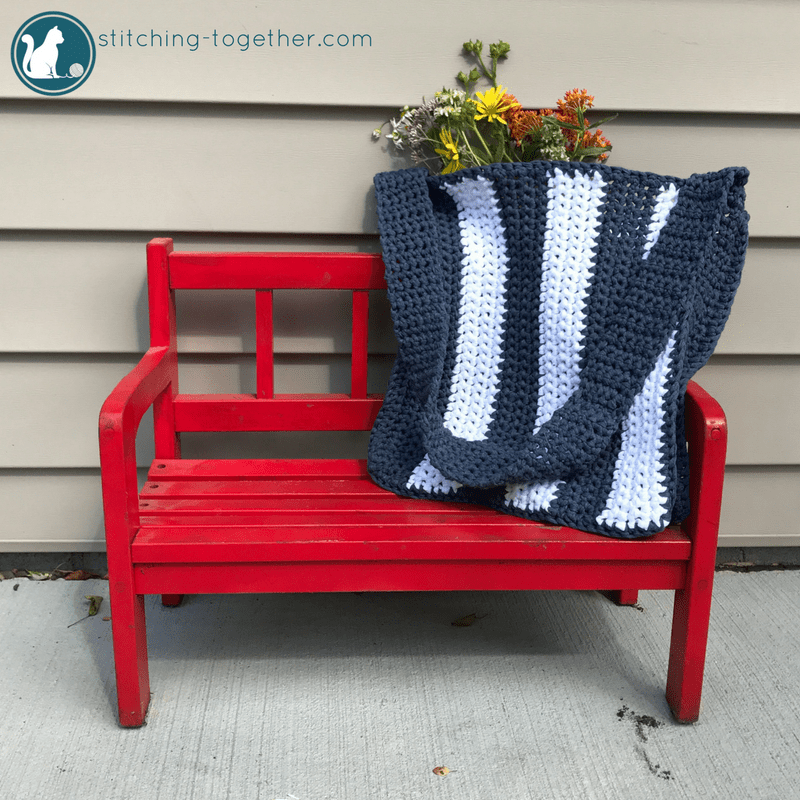 Navy Stripes Simple Tote Bag Crochet Pattern
Materials:
Please visit my Resources page to see why I recommend these tools and to see other recommendations. (Links below lead to Amazon.)

US-Size P Crochet Hook (This ergonomic hook you can get on Amazon makes working with bulky yarn a breeze!)
2 Skein Lion Brand Fast Track in Dune Buggy Denim
1 Skein Lion Brand Fast Track in Airstream White
Abbreviations:
yo – yarn over
ch(s) – chain(s)
sc(s) – single crochet(s)
fsc(s) – foundation single crochet(s)
Finished size: 14″ x 16.5″ x 3.5″
Panels
Fsc 35, turn
Row 1: ch 1, sc in each sc, turn
Repeat row 1, changing colors every 6 rows creating 6 stripes with a total of 36 rows. Bind off.
Repeat panel instructions to create a second panel.
Strap
Fsc 6, turn
Row 1: ch 1, in each sc, turn
Repeat until the strap reaches around 81". Bind off leaving a long tail.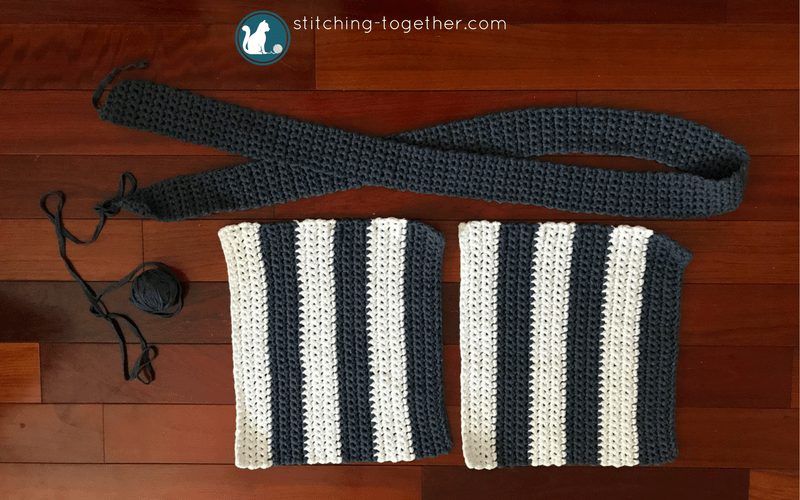 Joining
Start at one of the top corners of one of the panels (the stripes should run vertically) and hold the strap and panel together. Beginning at the top corner, sc the panel and strap together. At the corners, (sc, ch1, sc) in the same stitch. Continue to attach the panel to the strap until 3 sides of the panel are attached and you've reached the other top corner. Leaving the strap, sc along the top of the panel (the unattached side). Bind off.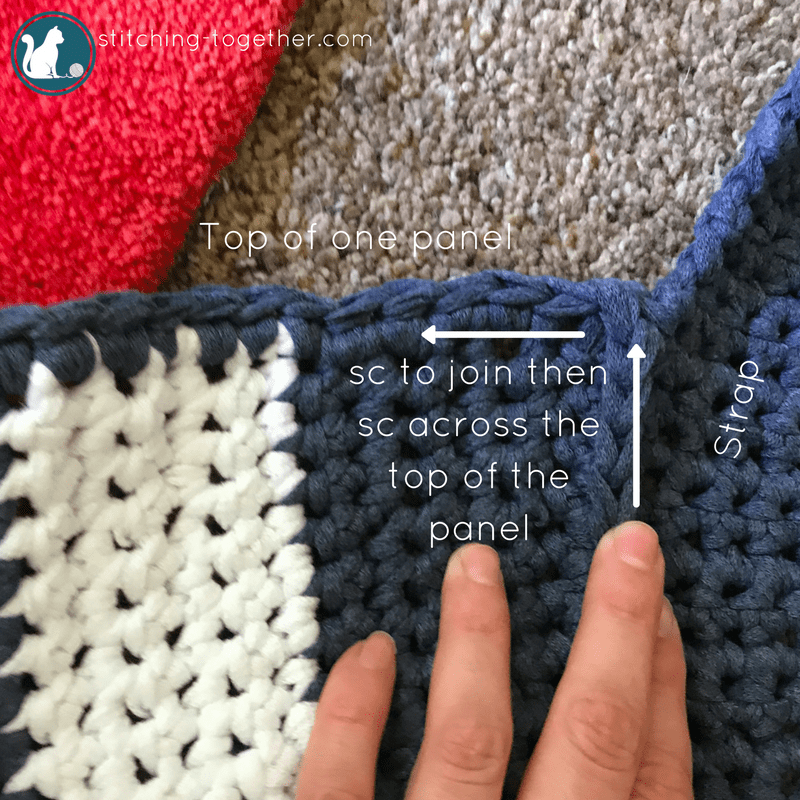 Join the other panel to the strap in the same way ensuring the two panels are lined up.
Using the long tail on the strap, sew the two ends of the strap together.
Don't forget to pin this project!