Disclosure: This post may contain affiliate links. Please visit my About page for disclosures, Privacy Policy and more information.
You'll love this modern crochet pillow that's made using the corner to corner (c2c) crochet technique. A modern pillow that's magazine ready, made just by you.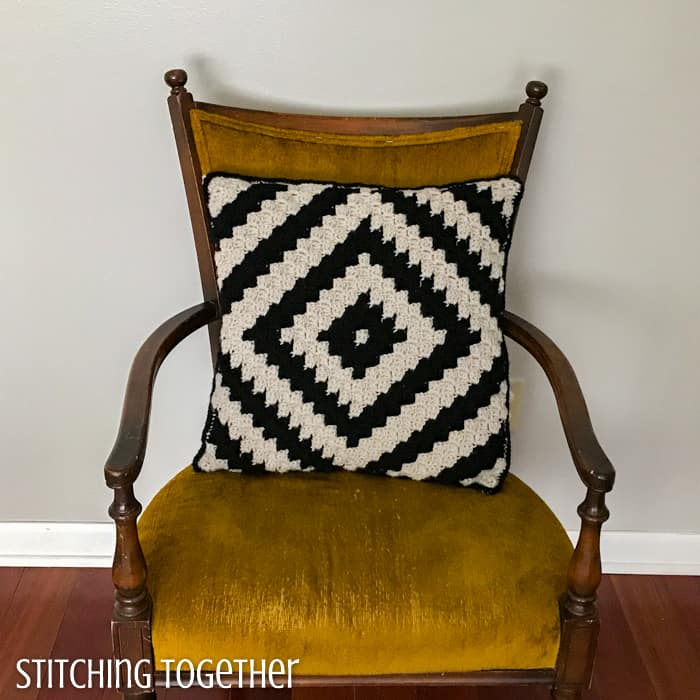 For some unknown reason I have a bunch of pillow forms hanging around my house and I am really not sure where they all came from. Pillow forms are a really strange thing to have and not know how you got them!
All the good intentions of sewing covers for them have not happened which is actually great because crocheting covers for them is so fun and easy.
I've been on a mission to get those pillow forms covered in crochet cuteness and it has been so fun!
Related: Crochet Cactus Pillow
Crochet pillow covers have amazing depth and texture and the possibilities of colors and styles are endless!
Related: Spring Blooms Crochet Throw Pillow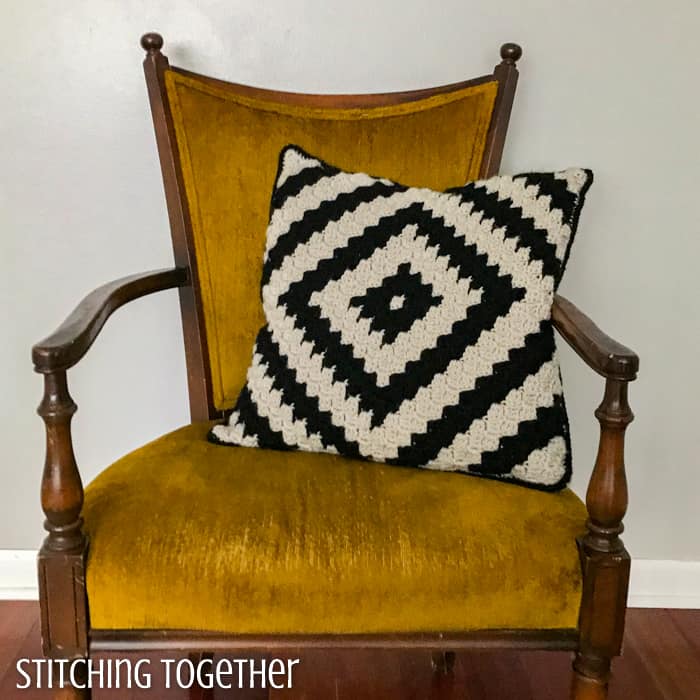 Corner to Corner Pillow Cover
This pillow cover is created with two corner to corner (c2c) panels. I love how quickly small c2c projects work up and how they allow for the creation of so many different geometric designs.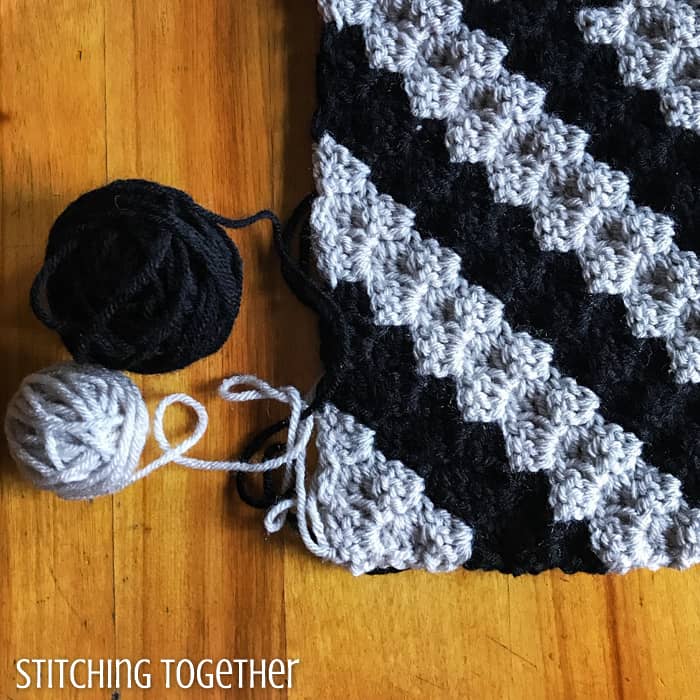 If you haven't tried c2c yet, this is a good beginner project.
The back side is just one solid color and would be a great starting place for a beginner c2cer. You'll get the feel for working a c2c pattern before you jump into the color changes.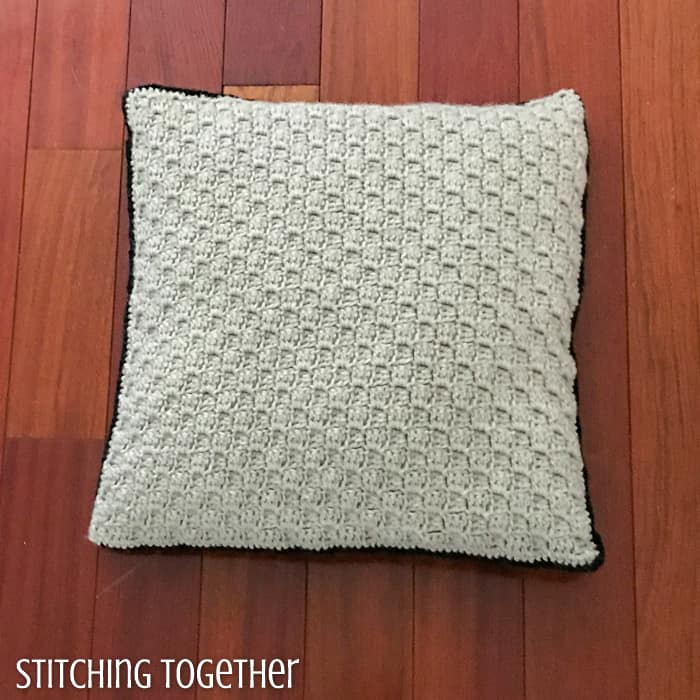 ChiWei at OneDog Woof has an extensive tutorial on all things c2c, plus she has ridiculously cute patterns!
By flipping over the front panel of my pillow cover, you can see that it is a hot mess! I found it much easier to just pull the yarn across the back as I worked on the color changes instead of cutting the yarn and leaving more ends to weave in.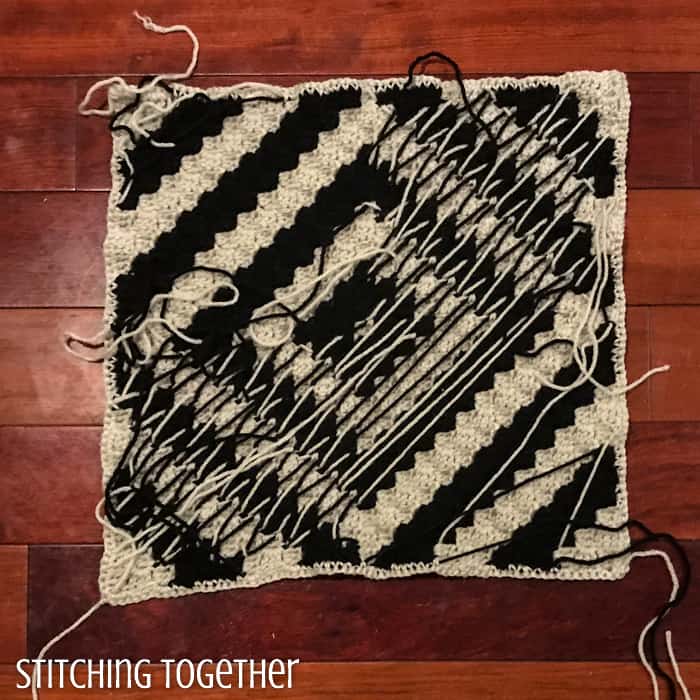 As you'll notice below, there are not line by line instructions included for the pattern. Instead, you'll work from the graph in diagonal lines.
It doesn't really matter which corner of the graph you start at since this pattern builds the same from all corners.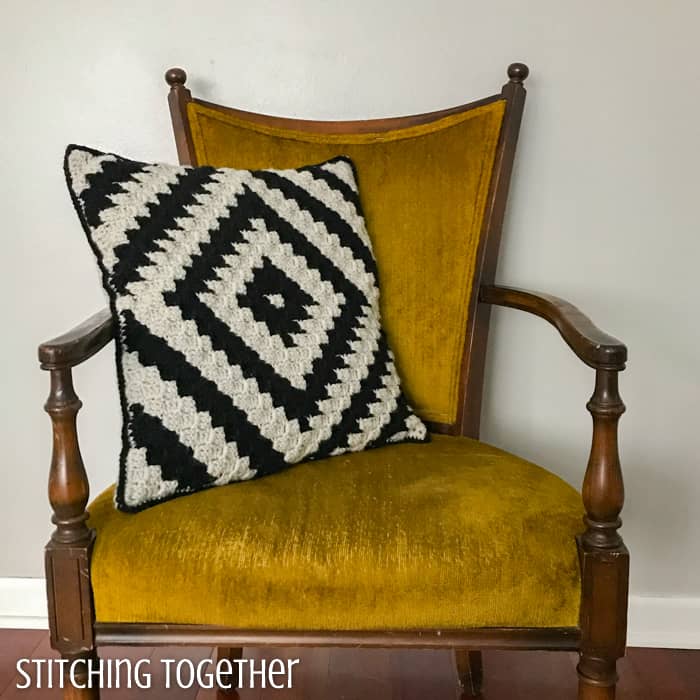 In the instructions, I specify to use black to single crochet around the front panel of the pillow.
You may notice if you look closely at the pictures that I used linen around the front panels, which stands out more than the black would.
Of course you can do what you think will look best but if I did it again, I would definitely use black.
Save the Geo Modern Crochet Pillow Pattern on Pinterest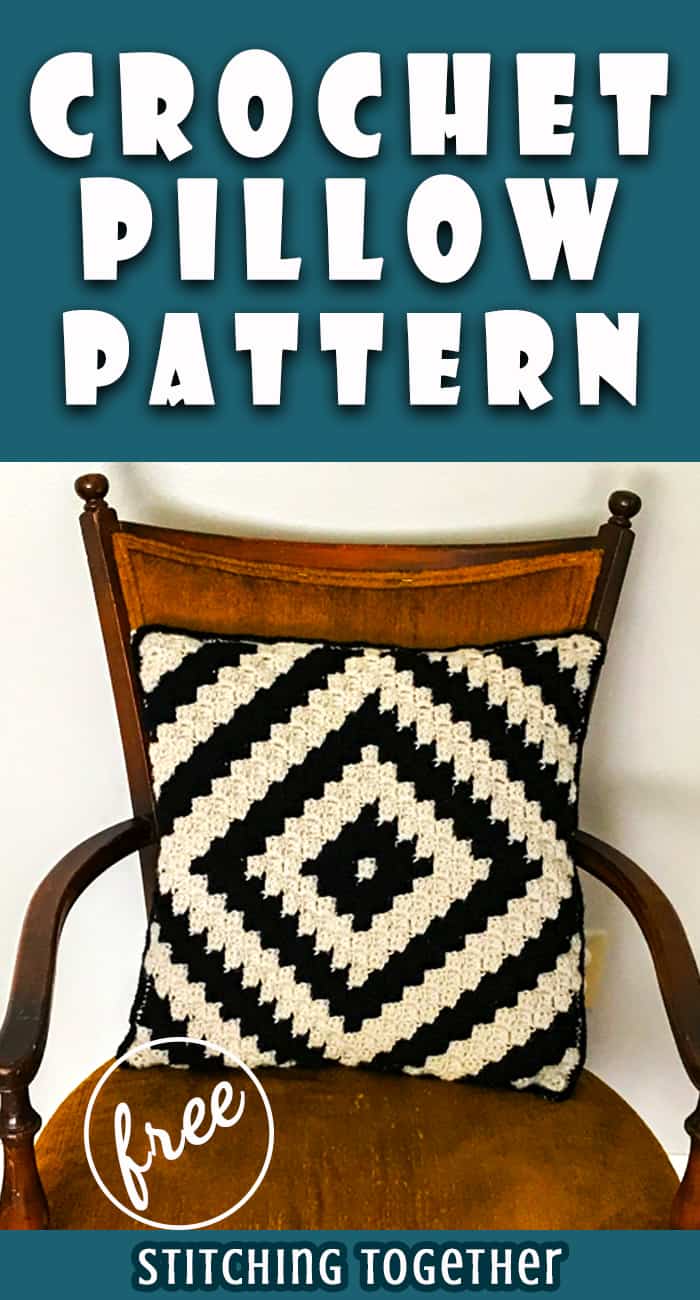 Geo Modern Crochet Pillow Cover
Materials:
Please visit my Resources page to see why I recommend these tools and to see other recommendations. 
US-Size J/10 Crochet Hook (You can get my absolute FAVORITE hooks right on Amazon!)
Category 4 yarn, (3.5 oz; 171 yds; Prints: 2.5 oz; 121 yds)
Sample used Vanna's Choice (See it on Amazon)
4 skeins in Linen

2 skeins in Black
Large Eye Tapestry Needle (I have a favorite set of needles for weaving in ends too – also available on Amazon)
20 x 20 Pillow Form (If you order this set, you can also have a bunch of pillow forms around your house!)
Notes:
The c2c was worked using the 5 and 2 method instead of the 6 and 3. Chain 5 to start a new row and chain 2 to start each new block. This gives a tighter fabric that is a bit less holey than the 6 and 3 c2c.
Modern Crochet Pillow Instructions:
Starting with the back panel in linen, make a panel that is 25 by 25 squares.
Using linen, single crochet around the entire border of the back panel. Fasten off and weave in ends.
Make the front panel following the graph below using both linen and black..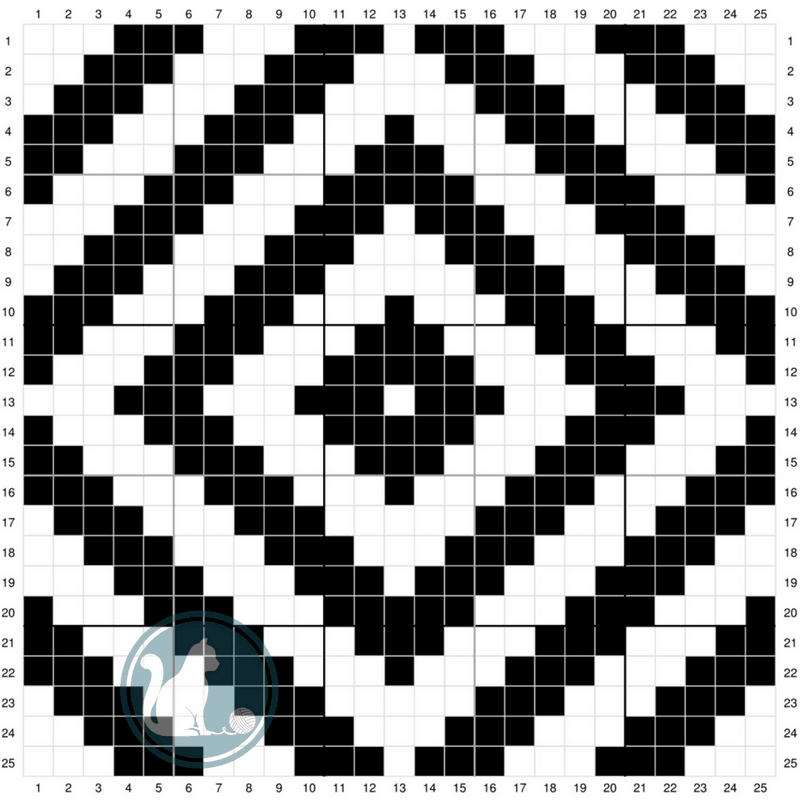 Single crochet around the entire front panel using black.
Hold the front and back panels together, and single crochet around the edge of the panels to join them together. Before single crocheting the 4th side, insert the pillow form. Finish single crocheting the 4th side, fasten off and weave in ends.
Do you like to show off your work? I'd love to see pics of your finished projects! You can do that several ways: