Disclosure: This post may contain affiliate links. Please visit my About page for disclosures, Privacy Policy and more information.
For some unknown reason I have a bunch of pillow forms hanging around my house.  I am really not sure where they all came from.  All the good intentions of sewing covers for them has not come to fruition which is actually great because crocheting covers for them is so fun and easy. Crocheted pillow covers have amazing depth and texture and the possibilities of colors and styles are endless!
This pillow cover is created with two corner to corner (c2c) panels. I love how quickly small c2c projects work up and how they allow for the creation of so many different geometric designs.
If you haven't tried c2c yet, this is a good beginner project. The back side is just one solid color and would be a great starting place for a beginner c2cer. (ChiWei at OneDog Woof has an extensive tutorial on all things c2c, plus she has ridiculously cute patterns!)
Added bonus: You don't have to weave in all those ends or even create that many ends. I eventually figured out that I could  just pull my yarn across the back to the new location instead of cutting and joining. WIN!
Geo Pillow Cover
Materials:
Please visit my Resources page to see why I recommend these tools and to see other recommendations. (Links below lead to Amazon.)
4 skeins Vanna's Choice in Linen
2 skeins Vanna's Choice in Black
Instructions:
I worked the c2c with double crochets using 5 and 2 instead of 6 and 3. (Chain 5 to start a new row and chain 2 to start a new block)
Each panel is 25 by 25 squares. Create the front panel following the graph and the back panel in a solid color.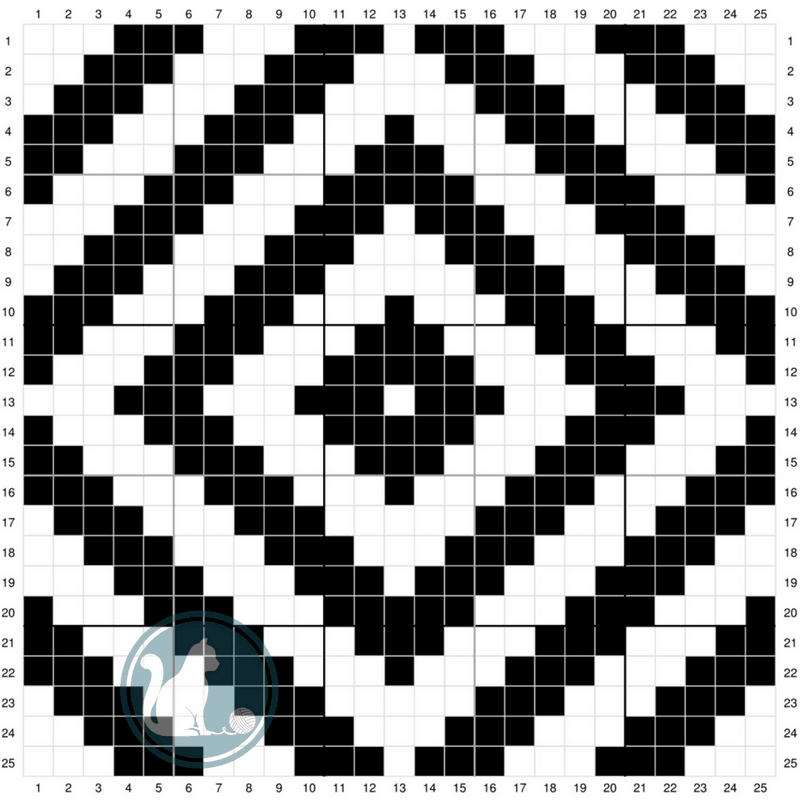 Single crochet (sc) a boarder around both panels. I used the Linen color to sc around each panel but if I did it again, I would use black.  Join panels around pillow and sc in black all the way around.
Please save this project to your pinterest boards and share it on social!