Shadow Box Crochet Cushion Cover Design
Disclosure: This post may contain affiliate links. As an Amazon Associate, I earn from qualifying purchases. Please visit my Privacy Policy for disclosures and more information.
This cute little crochet cushion cover design is a quick project perfect for adding a touch a warmth, texture and handmade goodness to your home decor.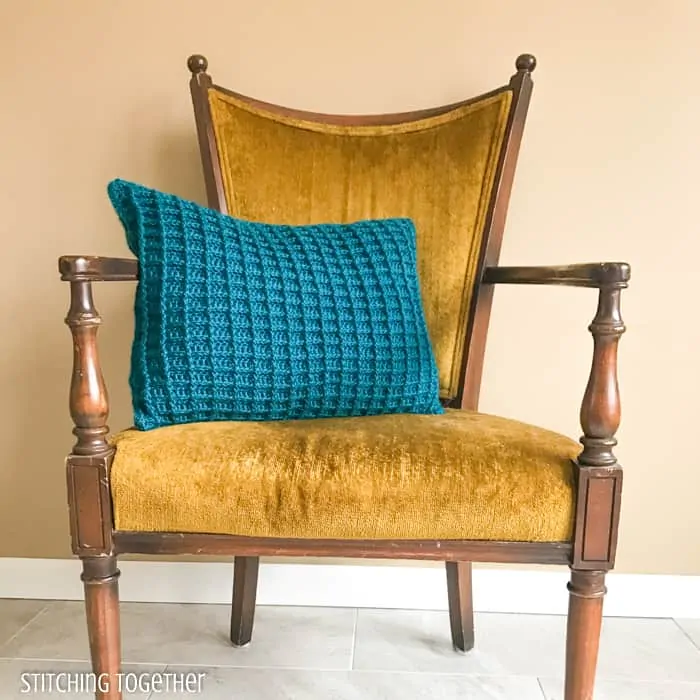 One of my first completed projects was the Shadow Box Throw designed by Denise Black for Red Heart.
I have used this pattern to make many baby blankets and it remains one of my favorite patterns to this day. You can see that my original copy of the pattern has been well loved.
There is a huge bonus with this pattern: The front and back look so different but equally as amazing and the fantastic texture is created by clever switching of front post double crochets with back post double crochets.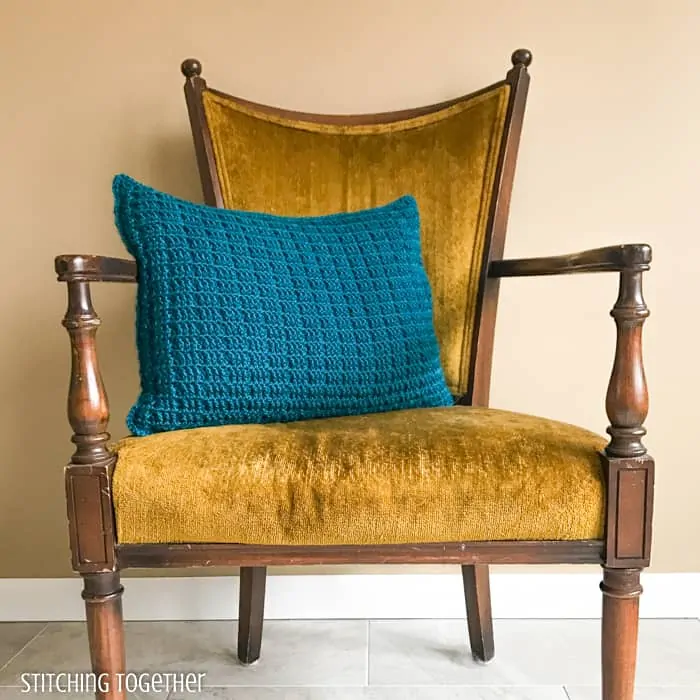 I hesitated to use this pattern to cover a pillow because I didn't know how I would ever choose which side to face out. Thankfully, I didn't have to choose! One side is shadow box and the other smooth.
How to crochet a pillow cover
Crocheting covers for your cushions is a quick way to make a lovely change in your home decor. You can crochet covers for your existing pillows or get some new pillow forms and get started covering those.
Before you get started, you'll want to do a little measuring and swatching to ensure you have a perfect fit for your pillow cover.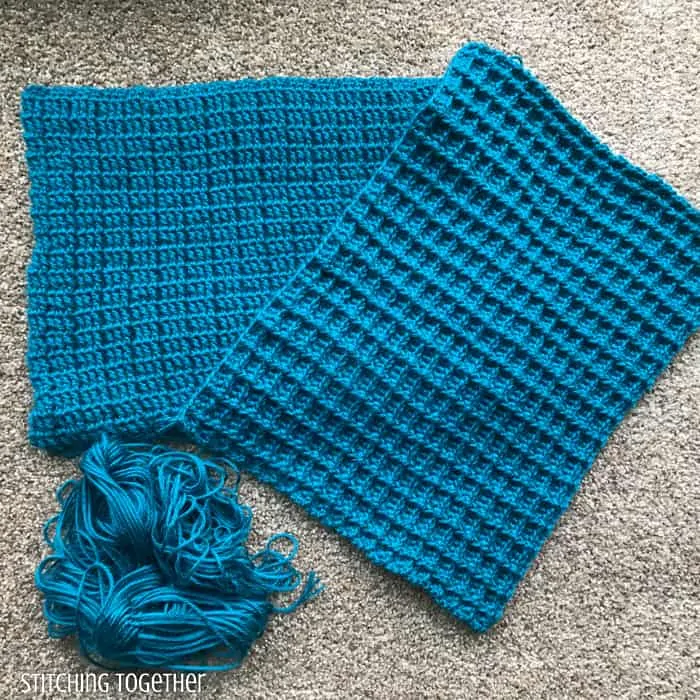 You'll want the pillow cover to be about an inch shorter than the pillow form you are using since stitches stretch and you want a nice, snug fit.
Grab the yarn you will use and work up a quick swatch. I love this gauge swatch guide by Whistle and Ivy that gives you quick tips on how to do a fast swatch. You'll want to do your swatch in the stitch pattern of the pillow. Starting with a foundation row of 15 should work.
Yarn used for the Crochet Cushion Cover
Have you used Caron Simply Soft before. It is correctly named. It is SO soft and feels wonderful on a pillow.
However, the yarn does fuzz and pill and it tends to split while you are working with it. If you are crocheting a pillow cover purely for decorative reasons, this yarn is a great choice.
If your pillow will be used and loved… tossed around by children or claimed by a fat cat, you'd be better choosing a more sturdy yarn. Premier Everyday Anti-pilling yarn would be a great choice.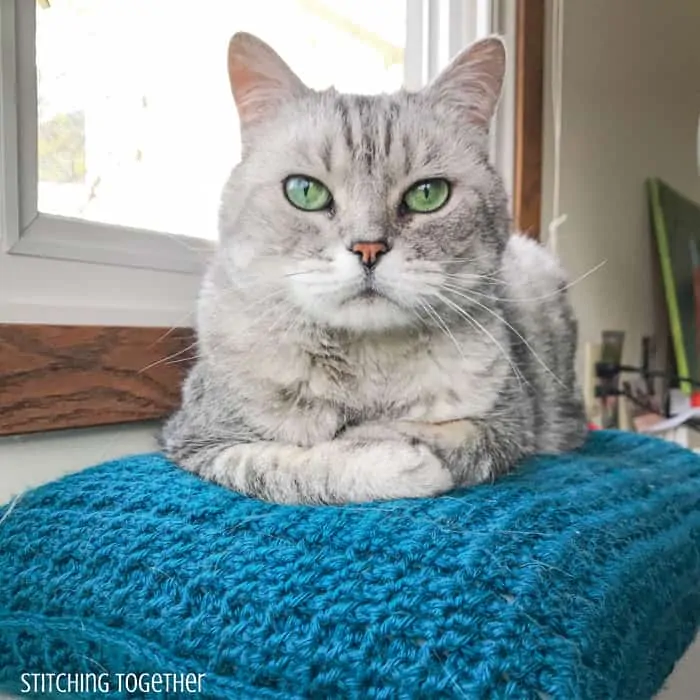 Stitches used for the Cushion Cover
This stitch pattern is so wonderful because a simple two row repeat creates this gorgeous texture and design that looks amazing and different on each side.
Each little box is created by switching between front post double crochet, back post double crochet and regular double crochets. Isn't it great how a slight variation on a stitch can make such a difference?
Save the Shadow Box Crochet Cushion Design on Pinterest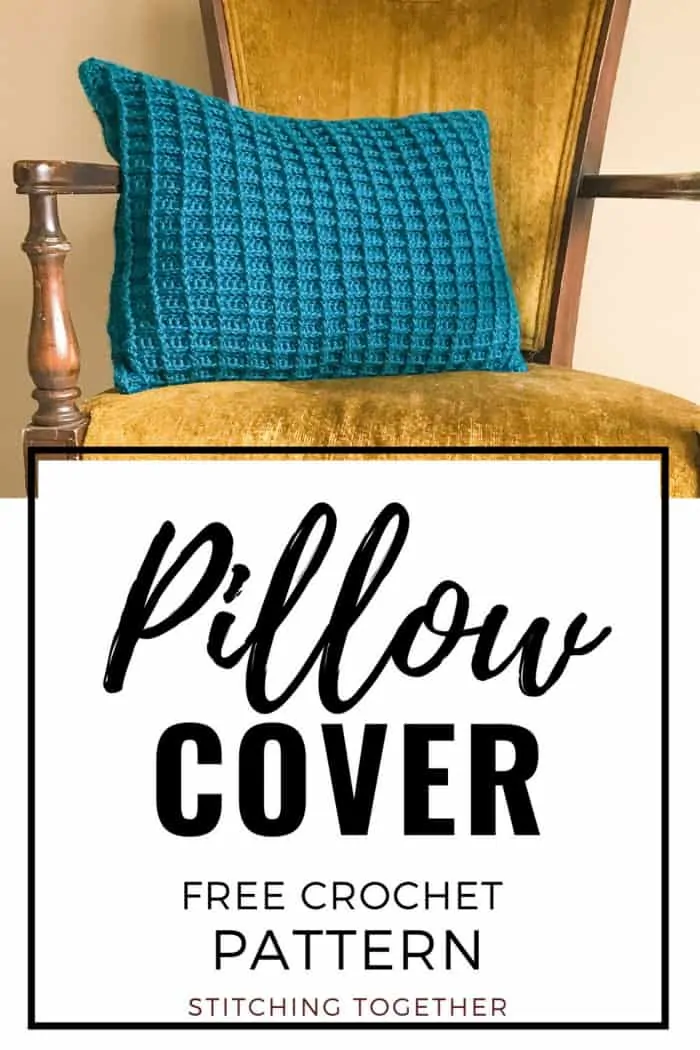 Shadow Box Pillow Crochet Cushion Cover Design
Skill Level: Easy
Materials:
US-Size I/9 Crochet Hook
Caron Simply Soft Yarn (category 4 medium weight yarn)
-2 skeins in Pagoda
16x 22″ pillow form
Large Eye Tapestry Needle
.
Everything you need for this project can be order right on Amazon.
Save time and shop online!
.
Please visit my Resources page to see why I recommend these tools and to see other recommendations. (Links below lead to Amazon.)
Abbreviations:
yo: yarn over
ch(s): chain(s)
fpdc: front post double crochet
bpdc: back post double crochet
dc(s): double crochet(s)
Fdc: foundation double crochet
Notes:
The ch 2 at the beginning of each row (turning chain) counts as a stitch. You will work the last stitch of each row into the turning chain.
If you haven't learned to do a foundation double crochet yet, now is the time! Tamara over at Moogly Blog has a great video tutorial on how to do a foundation double crochet.
I covered a pillow that is about 16" by 22". If you want to cover a different size pillow, use a multiple of 4+3 for the foundation stitches or a multiple of 4 if starting with a chain, and continue to the pattern until it is the desired height.
Shadow Box Pillow Cover Pattern Instructions:
Row 1: Fdc 71, turn
(Alternately, chain 72, dc in 3rd ch from hook and in each ch across (71).)
Row 2: ch 2, skip first dc, fpdc around next 2 sts, bpdc around next st, *fpdc around next 3 sts, bpdc around next st; repeat from * to the last 3 sts; fpdc around the next 2 sts, dc in top of ch, turn.
Row 3: ch 2, skip first dc, dc in next 2 sts, *fpdc around next st, dc in next 3 sts; repeat from * working the last dc in top of ch, turn.
Repeat rows 2-3 until rectangle is approximately 22". Make a second rectangle. Put one shadowbox side and smooth side together and sew 3 sides together. Insert pillow or stuff and sew the fourth side.
Take a nap on your new beautiful pillow. (Nap is optional by highly encouraged.)
Will you share pictures of your finished projects?
Check out these other great free pillow patterns: