Disclosure: This post may contain affiliate links. As an Amazon Associate, I earn from qualifying purchases. Please visit my Privacy Policy for disclosures and more information.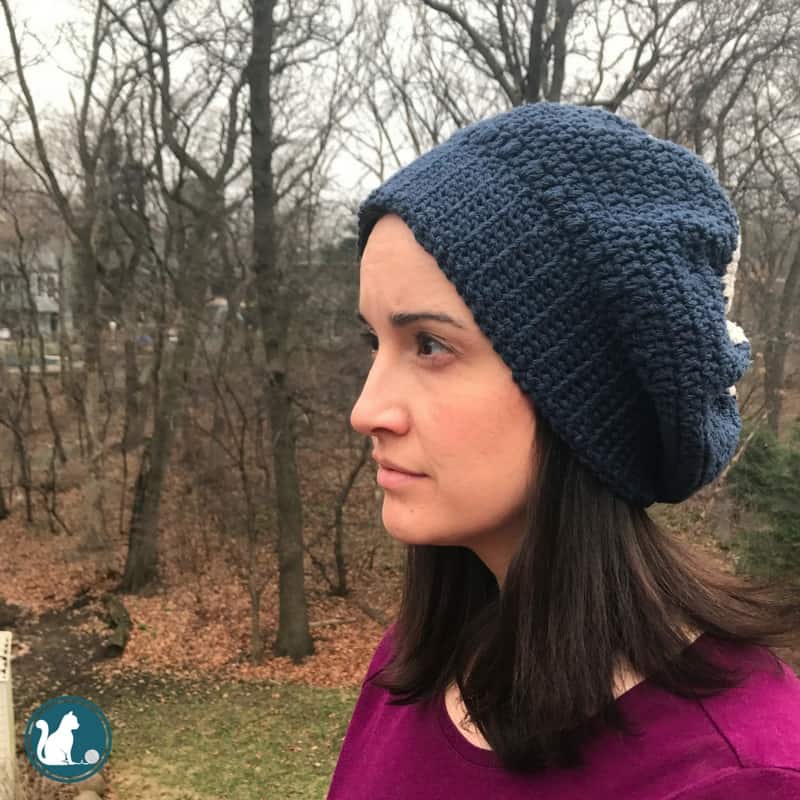 Do you guys want to know the amazing design secret behind the color scheme of this Simple Slouchy Hat? I am not sure I should give away all of my secrets, but you all are so nice. So, here it is, come a little closer, that's it… um…. I ran out of yarn.
Yup, there it is. I had to dig through my stash to find more cotton yarn. I was confident that I had a ball of white cotton left but I also found a ball of Ecru. When the heck did I buy that? Stash problems.
Let me tell you how funny the subconscious is, after I finished the hat, I realized that I had a cardigan with the exact same colors draped on the back of my couch. Maybe that is the real design secret. Well, thanks, subconscious and thanks Old Navy for the cute cardigan.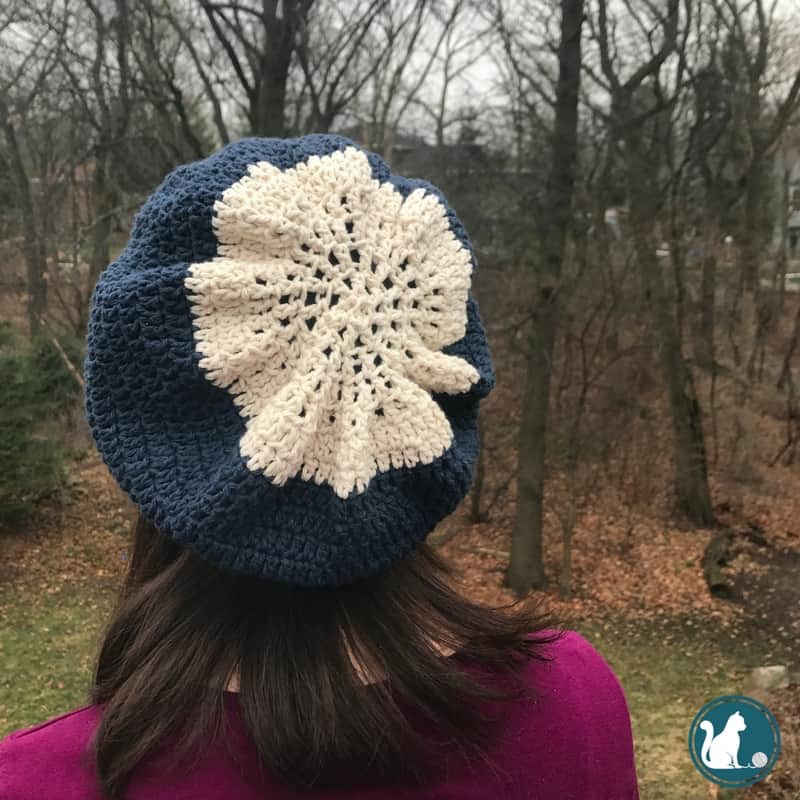 The pattern for this hat was inspired by the Beginner's Luck hat over at hopefulhoney.com. Check it out. I wanted this entire hat, besides the band, to be puff stitches but after doing a row of puff I quickly lost interest there.
If I had continued with her pattern this hat probably would have been three colors instead of just two and I wouldn't have a new pattern to share!
Materials:
Please visit my Resources page to see why I recommend these tools and to see other recommendations. (Links below lead to Amazon.)
US-Size H Crochet Hook (Clover Amour Crochet Hooks, Size H)
1 ball Lily Sugar'n Cream in Indigo (Color 1)
1 ball Lily Sugar'n Cream in Ecru (Color 2)
Abbreviations:
yo – yarn over
ch(s) – chain(s)
sc(s) – single crochet(s)
Slst – slip stitch
st – stitch
FLO – front loop only
dc(s) – double crochet(s)
Simple Slouchy Hat Pattern Instructions
Band
Ch 11
Row 1: sc in 2nd chain from hook, sc in each ch, ch 1, turn.
Row 2: sc front loop only in each stitch.
Repeat row 2 until the band reaches 20-22 inches. Do not bind off. (You can sew the band together at this point or you can wait until the end which I find to be easier.)
Hat
Round 1: Ch 1 (up from the band), turn band horizontally and sc along the long edge of the band. Join with Slst to the top of the ch 2 to form a circle. Ch 2.
Round 2-9: dc in each sc. Join with slst to top of ch 2. Ch 2
Round 10: dc in each dc. Join with slst to top of ch 2. Join color 2 with slst. Ch 2
Round 11-12: dc in each dc. Join with slst to top of ch 2. Ch 2
Round 13: *dc in first st, skip next dc, dc in next dc* repeat from * to * until end of round. Join with slst to top of ch 2.
Repeat Row 13 decreases until the center closes. (It took four rows of decreases for mine to close). Fasten off and sew in ends.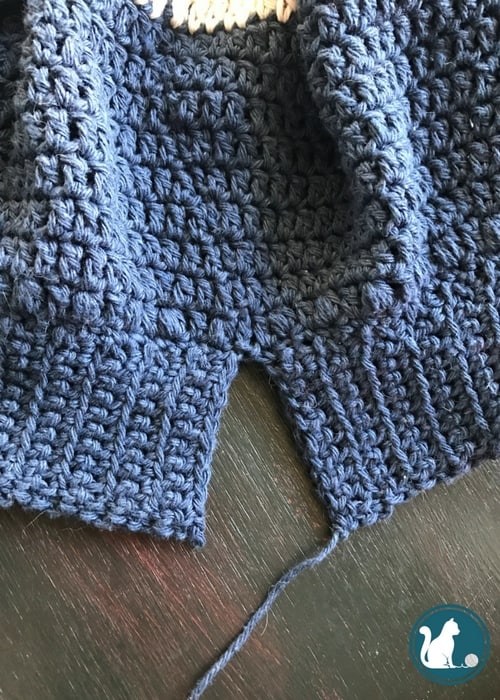 Sew band together.