Gray Skies Crochet Chevron Headband
Disclosure: This post may contain affiliate links. As an Amazon Associate, I earn from qualifying purchases. Please visit my Privacy Policy for disclosures and more information.
This crochet chevron headband pattern looks great whether made with neutrals or bold colors. If you've never tackled a project with chevrons, this is a great place to start.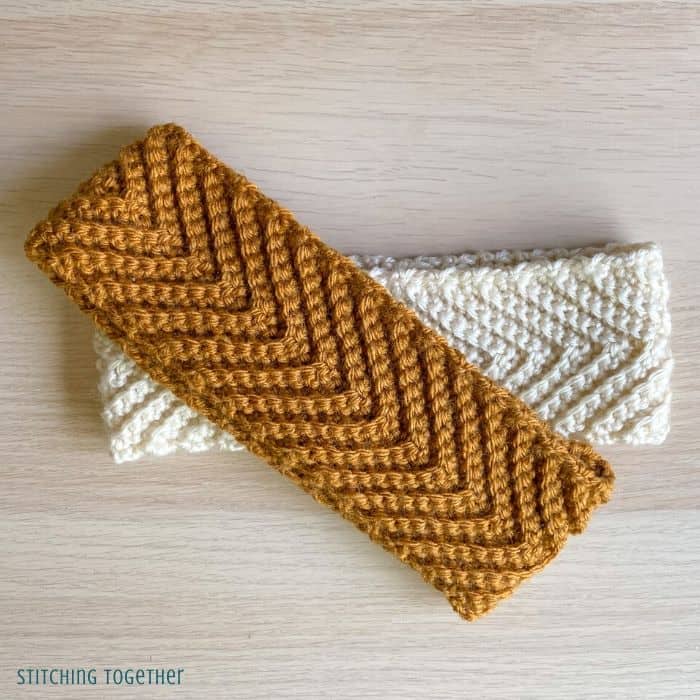 Thankfully I made my peace with sewing in ends before I started the Gray Skies Chevron Headband! (No idea what I am talking about? Check out the Chevron Infinity Scarf.)
I had to Skype into a two-hour training session which gave me more than enough time to work in the ends. The training was given by one of my coworkers in London. Somehow listening to a dry training on design control becomes a little less yawn inspiring when accompanied by a good accent.
I love accents and love listening for little differences in the way people talk.  When we moved down to New Mexico a number of years ago, I tried to convince my husband that we should have British accents. We didn't know many people except my extended family and it seemed like a great time to try something new.
Well, his idea and my idea of the fun in trying something new are slightly different and I wasn't brave enough to go it alone. 
A couple of years after we moved, the company I work for was purchased by a company based in London. Can you imagine how awkward that first call would have been?
Oi! Where you from?
….um, Minneapolis….
So awkward.
Well, here is a pattern for a chevron headband that matches the Chevron Infinity Scarf which is, hopefully, not awkward.  If you made the scarf, you should have enough yarn leftover to whip up this winter must-have.  Enjoy and stay warm!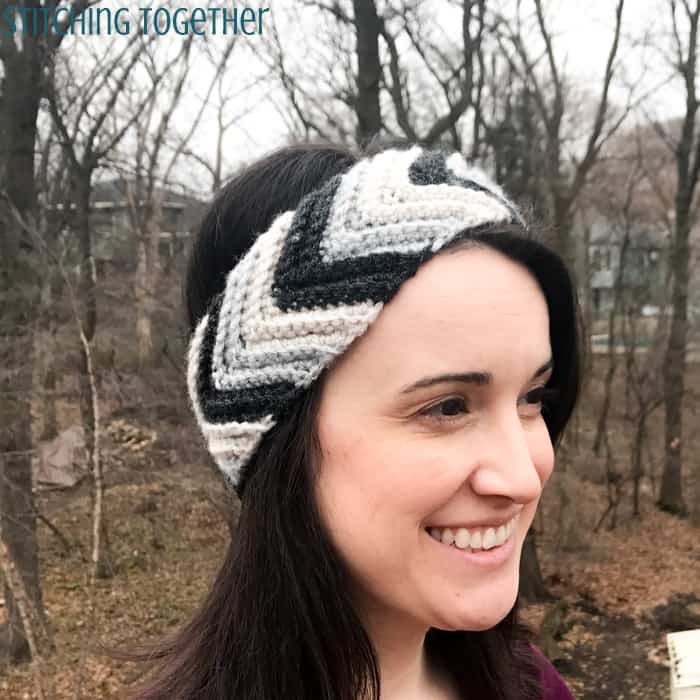 How to make the Gray Skies Chevron Crochet Headband
The headband is basically easy! It's first worked back and forth in rows to make a long strip which looks like a bunch of "v"s stacked on top of each other. Then it's sewn together by matching the point of one end with the "v" of the other end.
Yarn and colors for the Headband
The original headband was made as a striped chevron with Vanna's Choice Yarn from Lion Brand.
I have also made it in a solid version with Vanna's Choice and with another similar worsted weight yarn.
I love stripes and I love chevrons and a combo of them is just delightful BUT I actually like the solidly colored versions of the headband better. Maybe it seems a bit less busy? I mean, there is a lot going on in one little headband.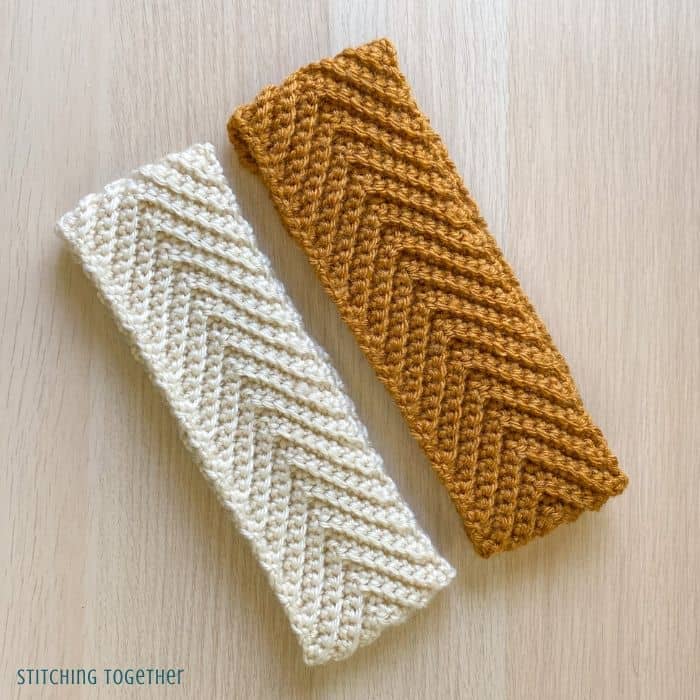 If you do make the striped version, be sure to check your gauge and the ear warmer size chart before you get started. If it ends up that you will need a different number of rows than 63, you'll want to adjust the striping pattern accordingly.
Right now, each strip of color is made up of 3 rows and it takes 9 rows total to complete the striping pattern.
If you need a slightly smaller headband, you could do 60 rows and then you have the option to either do 2 or 4 rows a stripe.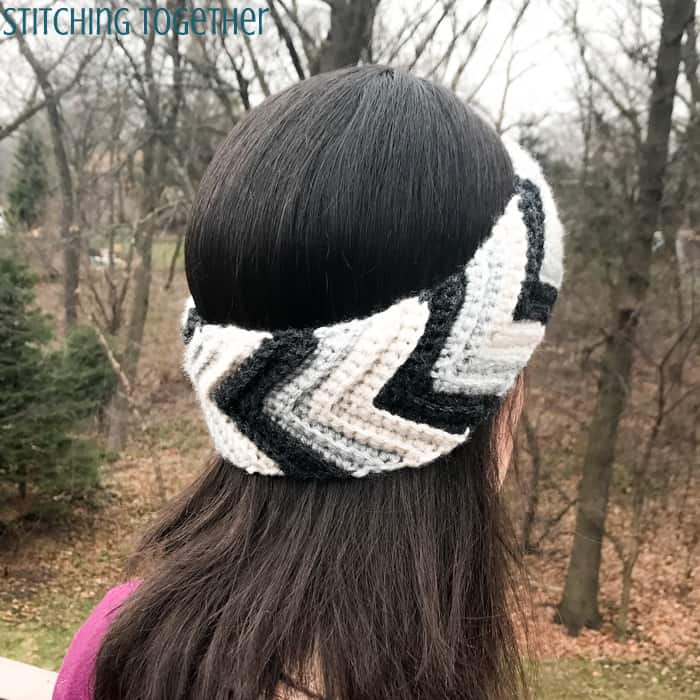 Stitches for the Chevron Headband
Chaining, single crochet, skipping stitches and working in the back loop are the main skills you need to know to make this ear warmer.
The chevron shape is made by skipping 2 stitches in the middle of each row and adding a stitch to each end.
Since the headband isn't super wide, it is easy to count – 9 stitches on one side, skip 2, 9 stitches on the other side.
You may find it helpful to mark the stitches you are skipping with stitch markers so you don't have to keep counting.
All of the single crochets are worked in the back loop only expect the very last stitch of each row is worked through both loops of the stitch below. I found that doing it this way, gave the ends of each row a more polished look.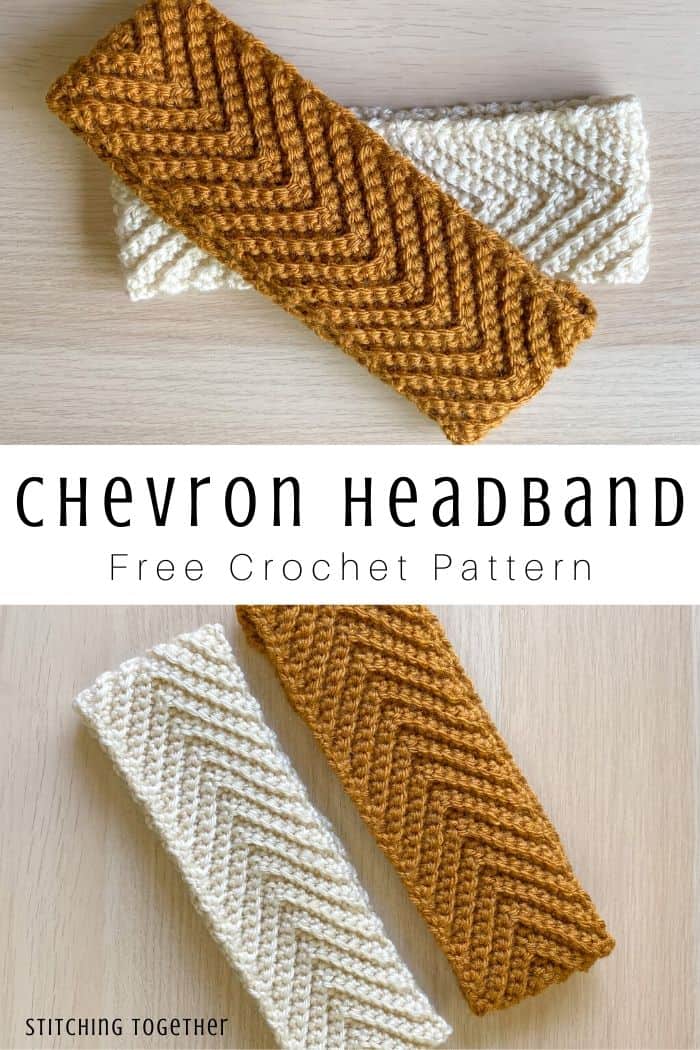 Gray Skies Crochet Chevron Headband Pattern
Materials:
Please visit my Resources page to see why I recommend these tools and to see other recommendations.
US-Size I/9 Crochet Hook (Amazon carries my favorite hooks!)
Vanna's Choice Yarn – Category 4 Worsted Weight Yarn ( 170 yds/ 3.5oz)
1.3 oz total or 0.43 oz of each:
Silver Heather
Linen
Dark Heather Gray
Yarn Needle (These are my FAVORITE!)
Abbreviations:
yo: yarn over
ch(s): chain(s)
sc(s): single crochet(s)
dc(s): double crochet(s)
st(s): stitch(es)
Gauge: 3″ x 4″ = 18 scs by 13 rows
Finished Size: approximately 3″ wide by 20″ around
Notes:
For the 2 single crochets in last stitch, work the 1st single crochet in the back loop and the 2nd single crochet through both loops.
If you'd like to adjust the width add or subtract a multiple of 2 stitches. To adjust the length around add or subtract rows. If you are making the striped version, you may need to adjust the striping pattern for every 2 rows or every 4 rows depending on the total number of rows you'd like to have at the end.
Check out the ear warmer size chart to get an idea of how long around your headband should be.
Gray Skies Chevron Headband Pattern Instruction:
Ch 21, turn
Row 1: sc in 2nd ch from hook, sc in each of the next 8 chs, skip next 2 chs, sc in each of next 9 chs, turn. (18)
Row 2 -63: ch 1, Working in back loops; 2 sc in first st, sc in each of the next 7 sts, skip next 2 sts, sc in each of the next 7 sts, 2 scs in last st (see Notes), turn. (18-maintain 9 stitches on each side of the v.)
Pattern Color Changes:
Chain and work the first 2 rows in Linen. From there alternate colors every three rows ending with one row of linen.
Join ends together, ensure that the point of the chevron is lined up with the indent.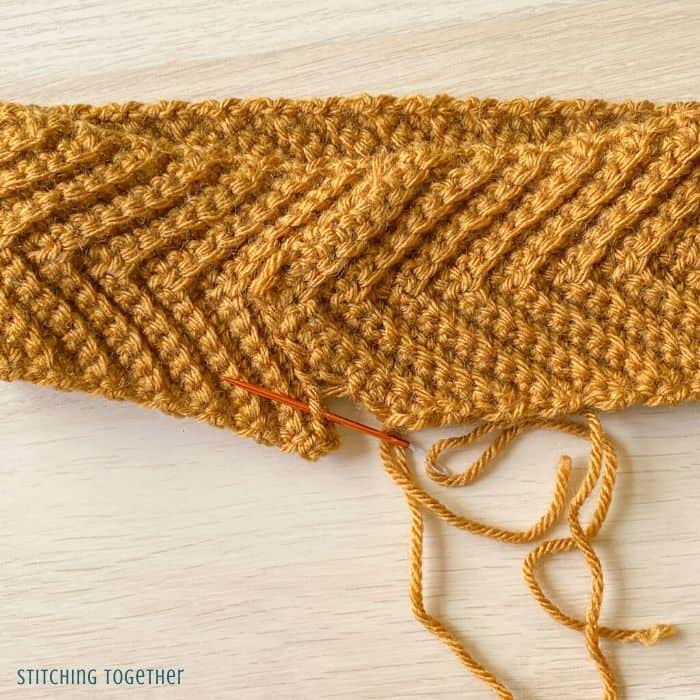 If you like ready-formatted printable PDFs of your patterns, you can get this pattern in the following places:
Will you share pictures of your finished projects?
Patterns you may also like: