Disclosure: This post may contain affiliate links. As an Amazon Associate, I earn from qualifying purchases. Please visit my Privacy Policy for disclosures and more information.
Looking for a last minute gift? This Moss Stitch Ear Warmer whips up super quickly and can easily be made from yarn you have on hand.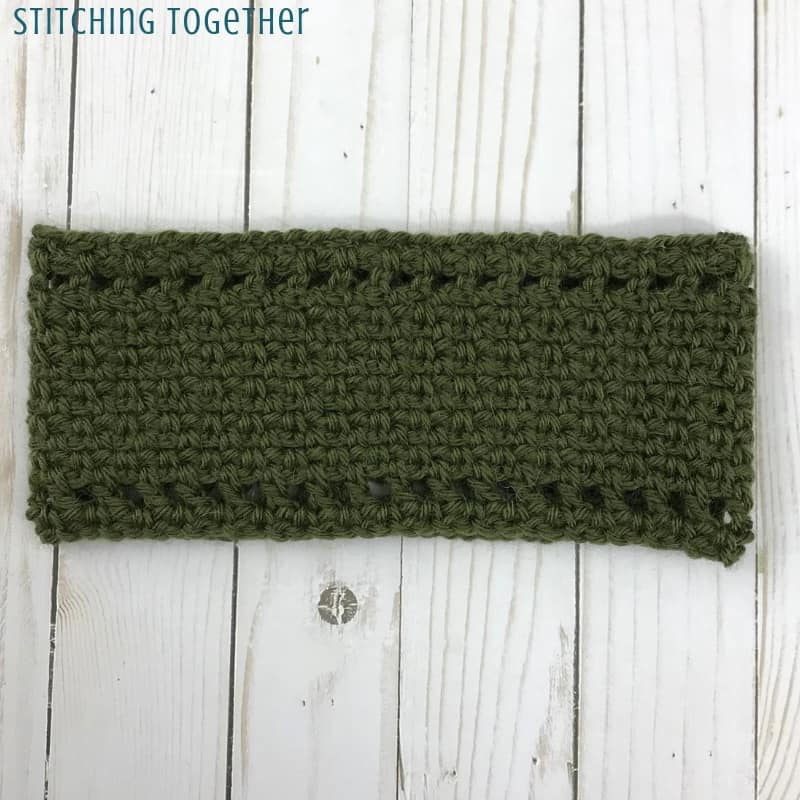 My middle kiddo has been doing the same preschool program this year that big bro did last year. It is an amazing program and her teachers are the best, but the whole process is just….. exhausting!
I may not mind as much if there was a long preschool drop off line, we could stay in our warm van, and I could crochet while we waited, but that isn't the case! All four of us have to head into the building, wade through a sea of parents and preschoolers while I try to keep the toddler from destroying everything in the classroom as he inevitably sneaks in while I say goodbye to my little gal pal.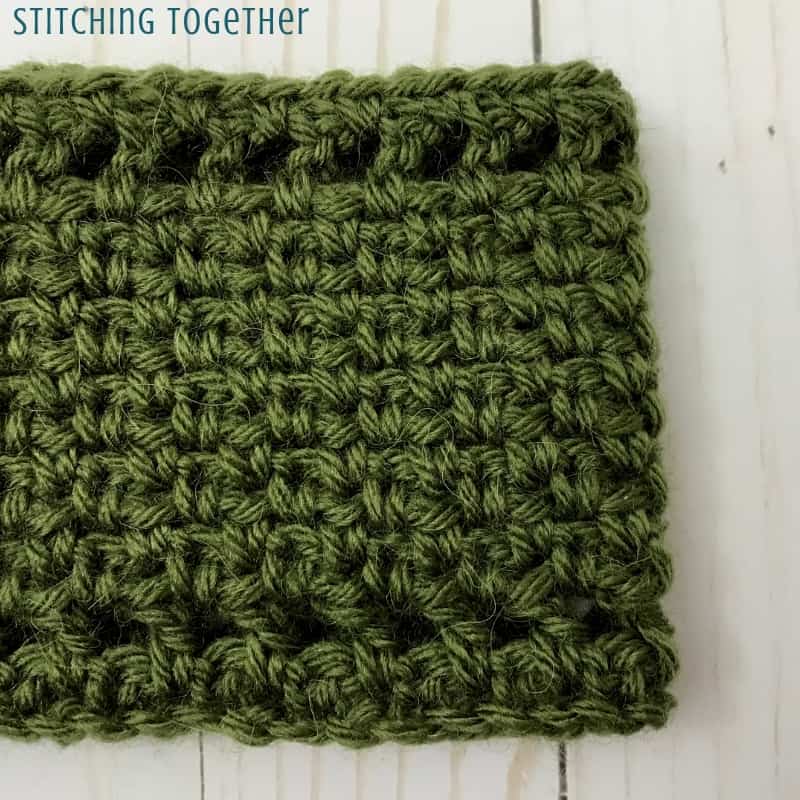 Not to mention that leaving the house in the Minnesota winter is not for the faint of heart and it isn't the cold that's the bother. Well, not the cold directly, but all the accessories these little people need when it is cold! (All those accessories I love to make but don't necessarily love to keep track of!)
This year we started homeschooling my oldest… KINDERGARTEN… and we LOVE it. The process of watching him learn and latch onto new information is absolutely amazing. This first half of the year has gotten me even more excited for the years ahead and I want to start more preschool activities with my daughter.
So, after this week, we've decided we'll have a preschool drop out, which will surely haunt her the rest of her life. (As my toddler says… I joking.) Normally I'd save handmade gifts for the end of the year, but we won't be around!
All that to say, I needed quick teacher gifts since I didn't plan on making anything for them until the spring. Last year, I gave their main preschool teacher the Moss Stitch Scarf, so I thought a matching ear warmer would be fun. I had enough yarn left over to make this moss stitch ear warmer in the same style as the scarf.
If you haven't tried the moss stitch before, be sure to check out the tutorial to learn how to crochet the moss stitch.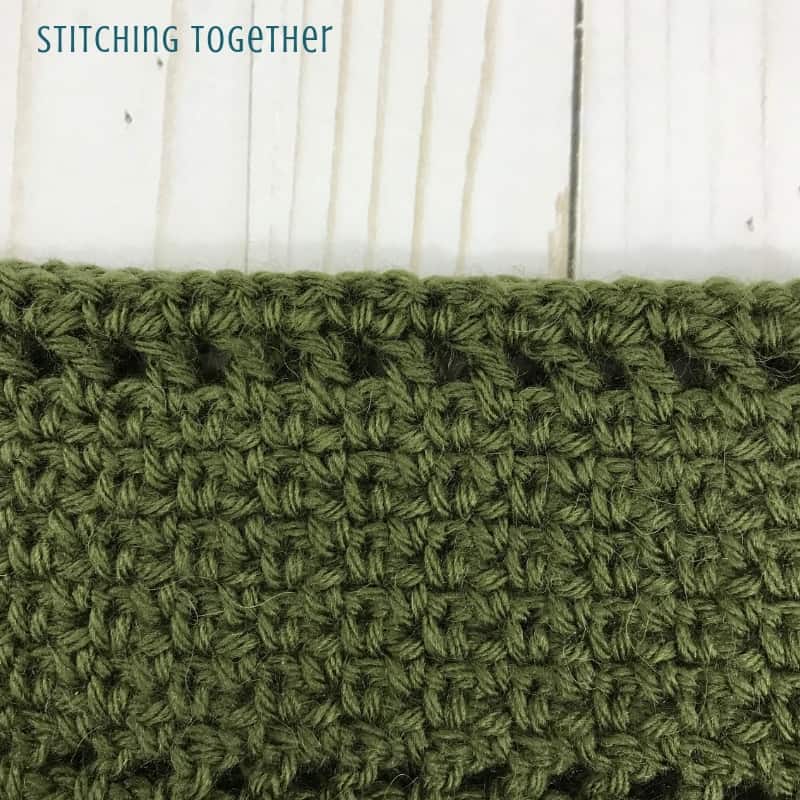 Since I didn't want the more open stitches right down the middle, leaving the ears exposed to the cold, those open rows were moved to the outside, while the center is solid moss stitch. I love how it matches the scarf, but isn't the exact same design.
You'll work this ear warmer in a flat rectangle and sew it together at the end to form a circle. It works up so quickly, and since you are working it in rows, it is even easier to adjust the size. I sized these for a small adult, but you can easily make them any size you'd like.
Use the size chart for ear warmers as a guide. Make sure keep the starting chain an even number as you adjust to make a different sized ear warmer.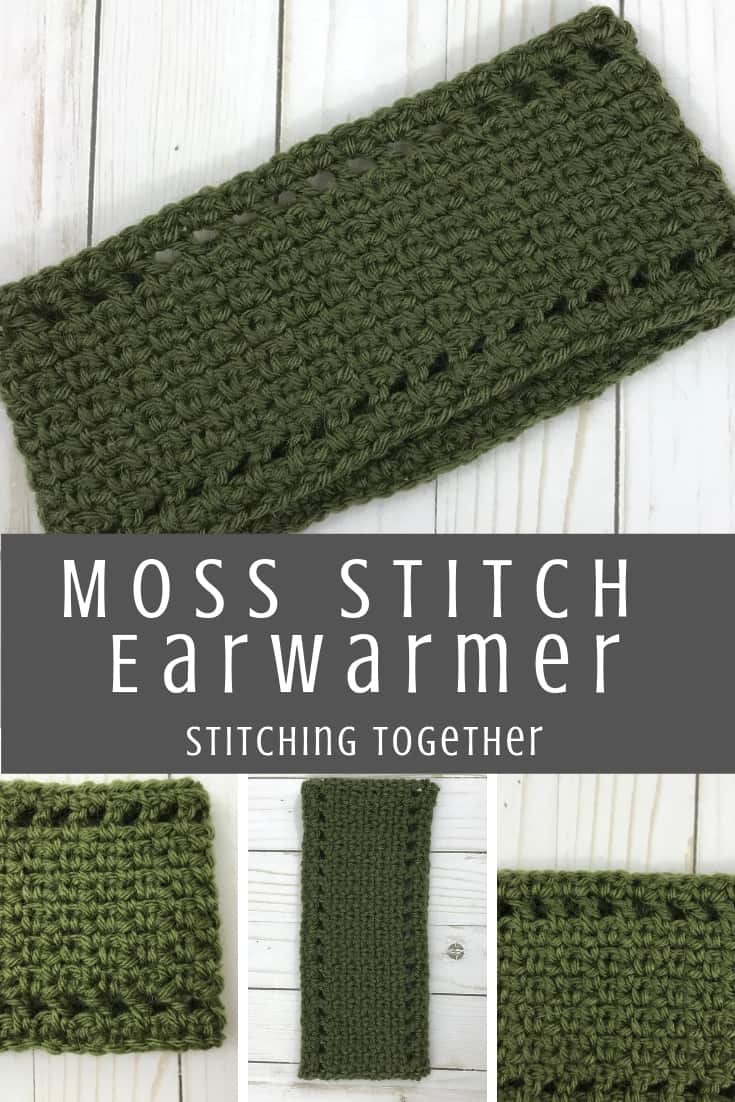 Moss Stitch Ear Warmer
Materials for the Moss Stitch Crochet Ear Warmer:
Yarn: # 4 Medium, 3.5oz/207 yds
Abbreviations:
ch:  chain
sc(s): single crochet(s)
ch-1 sp: chain 1 space
tc: turning chain
dc(s): double crochet(s)
Finished Size: approx 19.5″ around by 4″ wide
Gauge: 2″ by 4″ in the moss stitch = 8 rows by 14 sts
Crochet Moss Stitch Ear Warmer Pattern Instructions:
Ch 70
R1: sc in 2nd ch from hook, *ch 1, sk 1 ch, sc; repeat from *to end of row, turn.
R2: ch 2, dc in ch-1 sp, ch 1; repeat from *to end of row, dc in tc, turn.
R3: ch 1, *sc in ch-1 sp, ch 1; repeat from *to end of row, sc in tc, turn.
R4-R12: Repeat row 3
R13: Repeat row 2
R14: Repeat row 3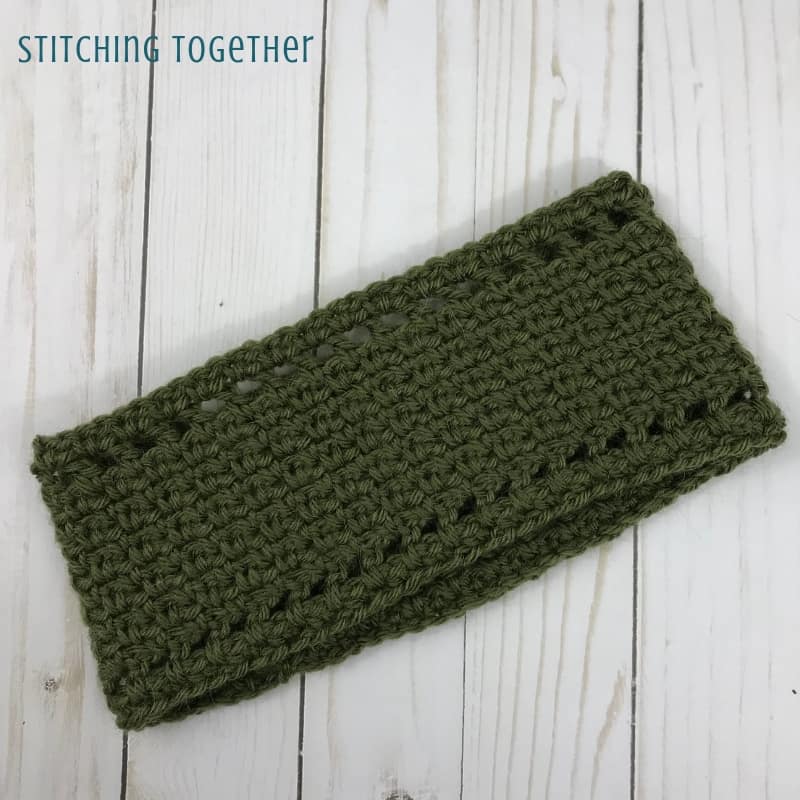 Please continue to support free patterns by saving and sharing this pattern!