Disclosure: This post may contain affiliate links. As an Amazon Associate, I earn from qualifying purchases. Please visit my Privacy Policy for disclosures and more information.
Below you will find a free crochet pattern for the Coco Crochet Slouchy Hat.  A combination of simple stitches gives the hat great texture and a unique design. The hat is first constructed as a rectangle – there is no working in the round. If you have been wanting to crochet a slouchy hat, this is a great place to start!
–You can purchase an ad-free PDF printable of this pattern here–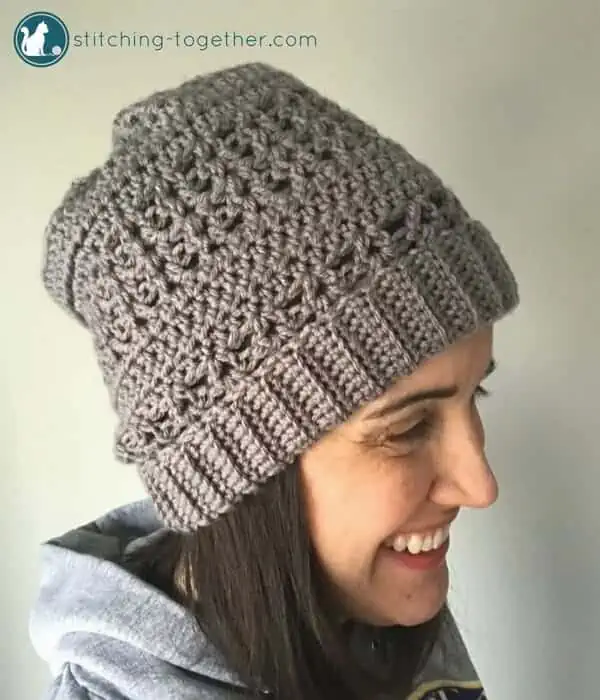 Do you know what the great thing about making your own stuff is?
It's randomly glancing at the lost and found table at bible study, noticing an adorable crochet slouchy hat, and realizing, without a doubt, it's yours.
Whelp, that explains why I couldn't find it.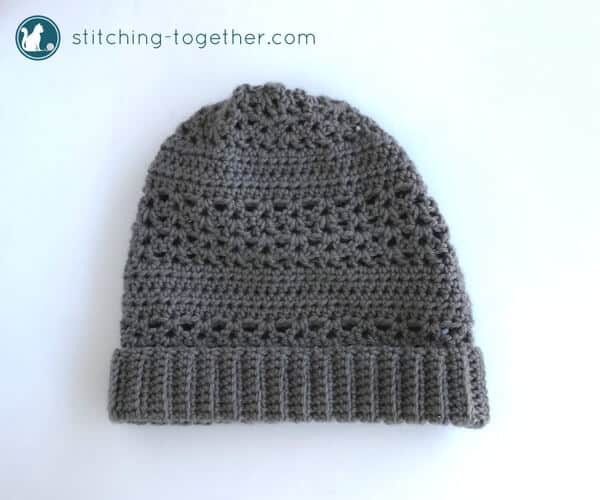 How fun is it to have or give something made from your own hands and a ball of string? Hats are excellent quick gifts to make. (Don't forget to make one for yourself too!)
This hat does have a lot of stretch, so you can use the ear warmer size chart as a guide but you may want to use the smaller measurements in your chosen range if you are using the same yarn.
Don't forget to save the Coco Crochet Slouchy Hat on Pinterest

The Coco Series
The idea for this hat came from working on the Coco series. Sometimes I get stuck on a stitch or a stitch combo and I just can't move past it until I've made all the things with it! You'll want to check out the other patterns in the Coco Series as they have the same easy stitches:
Crochet Cowl
Infinity Scarf
Toddler Headband
Throw
The open v-stitches with half double crochets give this hat its unique look. Since there are more open stitches, it won't be a super warm winter hat or stand up to strong wind but it's perfect for cooler weather like late fall and early spring.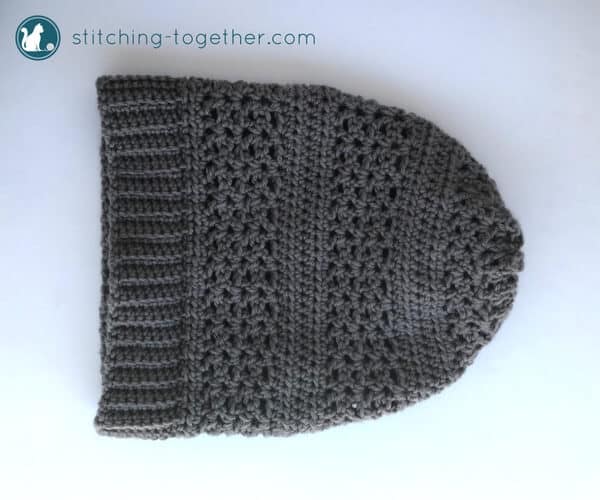 (Isn't is ridiculous that even though the hat is huge on him it still looks so cute?)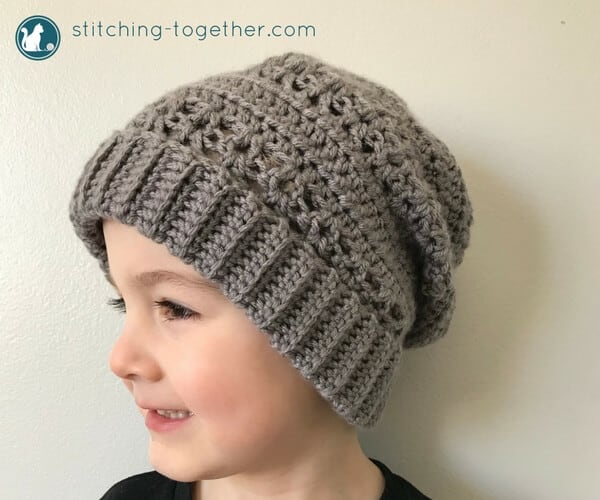 Coco Crochet Slouchy Hat Pattern
Purchase an ad-free, printable PDF of this pattern here
Skill Level:
Easy
Materials:
Abbreviations:
ch(s):  chain(s)
FHDC: Foundation half double crochet
hdc(s): half double crochet
dc(s):  double crochet(s)
st(s): stitch(es)
sk: skip
sp: space
Gauge: 
4" x 4" = 16 sts (open v-stitch) by 8 rows
Finished Size: 
Completed rectangle, before folding and sewing, measures approximately 18" x 11"
Note:

The hat is first worked as a rectangle. Once the rectangle is complete, it is folded in half and sewn together.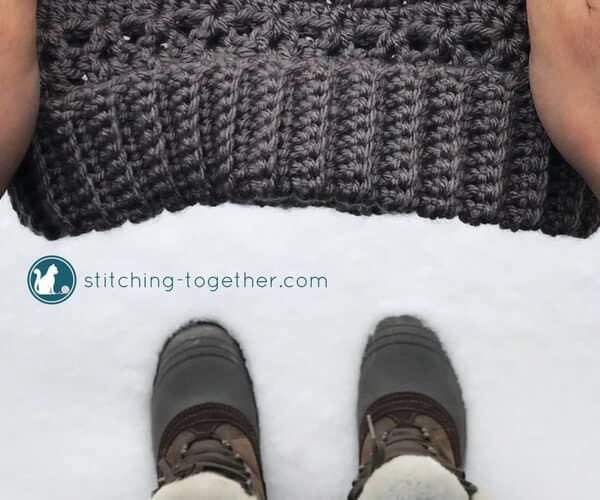 Instructions:
Ch 68
Row 1: hdc in the 2nd ch from the hook and in each st across, turn. (67)
(Alternatively FHDC 67, turn.)
Row 2: ch 3 (counts as first dc and ch1), dc in st at the base of the ch 3, *sk 2 sts, (dc, ch 1, dc) in the next st; repeat from * to end of row, turn
Row 3-5: ch 3 (counts as first dc and ch 1), dc in ch 1 sp, *(dc, ch 1, dc) in next ch 1 sp; repeat from * to end of row, turn
Rows 6-9: ch 1, hdc in each st, turn (67)
Repeat rows 2-9 one time
Repeat rows 2-6 one time
Do not fasten off – continue to complete the ribbing.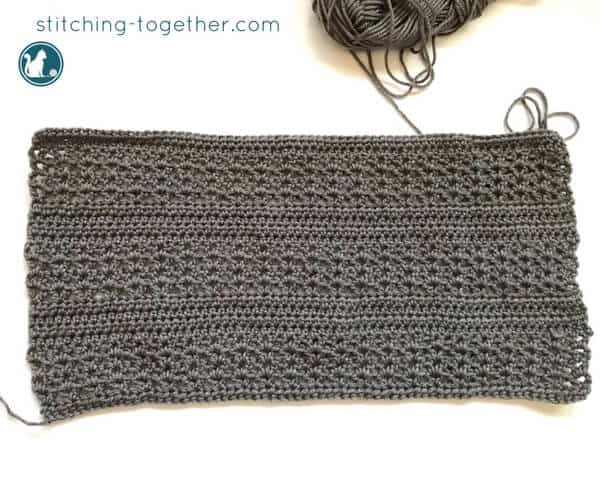 Ribbing:
Ch 10
Row 1: ch 1, sc in second ch from hook, sc in each ch. Join with slst to the 1st hdc of the main body of the hat. Slst to the next hdc (functions as a ch 1) Turn
Row 2:  sc in the BL of each sc. Turn. 
Row 3: ch 1, sc in BL each of sc. Join with slst to main body. Slst up to the next hdc in the main body (functions as a ch 1). Turn
Repeat rows 2 and 3 working in the back loops across the width of the hat. Fasten off leaving a long tail.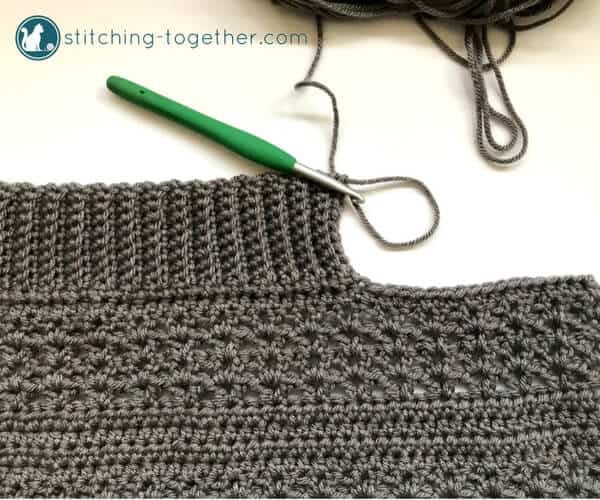 Fold the rectangle in half and sew the seam together to form a tube.  To close the top, weave yarn through the hdcs at the top of the hat. Pull gently as you weave through the hdcs to cinch to top of the hat closed.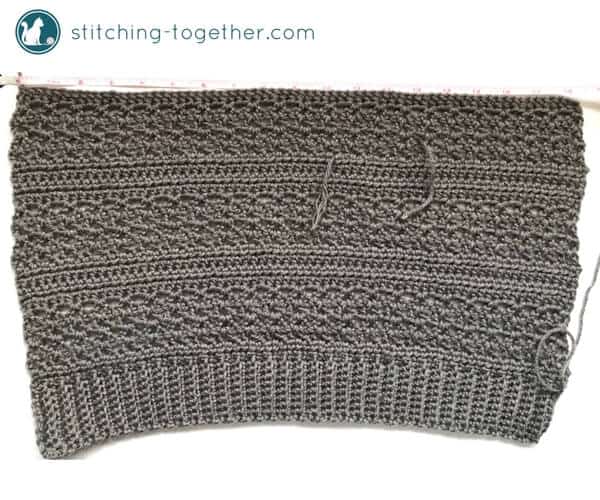 Weave in ends.
Please tag me on social using #stitchingtog if you make this. I love seeing your finished patterns!