Disclosure: This post may contain affiliate links. Please visit my About page for disclosures, Privacy Policy and more information.
Below you will find the full free crochet pattern for this adorable crochet toddler headband. The size is easily adjustable by adding or subtracting from the starting row. Don't forget to pin it!

Don't you just love being able to make cute yet practical items? There is so much satisfaction is seeing something you made being loved and used.
Living in Minnesota provides plenty of opportunity to make and use warm winter wear. I enjoy seeing my kids wear items that I have made and they love having things made for them. It is a win-win!
Headbands are so fun because they work up quickly and generally only take a little bit of yarn. In fact, I was able to use what I had left over from the Coco Crochet Cowl to make the Coco Crochet Toddler Headband.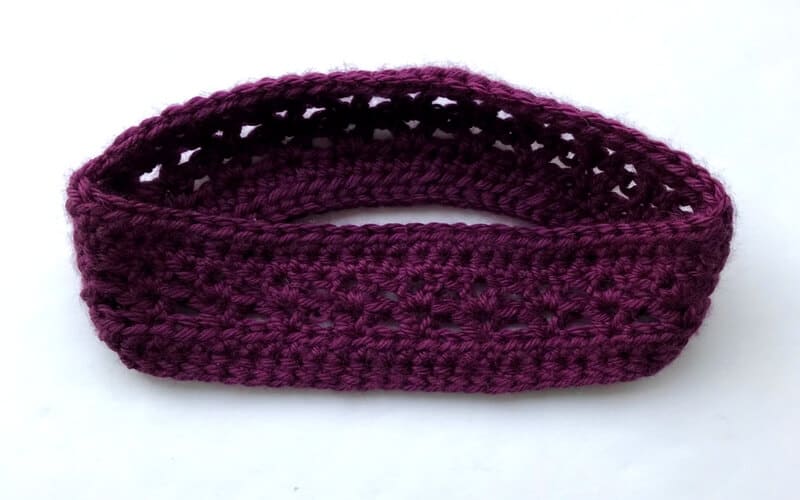 Right now, all 3 of my kids, (18 mo, 3.5 yrs, and 5 yrs) all have roughly the same head size (is that normal?), so this headband fits all three of them, but the boys aren't big fans and it is a tiny bit big on the baby since the toddler has worn it and stretched it to a proper fit for her head.
Maybe I need to design manly headbands for the boys.  I'll have to think on that….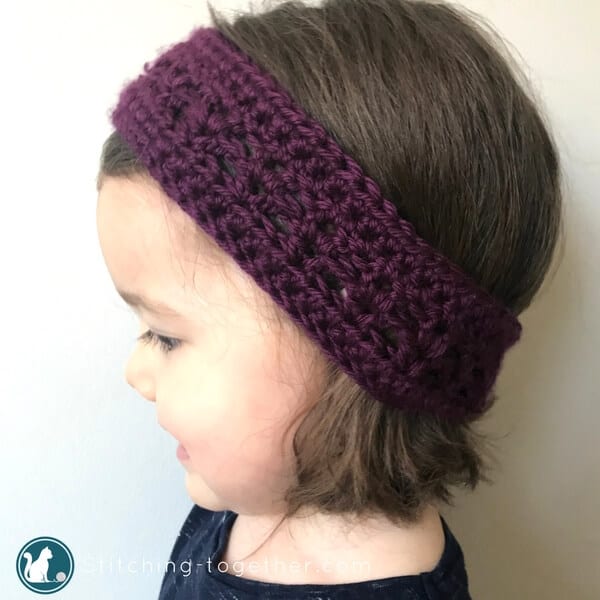 Coco Crochet Toddler Headband
Purchase an ad-free PDF of this pattern
Materials
Red Heart Soft (Category 4 Medium Weight 5oz/141g 256yd/234m)
       0.8 oz Red Heart Soft in Grape
I/9, 5.5 mm crochet Hook (see my favorite hooks on Amazon)
Tapestry Needle
Gauge: 
4″ = 14 hdc 
Finished size:
2.75" wide by 18" around
Abbreviations
hdc: half double crochet
FDHC: foundation half double crochet
ch:  chain
st: stitch
dc: double crochet
sk: skip
sp: space
Notes
The size of the headband can easily be adjusted by adding or subtracting from the foundation row just keep the foundation row as a multiple of 3 +1 or the starting chain as a multiple of 3 +2.
You will want to make the length of the headband an inch or 2 shorter than the measured head circumference to allow for stretch.
This headband does not have a lot of stretch so you'll want to use the larger sizes in the range from the headband size chart as a guide for adjusting the size of the headband.

Instructions for the Coco Crochet Toddler Headband
ch 62
Row 1: hdc in the 2nd ch from the hook and in each st across, turn. (61)
(Alternatively, FHDC 61, turn.)
Row 2:  ch 1, hdc in each st (61)
Row 3: ch 3, dc in st at the base of the ch 3, *sk 2 sts, (dc, ch 1, dc) in next st, repeat from * to end of row, turn.
Row 4: ch 3, dc in 1st ch-1 sp, *(dc, ch 1, dc) in each ch 1 sp to end of row, turn.
Row 5: ch 1, hdc in 1st ch-1 sp, hdc in each st and ch-1 sp to end of row, turn. (61)
Row 6: ch 1, hdc in each st (61)
Sew/seam short ends together to form a circle.  Fasten off and weave in ends.
When you finish your headband, I'd love it if you would tag me on social and use #stitchingtog so I can see your pictures!
You can find me on Instagram here and on Facebook here. Head on over to my social profiles and give me a follow!
Check out these other great toddler crochet patterns available for FREE!
Softer Than Suede Crochet Toddler Dress
Toddler Cocoon Shrug (uses similar stitches as this headband!)
North Shore Hat
Here are the other Free Patterns in the Coco Series
Coco Crochet Cowl
Coco Crochet Infinity Scarf
Coco Crochet Slouch
Coco Crochet Throw
Use the image below to pin it