Love This Chunky Yarn Crochet Scarf Pattern
Disclosure: This post may contain affiliate links. As an Amazon Associate, I earn from qualifying purchases. Please visit my Privacy Policy for disclosures and more information.
You'll love this chunky yarn crochet scarf pattern and have the perfect set with the chunky hat pattern released last week. The texture, easy stitches, and of course the soft squishiness of this chunky infinity scarf, will make it a new favorite!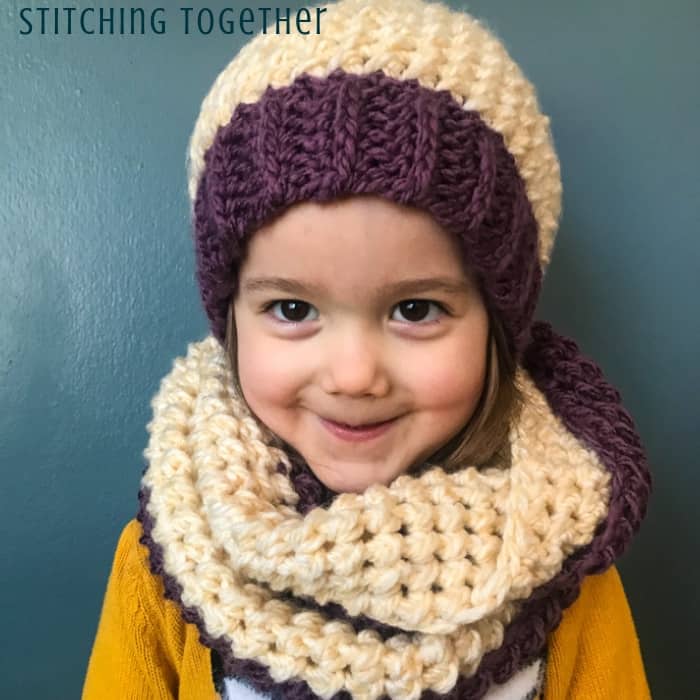 Seriously, does it get much cuter than a kiddo in a matching scarf and hat set? I don't love matching sets for myself but for kids, YES. It just adds an extra layer of cuteness to them and makes going outside a bit easier since we know exactly what we are looking for.
Related: North Shore Child Crochet Scarf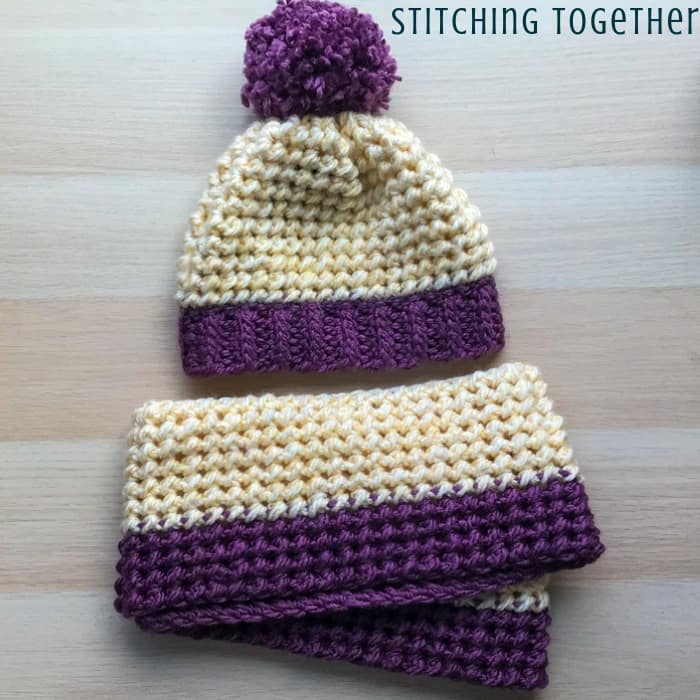 Why is it so hard to keep track of kid stuff? It seems like no matter how organized I am, they manage to leave their stuff all over the place without me noticing.
My oldest has a super nice pair of winter gloves for playing in the snow, but lost one of them somewhere at home. (Like, really?) So this winter he had to wear one good glove and layer up those cheap, stretchy fabric gloves on the other hand when he played outside. (Yes, I refused to buy him more gloves because I knew it was somewhere at home and I was hoping he'd learn the importance of keep track of his stuff!)
[disclaim]Don't miss the Top Crochet and Knitting Supplies
deals on Amazon [/disclaim]
Well, hubby finally found the glove in the abyss of our minivan right as the snow is melting and we are ready for spring. (Better than finding right as I bought a new pair which I was sure would happen.) At least we have it for next year or if we happen to get an April blizzard like we did last year!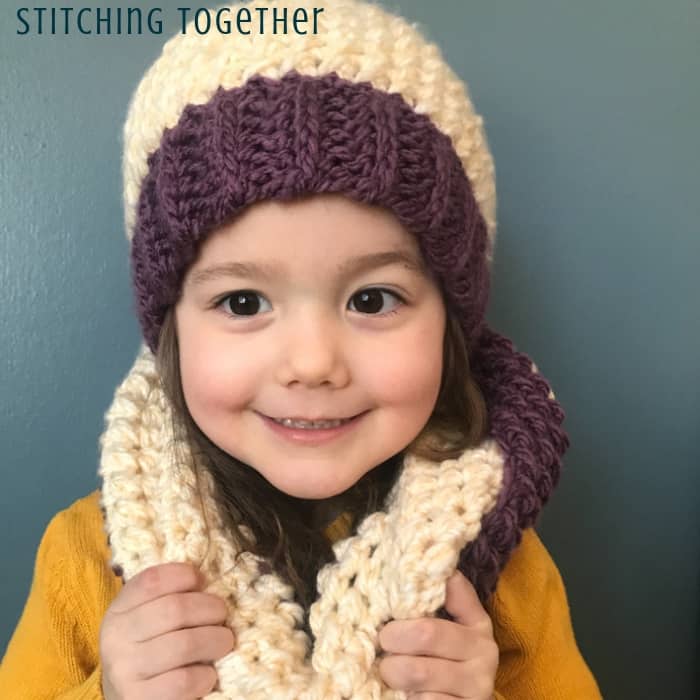 Chunky Crochet Scarf Sizes
The crochet scarf pattern is written for a child's size, but there are instructions in the notes for adjusting the size for an adult scarf. If you'd like to adjust to a different size than the instructions provided, just change the length of the chain.
The child's scarf was made for my 4 year old who is on the smaller side of 4. It sits loosely on her shoulders so I anticipate she'll be able to wear it for a number of years. I did manage to loop it around my own neck but promptly felt as if it was trying to choke me. Those extra 8 inches for an adult size infinity scarf really make a difference!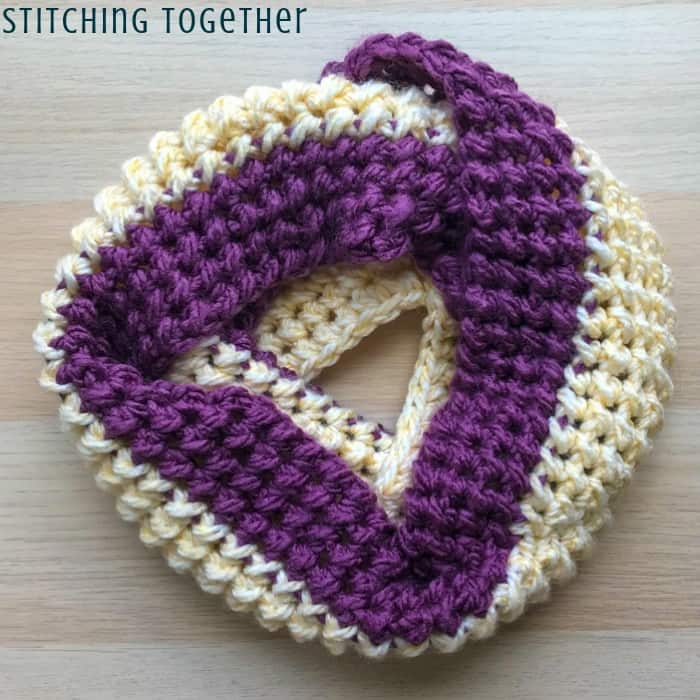 As I mentioned in the matching chunky hat, both the colors used in the kid version of the hat and in this scarf have been discontinued, but there are plenty of other color options that would be lovely. The yarn is on the thicker side of the #5 bulky category so keep that in mind if you substitute it with a different chunky yarn.
Save the crochet chunky scarf on Pinterest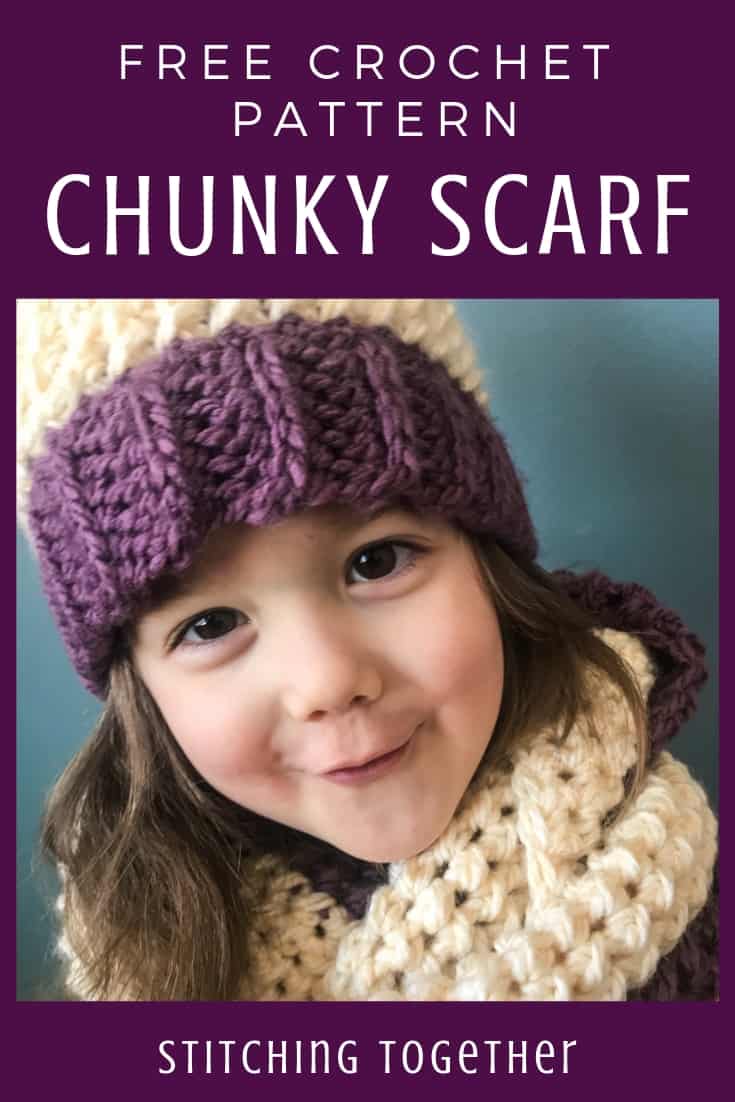 Love This Chunky Yarn Crochet Scarf Pattern
Skill Level: Easy
Materials:
I love This Chunky Yarn (3.5 oz/109 yds)
French Lilac
Heathered Ivory
Size K/6.5mm Crochet Hook (See the size K listing on Amazon)
Large Eye Needle (These needles are my favorite and you can get them on Amazon!)
Size M/9.0 mm Crochet Hook or other size (optional for the starting chain)
Gauge:
4″ x 4″ = 7 mhdc by 8 rows
Finished Size:
6″ tall by 50″ around
Abbreviations:
ch(s): chain(s)
hdc(s): half double crochet
sl st(s): slip stitch(es)
st(s): stitch(es)
mhdc(s): modified half double crochet(s)
MC: Main Color
CC: Contrasting Color
Notes:
To keep the starting chain loose and have enough room for the modified half double crochet stitches, you may want to use a larger hook size when chaining.
To make an adult sized crochet chunky infinity scarf, chain 102. This will give you a scarf that is approximately 58″ around. To make it wider, approximately 8″ wide, add two more rows to each color block.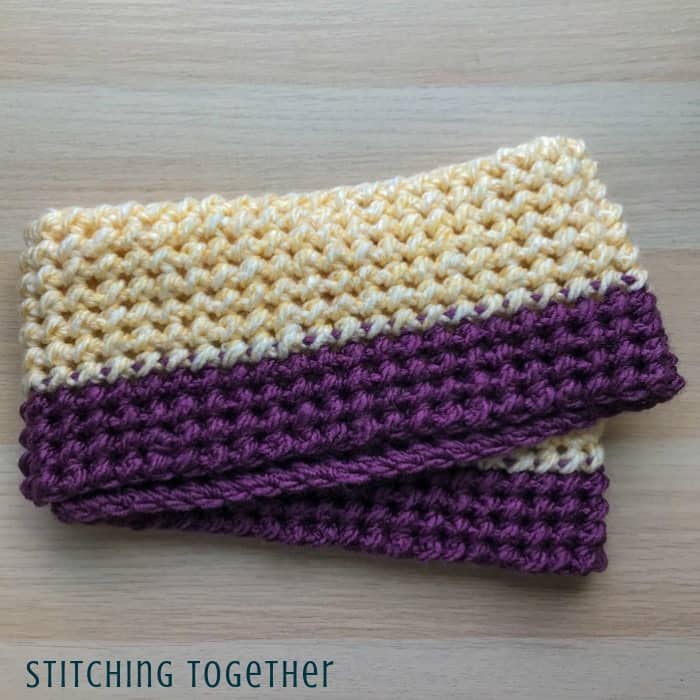 Special Stitch Instructions:
To see step by step photos of the modified half double crochet check the stitch instructions in the Striped Dishcloth.
Modified half double crochet (mhdc): insert hook into the same stitch of the last completed stitch, pull up a loop, yo and insert hook into the next stitch pull up a loop, yo and pull through all four loops on the hook.
Chunky Scarf Pattern Instructions
with MC ch 88 (With larger hook), join to first ch with a slip stitch to form a loop. Be careful not to twist the ch.
Row 1: ch 1, hdc, mhdc in each st around, join with sl st to the first hdc
Row 3-4: repeat row 1
Row 5-11: with CC repeat row 1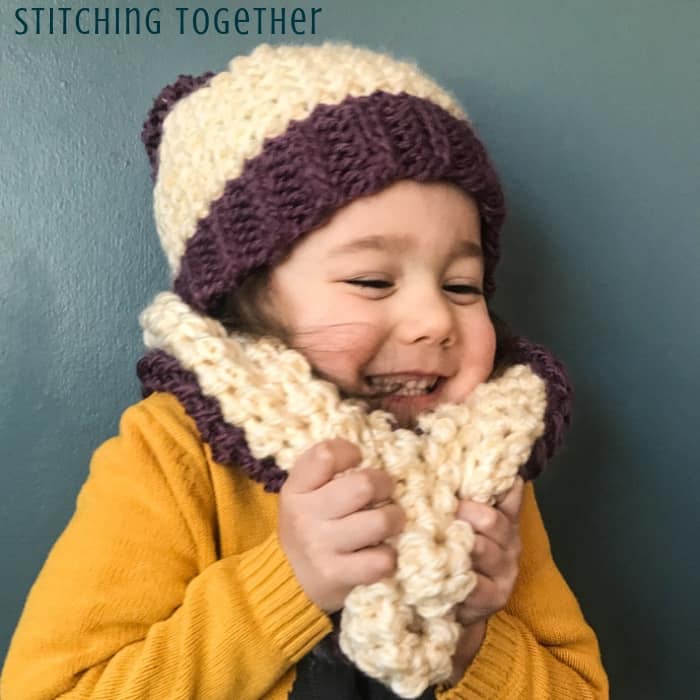 Would you share pics of your Crochet Chunky Hat? You can do that in several ways: