Striped Half Double Crochet Dishcloth Pattern
Disclosure: This post may contain affiliate links. As an Amazon Associate, I earn from qualifying purchases. Please visit my Privacy Policy for disclosures and more information.
You've come to the right place to find a gorgeous textured crochet dishcloth pattern! You'll find the free pattern below, or you can purchase a printable, ad-free PDF here. Don't forget to save the Striped Half Double Crochet Dishcloth pattern on Pinterest!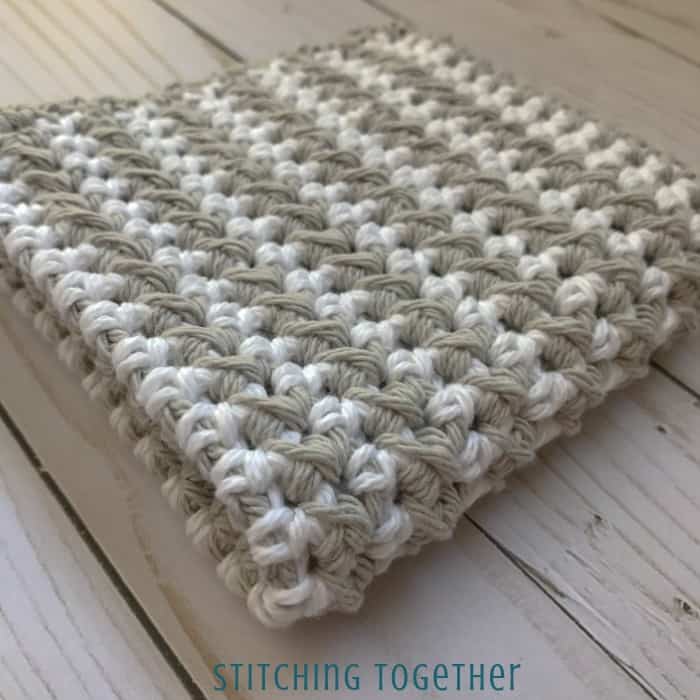 Sometime around Christmas I was standing at my kitchen sink, washing my hands when I noticed that the hand soap was low… again… With 3 little kids, thankfully only one still in diapers, there is A LOT of hand washing that happens in our house. It seems like we are constantly refilling bottles of soap!
As I continued to wash my hands I started thinking how nice it would be to have a larger bottle for the soap so we didn't have to refill it so often.
Do you have the same special ability that I have of making things that shouldn't be complicated, incredibly complicated in your brain?
An argument ensued, all in my mind of course, that spending money to buy a new soap bottle would be a waste since we already have a perfectly good one. Filling up a bottle of soap is not a big deal.
Then I argued that certainly I could find a useful spot for the current bottle or just save it in case another one broke. And really, would it be a bad thing to spend money on? I mean, it's not like we are talking thousands of dollars here.
I'll spare you from the bore of reading anymore of my internal argument, but does anyone else do this? Perpetual arguments with yourself in your head over seemingly insignificant things?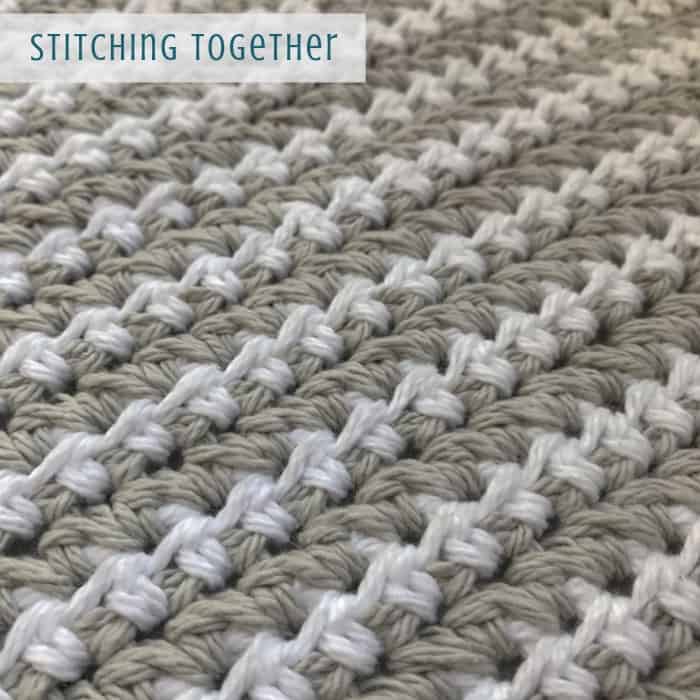 Well the whole point of that story, which seems a bit pointless is to set the stage for what happened next.
The following week, at bible study, one of the sweet gals in my group handed me a gift bag at the end of our group time.
I didn't have a chance to open it until I got home and when I pulled out the card and gift, tears immediately welled in my eyes.
It was a large bottle of hand soap.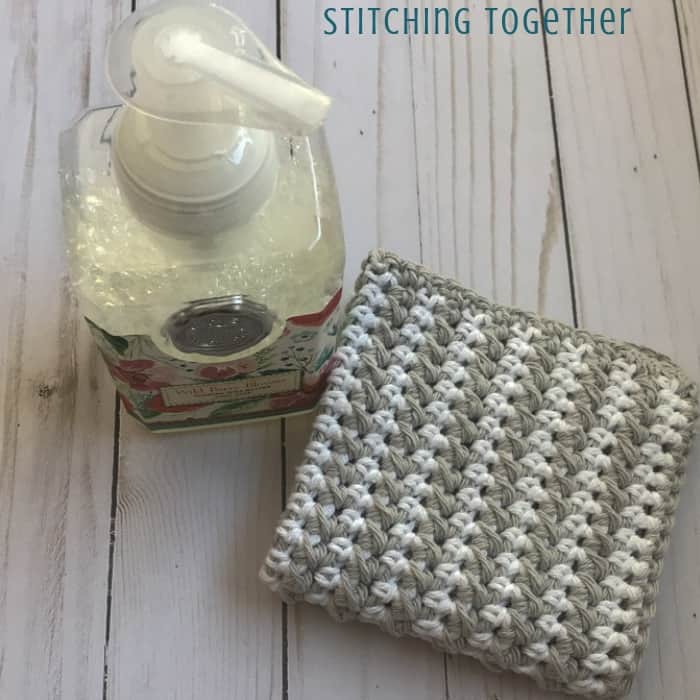 No one else knew about my soap desire – I hadn't even mentioned it to my husband as a passing comment.
BUT I knew, without a doubt, that God saw it. I knew that He had heard my mindless argument with myself over a bottle of soap.
I knew since the Lord saw and met this insignificant desire of my heart, He sees the sadness, pain, grief and struggle as I work through the loss of my mom. He met me in it, reminding me of His care, through a dear sweet woman, with soap of all things.
So what does this have to do with a crochet dishcloth?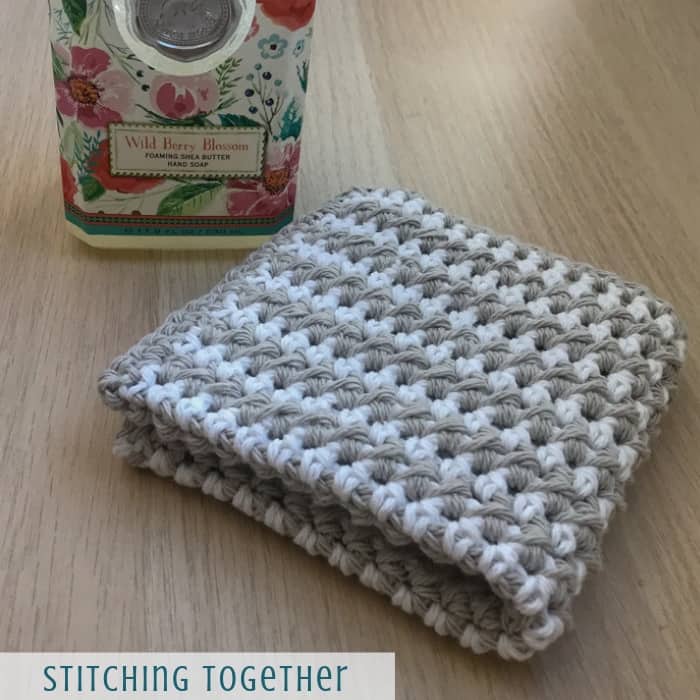 Well, it has less to do with the dishcloth and more to do with gifts.
Many of us love to gift our crochet and I want to encourage you in that. It can be intimidating to give something we've spent time making as sometimes our gifts are met with less than enthusiastic welcomes.
BUT you don't know how God can use that gift in someone's life at a time where they may desperately need the reminder that someone sees and someone cares.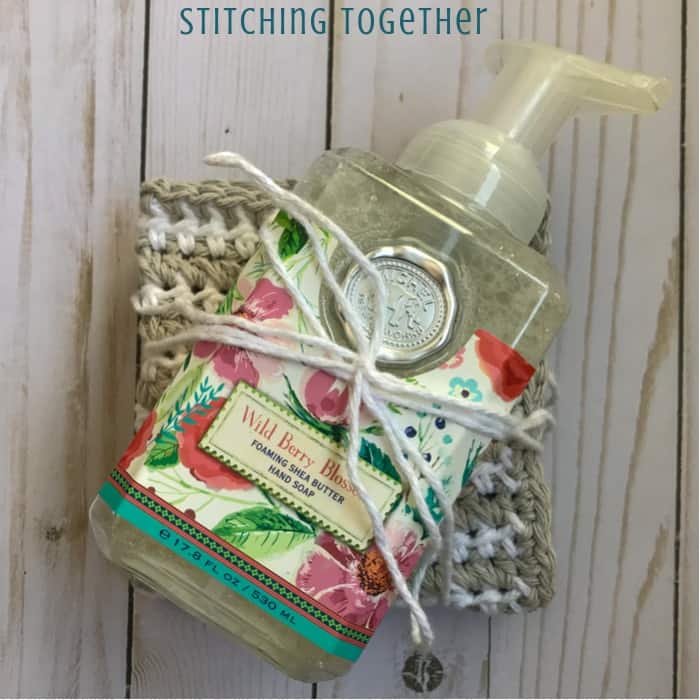 A note about the yarn:
It's hard to tell if the Lily's Sugar and Cream Greige color has been discontinued or if it is just offered seasonally. When I first used it in this washcloth, it seemed like it was a Michael's exclusive, but I later saw elsewhere. Now I can't find it anywhere but ebay!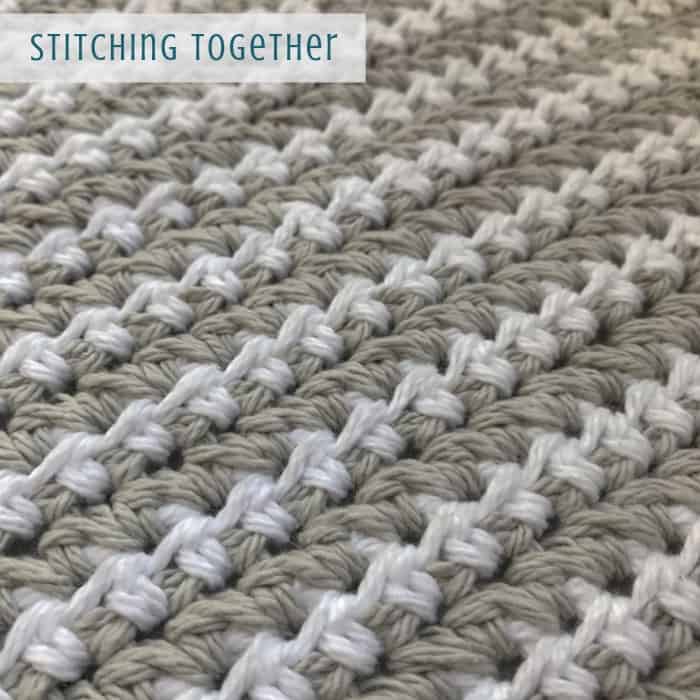 I know that not finding the exact color won't stop you though! Any good durable cotton yarn will work well for this pattern.
A note about the stitches:
Don't you just love stitches with rich texture that are easier than they look?
In the Striped Half Double Crochet Dishcloth, every other row is made of regular half double crochets and the other rows are a modified half double crochet.
I have no idea if the modified half double crochet has an actual name, (who can keep track especially when stitches, like the moss stitch, have multiple names?) but if you know or have used it in another pattern, please tell me in the comments.
The modified half double crochet is made by first pulling up a loop through the same stitch where the last stitch was completed and then working a normal half double crochet in the next stitch. Don't worry, there are pictures in the stitch instructions section below to help you out!
The stitch pattern doesn't look the same on both sides which makes it even more appealing. The hdcs really stand out on one side and the modified hdcs are more prominent on the other side.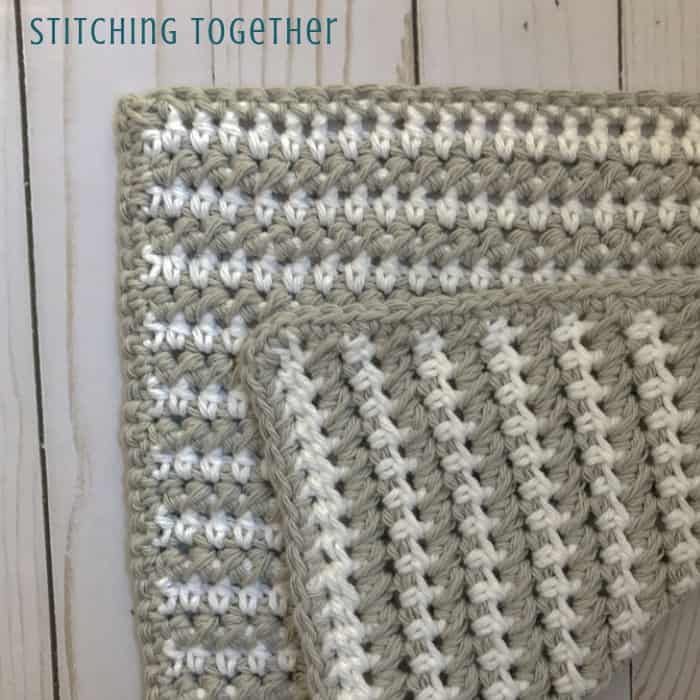 If you choose to carry the yarn you aren't using across each row, make sure to keep the tension on it tight or you may end up with a more diamond shaped than square dishcloth that will need some serious massaging and blocking. (Ask me how I know!)
Want more crochet dishcloth inspiration? Check out these stitches for crochet dishcloths.
Save the Striped HDC Dishcloth Pattern on Pinterest!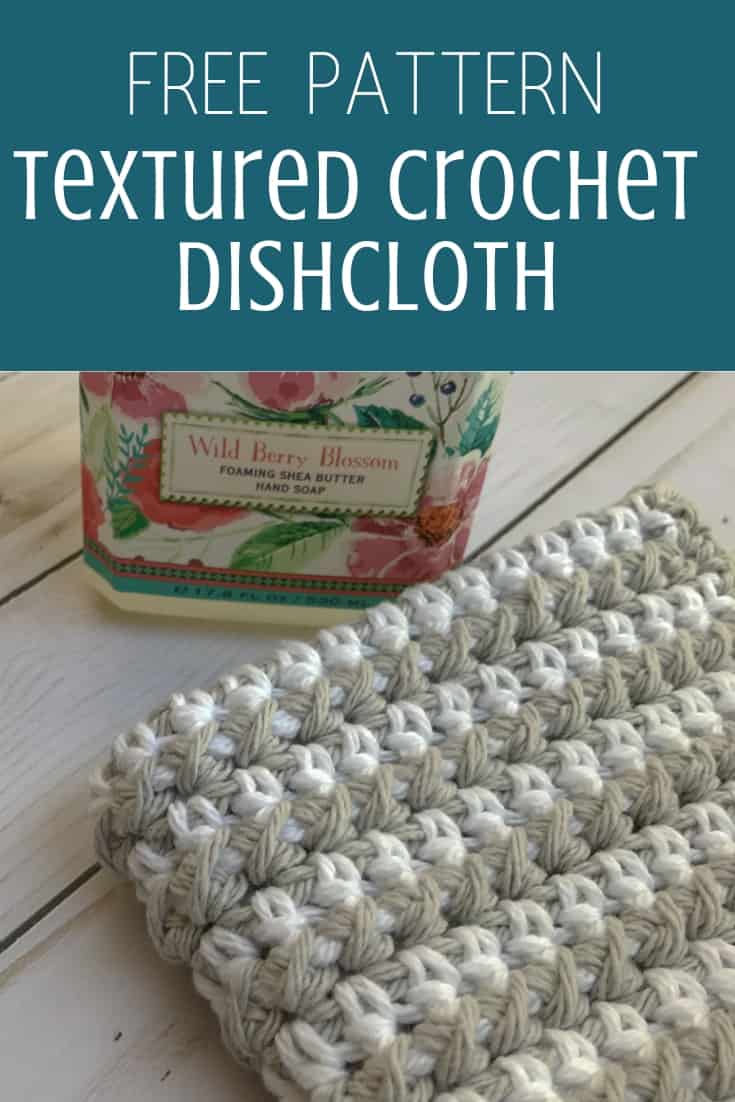 Striped Half Double Crochet Dishcloth Pattern
[question]Looking for an ad-free PDF of this pattern? You can purchase one here:
[button url="https://shop.stitching-together.com/collections/printable-crochet-patterns/products/striped-hdc-dishcloth-pattern"] In my Shop [/button] [button url="https://www.ravelry.com/patterns/library/striped-half-double-dishcloth"] Ravelry [/button] [button url="https://www.etsy.com/listing/687994221/striped-crochet-dishcloth-textured"] Etsy [/button] [/question]
Skill Level: Easy
Materials:
#4 Medium Weight Cotton Yarn – sample Lily's Sugar and Cream
(2.50 oz. / 70.9 g, 120 yd. / 109 m)
Greige – approx 1.32 oz
White – approx 0.85 oz
Size I/5.5 mm Crochet Hook (Amazon carries my favorite hooks and you can get them a set for an even better deal.)
Large Eye Needle (These wool needles, also available on Amazon are my new favorites!)
Finished Size: approx 10″ x 10″
Gauge:
4″ x 4″ done in the stitch pattern of 1 row hdc and 1 row modified hdc = 11 rows by 11 hdcs
Abbreviations:
ch(s): chain(s)
hdc(s): half double crochet(s)
mhdc(s): modified half double crochet(s)
fhdc(s): foundation half double crochet(s)
st(s): stitch(es)
sc(s): single crochet(s)
Special Stitch Instructions:
Modified half double crochet: insert hook into the same stitch of the last completed stitch, pull up a loop, yo and insert hook into the next stitch pull up a loop, yo and pull through all four loops on the hook.
Start each row with a regular hdc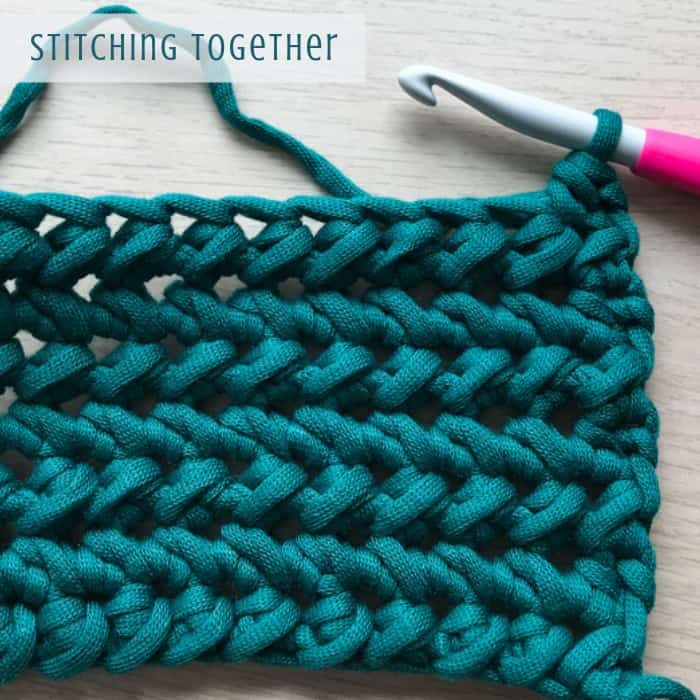 insert hook into the same stitch and pull up a loop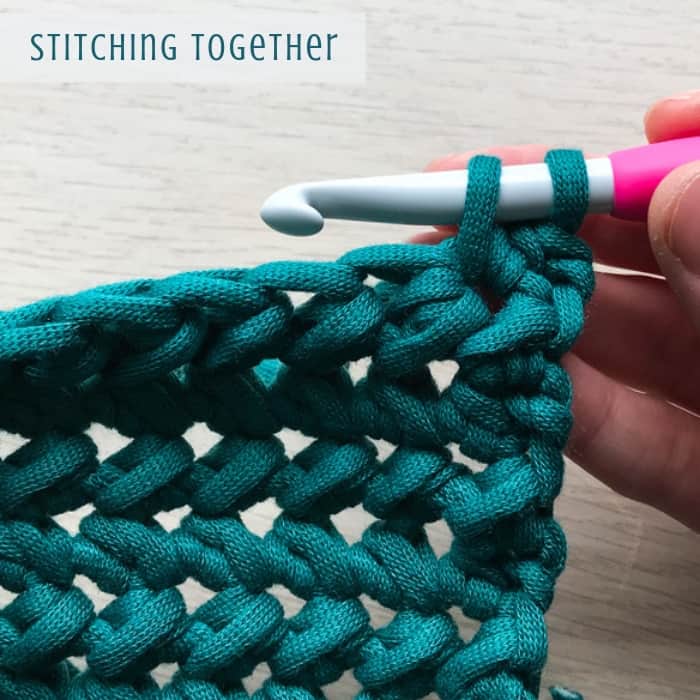 yo, insert hook into the next st and pull up a loop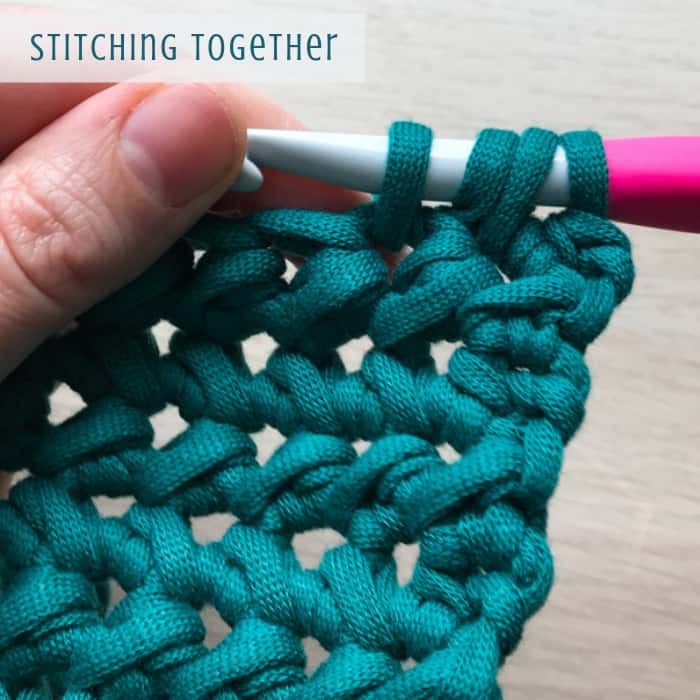 pull through all four loops on hook to complete the modified hdc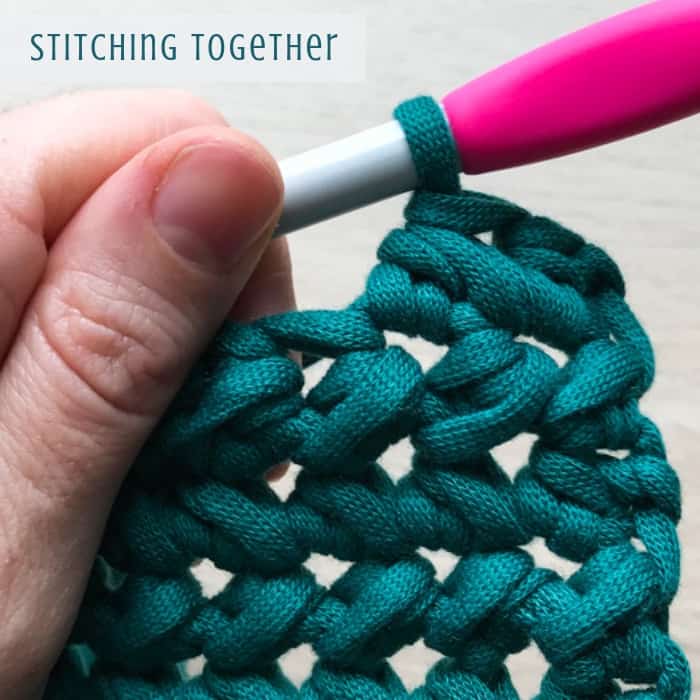 Notes:
Instead of cutting and joining yarn at each row, you can carry the yarn not in use across the row, crocheting over it as you go. That way it is in the right spot when you start the next row.
Striped Half Double Crochet Dishcloth Pattern Instructions:
ch 26 with white (alternately fhdc 25)
Row 1: hdc in the 2nd ch from hook and in each ch across, turn.
Rows 2: with greige, ch 1, hdc in next st, mhdc in each st to end of row, turn.
Rows 3: with white, ch 1, hdc in each st to end of row, turn.
Repeat rows 2 and 3 for a total of 25 rows.
With greige, sc around the entire dishcloth placing 3 scs in each corner.
[question]
Would you share pics of your finished projects? You can do that several ways:
[/question]