Half Double Crochet Scarf
Disclosure: This post may contain affiliate links. As an Amazon Associate, I earn from qualifying purchases. Please visit my Privacy Policy for disclosures and more information.
Don't you just love a good simple pattern that gives excellent results? This half double crochet scarf pattern is one of those. It's easy, beginner-friendly, quick, and best of all, makes a scarf that looks great.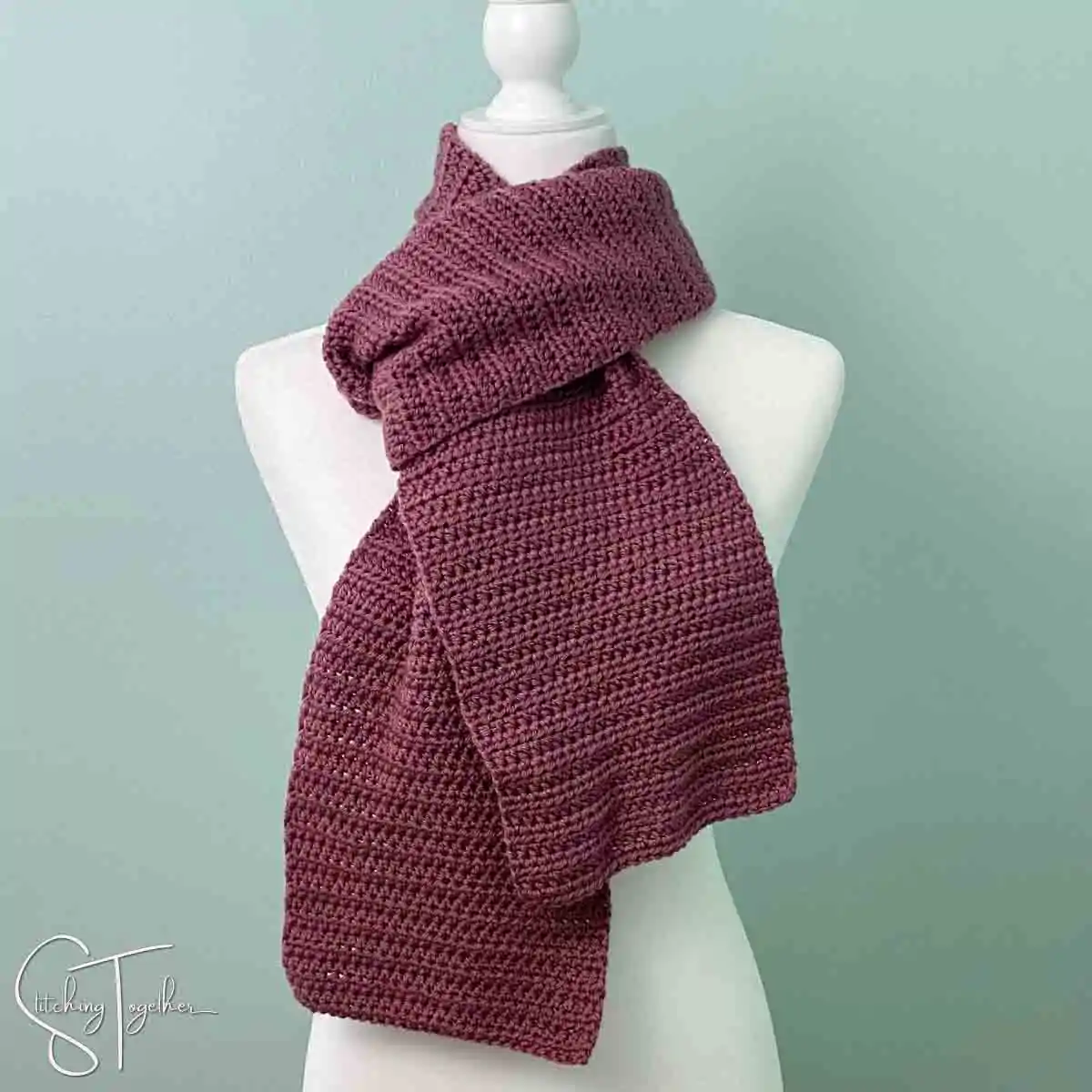 Keep reading for all the details of the free crochet pattern including some fun variation ideas, or you can purchase the ad-free PDF version here.
How do you crochet a half double crochet scarf?
I'll bet you can't guess which stitch this easy half double crochet scarf uses…
No, no guesses? That's alright.
It uses the half double crochet stitch. SURPRISE!
Half double crochet (hdc) is by far my favorite basic stitch. I love the rhythm of working it and I love the fabric it makes. This simple scarf is worked in short rows, so starting chain will determine how wide the scarf is, and you can keep adding rows until it reaches a length you are happy with.
If you are just beginning your crochet journey, the hdc is one of the first basic stitches to learn, and using it to make a scarf is one of the best ways to practice. I wrote this half double crochet scarf pattern for beginners because I want you to have a fun success as you start your crochet journey!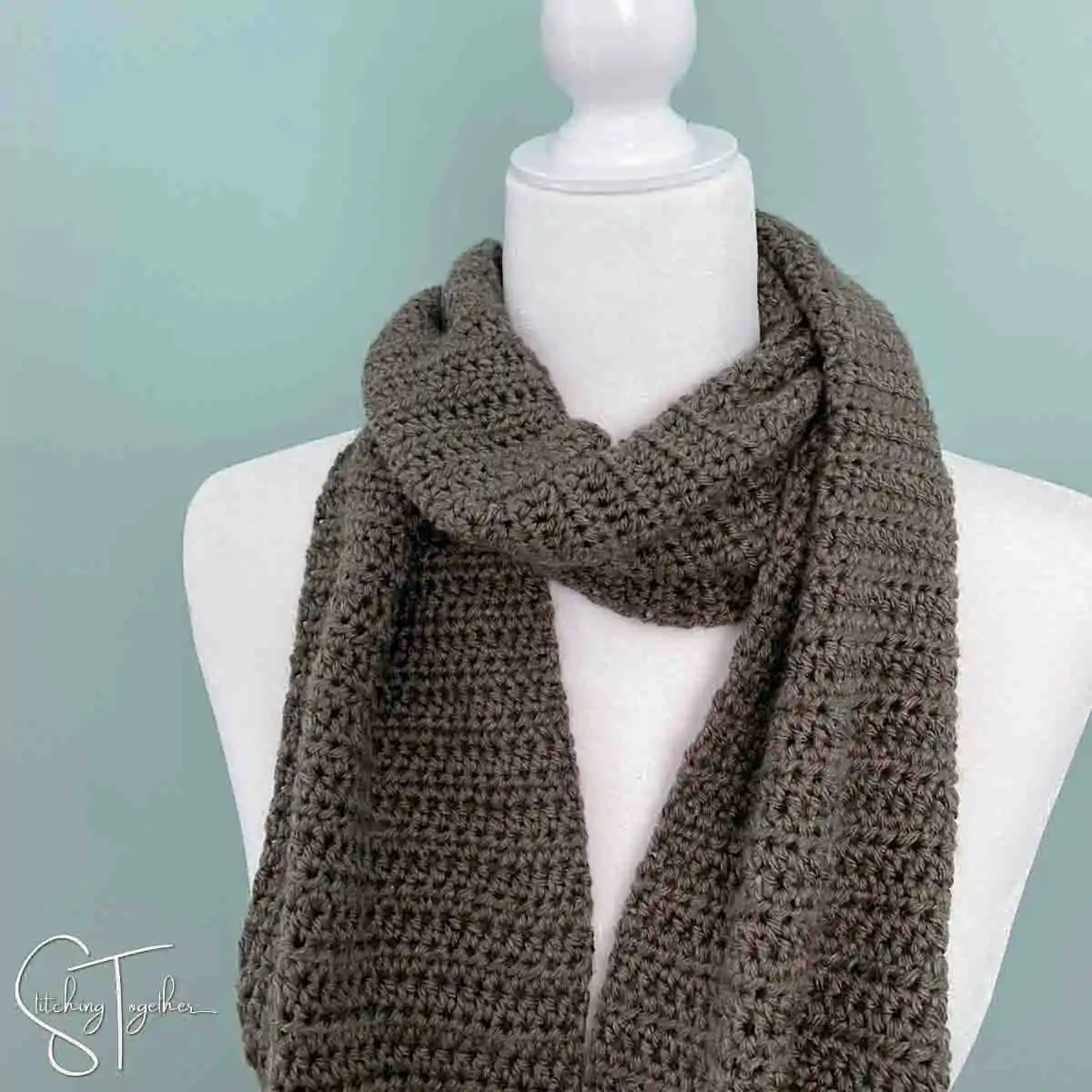 What if I want a Half Double Crochet Ribbed Scarf?
Do you want a ribbed hdc scarf? That's not a problem. We will walk through 3 different ways you can make your half double crochet ribbed so you can add some variety to this simple pattern.
Yarn used in the HDC Scarf Pattern
For this easy scarf, I used Basic Stitch Anti Pilling Yarn from Lion Brand, which I think, is the first time I've worked with this yarn. It is a category 4, worsted weight, 100% acrylic yarn.
I found the yarn to be really easy to work with and fairly soft. The Taupe Heather color was softer and lighter feeling than the Deco Rose which was interesting. I know different dye colors can affect fabrics differently so I am assuming that is what accounts for the difference between the two colors.
The colors were rich and the yarn comes in a nice variety of color options. This was such a relaxing project that I ended up making two sample scarves in different colors.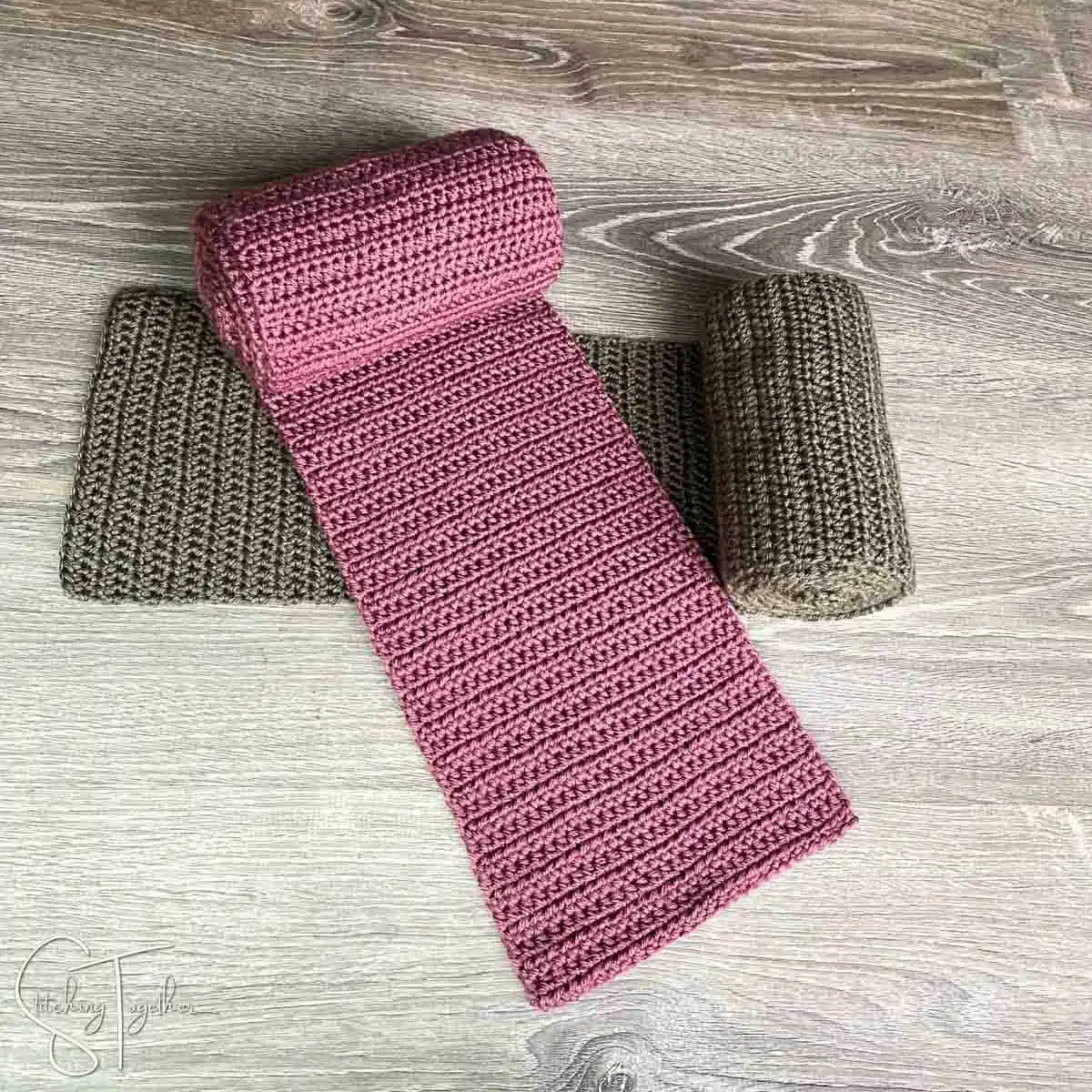 Yarn Substitution
Most medium-weight acrylic yarns will work as a substitute for Basic Stitch Anti Pilling. I would personally grab Premier Everday Anti Pilling to use as a substitute. If you want a good value yarn, I Love This Yarn from Hobby Lobby would work well too! Wool-Ease from Lion Brand would also be a great substitute and give you that touch of wool warmth.
If you don't want to use a worsted weight yarn, the pattern is so simple to adjust that won't be any problem. It would look great and be extra warm with a bulky yarn and all you need to do is make your chain whatever length you want the width of your scarf to be.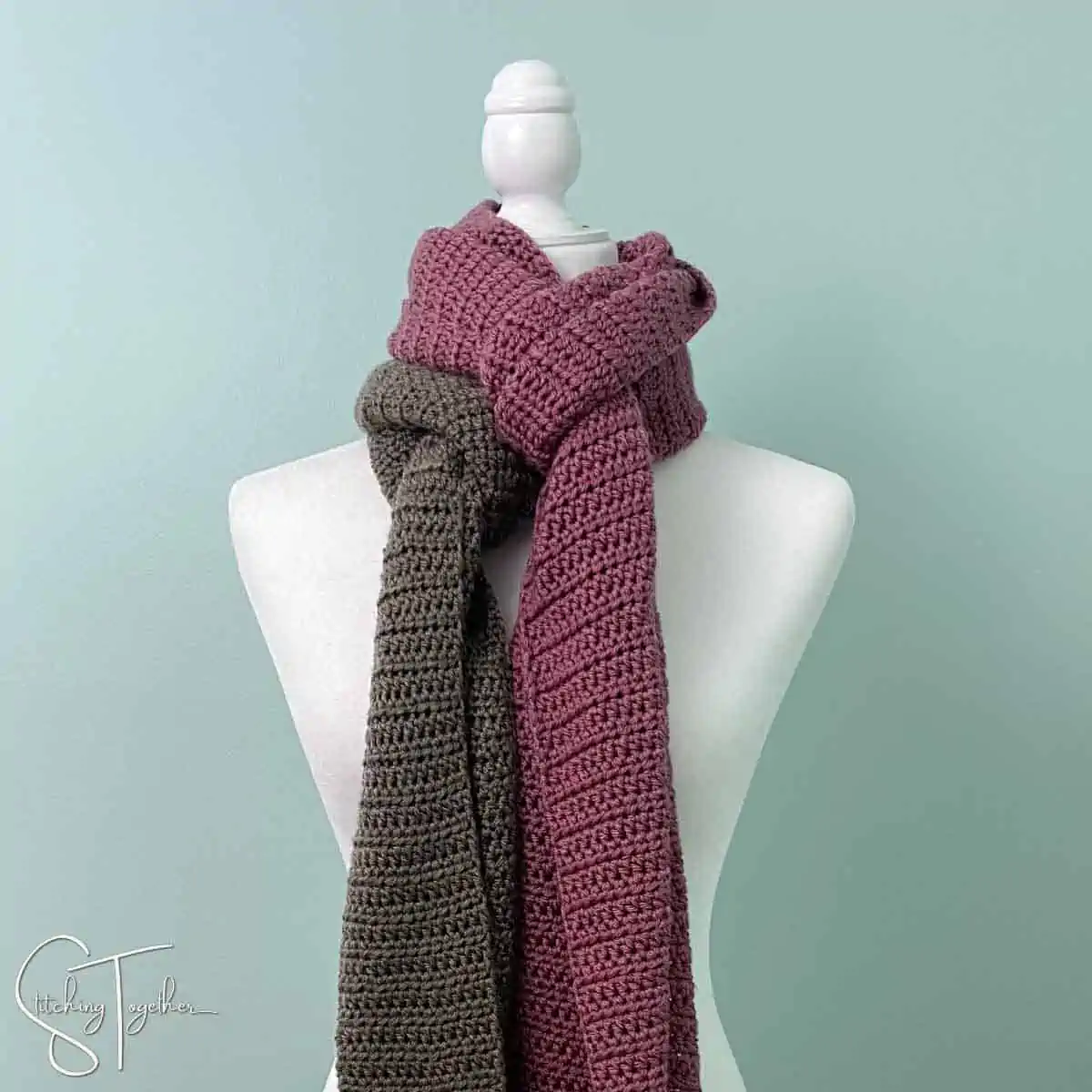 Adding Fringe to the Half Double Crochet Stitch Scarf
This is a great scarf to add fringe to, and since each scarf took less than 3 skeins of yarn, there is enough leftover to add fringe.
If you haven't added fringe to your projects before, you can follow this simple tutorial to learn how. Keep in mind that you'll want to cut the strands of yarn to twice the length you want your final fringe to be. (Example: If you want a 5″ fringe you'll want to cut 10″ pieces of yarn.)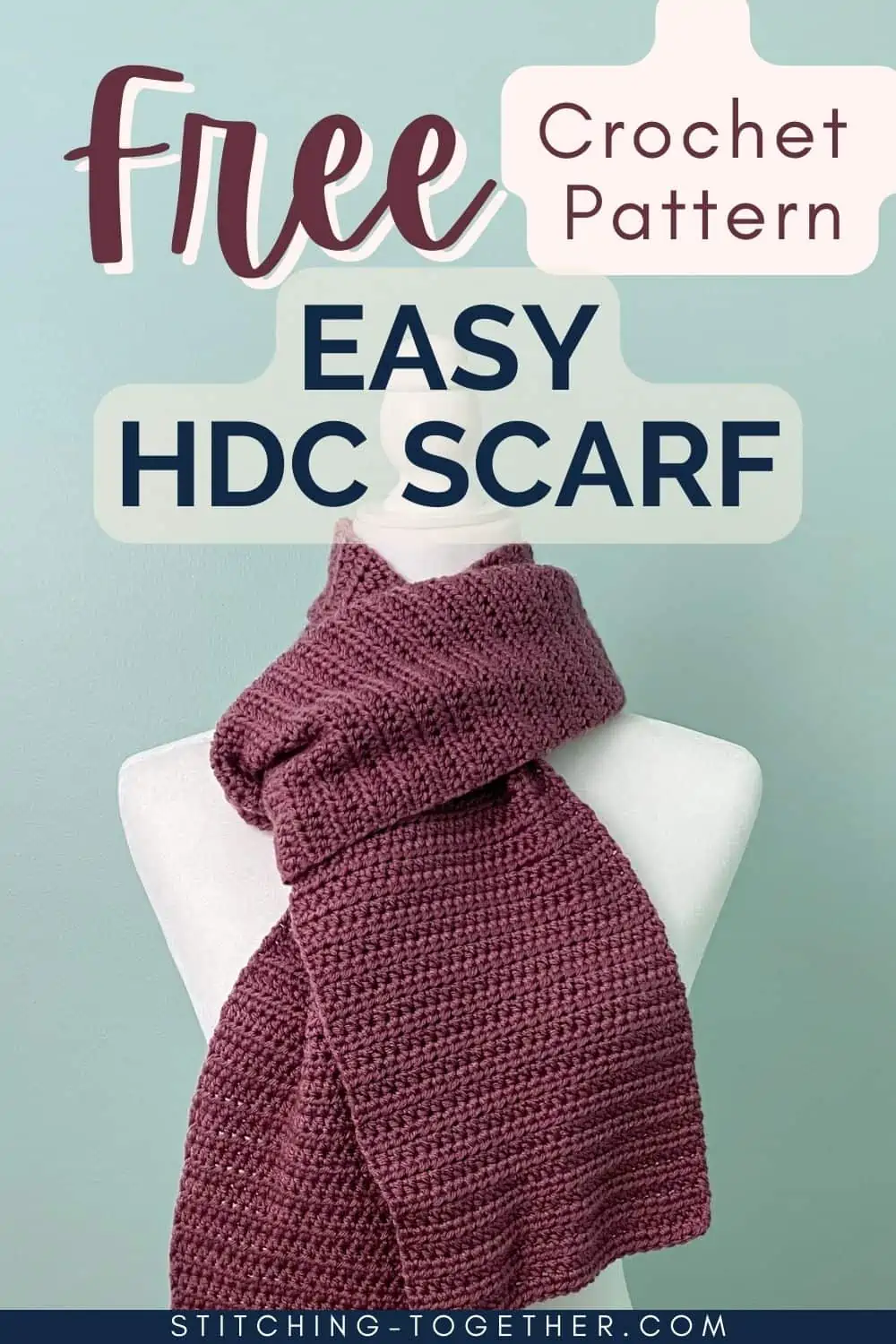 Half Double Crochet Scarf Pattern
Skill Level: Beginner
Materials:
US size H/8, 5.0 mm crochet hook (I talk all about my favorite crochet hooks here)
Basic Stitch Anti Pilling by Lion Brand Yarn (medium weight, category 4, 100% Acrylic 3.5oz/100g, 185yds/170m)

Samples used approximately 486 yds (9.20 oz) of Taupe Heather or Deco Rose

Large Eye Yarn Needle
Abbreviations:
ch(s): chain(s)
hdc(s): half double crochet(s)
st(s): stitch(es)
Gauge: 4" x 4" =11 rows by15 hdcs
Finished Size: approximately 7.5" wide by72" long
Notes:
The ch 1 to start each row does not count as a stitch
To adjust the width of the scarf, increase or decrease the starting chain. To adjust the length, add or subtract rows.
Half Double Crochet Scarf Pattern Instructions:
Ch 28
Row 1: hdc in the 2nd ch from the hook, hdc in each ch across, turn (27)
Row 2: ch 1, hdc in each st, turn (27) Repeat row 2 until scarf has 210 rows or reaches the desired length. Fasten off and weave in ends.
Ribbed Half Double Crochet Scarf Instructions
There are 3 easy ways to take this exact same pattern and make a ribbed scarf instead of a scarf with a smooth texture. A simple variation of where you place your stitch can give you three different ribbing options.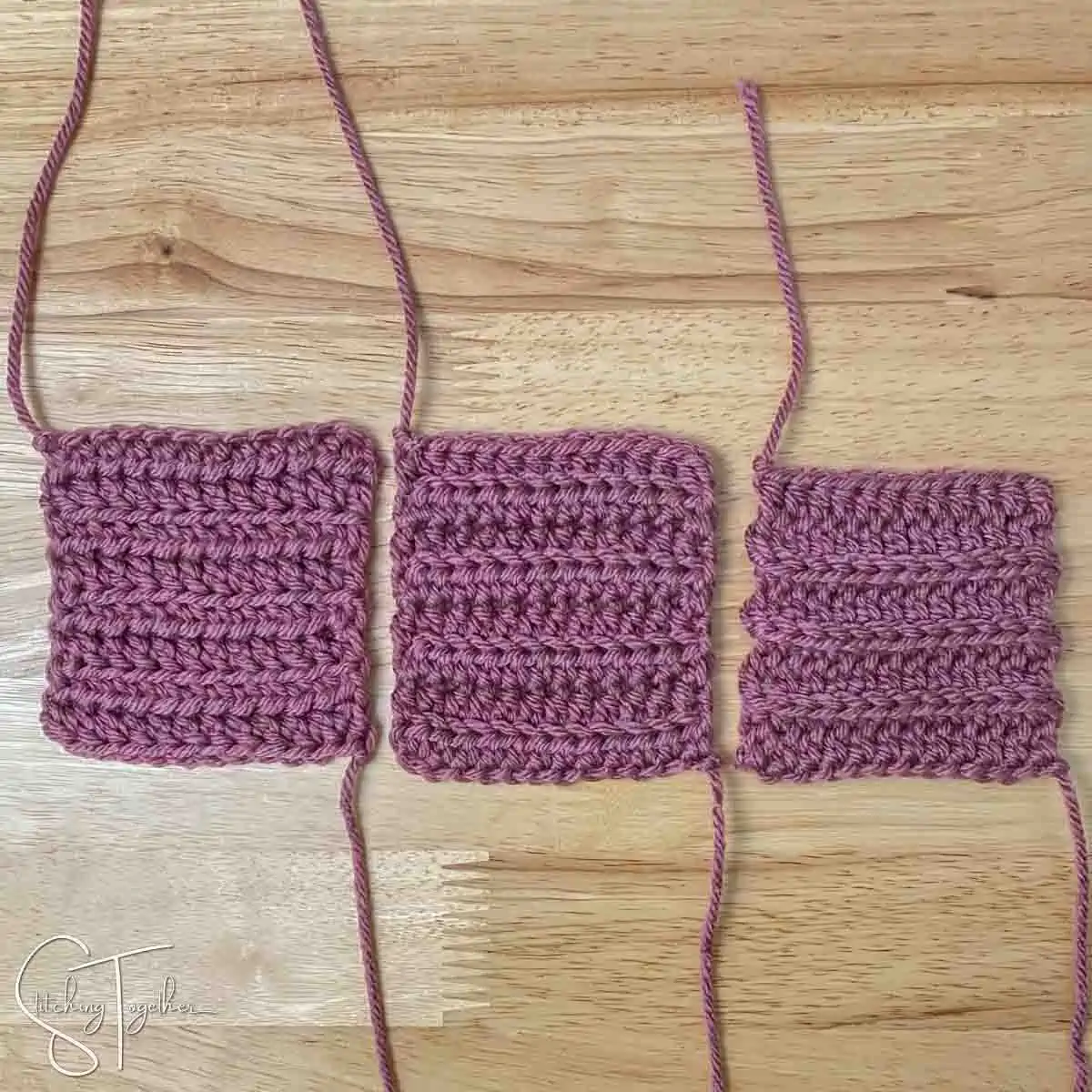 The half double crochet stitch has three easily identifiable loops. The front loops and back loops are well known and the hdc also has a third loop that runs along the back of the stitch. (Once you turn your work, the 3rd loop is facing you and is right below the front loop). By working completely into one of these 3 loops, you can create easy ribbing.
If you aren't sure how to identify the front and back loops, Crochet365Knittoo has a great information post detailing the parts of stitches.
When I work through only the front loop or the back loop of stitches, I usually do the last stitch of each row through both loops like a normal stitch. I find that this keeps my edge straight and crisp. You can also do this when working the 3rd loop only, but in the example swatch below, I did not do that. I worked all the stitches through the 3rd loop.
Front Loop Ribbing
By working into the front loop only of your half double crochets, you make a thin ribbing look that is created from the back loops and 3rd loops being left alone. The front loop hdc fabric still has a smooth texture similar to the regular hdc fabric.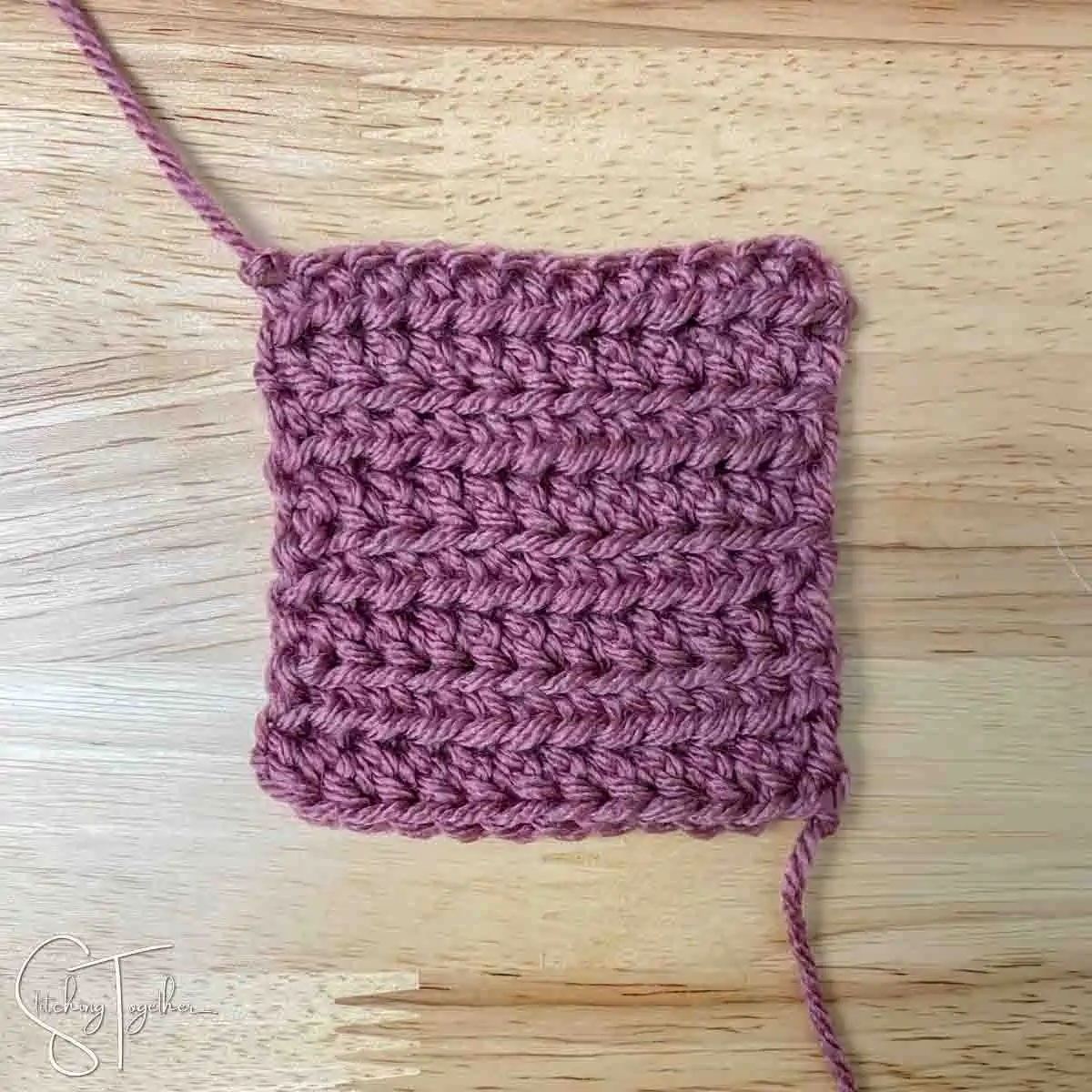 Back Loop Ribbing
When you work into the back loops only, your stitches push the front loops forward slightly and those front loops work with the 3rd loops to create a more textured ribbing. The bottom of each stitch sits towards the back of the fabric and bumps out the tops of the stitches in the row below which creates actual ridges in the fabric. BLO (back loop only) hdc has more texture and produces a squishier fabric than regular hdc.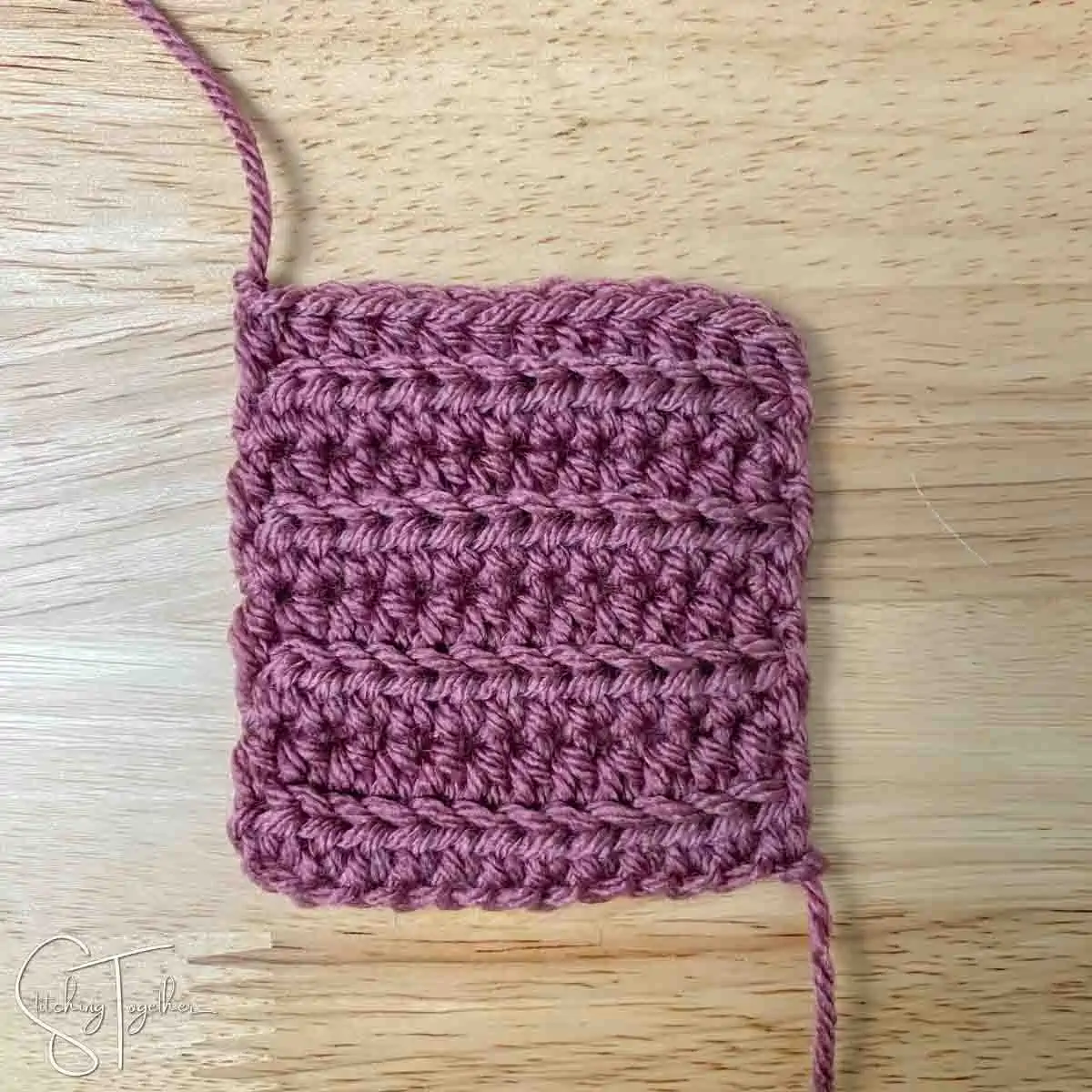 3rd Loop Ribbing
Finally, my favorite. When you turn this fabric sideways, it almost looks like you have rows of knit and purl. Working up through the 3rd loop pushes both the back and front loops to the back of your fabric which creates a really distinctive ribbing.
Check out the Easy Men's Scarf pattern if you want to see a few pictures of what it looks like to work in the 3rd loop.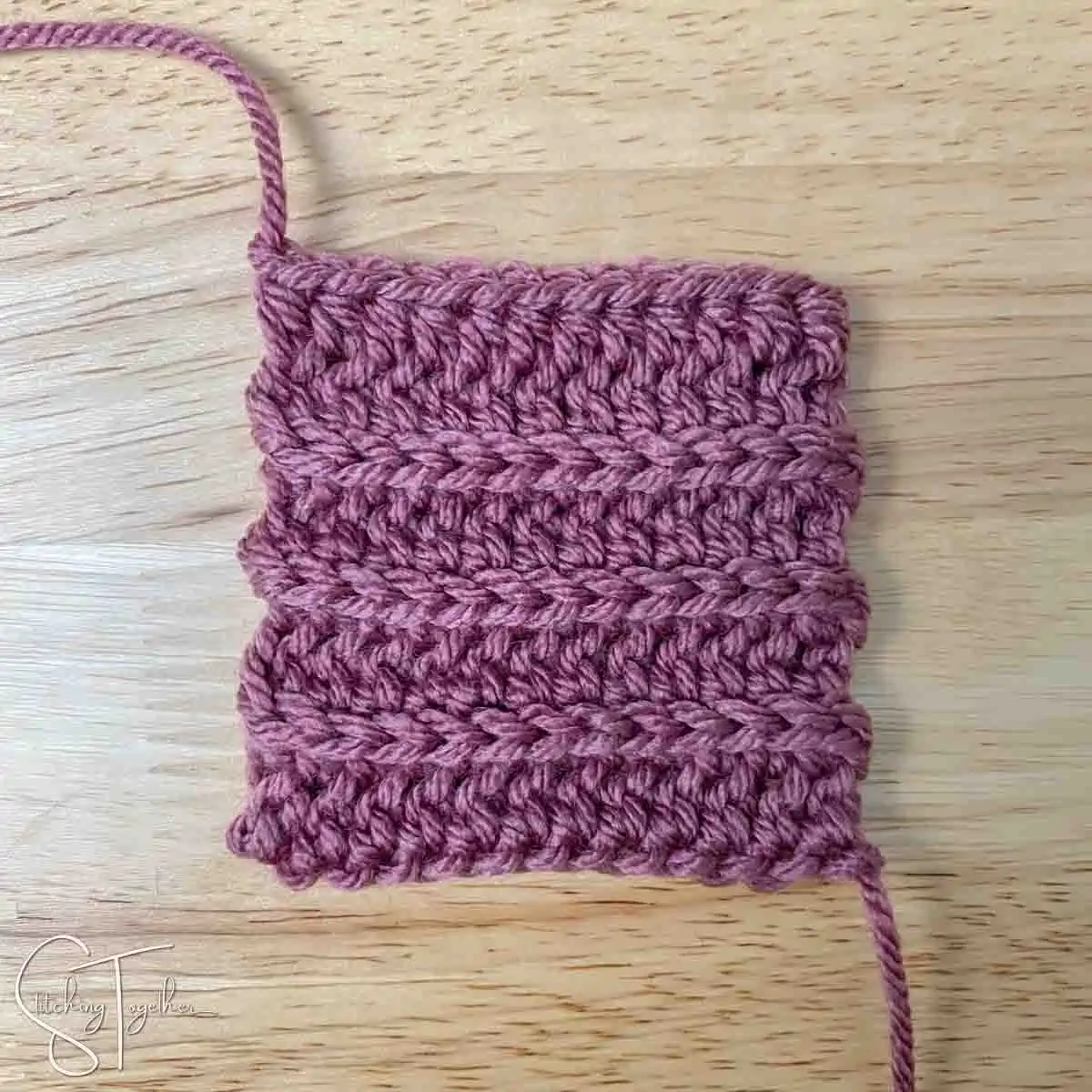 .
If you like easy-to-print patterns, this pattern can be purchased in the following places:
Thanks for your support!
.
What will you use this easy crochet scarf pattern for? Will you share pictures of your finished projects?