Lightweight Infinity Scarf Crochet Pattern
Disclosure: This post may contain affiliate links. As an Amazon Associate, I earn from qualifying purchases. Please visit my Privacy Policy for disclosures and more information.
While I love a good, bulky, warm scarf, sometimes you just need something lightweight, with a low profile to keep the chill off your neck. That's where this lightweight infinity scarf comes in. It's the perfect accessory on a chilly day where you just need a little extra hug of warmth.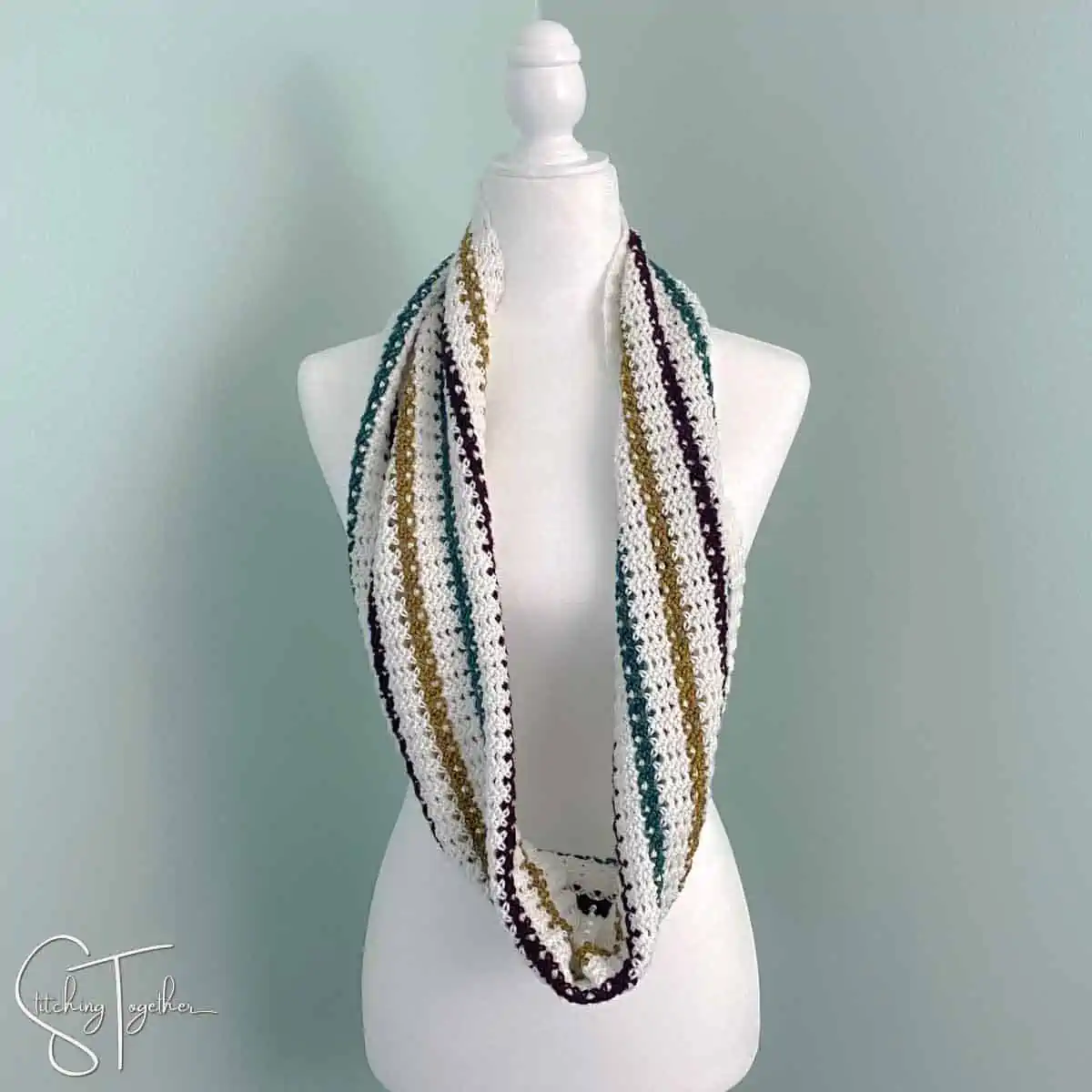 Keep reading to learn how to crochet a lightweight infinity scarf with this free crochet pattern or you can purchase the ad-free PDF version of this pattern here. You're well on your way to creating coziness with a new scarf.
Related: The Selma Chunky Infinity Scarf Crochet Pattern
How to Crochet an Infinity Scarf with Thin Yarn
The light infinity scarf is made by working in joined rounds so you will first chain a long chain, join that to make a circle, and then work in rounds from that chain.
The main color repeats for four rounds with the other colors only repeating for two rounds each. The easy stitchwork using basic stitches creates a lace texture that is reversible.
Related: Easy Crochet Scarf
Lightweight Infinity Scarf Stitch Pattern
As intricate as those lacy stitches look, this stitch pattern is really easy to learn. The open stitch work is created by repeats of a single crochet, chain 3, single crochet combination. That's it! Once you move past round one, all the other rounds are the exact same besides the color changes.
It is a great stitch pattern that becomes somewhat mindless but not boring. While it is an easy crochet infinity scarf and uses basic crochet stitches, I wouldn't suggest it for a beginner. It is rated an Easy pattern because you will need to be able to work in rounds, join rounds, and work into chain spaces.
If you find yourself loving this combination of simple stitches and wanting to use it in another scarf, don't miss the Bellevue Beautiful Crochet Scarf.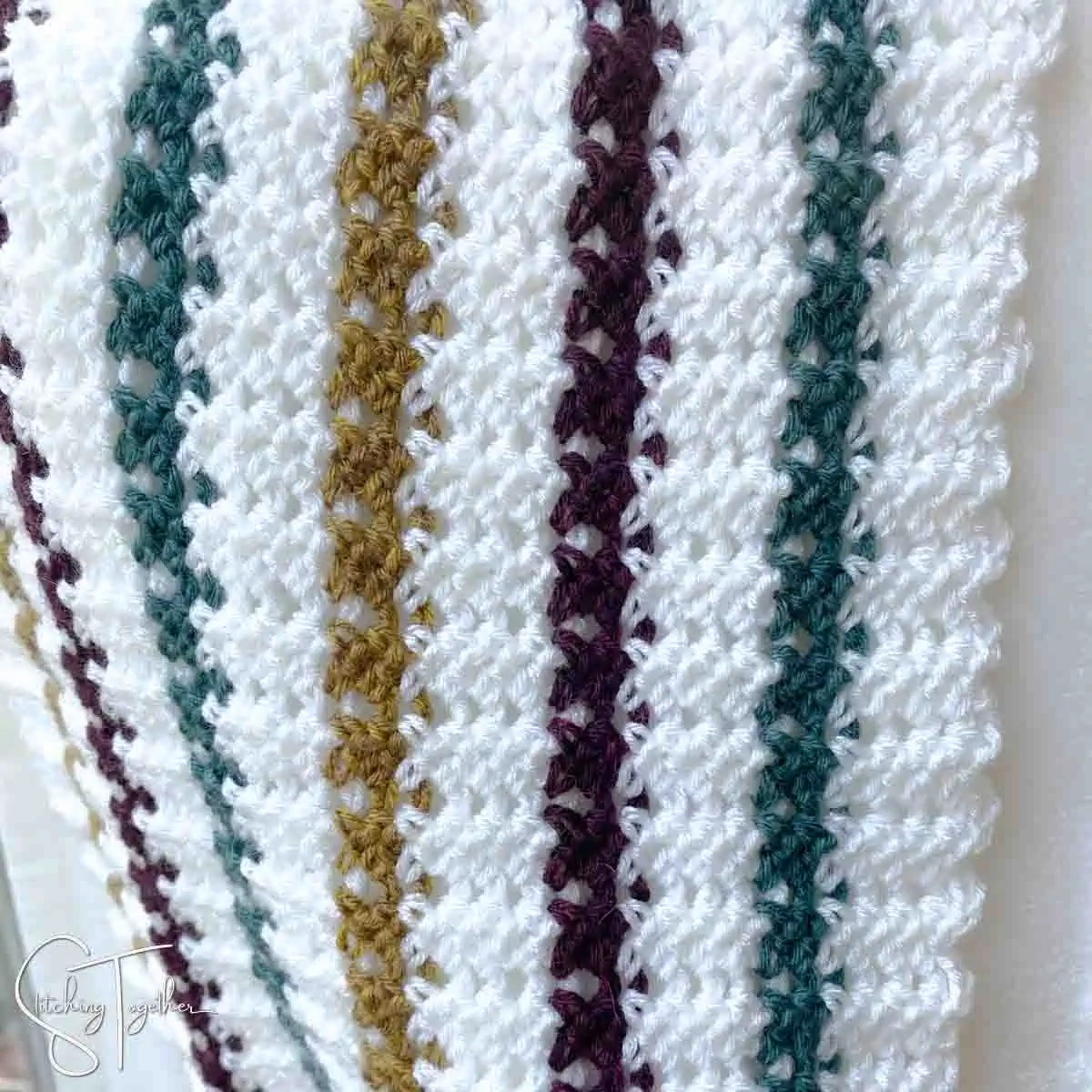 Yarn Used for the Lightweight Infinity Scarf
For this thin infinity scarf, I used Yarn Bee Soft & Sleek DK yarn which can be found at Hobby Lobby. It is 100% acrylic yarn that is soft and glides right on and off the hook.
I was surprised to find this yarn labeled as DK weight. It is really thin compared to other DK yarns I have in my stash. I read through the comments on Hobby Lobby's website about the yarn, and others said the same thing. It is a very thin yarn.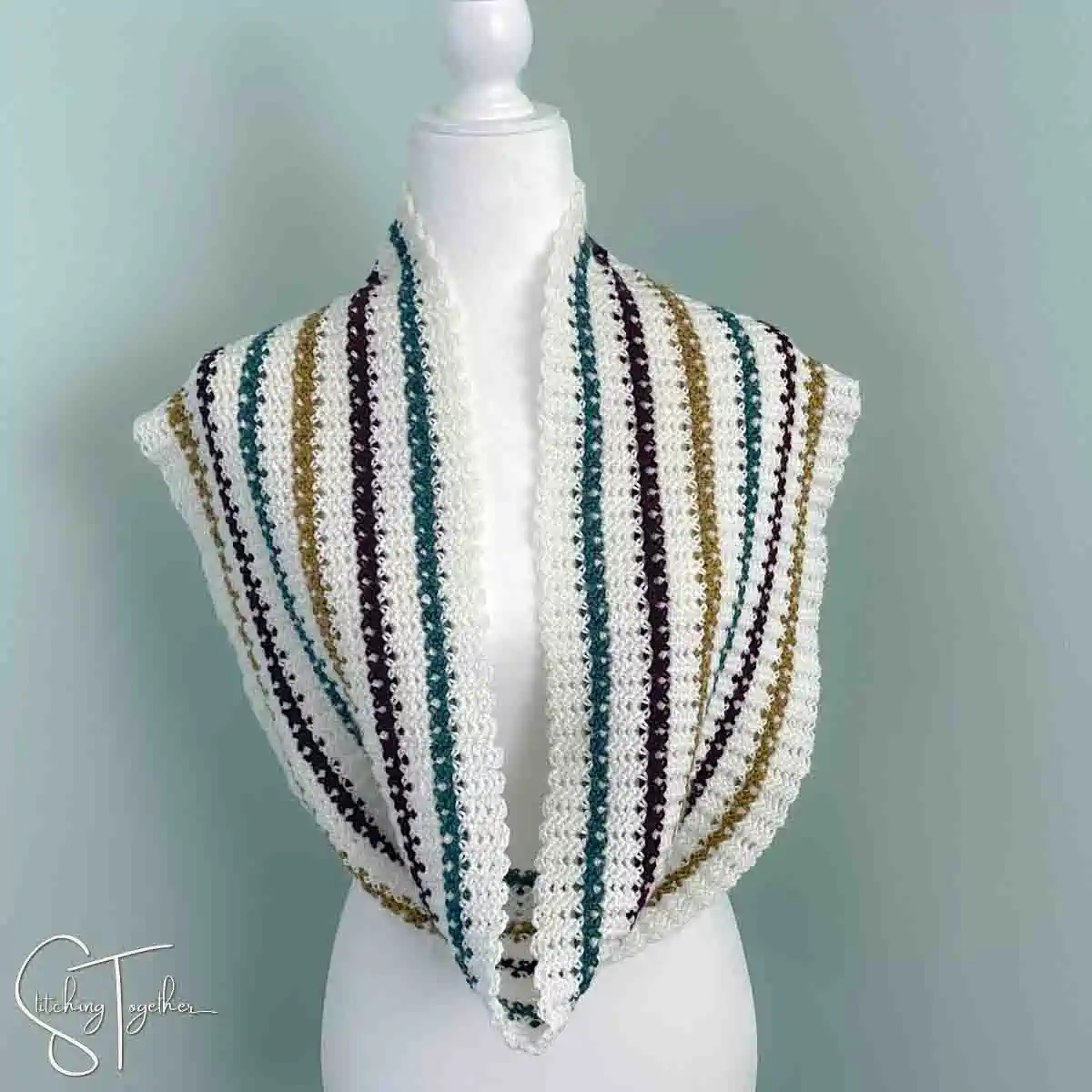 Related: Lightweight Crochet Cowl Pattern
Yarn Substitutions
If you want to try a different yarn with this pattern but want to keep a similar look and feel, I would lean towards using a sport-weight yarn instead of a DK weight.
The infinity scarf will still be lightweight with a thicker DK yarn since the stitch work is fairly open, but if you really want that light and airy feeling, look for thinner soft yarn.
If you use a thicker yarn, try going up a hook size from the yarn recommendation to keep the stitch work more open. I can imagine it would be super cozy made with a worsted weight yarn too.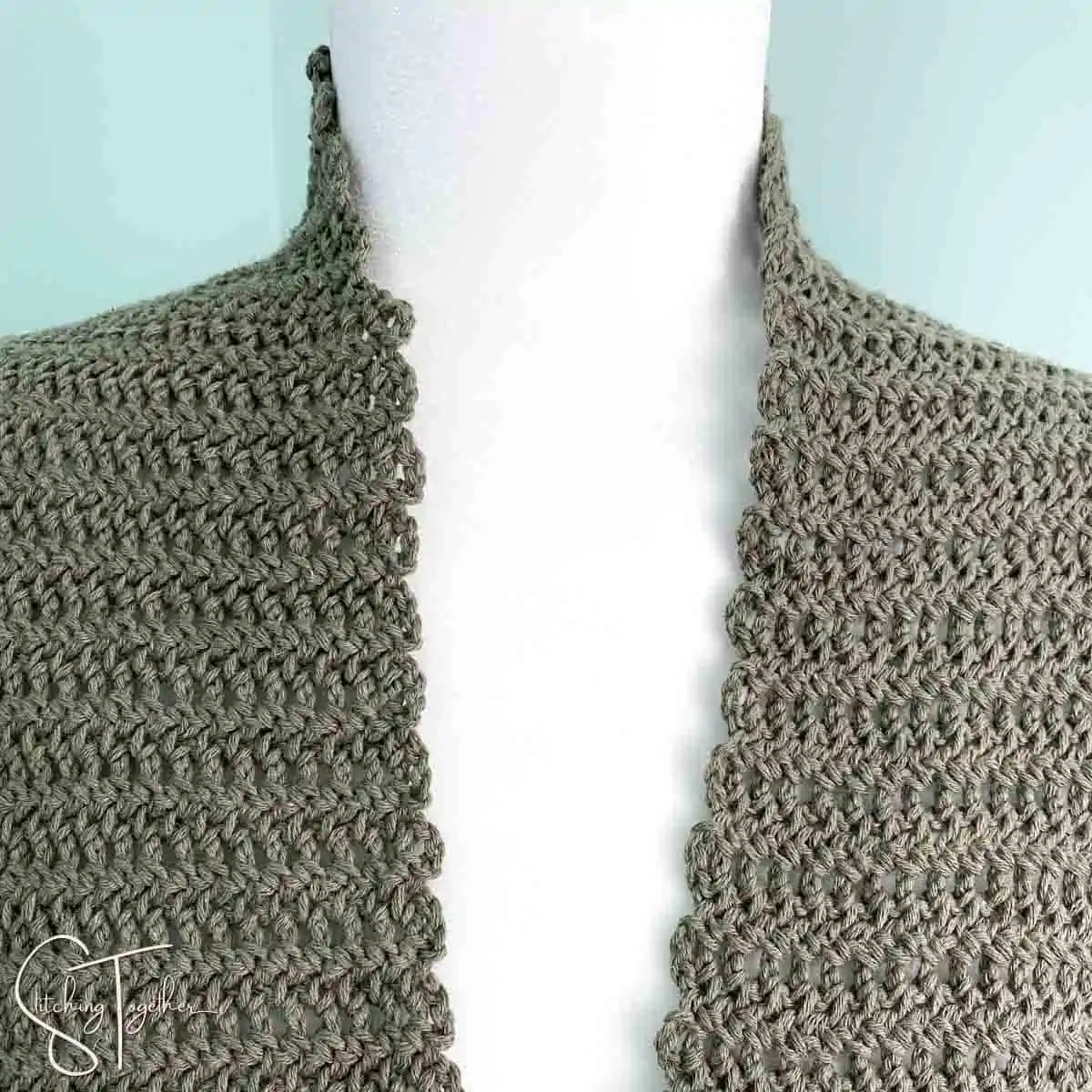 I started another lightweight scarf using Touch of Linen Yarn by Lion Brand. It is a thin Category 4 Medium Weight yarn. The scarf looks beautiful but, since it is a thicker yarn and it is a cotton and linen blend, it doesn't have the same flow as the scarf made with Soft & Sleek.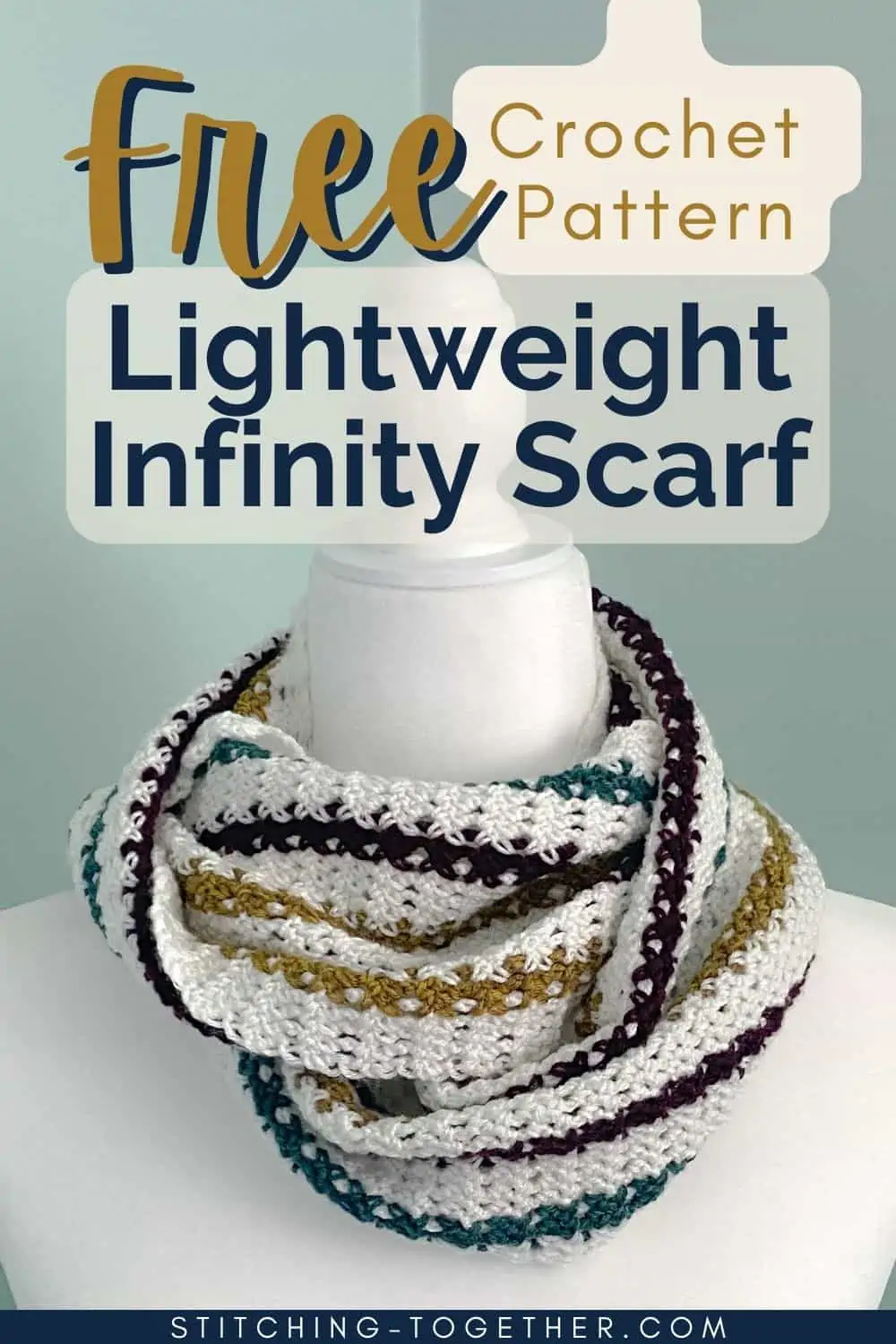 Lightweight Infinity Scarf Crochet Pattern
Skill Level: Easy
Materials:
US size H/8, 5.0 mm crochet hook
Yarn Bee Soft & Sleek DK Yarn (Category 3 DK weight yarn, 4 oz/478yds)
Samples Used approximately 424 yds (3.55 oz) of Ivory, and 75 yds (0.63 oz) each of Dijon, Oxblood, and Irish Rain
Tapestry Needle
Stitch Marker (optional)
.
Everything you need for this project can be ordered right online
Save time and shop from home!
.
Abbreviations:
ch(s): chain(s)
sl st: slip stitch
sc(s): single crochet(s)
st(s): stitch(es)
Gauge: 4"x4" = 7 (sc, ch 3, sc) repeats by 17 rounds
Finished Size: 9" wide by 47" around
Notes:
To adjust the size of the scarf, keep the starting chain a multiple of 3.
It can be helpful to use a stitch marker to mark the first single crochet of each round.
When instructed to work in the chain space, you will be working around the chain instead of into the chain.
Starting with round 2 all stitches except the slip stitch at the end of each round will be worked into the chain 3 spaces.
Color A = Ivory
Color B = Dijon
Color C = Oxblood
Color D = Irish Rain
Lightweight Infinity Scarf Pattern Instructions:
Ch 255 with Color A, join with a slip stitch to form a circle being careful not to twist the ch
Round 1: ch 1,* sc, ch 3, sc, skip ch, repeat from * around, join with a sl st to the 1st sc.
Round 2: ch 1, *(sc, ch 3, sc) in ch-3 space, repeat from * around, join with a sl st to the 1st sc.
Rounds 3-4: repeat round 2
Rounds 5-6: With Color B repeat round 2
Rounds 7-10: With Color A repeat round 2
Rounds 11-12: With Color C repeat round 2
Rounds 13-16: With Color A repeat round 2
Rounds 17-18: With Color D repeat round 2
Rounds 19-22: With Color A repeat round 2
Rounds 23-24: With Color B repeat round 2
Rounds 25-28: With Color A repeat round 2
Rounds 29-30: With Color C repeat round 2
Rounds 31-34: With Color A repeat round 2
Rounds 35-36: With Color D repeat round 2
Rounds 37-40: With Color A repeat round 2
.
If you like easy-to-print patterns, this pattern can be purchased in the following places:
Thanks for your support!
.
What will you use this crochet pattern for? Yourself? A gift?
Will you share pictures of your finished projects?
Don't miss these other free crochet infinity scarf patterns: