Bellevue Beautiful Crochet Scarf
Disclosure: This post may contain affiliate links. As an Amazon Associate, I earn from qualifying purchases. Please visit my Privacy Policy for disclosures and more information.
This Beautiful Crochet Scarf is a lovely, soft, and silk scarf that's perfect for cooler weather. You'll love this pretty scarf made with this easy crochet pattern.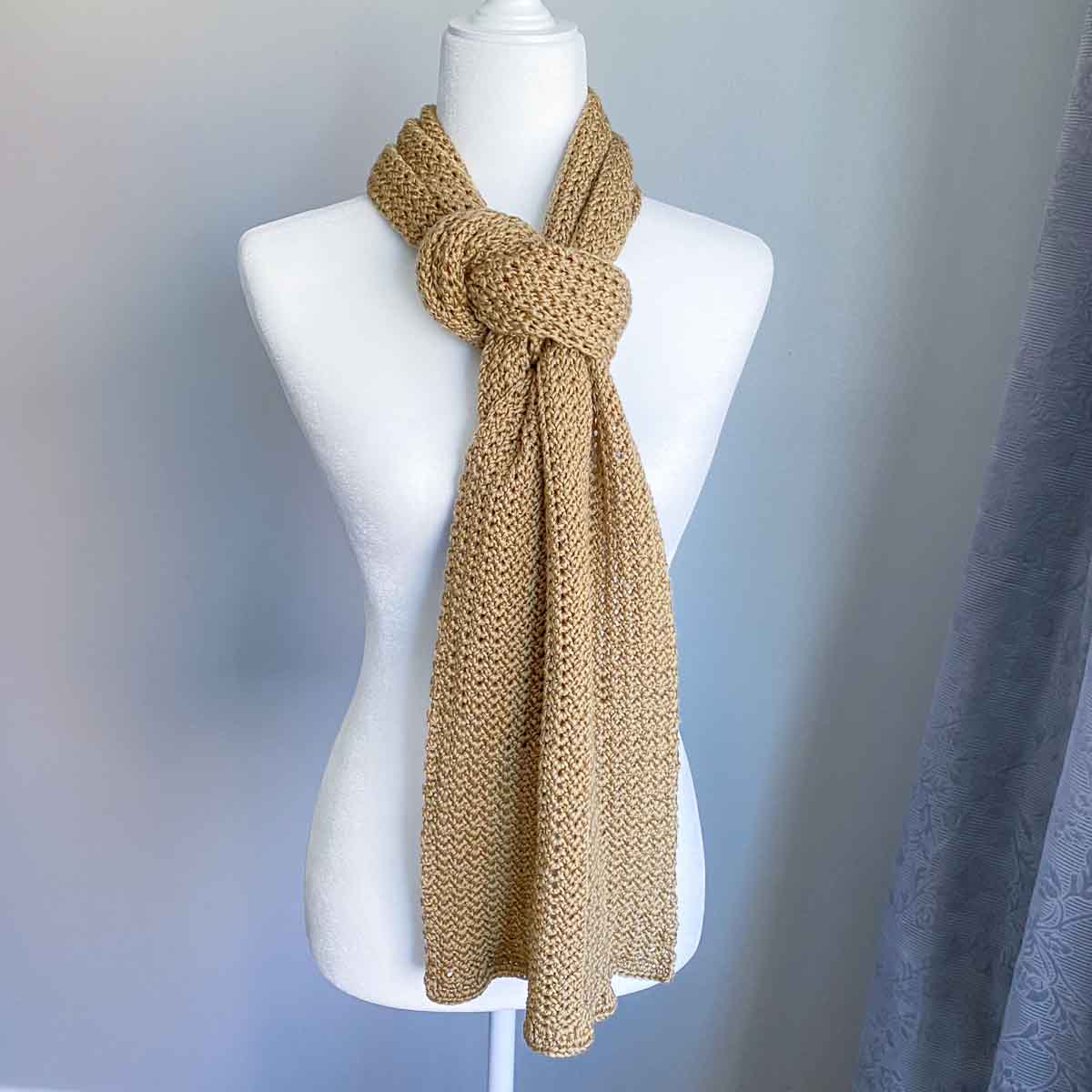 Do you ever have a project begin as one thing but by the end, it's something different? That's what happened with this beautiful crochet scarf design.
Initially, I was planning to make a lightweight shawl when I started on this design. Now, I know there is an overlap between scarves and shawls but generally, shawls are significantly wider than scarves and since this scarf turned out narrow, it seemed better suited to be called a scarf.
You can really call it and use it however you want and it will still be a fun project that makes a perfect accessory! Keep reading for the free crochet pattern or you can purchase an ad-free PDF here.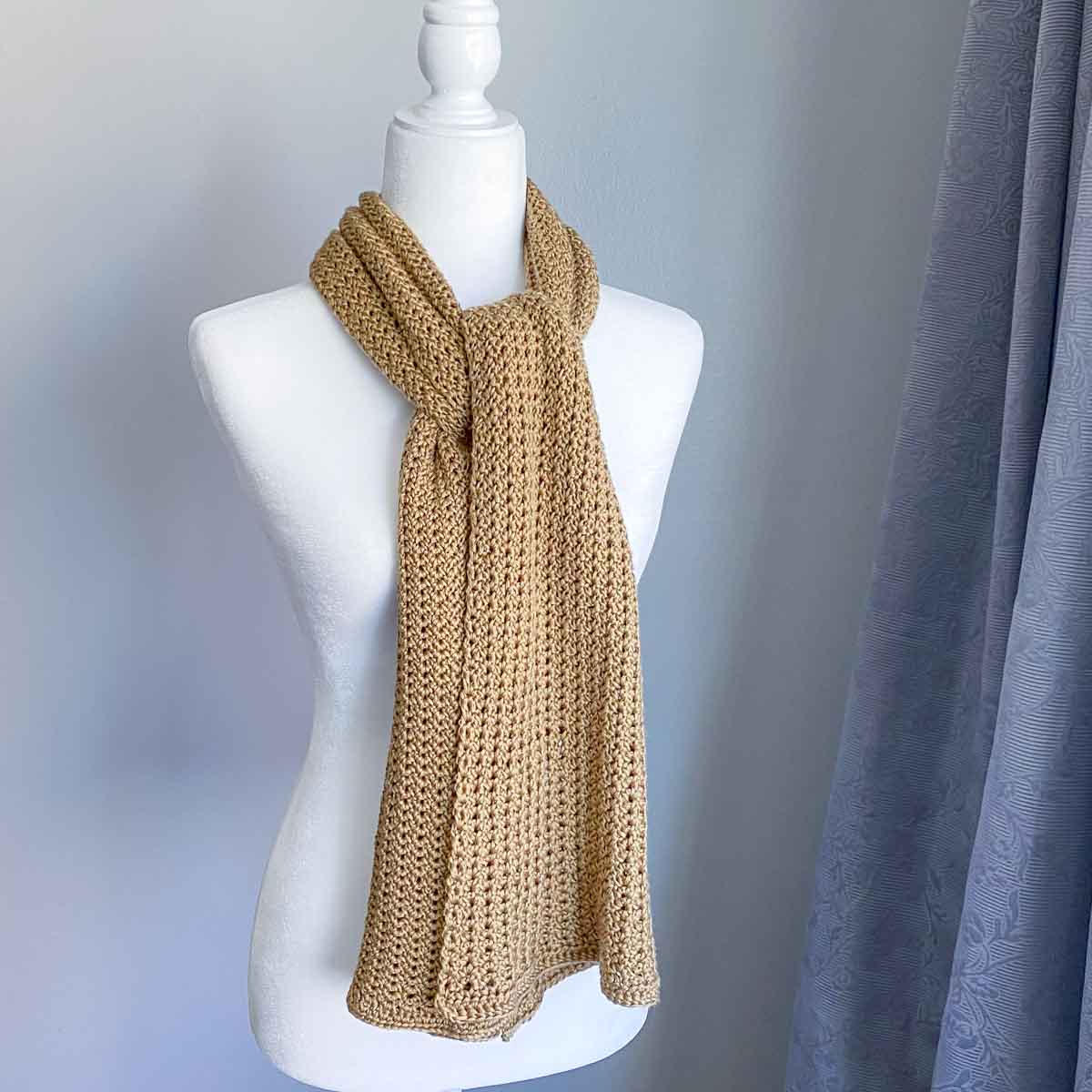 Beautiful Scarf Stitch Pattern
This scarf is actually really easy to make once you get the stitch pattern down. It first starts with 2 rows of half double crochets and then moves into the main stitch pattern combination. You'll also end with two rows of half double crochets.
The hdc rows are wider than all of the middle rows with lacy stitches, so the extra width will create a gentle ruffling on each end which just adds to the delicate and lovely look of the scarf.
Some of the best stitch combos are the easiest ones. These lacy-looking stitches are made by repeating a single crochet, chain 3, single crochet combo. You end up with a type of v-stitch that is an easy pattern but probably not a great beginner pattern if you are just starting to work on your crochet skills.
The simple stitches create a pretty vertical texture on the scarf that's really unique.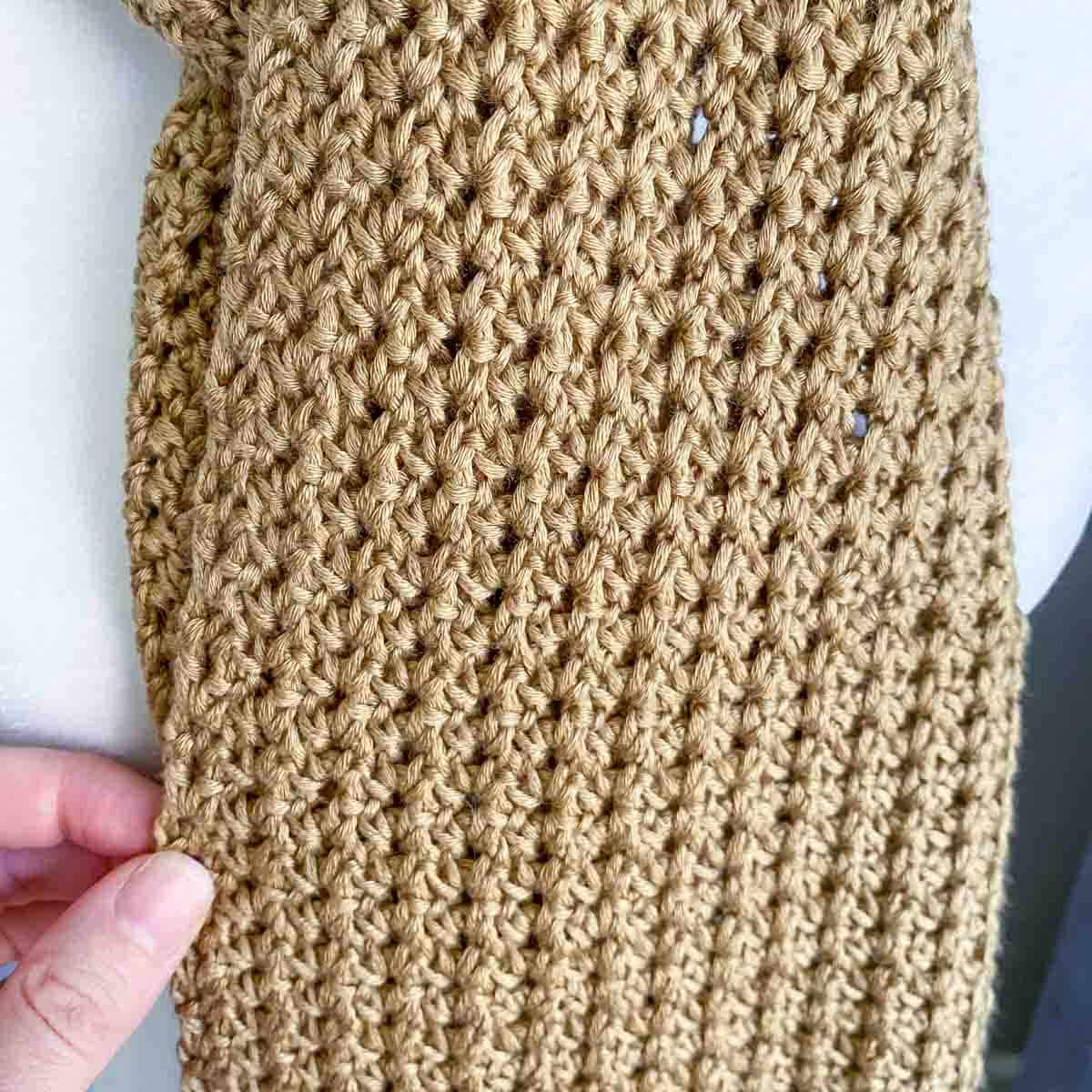 I first used this stitch combination in the Lacy Baby Blanket after learning it from the book Basic Crochet Stitches (The Harmony Guides) that you can get on Amazon.
Once you get the hang of this lace stitch combination, you'll be surprised at how fast you can go. It's a perfect project to complete while watching a show because it is easily repetitive but not boring.
Yarn used for the Beautiful Crochet Scarf
This was the first time I used Nuboo by Lion Brand Yarns a worsted weight 100% Lyocell yarn. Not sure what Lyocell is? Neither was I.
Lyocell is a type of Rayon that is processed cellulose (plant material). It makes a yarn that is soft and silky with a surprising amount of weight. It created a nice drape for the scarf.
Nuboo comes in 18 different yarn colors so you are sure to be able to find a color that fits well with your wardrobe.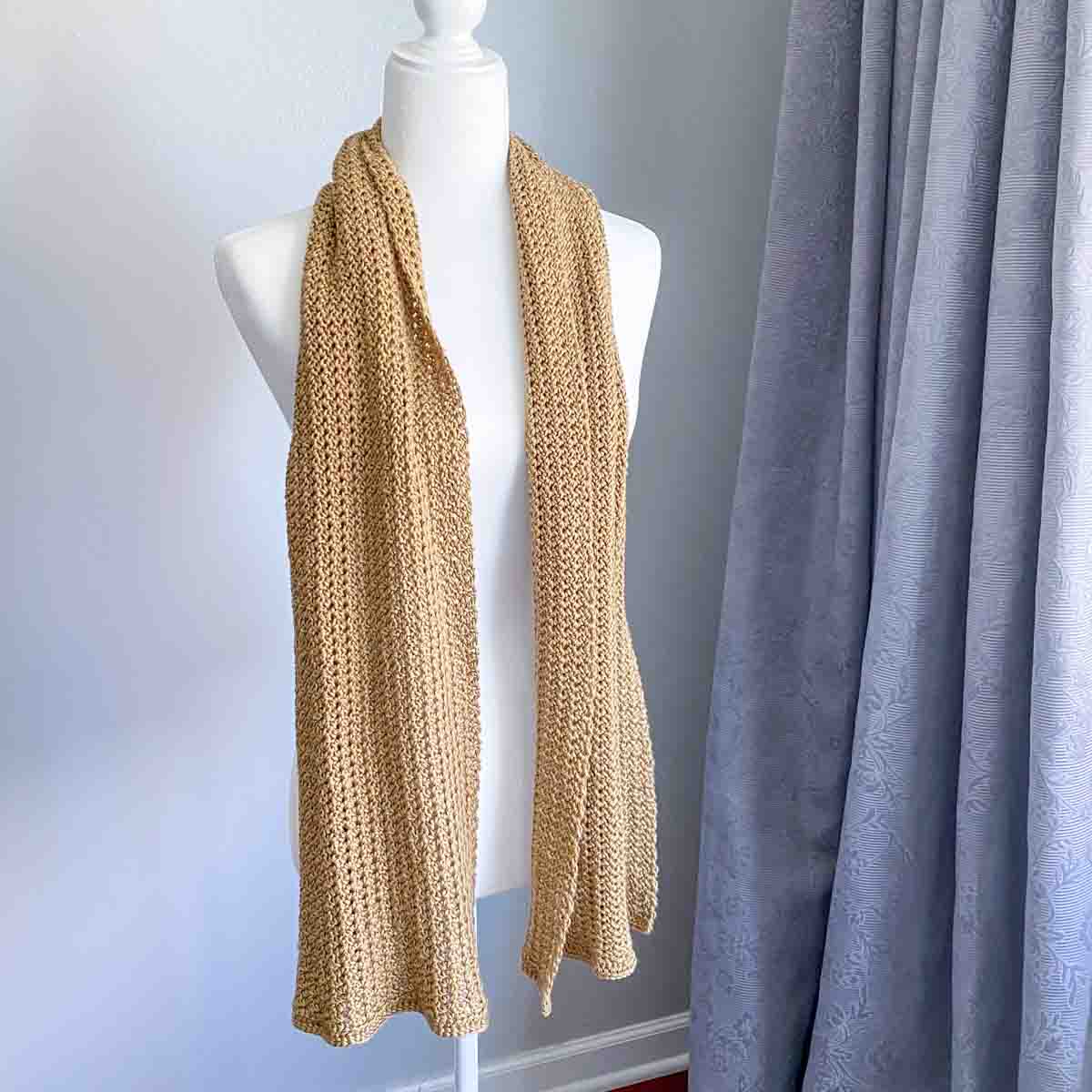 It isn't a light and fluffy yarn, so if you do substitute another yarn, like an acrylic or even a wool, you'll likely end up with a bulkier scarf. I am sure it will still be soft and pretty though. You can also try a DK weight acrylic yarn.
A cotton yarn, bamboo yarn, or one of those blends would be the closest substitute though.
Because Nuboo isn't tightly plied, it did tend to split while I was crocheting if I wasn't careful. Thankfully it just took a little time to get used to and then it wasn't much of a problem.
I also think this scarf would look great finished with fringe or tassels. I imagine the yarn would comb out nicely if you would want a fuller fringe too. I might just have to try that!
Don't forget to save this beautiful pattern on Pinterest!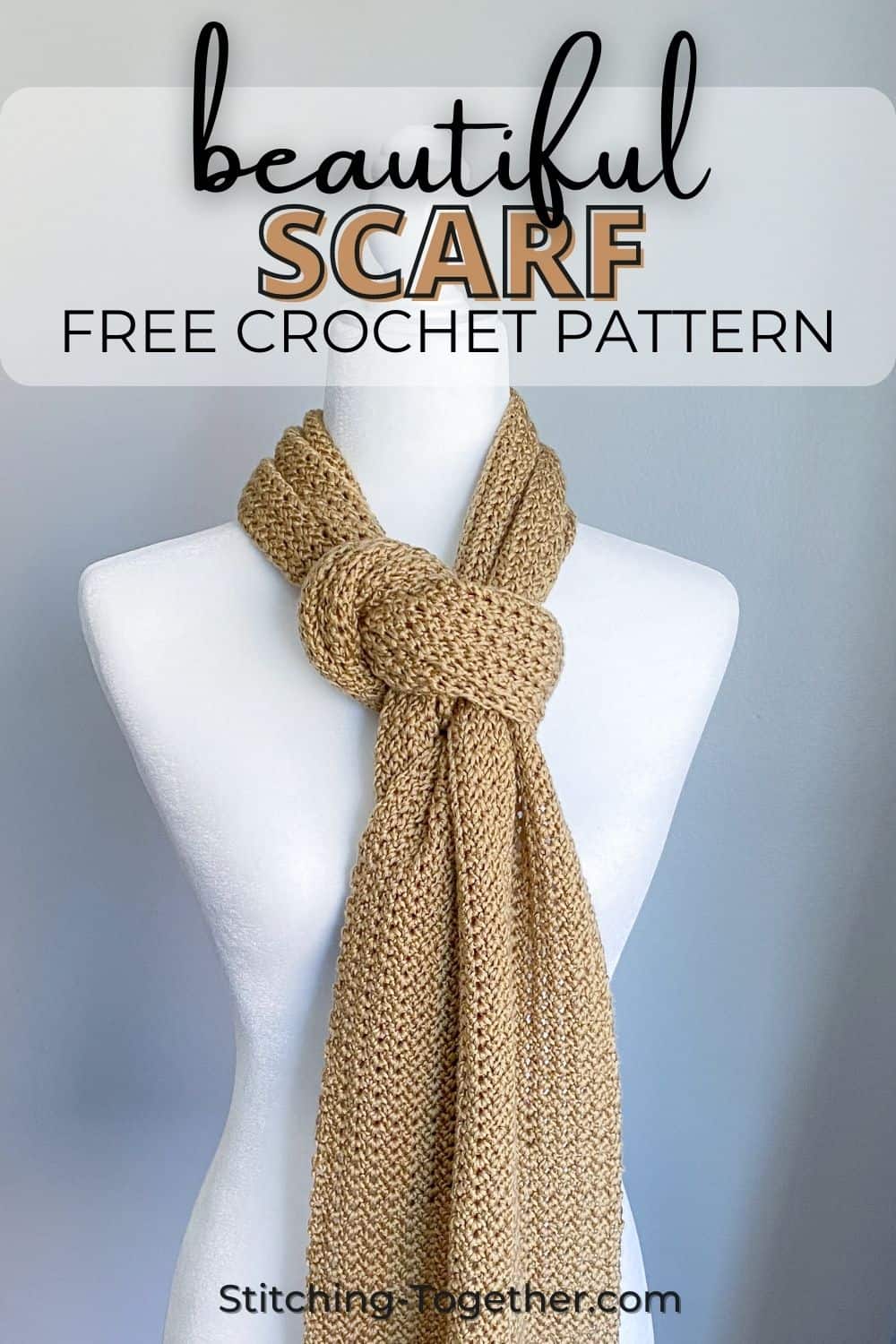 Beautiful Crochet Scarf Free Pattern
Skill Level: Easy
Materials:                             
US size H/8, 5.0 mm crochet hook
Nuboo by Lion Brand Yarns (100% Lyocell, Category 4 worsted weight yarn, 3oz/85g, 157 yds/144 m) The sample used approximately 864 yds (16.5 oz) in Hazelnut
Tapestry Needle
Abbreviations:
Fhdc: foundation half double crochet
ch(s): chain(s)
sc(s): single crochet(s)
hdc(s): half double crochet(s)
st(s): stitch(es)
Gauge: 4"x4" = 14 rows by 9 (sc, ch 3, sc) repeats
Finished Size: approx. 11.5" w by 60" long
Notes:
When instructed to work in the chain space, (ex: sc in ch-2 space), you will be working around the chain instead of into the chain.
To adjust the size of the scarf, keep the foundation row a multiple of 3+2.
To start with chain stitches, chain 81, hdc in the 2nd chain from the hook and in each chain across.
The first 2 and last 2 rows are wider than the middle rows of the scarf so there may be a small amount of ruffling at the ends.
Beautiful Crochet Scarf Pattern Instructions:
Row 1: Fhdc 80, turn (80) (see notes for starting with a chain)
Row 2: hdc in each st across (80)
Row 3: ch 4, skip 1st st, sc, *skip st, sc, ch 3, sc, repeat from * until 3 sts remain, skip st, sc, ch 2, hdc, turn
Rows 4-202: ch 4, sc in ch-2 space, *(sc, ch 3, sc) in ch-3 space, repeat from * until only the last ch space remains, (sc, ch 2, hdc) in final ch space, turn.
Row 203: ch 1, 2 hdcs in ch-2 space, *3 hdcs in ch-3 space, repeat from * until only the last ch space remains, 2 hdcs in final ch space, turn. (79)
Row 204: ch 1, hdc in each st across. (79)
Fasten off and weave in ends.
Will you share pictures of your finished projects?
.
If you like easy to print patterns, this pattern can be purchased in the following places:
Stitching Together Shop
Ravelry
Etsy
Thanks for your support!
.
Check out these other free crochet scarf patterns: