Disclosure: This post may contain affiliate links. As an Amazon Associate, I earn from qualifying purchases. Please visit my Privacy Policy for disclosures and more information.
From baskets to tapestries, to mandalas and more, there are so many different crochet wall decor ideas you can use to display your crochet skills in your own home.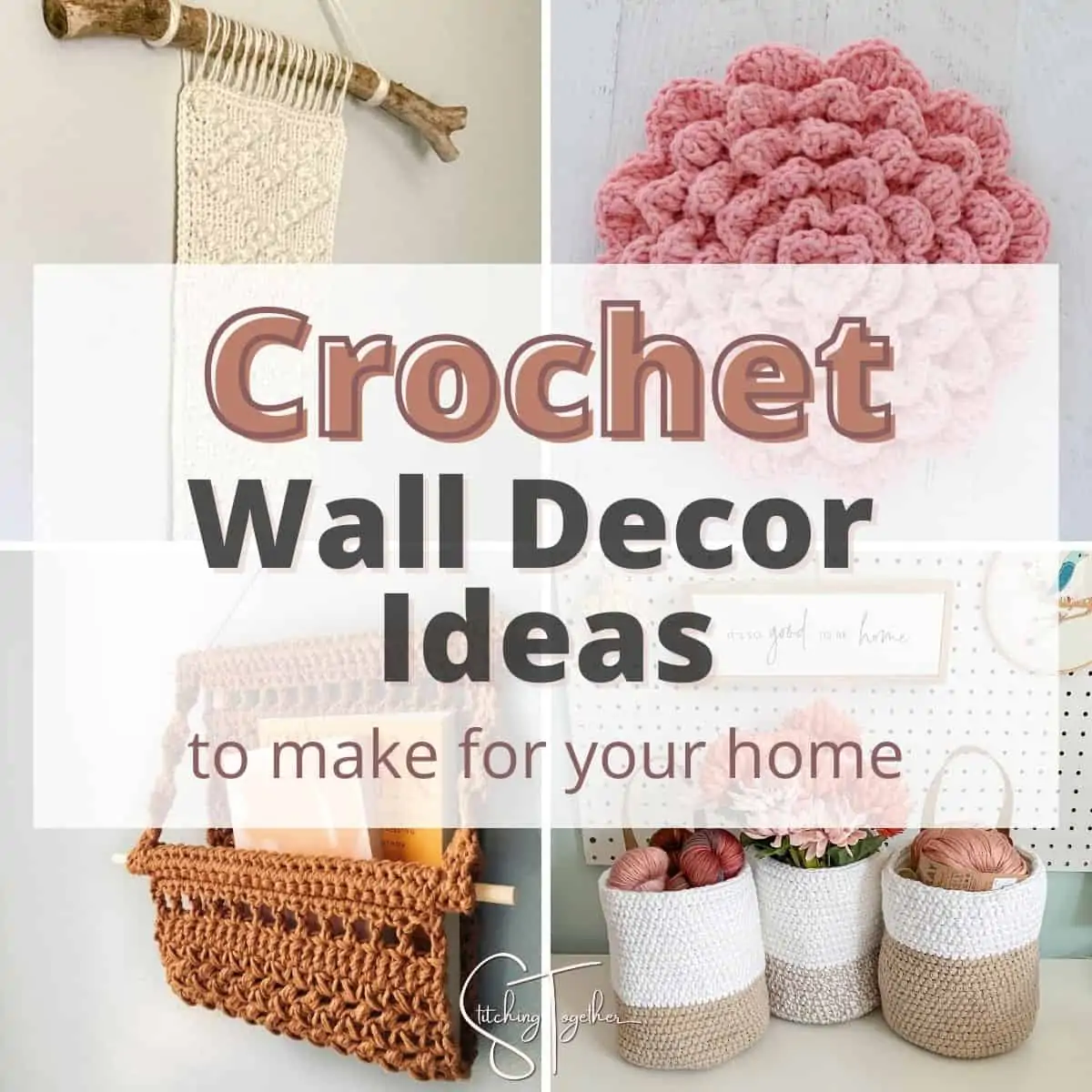 Below you will find a round-up of wall art ideas free crochet patterns as well as some gorgeous paid patterns. You are sure to find your next favorite crochet hanging decor.
It should be obvious that I love crocheting, but my passion for the last several years has been focused on designing which doesn't leave me with much time to crochet other designers' patterns.
I've mostly been fine with that until it came to putting together this round-up. I've been absolutely blown away by so many of these gorgeous crochet wall hanging patterns.
I keep eyeing my office wall and other blank walls in my home wondering how many crochet wall hangings is too many?
Don't forget to save these Crochet Wall Decor Ideas on Pinterest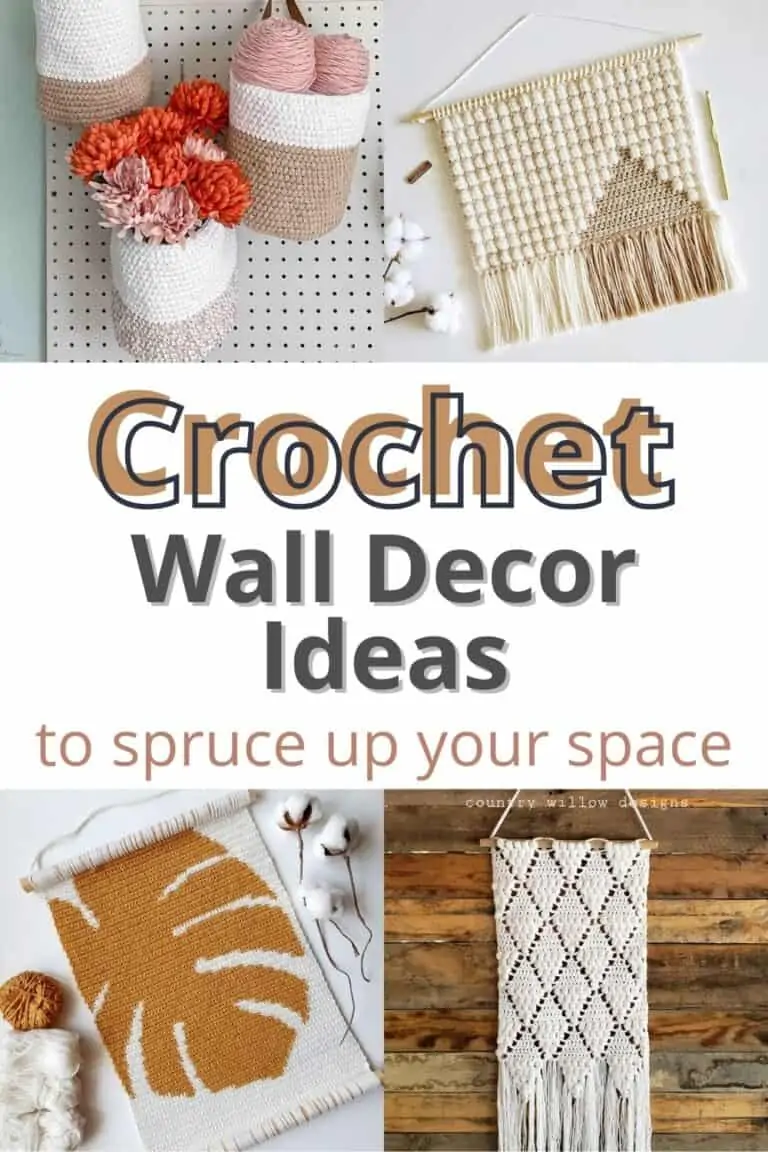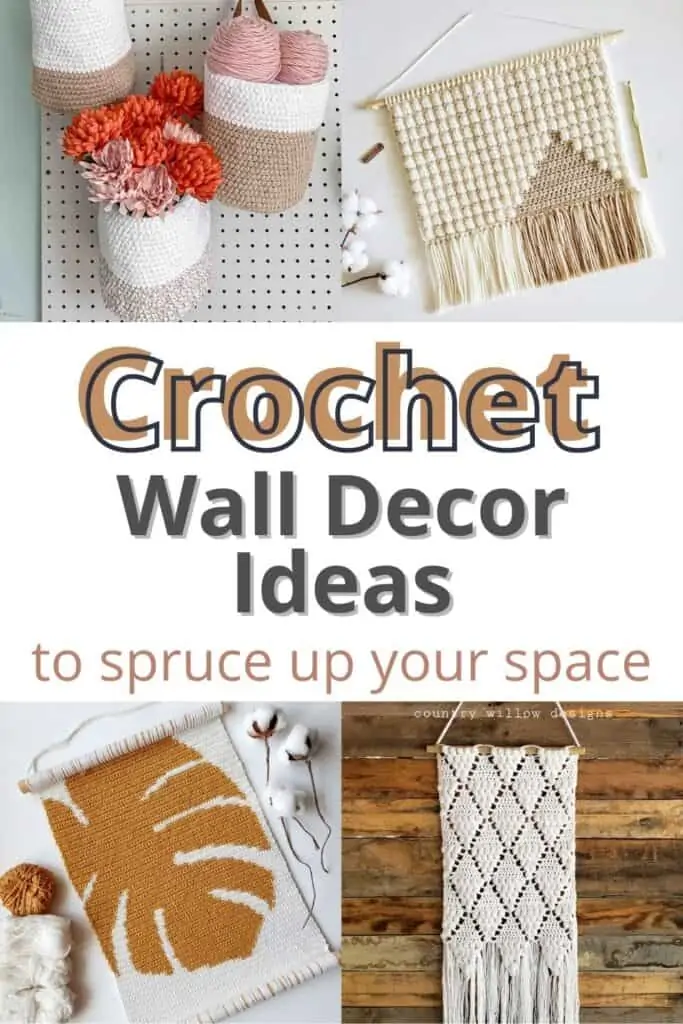 Wall Decor Crochet Ideas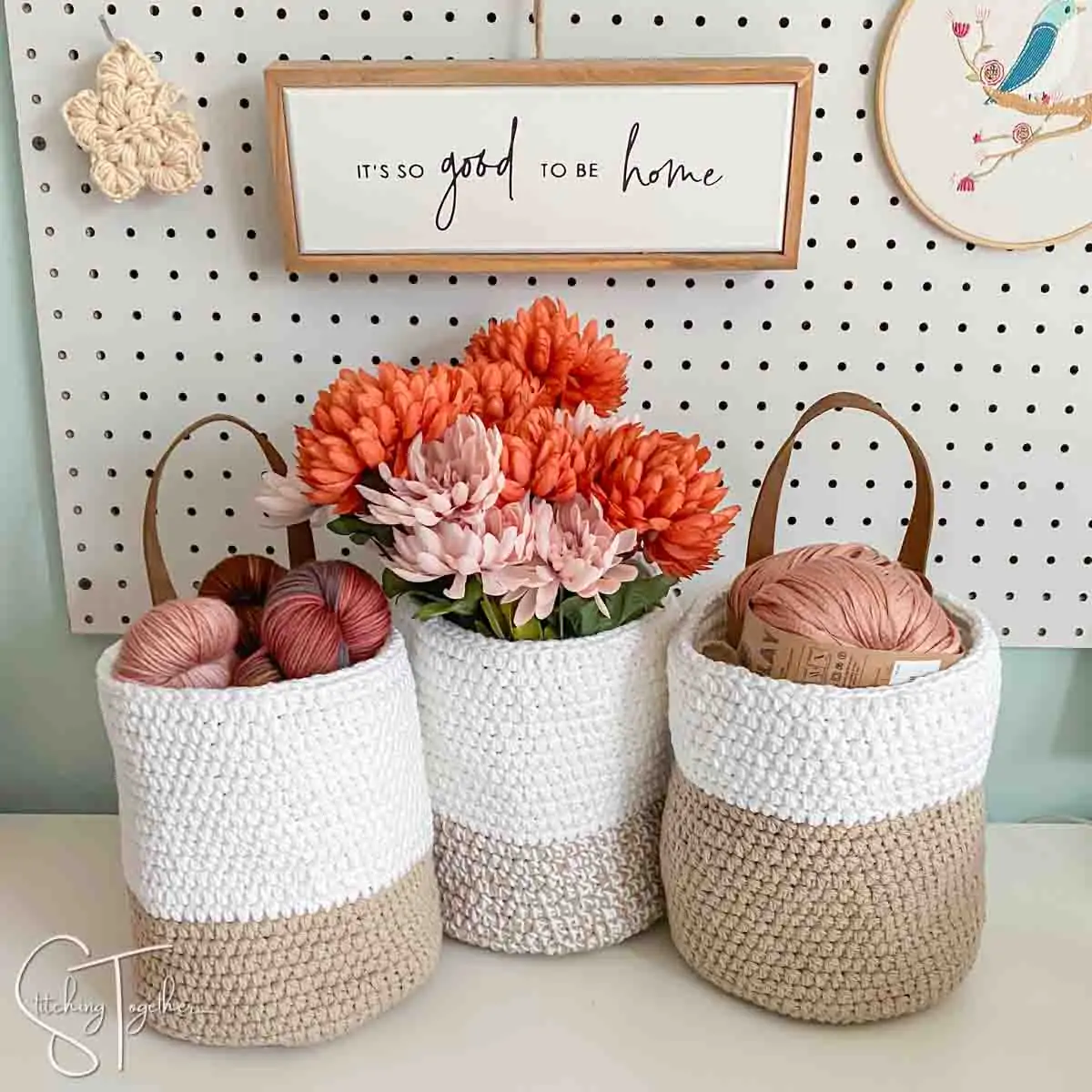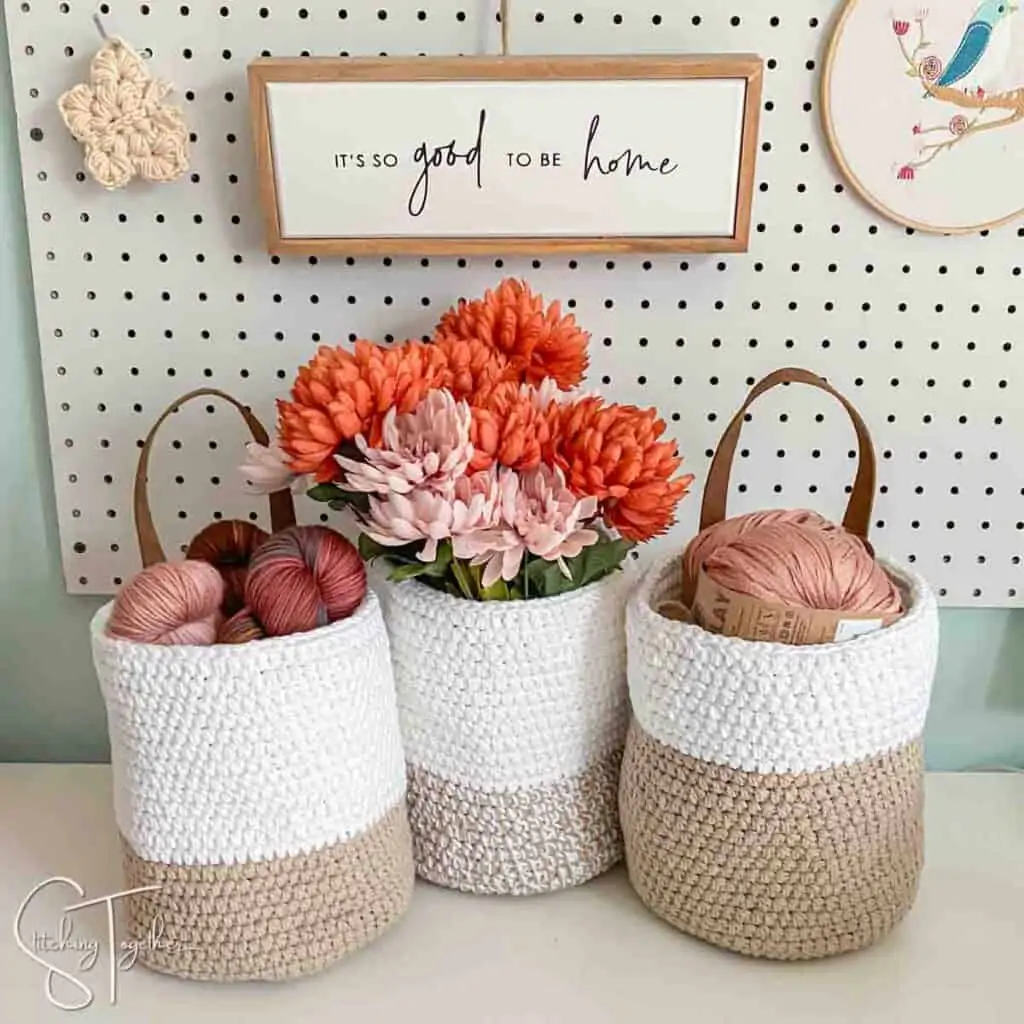 Hartfield Hanging Basket Crochet Pattern by Stitching Together
These gorgeous baskets hang in my office and hold some of my favorite skeins of yarn. They work well hanging anywhere in the house you need some extra storage. They'd be exceptionally cute in a bathroom holding extra hand towels or washcloths. You can also make the small pen holder version for your desk or to hang.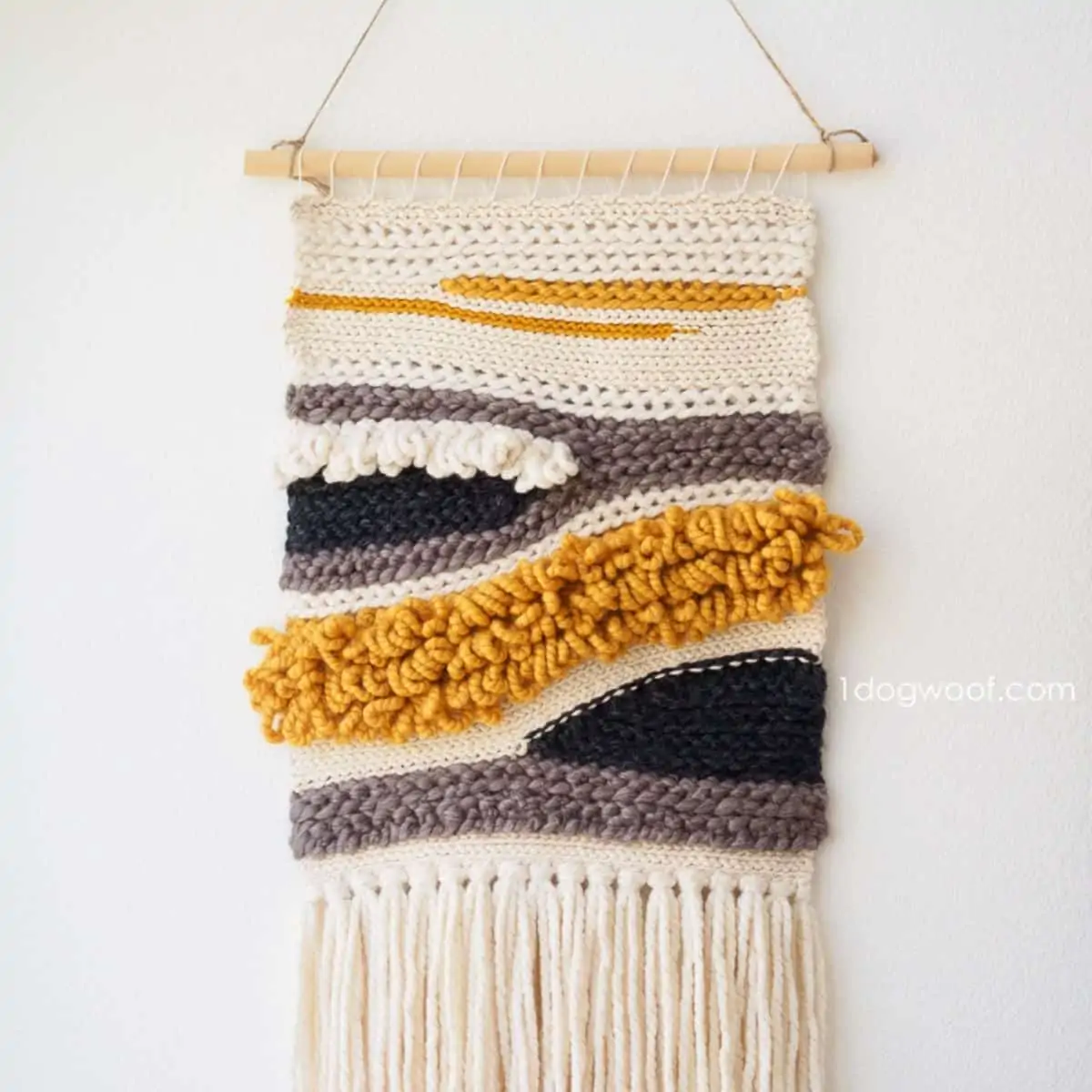 Woven Crochet Wall Hanging by One Dog Woof
Couldn't you just picture this gorgeous DIY wall hanging in your favorite boutique store? It's one of those projects that will make people respond, "I can't believe you made that!" Instead of following a step-by-step pattern, the tutorials teach you how to customize and make your version of this wall decor. Lovely, right?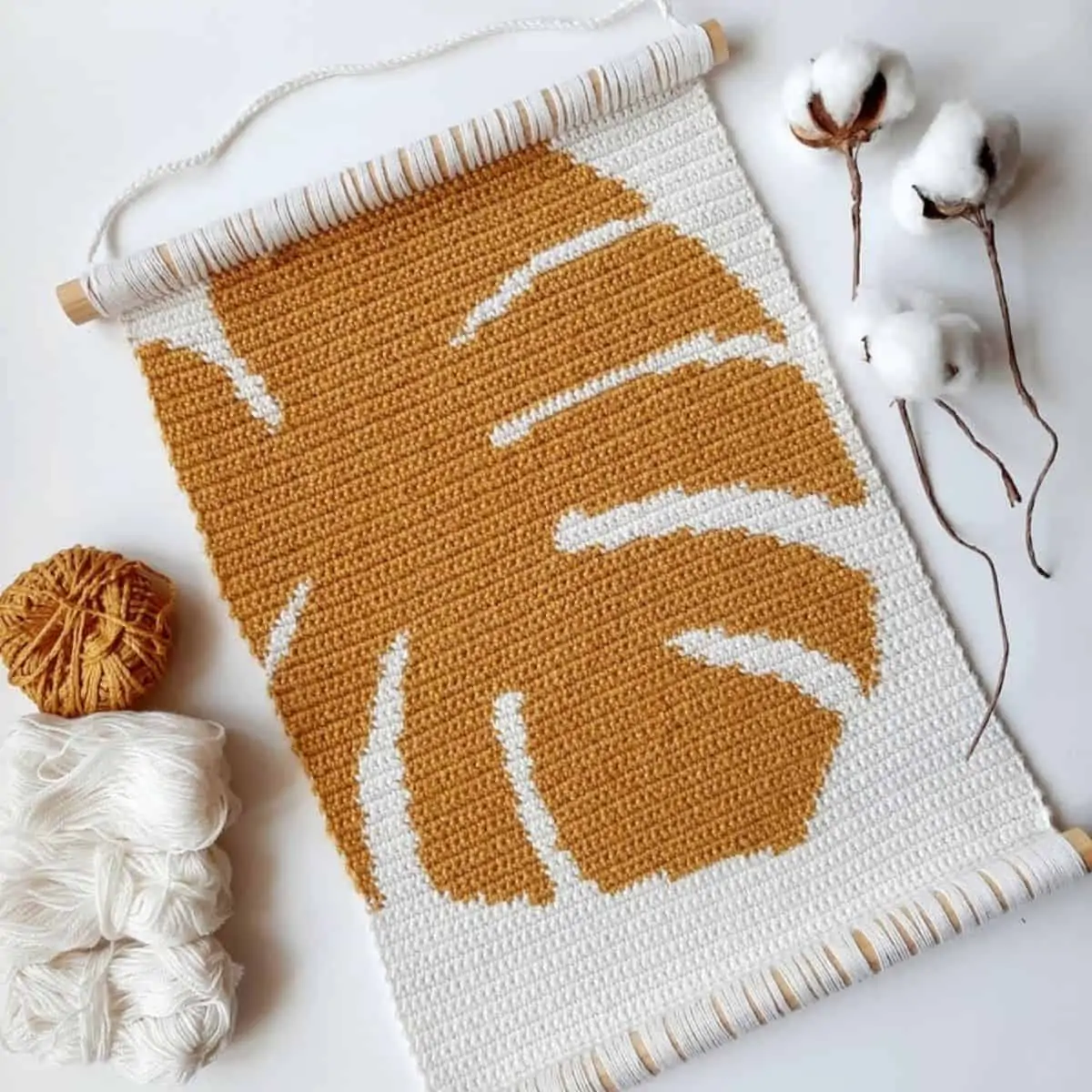 Monstera Crochet Wall Art Hanging by MYI Home Decor
It takes so much self-control not to drop all of my other WIPs and start on the Monstera Wall Hanging immediately. It is just so gorgeous and clever. According to the designer, the pattern includes both row by row instructions and a graph to follow. Isn't it amazing what you can create with just rows of single crochet?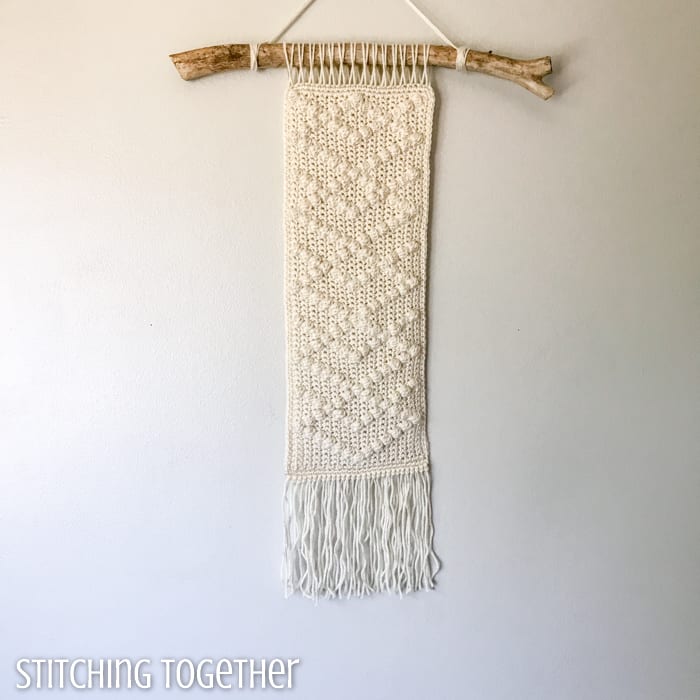 Modern Crochet Wall Hanging by Stitching Together
The simple bobble design, long silhouette, and added fringe make this hanging a great modern piece to add to a narrow width of wall space. It would even work great as part of a gallery wall design. You can easily use a dowel to hang it, but don't you think the branch adds something special?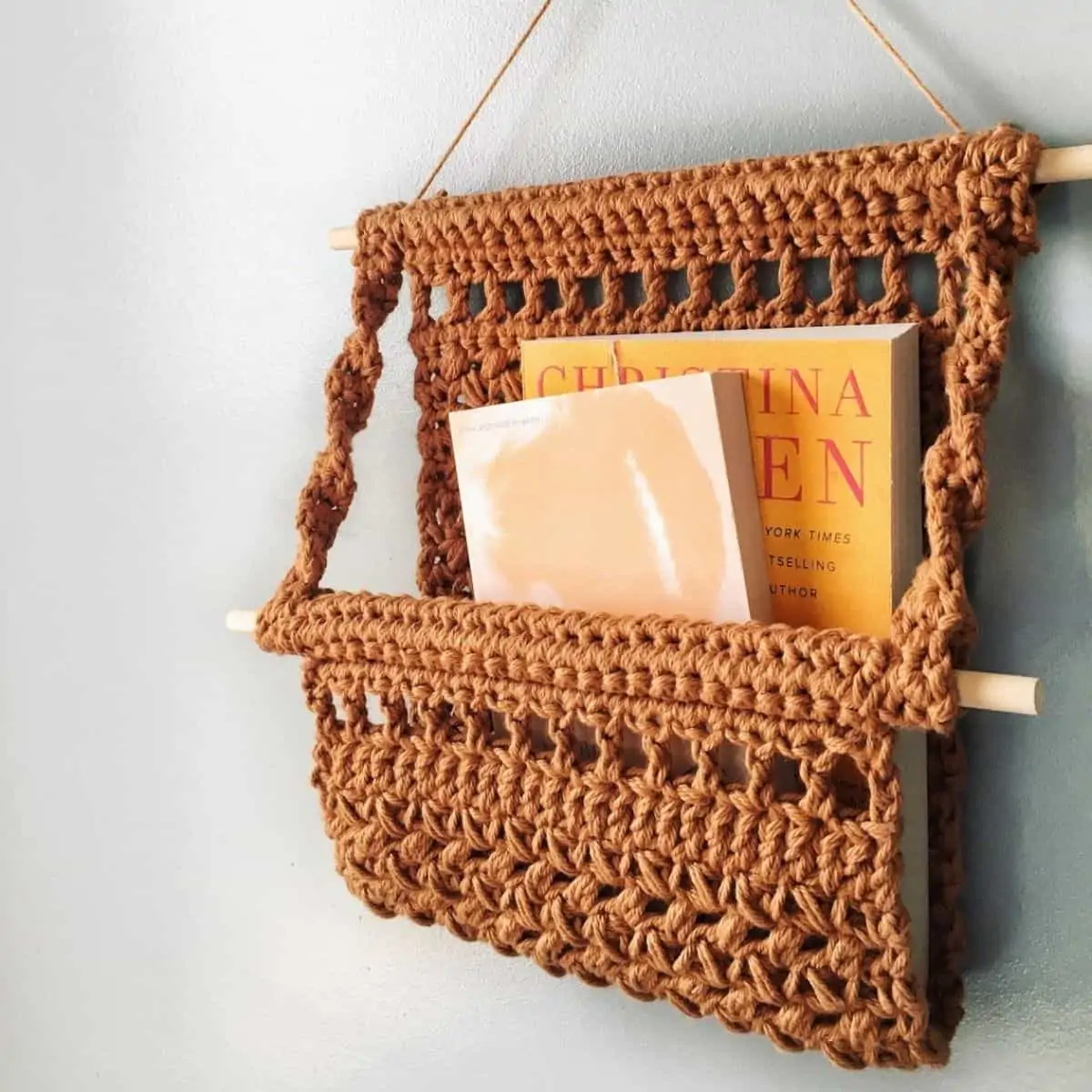 Boho Book Nook Crochet Hanger by Belle and Bean Crochet
Beauty and function come together in this lovely boho crochet book nook. I love the color the sample is crocheted in and I love that you can make it in any color you'd like to match your home decor.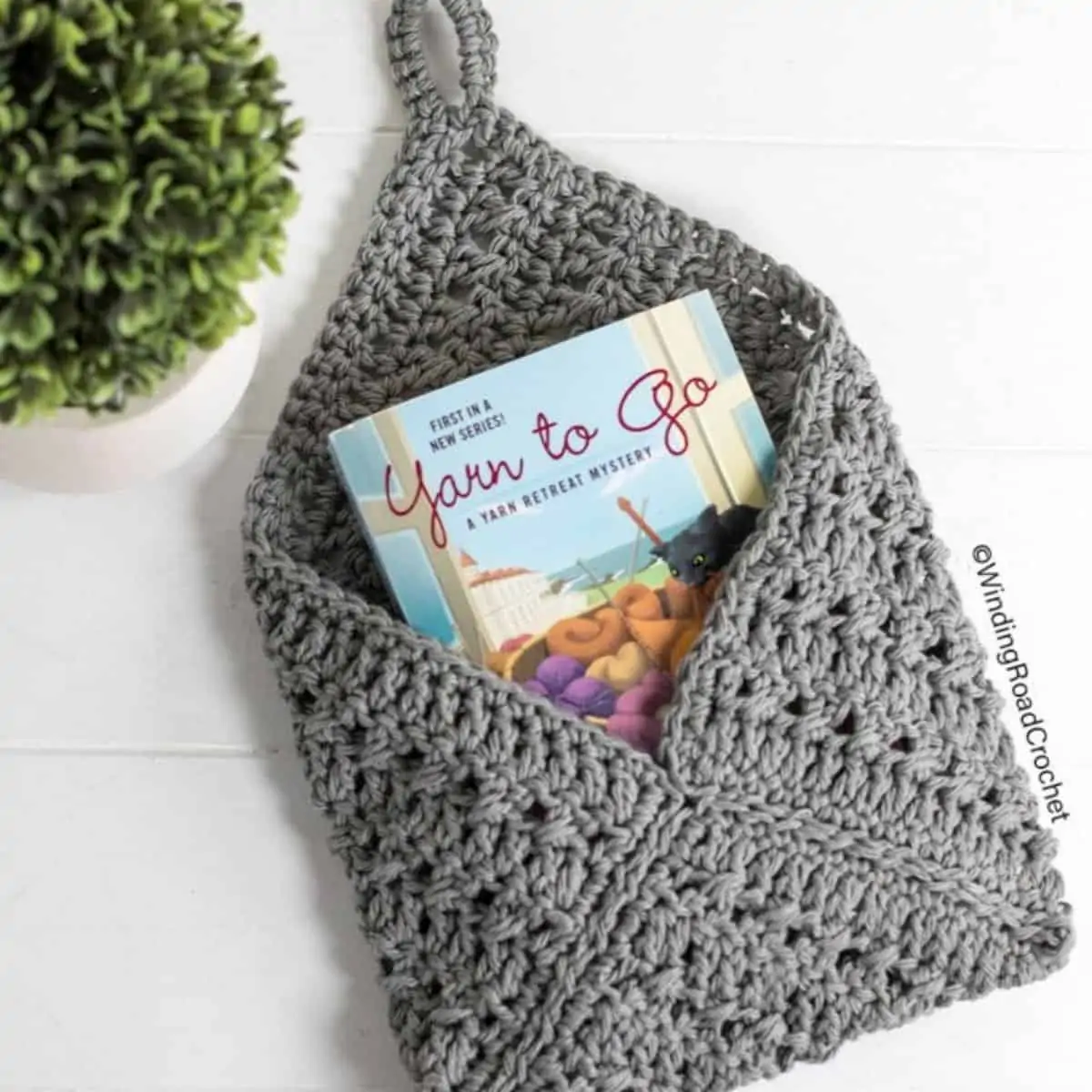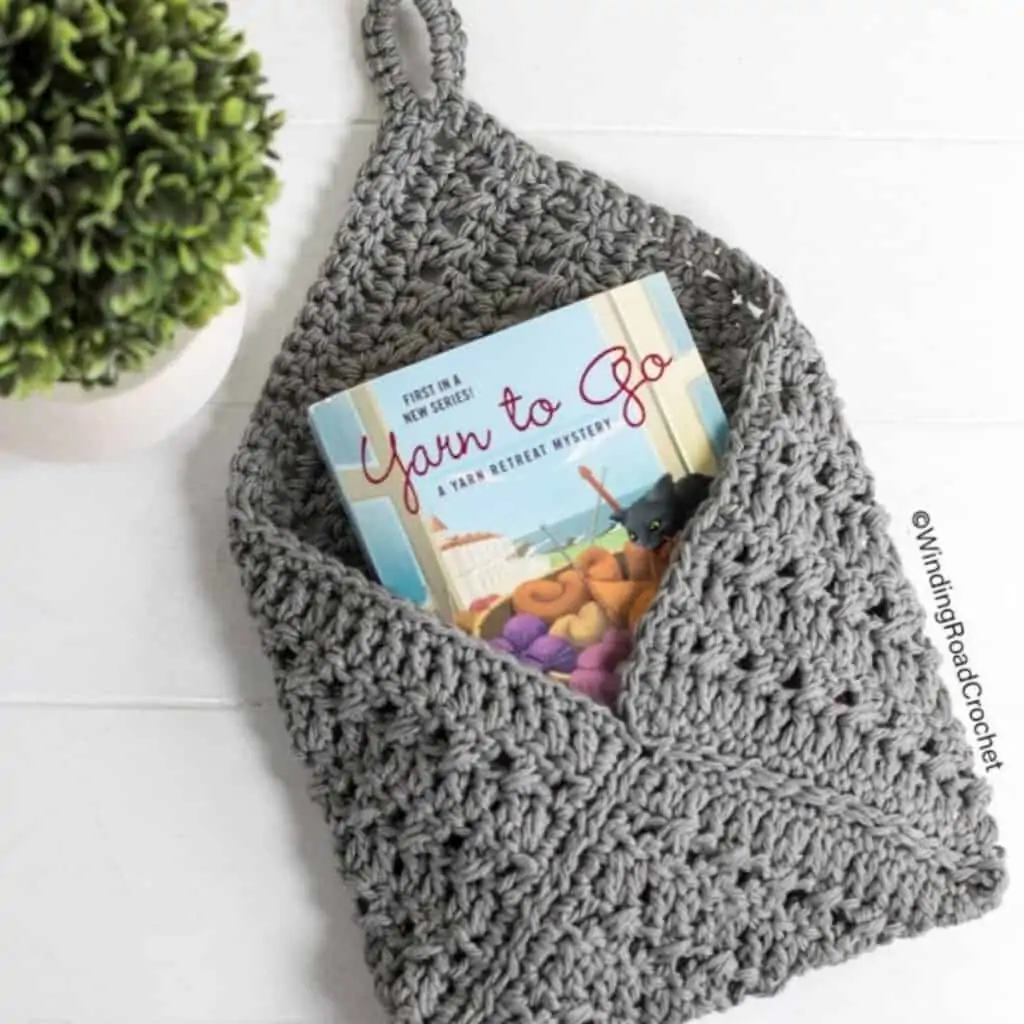 Hanging Wall Basket by Winding Road Crochet
If you can crochet a simple square, you can crochet this adorable envelope wall basket. I love the idea of using it or mail or having it hold a cute plant. I can think of several places an easy crochet basket like this would be helpful in my house.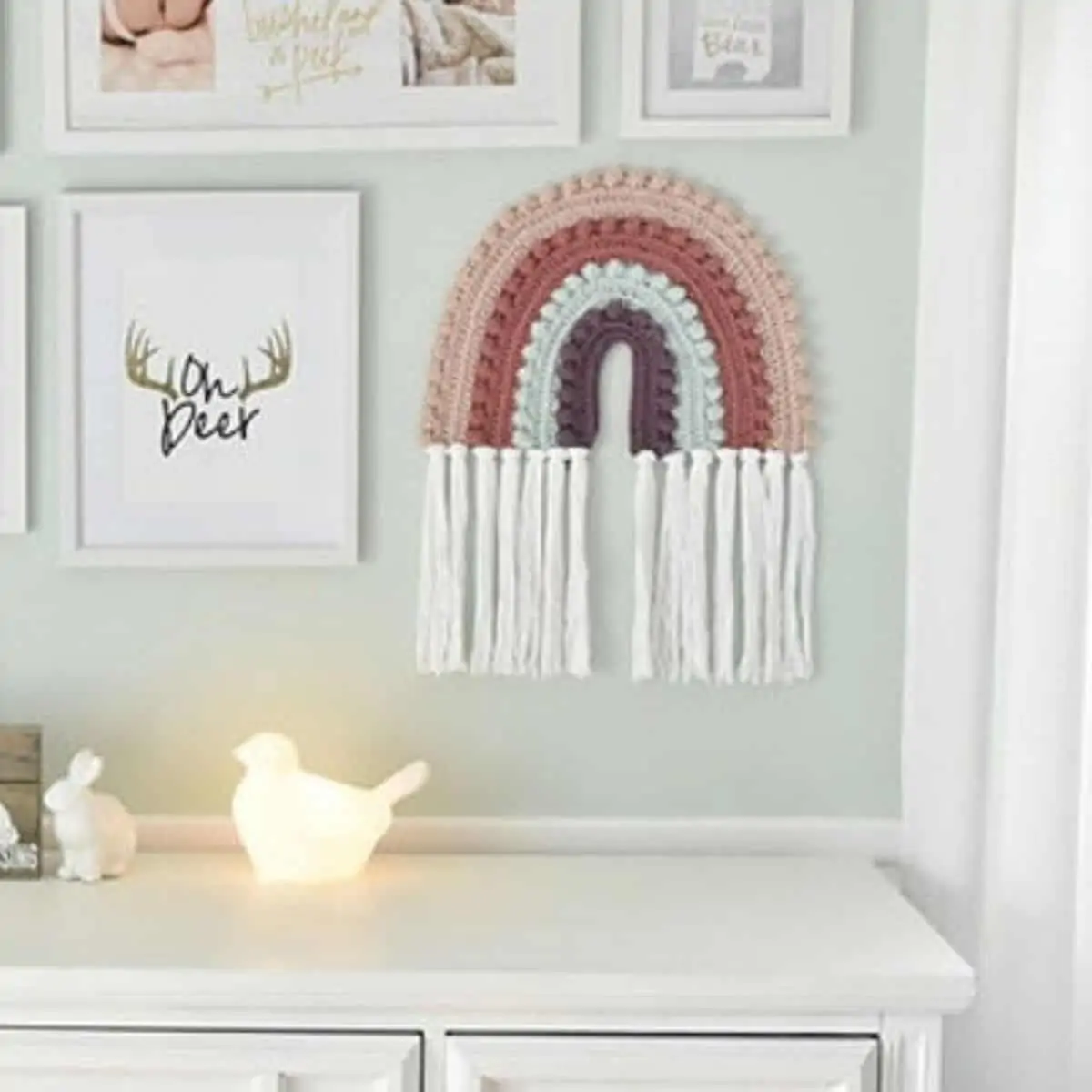 Rainbow Wall Hanging Crochet Pattern by Haley Handcrafted Shop
Rainbow wall hangings have been incredibly popular over the last couple of years so it is fun to see one that uses crochet. The reviews on this pattern are wonderful and it is fun to see the reviewers completed projects. Doesn't it look fabulous as part of a baby nursery decor?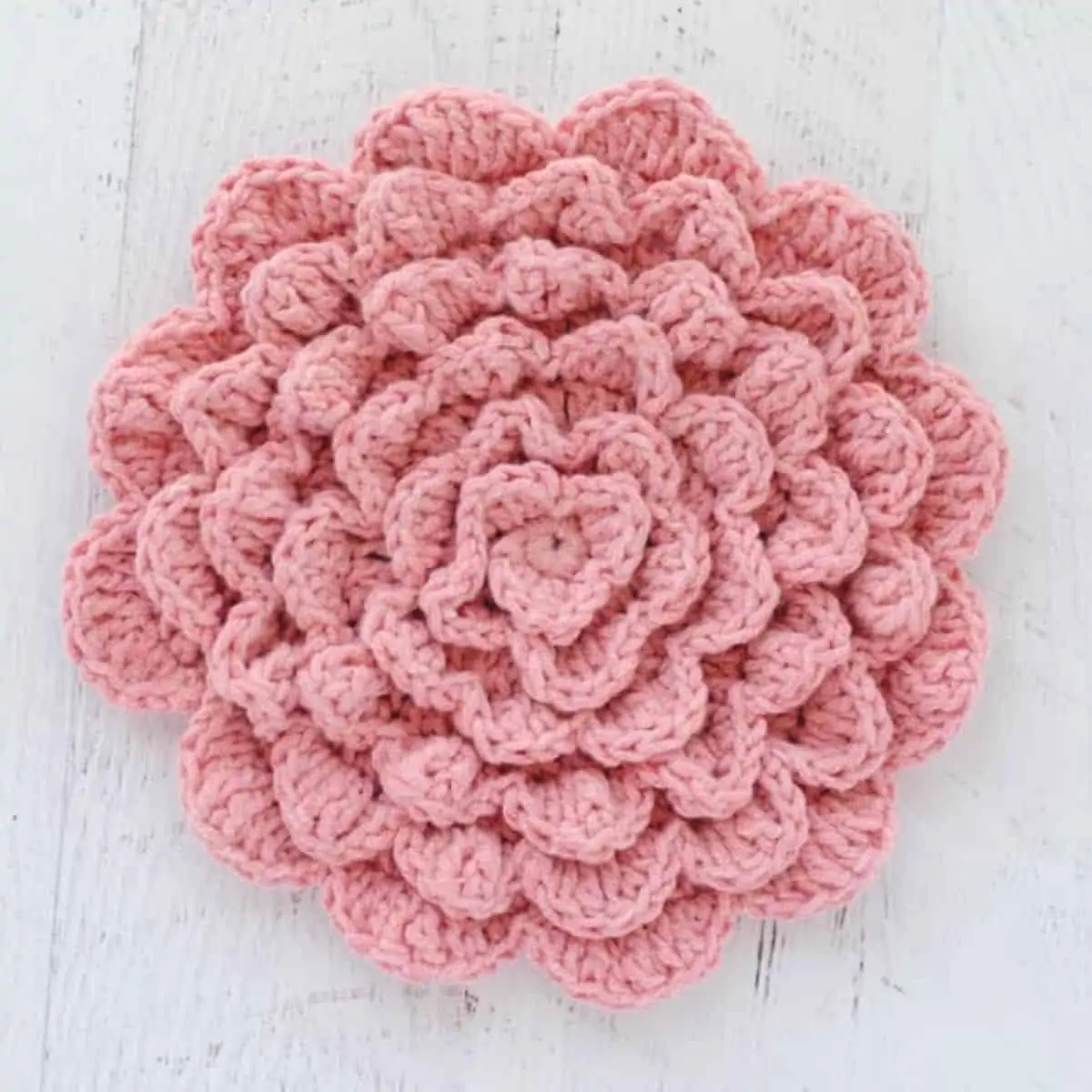 Flower Power Crochet Wallflower by Crochet 365 Knit Too
Instead of hanging a giant metal flower on your wall (have you seen those?) you can crochet a beautiful wallflower. This cute and clever design would look especially perfect in a chic nursery.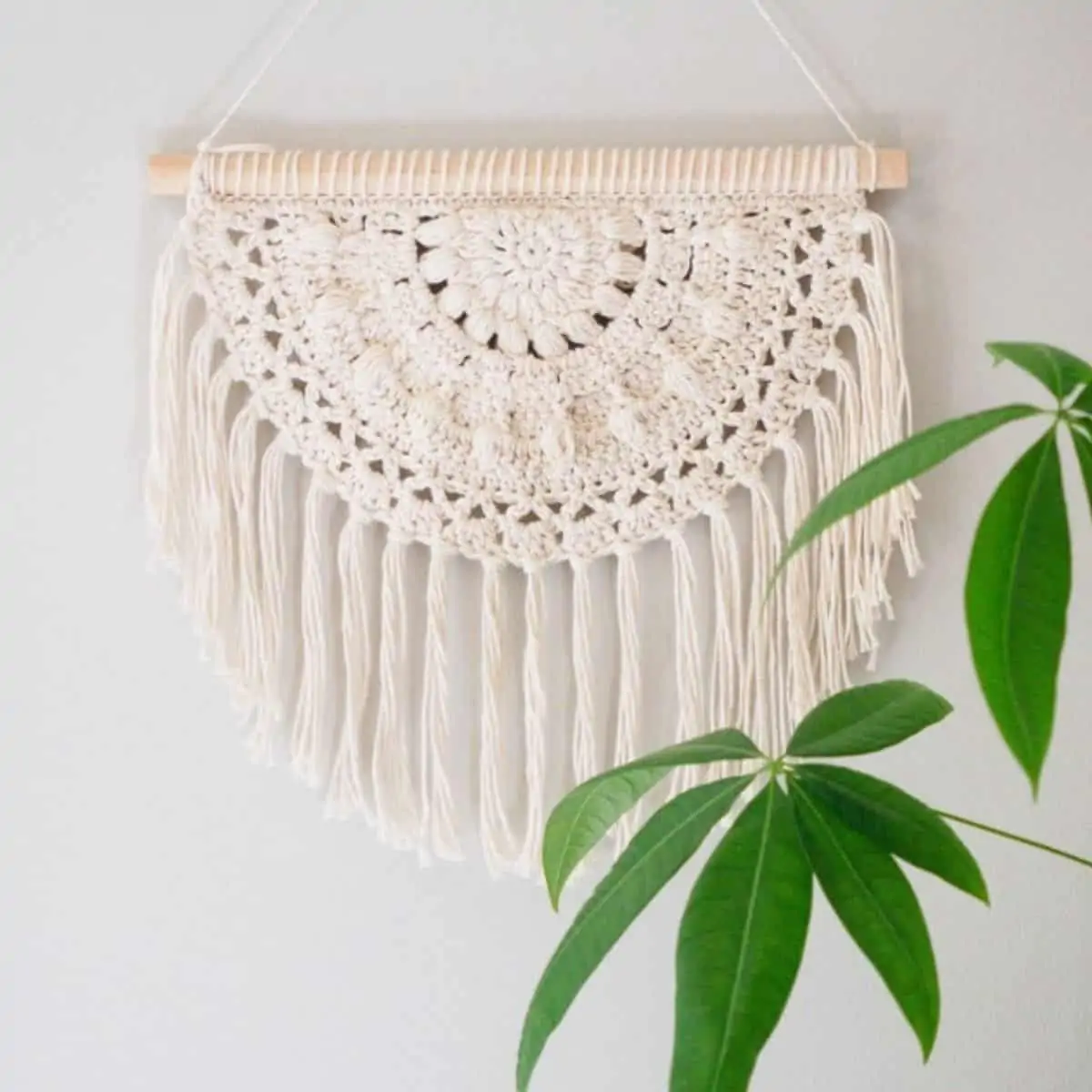 Blossom Wall Hanging by One Dog Woof
Besides being absolutely beautiful, this wall hanging is wonderful because it can be hung in two different ways to get a completely different look. I am not sure which way I like better, how about you?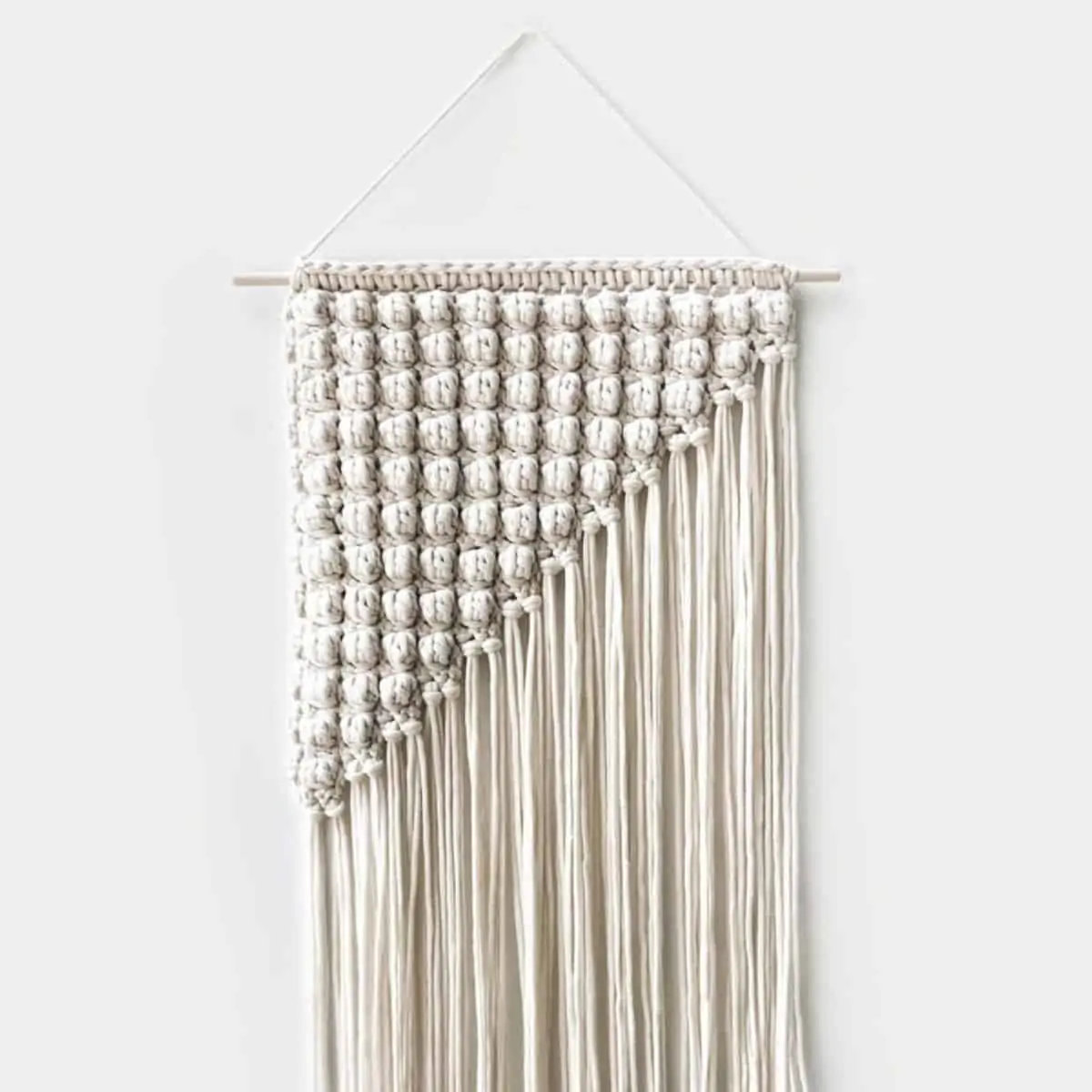 Bobble Wall Hanging Crochet Pattern by DeBrosse
Modern elegance is how I would describe this triangle wall hanging with a diagonal fringe. The large bobbles add the most gorgeous texture. It is marked as an Easy to Intermediate skill level.
Yarn Cuckoo Clock Wall Hanging by One Dog Woof
A whimsical and minimal clock that uses crochet? Who could dream up such a thing? ChiWei, that's who. I shouldn't be surprised because all of her designs are phenomenal. Be sure to take some time to browse her site when you look at the clock pattern.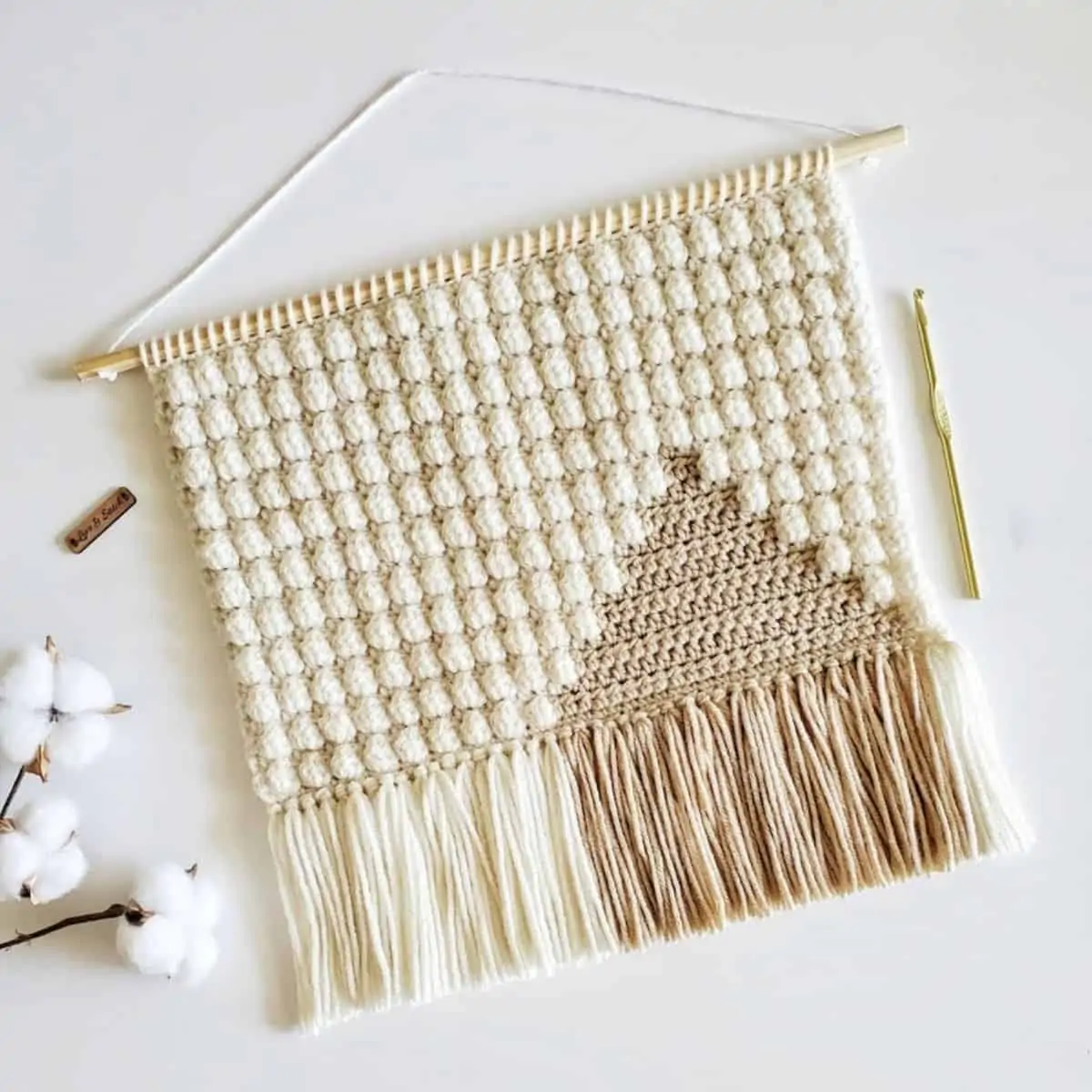 Bobble Stitch Wall Hanging by Love and Stitch Designs
This wall hanging would be cute without the triangle cutout, but that added pop of contrast just makes this piece artistically beautiful. I feel pleasantly surprised every time I look at it. This shop has MANY other creative wall hanging patterns so be sure to browse around a bit.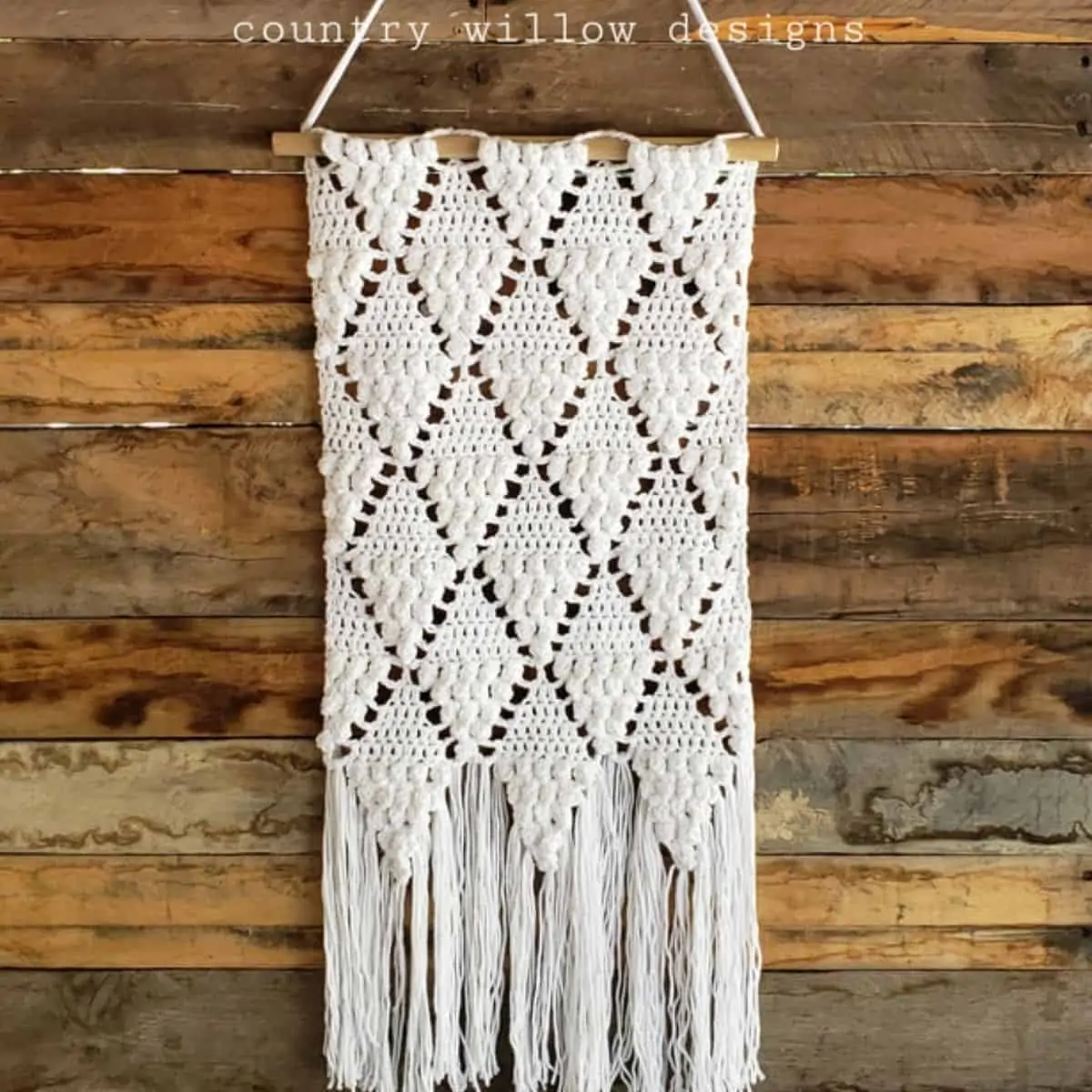 Popcorn Crochet Wall Hanging Pattern by Country Willow Designs
This free crochet wall hanging pattern from the Country Willow Designs was an instant favorite the first time I saw it. I love the blend of puff stitches and the diamond motifs. I've already included this pattern in the What to Crochet with Cotton Yarn round-up but I couldn't help including it here too.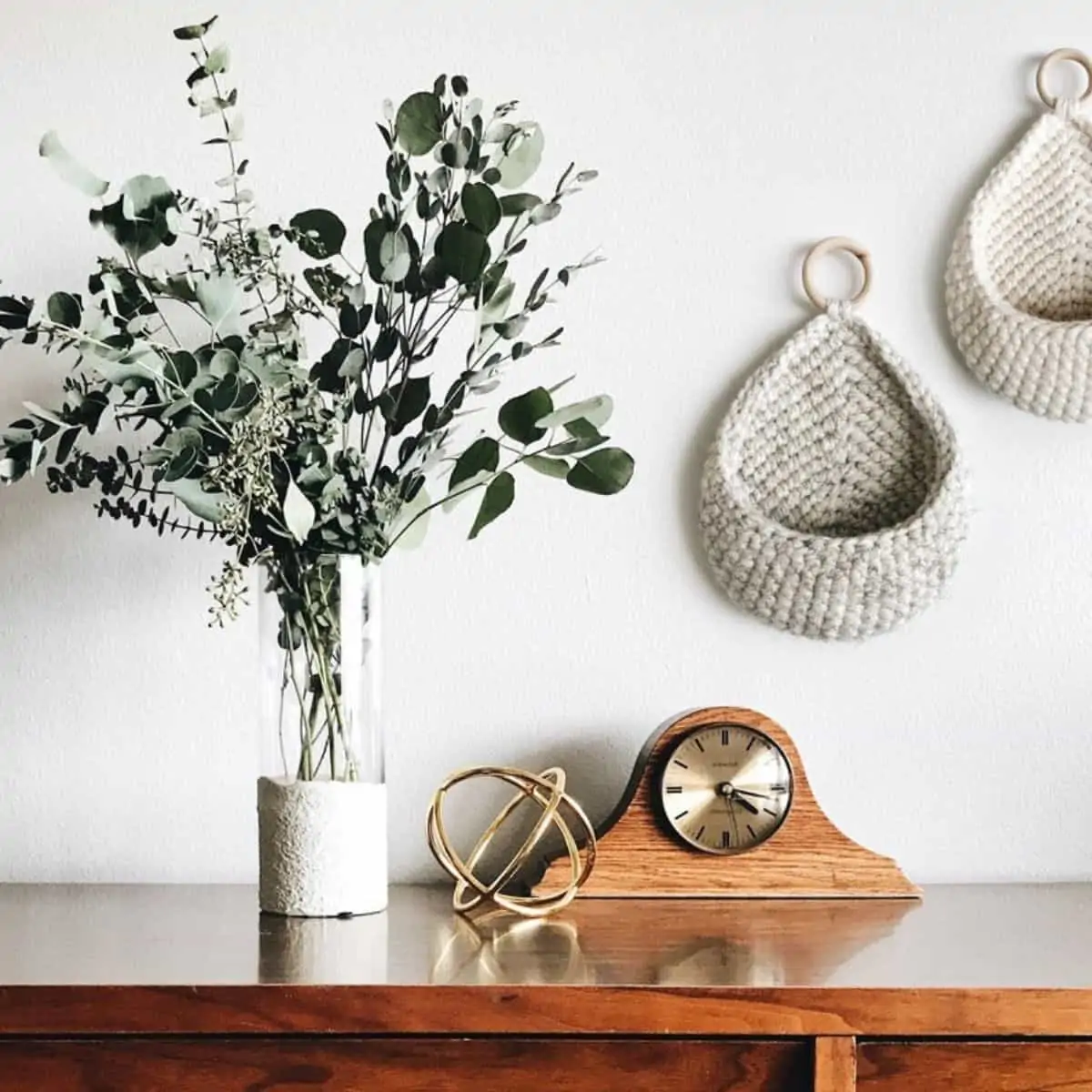 Small Hanging Baskets Crochet Pattern by DeBrosse
I'm not sure what I would put in these teardrop crochet baskets, but they are lovely enough to just hang on the wall empty. The combination of the little wooden rings plus crochet fabric is giving total minimalistic boho vibes.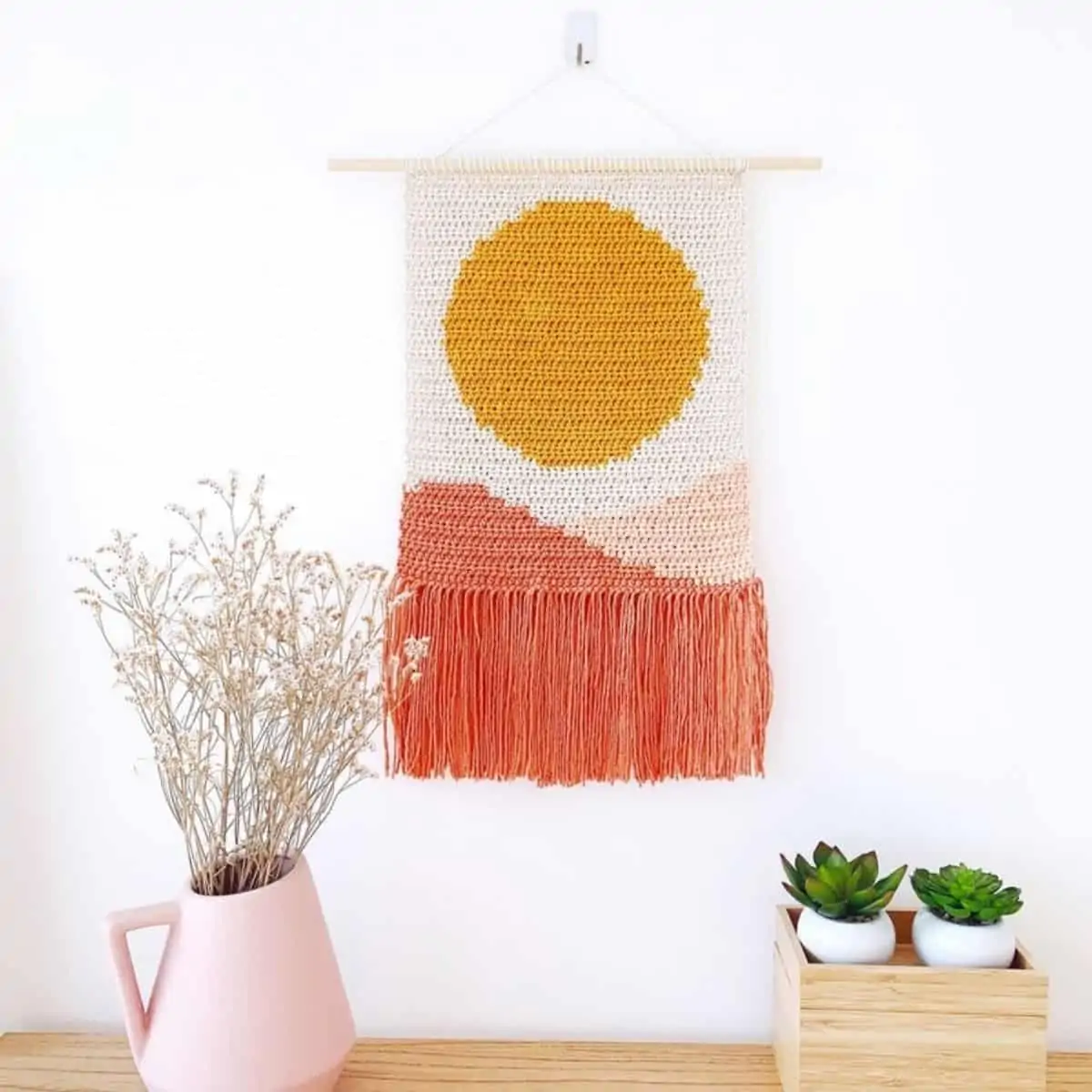 Sun Wall Tapestry Crochet Pattern by Flor Samoilenco DIY
Another gorgeous tapestry design that makes a big impact with a minimalist design. It reminds me of the sun setting over the desert and has me longing for warmer weather! Amazing how you can create something so beautiful with easy crochet stitches.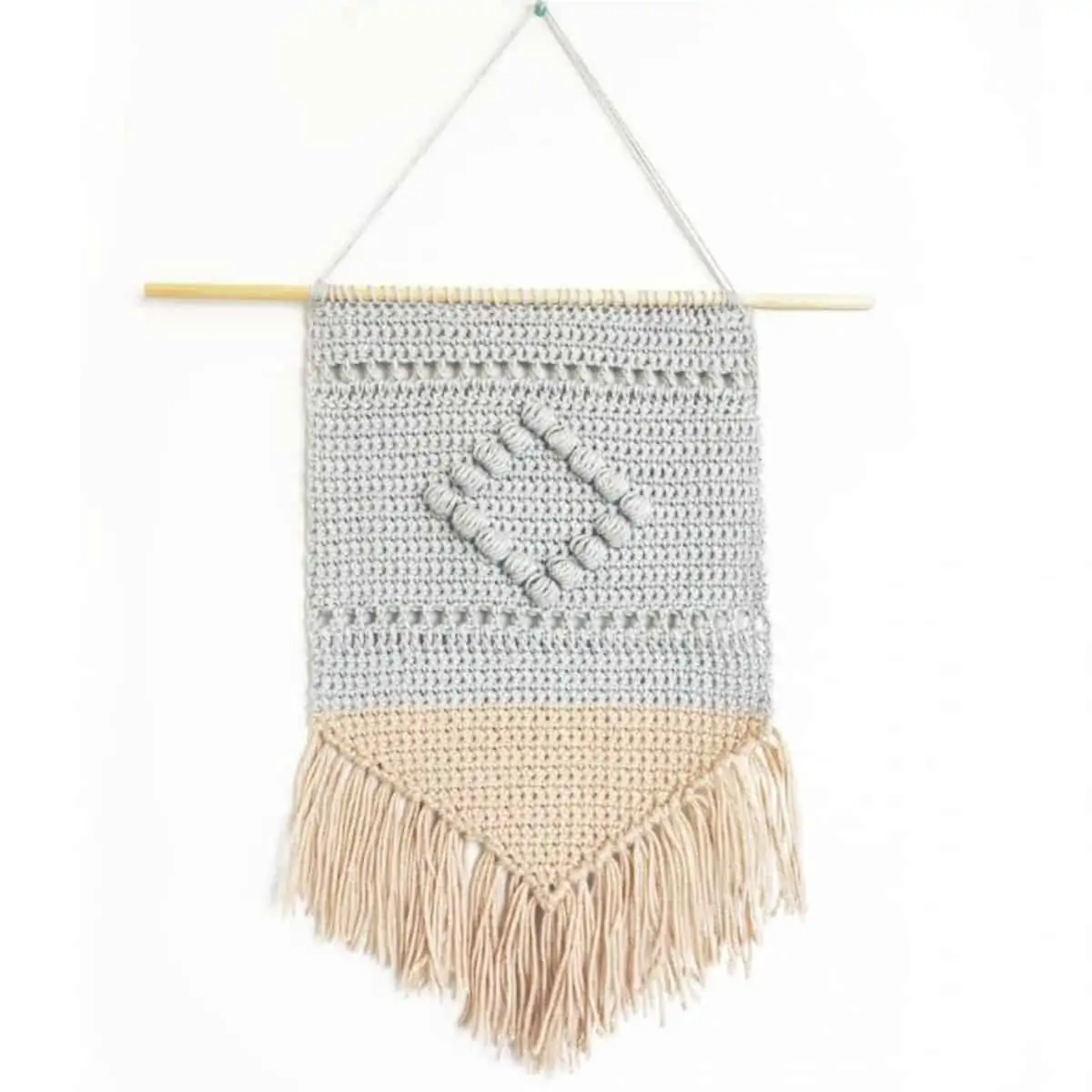 Boho Diamond Wall Hanging by Cream of the Crop Crochet
This small boho wall hanging looks like a perfect quick project to add a quick touch of crochet to your wall decor. I love the bobbles and surprising color change.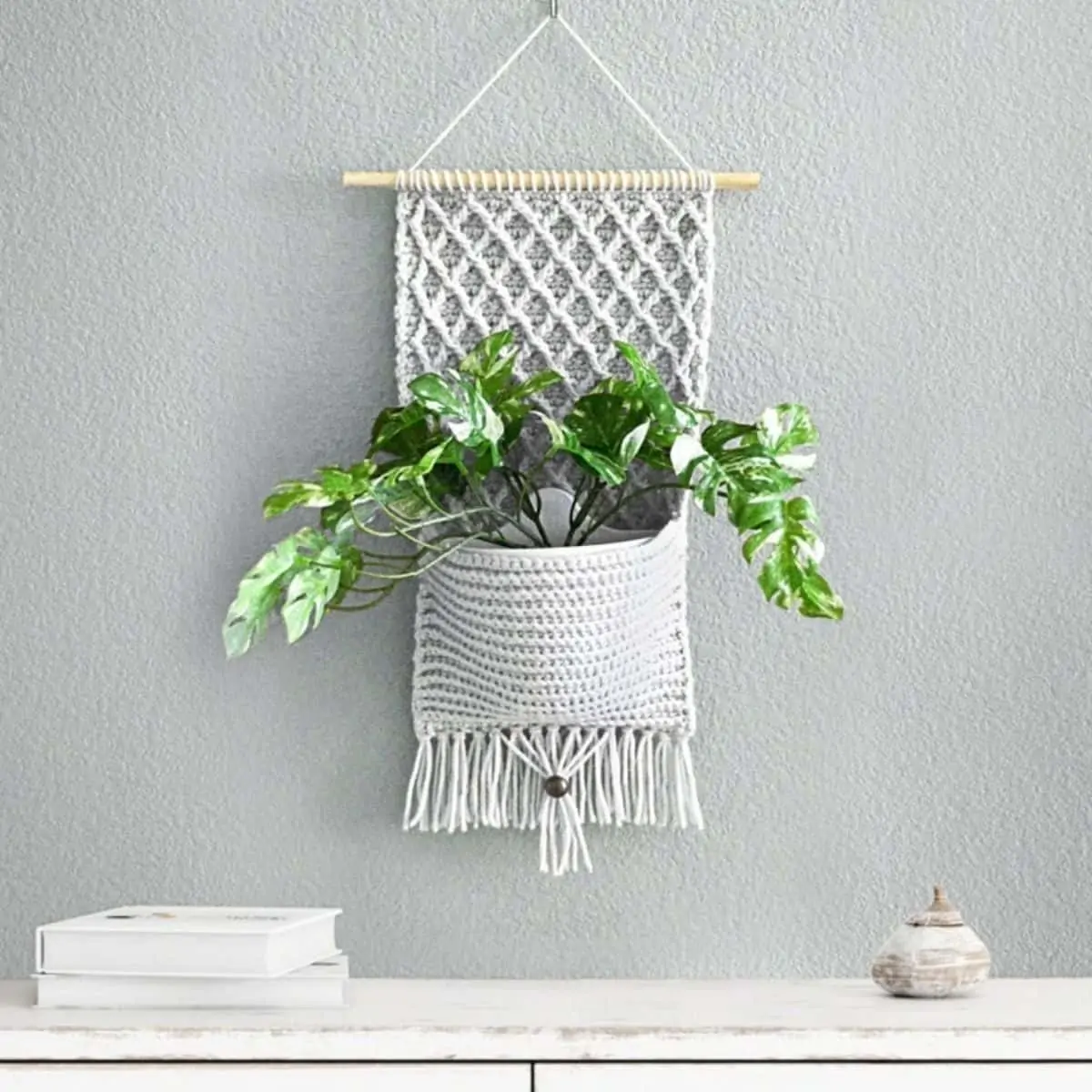 Crochet Plant Wall Hanger Pattern by Little Light Design
I didn't find as many plant wall hangers as I expected to find, but do we really need more options after seeing this lovely plant hanger pattern? I love the textured diamond fabric peeking out from behind the plant.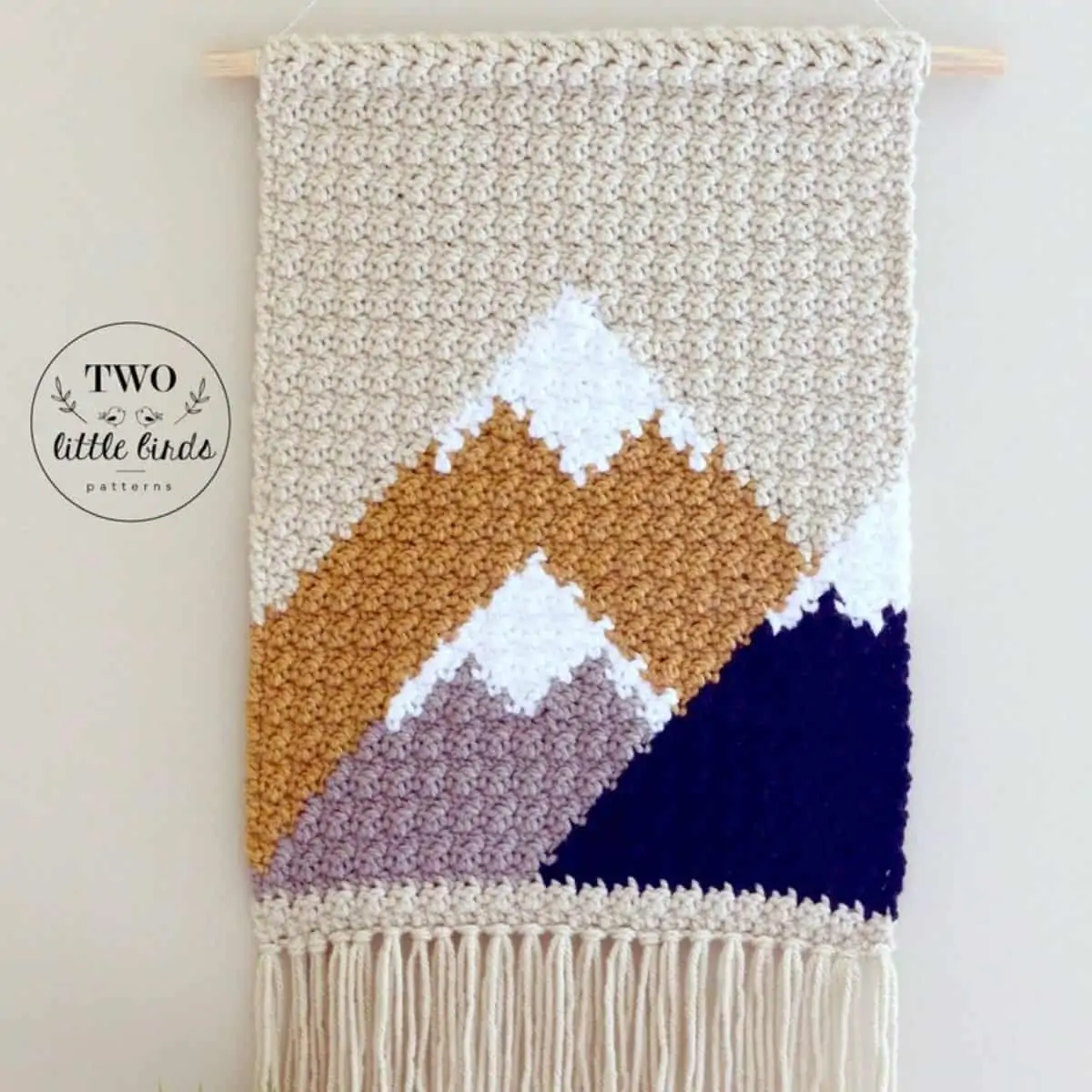 Mountain Wall Tapestry Decor by TLB Patterns
The mountains are indeed calling from this beautiful crochet tapestry hanging. The gorgeous texture and mountain designs make this hanging unique.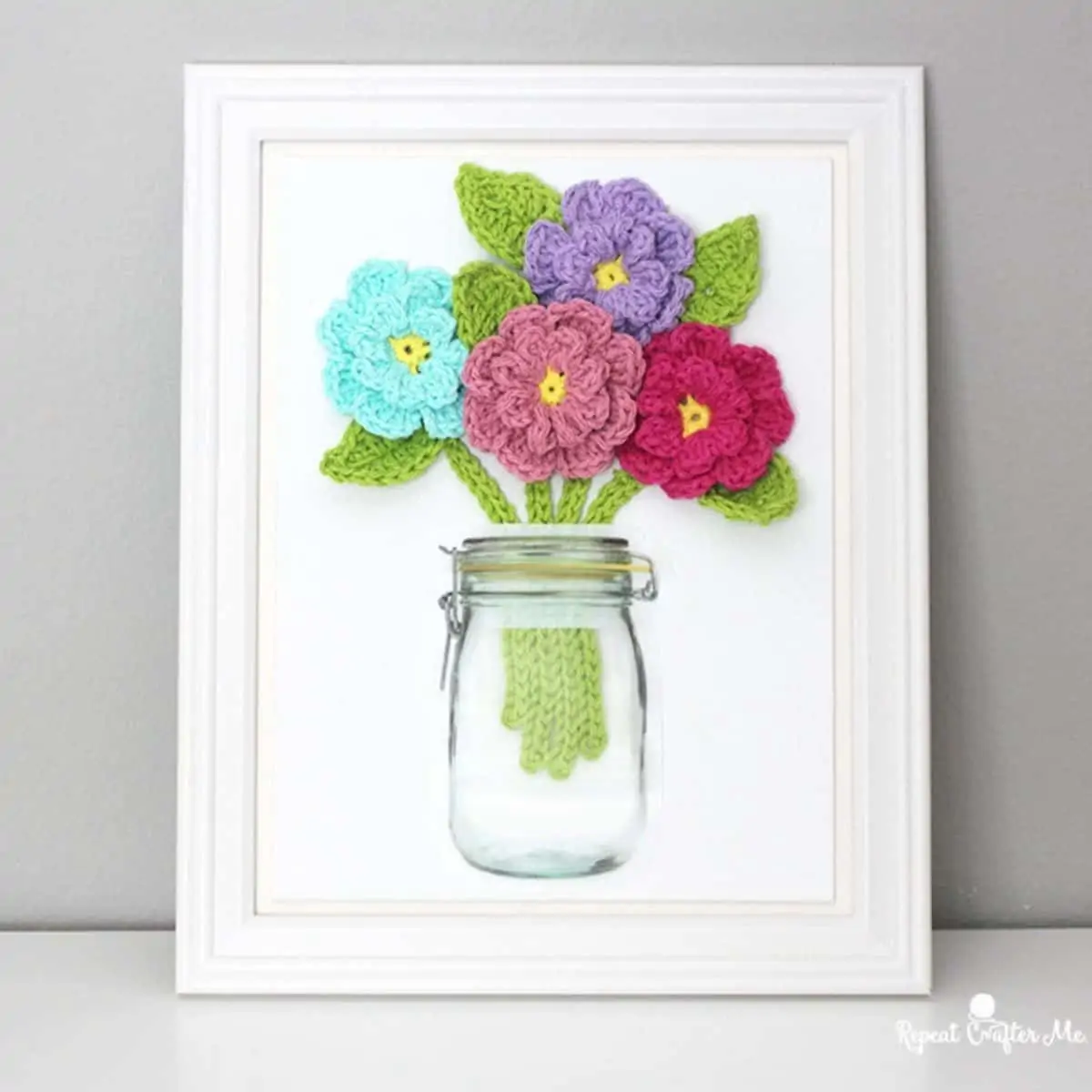 Framed Crochet Flowers by Repeat Crafter Me
Have you ever seen crochet flowers looking so cute? I love this idea of adding a surprising touch of crochet to a canvas. It's a great gift for people with pets who have to be careful about having live plants or flowers. (I am speaking from experience.)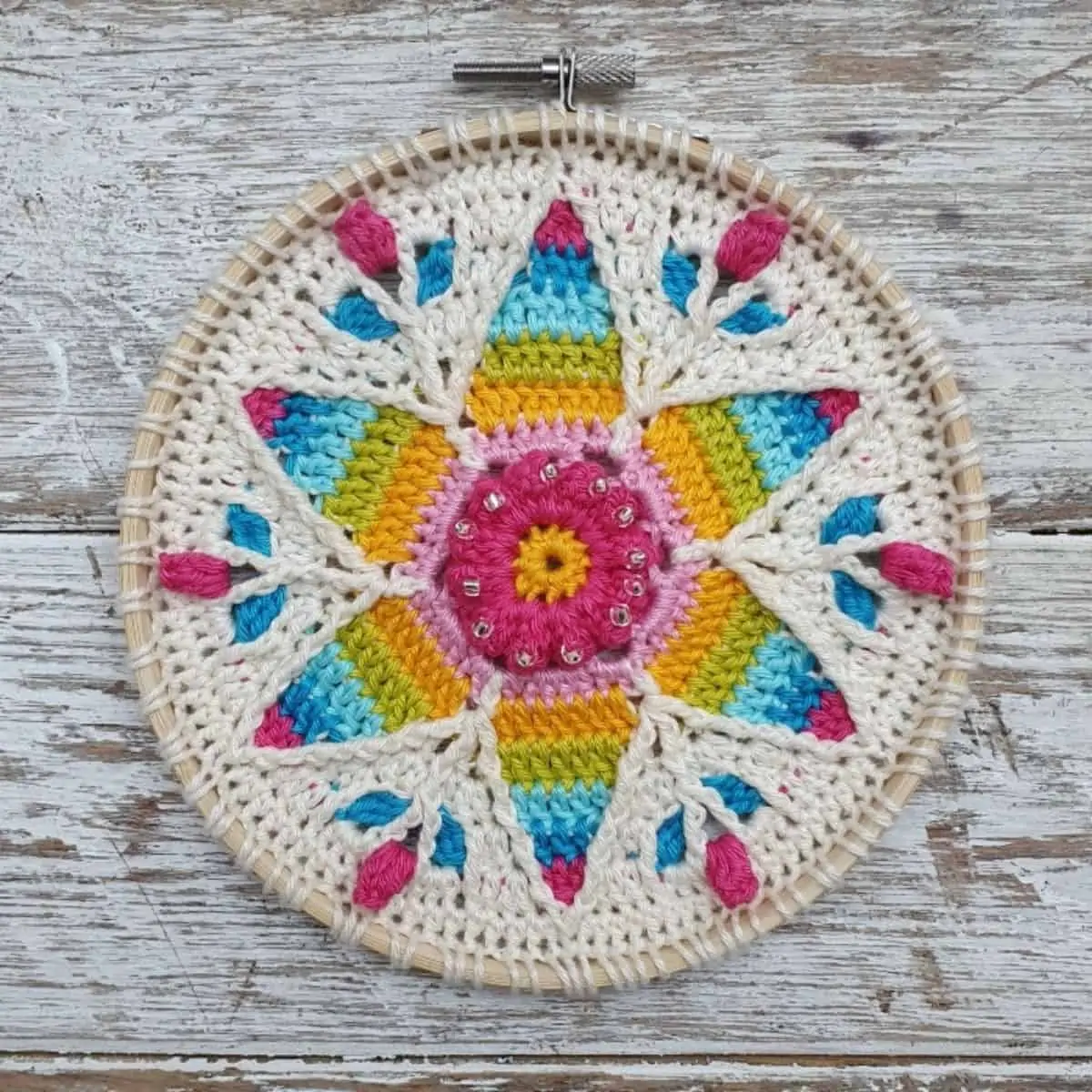 Small Crochet Mandala Pattern by Look What I Made
I am so in love with this small crochet mandala design. The bright colors popping through the neutral top stitches are so eye-catching! It'd be great for a small space in your house that just needs a pop of color.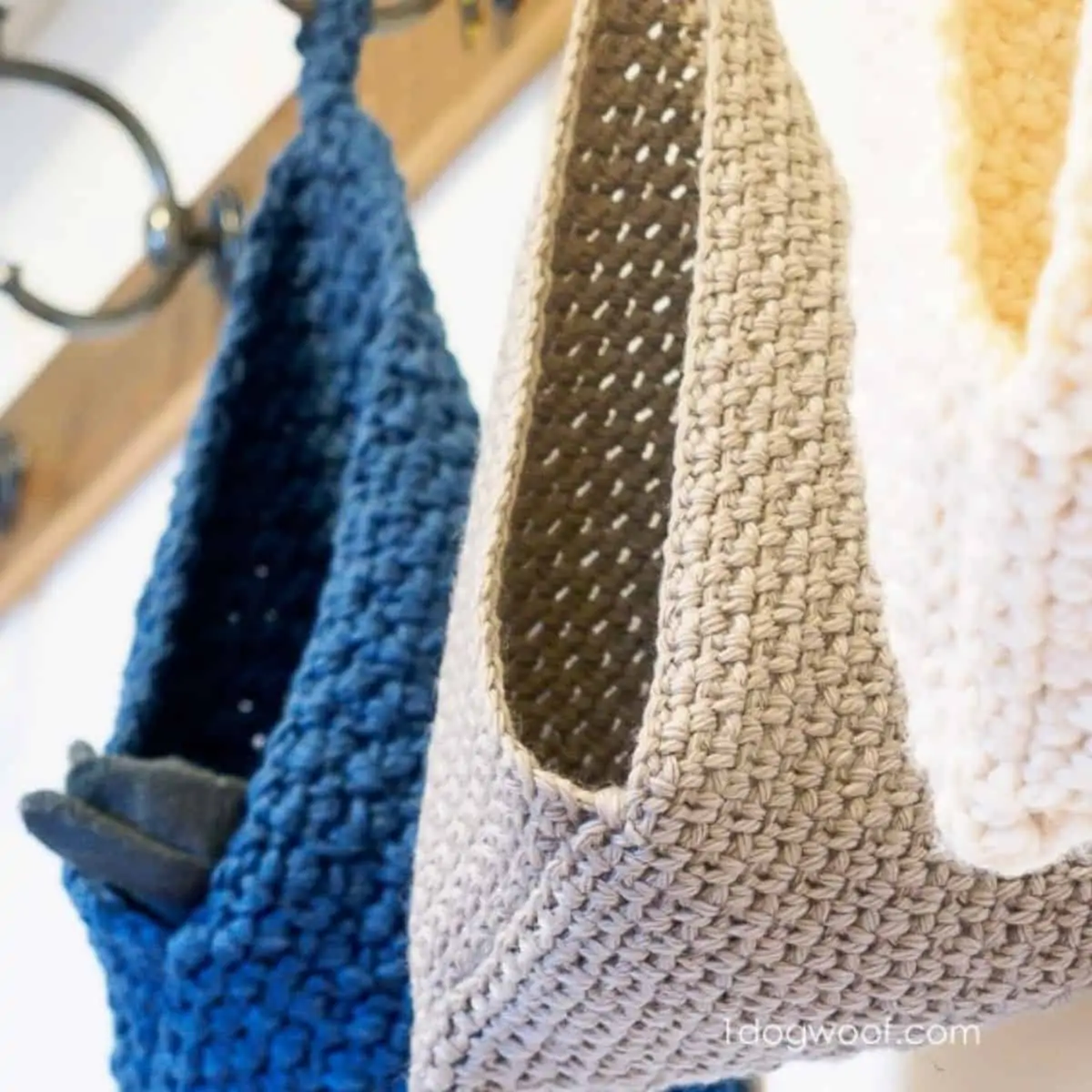 Bramble Basket Hanging Organizer by One Dog Woof
Made from one triangle clever sewn together, this minimalist hanging basket pattern can add functionality to your home decor. These hanging baskets are perfect for holding winter gear and keeping it organized.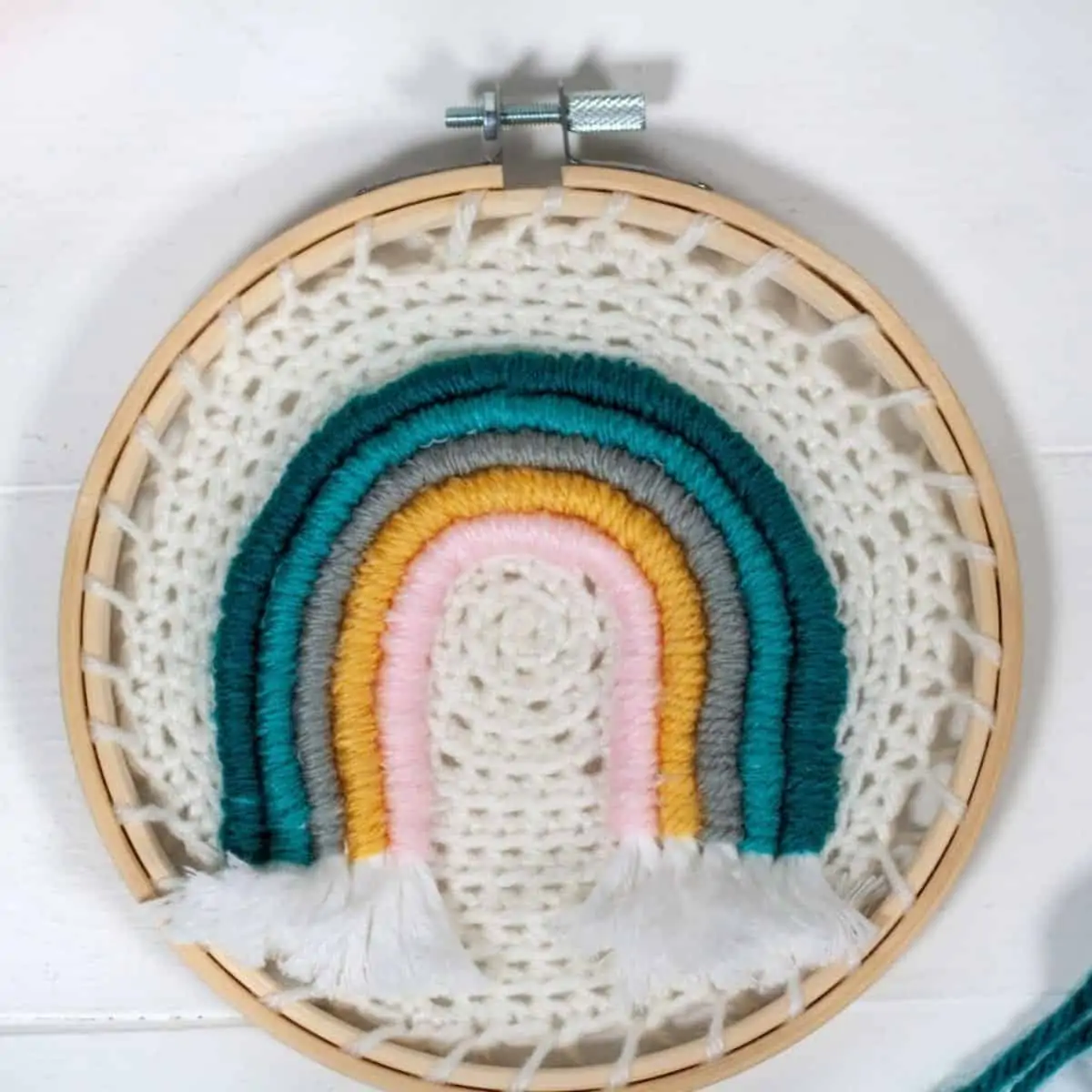 Crochet Rainbow Wall Hanging by Winding Road Crochet
A cute little project that cleverly combines crochet and a bit of embroidery. This is another project that would look great in a nursery and it's especially nice that you can coordinate the colors to match your color scheme. The finished size is only 6 inches so it is really versatile where you can hang it and would make a quick baby shower gift.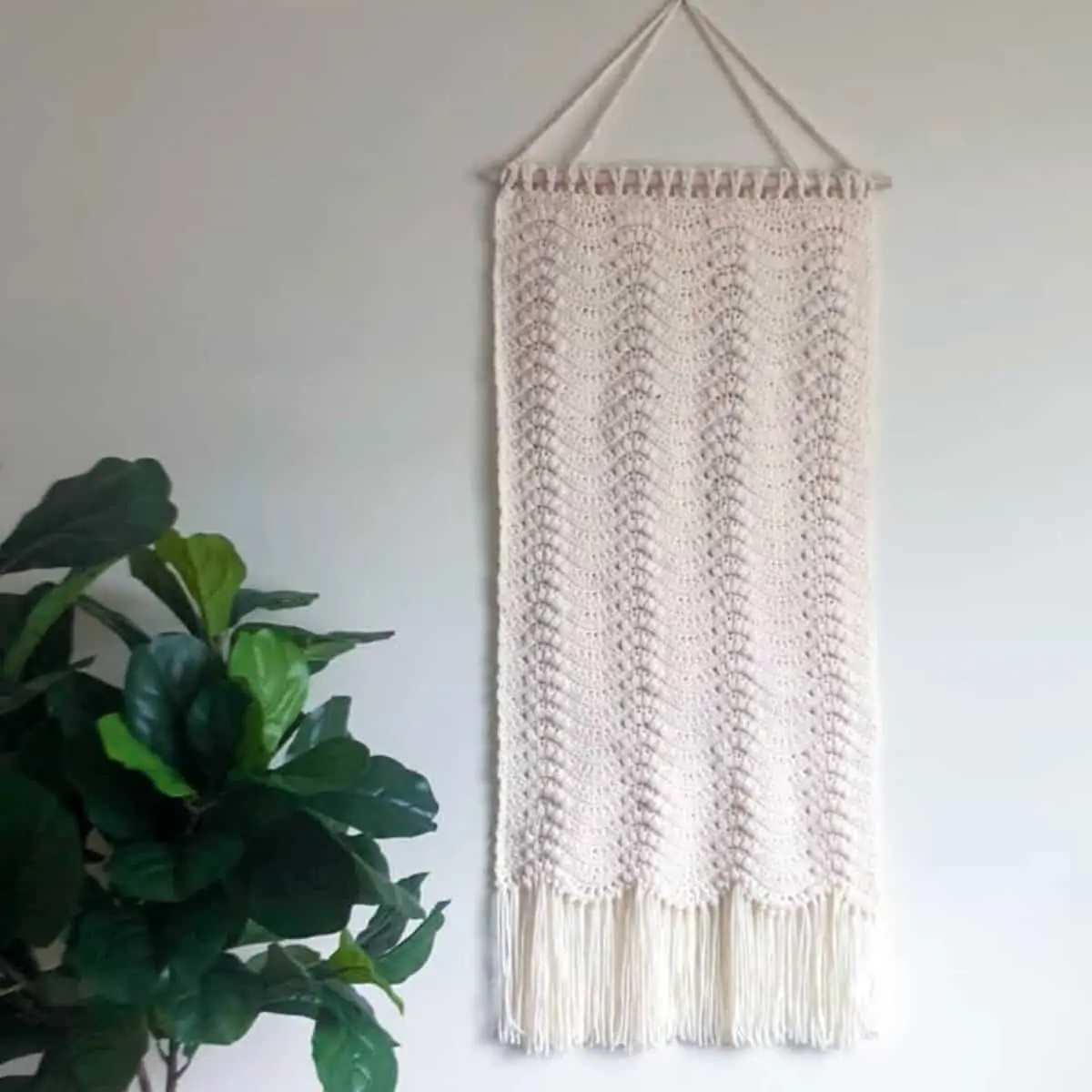 Boho Wave Crochet Wall Hanging by Crochet 365 Knit Too
Gentle wave combined with whimsical bobbles to make a beautiful boho wall hanging. The bobbles and waves almost make it look like the fabric is cinched and I like that it is a solid fabric where most wall hangings are lacier.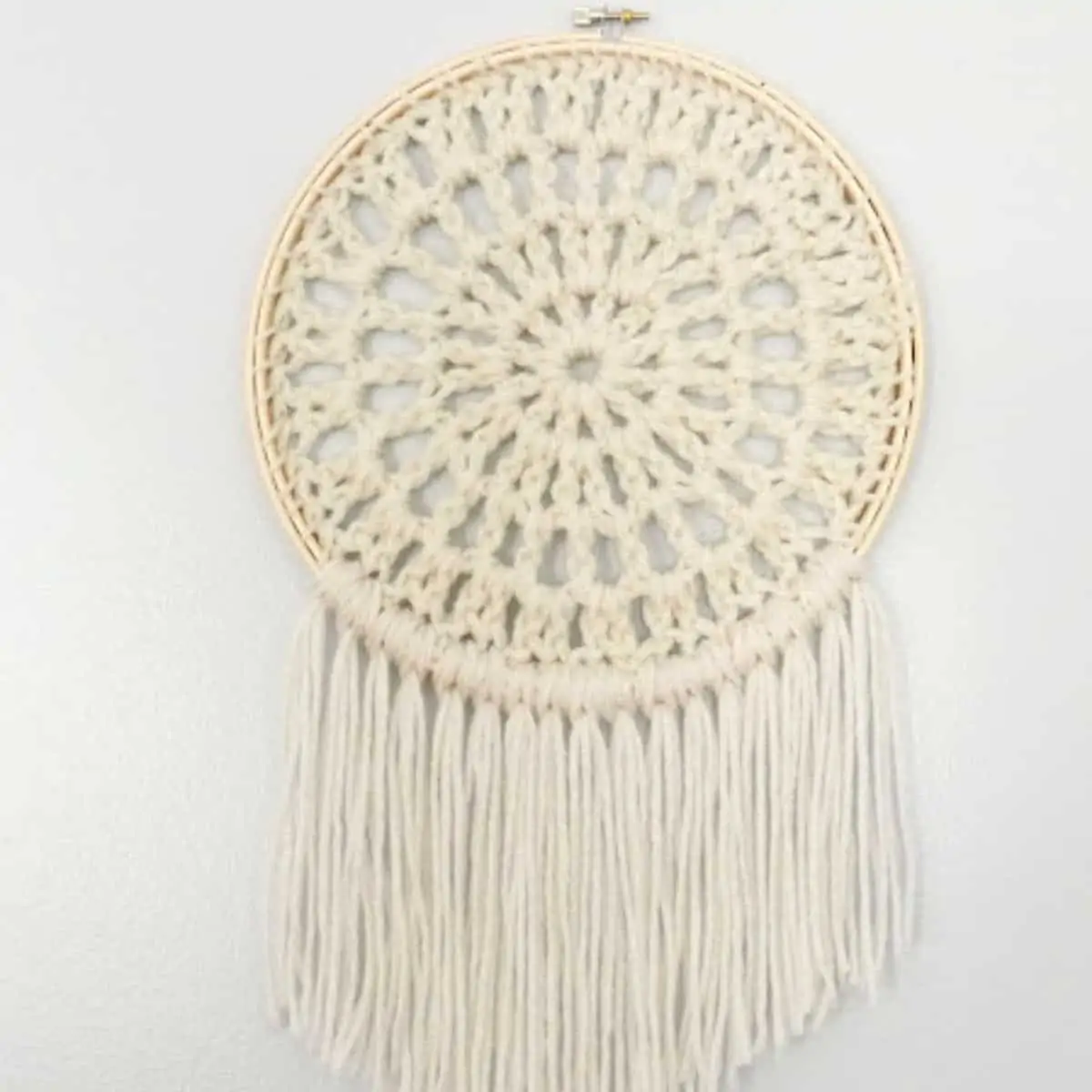 Easy Crochet Wall Hanging by Fiber Flux
I love the combination of an embroidery hoop plus macrame-looking crochet in this circular crochet wall hanging. The center crochet part only takes 4 rounds to complete making this a quick project with a big final impact! I didn't see a skill level included in the pattern but my guess is it would be good for an adventurous beginner since it is mostly single crochet, double crochet, and slip stitches plus there's a video tutorial.
I am sure that after looking through all those lovely patterns, you are ready to grab your hook and get started. Which pattern will you make first and where will you hang it?
These crochet wall decor ideas also work so well for gift ideas as so many of them are neutral and would look great in a variety of home styles. I wouldn't mind getting a beautiful wall hanging as a Christmas present, would you?