What to Crochet with Cotton Yarn
Disclosure: This post may contain affiliate links. As an Amazon Associate, I earn from qualifying purchases. Please visit my Privacy Policy for disclosures and more information.
Do you have some cotton in your stash and you aren't sure what sort of things to crochet with cotton yarn? Well, buckle in, you're in the right place.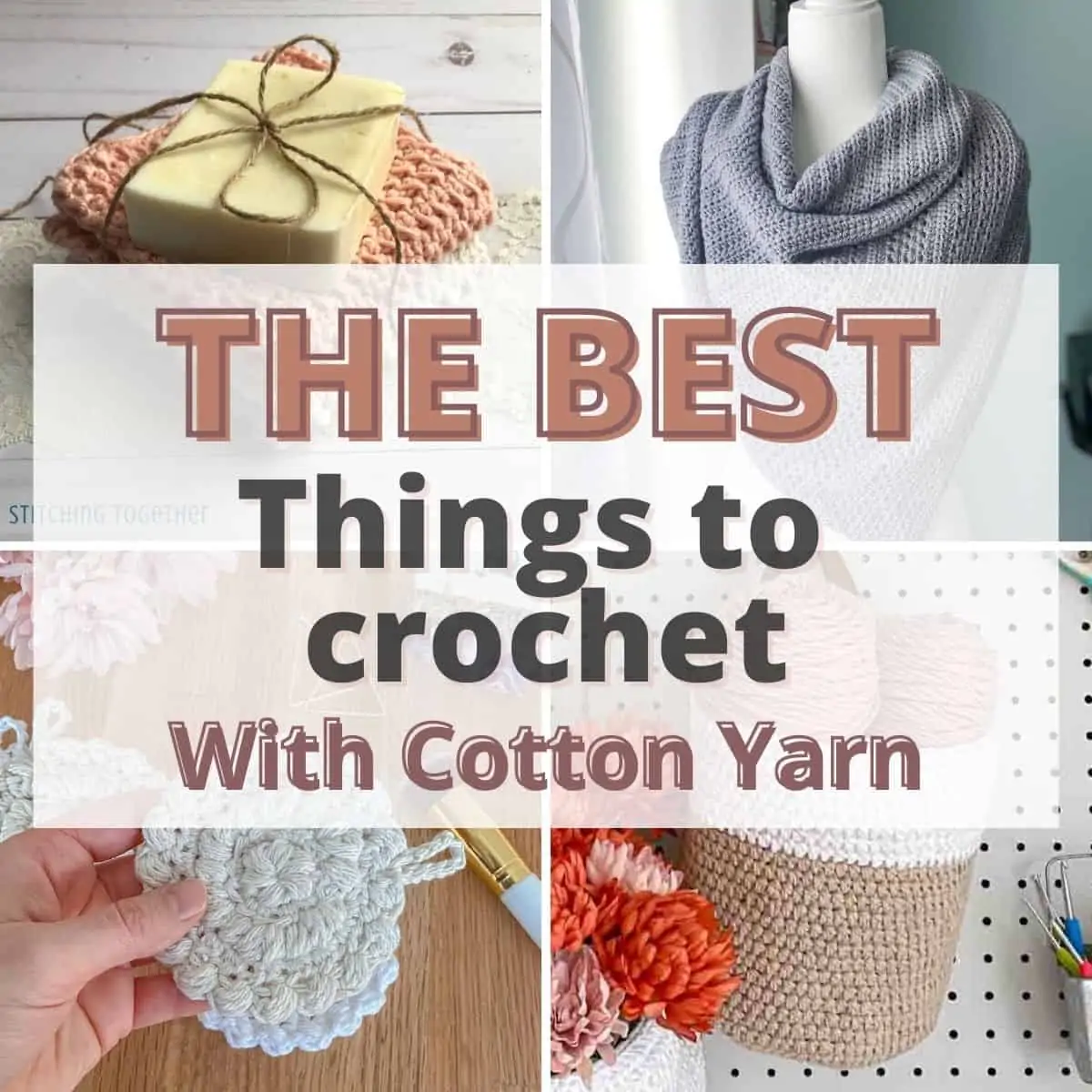 Below you'll find a great round up of free crochet patterns using cotton yarn. Some are housed right here on Stitching Together, and the rest are cotton crochet patterns by other fabulous designers.
We love cotton for all sorts of yarn crafts including crocheting and knitting projects. Perhaps cotton is best known for kitchen accessories and bath projects since it is a durable and absorbent natural fiber, but it also works great for home decor projects, accessories, and even wearables.
Many wearable or accessory patterns call for cotton blends. Cotton is wonderful on its own, but blending it with other fibers can improve its drape and overall texture while still maintaining the durability and breathability of the cotton.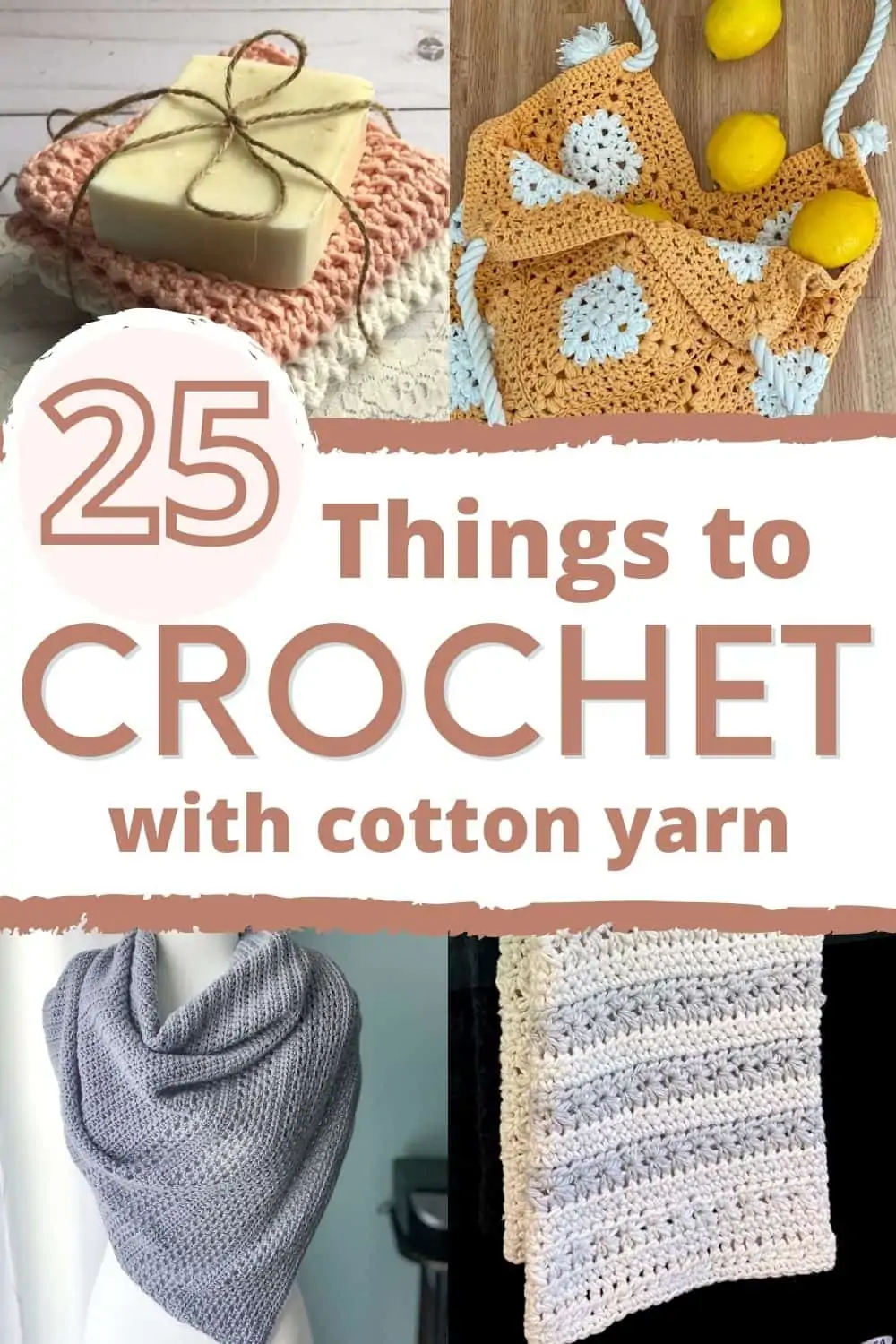 Kitchen Cotton Free Patterns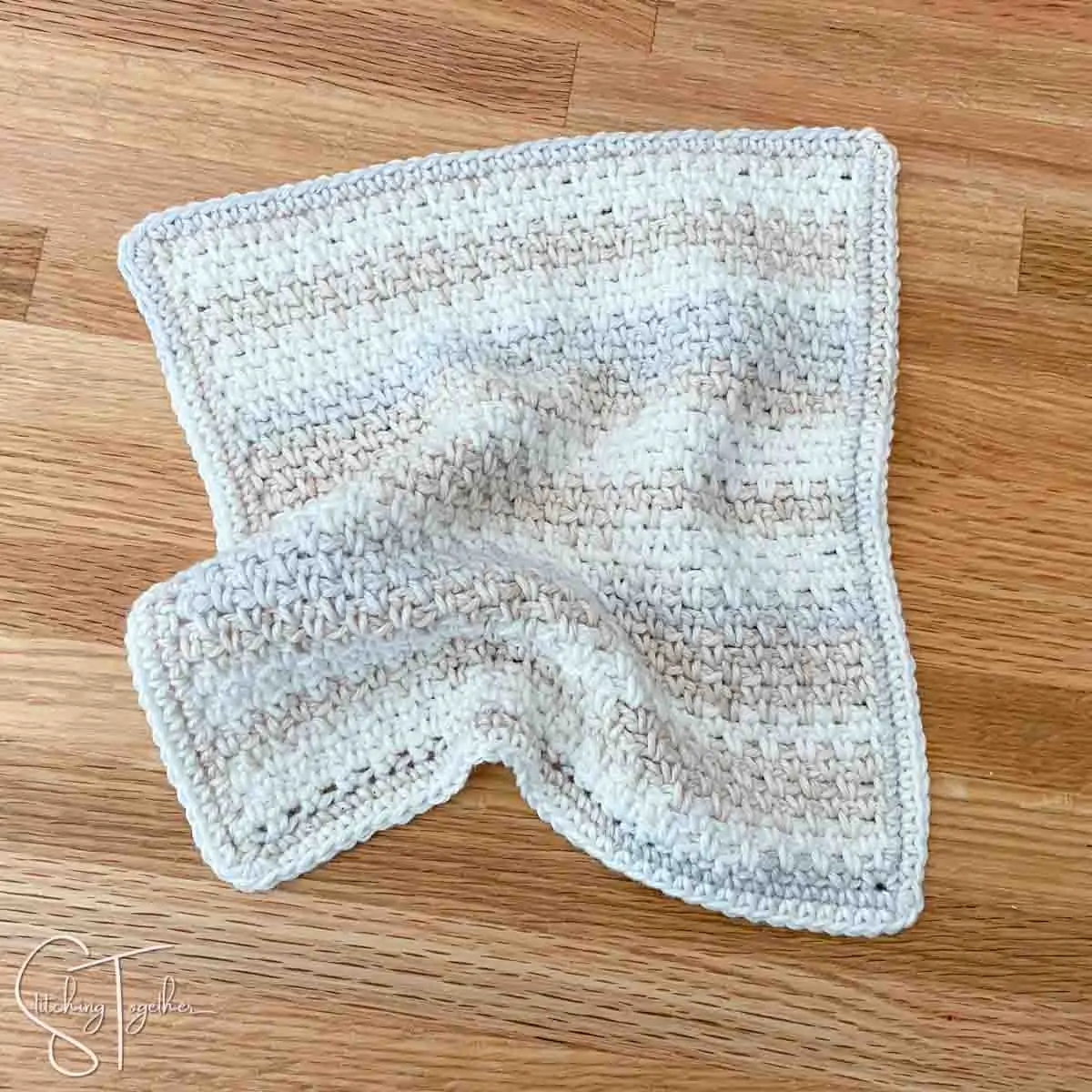 Crochet dishcloths are probably the first thing that come to mind when we talk about cotton yarn crochet projects. Cotton and dishcloths were made for each other! When you are selecting a yarn to use for dishcloths, you'll want to make sure that it is machine washable and dryable, unless you are ok with washing them by hand. This moss stitch dishcloth works up quickly and is good for adventurous beginners and beyond. If you'd like beginner crochet patterns with cotton yarn, don't miss the Easy Double Crochet Dishcloth or the basic crochet coaster patterns.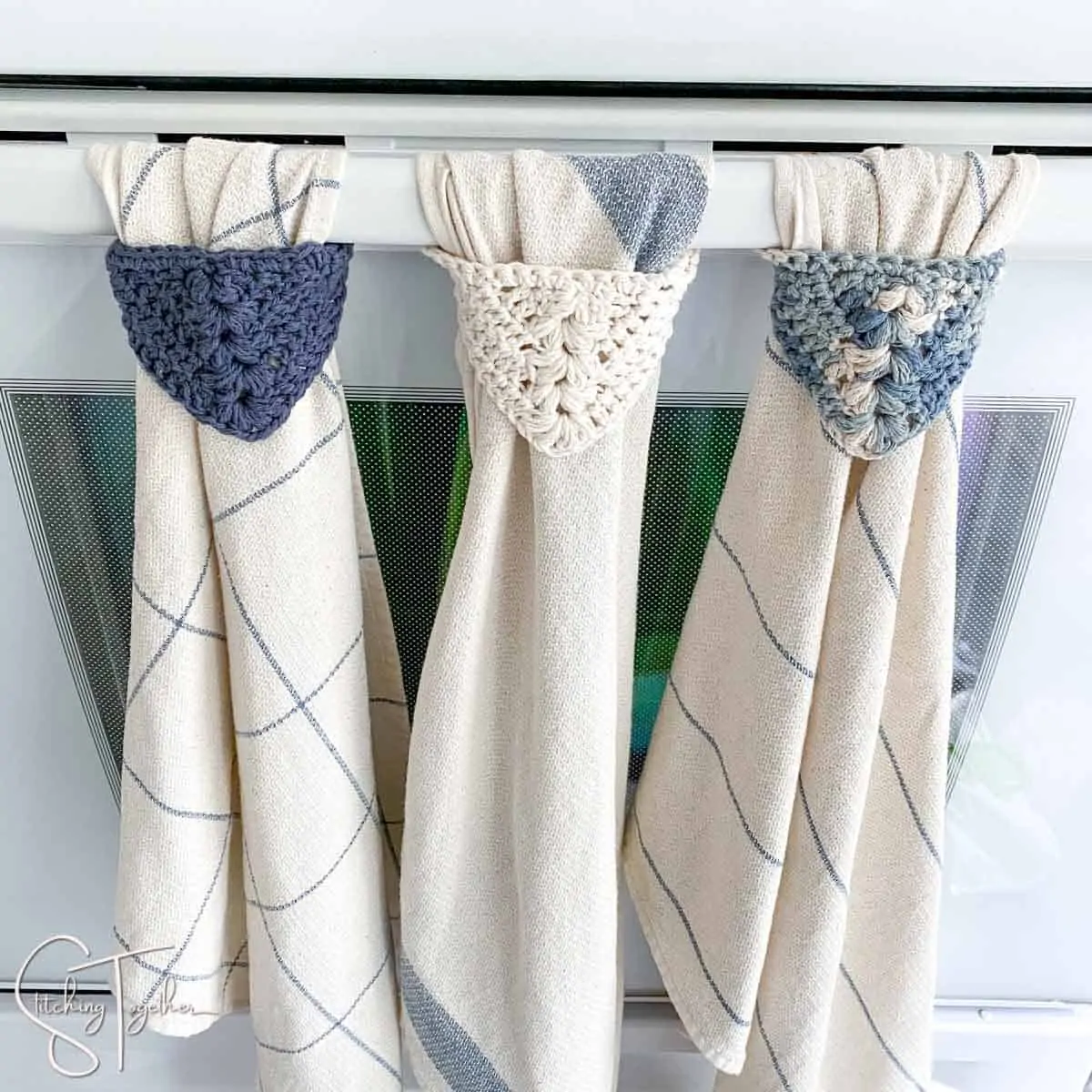 These modern towel toppers are made from scrap amounts of cotton and are easily sewn onto the corner of a dishtowel. Since the towel topper is attached to the towel, hanging them is simple and you can use them for extra scrubbing power if you need to clean up a mess.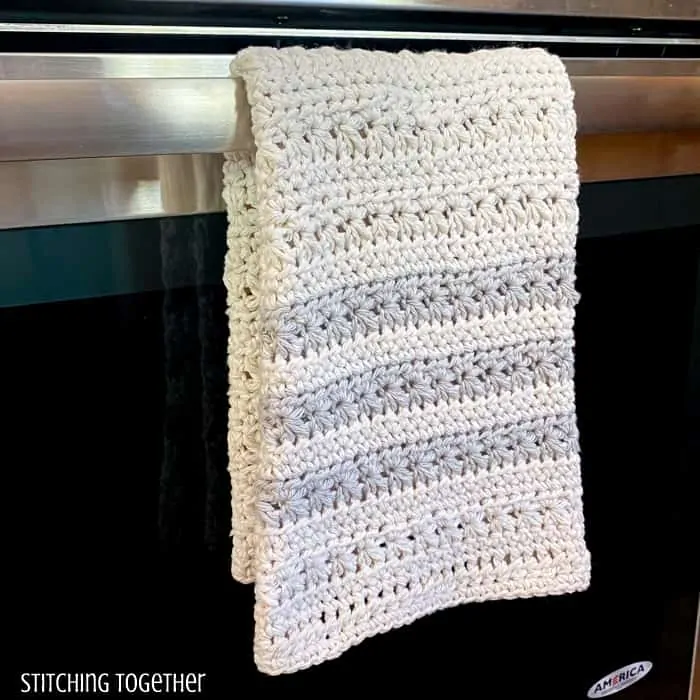 Many people like having kitchen towels made from cotton yarn and this dishtowel with the matching dishcloth pattern makes a great gift set. The unique and beautiful stitches make this Textured Kitchen Towel stand out from the crowd.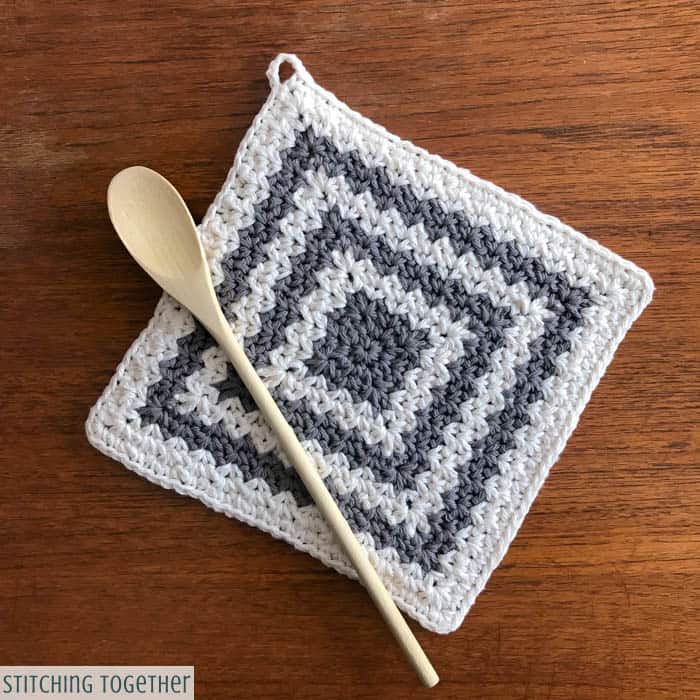 Country Crochet Hot Pad
When crocheting hot pads or potholders, you definitely want to use cotton yarn since acrylic yarn fibers can melt with heat and ruin all your hard work. The Country Crochet Hot Pad uses the spider stitch and can easily be made double thick to protect your surfaces. It just looks so pretty too, doesn't it?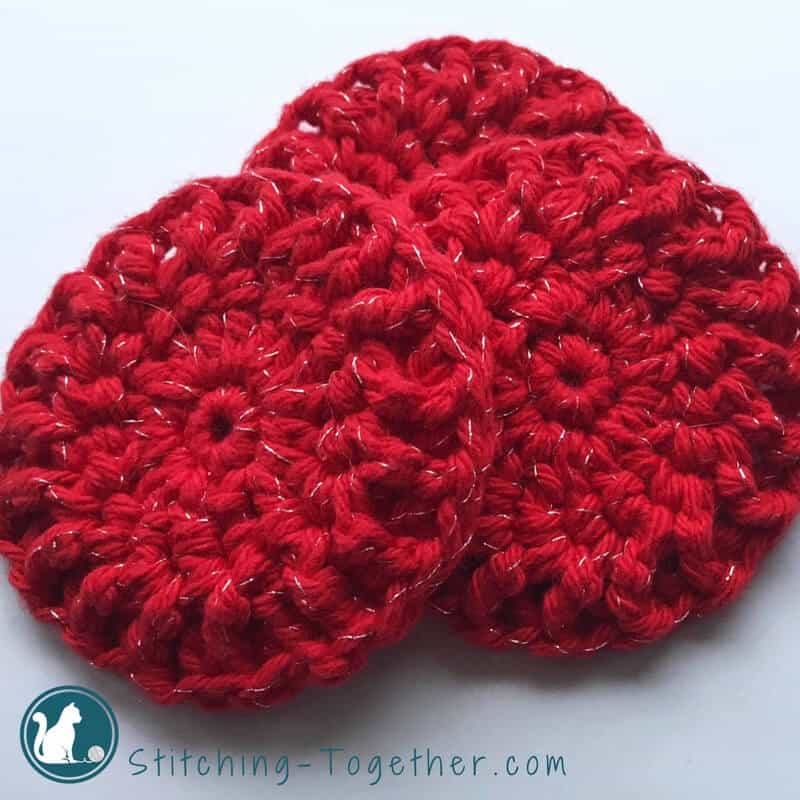 Scrubbies are powerhouses in the kitchen and are great because they are small and can be made with all sorts of ridges and textures to aid in scrubbing those dishes clean. These ribbed scrubbers have a matching dishcloth pattern and make a wonderful gift set.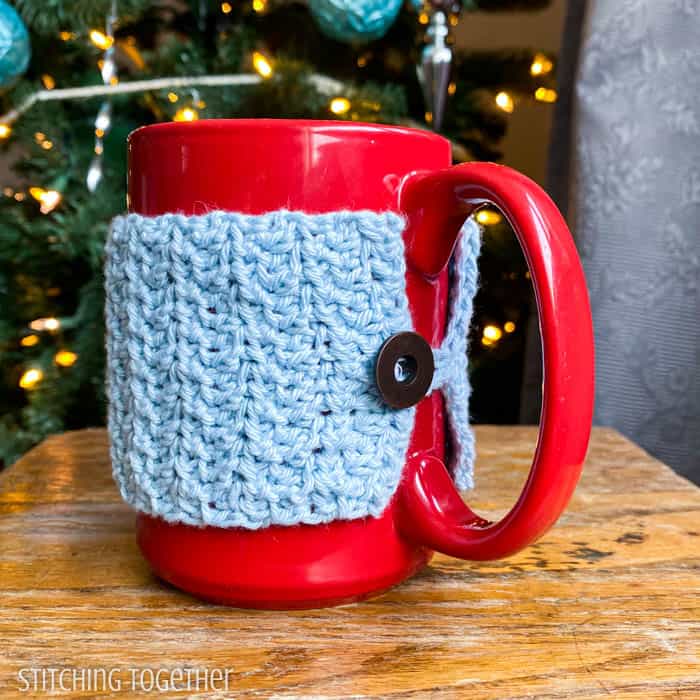 Mug Cozies are a great way to use up leftover yarn and whip out quick Christmas gifts. This Mug Cozy uses thin cotton yarn and a simple stitch pattern to create a cute cozy. It's a wonderful, quick project.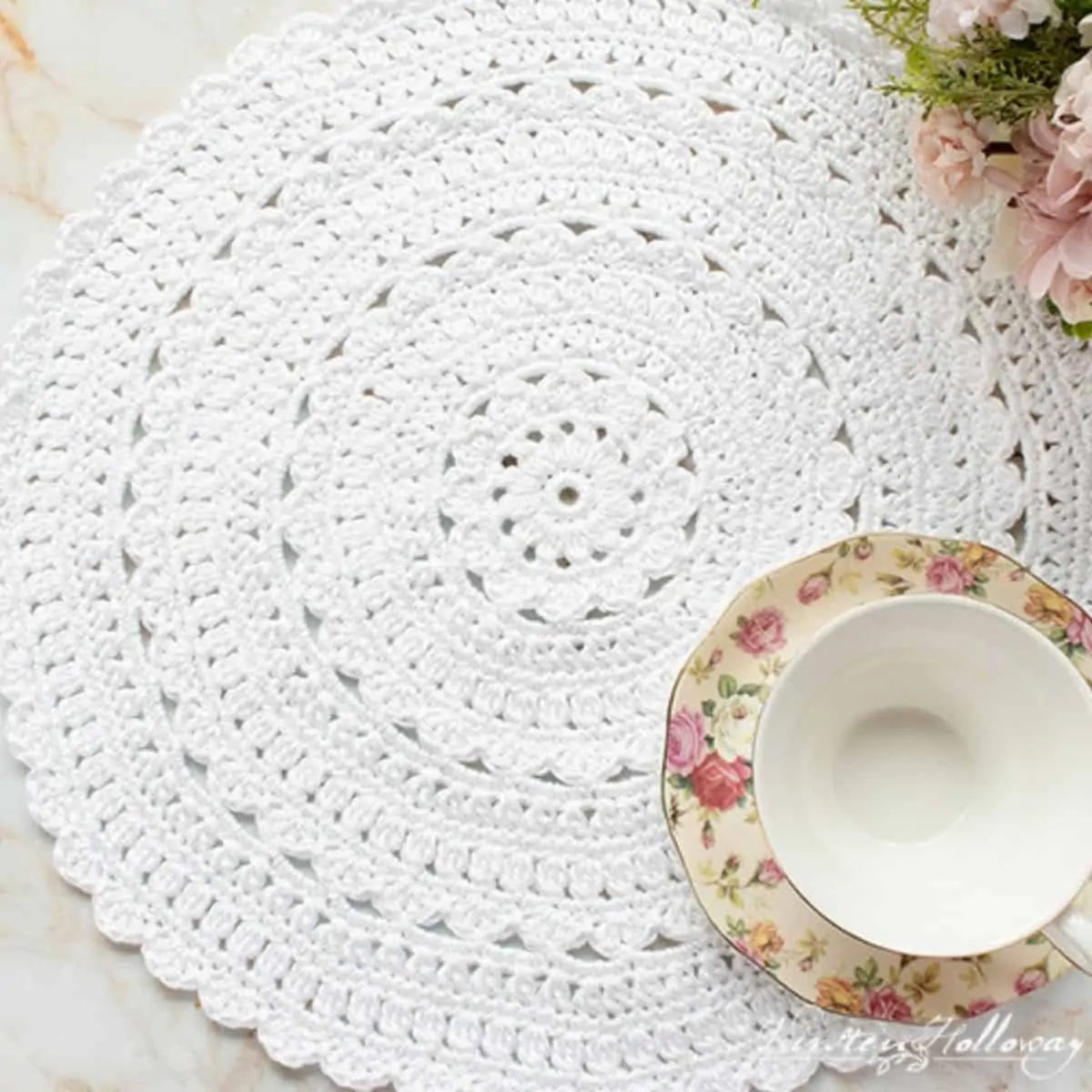 Secret Garden Round Crochet Placemat by Kirsten Halloway Designs
While I don't think I could actually bring myself to use a placemat this pretty (I am the kind of person that actually needs a placemat), I absolutely would love to have these on my table. Using washable and dryable cotton would be a must for me with these placemats.
Bath Cotton Crochet Patterns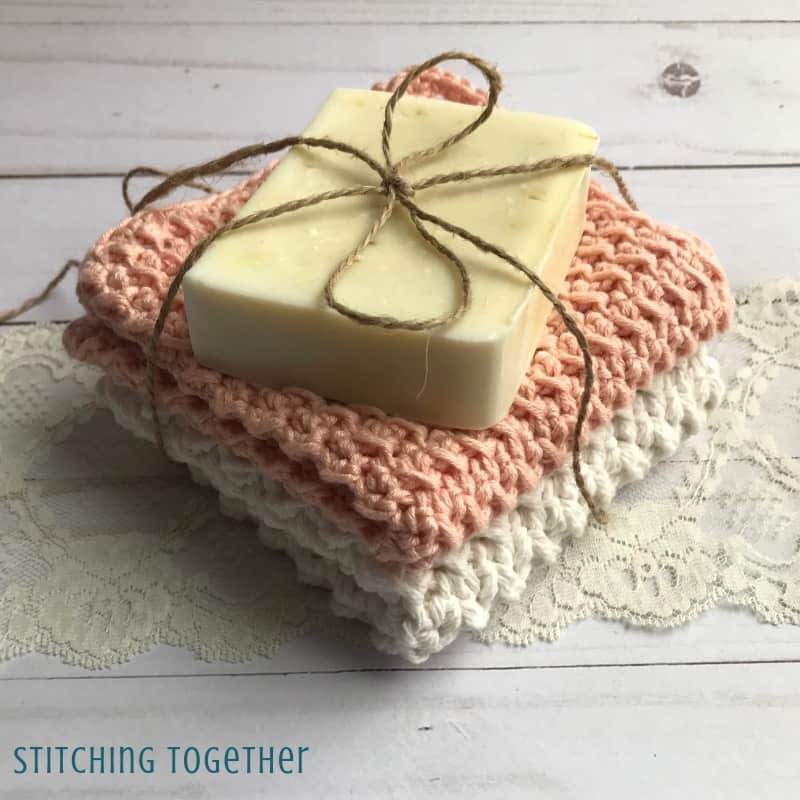 Softest Crochet Washcloth Pattern
Next to dishcloths, washcloths are probably the other top project thought of in conjunction with cotton yarn. I mean, really the two, dishcloths and washcloths, are pretty much interchangeable. One of the great things about many types of cotton yarn is that it softens with use. I don't know about you, but I don't like using scratchy washcloths.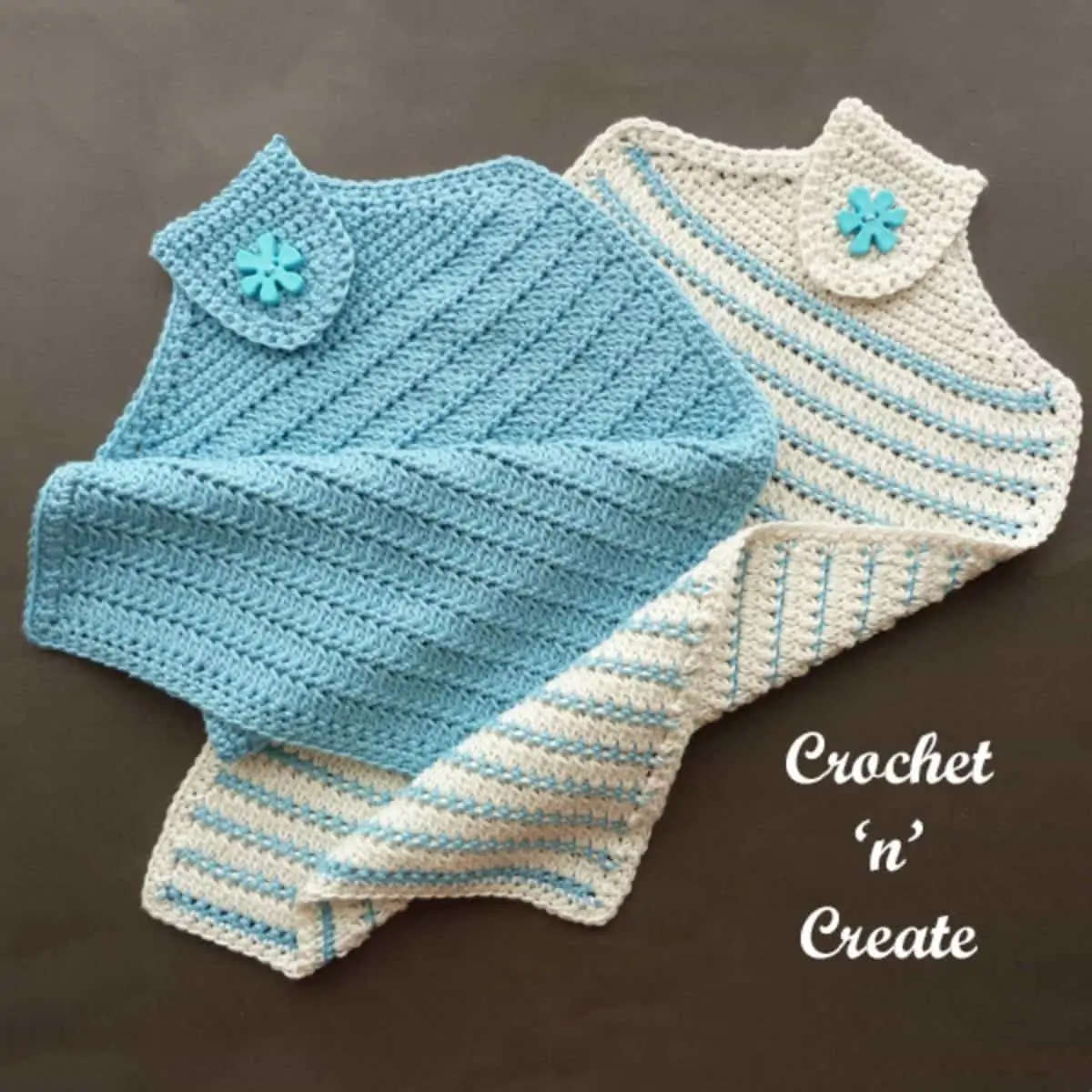 Crochet Hand Towel Pattern by Crochet 'n' Create
Hand towels can be used in the kitchen or bathroom but unlike a kitchen or dish towel, the main purpose is just for drying hands. Since you can make your own hand towels, it is easy to customize and match them to your existing decor. Keep in mind that this is another time you'll want to make sure the cotton you are using can be machine washed and dried.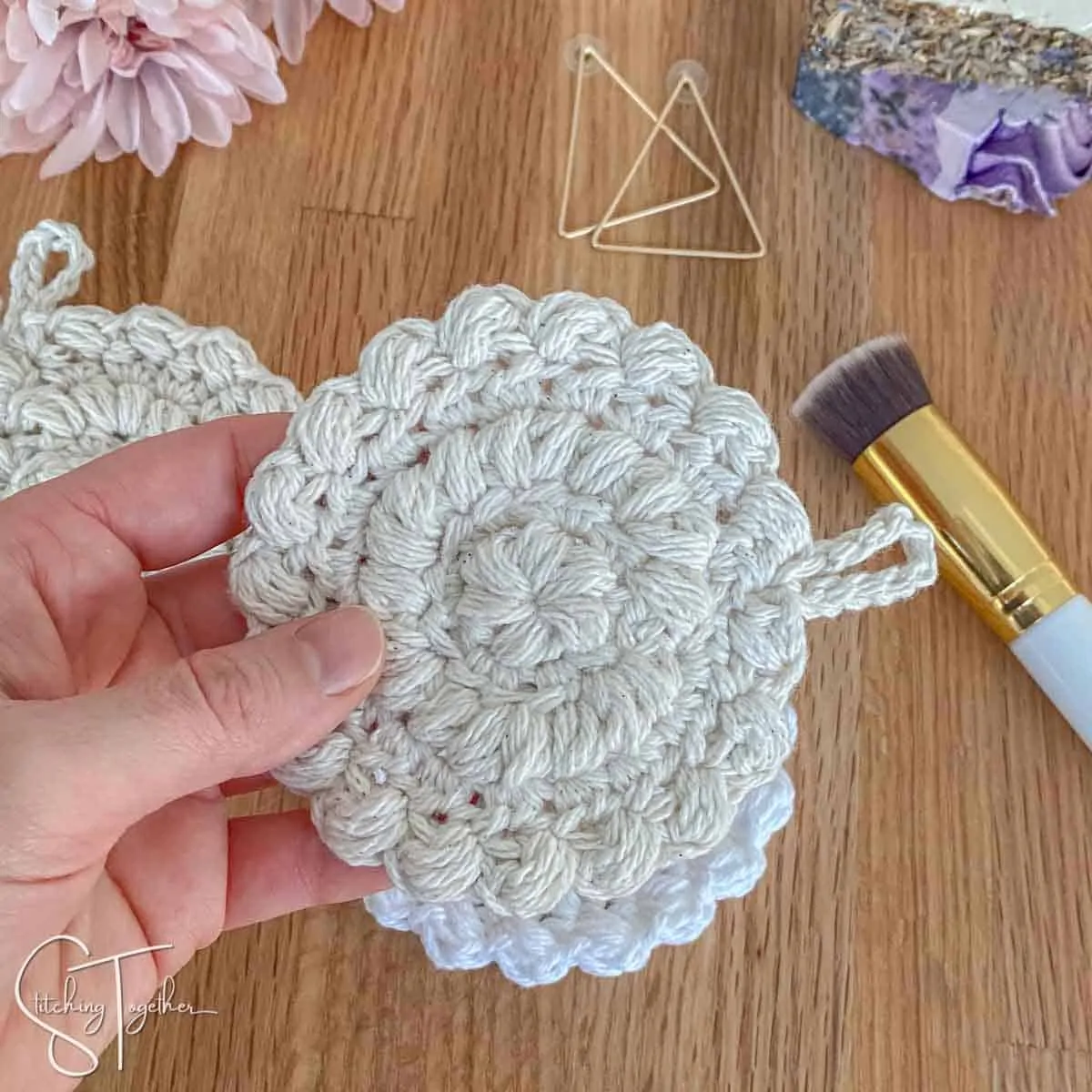 Create less waste the cute way with these pretty cotton facial rounds. Use them to wash your face, or to apply your favorite facial products. Best of all, they can be tossed in the wash and reused. If you want to be extra careful about what you put on your face, this is a good place to use organic cotton yarn.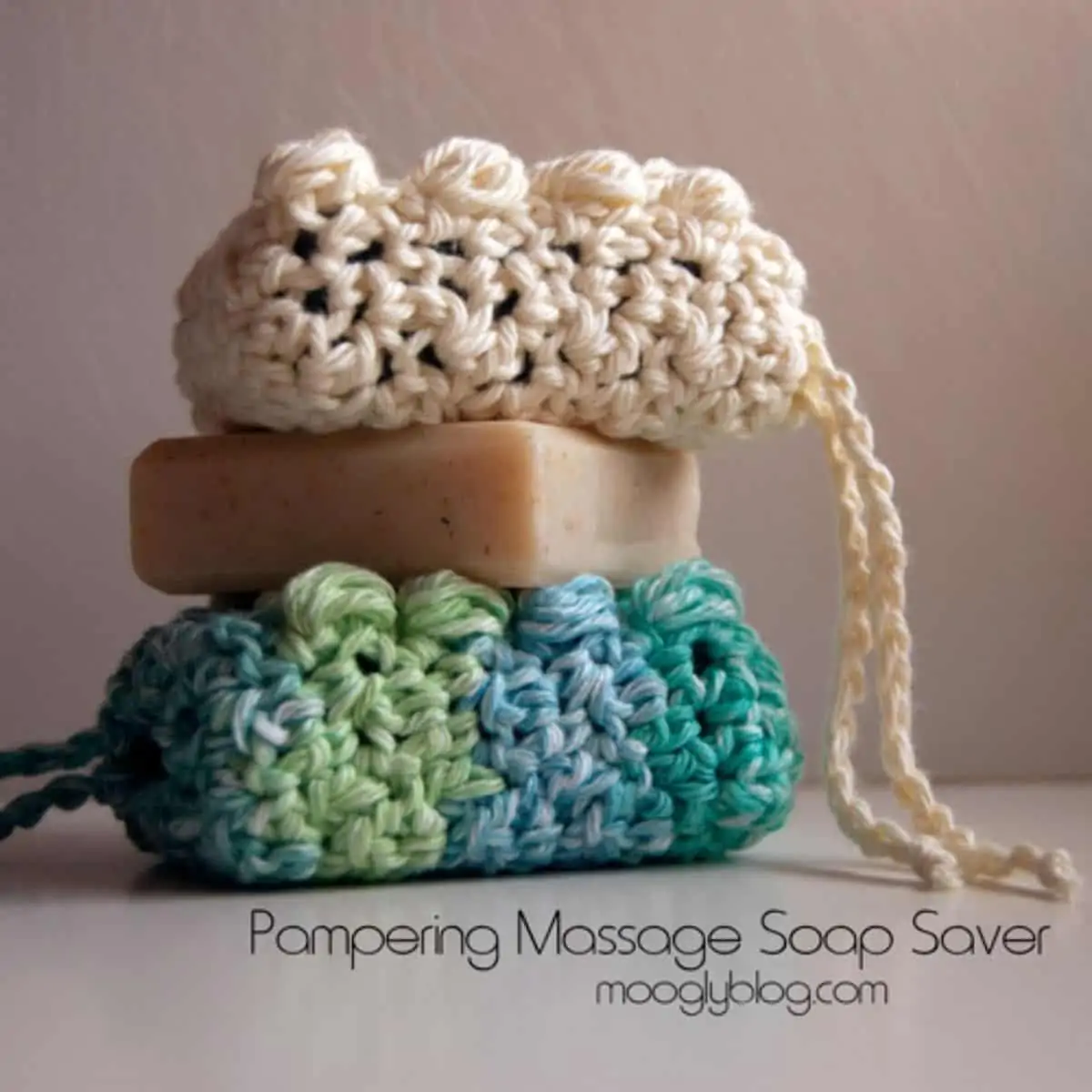 Pampering Massage Soap Saver by Moogly
Soap saver with a massage? Yes, please. Not only is this crochet soap saver cute, but it's also super functional with those extra nubbins for increased scrubbing power. Cotton yarn ensures the soap savers dry out quickly and do not waste your soap.
Home Decor Crochet Cotton Patterns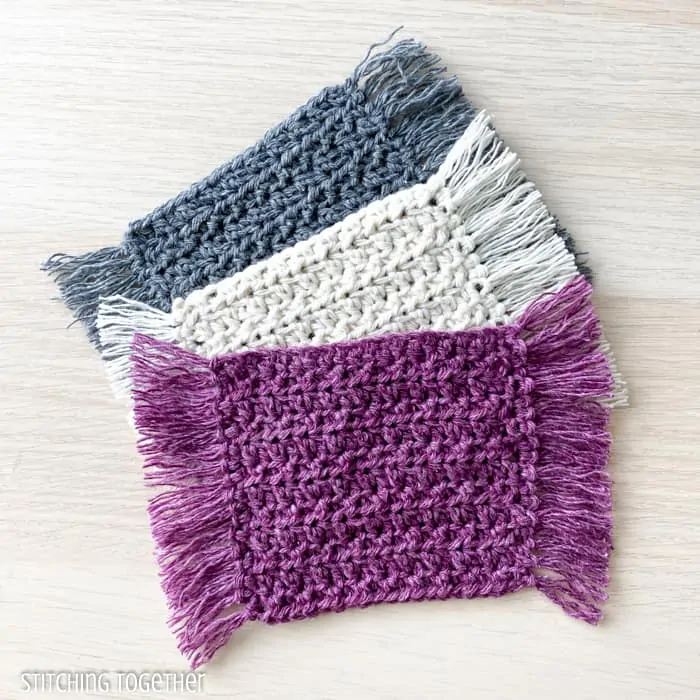 Caroline Easy Crochet Coasters
These quick coasters use a similar stitch and thin cotton yarn as the mug cozy above. The extra brushed-out fringe gives them a cute boho look.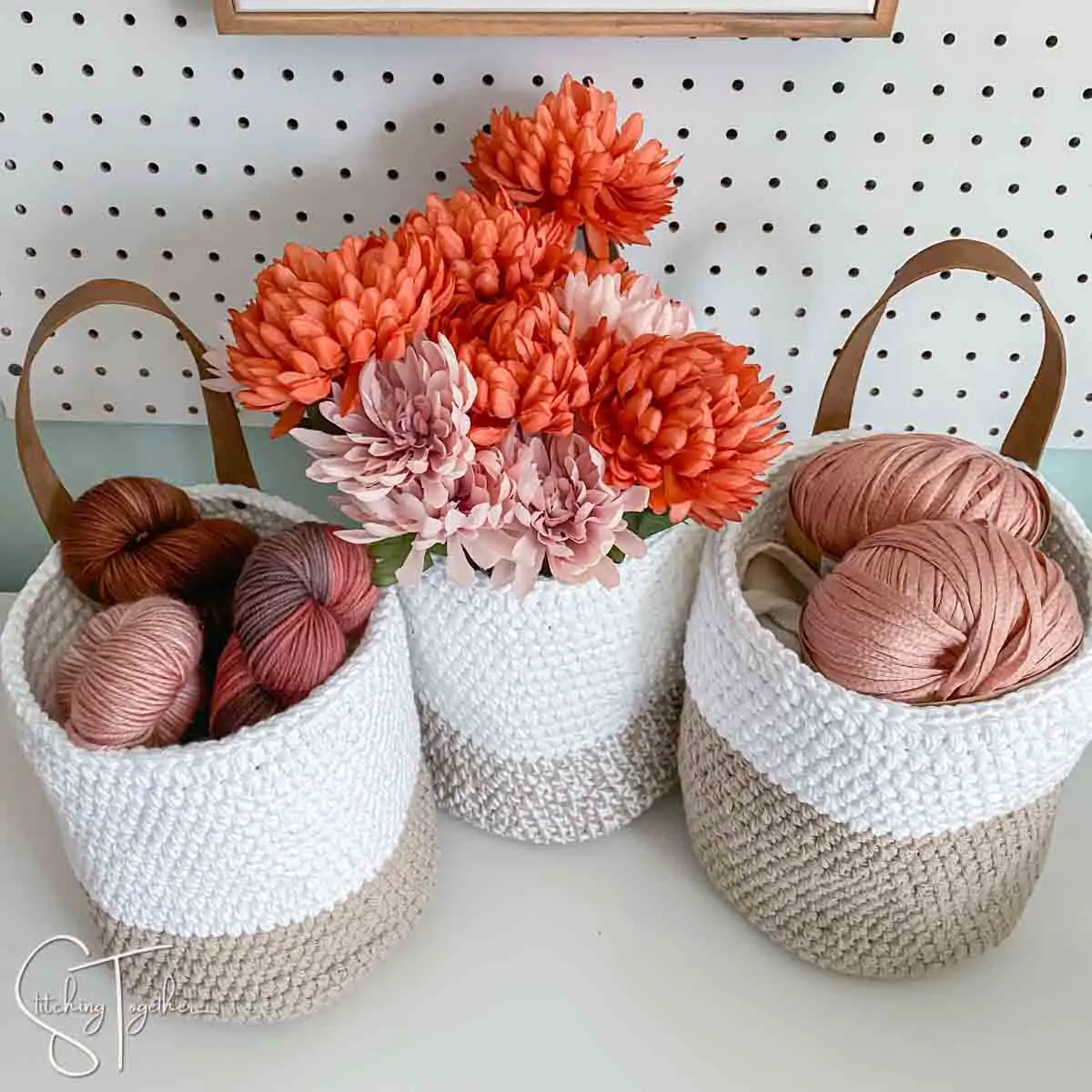 Hartfield Crochet Hanging Basket
These gorgeous hanging crochet baskets are made by holding two strands of worsted weight cotton yarn together. Adding the simple DIY handles makes it look like these baskets came from a niche boutique. They are a loving home decor addition and of course look great holding yarn!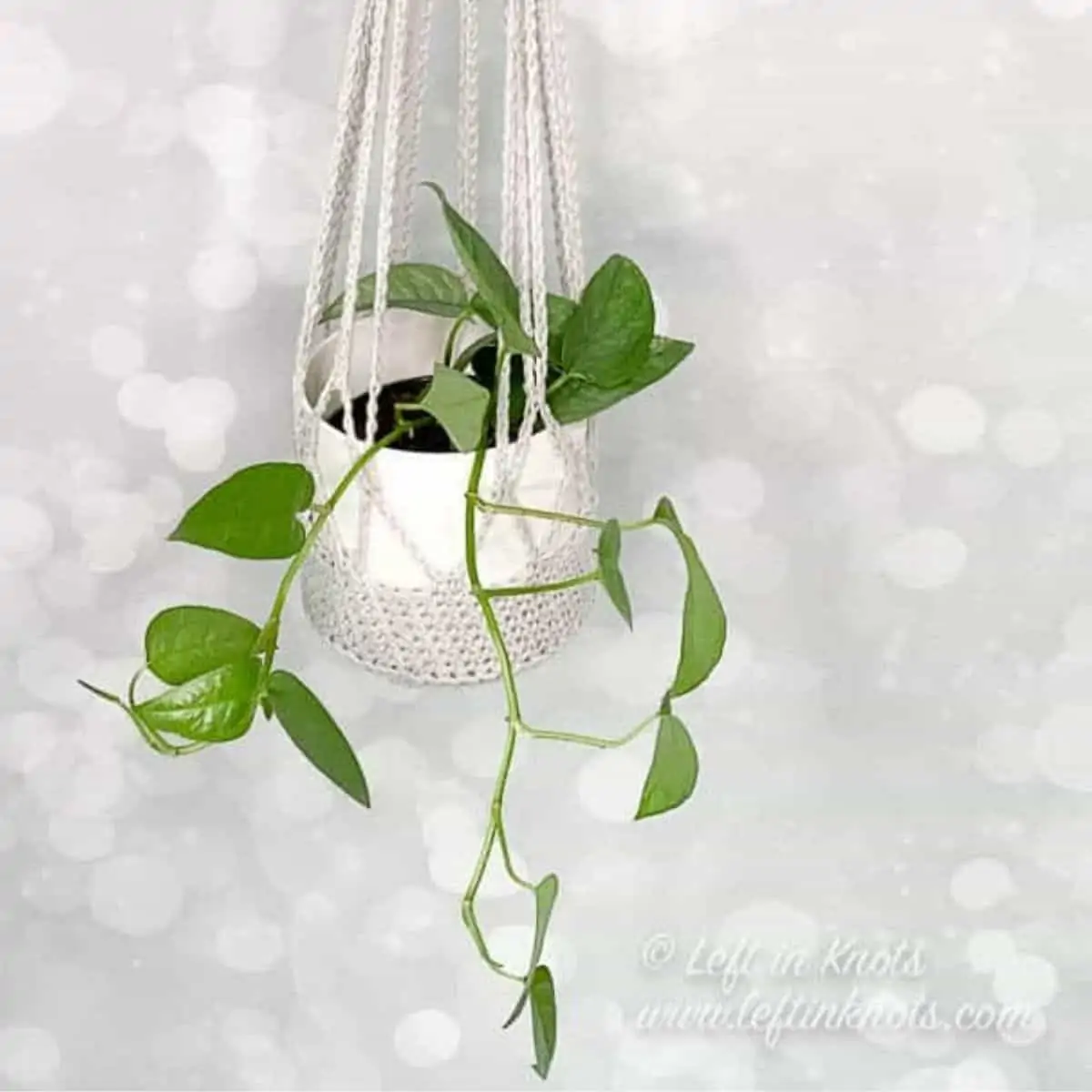 Crochet Plant Hanger by Left in Knots
A simple and beautiful plant hanging is a great use of cotton yarn. The natural look of the cotton fibers just enhances the beauty of the hanging plant. Wouldn't this make a lovely housewarming gift?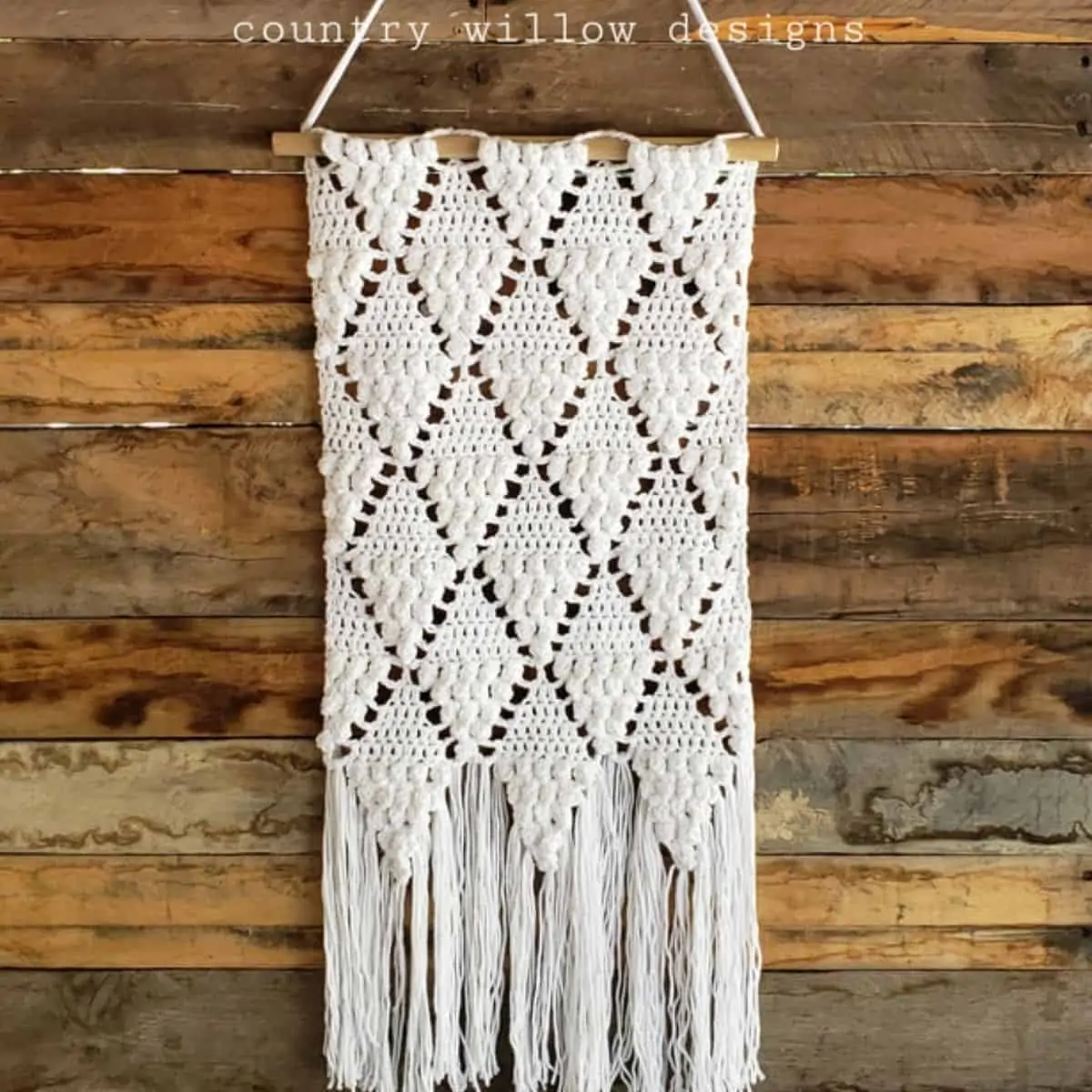 Popcorn Crochet Wall Hanging by Country Willow Designs
This is hands down one of my favorite wall hanging patterns. It is just gorgeous. While I am sure you could use many different types of yarn to make this crochet wall hanging, the cotton yarn adds to the beautiful boho look.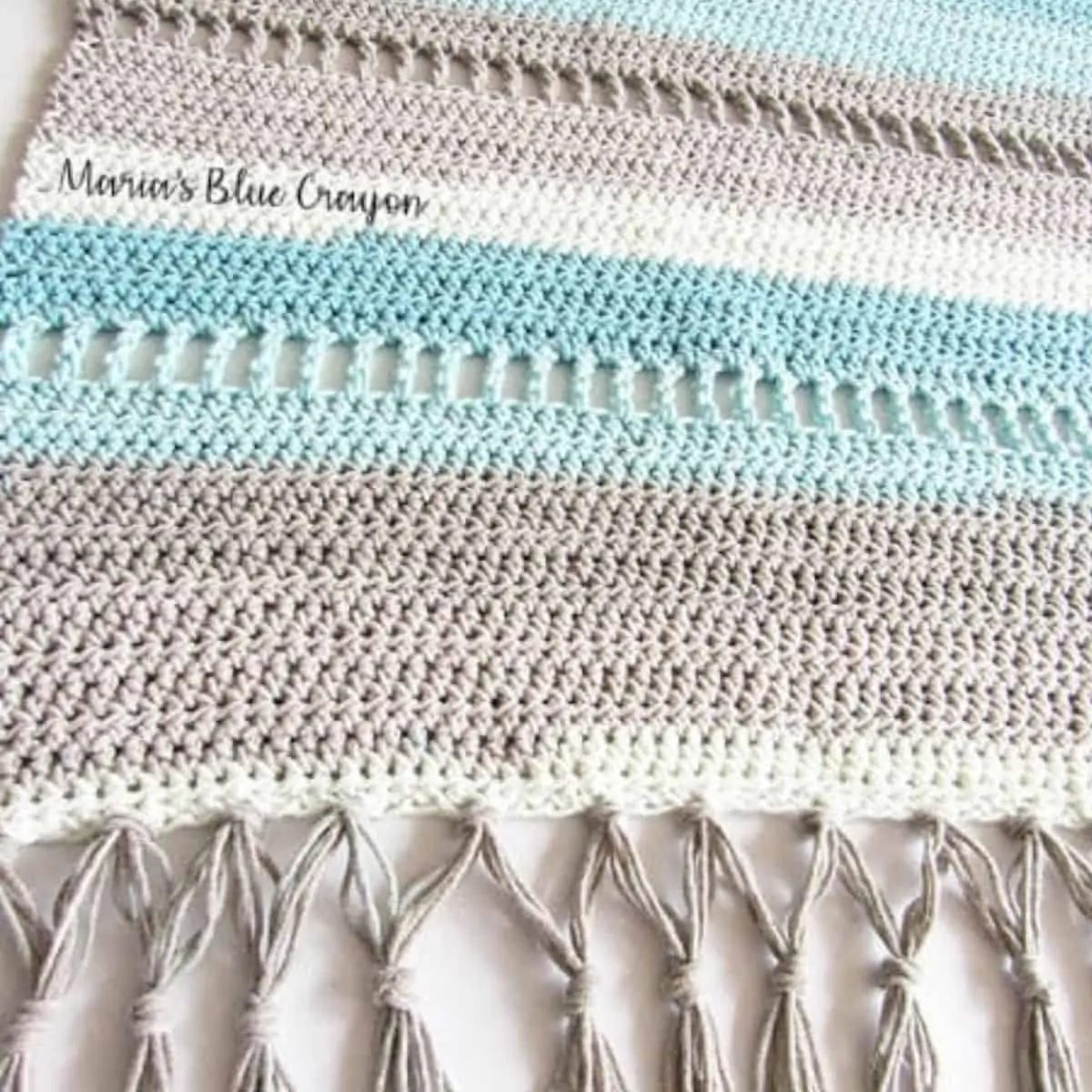 Coastal Indoor Crochet Rug by Maria's Blue Crayon
Cotton works wonderfully for many home decor items including crochet rugs. This simple rug is lovely and works up quickly with a self-striping cotton-blend yarn. Making your own rugs means you can customize the colors to match your decor.
Accessories with Cotton Yarn Crochet Patterns
Caldwell Crochet Granny Square Market Bag
Granny squares, cotton yarn, and rope handles combine to make this gorgeous Market Bag. It's durable, cute and perfect for toting all your farmer's market goodies.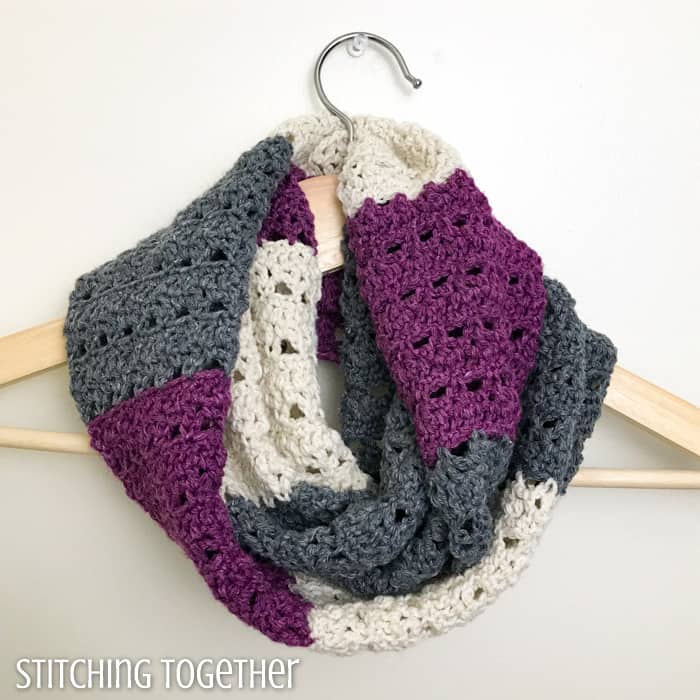 Striped Crochet Infinity Scarf
While the yarn in this scarf uses a blend of 3 different fibers, including cotton, it would work well and look great with a 100% cotton yarn. Scarves like this with open stitching, are perfect for cooler days in fall and spring.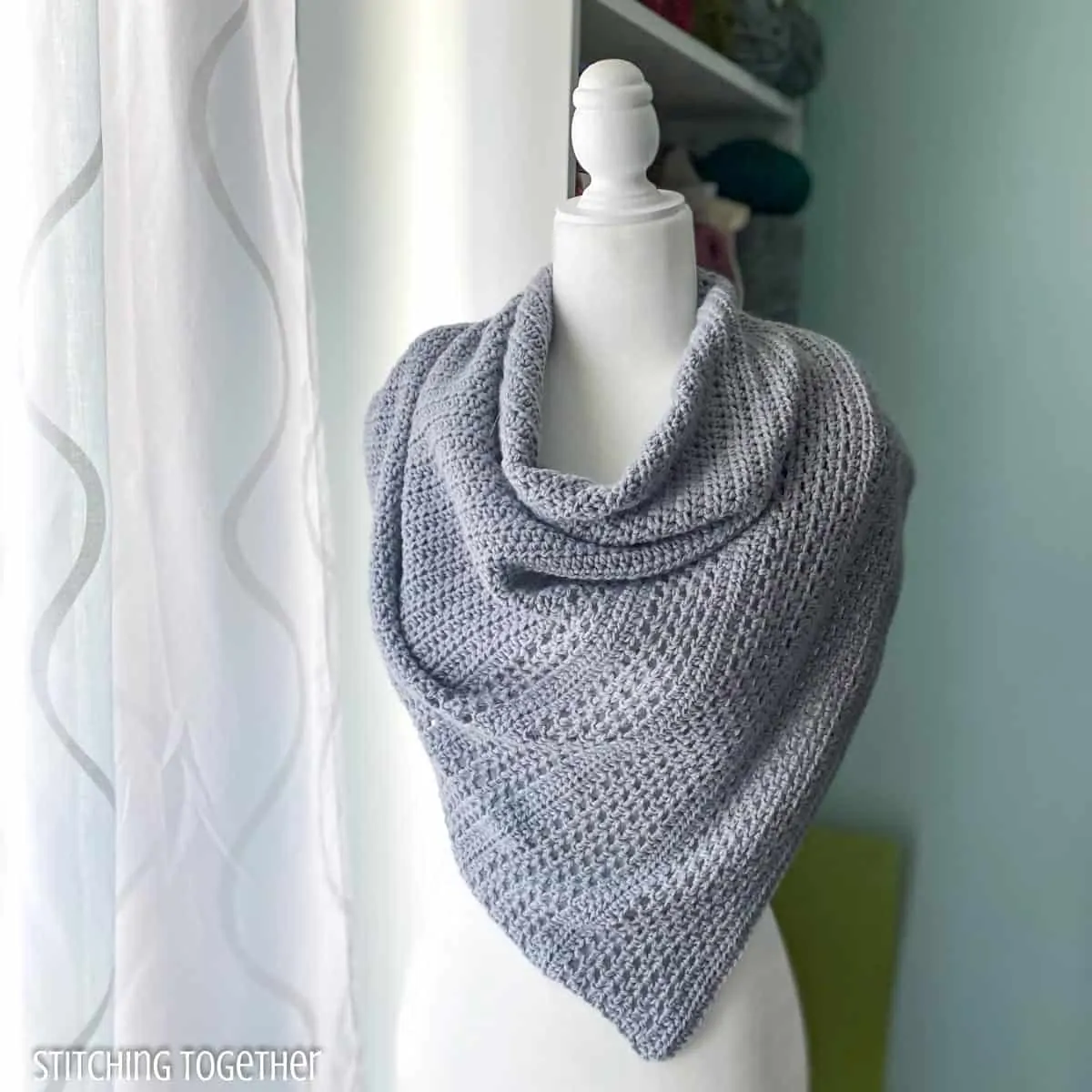 This shawl may look complicated but it's actually really easy. A combo of open and regular stitches gives it the pretty lacework look. It has a wonderful drape and softness due to the light weight yarn.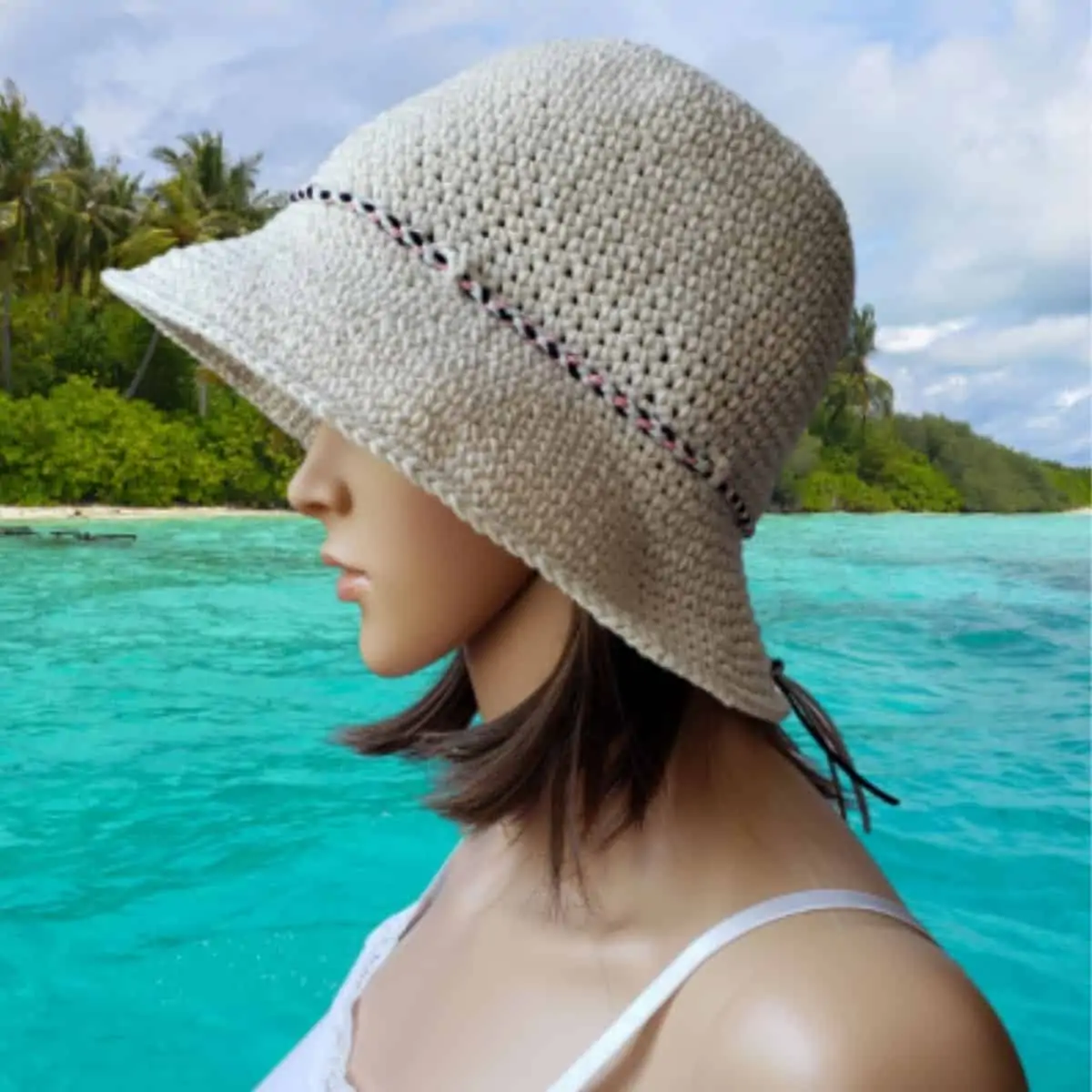 Basic Sun Hat Crochet Pattern by Oombawka Designs
Isn't this sun hat just gorgeous? It's made with 100% cotton yarn that's easy to find in stores. You can customize the color to match summer outfits and it'll keep the hot sun out of your face.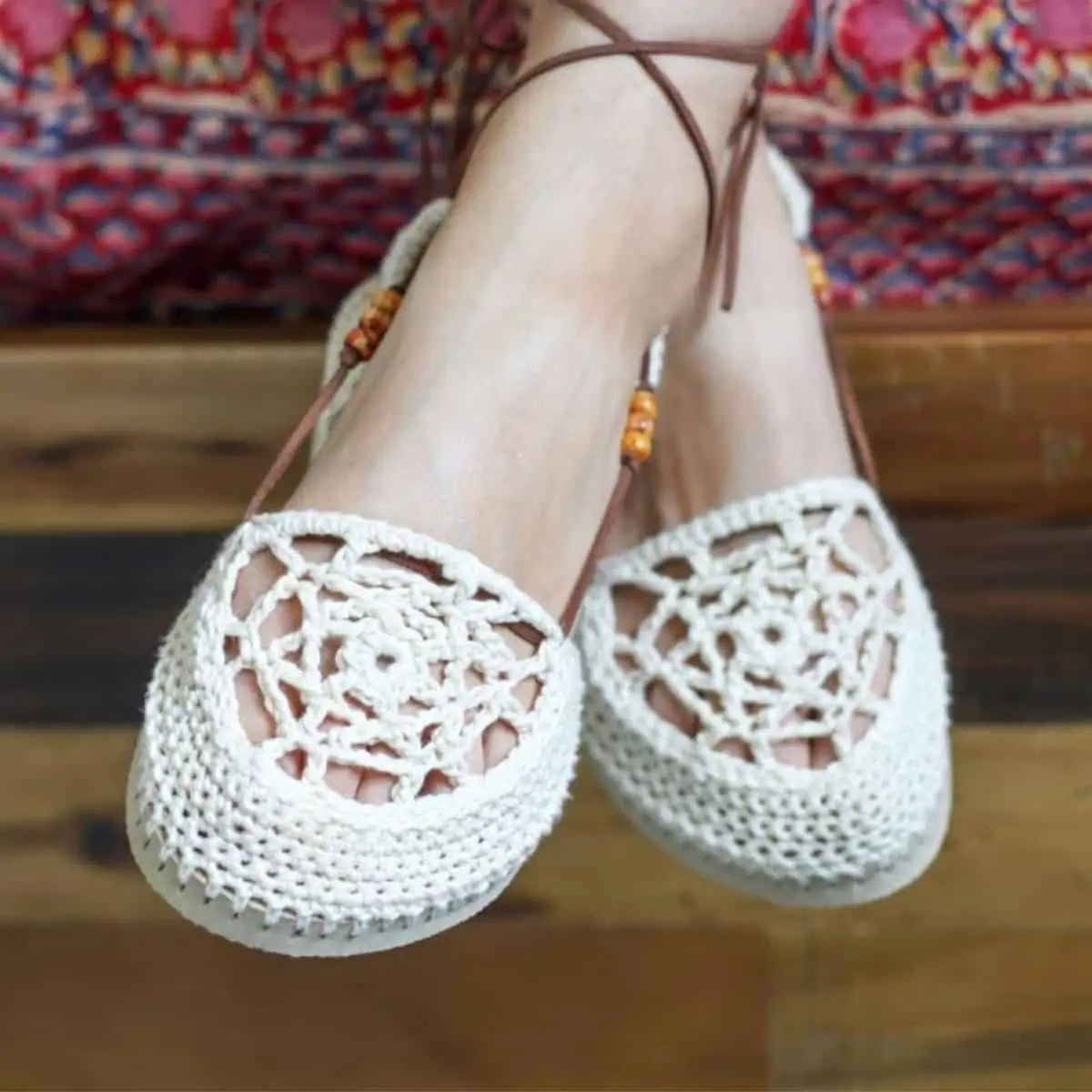 Dream Catcher Crochet Sandals by Make & Do Crew
Jess at Make & Do Crew is well known for her crochet shoes with flip flop sole patterns but this one is one of my favorites. I love the gorgeous open detailing on the toe plus the thin straps. Genius design, right here.
Clothing Crochet Patterns with Cotton Yarn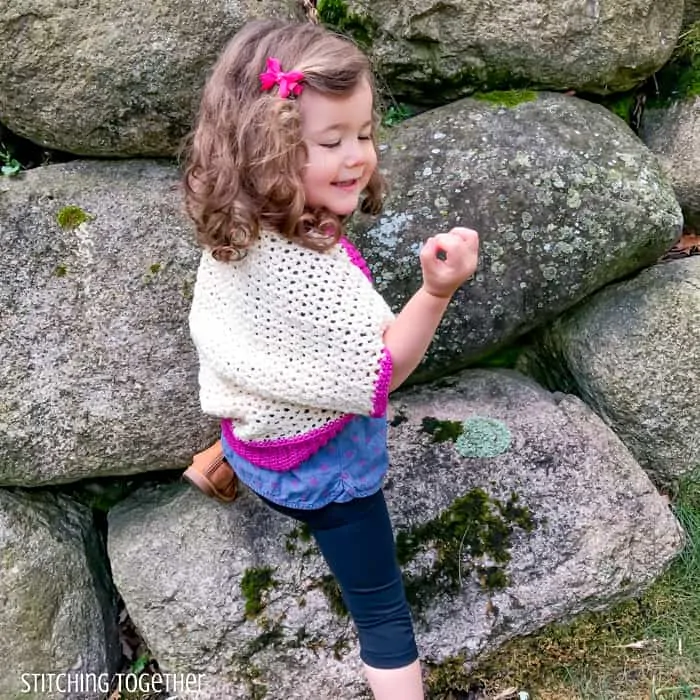 If you can crochet a square and add some ribbing, you can make this simple toddler shrug. It is made with 100% cotton yarn that is mercerized allowing the yarn to have a slight sheen and texture.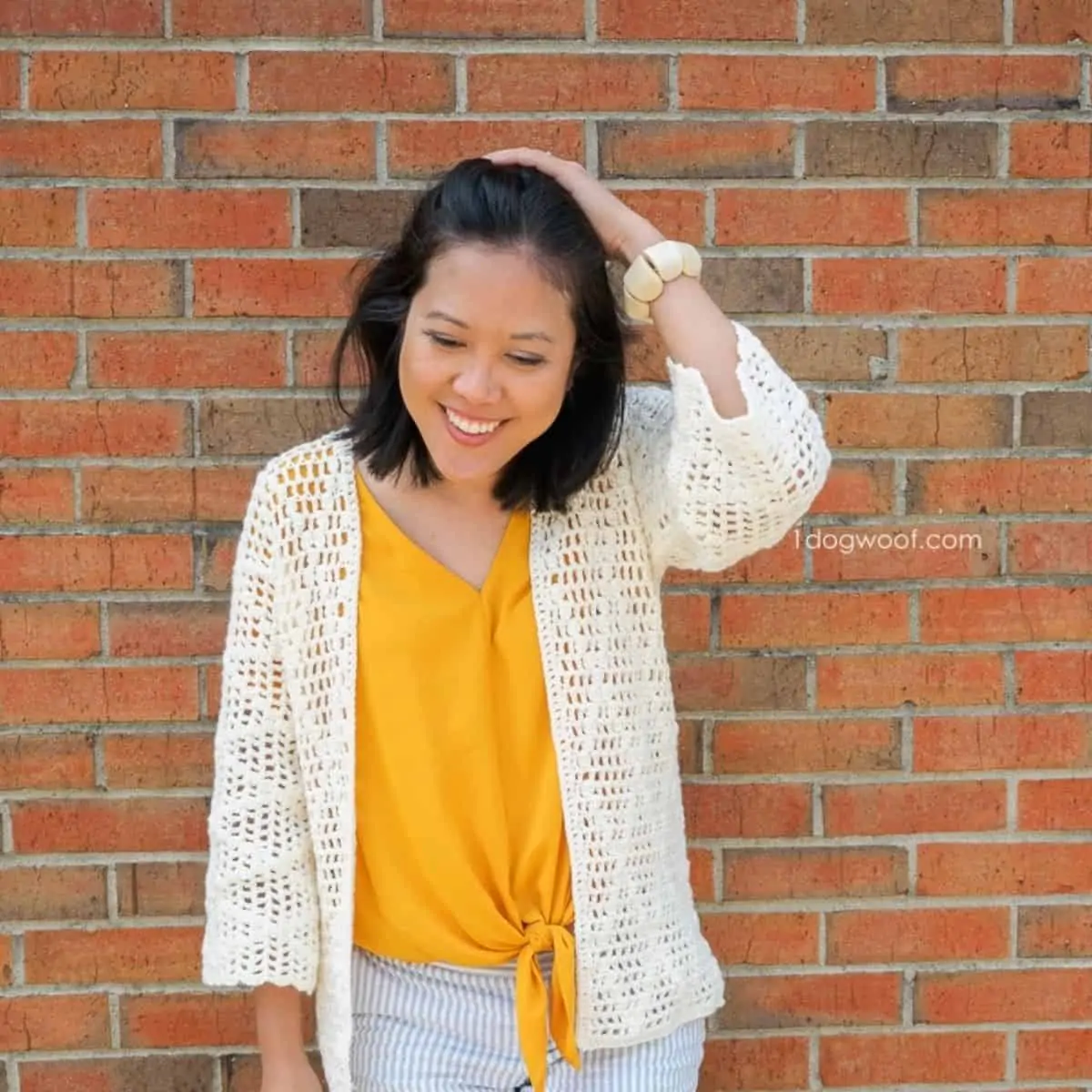 Diamond Clusters Crochet Cardigan by One Dog Woof
Made with a cotton blend yarn, the Diamond Cluster Cardigan has to be one of the most lovely crochet cardigan patterns I've ever seen. The detail is spectacular and I love that it's lightweight.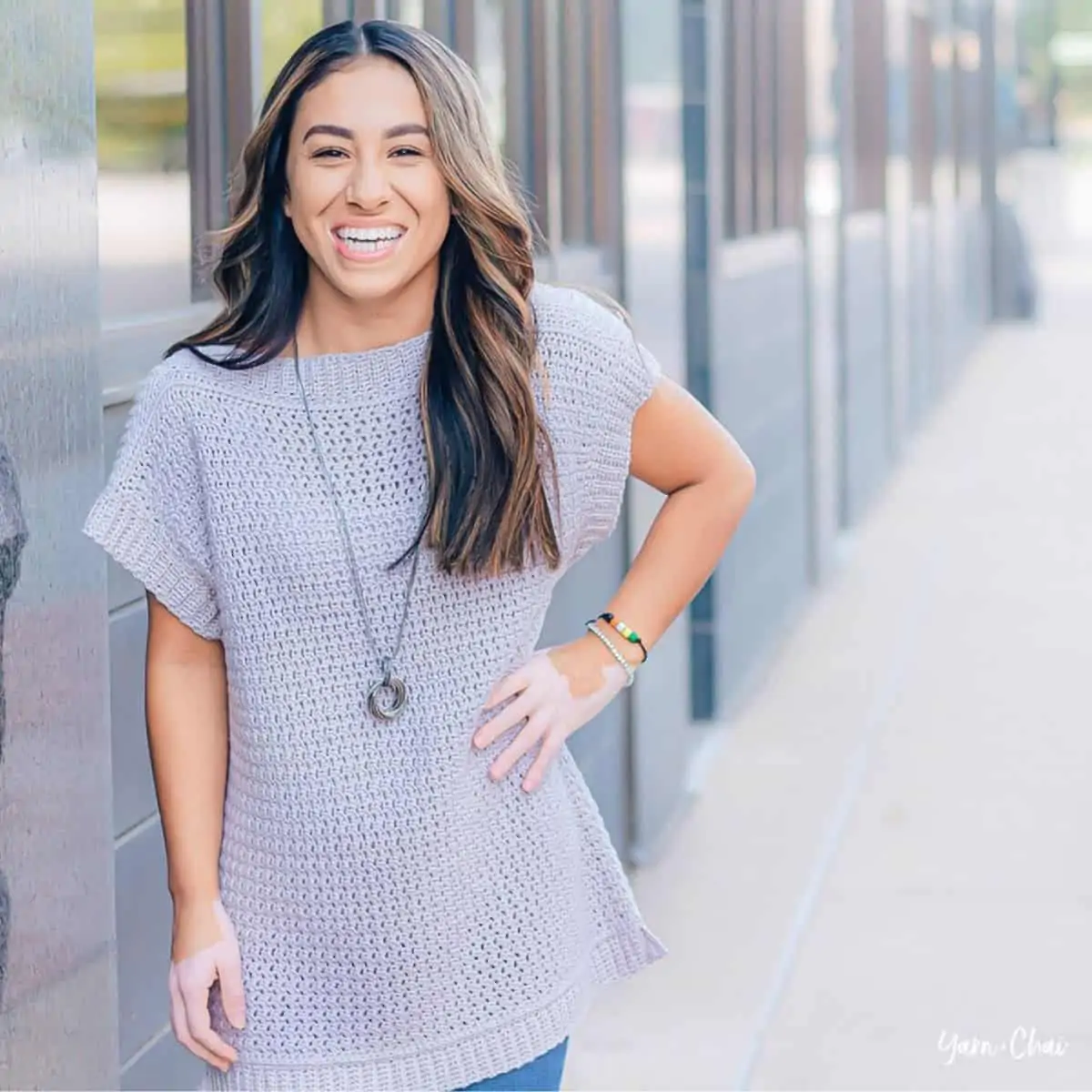 Marsali Crochet Sweater by Yarn & Chai
The Marsali Crochet Sweater tee works great as a lightweight, short-sleeved sweater. It's made with a cotton bamboo blend that makes a soft and gentle fabric. This is a great way to make yourself a cute outfit!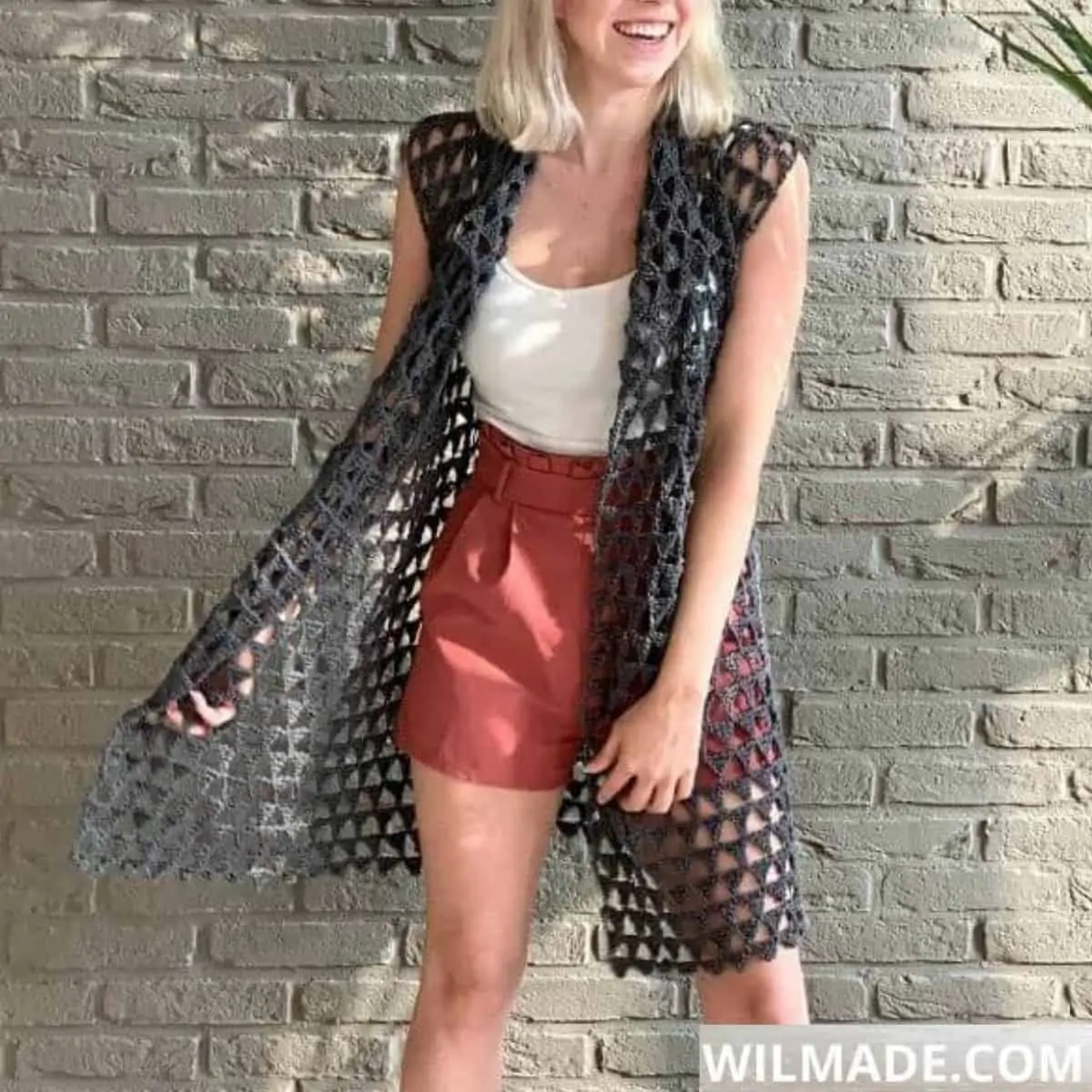 Beach Cardi Cover Up by Wilmade
Everything about this swim cover up is just gorgeous and honestly, I would wear it as an everyday cardi in warmer months and not just at the beach. It's made with mercerized cotton yarn which gives it that lovely sheen and fantastic drape.
Now that you have some ideas of what to crochet with cotton yarn, which free crochet pattern will you start with? Grab your hooks that match your yarn weight and let's get crocheting!