Eva Easy Ear Warmer Crochet Pattern
Disclosure: This post may contain affiliate links. As an Amazon Associate, I earn from qualifying purchases. Please visit my Privacy Policy for disclosures and more information.
There are two things that can instantly ruin my time outside. The first being mosquitoes and the second is wind pain in my ears. I dislike my ears getting cold, but that's tolerable compared to having the wind whip across your ears causing that deep ache. Do you know what I mean?
It should be no surprise that I am well stocked with hats and ear warmers and why I keep designing more of each. This Easy Ear Warmer Crochet Pattern is so simple and I whipped up 4 of them before I even realized how fast I was working through them. Good thing they make great gifts!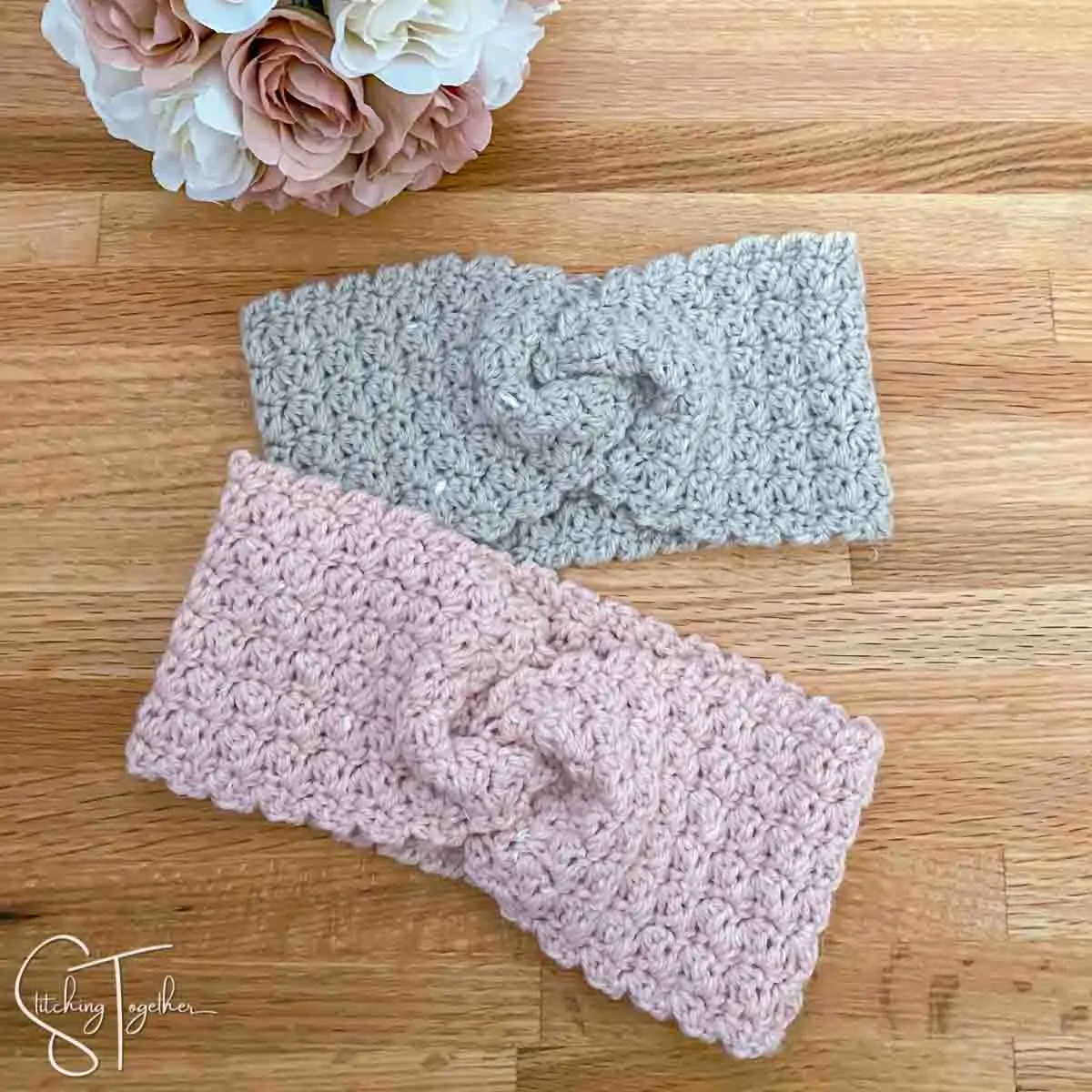 Keep reading for the Easy Ear Warmer Free Crochet Pattern or you can purchase the ad-free printable PDF version here.
Stitches
One of the things that makes this simple ear warmer pattern so easy is the stitches used. The entire crochet headband uses the Suzette Stitch which is a combination of a single crochet and a double crochet worked into the same stitch.
This stitch combo creates a fabric with a slight texture while still using basic stitches. If you are a beginner, you'll be able to tackle this headband pattern if you know how to chain, single crochet, double crochet, and skip stitches.
Don't worry if you haven't tried this stitch pattern yet, I have a full step-by-step Suzette Stitch Tutorial that walks you through everything you need to know.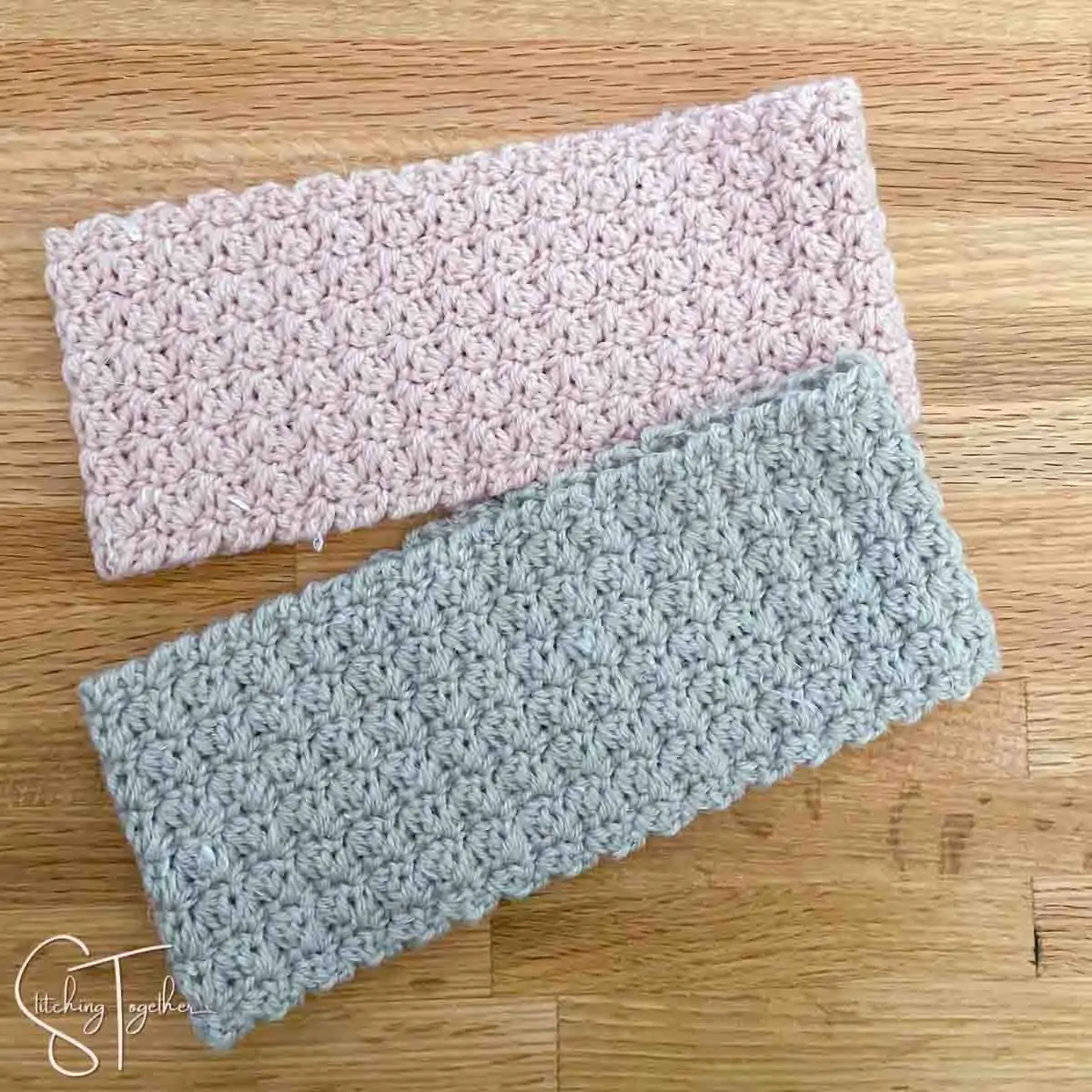 Related: Ribbed Crochet Headband Pattern
Yarn
For these easy ear warmers, I used some nice worsted weight yarn I had in my stash, Rustic Romance by Yarn Bee. It is an acrylic and hemp blend, but any soft, worsted weight (category 4) yarn should work well for this great pattern.
The only thing you may need to adjust is the length of the ear warmer which is easily done by adding or subtracting rows. When making headbands and ear warmers, I find it is always best to work toward a certain length instead of a row count.
If you read through the Simple Crochet Ear Warmer and Size Chart post, you'll see what I mean and you'll find guidance in helping you determine the best size for your ear warmer no matter who you are making it for.
Do keep in mind that different types of yarn can create more stretch in the final project. The yarn I used for these headbands stretched quite a bit so I ended up taking out some rows and making them to the smallest measurement in my target size range.
I haven't tried this crochet headband pattern with bulky yarn yet but I think it would make a great winter headband that keeps your ear toasty warm.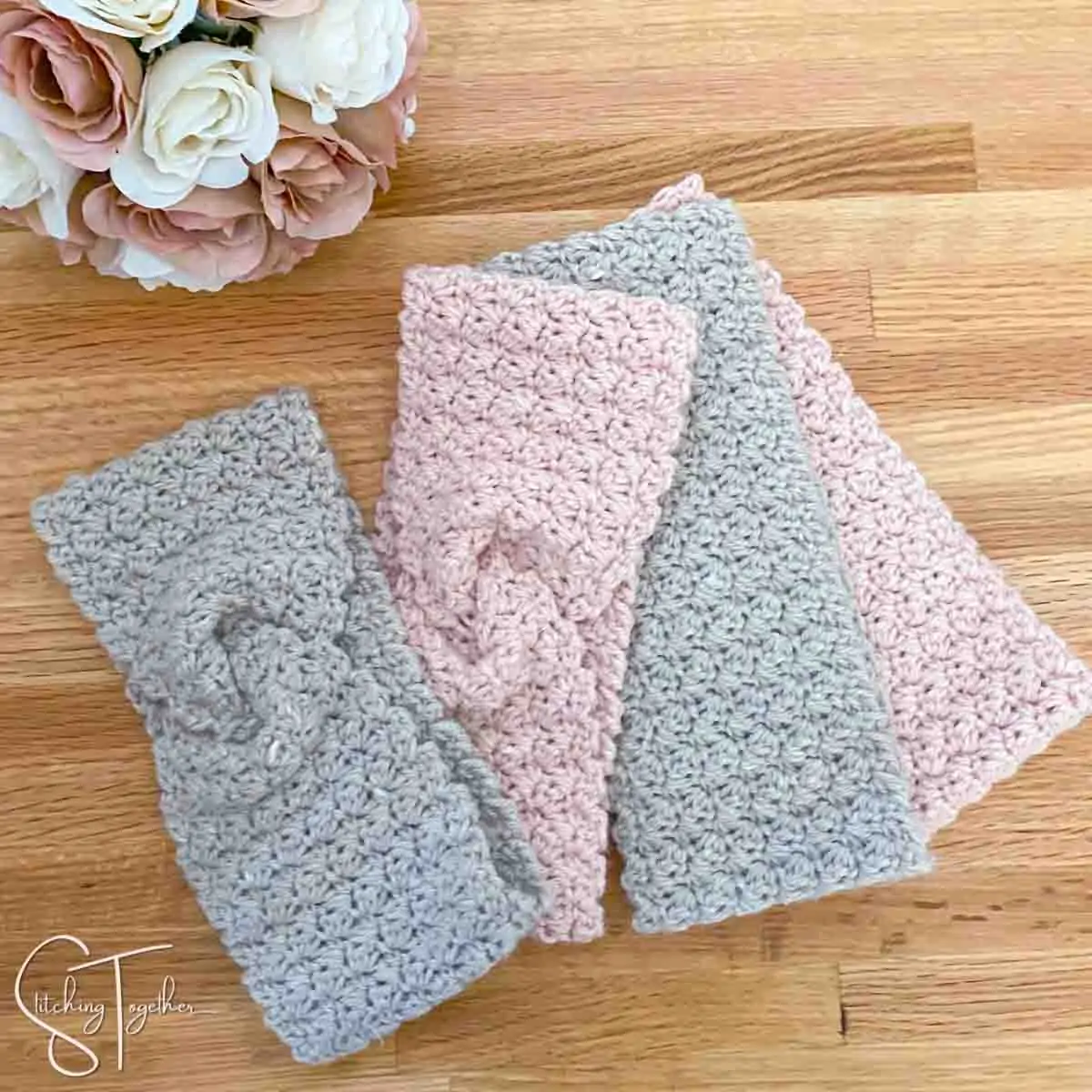 To Twist or Not to Twist
Once you know how to create that twist we keep seeing in popular headbands and ear warmers, you can really twist any ear warmer headband that is worked in rows. If you come across a pattern that is worked around, you will not be able to twist it in the same way.
I like having both twisted and regular ear warmers so I made two of each. I think they look super cute either way and both styles are comfortable. I added pictures below the pattern, showing you how to create and sew the twist.
If you decide to go with a regular join, you will just hold the short ends of the ear warmer together to form a circle and sew them. I used a whip stitch to join my headbands.
Don't forget to save this Easy Ear Warmer pattern on Pinterest.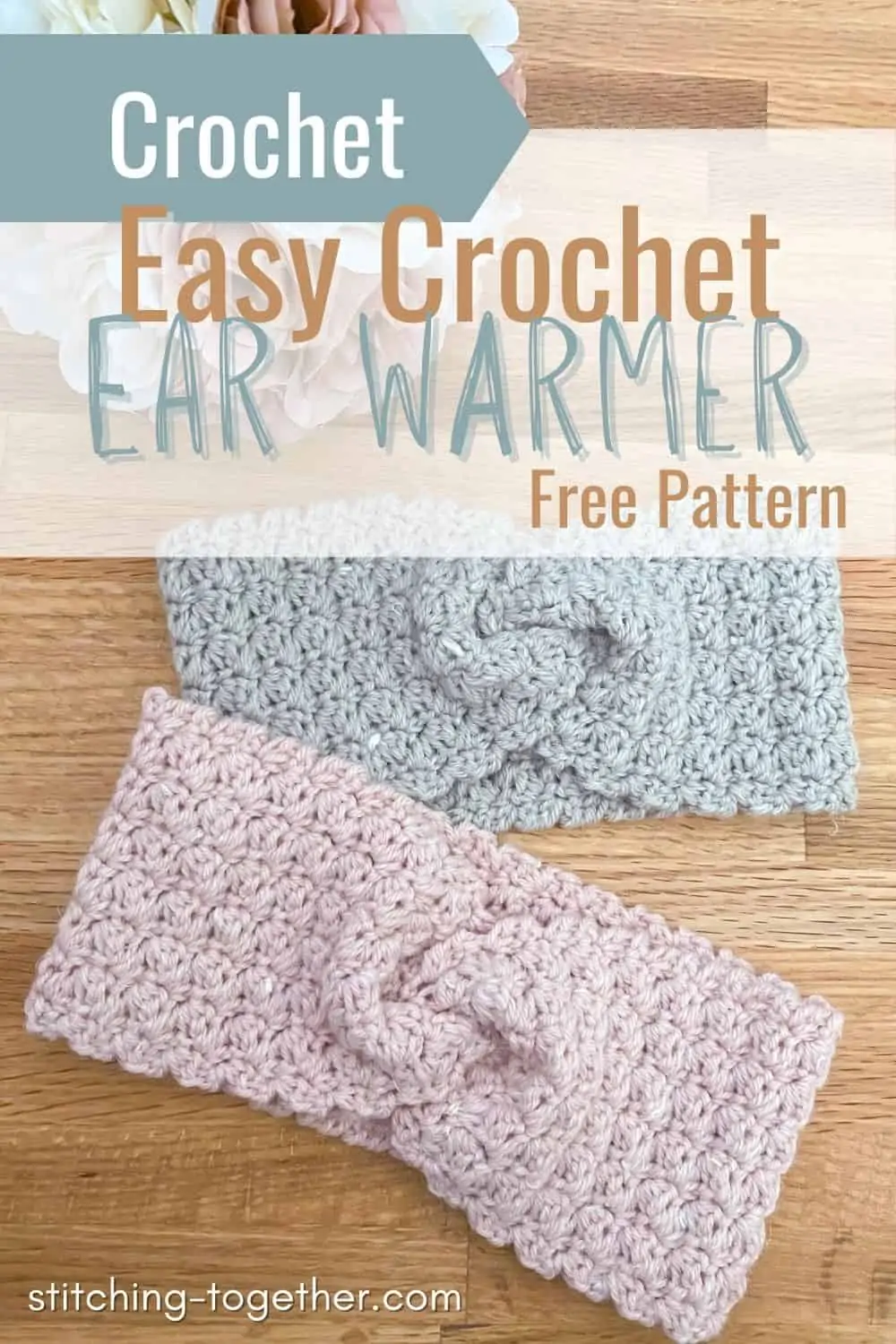 Easy Crochet Ear Warmer Pattern
Skill Level: Easy
Materials:
US size I/9, 5.5 mm crochet hook
Yarn Bee Rustic Romantic (category 4 worsted weight yarn) – Samples used approximately 88 yds (1.4 oz) in the colors Sugared Oats and Peony Bouquet
Large Eye Yarn Needle
.
Everything you need for this project can be ordered right online
Save time and shop from home!
.
Abbreviations:
ch: chain
sc: single crochet
dc: double crochet
st: stitch
Gauge: 2" by 2" =7 rows by 8 sts (taken in Suzette Stitch pattern)
Finished Size: 3.75" wide by 19.5" around
Notes:
The pattern below is written for a small adult size. If you need to adjust the size, add or subtract rows. If you want to adjust the width, like making it narrower for a toddler, just be sure to keep your starting chain an even number.
Easy Ear Warmer Crochet Pattern Instructions:
ch 14 (start with an even number of chains)
Row 1: (sc, dc) in 2nd ch from hook, *skip ch, (sc, dc) in next ch, repeat from * to end of row, turn.
Row 2: ch 1, *skip dc, (sc, dc) in sc of the row below, repeat from * to the end of the row, turn.
Row 3-64: Repeat Row 2
Leave a long tail. Join in a circle and sew ends together or follow the picture tutorial to sew a twist in the ear warmer.
How to Sew a Twisted Headband
Bring the short ends of the headband together so half of one end is against half of the other end.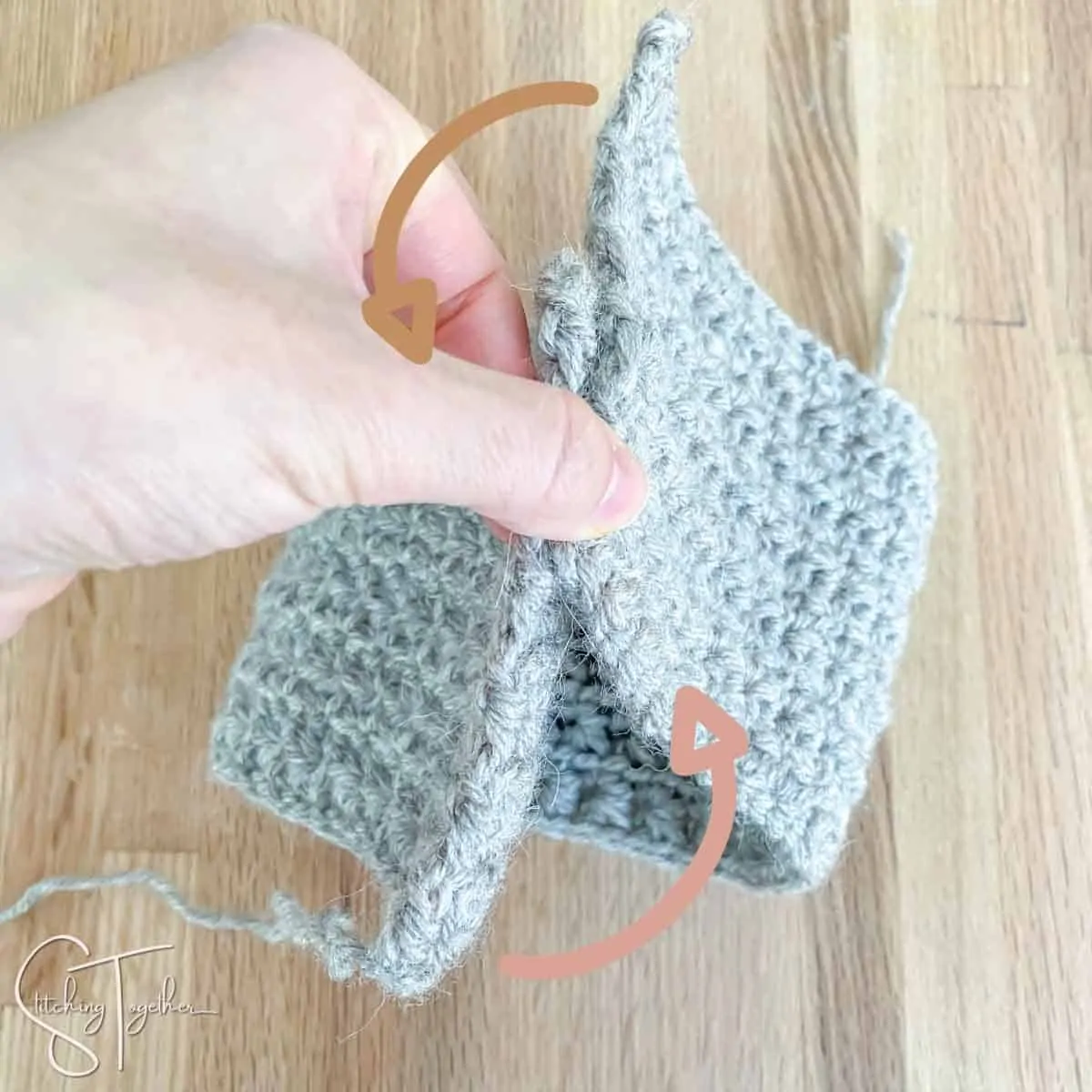 Wrap each side around the other side of the headband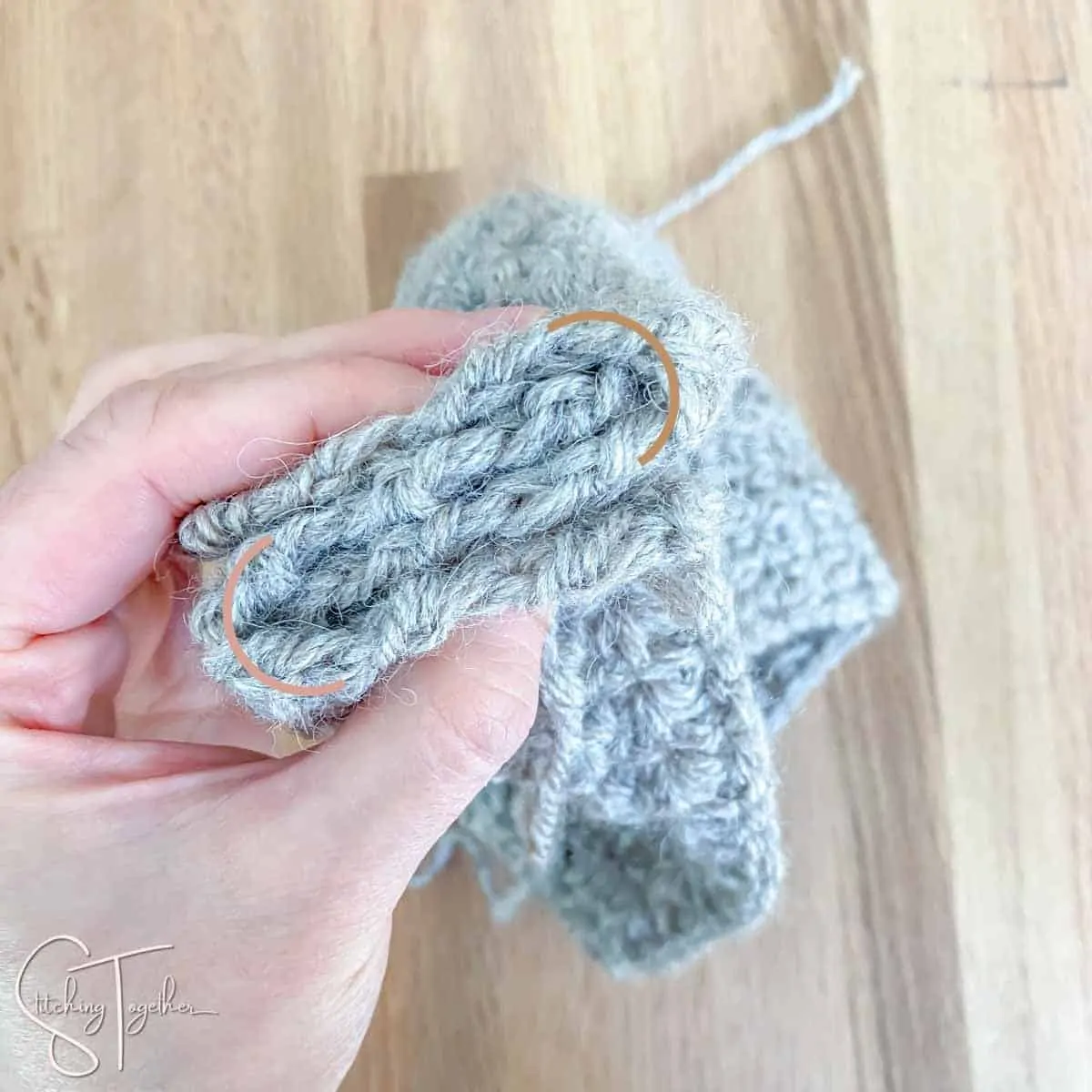 Using the long tail end and a large needle, weave the yarn back and forth through all four layers.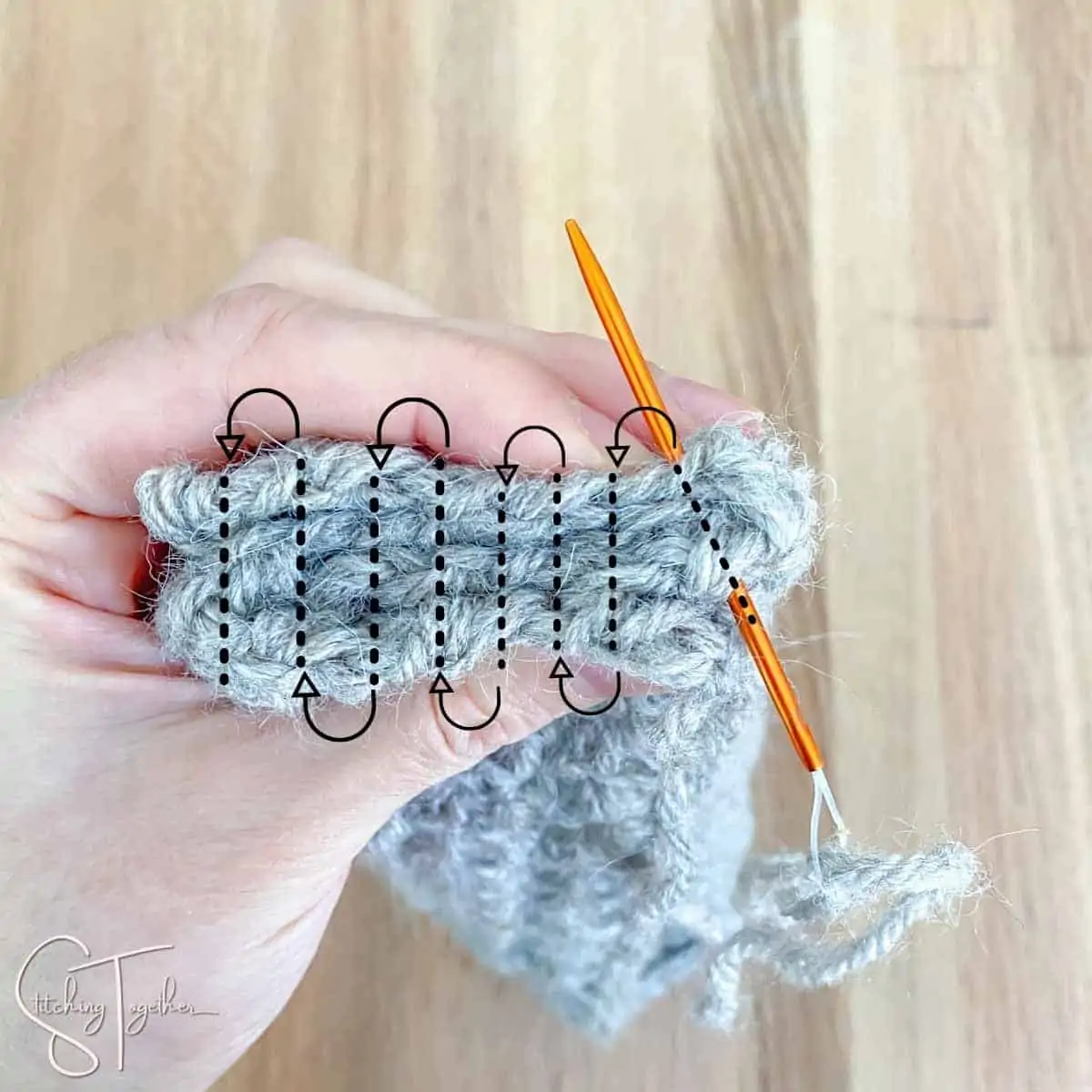 Turn right side out and smooth down.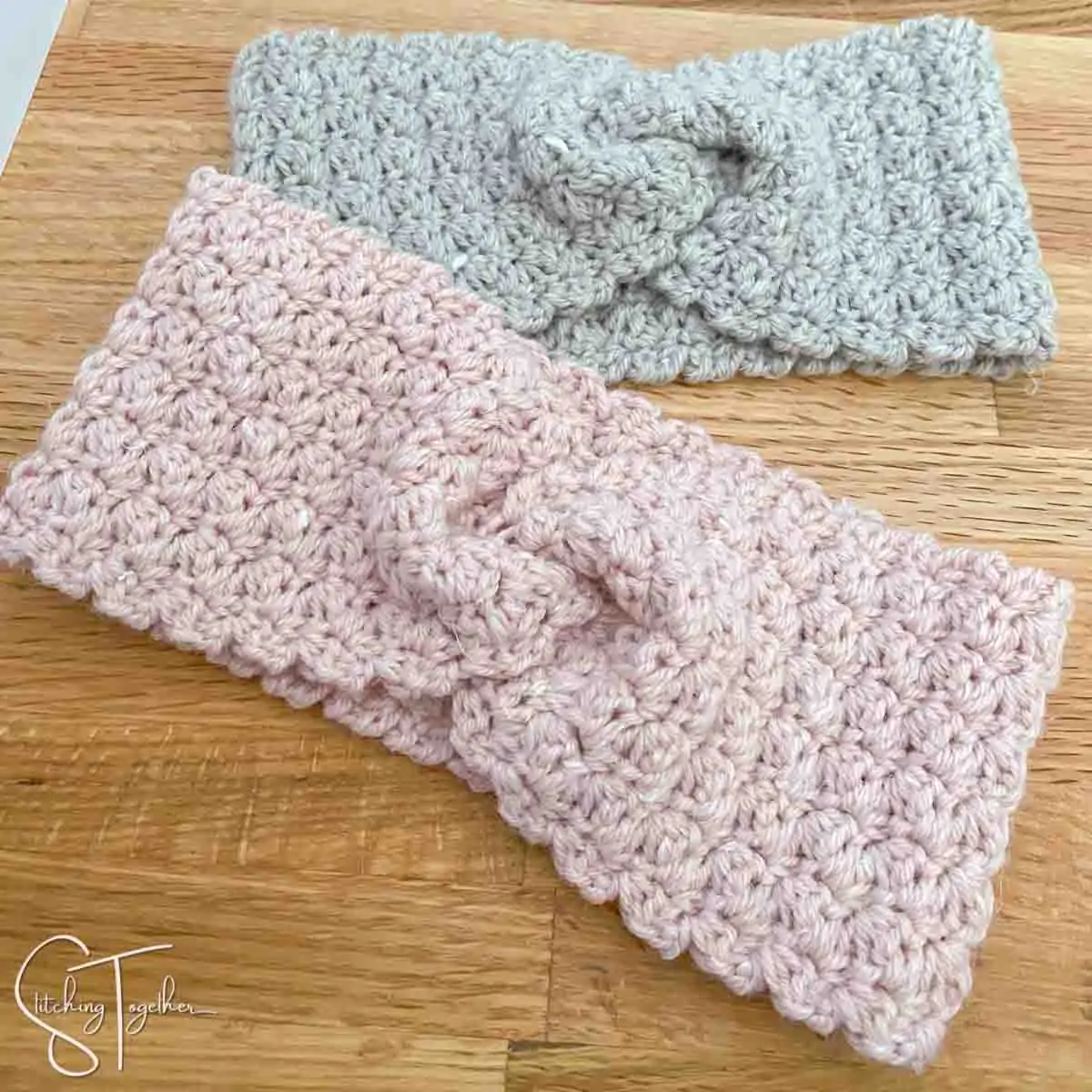 What will you use this crochet heart pattern for? Will you share pictures of your finished projects?
Check out these other free crochet ear warmer patterns
.
If you like easy-to-print patterns, this pattern can be purchased in the following places:
Thanks for your support!
.