Sweet Suzette Stitch Dishcloth Crochet Pattern
Disclosure: This post may contain affiliate links. As an Amazon Associate, I earn from qualifying purchases. Please visit my Privacy Policy for disclosures and more information.
Don't you just love patterns that are easy and look amazing? The Sweet Suzette Stitch Dishcloth is so simple to make giving you a final product that is textured and lovely.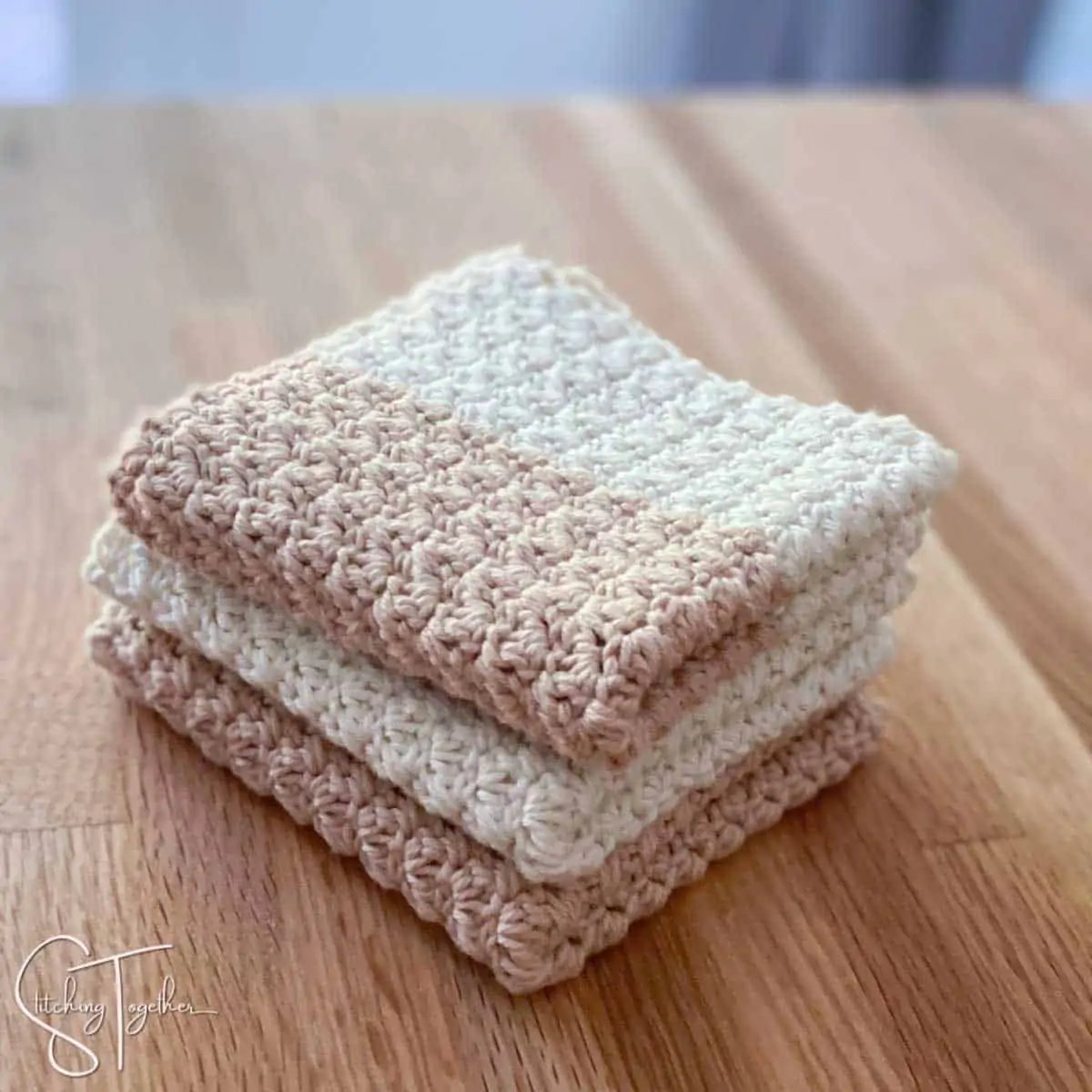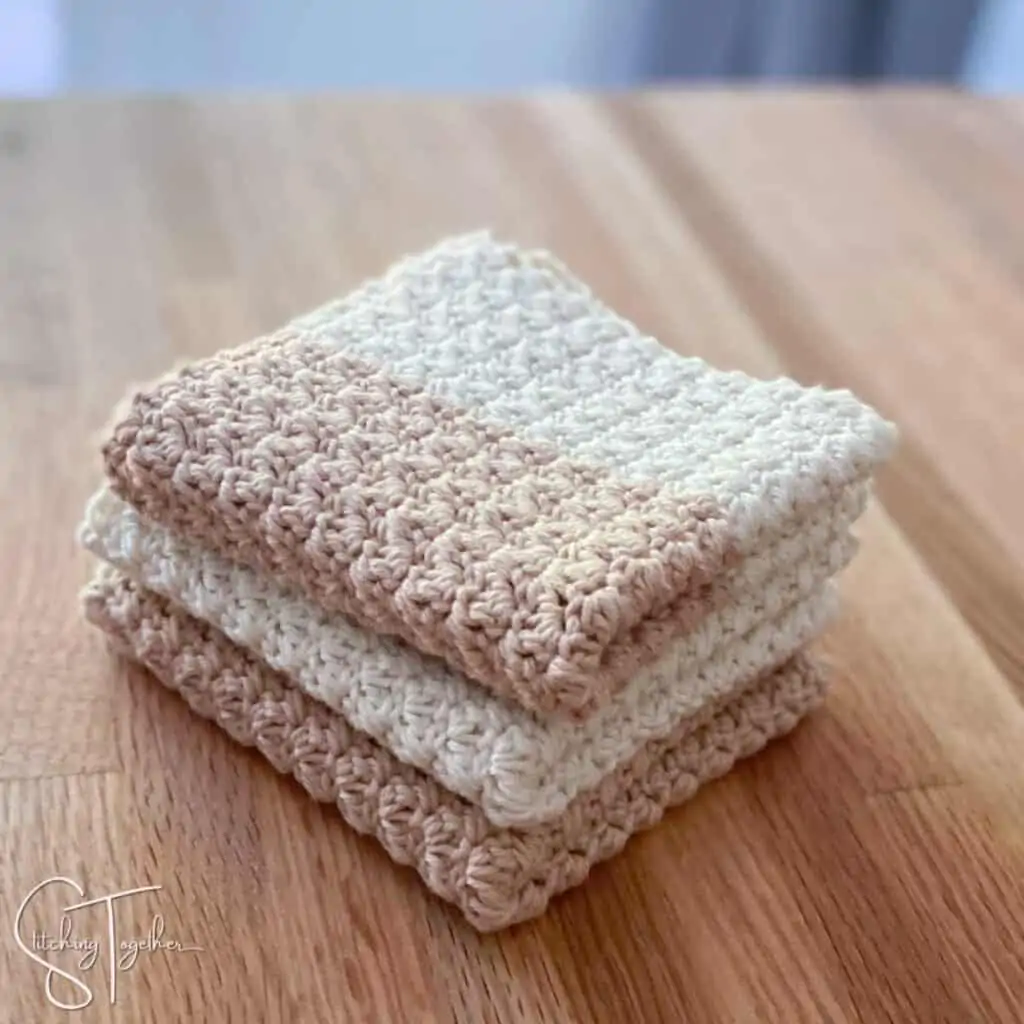 I'm sure it wasn't hard to guess that this dishcloth is made using the Suzette Stitch which uses alternating single and double crochets in the same stitch. If you haven't done this stitch combo before, you can check out the Suzette Stitch tutorial before getting started on the dishcloth.
If you are ready to get started, keep reading for all the details and the free crochet pattern or you can purchase the printable PDF of this pattern here.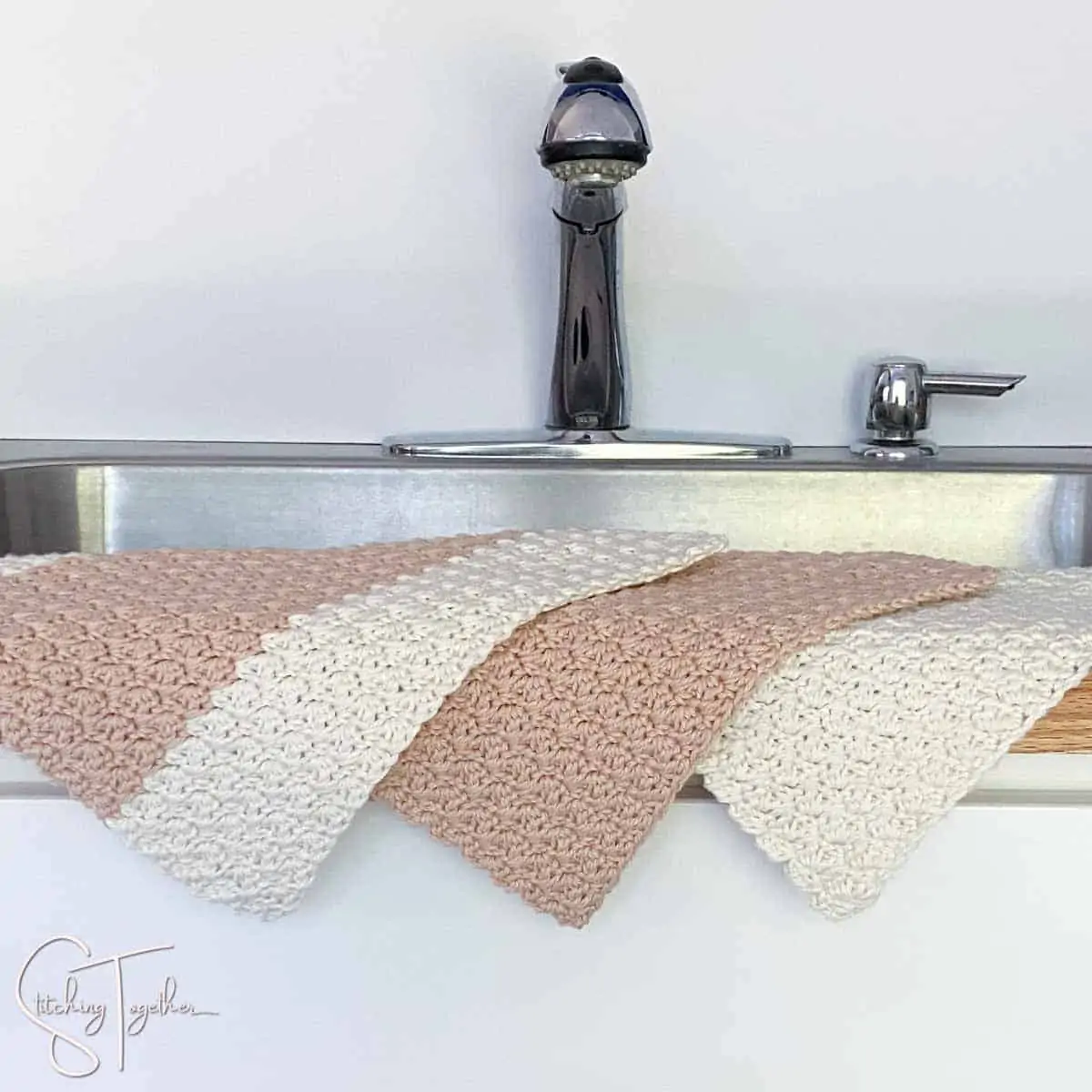 Yarn for the Suzette Stitch Crochet Dishcloth
As with all my patterns, you do not have to use the same yarn I used, but I think the final results are worth getting your hands on some Dishie cotton yarn by Knit Picks.
Sometimes cotton yarn can be hard to work with especially if you are just starting on your crochet journey. Dishie is soft and smooth and so easy to work with. The final fabric works well for washcloths too… that's how soft and gentle the feeling is.
If you choose a different cotton yarn, keep in mind that Dishie is on the thinner side of worsted weight cotton yarns and you may need to adjust your starting chain count if you are wanting a similar-sized dishcloth. Thankfully adjusting the size with the Suzette Stitch is easy, you just have to remember to keep your starting chain stitch count an even number.
Related: Crochet Dishcloth Patterns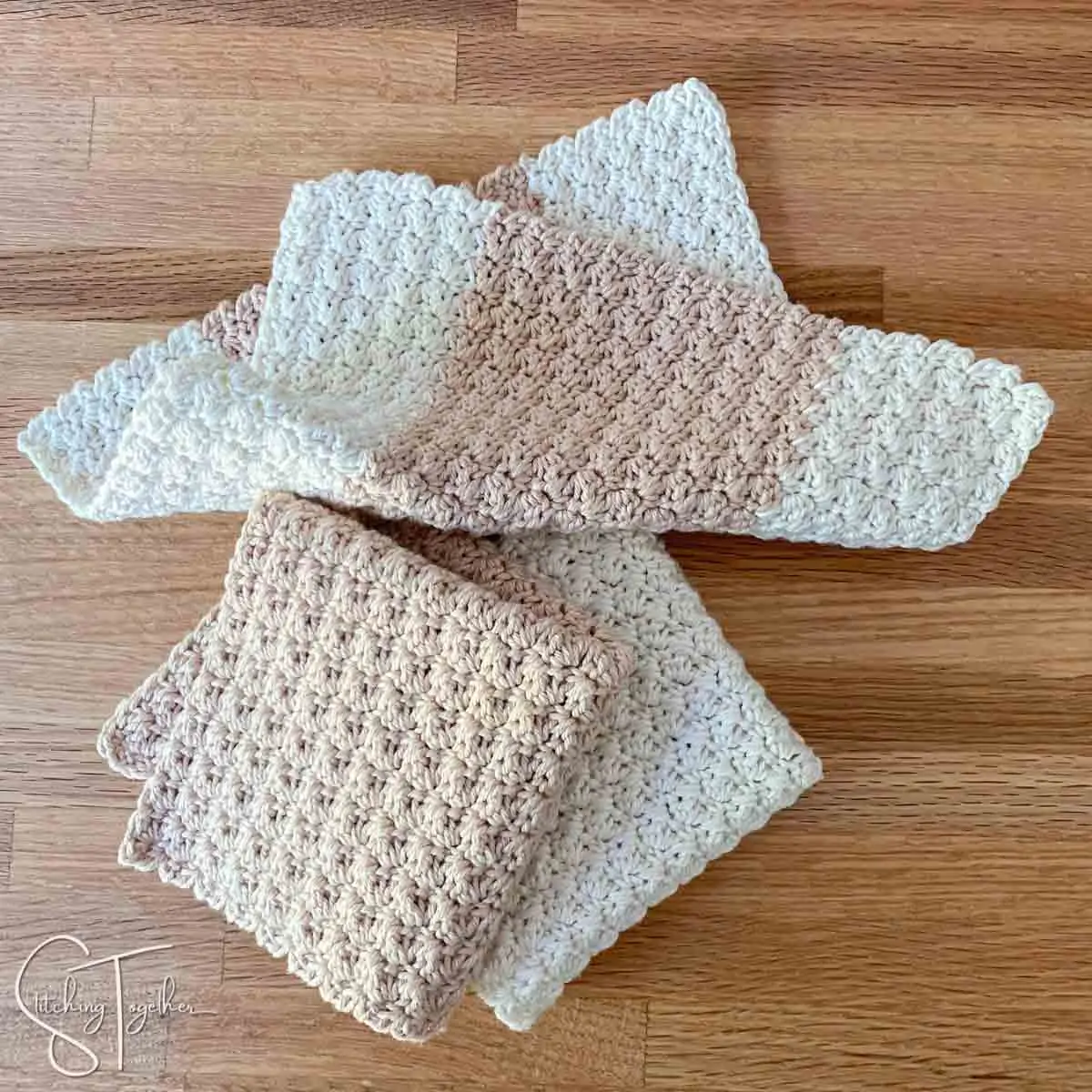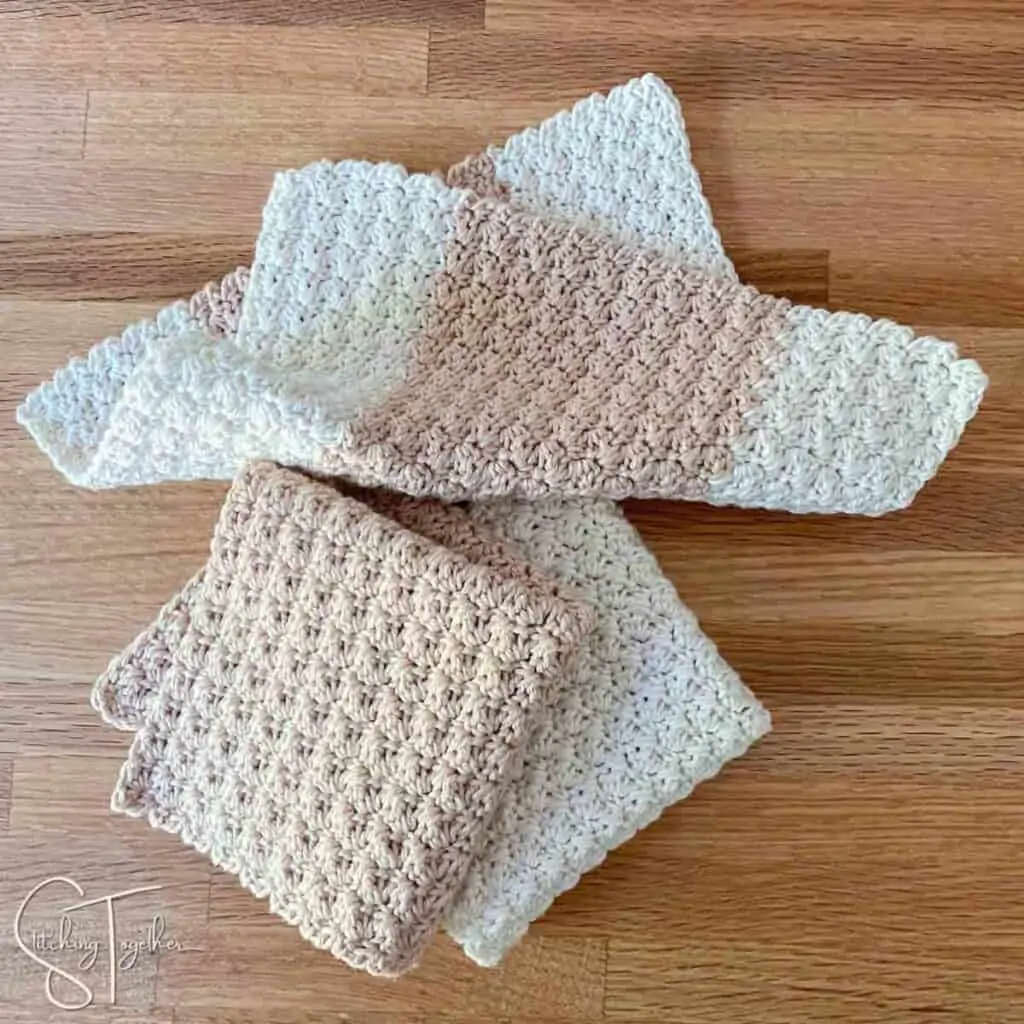 Suzette Crochet Stitch
Speaking of the Suzette Stitch, let's talk about this lovely stitch combination. As I already mentioned if you haven't worked the Suzette crochet Stitch before or are having trouble following the written pattern, you can first learn how to crochet the Suzette Stitch with the step-by-step photo tutorial.
The stitch combination is made by working a single crochet and double crochet into the same stitch and then you skip a stitch. After you've worked your chain rows, the stitches you are skipping each time are the double crochets of the previous row only working into the single crochets.
The fabric created from the Suzette stitch is dense and texture but not stiff.
You'll see that the stitch combination naturally creates a cute edging at the end of each row. You can add a border around the dishcloth but I think it looks so nice without a border.
I think you'll be pleasantly surprised with how quickly the stitch combination works up. Once you get going, you'll likely be able to crochet several Suzette Stitch dishcloths in an evening.
Crochet Suzette Stitch Dishcloth Pattern
Skill Level: Easy
Materials:
US size 7, 4.5 mm crochet hook
Knit Picks Dishie Yarn (100% Cotton category 4 worsted weight yarn) -Solid Color samples used approximately130 yds (2.40 oz) of Linen or Swan
Large Eye Yarn Needle
.
Everything you need for this project can be ordered right online
Save time and shop from home!
.
Abbreviations:
ch: chain
sc: single crochet
dc: double crochet
st: stitch
Gauge: 16 sts by 8 rows taken in Suzette Stitch pattern
Finished Size: approximately 10.25" by 10.25"
Notes:
I found that putting 2 single crochets in the very last stitch of the very last row looked better than finishing the row with a single crochet and a double crochet in the last stitch.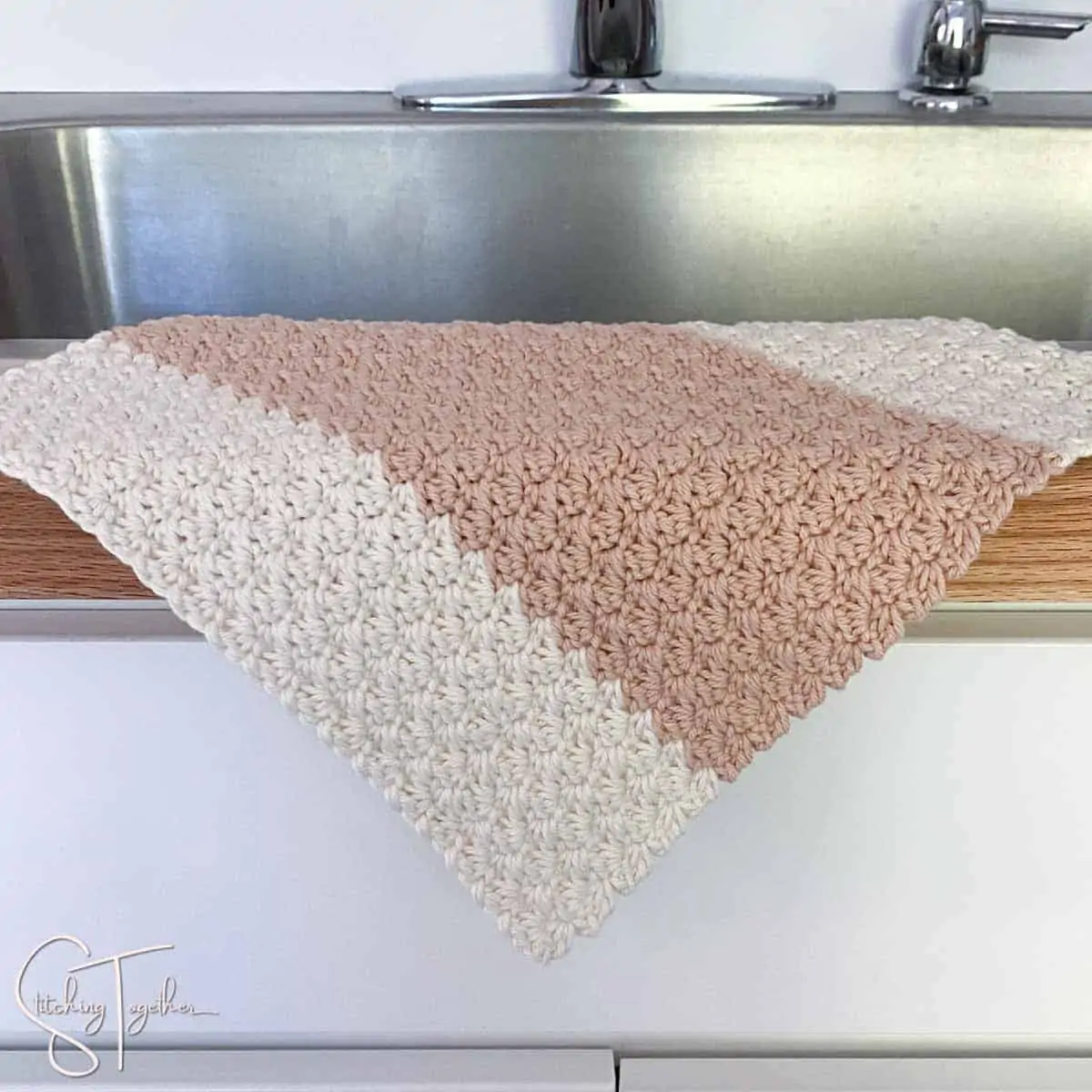 Suzette Stitch Dishcloth Pattern Instructions:
ch 40 (start with an even number of chains)
Row 1: (sc, dc) in 2nd ch from hook, *skip ch, (sc, dc) in next ch, repeat from * to end of row, turn.
Row 2: ch 1, *skip dc, (sc, dc) in sc of the row below, repeat from * to the end of the row, turn.
Row 3-39: Repeat Row 2
Optional: Final row: (2 sc) in the last st of the row. Fasten off and weave in ends.
Striping Pattern: rows 1-10 in color A (Swan), rows 11-29 in color B (Linen), rows 30-39 in color A (Swan).
If you'd like the PDF version of this pattern, you can get it in the following places:
Don't miss these other great dishcloth and washcloth patterns:
What will you use this crochet dishcloth pattern for? Will you share pictures of your finished projects?