Beautiful Bean Stitch Crochet Scarf Pattern
Disclosure: This post may contain affiliate links. As an Amazon Associate, I earn from qualifying purchases. Please visit my Privacy Policy for disclosures and more information.
Soft, squishy, and warm with loads of texture… sounds like the perfect scarf to me. The Beautiful Bean Stitch Crochet scarf is one you'll want in your own scarf collection and one you'll want to continue to make.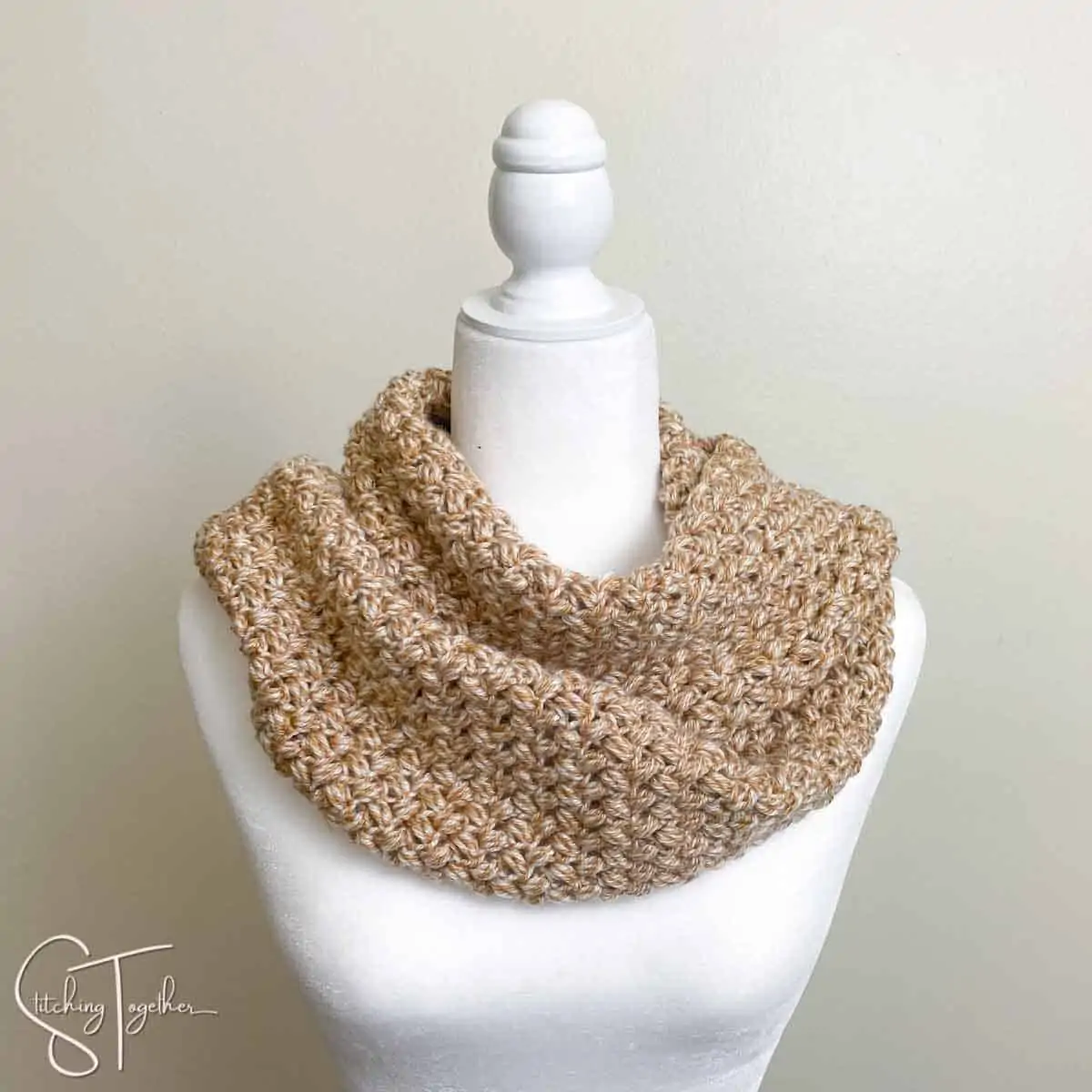 You can keep reading for all the pattern details and the entire free pattern or you can purchase the ad-free pattern PDF.
Last year I designed the Bean Stitch Twisted Headband and fell in love with the crochet bean stitch.
I love puff stitches, so to have zigzagging puff stitches that are easy, beautiful and textured, quickly made this stitch combo jump to the top of my favorite stitch list.
After working up the headbands, I knew I wanted to make a bean stitch scarf, and now, before another winter settles in, seemed like the perfect time.
The only problem is I want more bean stitch scarves in a variety of colors (not sure that actually qualifies as a "problem"). It's my new favorite scarf and I want to make one in bulky yarn too.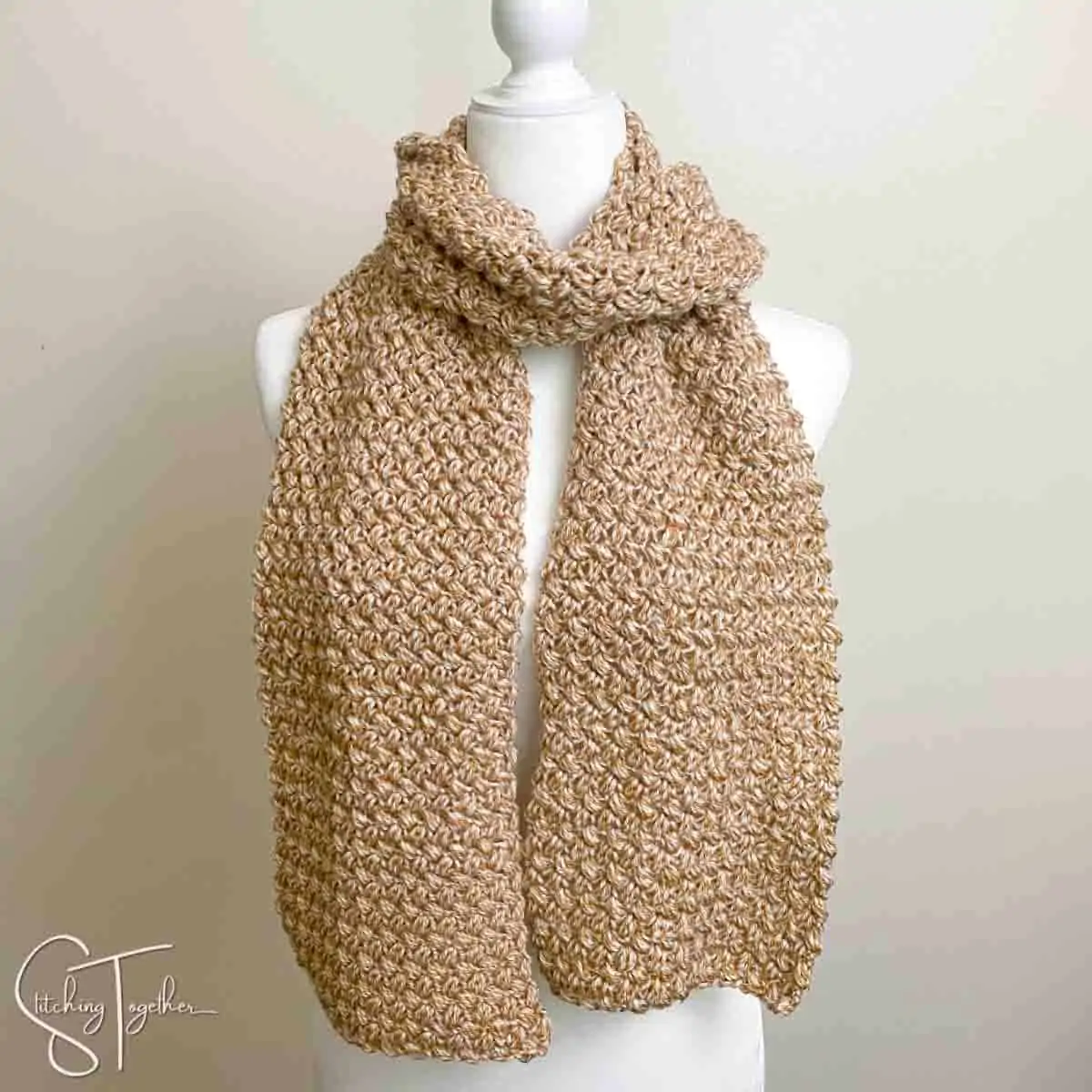 Bean Stitch Scarf Yarn
There's yet to be an acrylic worsted weight yarn that I consistently like more than Premier Anti-Pilling Everyday Yarn. It is so easy to work with, has great drape, and holds up well.
For a scarf with a denser crochet stitch, like the bean stitch, it is important to have yarn that can still maintain its flowiness and Premier Everyday does just that.
As I was working on putting this pattern together, I could no longer find the exact color I used, Tan Marl, on Premier's website. It looks like it may have been discontinued. Thankfully Premier Everyday comes in a variety of solid colors and prints.
It is a bummer because the stitch looks really good with the marled yarn and I have some Navy Marl skeins in my stash that I am hesitant to use since I don't know if they just discontinued all their marled yarns.
When you order from their website, don't forget to sign up for their reward program. You'll receive a 15% off coupon for signing up and then can continue earning rewards that allow you to save money on more yarn!
If you decide to go with a different yarn, just make sure it is soft with good drape so your fabric doesn't end up too stiff and dense.
Related: Bean Stitch Ear Warmer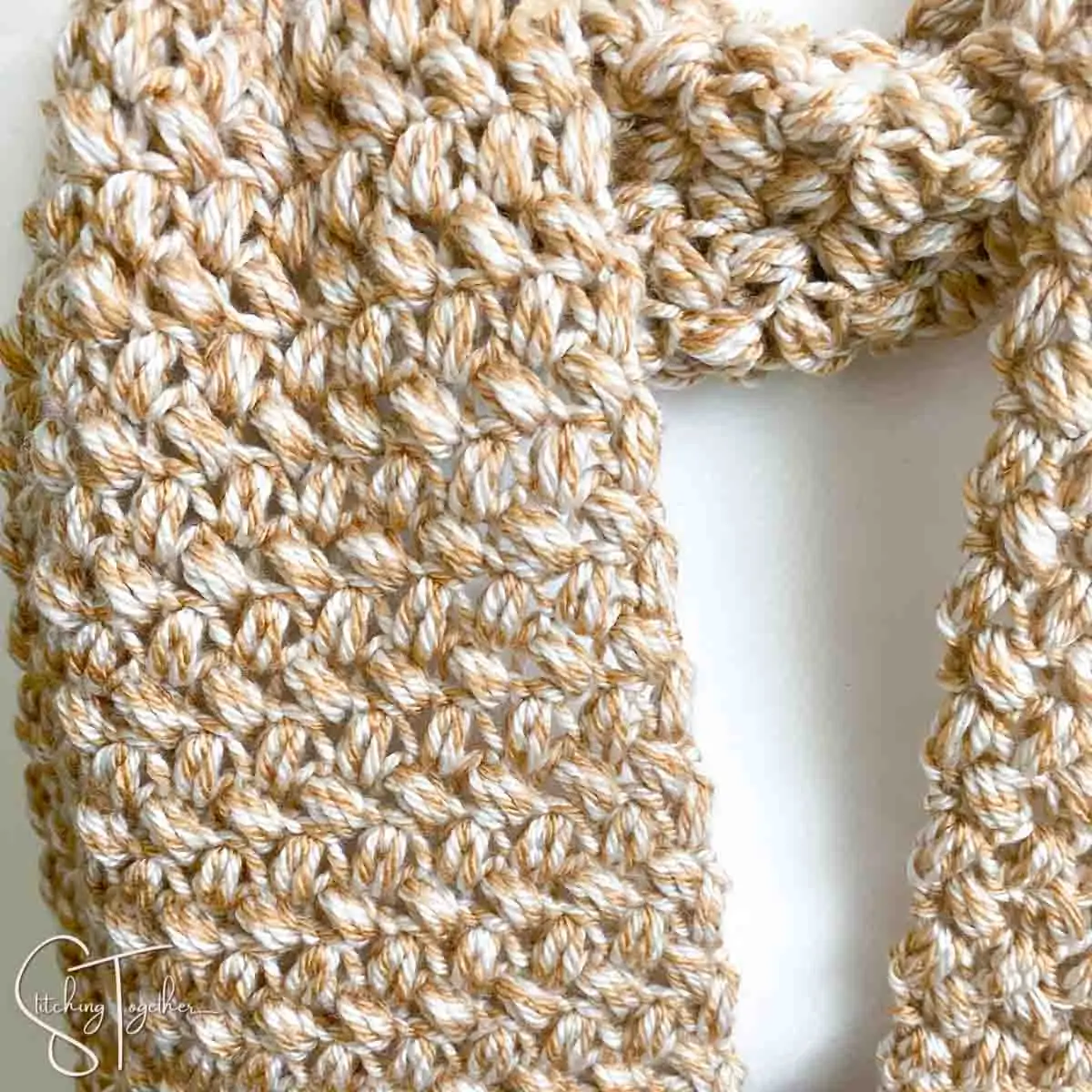 Crochet Bean Stitch
Have you worked the bean stitch pattern before? If you haven't, be sure to check out the Bean Stitch crochet tutorial for the step-by-step photo tutorial.
The Bean stitch is made up of puff stitches that are worked in such a way that they push each puff stitch of the row below off to the side. That's how you get that beautiful zigzag pattern of puffs.
It's great for creating a dense crochet fabric that'll keep you nice and warm.
Unlike the Bean Stitch headband, the scarf does not start and end with rows of single crochet so you will only be working the bean stitch for the entire scarf.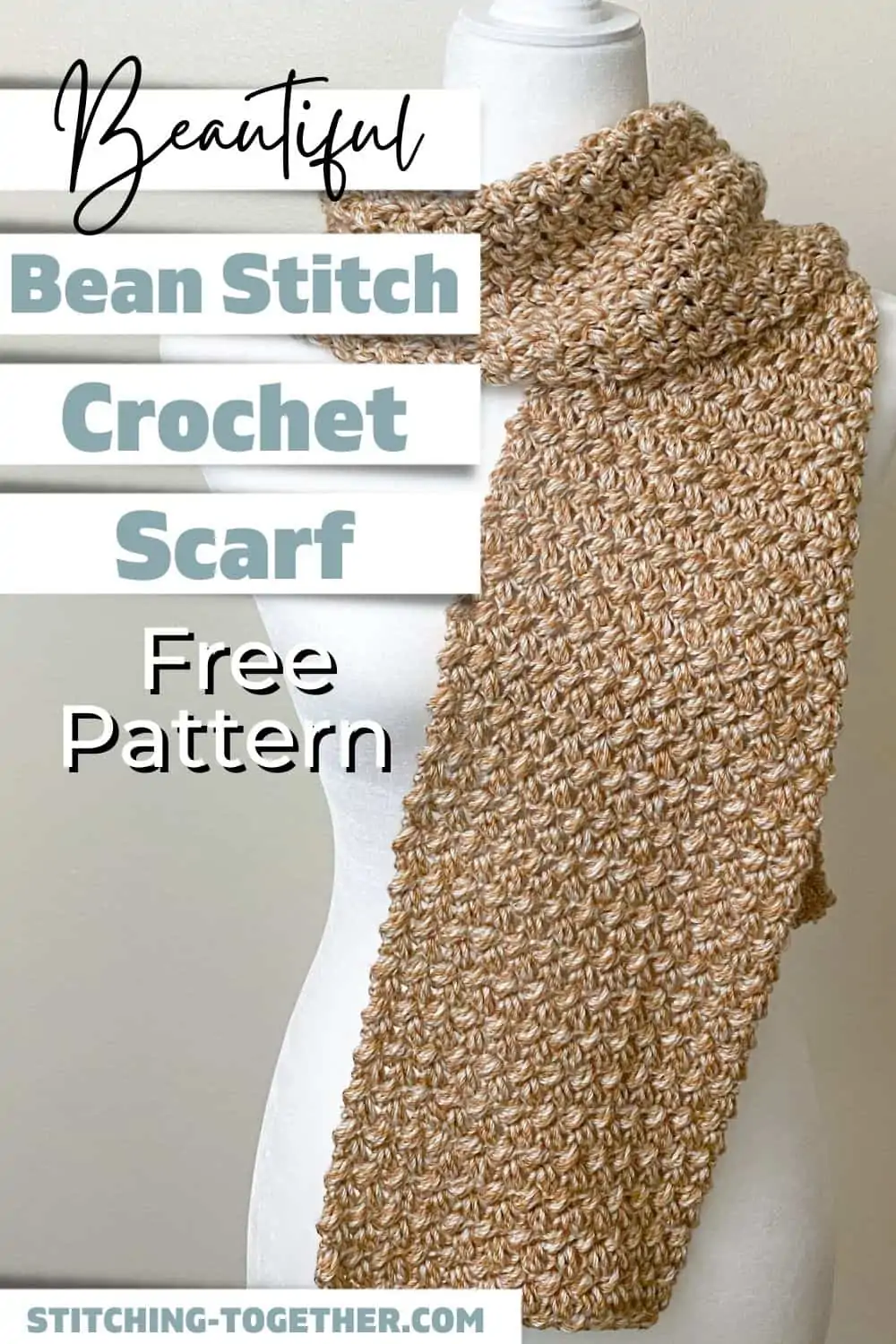 Crochet Bean Stitch Scarf Pattern
Skill Level: Easy
Materials:
US size I/9, 5.5 mm crochet hook
Premier Everyday Anti-Pilling Yarn – approx. 570 yds (11.1 oz) in Tan Marl
Large Eye Yarn Needle
Abbreviations:
ch: chain
sc: single crochet
st(s): stitch(es)
bean st: bean stitch (see special stitches)
yo: yarn over
Gauge: 4" by 4" = 7 bean sts by 10 rows
Finished Size: 7.5" wide by 68" long
Notes and Special Stitches:
Bean Stitch: Insert hook into st and pull up a loop (2 loops on the hook), yarn over, insert hook into the same st and pull up a loop (4 loops on the hook, yarn over, insert hook into the same st and pull up a loop (6 loops on the hook), yarn over and pull through all 6 loops, ch 1 to close the stitch. To work subsequent rows, the bean stitch is worked in the bean stitch below, skipping the chain 1 that secured each stitch.
To adjust the width of the scarf, keep your foundation chain an odd number.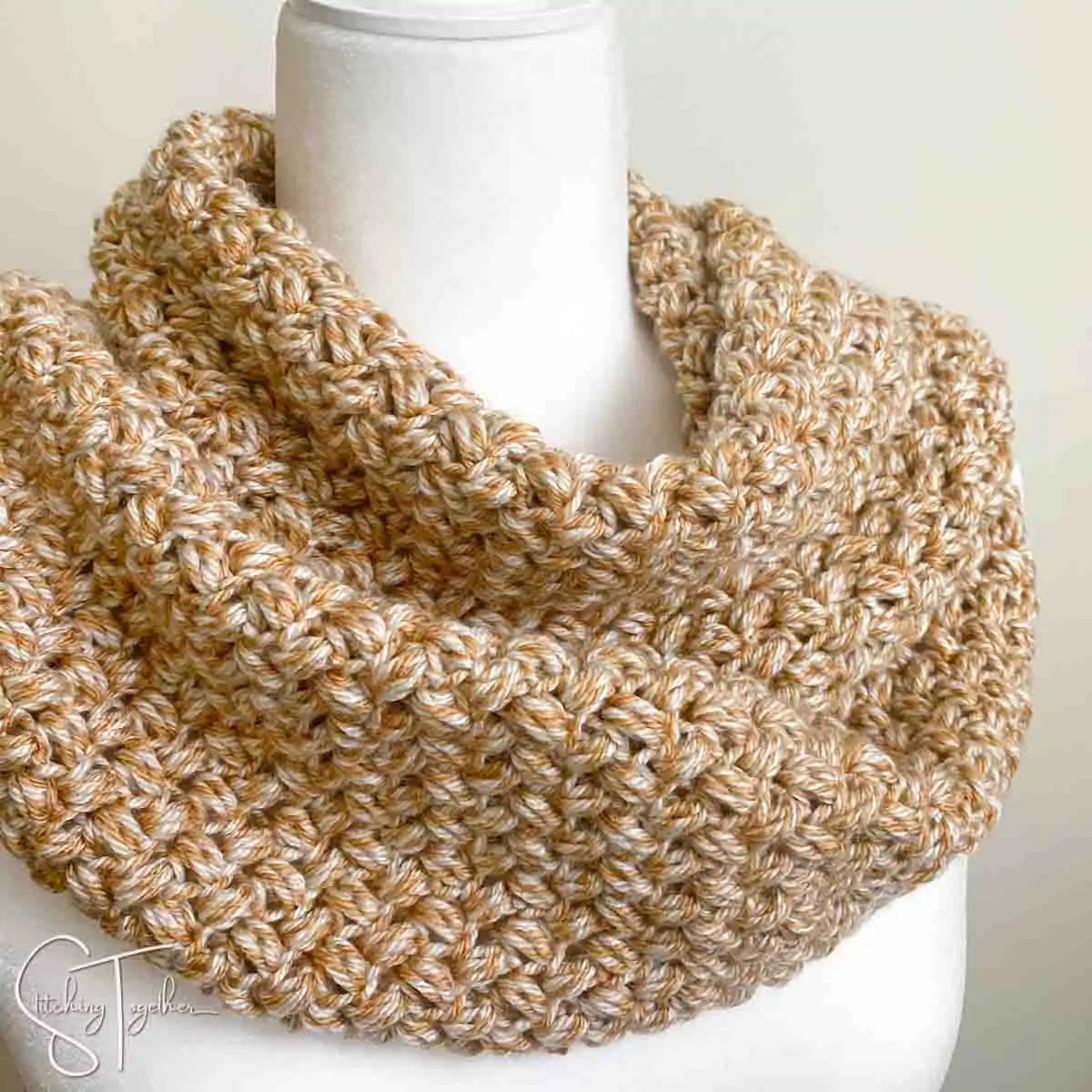 Bean Stitch Scarf Crochet Pattern Written Instructions:
Ch 27
Row 1: Bean st in 3rd ch from hook, *skip ch, bean st, repeat from * across, turn (13 bean sts)
Row 2: ch 1, bean st in each bean st across to the end of the row (13 bean sts)
Rows 3-180: repeat row 2
You can make the scarf as long as you would like. It would also work well as a single wrap cowl or a longer infinity scarf by sewing the ends together.
You can find the printable PDFs of this pattern in the following places:
Check out these other great scarf crochet projects