Tahoe Bean Stitch Twisted Headband
Disclosure: This post may contain affiliate links. As an Amazon Associate, I earn from qualifying purchases. Please visit my Privacy Policy for disclosures and more information.
Do you have some velvet yarn and want to make a headband? Or do you want a good excuse to run to the store and buy some velvet yarn?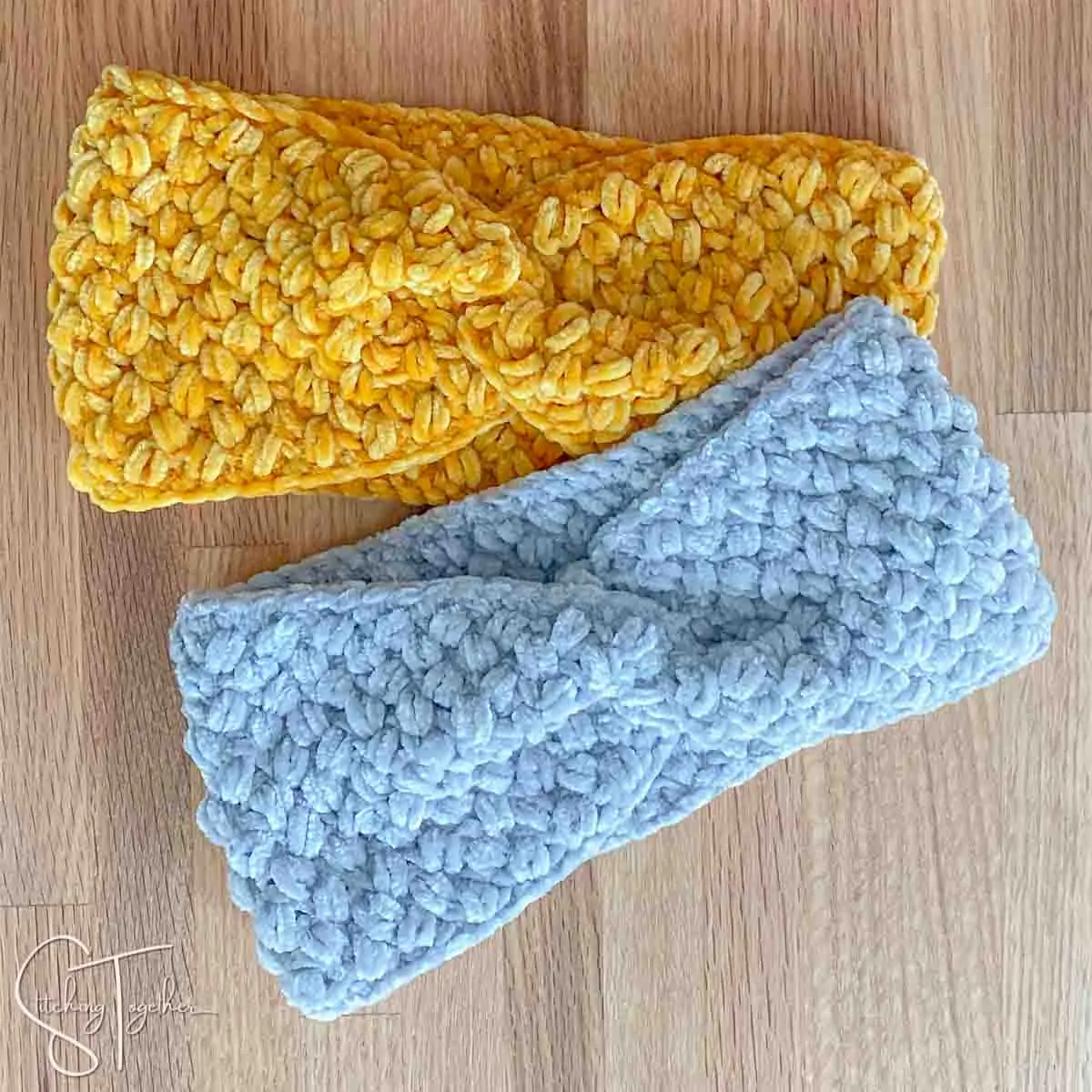 I'm here for you.
The Tahoe Bean Stitch Twisted Headband Crochet Pattern is PERFECT for using that gorgeous chenille yarn you've had your eye on.
Keep reading for all the details and the free crochet pattern or grab the ad-free PDF here:
How to Crochet a Twisted Headband with the Bean Stitch
A rectangle, a clever twist, and some tying up of loose ends… are we talking about your favorite book or your next favorite headband pattern?
Headbands, of course and an easy headband to boot!
You're first going to crochet a long rectangle – the first and last rows are single crochets which sandwich the main rows of bean stitches.
When you're done with the rectangle, you'll do some clever folding, a small bit of sewing and presto! you have a cute bean stitch twisted headband.
Related: The Parker Head Warmer Crochet Pattern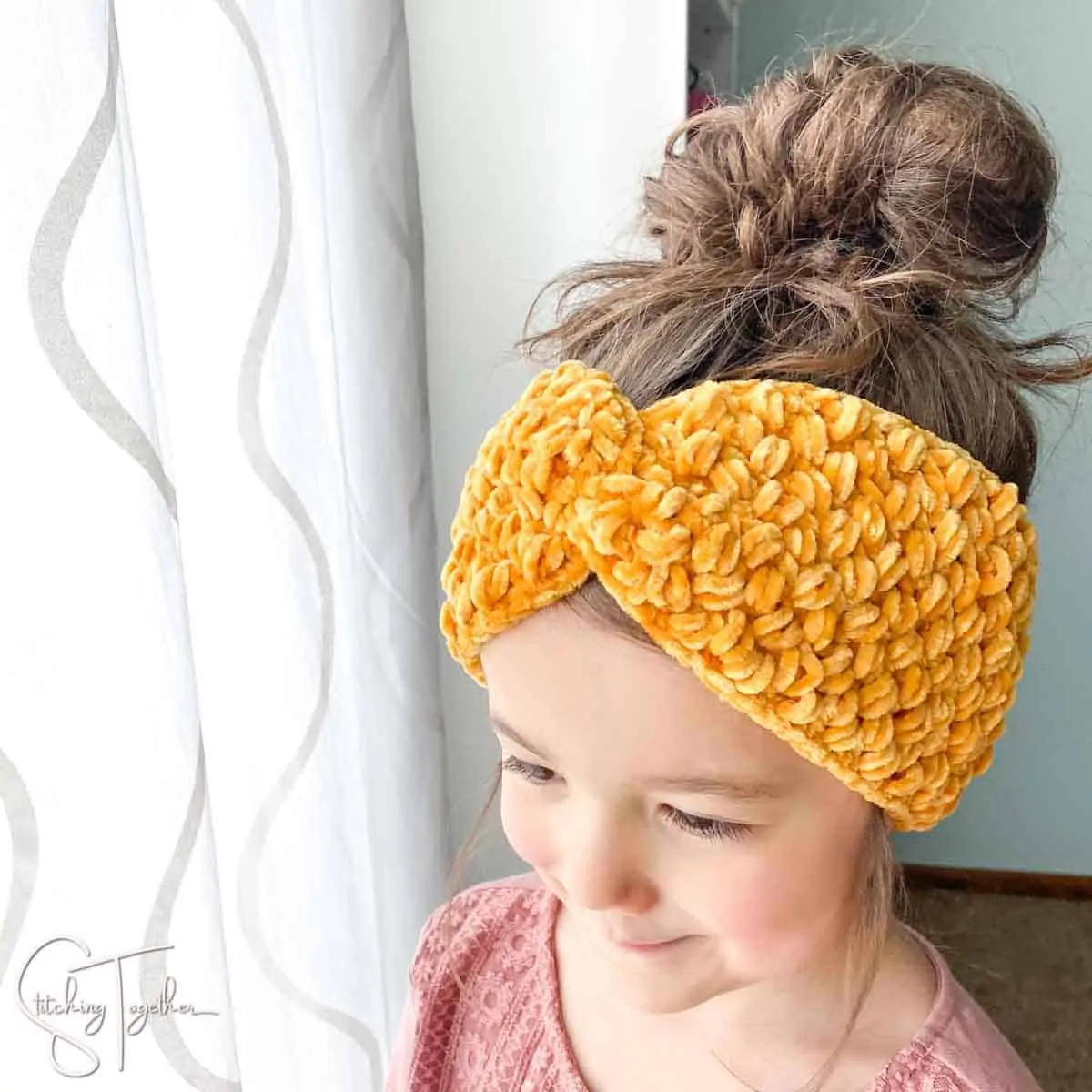 Stitches
As mentioned above, the first and last rows of the headband are done in single crochets. Simple.
The main part is done in the bean stitch, which is basically puff stitches that are nestled together so they end up looking like scattered little beans across your fabric.
It's a fun stitch to learn and don't worry, I have a bean stitch tutorial if you've never done a bean stitch before or you just need a refresher.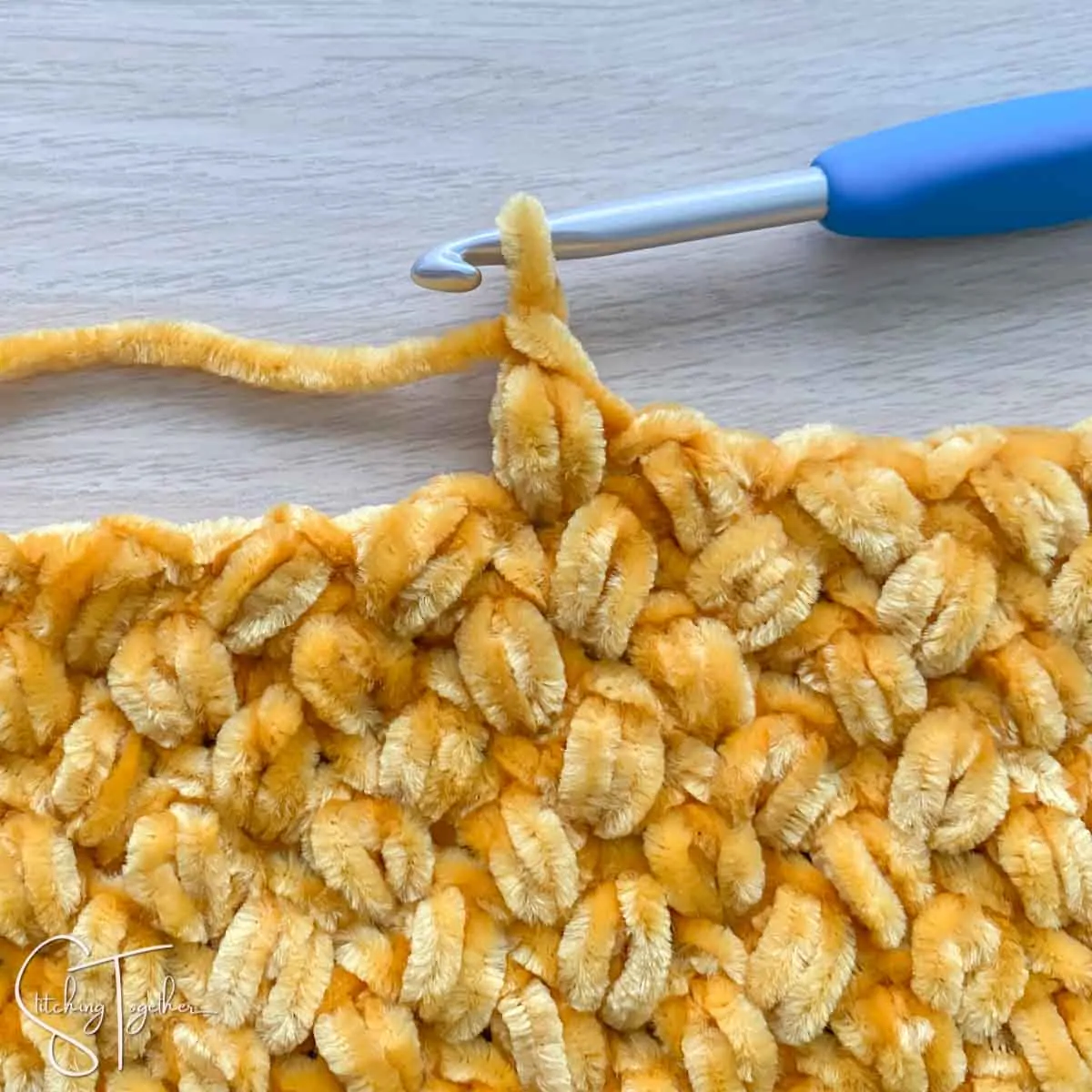 (I started with a chain of 60 for this little cutie's headband.)
Yarn
I shared in the post for the Here's my Heart Pillow my frustrations with chenille yarns.
The yarn itself is easy enough to work with, but it is so slippery that if you aren't careful, those stitches can wiggle right out of place.
But I couldn't resist the rich colors of Lion Brand's Vel-Luxe and it's so soft and so pretty that I can't not use it.
What can I say? I'm a sucker for smooth and cozy yarns.
When I finished the velvet headbands, I firmly tugged across the width of them to help lock the stitches in place and prevent worming.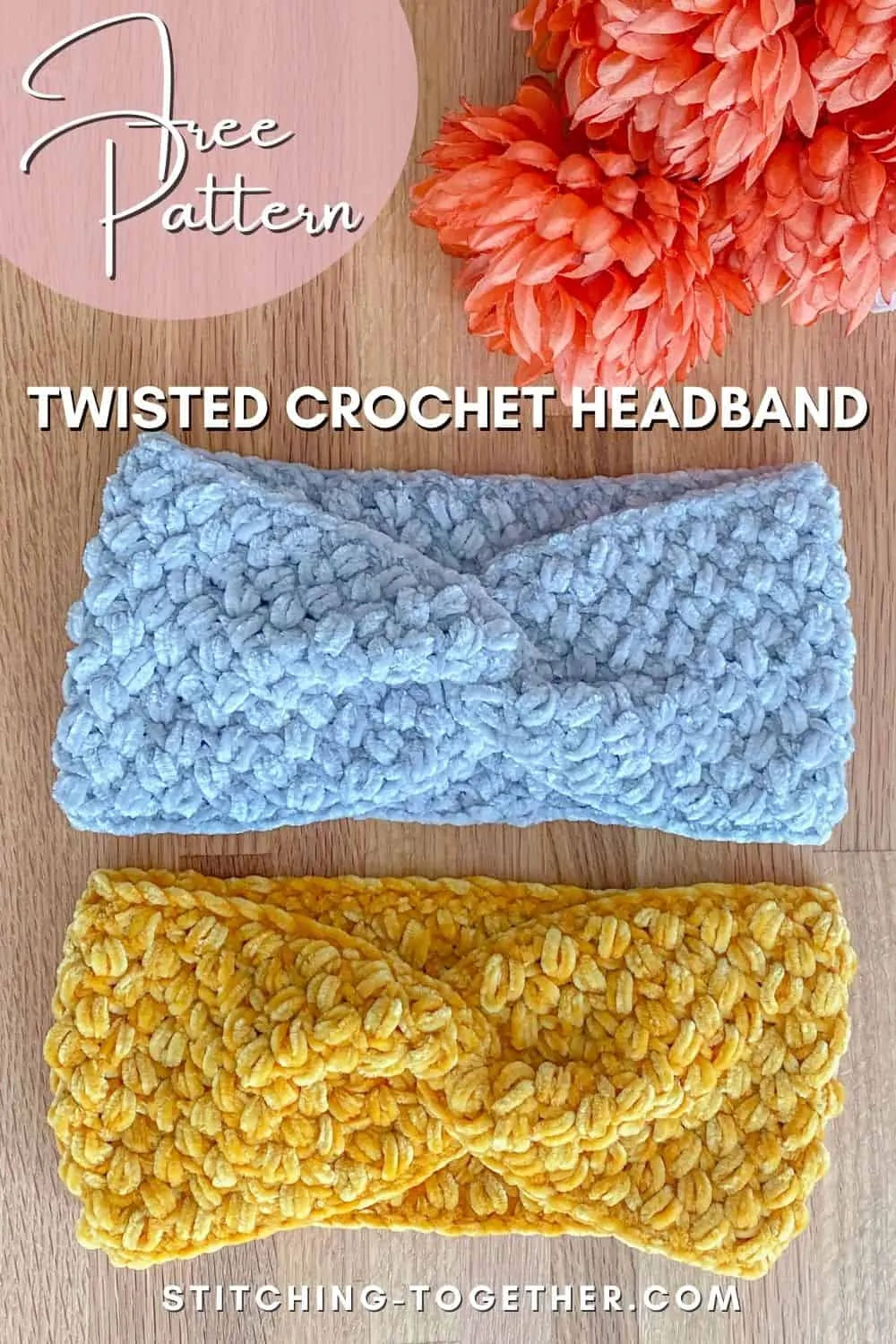 Tahoe Crochet Bean Stitch Twisted Headband Pattern
Skill Level: Easy
Materials:
US size H/8, 5.0 mm crochet hook
Lion Brand Vel-luxe (Category 4 Worsted Weight yarn)
Samples used approximately 75 yds (1.6 oz) in both Silver and Marigold
Large Eye Yarn Needle
Abbreviations:
ch: chain
sc: singlecrochet
st(s): stitch(es)
bean st: bean stitch (see special stitches)
Gauge: 4" x 2" = 7 bean stitches by just under 6 rows of bean stitches
Finished Size: 4" wide by 21" around (small adult size)
Notes and special stitches:
Bean Stitch: insert hook into st and pull up a loop (2 loops on the hook), yarn over, insert hook into the same st and pull up a loop (4 loops on the hook), yarn over, insert hook into the same st and pull up a loop (6 loops on the hook), yarn over and pull through all 6 loops, ch 1 to close the stitch. To work subsequent rows, the bean stitch is worked in the bean stitch below, skipping the chain 1 that secured each stitch.
To adjust the length (width around once finished) of the headband, keep your starting chain an even number.
The finished headband does not have a lot of stretch, so you'll want to use the actual head circumference measurements instead of adjusting down for stretch.
It is more important to work towards measurements (use the crochet ear warmer size chart for guidance) than it is to match gauge.
Bean Stitch Twisted Headband Crochet Pattern Instructions:
Ch 70
R1: sc in the 2nd ch from the hook and in each st across, turn (69)
R2: ch 1, bean st, *skip st, bean st, repeat from * to the end of the row, turn (35 bean sts)
R3: ch 1, bean st in each bean st across (35 bean sts)
R4-12: repeat row 3
R13: ch 1, sc in each st across (69)
Fasten off leaving a long tail. See photos on how to finish headband.
How to Twist the Crochet Headband
Bring the ends of the headband together so half of one end is against half of the other end.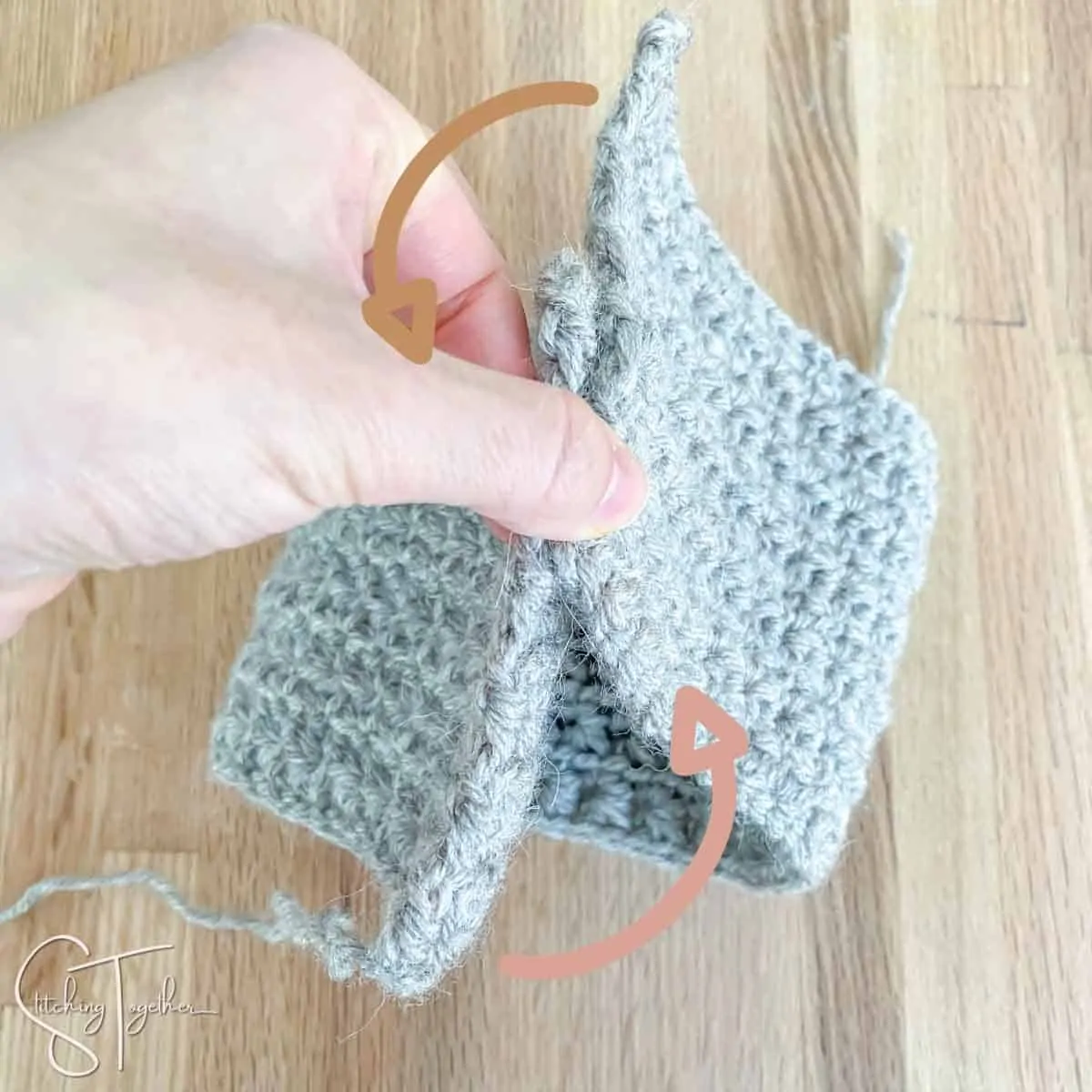 Wrap each side around the other side of the headband.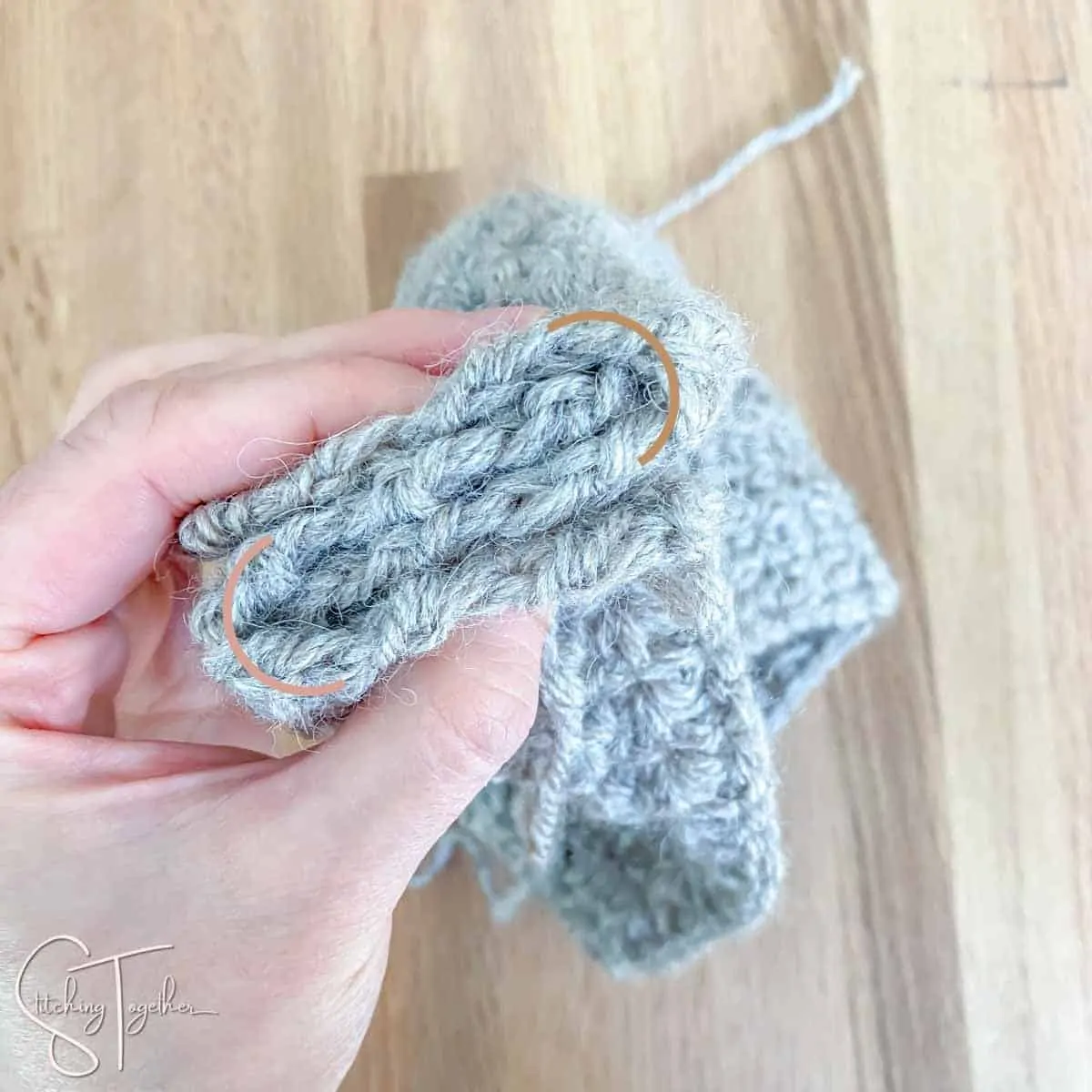 Using the long tail end and a large needle, weave yarn back and forth through all four layers.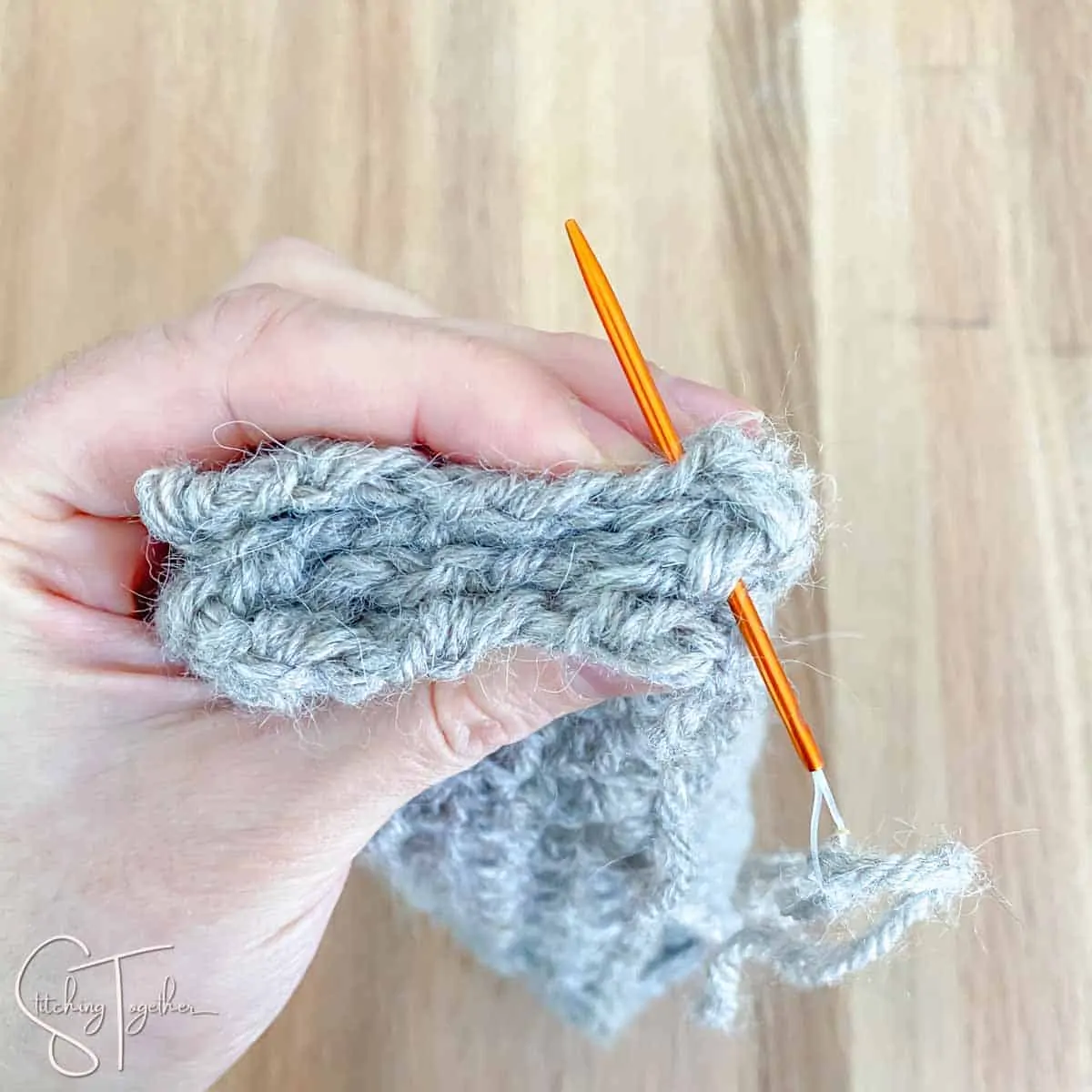 Turn right side out and smooth down.