The Camden Christmas Crochet Blanket (It's EASY!)
Disclosure: This post may contain affiliate links. As an Amazon Associate, I earn from qualifying purchases. Please visit my Privacy Policy for disclosures and more information.
Is it ok to have an easy Christmas crochet blanket that doesn't scream, "Buddy the Elf was here?"
One that's a little understated, sophisticated, and modern?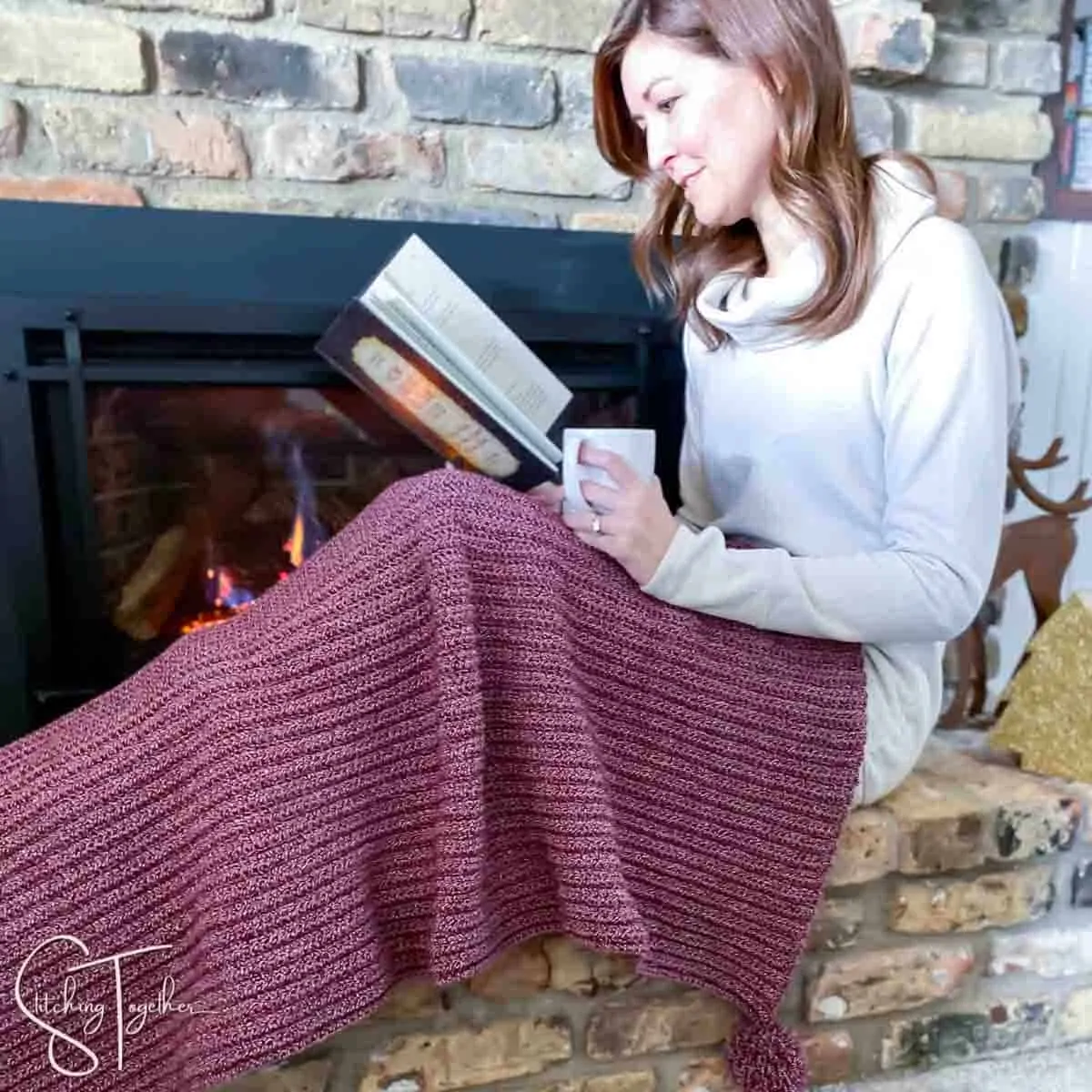 I hope so, because that's what we're working with here. A beautiful crochet Christmas afghan that doesn't have to be dedicated just to Christmas, but will be a gorgeous addition to your décor.
(PS. I love Buddy the Elf, however our Christmas decorating styles are just a bit different.)
Beginner Crochet Christmas Blanket
There are so so many cute Christmas crochet blanket patterns out there already but I really wanted to create an easy crochet Christmas throw that meets 3 criteria:
It's beginner friendly. (So many Christmas blankets are geared toward more advanced crocheters)
It can be used all year. (You spent all that time making it, now you want to use it for more than a month.)
It would look good in a variety of different yarn colors. (Shout out to those of you who don't celebrate Christmas or don't decorate for it.)
If you love decorating for Christmas and having special items, like Christmas pillows, to pull out just for the season, this blanket works well.
OR if you only like to add pops of Christmas décor for the holidays, this is the pattern for you.
It's, what I like to call, versatile.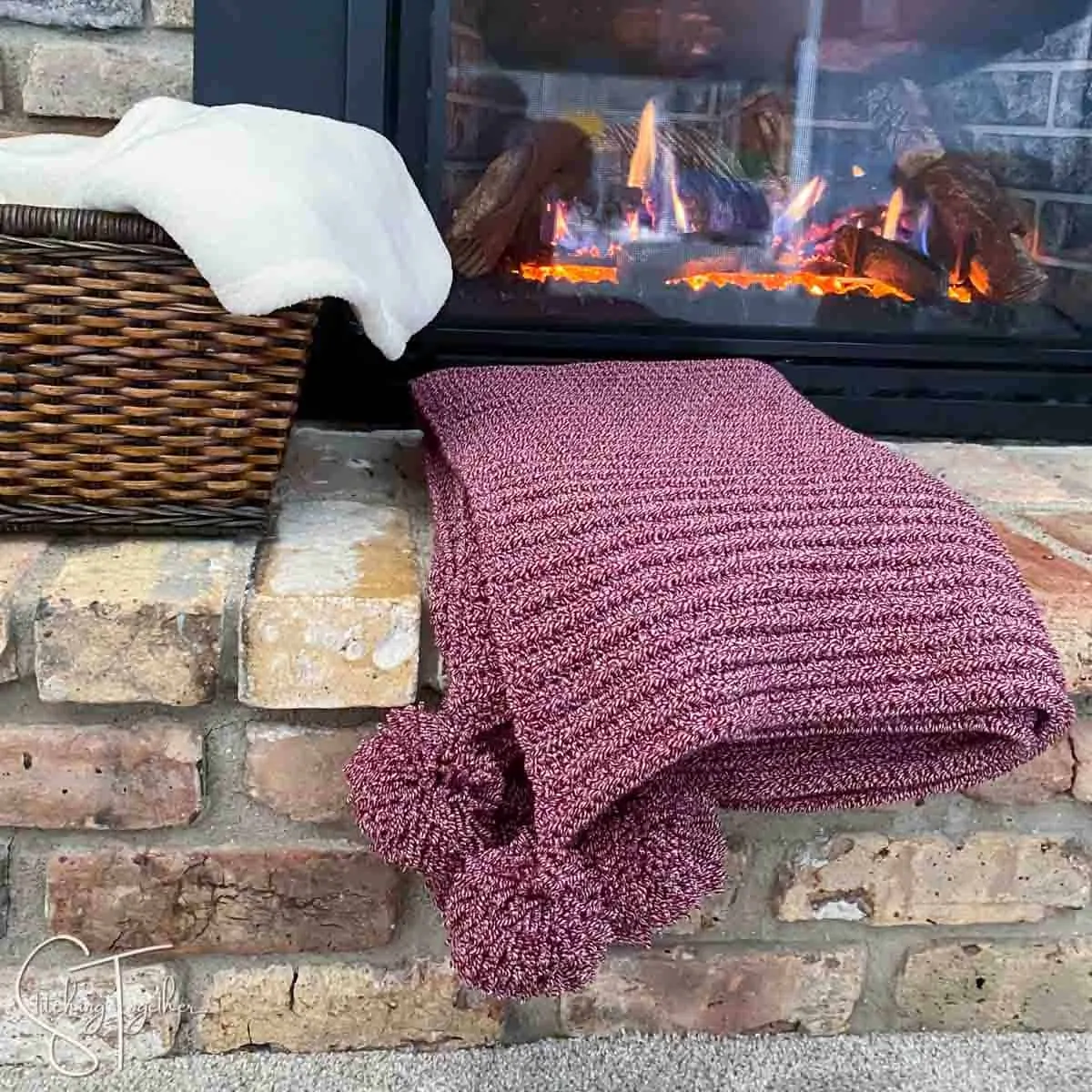 Yarn for the Easy Christmas Crochet Afghan
Have you ever tried a new yarn and thought, "where have you been all my life"?
Everything just feels right about it.
I'm telling you, Cobblestone yarn is one of those yarns. Besides being gorgeously marled, the yarn itself has a slight springy bounciness to it that makes the finished product so squishy.
After working with it a bit, I knew it absolutely needed to be turned into a blanket and my instinct were spot on.
This yarn makes such a lovely afghan that's squishy but not too heavy or bulky. (Don't get me wrong, heavy and bulky blankets have their place too, but that's not what we're going for here.)
The yarn comes in several different color options with this red (Currant) and two green options (Jasper and Mosstone) working great for a cozy Christmas afghan.
Any soft and squishy worsted weight yarn (Category 4) will work well with this easy blanket pattern.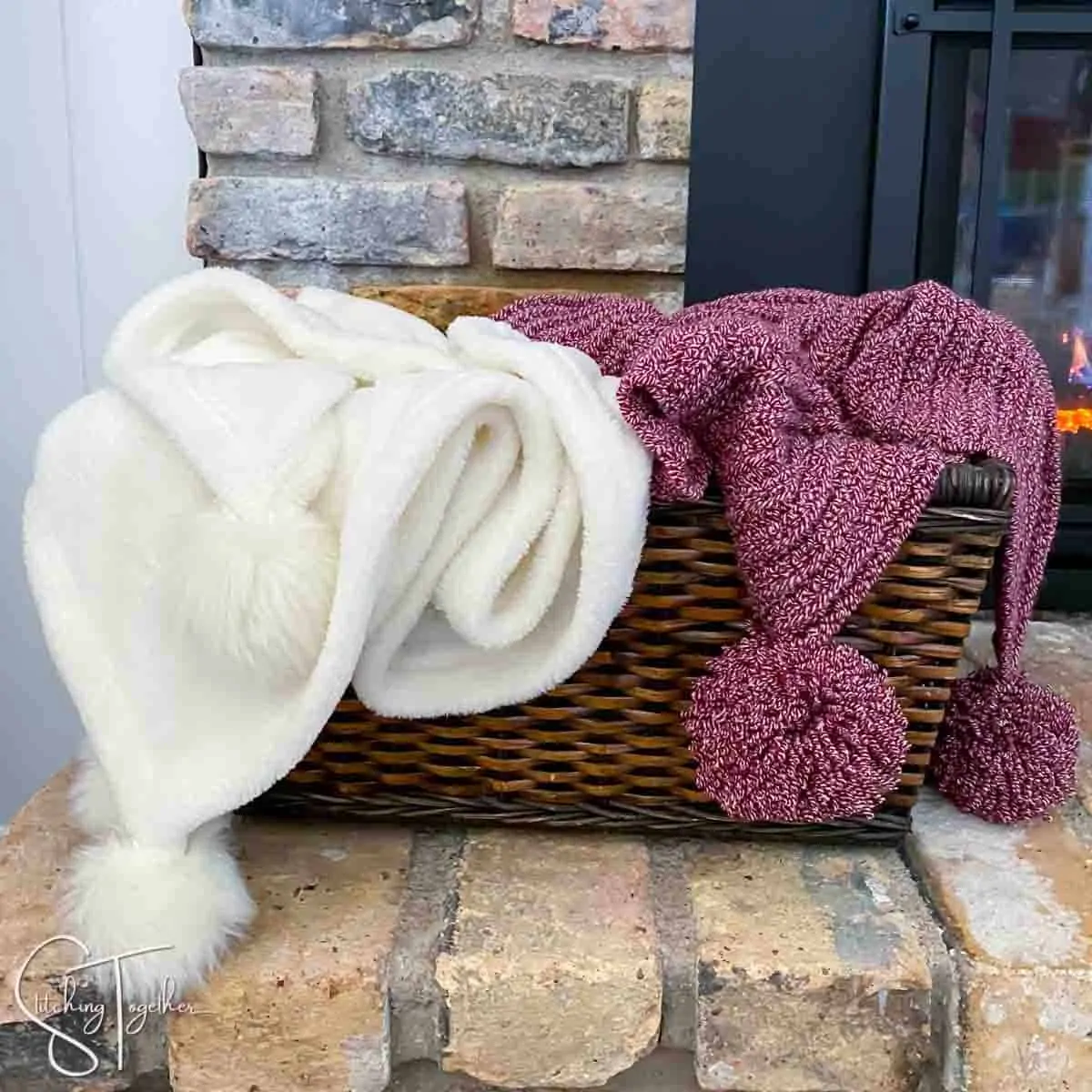 Stitches used in the Beginner Crochet Christmas Throw
Since the yarn itself has so much personality (I think of it as that fun friend who walks with a spring in her step and doesn't run out of energy) it doesn't need to be paired with complicated stitches to still look great.
The extended single crochet (esc) is just the stitch for the job. It's taller than single crochets and half double crochets and when it's worked in the back loop it creates such delightful texture and squishiness.
Don't worry if you've never done this stitch before, if you can do a single crochet, you can do the esc and I have a full extended single crochet tutorial that will guide you every step of the way.
To start the throw you can either do a normal starting chain or a foundation single crochet (I have a fsc tutorial too!).
The pattern includes instructions for both methods of starting. (I got you covered, friend.)
I find starting large projects with foundation stitches to be so much easier than starting with a chain.
While I don't like the foundation single crochet worked with regular single crochets because it is too bulky, I think it looks great with extended single crochets and will save you some time!
The blanket itself is worked so that the rows run vertically instead of horizontally so when you start the blanket, that will be the final length and you'll be working to add width.
I finished off the cozy crochet Christmas throw by adding pom poms to all 4 corners of the blanket. Using the Clover Pom Pom tool made the whole pom pom making process so much easier and quicker.
Camden Easy Christmas Crochet Blanket Free Pattern
Skill Level: Beginner
Materials:
US size I/9, 5.5 mm crochet hook
Lion Brand Cobblestone Yarn (category 4, worsted weight)
2780 yds (just under 13 balls) in Currant (total yardage does not include pom poms which used an additional 154 yds)
Large Eye Yarn Needle
Pom Pom Maker (optional)
.
Everything you need for this project can be ordered right on online.
Save time, stay safe, and shop from home!
Favorite Hooks
(you can read why I love them HERE)
.
Abbreviations:
ch: chain
fsc: foundation single crochet
esc: extended single crochet
blo: back loop only
st: stitch
Gauge: 4" by 4" = 14 esc by 10 rows
Finished Size: approximately 52" x 60"
Notes:
You can start this blanket with either a chain or a row of foundation single crochets. The foundation single crochets look like and blend in with the rows of extended single crochets.
I worked the last stitch of each row through both loops instead of in the blo. (This is a preference for the edges.)
The blanket is worked so that the rows run vertically instead of horizontally so when you start the blanket, that will be the final length and you'll be working to add width.
To adjust the length, add or subtract stitches the starting chain or foundation row. To adjust the width, add or subtract rows.
Easy Crochet Christmas Blanket Pattern Instructions:
Starting with a foundation chain:
Ch 211
Row 1: Ch 1, esc in the 2nd ch from the hook and in each ch across, turn. (210)
Starting with a foundation single crochet:
Row 1: fsc 210, turn
(Row 2 and on are the same for both starting methods)
Row 2: ch 1, esc blo in each st across, turn (210)
Repeat row 2 until you have reached a total of 169 rows or you've reached the desired width.
Fasten off and weave in ends.
Optional: Make 4 large pom poms and attach them to each corner of the blanket.
That's it! Easy, isn't it? Now I want to know who you are going to make this easy crochet Christmas afghan for?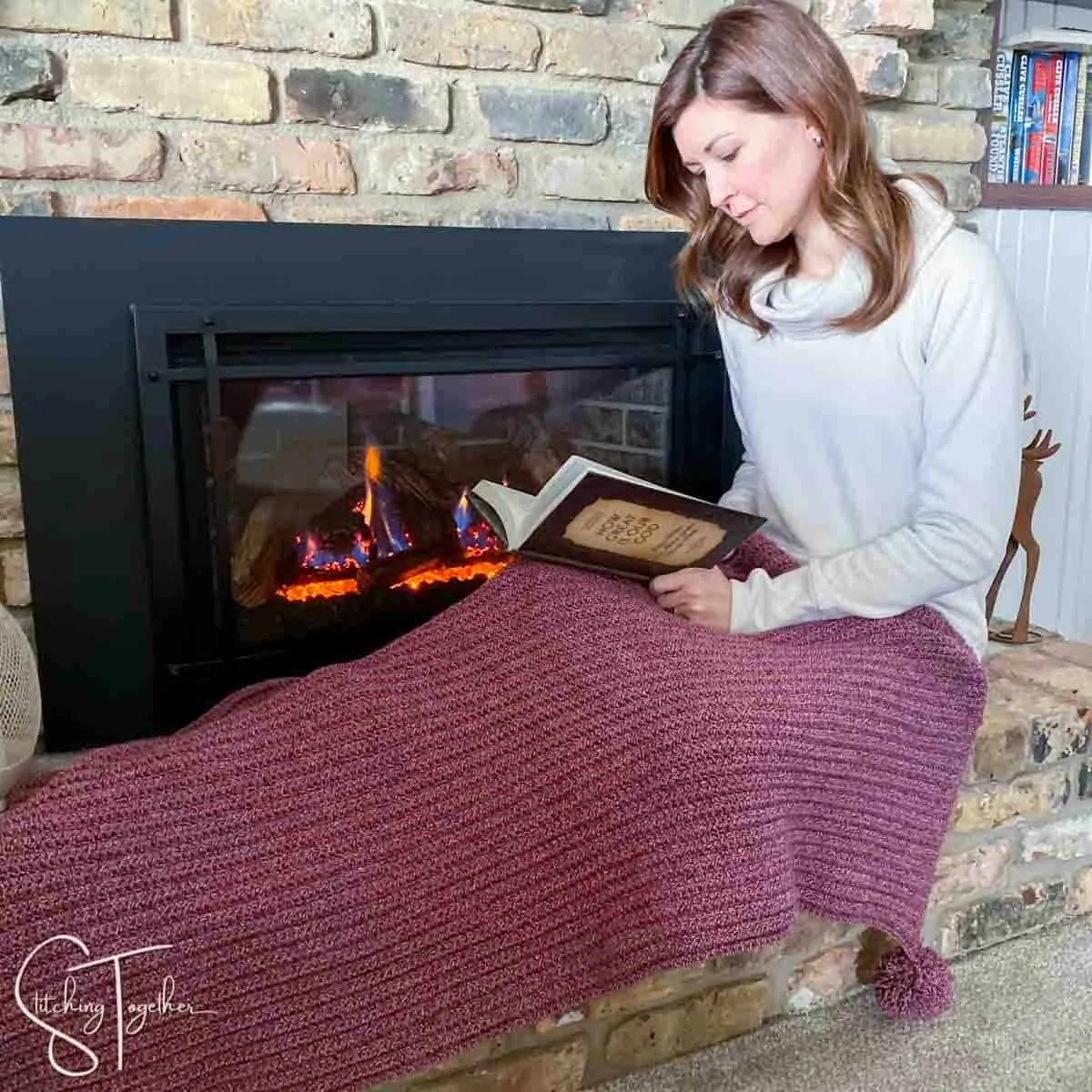 .
If you like easy to print patterns, this pattern can be purchased in the following places:
Thanks for your support!
.
Here are some other great Christmas Crochet Projects you don't want to miss:
Will you share pictures of your finished projects?