Crochet Christmas Pillow Patterns
Disclosure: This post may contain affiliate links. As an Amazon Associate, I earn from qualifying purchases. Please visit my Privacy Policy for disclosures and more information.
Do you love adding a personal feel to your Christmas decorating? With these crochet Christmas pillow patterns you can add a great handmade touch to your home for the holiday season.
Crochet pillows are also a wonderful project for Christmas in July because they aren't too big, bulky, or hot to work on in the warmer weather!
Don't forget to pin it!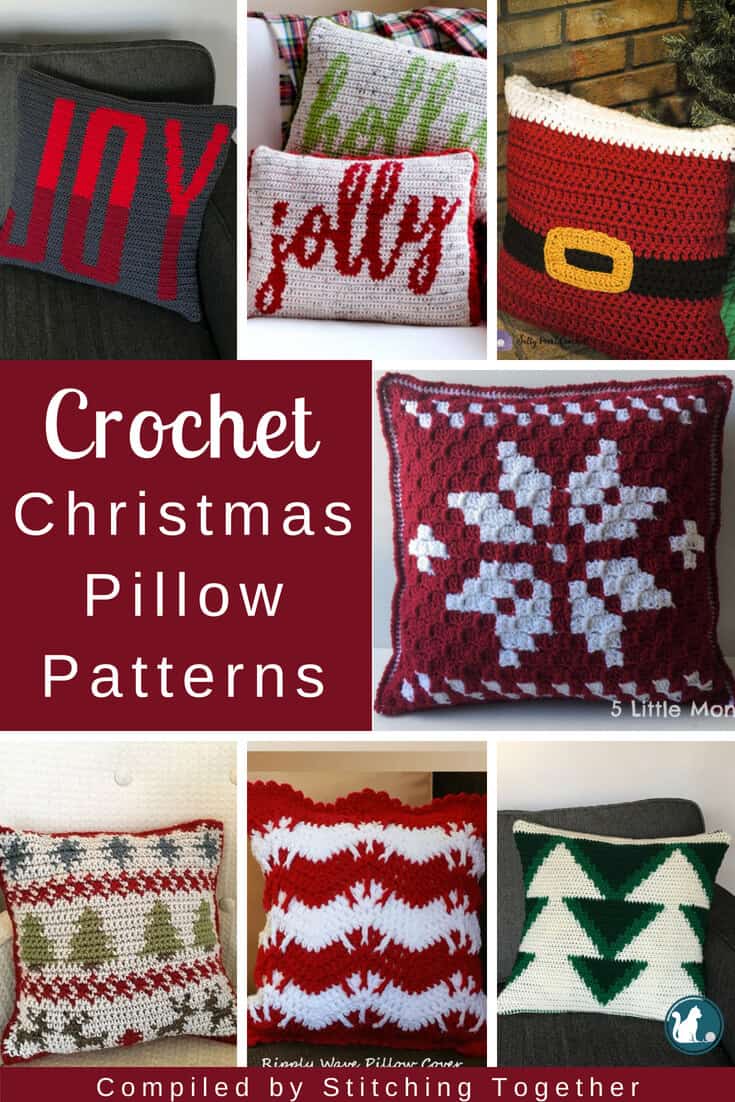 Crochet pillows are some of my absolute favorite items to design, because they don't take long to make and are perfect for trying fun designs or stitches. Combine a great crochet pillow cover with the most wonderful time of the year and you get so much festive crochet goodness.
I've gathered some of my favorite crochet Christmas pillow patterns for you to enjoy, so follow the links below to find the patterns.
Crochet Christmas Pillow Patterns Roundup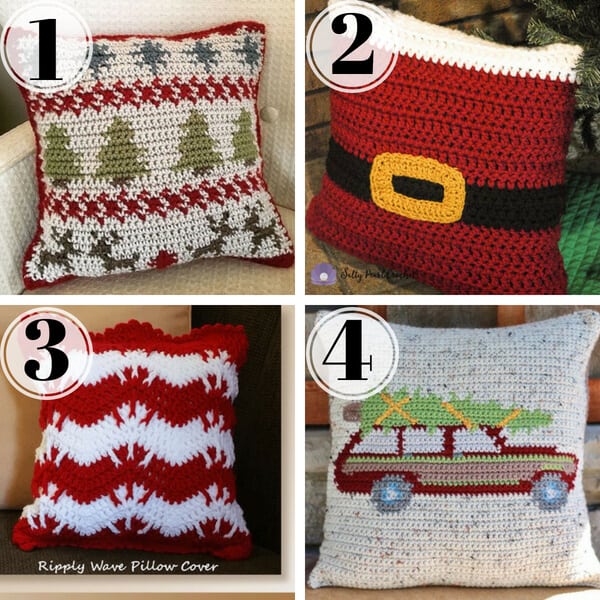 1 Festive Winter Pillow by EvelynAndPeter
There is so much about this pillow to love! The tiny reindeer, the snowflakes and the trees are just the cutest.
2 Santa Pillow Sham by Salty Pearl Crochet
This pillow looks extra chunky and cozy with the adorable Santa belt around the middle. Makes you want to give it a big hug!
3 Ripply Wave Pillow Cover by Cylinda Mathews at Crochet Memories Blog
I love the ripple effect created by the treble crochet post stitches! Although this pattern is marked intermediate, with my How to Front Post Treble Crochet and Back Post Treble Crochet Tutorial you should be able to handle it, no problem!
4 Sutton Pillow by Two Little Birds Patterns
Doesn't everything about this pillow just capture the holiday? It reminds me of being little and braving the MN cold and snow to cut down a Christmas Tree with my mom. My favorite part was when they would wrap up the tree and stick it right on top of our car!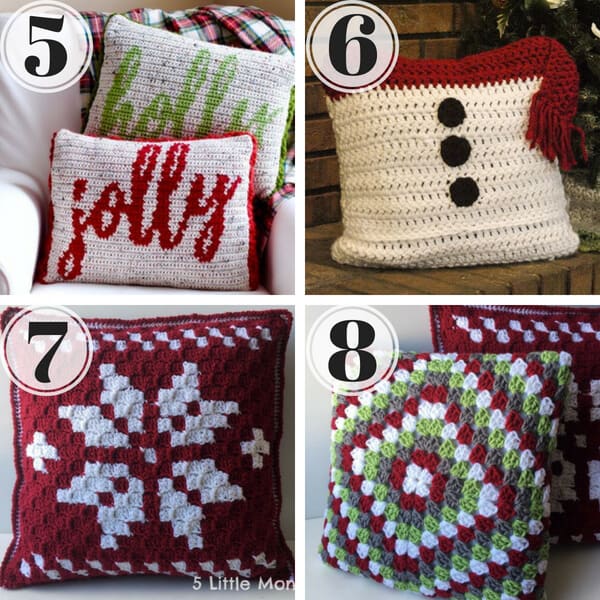 5 Holly Jolly Pillow Set by Two Little Birds Patterns
Now a pattern set from Two Little Birds! Please do yourself a favor and check out the other patterns available from Two Little Birds. Their mastery of design and script fonts on crochet is AMAZING.
6 Snowman Pillow Sham by Salty Pearl Crochet
This is such a cute and simple pillow and I love the idea of frosty with his scarf!
7 Scandinavian Snowflake Christmas Pillow by 5 Little Monsters
If you have not tried a corner to corner project (c2c), it is a good idea to start with something smaller, like a pillow. This corner to corner pattern is absolutely lovely! I would like to see this one sitting on my couch.
8 Classic Granny Square Christmas Pillow by 5 Little Monsters
You can't go wrong with a classic granny square! I love the color choices and how nicely it matches with the Scandinavian Snowflake Christmas Pillow.
Stitching Together Christmas Crochet Pillow Covers
The next group of pillow covers can all be found right here, on Stitching Together! Did I mention I love crochet pillow covers?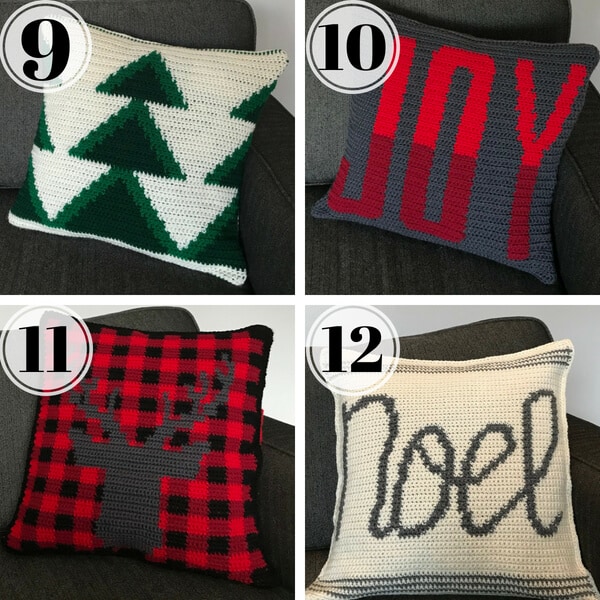 9 Crochet Christmas Tree Pillow Cover
I still haven't figured out which way is up on this pillow! I love it equally, right side up or upside down.
10 Crochet Joy Pillow Cover
The large color block letters are sure to make a statement on your couch!
11 Buffalo Check Crochet Pillow Cover
This is probably the most versatile of all the Christmas pillow covers. It can be used year round in your living room, at the cabin, or in a nursery.
12 Noel Crochet Pillow Cover
A simple word done in simple colors.
Please don't forget to pin this post so you can come back and find it later!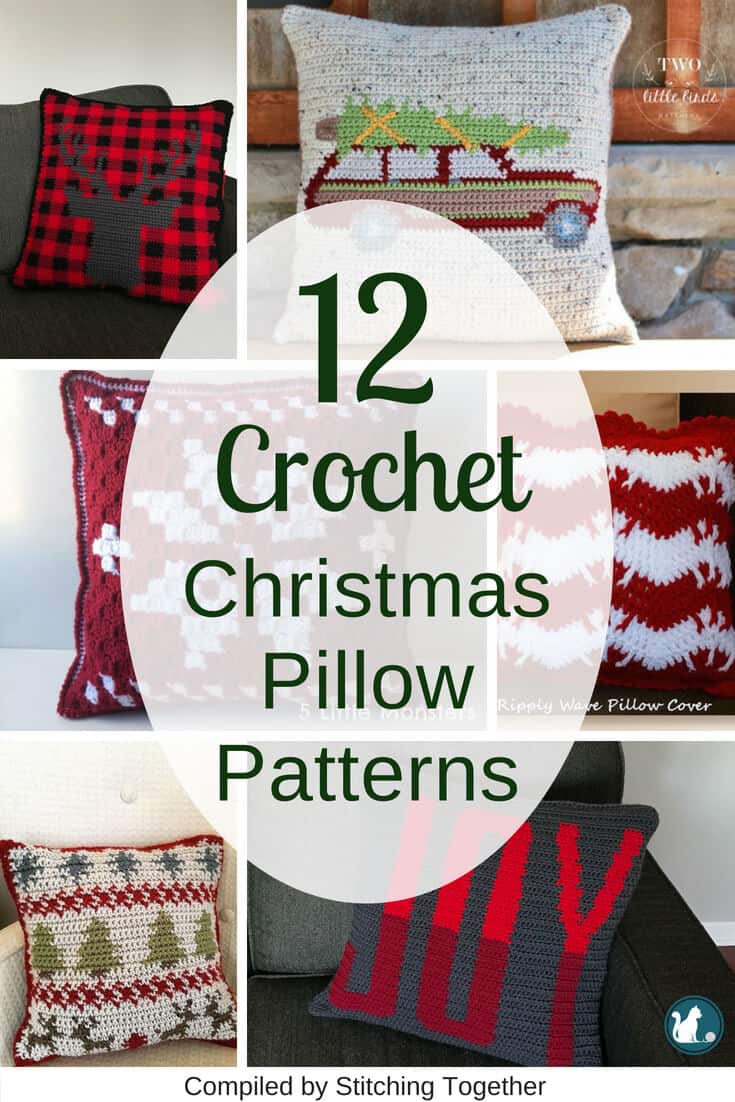 Can you pick a favorite from these crochet Christmas pillow patterns?