The Best Crochet Project Bags You Need To Organize Your WIPs
Disclosure: This post may contain affiliate links. As an Amazon Associate, I earn from qualifying purchases. Please visit my Privacy Policy for disclosures and more information.
Tired of trying to find the best crochet project bag and wading through all the options? You've come to the right place to learn more about the some of the best bags available.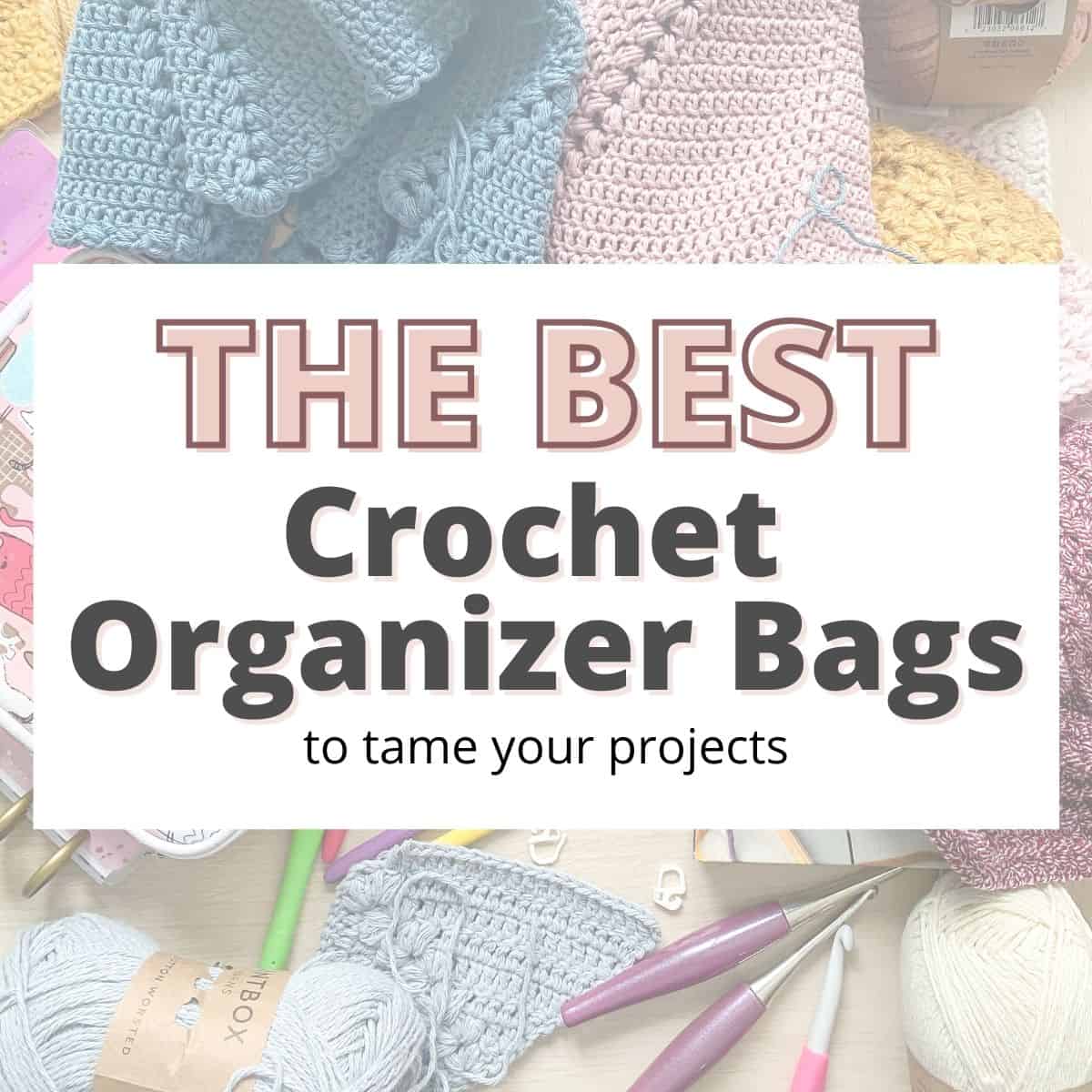 You know as well as I do how quickly a yarn project can become a tangled mess. If you even look at it the wrong way, it seems to knot right up and become impossible to work with. That's why, besides having the basic crochet tools, having places to organize your yarn and projects will make your crocheting life so much simpler.
Thankfully as yarn crafts have seen a resurgence in popularity, we have more options than ever for toting around our projects.
But with all those options, it can be hard to know which one to choose! In this post we will take a look at some of the highest rated crochet project bags available so you can make the best choice (or choices) to meet your needs.
Ideally the best bags for crochet organization have solutions for yarn storage, work in progress (WIP) storage, accessory storage, and are portable.
There are so many options to choose from, but I did the research and narrowed it down to the best yarn bags I found on Amazon that offer both storage and portability solutions as well as some pros and cons for each of the top picks.
Related: The Best Crochet Hook Case
Best Crochet Organizer Bag – All in One
This is the type of bag you need when you tote your projects EVERYWHERE. In and out of the car, to appointments, on vacation, all around your house… you get the idea.
These bags have a place for EVERYTHING: hooks, stitch markers, yarn, and of course your WIPs! Plus any other odds and ends you'd need to keep with you and keep organized.
Teamoy Yarn Organizer Bag with Inner Divider
Why we like it:
Not only does this bag have many great reviews but it also has more features than you ever knew you needed! It is truly an all-in-one solution.
Pros:
It comes in 2 different sizes. (Large is 11 x 15 x 9.8 small is 8.9 x 11.4 x 7.9)
The top is clear so you can see what's inside without having to unzip the whole thing.
The large bag has 6 interior compartments for yarn and a larger compartment for your projects.
It has 6 holes to feed yarn through at the start of your project.
It's easy to carry with handles and a removable adjustable shoulder strap.
There's a large front pocket with elastic bands to store hooks and zippered pockets to store notions.
Cons:
If you want a solid lid, you have to pay extra, and I mean EXTRA, just to include the solid lid.
Reviews mentioned that the top plastic parts are a bit flimsy which is why you may want to pay extra for the solid lid.
Reviews mentioned that the sides could be sturdier and while it does stand up on its own, it will collapse a bit when not filled or when skeins are too small to hold it up.
Final Thoughts:
This is an excellent all-in-one crochet storage bag for those of you who want to keep your current WIP and all your crochet accessories ready to go. You will pay extra for that solid lid but the bag is completely functional without it.
All in One Crochet Organizer Bag Runner Up
Luxja Knitting Bag
Why it isn't #1:

The pockets and pouches aren't as convenient and it only comes in 1 size.
What it has that the other doesn't:

It comes with a fully solid lid that doesn't cost extra.
Best Crochet Yarn Tote Bag
Crochet yarn tote bags are similar to the all-in-one bags where you have plenty of specialized space for your crochet goodies but they generally have a lower profile and don't scream… hey! I'm carrying my yarn all over the place.
Luxja Knitting Tote Bag
Why we like it:
This bag is as functional as it is good-looking. Its chic profile and specialized storage make it a bag you'd be proud to tote anywhere.
Pros:
It comes in 3 sizes. (Small -10.5″ x 5.5″ x 10.5″ / 1.05 lbs., medium -12.5″ x 11.75″ x 6.5″ / 1.56 lbs. and large -14.5″ x 6.5″ x 13″)
There are 4 grommets where you can thread yarn through as you start your project.
There is a large front zipper pocket for hooks with a smaller zippered pocket for notions.
It has side pockets to store various things like patterns, books, and knitting needles.
The tote is made of heavy-duty nylon.
Cons:
If you use the grommets, it can be hard to put your project back in the bag and zip it up.
Final thoughts:
Whatever size you get, this tote is perfect for the on-the-go crocheter who wants a good-looking bag.
Yarn Tote Bag Runner up:
Teamoy Travel Yarn Storage Tote Organizer for Yarn
Why it isn't #1:

It doesn't come with a shoulder strap and reviewers mentioned it needs to be aired out before use.
What it has that the other doesn't:

It has a designated pocket with magnetic closure for your work in progress.
Best Crochet Organizer Caddy
Caddies are generally used to move your supplies from one place to another over a short distance like around your house and they generally don't have a closure at the top.
They also work well for long car trips (when you are the passenger of course) as everything is contained but quickly accessible.
Caddies have loads of pockets but they are more general use than specific pockets (like for hooks and accessories) which means you may also want a crochet hook case.
HOMEST Large Craft Caddy
Why we like it:
Great price, cute designs, and removable dividers make this caddy a great choice for any crocheter.
Pros:
There are 17 interior and exterior pockets!
It has removable and adjustable dividers which can accommodate a number of configurations to meet your needs.
There are padded handles and sides that make it easy to carry while protecting your supplies.
It is large (15.25 x 9.5 x 8 inches) with room for your supplies and ongoing projects.
The inner pockets can be used to hold collapsing skeins as you use them up.
Cons:
The dividers do not attach to the bottom so small items can roll around the bottom of the bag.
Final Thoughts:
This is a great crochet caddy perfect for storing and moving projects around your house or toting to craft night with the ladies.
Crochet Caddy Organizer Runner Up:
Everything Mary Deluxe Yarn Crochet Organizer Bag
Why it isn't #1:
It has fewer pockets and no dividers compared to the #1 pick.
What it has that the other doesn't:
It has a taller profile better suited to hold large skeins of yarn.
Best Crochet Organizer Honorable Mentions
As mentioned before, there are SO MANY options for storing and organizing your yarn projects than ever before which meant hours of research and whittling down.
There were a couple of products that kept popping up in my research that are great but didn't fully meet the criteria of having both storage and portability capabilities.
BeCraftee Yarn Bag
At first glance this bag seems to meet both the portability and storage standards however, as I read through the reviews, it became clear that while it is wonderful for storing yarn, it isn't as good of a storage solution for works in progress and accessories.
Seeing as I have adorable creatures of the human and pet variety in my household who love to "help" with my yarn, I would like this bag sitting next to me as I crochet to keep fingers, paws, and claws from tangling my yarn.
ArtBin Needle Arts Crochet Organizer Basket
It's probably obvious that this best crochet organizer basket isn't for the crocheter on the go (despite what the amazon description says). But this might be exactly what you are looking for if you tend to sit in the same place and crochet. With snap-on accessory pouches, this basket can hold your hooks and notions as well as your WIPs and yarn.
Reviewers loved the low profile which allows it to sit under some side tables or next to your favorite chair. I imagine using this once my kids and puppy have matured and find my yarn less interesting.
Furls Leather Crochet Project Bag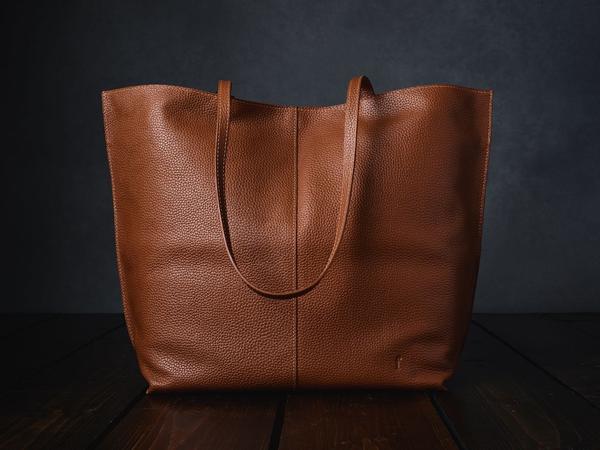 While this bag does meet the criteria of having both storage and portability capabilities, it's not found on Amazon. However, it's absolutely worth checking out as it's made by crocheters for crocheters and is one of the best-looking crochet project bags you'll find.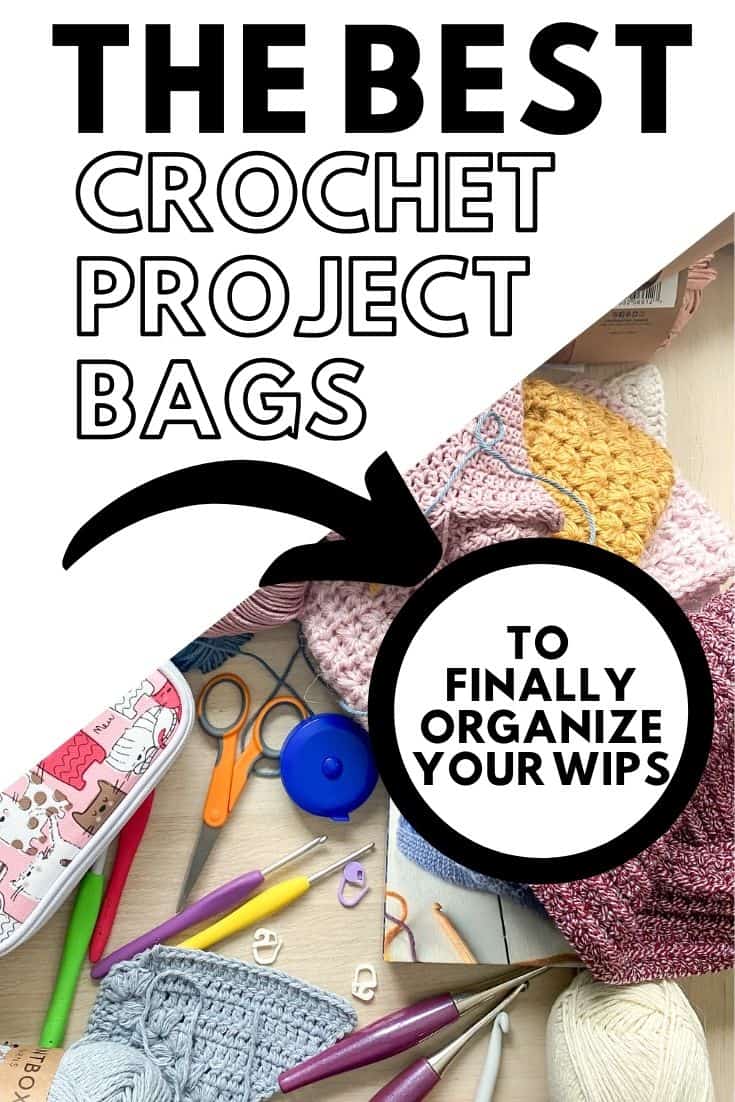 What do you think? Did you find the best crochet project bag for you? Do you have a different bag you love and think should be on this list?