Afton Free Crochet Men's Ear Warmer Pattern
Disclosure: This post may contain affiliate links. As an Amazon Associate, I earn from qualifying purchases. Please visit my Privacy Policy for disclosures and more information.
Enjoy this free crochet men's ear warmer pattern perfect for making a gift your guy will actually wear. Keep reading for the free pattern or purchase the ad-free PDF right here.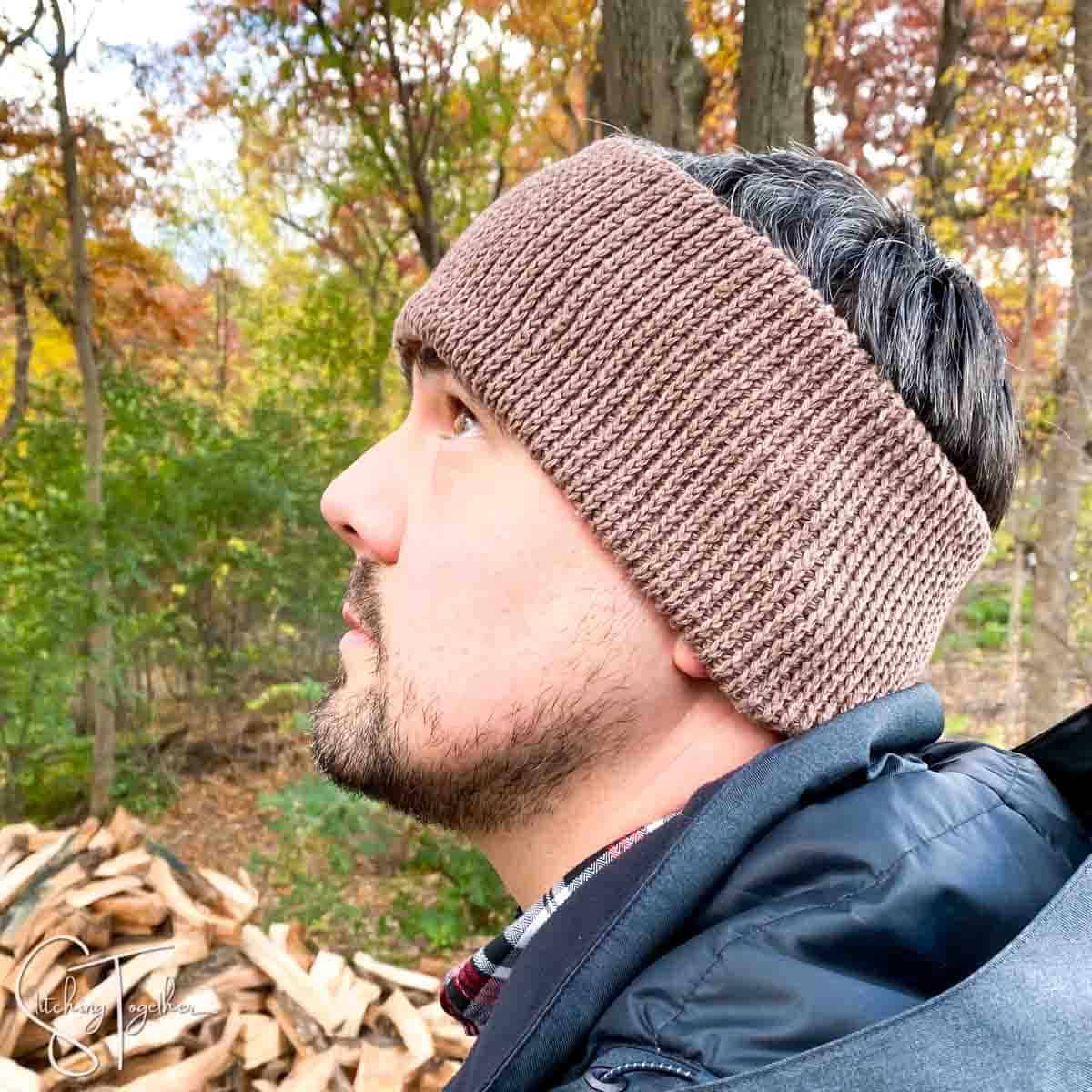 I don't know about you, but I think it's harder to find crochet patterns for men that look… well, manly. Don't you think?
We ladies have about a million wonderful options, but when it comes to men's crochet styles, there are definitely less patterns to choose from.
It's like you need to strike just the right balance of stitches and yarn, keeping it plain and simple while also interesting.
Add the extra pressure in my house that my husband undeniably has better fashion sense than I do, and I am hard pressed to make him something he will actually like and use.
Never one to back down from a challenge, I set out to design a men's crochet ear warmer pattern that my husband would wear and that you'd be proud to gift to the men in your life.
How to Crochet a Manly Ear Warmer
This easy men's crochet ear warmer is made by working in continuous rounds to crochet a long tube. The tube is then joined and you're left with a double thick ear warmer.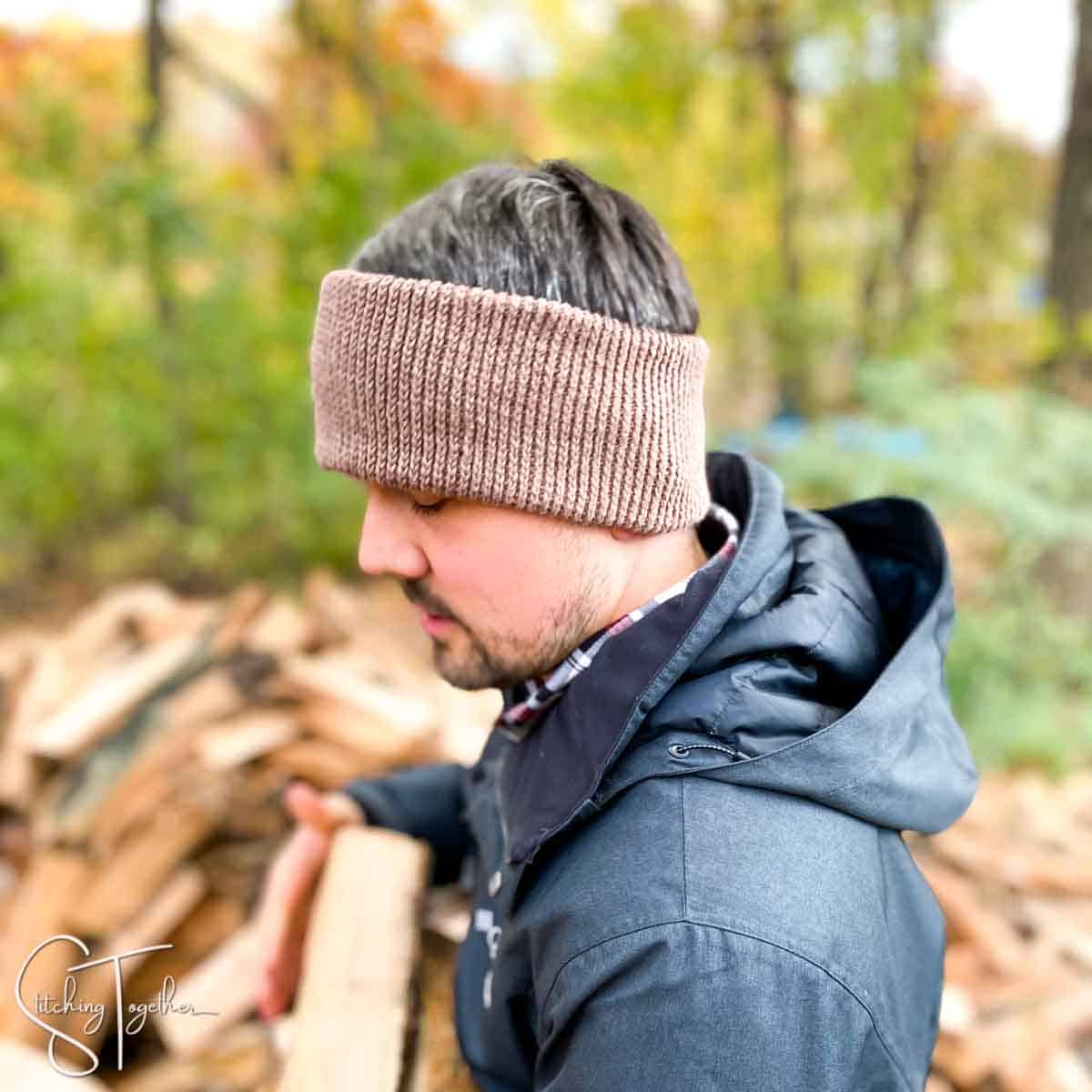 Simple Stitches in the Men's Crochet Headband Pattern
"But why is it a long tube?" questioned my husband as I wrapped the unfinished ear warmer around his head.
I explained that it will be double thick and double warm. I didn't bother explaining that working the ear warmer as a long tube, allowed me to use one of my favorite stitches – the half double crochet in the third loop.
It's quick, it's simple, and it gives a great knitted look with nice stretch – exactly what I was going for with this crochet ear warmer for men!
If you haven't worked in the third loop of hdcs before, you'll want to check out this helpful video and them come back here to get started on the pattern.
As we were out taking pictures on a cold, windy day, my husband surprisingly commented "My ears are actually staying really warm. I didn't think it would really keep them that warm."
uh….yeah, it's not just for looks!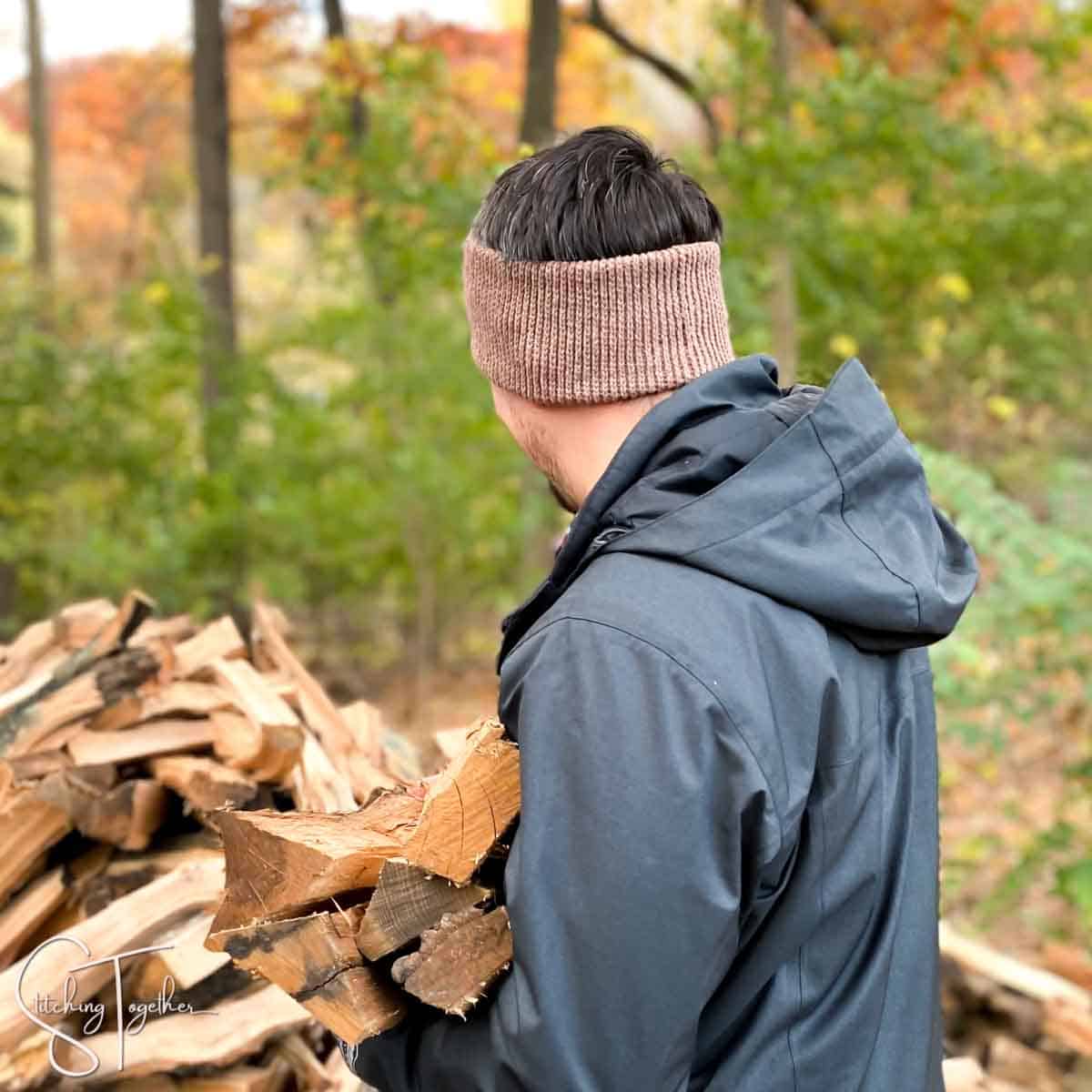 Yarn used for the Afton Men's Crochet Ear Warmer Pattern
One thing I knew for sure, I didn't want this manly ear warmer to be bulky, or rather, made with bulky yarn which is why I reached for Merino Silk Cotton by Lion Brand.
It's a Category 1 Super fine yarn that's such a lovely blend of wool, silk and cotton (if you couldn't tell by its name.)
Because you are working with super fine yarn, this isn't a super quick project like the Easy Chunky Ear Warmer, but it works up a bit slower.
It's worth the extra time though and the stitches are simple enough that you can get into a nice rhythm and cruise right along.
Don't forget to save this men's crochet headband pattern on Pinterest!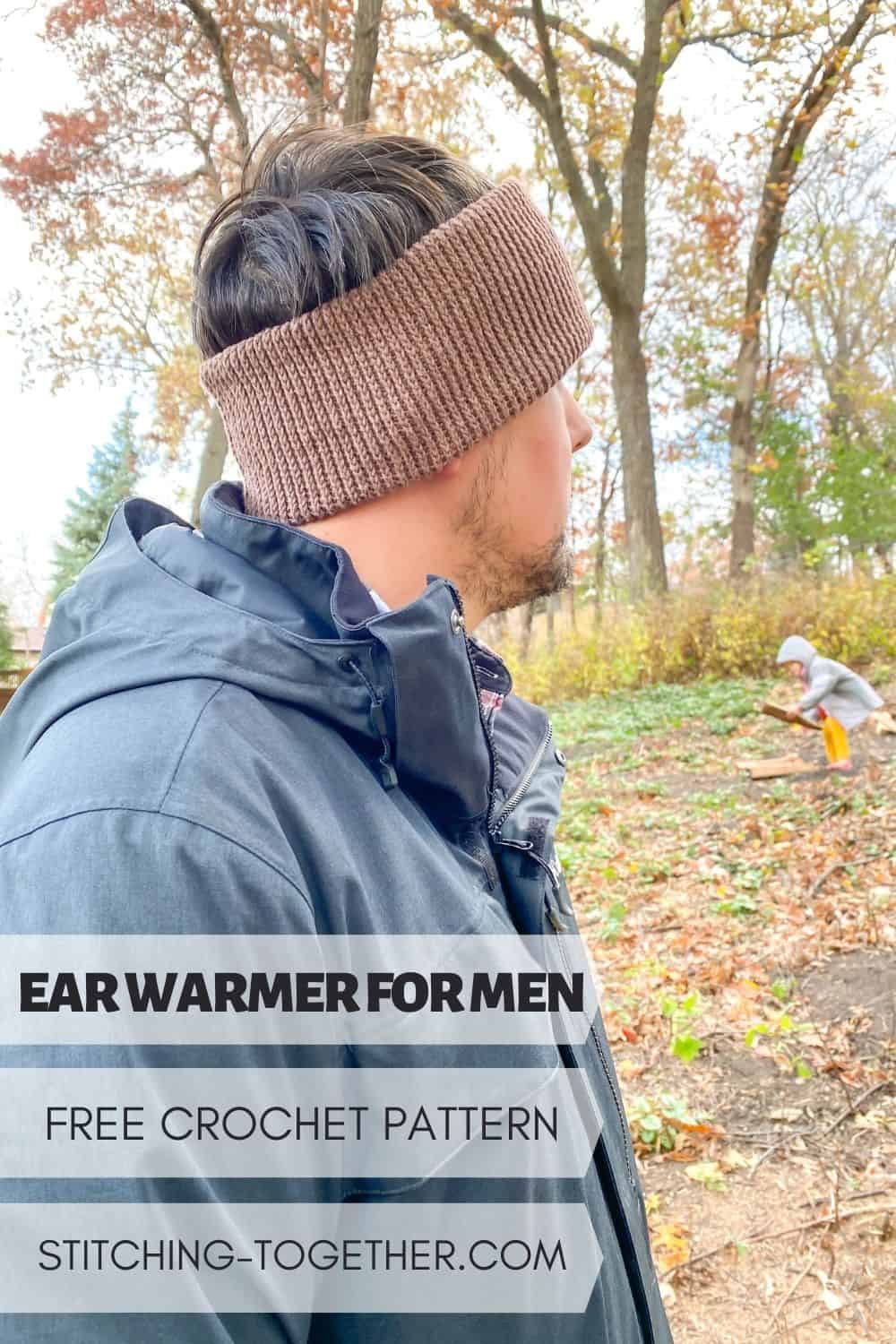 Free Crochet Men's Ear Warmer Pattern
Skill Level: Easy
Materials:                             
US size E/4, 3.5 mm crochet hook
Lion Brand Merino Silk Cotton (Category 1, Superfine Yarn)
319 yds (2.92 oz – 2 skeins) in Cocoa
Large Eye Yarn Needle
Abbreviations:
ch: chain
sl st: slip stitch
hdc: half double crochet
hdc in the 3rd loop: half double crochet in the 3rd loop (see notes)
st: stitch
Gauge: 4" by 4" = 23 hdc by 18 rows (taken in stitch pattern of hdcs in the 3rd loop)
Finished Size: 4.25" wide by 22" around
Notes:
hdc in the 3rd loop: work each hdc in the 3rd loop which is behind the normal top two loops. The ear warmer is made by creating a long tube and then joining the ends of the tube to make a double thick headband.
Free Crochet Men's Ear Warmer Pattern Instructions:
Ch 50, join with a sl st to form a loop being careful not to twist the chain
Round 1: hdc in each ch around, do not join (50)
Working in continuous rounds
Round 2-101: hdc in the 3rd loop of each st
Fold and line up the ends of the ear warmer so that the end of the last round meets the beginning of the first round. (You may need to add or take away stitches in your last round at this point so the ends line up without twisting the ear warmer at all.)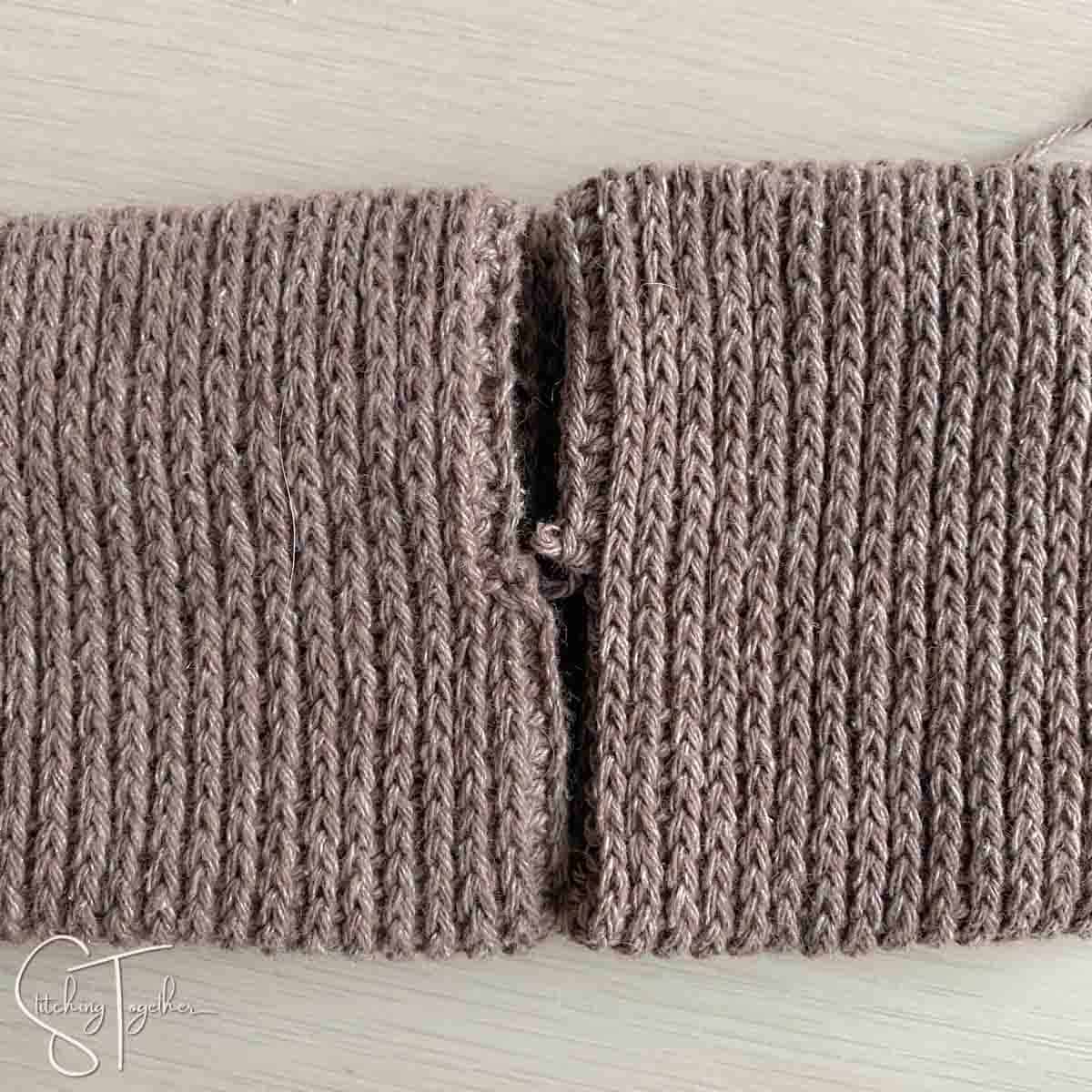 Joining
There are 2 good ways to join the ear warmer. (You may find another way, but I settled on 2 that I liked the finish look of.)
You can join with slip stitches which gives a similar look to the hdc in the third loop, but I did feel like this produces a join that was a bit more obvious. (Not super obvious but a bit more.)
You can also join by sewing using your yarn and large eye needle. This is the join I settled on as I felt it blended the best.
Joining with Slip Stitches
To slip stitch the ear warmer together, insert the hook through the 3rd loop of the hdc in your last row and then through the chain stitch of your first row.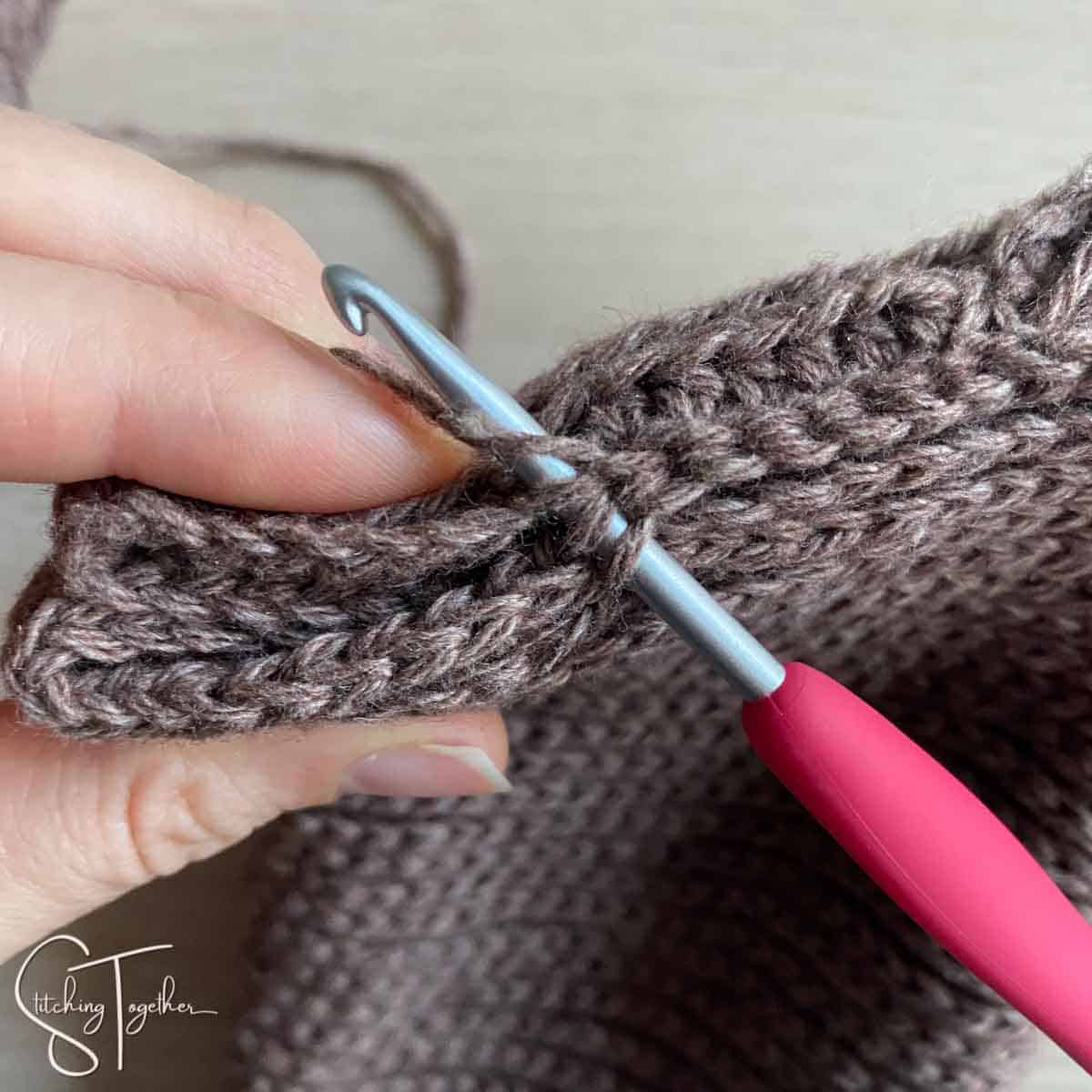 Yarn over and pull through all three loops on the hook.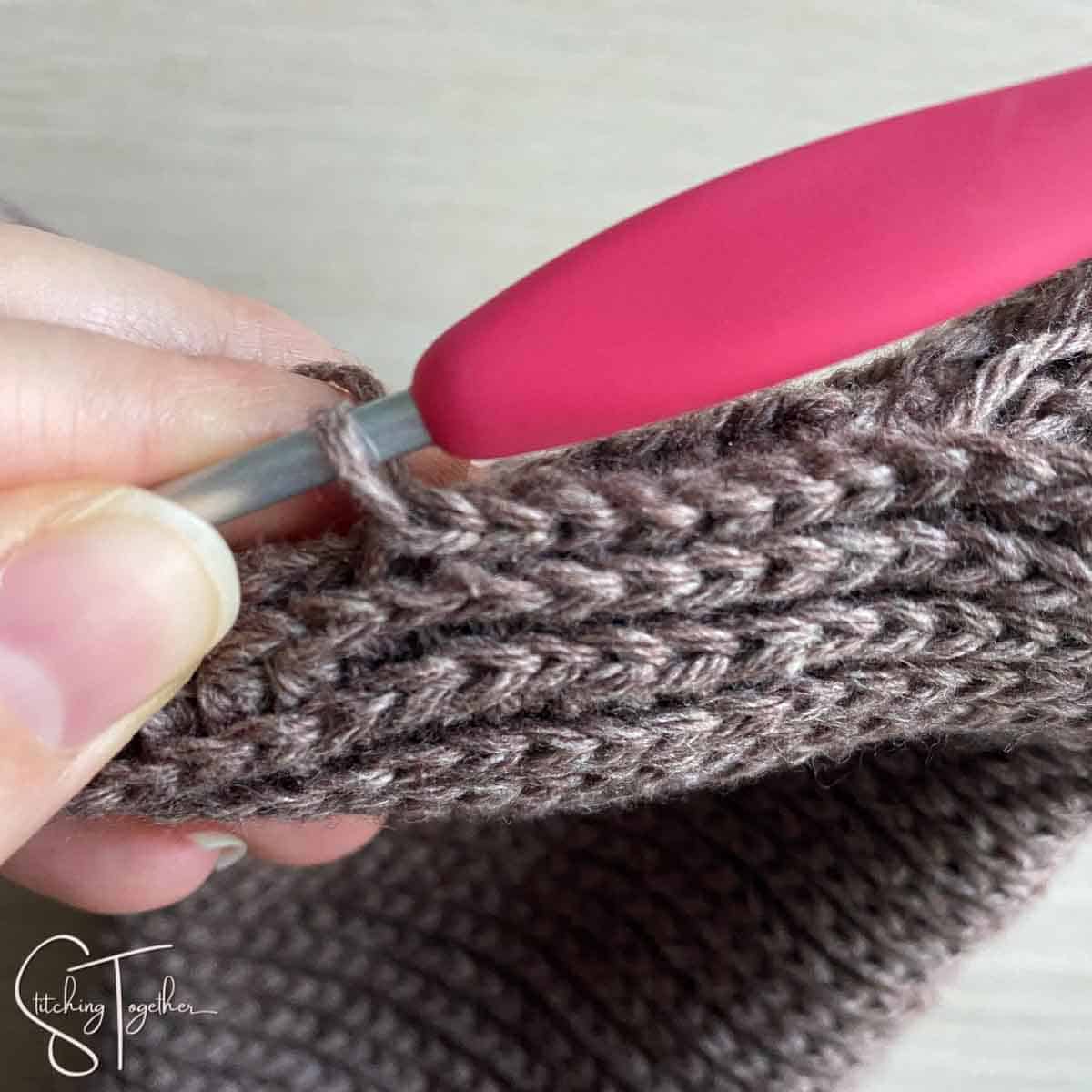 The slip stitch round sits a little closer to one side and leaves a bit of a gap of the other side, but still works well for a join.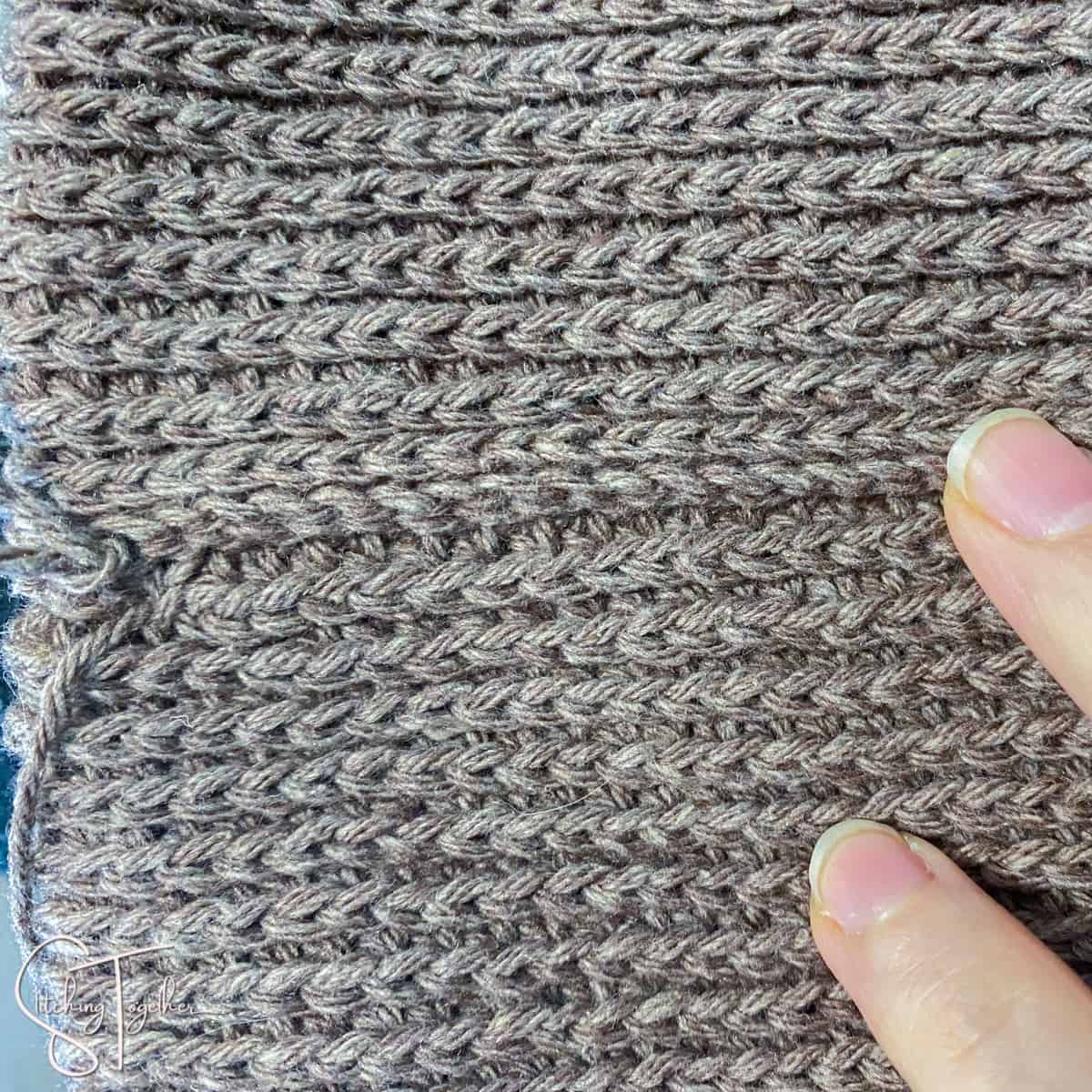 Joining by Sewing
Fasten off your last stitch and leave a long tail to sew with.
You will be sewing your last round of stitches on top of your first round of stitches by weaving around the post of each stitch. Work the needle and yarn around the post of the stitch in your first round.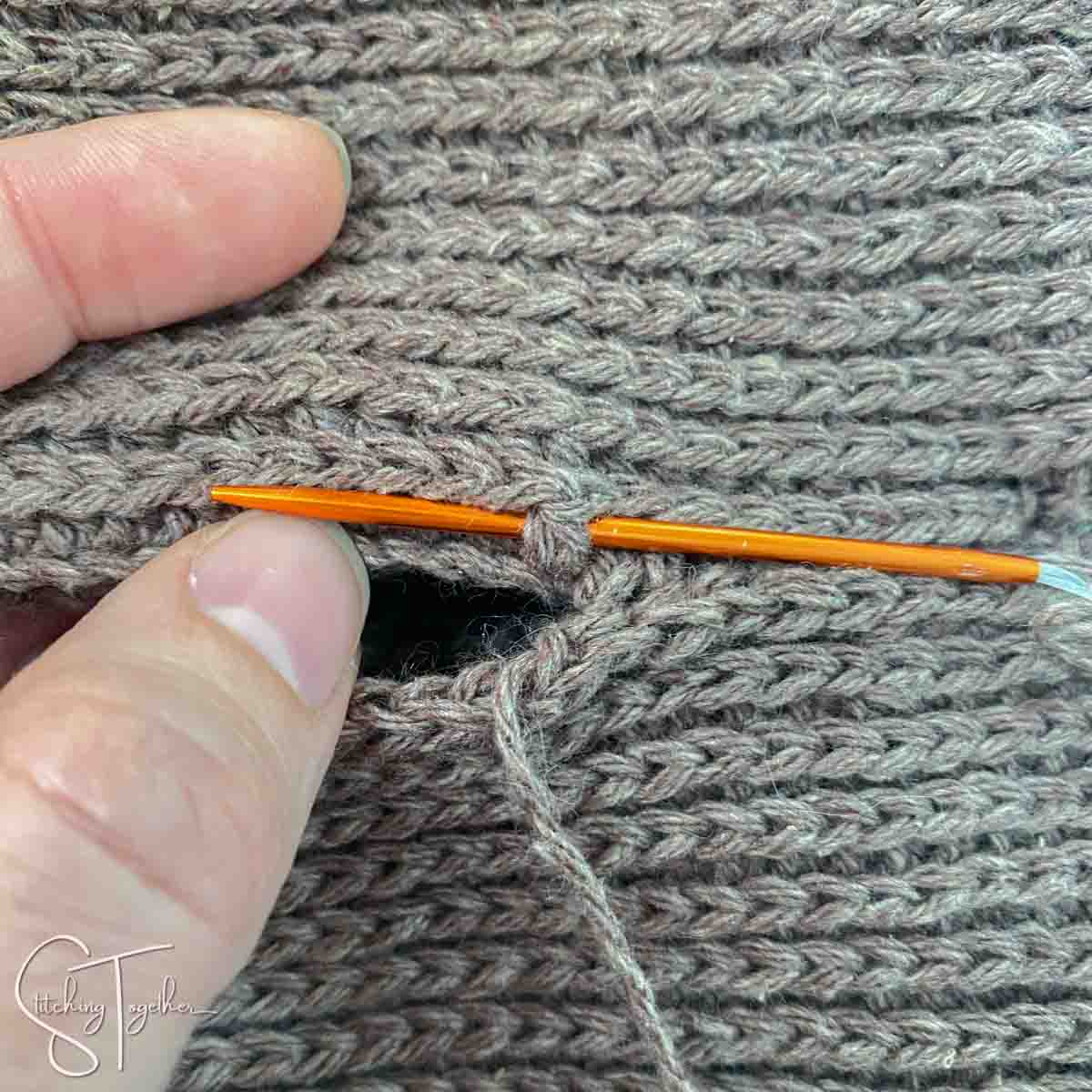 Then work the needle and yarn up through and around the post of the stitch in your last round.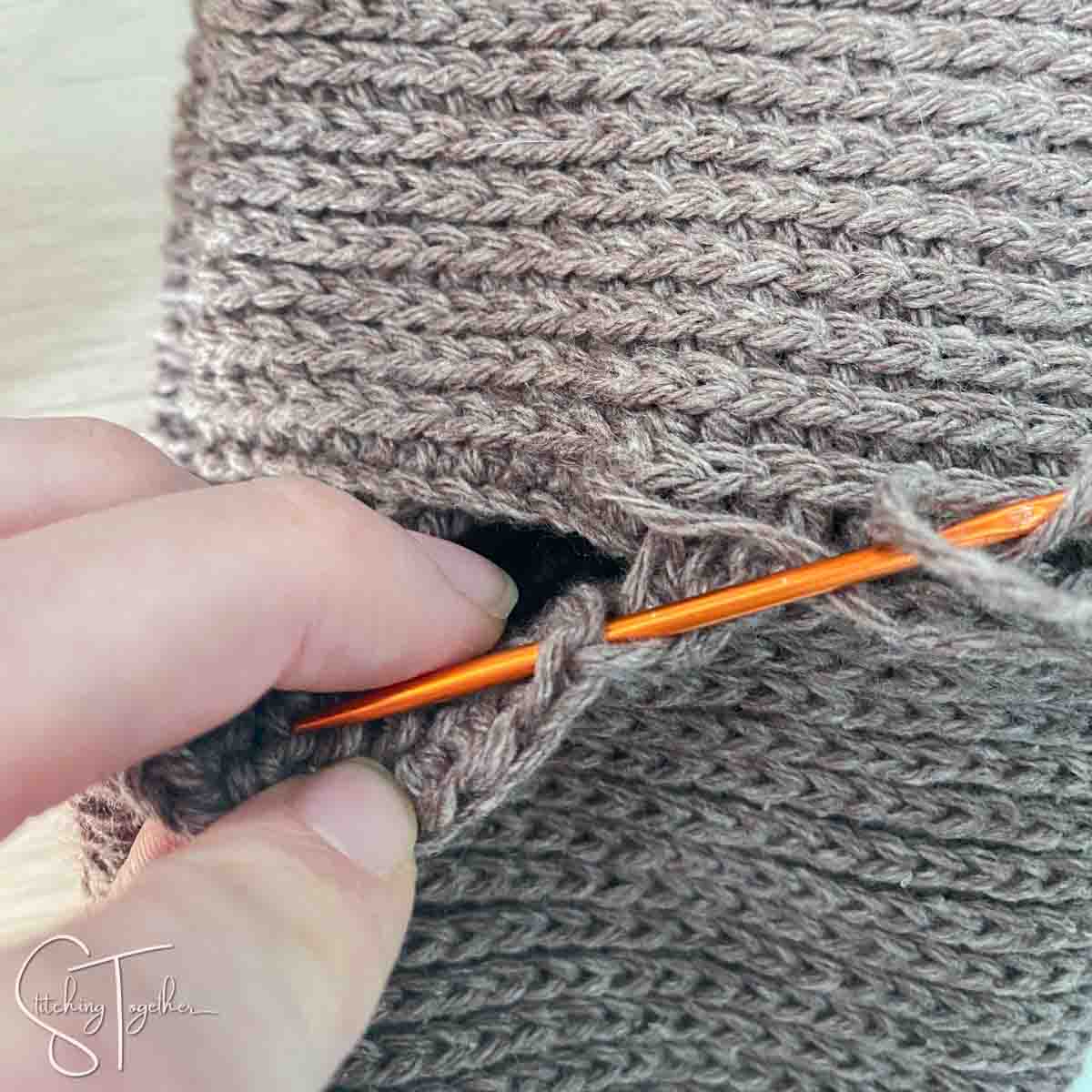 Continue weaving around the posts of the stitches until you've sewn the ear warmer closed. (Do be careful not to weave through the stitches on the OTHER side of the ear warmer accidentally.)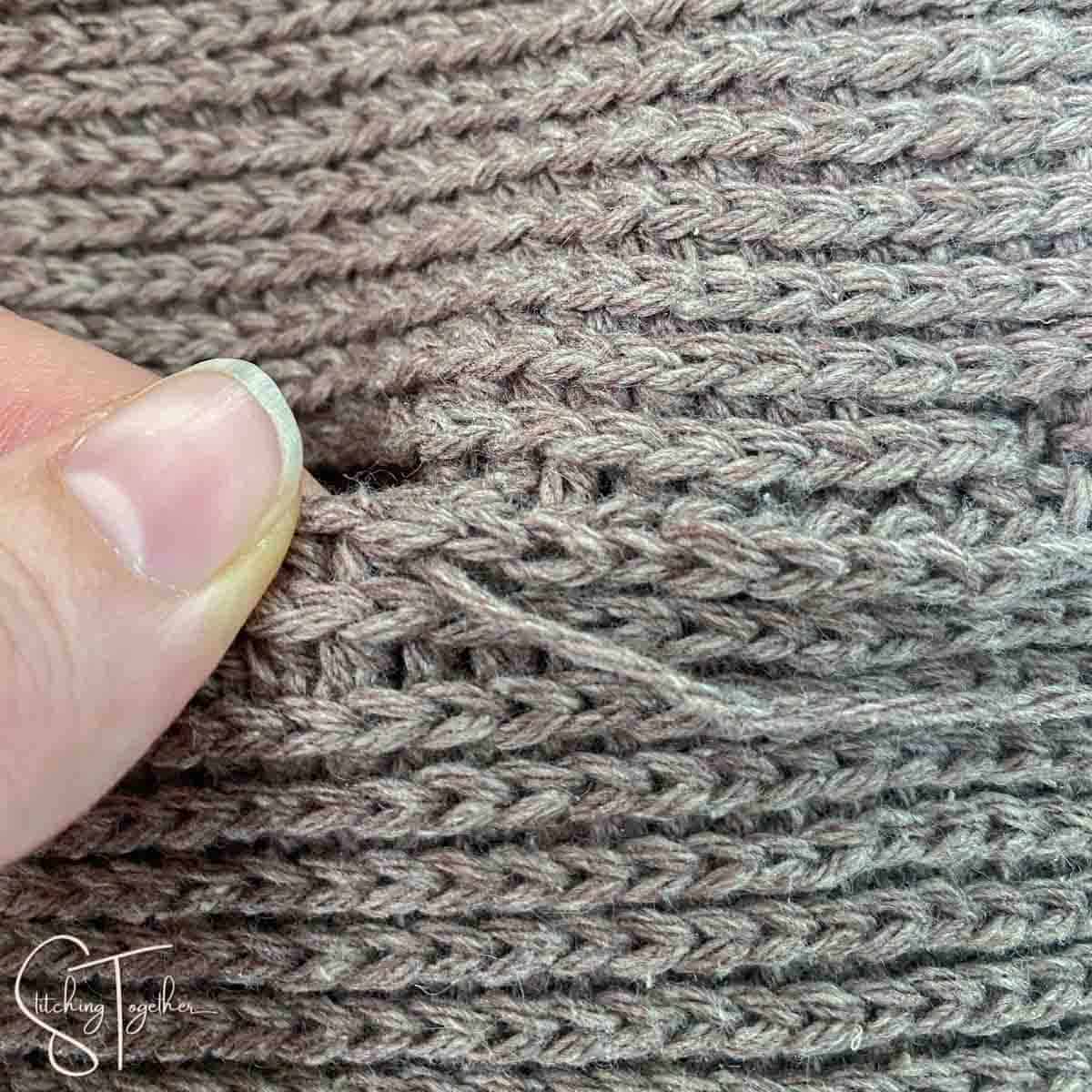 Sewing creates a seam that is almost invisible and even less obvious when worn.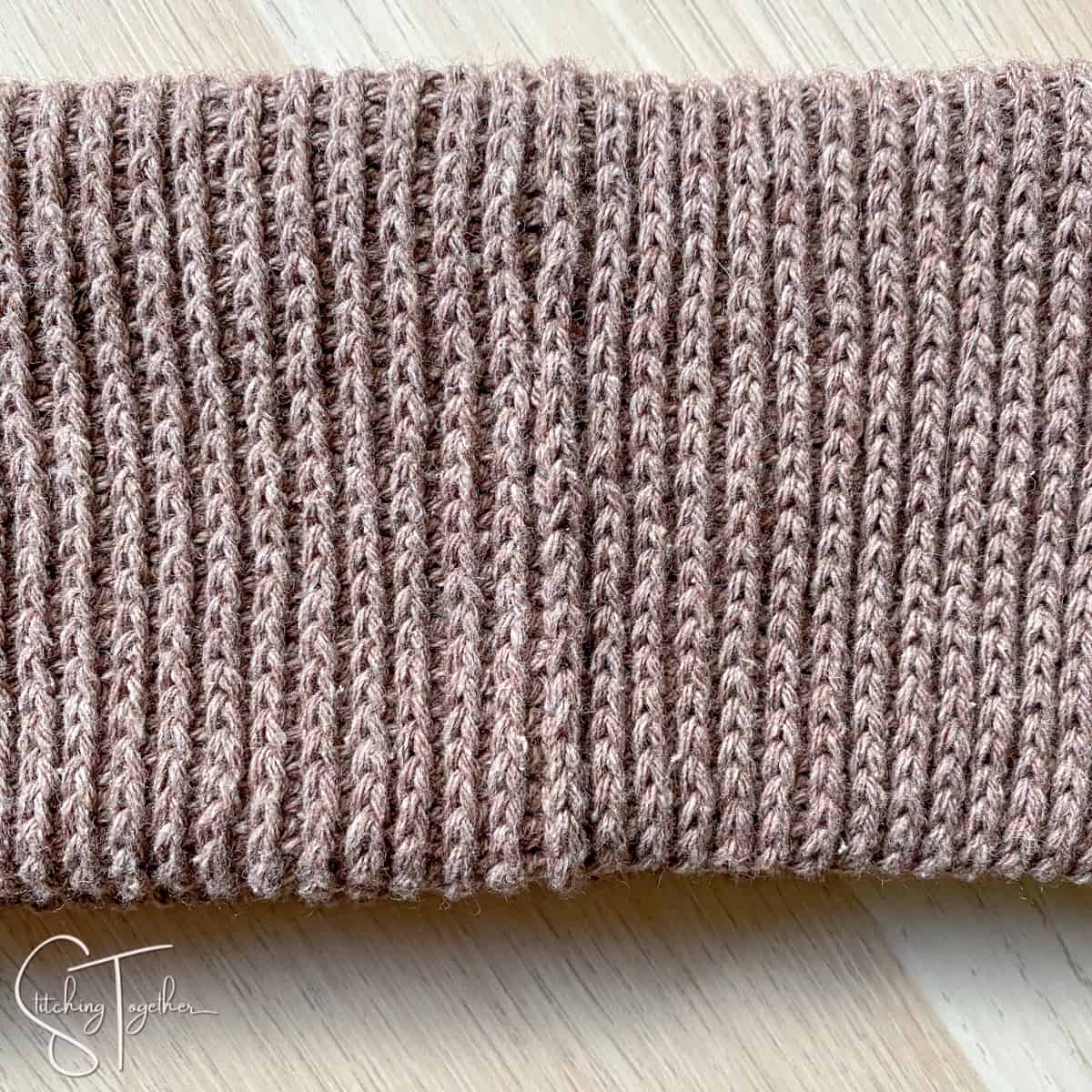 Will you share pictures of your finished projects?