Super Easy Chunky Crochet Ear Warmer Pattern
Disclosure: This post may contain affiliate links. As an Amazon Associate, I earn from qualifying purchases. Please visit my Privacy Policy for disclosures and more information.
How much do you love crochet projects that combine scrap yarn, easy stitches, little time, and tons of coziness?  These kinds of patterns are some of my favorites and this super easy chunky crochet ear warmer pattern fits the bill!
Plus this is an absolutely beginner-friendly ear warmer pattern. You need to know how to chain, join with a slip stitch, and half double crochet in the back loop (not as scary as it sounds!)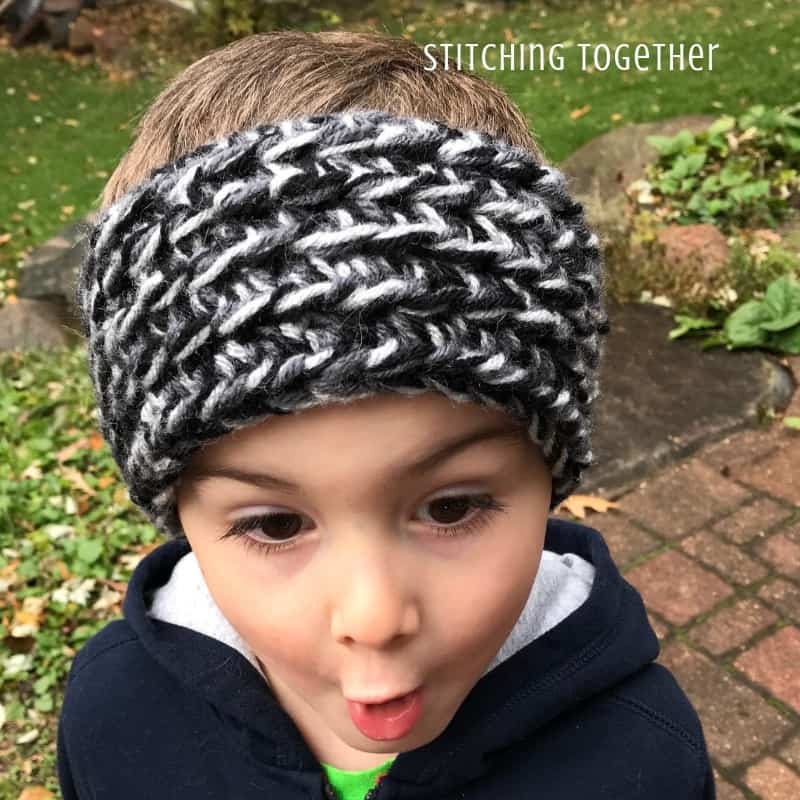 Ear warmers are great stocking stuffers and quick gifts. Since these ear warmers are made by holding three strands of yarn together, they work up so quickly.
Related: Coco Crochet Toddler Headband
These crochet ear warmers use less than one ounce of each of 3 different colors or strands of yarn. (For one of my samples, only one strand was a different color and two of them were the same color.) In fact, I used about 0.65 ounces of each color for the small adult sized ear warmer and 0.5 ounces each for the child sized one!
Are you a little baffled by figuring out if you have enough yarn for a project?  I find the easiest way to tell if I have enough yarn is to use a simple kitchen scale.
I ordered this one from Amazon and I love it. It is small so it doesn't take up much room on my desk and best of all… it wasn't expensive!
If you are a beginner, holding three strands of yarn together may be a new challenge. Twisting the strands gently will help keep them even and may improve your tension. Plus it is a bit easier to work through the loops when the strands are gently twisted.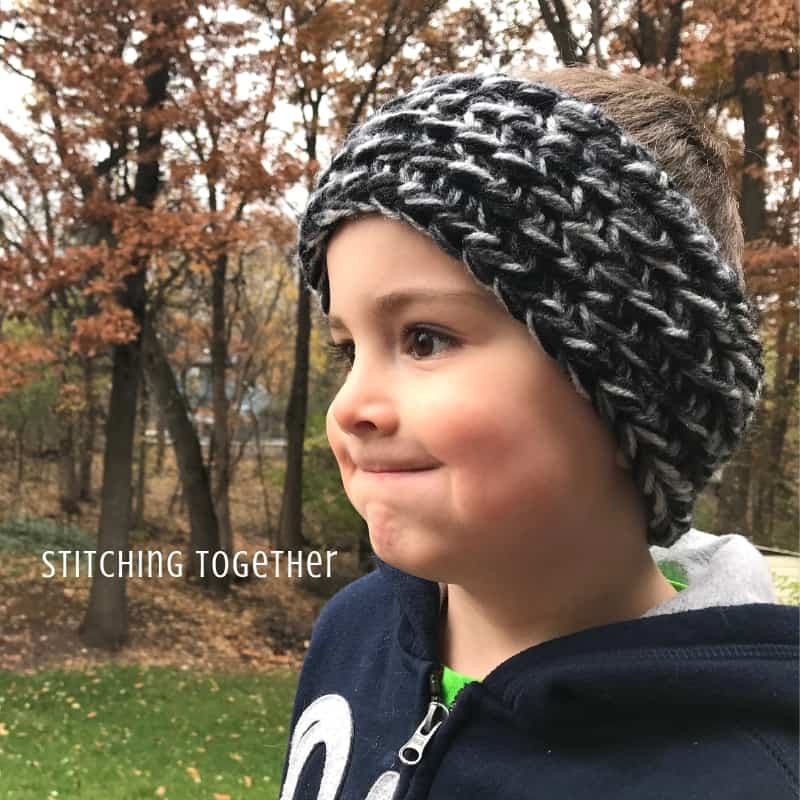 You can also use one strand of bulky yarn instead of three separate strands of worsted weight yarn if you don't like holding the three strands together.
I went extra crazy with one of my ear warmers and used a fake Mohair from Lion Brand that could possibly be older than I am, some unnamed baby yarn in white, and Vanna's Choice in Linen. I love the mix of textures and colors and the possibilities to cleverly use up your scrap yarn!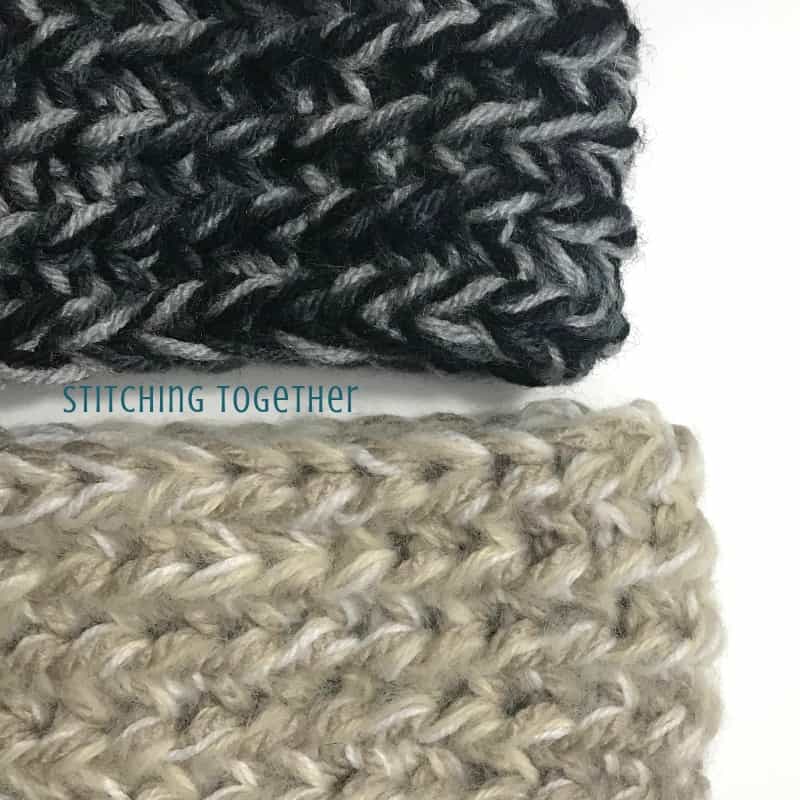 I've had so much fun weighing my scraps to see which colors I can use up for another ear warmer!
How to Size your Super Easy Chunk Crochet Ear Warmer
One of the other things I love about projects like this is being able to use a tape measure to make sure I'm getting the correct size. If your gauge doesn't match mine, this isn't a project where it matters. Simply add or subtract chains until you get the desired length.
To help you know what the correct length is for any size you'd like to make, there is an Ear Warmer Size Chart you can use as a guideline for sizing.
I find it most helpful and accurate to measure the length after chaining and completing the first row and make any necessary adjustments after that.
Don't forget to save this Super Easy Chunky Crochet Ear Warmer Pattern on Pinterest!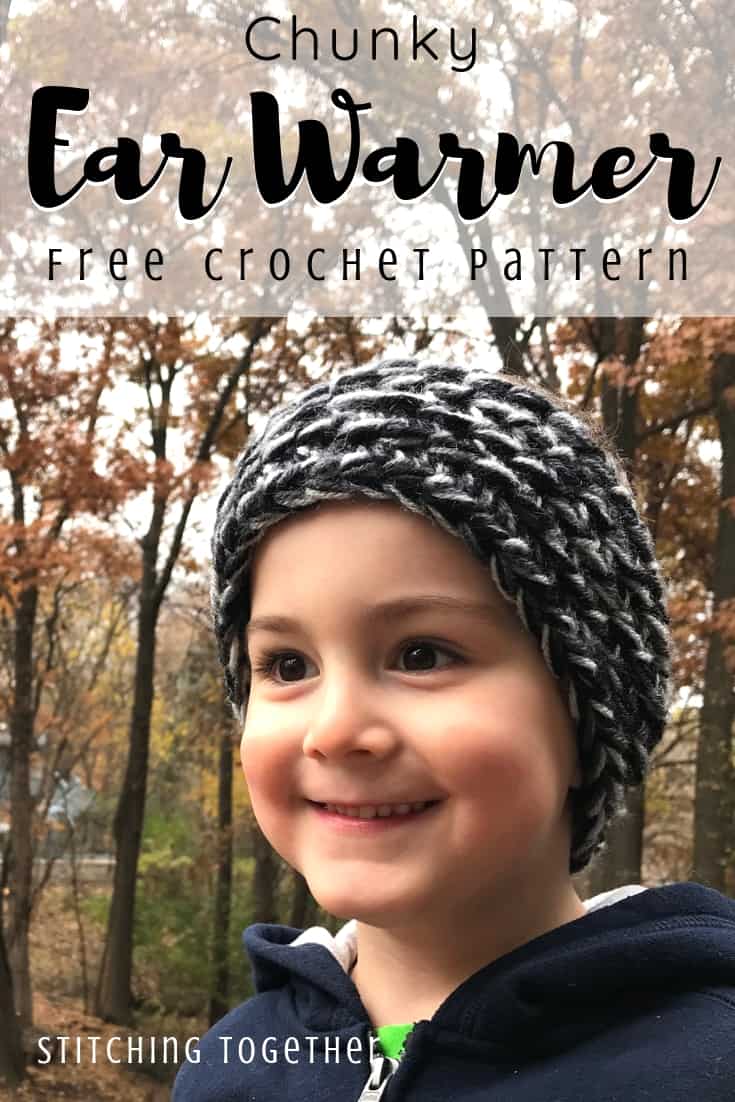 Super Easy Chunky Crochet Ear Warmer Pattern
Skill Level: Beginner
Materials:
Yarn: #4 worsted weight yarn

At least 1.5 oz total for the smaller sizes and less than 3 oz total for the larger sizes.

Child size ear warmer used 0.5 oz of the following:

Vanna's Choice in Black

Vanna's Choice in Silver Heather

Red Heart Super Saver in Grey Heather

Accessories:

Large Eye Tapestry Needle

Soft Measuring Tape
Related: Clover Amour Crochet Hook Review
Abbreviations:
ch(s): chain(s)
sl st: slip stitch
hdc(s): half double crochet(s)
hdc BLO: half double crochet back loop only
st(s): stitch(es)
Gauge: 4″ x 2″ = 7 hdcs by 3 rows
Finished Size: approx 3.75″ wide by 18″ around
Pattern Notes:
Use the handy Ear Warmer Size Chart  found in the Crochet Ear Warmer Pattern post as a guideline for sizing your crochet ear warmers. (Save the chart to Pinterest if you didn't already.)
When you join with a sl st to the first hdc of the row, join through both of the loops of the hdc and then hdc in the back loop of that stitch for the first hdc of the round.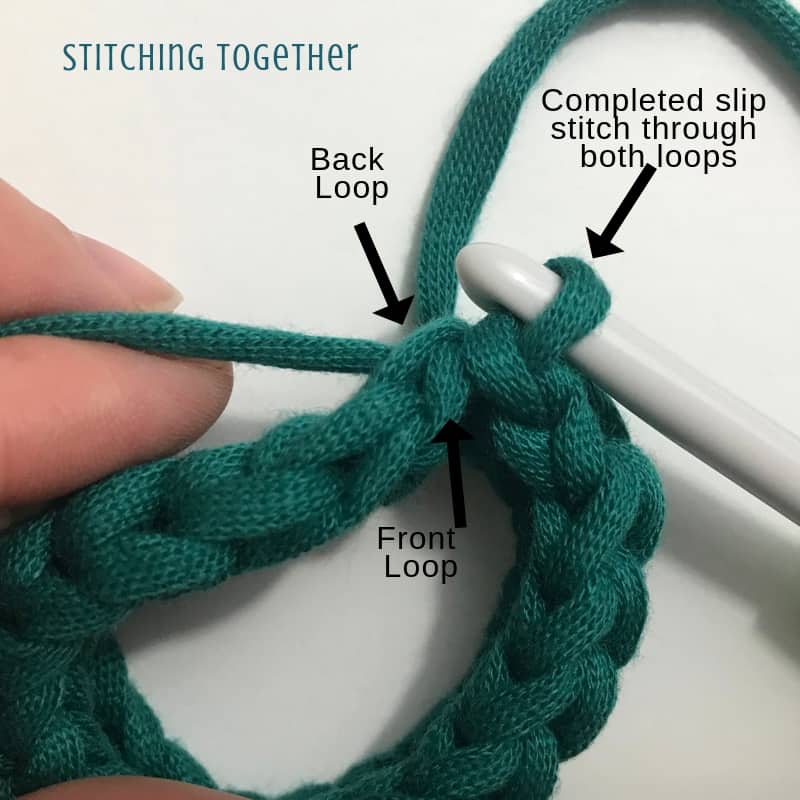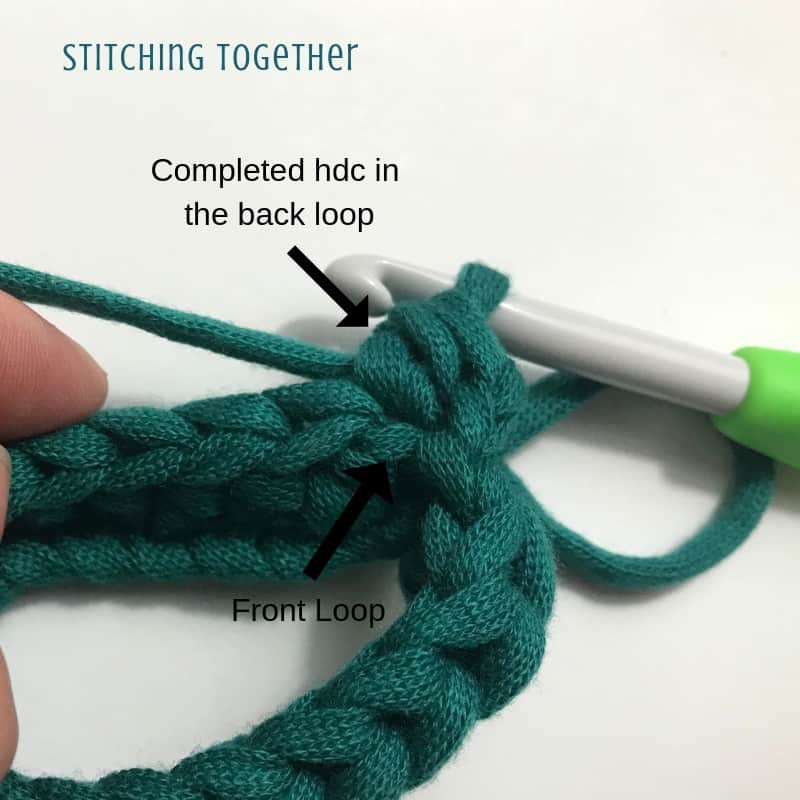 Chunky Ear Warmer Crochet Pattern Instructions:
Child Ear Warmer Size 4-12 yrs old (approx 18″ in diameter)
Ch 34, join with sl st to the first chain to form a circle.
R1: ch 1, hdc in each ch around, join with sl st to first hdc. (34)
R2: ch 1, hdc BLO in each st, join with sl st to first hdc. (34)
R3: ch 1, hdc BLO in each st, join with sl st to first hdc. (34)
R4: ch 1, hdc BLO in each st, join with sl st to first hdc. (34)
R5: ch 1, hdc BLO in each st, join with sl st to first hdc. (34)
Fasten off and weave in ends.
Ready to get started? Grab your materials now: